MLB next manager odds: Early favorites for Astros, Red Sox
Mike Carlson / Major League Baseball / Getty
Find line reports, best bets, and subscribe to push notifications in the Betting News section.
Houston's sign-stealing scandal has rocked Major League Baseball this week, forcing three teams - the Astros, Red Sox, and Mets - to begin searching for a new manager with the season just months away.
On Thursday, former Astros player Carlos Beltran and the Mets split just two months after he took the job. That came just two days after the Red Sox parted ways with manager Alex Cora, who led Boston to a World Series title in 2018 after serving as Houston's bench coach in 2017. That came roughly 24 hours after the Astros canned manager AJ Hinch and general manager Jeff Luhnow, whose banner 2017 season is now intertwined with scandal.
Oddsmakers wasted no time installing a list of managerial candidates for Houston and Boston. Here are the odds for those candidates, with a few notables highlighted below each:
Astros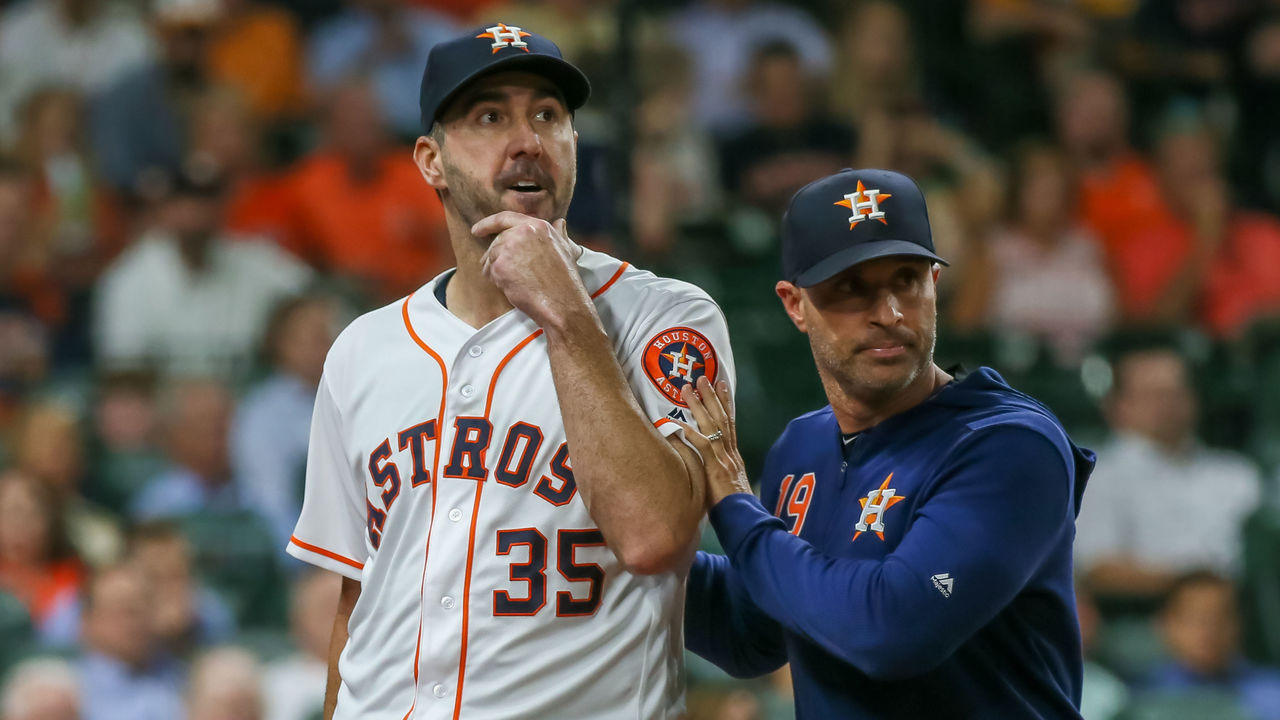 | MANAGER | ODDS |
| --- | --- |
| Joe Espada | 2-3 |
| Buck Showalter | 9-2 |
| Matt Quatraro | 11-2 |
| Brad Ausmus | 17-2 |
| John Gibbons | 19-2 |
| Andy Green | 25-2 |
| Dusty Baker | 25-2 |
| Hensley Meulens | 25-2 |
| Eduardo Perez | 20-1 |
Joe Espada (2-3)
It's rarely a good idea to lay shorter-than-even odds in prop bets like these, especially so early in the process. That said, the Astros interim manager earned that tag for a reason after spending two years with the organization, and he's drawn interviews from other teams as a top candidate.
The biggest issue here is whether Espada - who wasn't with the club in 2017 but was in 2018 - is far enough removed from the sign-stealing scandal to represent a fresh start for Houston. The organization had to know this was coming well before Monday's firings, so it should have had ample time to consider alternate candidates, and there's enough concern with an in-house hire to leave this bet alone until the odds lengthen substantially.
Dusty Baker (25-2)
Whenever a premier job opening presents itself, oddsmakers love to hang big-name candidates as potential replacements - even if it doesn't make a ton of sense. That's not the case here, as Baker is among the top candidates that the organization is considering, according to MLB.com's Brian McTaggart.
Baker has three National League Manager of the Year awards to his name and has led four different teams to the playoffs. The Astros have a ready-made roster for contention and could be a perfect fit for the 70-year-old player-friendly manager.
Eduardo Perez (20-1)
Perez likely won't get the job, but he shouldn't be getting 20-1 odds, either. The former Astros bench coach (2013) hasn't held an MLB position since leaving Houston, but he has experience in the dugout and front office, and he's managed before in Puerto Rico.
The media-to-manager route has been legitimized with Aaron Boone's success with the Yankees, which could be a benefit for Boone's old ESPN colleague. Boone endorsed Perez as a managerial candidate this offseason, and he could finally get his chance with the team that last gave him a big-league gig.
Red Sox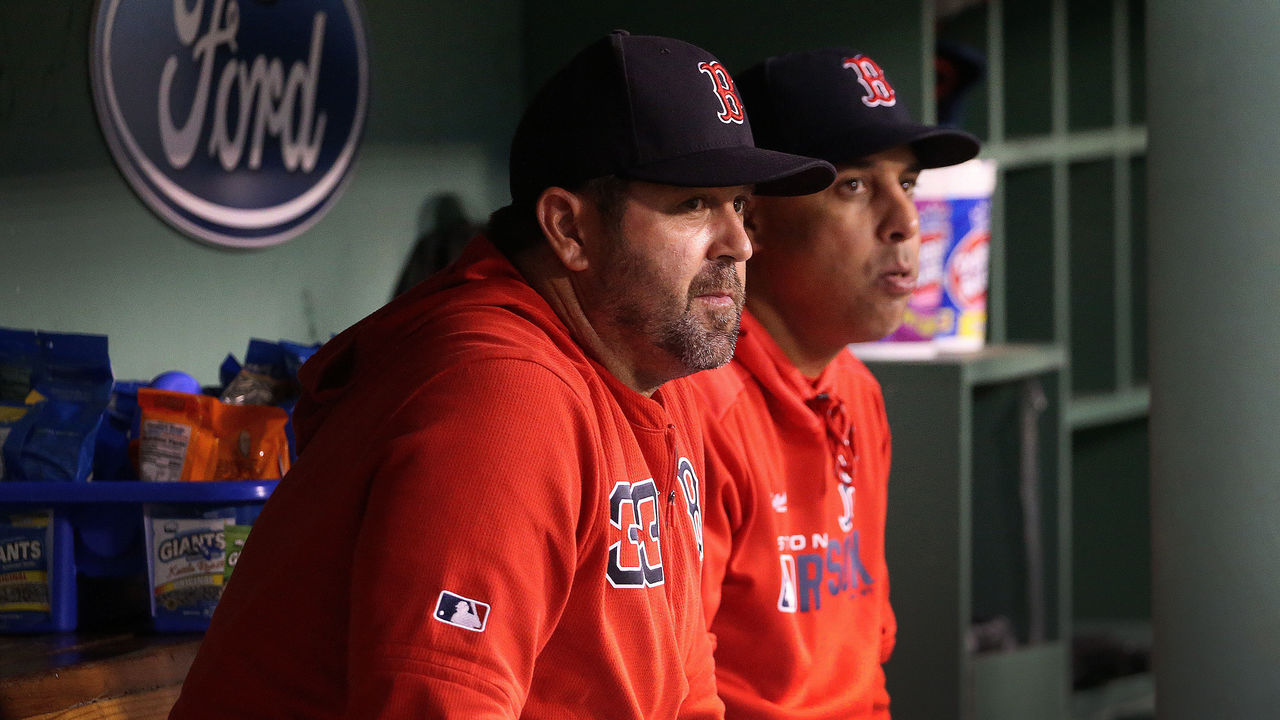 | MANAGER | ODDS |
| --- | --- |
| Jason Varitek | 13-4 |
| Ron Roenicke | 7-2 |
| Carlos Febles | 6-1 |
| Hensley Meulens | 6-1 |
| Mark Kotsay | 6-1 |
| Matt Quatraro | 6-1 |
| Dusty Baker | 9-1 |
| Eduardo Perez | 9-1 |
| Tim Bogar | 10-1 |
| Craig Breslow | 12-1 |
| Brad Ausmus | 20-1 |
| Bruce Bochy | 25-1 |
| David Ortiz | 50-1 |
Jason Varitek (13-4)
The former Red Sox captain has worked as a special assistant within the organization since 2012 and could inspire confidence in the fan base after the Cora divorce. Many believe Varitek is bound for an eventual managerial job, and this could be his opportunity.
When asked Wednesday about tabbing Varitek as manager, team president Sam Kennedy told reporters, including CLNS Media's Mike Petraglia, "Our hope and desire has been for him to continue to take on more and more of a role as he develops the next stage of his baseball career." It's not much, but it's more than he initially said when deflecting the question. The odds are likely too short, but there's a reason he's the early favorite.
Ron Roenicke (7-2)
A bench coach under Cora for the last two years, Roenicke has experience within the organization and a track record as a big-league manager, having led the Brewers from 2011-15 with an NLCS appearance in '11. He's the favorite at some books and would represent the safe option.
If the Red Sox want an immediate solution as spring training approaches, the 63-year-old Roenicke is the guy. Otherwise, they'll likely try to put their own stamp on the role with a higher-upside candidate.
Matt Quatraro (6-1)
Could Quatraro be that high-upside hire? The Rays bench coach has been a hot name in MLB circles for years now thanks to his comfort with analytics and relationships with players, and he's quite familiar to Boston's new chief baseball officer, Chaim Bloom, who spent 14 years in Tampa Bay.
The Athletic's Ken Rosenthal reported that Quatraro is unlikely to be a candidate because of potential team rules that prevent multiple staffers from leaving the Rays in the same offseason. If that isn't the case, though, Quatraro is a potential steal given his familiarity with his potential next boss.
C Jackson Cowart is a betting writer for theScore. He's an award-winning journalist with stops at The Charlotte Observer, The San Diego Union-Tribune, The Times Herald-Record, and BetChicago. He's also a proud graduate of UNC-Chapel Hill, and his love of sweet tea is rivaled only by that of a juicy prop bet. Find him on Twitter @CJacksonCowart.