Defining Moments of the Decade: What we'll remember from the 2010s
With the decade drawing to a close, theScore looked back and voted on 100 moments that defined the sports world in the 2010s. Below are moments 100-81, and we're counting down by 20 every Monday in December.
100-81 | 80-61 | 60-41 | 40-21 | 20-1
100. Butt Fumble! 🍑🏈
Nov. 12, 2012
This decade treated us to perhaps the greatest blooper in NFL history. On Thanksgiving Day 2012, Jets quarterback Mark Sanchez missed the handoff to his running back, turned to run up field - and ran facemask first into his right guard's rear. The impact forced a fumble, which the Patriots returned for a touchdown. The "butt fumble" was born that night, and Sanchez's career was never the same. - Michael McClymont
99. Iceland stuns England at Euros 😱
June 27, 2016
During its maiden participation in a major tournament, Iceland scored a stoppage-time winner against Austria to secure second place in its group, setting the scene for a dream date with England in the last 16. Not even Wayne Rooney's fourth-minute penalty could dampen Iceland's spirits. Ragnar Sigurdsson and Kolbeinn Sigthorsson spearheaded a remarkably quick turnaround, aided by Joe Hart's gaffe, and Iceland promptly slammed the door shut to become the smallest nation to ever win a knockout stage match at the tournament. - Alex Moretto
98. UConn goes 40-0 🏆
April 8, 2014
UConn had four undefeated seasons prior to 2013-14, but its 40-0 campaign that year was perhaps the most significant. The Huskies destroyed a 37-0 Notre Dame squad by 21 points in the national championship to give the school and head coach Geno Auriemma a record ninth Division I crown. UConn's victory also completed a sweep of the men's and women's title games, a decade after the Huskies became the only school to accomplish the feat. - Chicco Nacion
97. Mahomes vs. Mayfield 🎆
Oct. 22, 2016
A scene out of a video game is the only proper way to describe the spectacle in Lubbock when Patrick Mahomes and Texas Tech hosted Oklahoma and Baker Mayfield during the 2016 season. A shootout was expected, but by the time the dust cleared, few could believe the 66-59 tally the scoreboard showed. Mahomes set new FBS records with 819 yards of total offense and 734 yards passing ... and somehow lost the contest! Mayfield was up for the task against his former school, tossing seven touchdowns as the two teams combined for 1,279 passing yards, the most ever in a college football game. - Dane Belbeck
96. MLB's Biogenesis scandal 💉
2013
Biogenesis proved that despite implementing drug testing, baseball was far from clean. This steroid scandal and investigation involving Miami trainer Anthony Bosch led to 13 players, including superstars Nelson Cruz, Ryan Braun, and Alex Rodriguez, receiving suspensions in the middle of the 2013 season. Most of the bans were for 50 games, but A-Rod - who was at the center of it all - received 211 games and missed all of 2014 after his appeal. Many stars involved had their reputations damaged almost beyond repair - and in a lot of ways, baseball still hasn't recovered. - Simon Sharkey-Gotlieb
95. Linsanity! 💥
Feb. 2012
The sports world ground to a halt in February 2012 as a relatively unimposing Ivy Leaguer of Taiwanese descent set the NBA on fire. After a groin injury sidelined Carmelo Anthony, Jeremy Lin took center stage for the New York Knicks, averaging 24.6 points, 9.2 assists, and 2.4 steals from Feb. 4-20. Lin's spectacular run included a 38-point deluge against Kobe Bryant's Lakers and a game-winner to sink the Raptors. In its most distilled form, Linsanity lasted all of 10 games, but it served as a crucial reminder that talent and opportunity can trump preconceptions any day. - Andrew Joe Potter
94. England wins insane Cricket World Cup final 😲
July 14, 2019
For a sport often derided as boring, the 2019 Cricket World Cup final served as a powerful rebuttal. With England and New Zealand tied with 241 runs at the end of the match, a Super Over was required. Not everyone at Lord's in London that day knew exactly what a Super Over entailed, but what it produced was one of the most dramatic moments in sporting history. Ben Stokes will not have to pay for a meal for the rest of his life. - Devang Desai
93. Cavs-Warriors, Game 1, 2018 Finals 😵
May 31, 2018
Though they entered the 2018 NBA Finals as underdogs to the Warriors, the Cavaliers found themselves on the verge of a Game 1 road win thanks to a Herculean effort from LeBron James. The momentum was undone, however, when JR Smith wasted a potential game-winning possession with a career-defining blunder. The Warriors emerged victorious in overtime en route to a four-game sweep, and LeBron left for the Lakers that summer, bringing his second stint in Cleveland to its underwhelming conclusion. - Potter
92. Angels throw no-hitter after Skaggs' death
July 12, 2019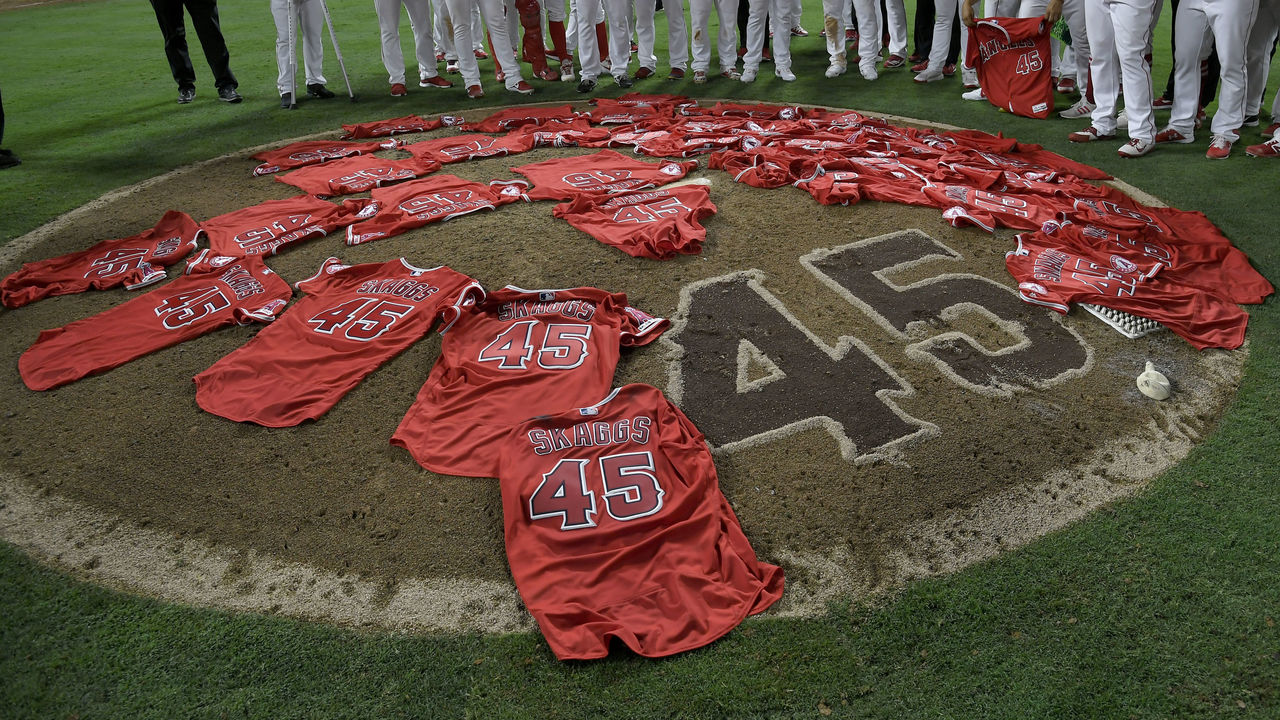 On a night that saw the entire Angels roster don No. 45 to honor Tyler Skaggs, pitchers Taylor Cole and Felix Pena combined to throw a no-hitter against the Seattle Mariners. After completing the 11th no-no in franchise history, Angels players removed their No. 45 jerseys, laid them on the mound, and shared a moment of silence for their teammate, who died suddenly two weeks earlier. Skaggs was 27. - Bryan Mcwilliam
91. Klay goes off 🔥🔥🔥
Jan. 23, 2015
Nothing could have prepared us for Klay Thompson's historic third-quarter performance on a mid-January night. The sharpshooter converted all 13 of his field-goal attempts, including nine 3-pointers, during the jaw-dropping 12-minute stretch. The moment perfectly encapsulated the dynastic Warriors' ability to string together a ton of points at a moment's notice. - Josh Weinstein
90. GOAT USA basketball squad? 🇺🇸
August 2012
USA Basketball boasted one of its greatest squads ever for the 2012 Olympic Games, assembling a roster that featured not only a prime LeBron James but also the Thunder's then-dynastic trio of James Harden, Russell Westbrook, and Kevin Durant, who were all still in their early 20s. Unsurprisingly, they claimed gold while steamrolling the competition, including a record-breaking 156-73 rout of Nigeria in the opening round. The tournament also marked James' last appearance with Team USA. - Jonathan Soveta
89. Bribery scandal rocks college basketball
Sept. 26, 2017
"The dark underbelly of college basketball" was exposed in September 2017, when numerous Division I coaches at Power 5 conferences and a marketing executive at Adidas were arrested for bribery and other offenses, further bringing to light compensation issues that have dogged the NCAA as its amateurism rules have been challenged. - Navin Vaswani
88. Ruiz stuns Joshua 🥊
June 2, 2019
Andy Ruiz didn't have a chance. Not against Anthony Joshua, the undefeated world heavyweight champion. But to everyone's surprise, one of the most monumental upsets in boxing history took place at Madison Square Garden in early June. The fight was called in the seventh round after Joshua hit the canvas multiple times, making Ruiz the first Mexican heavyweight world champion. - Vaswani
87. Matthews' dazzling debut 🏒
Oct. 12, 2016
The first one was off a scramble, nine minutes into his career. Not bad. But following the second one, after Auston Matthews dangled a couple of Senators at the blue line and in the neutral zone, and then abused Erik Karlsson in a way Karlsson simply doesn't get abused, you knew: This kid, from Arizona, was something special. Matthews finished with four goals in his dream NHL and Maple Leafs debut. He's been scoring ever since. - Vaswani
86. Federer wins Down Under 🎾
Jan. 29, 2017
In a career full of historic achievements, this was perhaps the most significant. After an injury layoff led pundits and fans alike to question if he'd ever return to the top of the sport, Roger Federer was not supposed to be in the Australian Open final. He was not supposed to beat Rafael Nadal, his frequent tormentor and greatest rival. Defying the odds, Federer captured his 18th slam, proving once again that class is permanent. - Desai
85. Minneapolis Miracle 🙌
Jan. 14, 2018
When Saints kicker Wil Lutz connected on a 43-yard field goal to put New Orleans up 24-23 with 25 seconds left in their 2017 NFC divisional-round game, the Vikings and their fans knew they needed a miracle. With 10 seconds remaning, "Buffalo Right, Seven Heaven" was called from the sideline, and Case Keenum found Stefon Diggs. After Saints free safety Marcus Williams missed on his tackle attempt, Diggs broke free to the endzone, and the "Minneapolis Miracle" was born. - Jose Taboada
84. Mr. Triple-Double 🏀🏀🏀
April 12, 2017
No one ushered in our infatuation with triple-doubles over the past decade more than Russell Westbrook. The enigmatic floor general became the first player since Oscar Robertson in the 1961-62 campaign to average a triple-double over the course of a full season. - Weinstein
83. Canada-USA Olympic semifinal ⚽
Aug. 6, 2012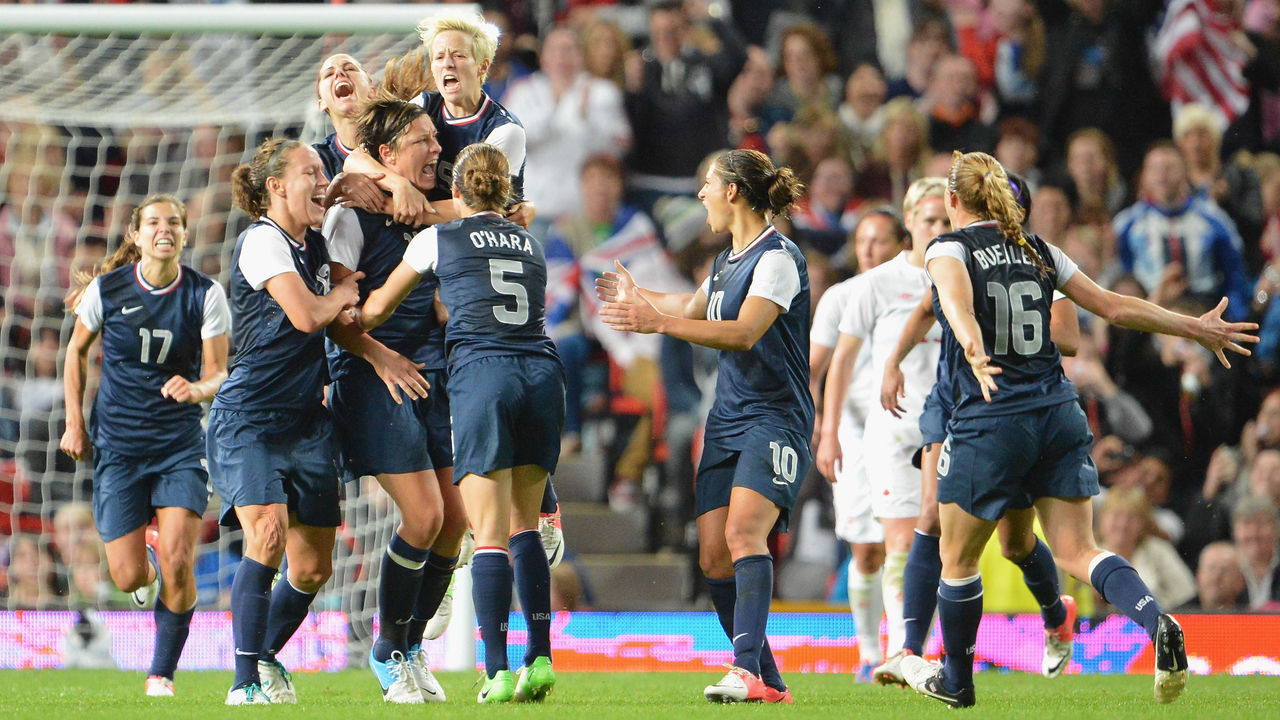 Historic Old Trafford was the stage for one of the greatest women's soccer matches ever played. Canadian legend Christine Sinclair scored three times, giving her side a lead each time. U.S. star Megan Rapinoe, who became a cultural icon at the 2019 World Cup, scored twice. Abby Wambach evened the score at 3-3 on a penalty kick after a series of controversial calls against Canada. After a half hour of extra time, Alex Morgan sealed the win in the third minute of added time to send the U.S. to the final. - Guy Spurrier
82. Fail Mary 🤦
Sept. 24, 2012
Criticism of the replacement officials had been mounting for weeks, but it reached new levels at the end of Monday Night Football in Seattle. When the confused temps erroneously awarded the Seahawks a game-winning touchdown, Roger Goodell knew the referee lockout had to end. Two days later, the commissioner struck a deal with the NFL Referees Association. The regular zebras returned the following Sunday, and fans across the country welcomed them back with raucous ovations. - Alex Chippin
81. Tebow-mania
2011-2012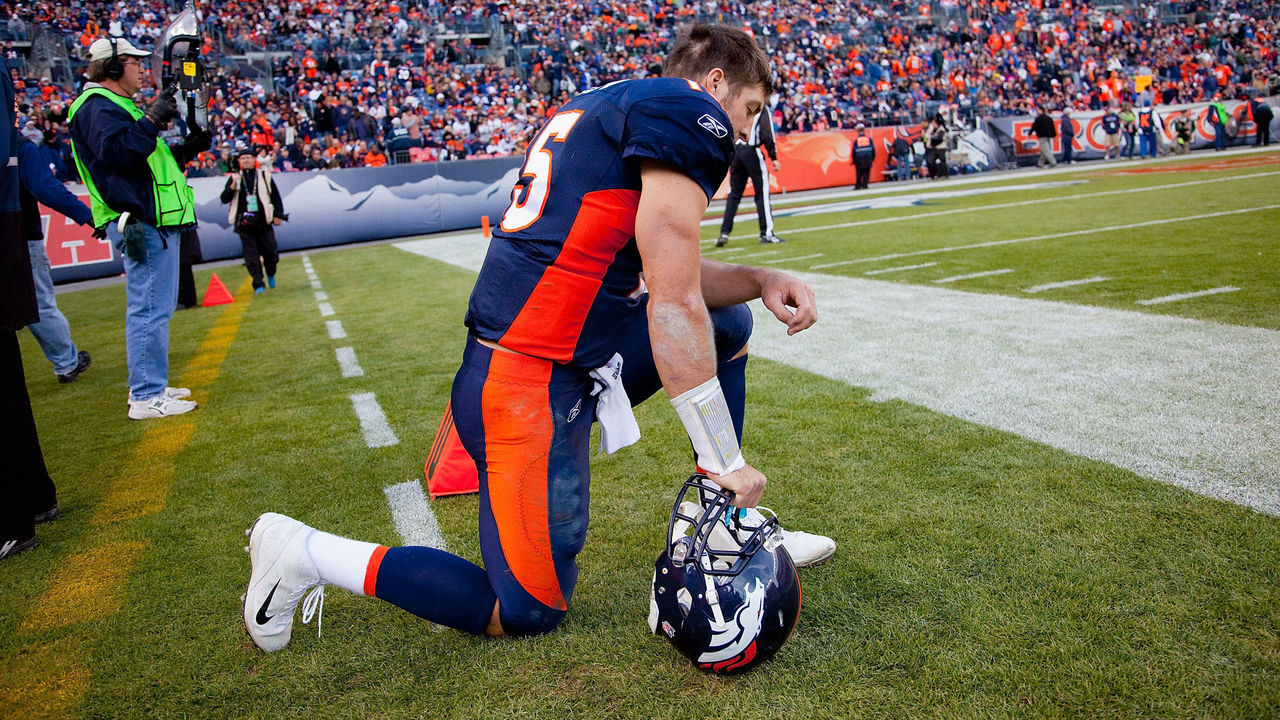 The quintessential Schrodinger's quarterback, Tim Tebow appeared either unfit for pro football or the sport's savior depending on when you tuned in during his 2011 run as the Broncos' starter. The famously devout lefty hit historic statistical lows early in games, yet managed to lead Denver to six straight wins - four via late comeback - in a stretch that culminated in Demaryius Thomas's 80-yard overtime touchdown in the playoffs. Were it not for the signing of universally beloved Peyton Manning as his replacement, fans in Denver would still argue over what might have been with Tebow. - David P. Woods
Comments
✕
Defining Moments of the Decade: What we'll remember from the 2010s
  Got something to say? Leave a comment below!