Get ready for your season with theScore's 2019 Fantasy Football Draft Kit and subscribe to push notifications in the NFL Fantasy News section.
Gambling with your fantasy picks can be stressful, but it can also be exhilarating. If you're willing to take some chances, here are the players who could deliver league-winning performances in 2019 - as long as they don't sink your team first.
Average draft position (ADP) data courtesy of Fantasy Football Calculator and is based on 12-team leagues with PPR scoring.
More from this series
Cam Newton, QB, Panthers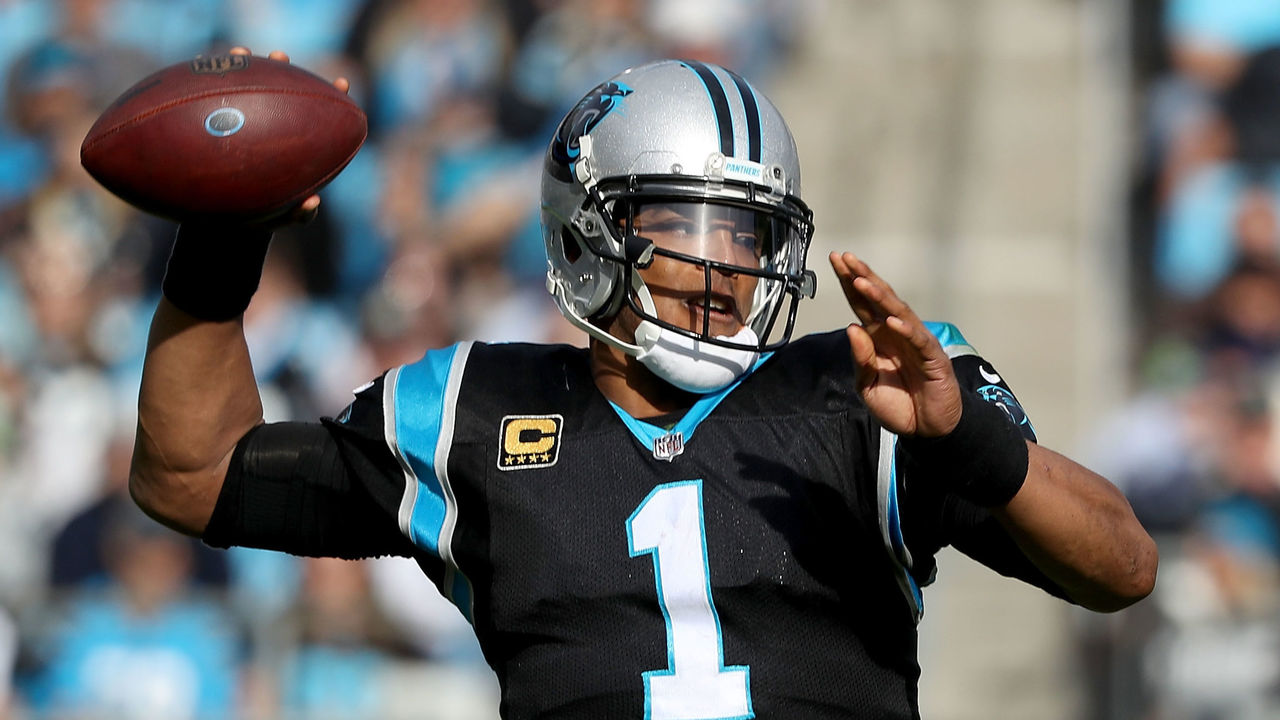 Newton underwent surgery on his throwing shoulder for the second time in two years but wisely began his recovery immediately this time around; he sat out the final two games of 2018 and went under the knife two months earlier than he did in 2017.
He noticeably struggled as a passer following his first procedure, recording just 22 touchdowns through the air and his highest interception total since his rookie campaign. Newton salvaged his 2017 fantasy stats with 754 rushing yards and six touchdowns on the ground, but we can't count on another monster rushing performance as he enters his age-30 season.
Fortunately, Newton avoided starting this year's training camp on the active/physically unable to perform list, and though the Panthers are being cautious with their franchise quarterback, he's well on his way to starting in Week 1.
Newton has MVP upside when healthy and appeared comfortable during his first year in Norv Turner's system; he tossed multiple touchdowns in 11 straight games before re-injuring his shoulder and was the QB3 in fantasy heading into Week 14.
With a young emerging receiving corps, a pair of capable tight ends, and one of the best pass-catching backs in the league, Newton's only obstacle to reaching top-seven fantasy QB numbers is getting his arm right before the opener.
Risk Factor: ⚠️⚠️⚠️
ADP: 9th round (QB11)
Todd Gurley, RB, Rams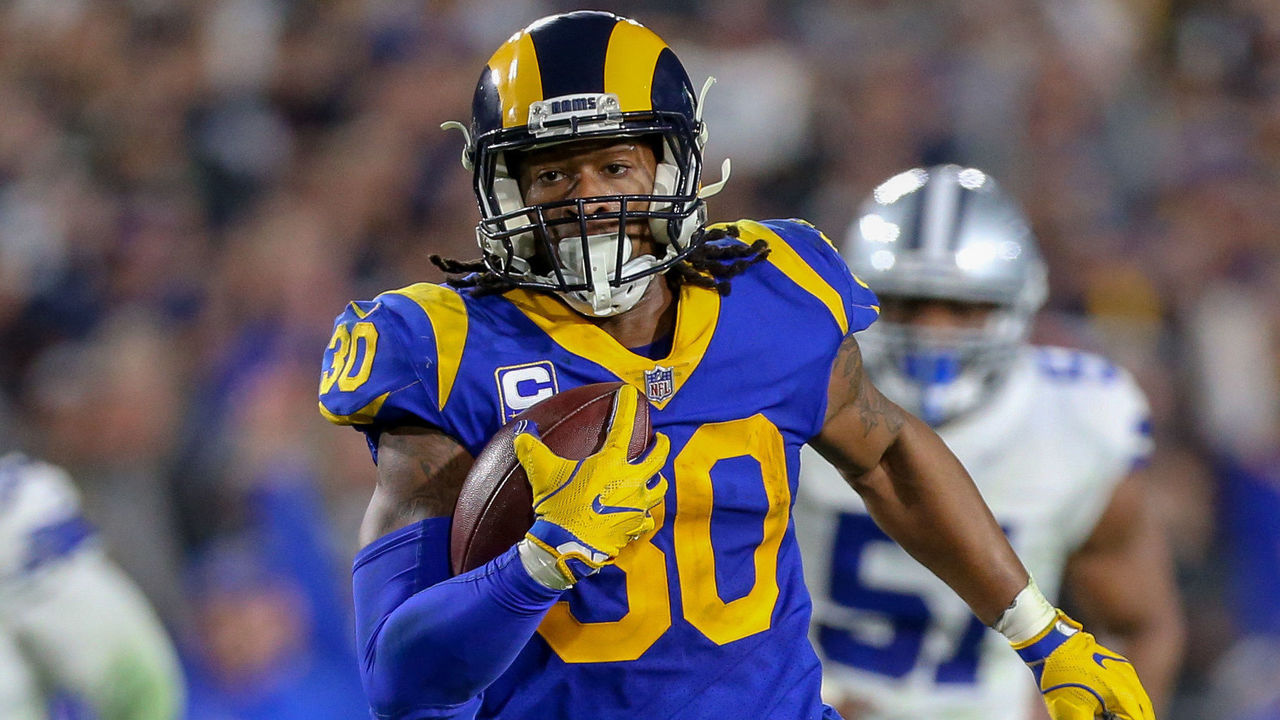 Gurley's knee issues have been one of the NFL's biggest stories since late last season. He missed the Rams' last few regular-season games and then had his playoff workload dramatically scaled back in favor of a time-share with C.J. Anderson.
Offseason reports suggested Gurley might have arthritis in the knee and may consider stem-cell treatment, but the rusher has been as elusive off the field as he is on it, refusing to provide clarity on the situation.
When the Rams matched the Lions' offer sheet to running back Malcolm Brown, it seemed to indicate a desire to maintain depth at the position - just in case. When they moved up in the third round to select Darrell Henderson, one of the best RB prospects in this year's draft, alarms sounded for fantasy owners.
As is often the case with offseason headlines, though, concerns about Gurley's 2019 outlook might be overblown. The presences of Henderson and Brown suggest Gurley's days as a workhorse are likely over, but that doesn't mean he's an untouchable fantasy asset.
Gurley is still extremely valuable as a second-round fantasy pick. The Rams have an elite offense that allowed him to accumulate 3,924 yards from scrimmage and score 40 touchdowns in two years. That's not a typo: Gurley has averaged over 1,900 yards and 20 touchdowns per season since Sean McVay arrived. Even half that production would keep him in the RB1 conversation, though I suspect he'll see more of a 60-40 split to reduce the grind on his knee and keep him fresh for the postseason.
Dynasty owners are right to be worried since this could affect his career longevity, but Gurley should settle in as a mid- to low-end RB1 in re-draft leagues.
Risk Factor: ⚠️⚠️⚠️⚠️⚠️
ADP: 2nd round (RB8)
Damien Williams, RB, Chiefs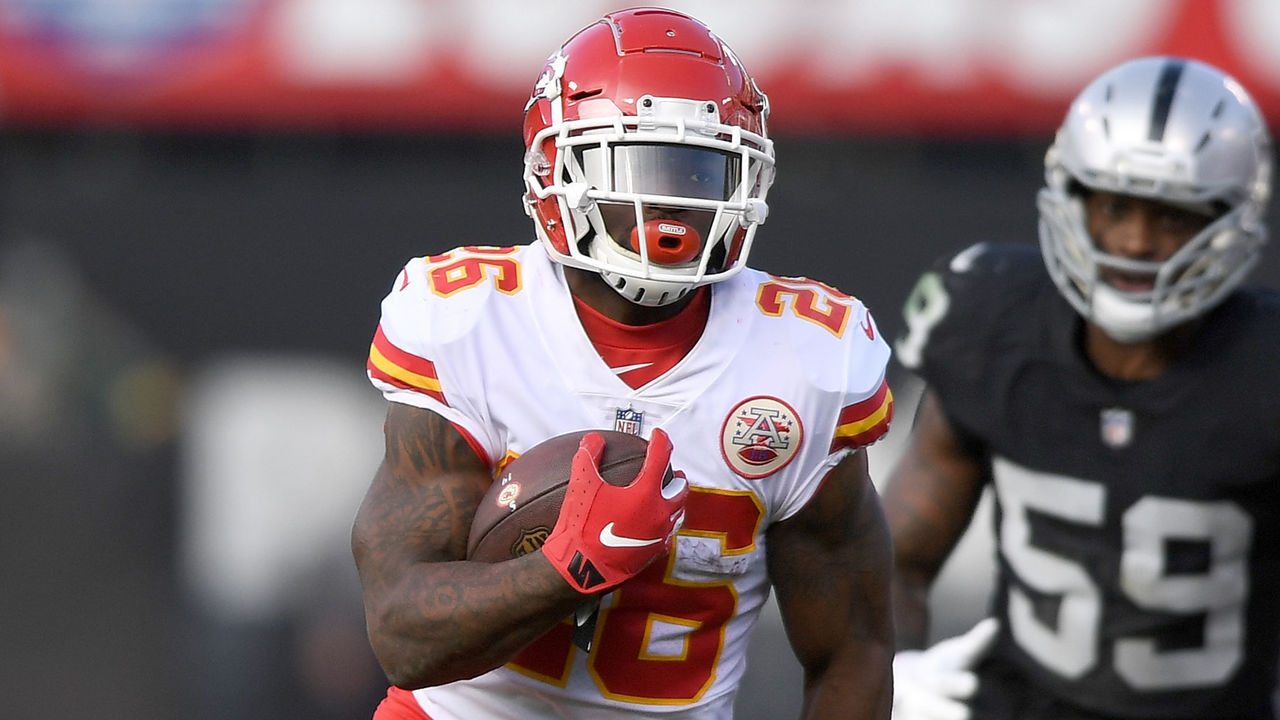 Williams is the quintessential high-risk fantasy option.
Prior to last season, he was viewed as a career backup and spent most of the year in that role behind Kareem Hunt and Spencer Ware. But like most NFL-caliber running backs, all Williams needed was opportunity.
When Hunt was suspended and Ware sidelined, Williams handled the bulk of touches and instantly emerged as a fantasy star. He managed 572 yards from scrimmage and six touchdowns over his final four games, including the playoffs. That performance earned him a two-year extension and he now enters 2019 as the Chiefs' lead back.
The team's offseason additions of Carlos Hyde and Darwin Thompson should make Williams' supporters confident the job is his to lose. Andy Reid has confirmed this sentiment, saying the team wants Williams to be "the full-time starter for the year."
With Williams missing practice time due to a hamstring issue, Hyde, Thompson and Darrel Williams have seen increased reps in camp. But Hyde has disappointed in each of his last two stops and his yards-per-carry average has dropped in three consecutive seasons. Thompson is a more intriguing option and could see some work as a pass-catcher, but his sixth-round draft capital lowers his odds of challenging for major touches as a rookie. Darrel Williams is a depth piece fighting for a roster spot.
If Damien Williams can handle a starter's workload over the course of a full season, he has top-15 upside in one of the league's most dangerous offenses. His late second-round ADP will force fantasy owners to assume a lot of risk in the process, though.
Risk Factor: ⚠️⚠️⚠️⚠️⚠️
ADP: 2nd round (RB12)
Kenyan Drake, RB, Dolphins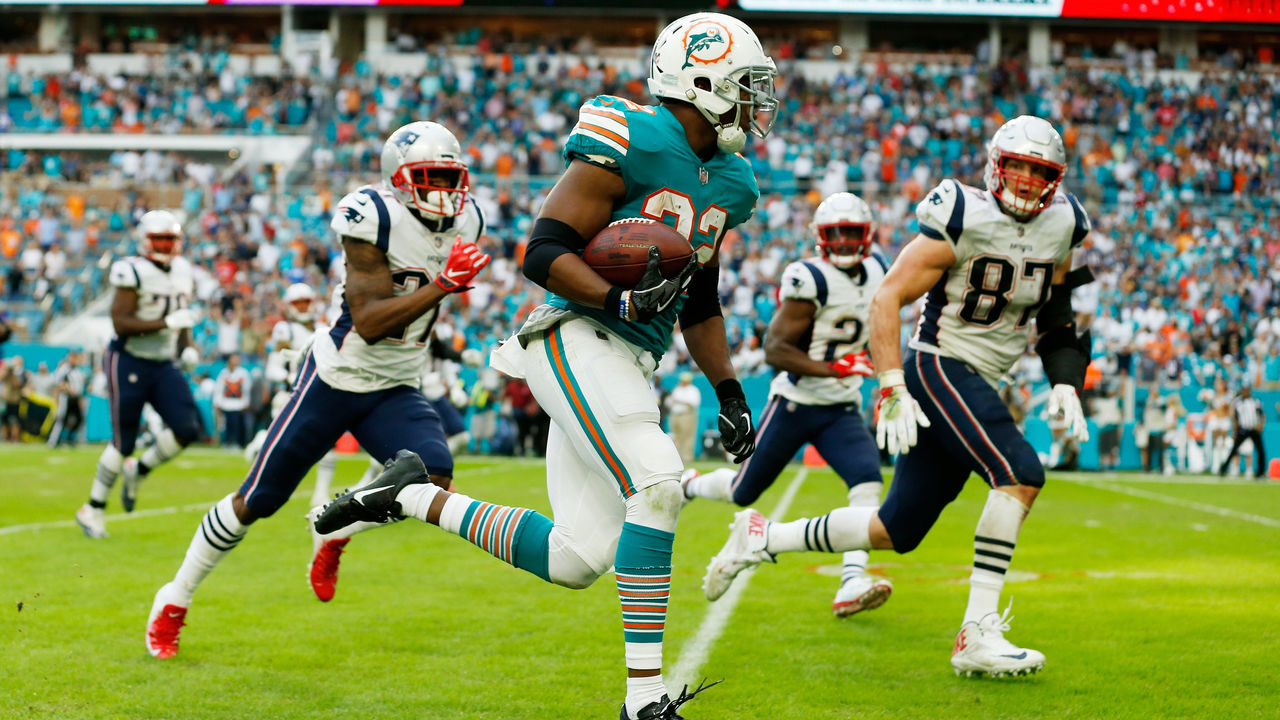 The Dolphins project to be one of the worst teams in 2019, so investing in their rushing attack might not seem like the savviest fantasy decision. One could have said the same thing a year ago - and one would have been wrong.
Drake overcame former coach Adam Gase's bizarre backfield usage to finish the season as the RB21 in standard leagues and the RB14 in PPR. He showcased his receiving skills with a career-high 53 catches and consistently scored well in Pro Football Focus' Elusive Rating.
Gase has since been replaced by a New England contingent featuring defensive-minded head coach Brian Flores and offensive coordinator Chad O'Shea. Given their experience on the Patriots' staff, it's possible we see Drake deployed as an overqualified pass-catching back. Think James White with more carries.
That would fit with the early rep distribution in training camp, which saw Kalen Ballage working with the first team. A split between Ballage and Drake is now likely, but with oddsmakers giving the Dolphins the league's lowest projected win total at 4.5 games, we can expect Miami to be in comeback mode often, tipping the usage in Drake's favor.
The target volume will be there for Drake, who should be eager to prove himself in a contract year. Given his under-the-radar stats from 2018 and what should be a more encouraging environment, another top-25 fantasy season is within his range of outcomes.
Risk Factor: ⚠️⚠️⚠️⚠️⚠️
ADP: 6th round (RB28)
Sammy Watkins, WR, Chiefs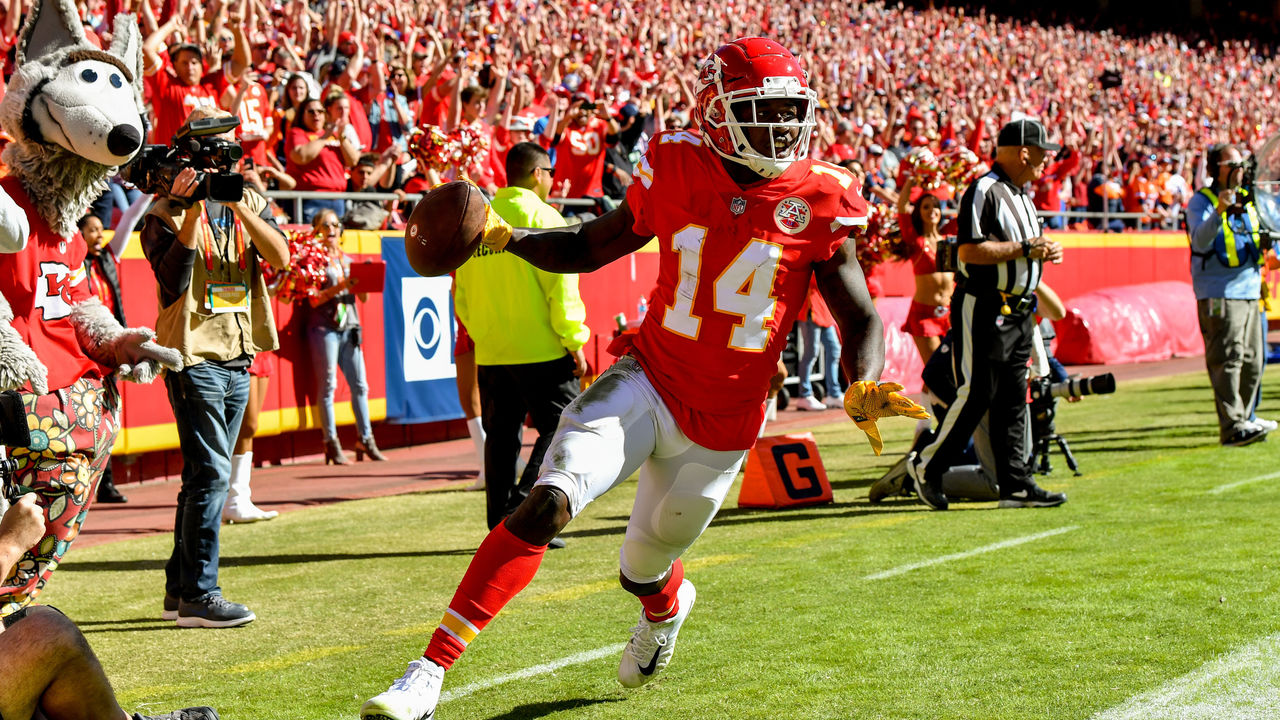 Fantasy managers appear to be shying away from Watkins now that Tyreek Hill has avoided a suspension, yet his stock should remain high as Kansas City's second-best wideout.
The Chiefs paid Watkins like a No. 1 receiver when he joined them in free agency a year ago, and though Hill occupies that role, Watkins was a top-24 fantasy receiver through the first nine weeks of 2018 before injuries sidelined him until the playoffs.
During that stretch, Watkins was on pace for 69 receptions, 915 yards, and five touchdowns on what projected to be just 96 targets. We also saw Watkins deliver early in his career when he followed up a 982-yard, six-touchdown debut campaign for the Bills with a 1,047-yard, nine-score effort as a sophomore.
Consistency issues and a troubling injury history have prevented the 26-year-old from unlocking his true potential as a pro, but teaming up with Patrick Mahomes may finally help Watkins reach the ceiling many believed he had when Buffalo took him fourth overall in 2014.
Risk Factor: ⚠️⚠️⚠️⚠️
ADP: 8th round (WR36)
Robby Anderson, WR, Jets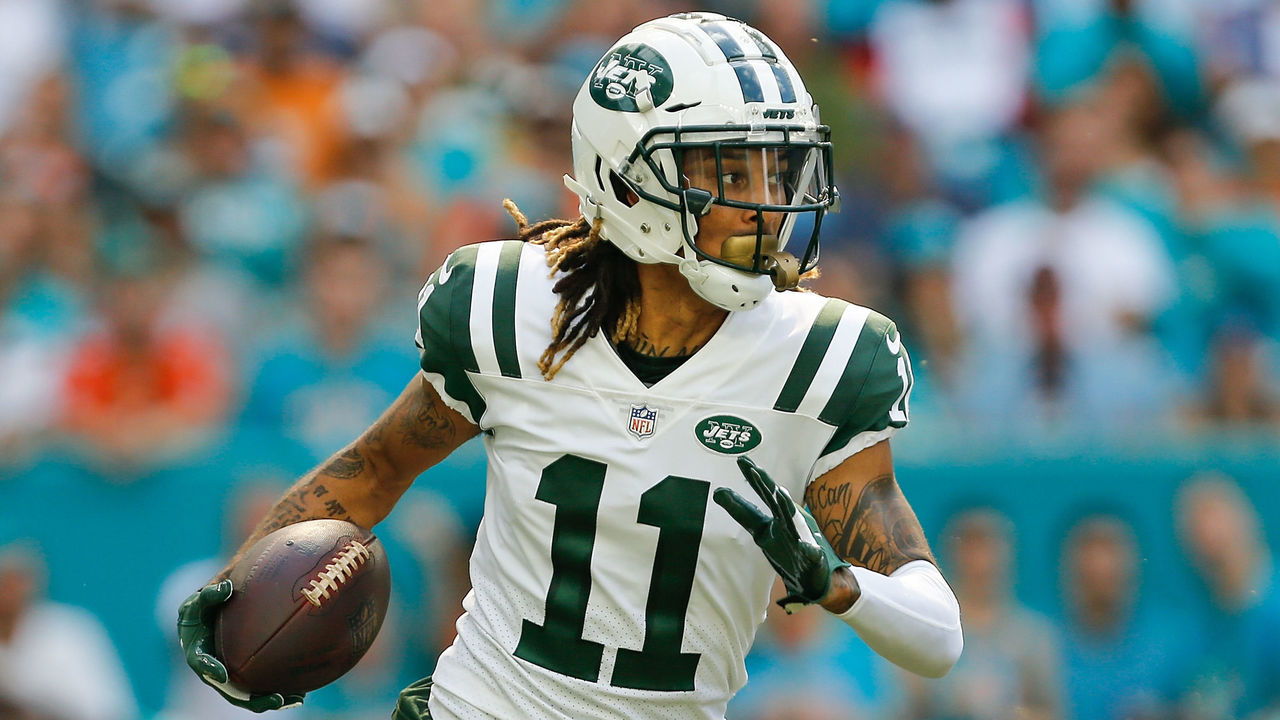 Expectations for Anderson were high last season after he finished as a top-20 fantasy wideout in 2017. Unfortunately, Anderson let fantasy owners down for the majority of the year, topping 50 yards just once in the first 13 weeks.
When Sam Darnold returned as the starter for the final month, however, the rookie quarterback developed a connection with Anderson that helped power many fantasy titles. From Weeks 14-16, Anderson was the top-scoring fantasy option at his position with 20 catches, 312 yards, and three touchdowns - reminding everyone his 2017 campaign wasn't a fluke.
The Jets' offense should be more potent after upgrades at running back (Le'Veon Bell), slot receiver (Jamison Crowder), left guard (Kelechi Osemele), and center (Ryan Kalil). If Quincy Enunwa can stay healthy, Darnold will have a full complement of weapons. Anderson's target share will be threatened, but having Bell in the backfield will draw defensive attention away from the Jets' downfield attack.
We don't know which Anderson will show up in 2019. At his best, though, the 26-year-old can be a fantasy week-winner, something we've now seen on multiple occasions over the last two seasons.
Risk Factor: ⚠️⚠️⚠️⚠️
ADP: 6th round (WR30)
Hunter Henry, TE, Chargers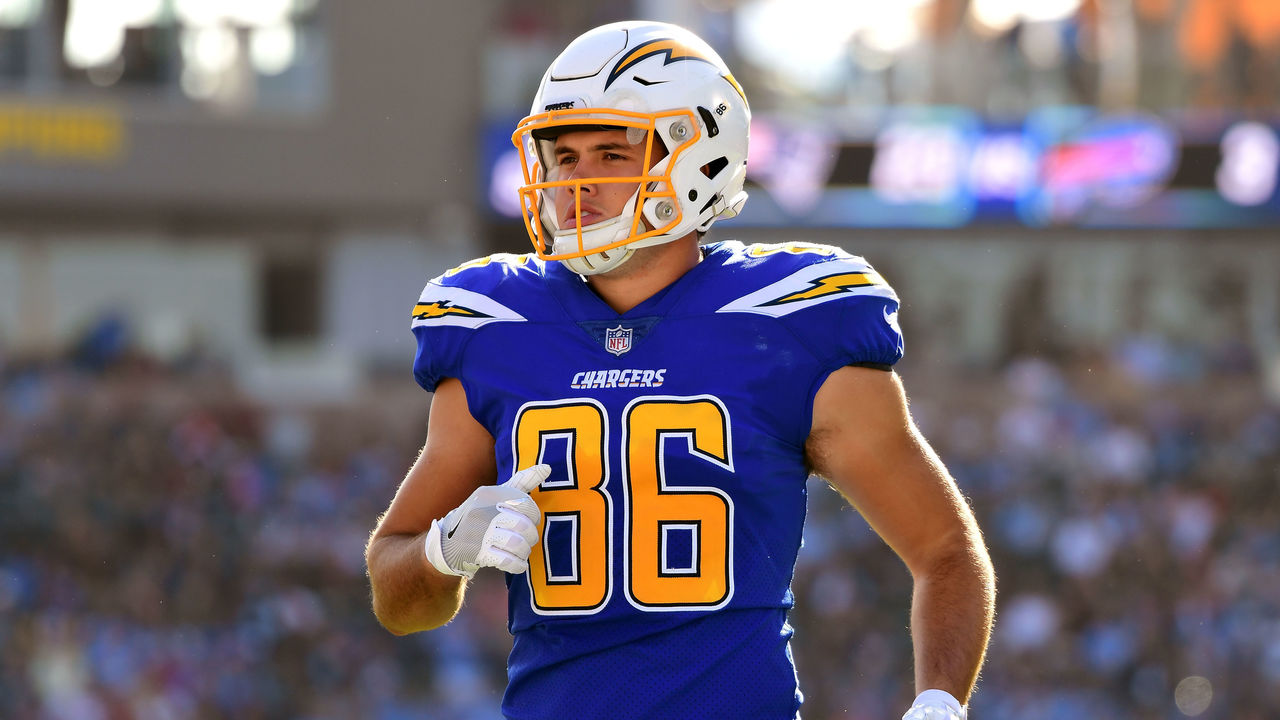 Henry was a second-round selection who immediately made his mark as a red-zone threat.
Playing behind Antonio Gates, who had seven touchdowns of his own that year, Henry scored eight times as a rookie in 2016. He also cracked a star-studded list of tight ends who averaged over 8 yards per target as rookies.
But Gates continued to obstruct Henry's path to a full-time role in 2017, and when the road finally cleared in 2018, a torn ACL kept the youngster sidelined for nearly the entire season.
As he prepares to take over as the full-time starter, Henry returns to a pass-catching corps that's far less crowded. Gates is off the books and former Chargers receiver Tyrell Williams inked a deal with the Raiders in free agency. With Travis Benjamin unlikely to command consistent targets, Henry could emerge as the default third option in the passing game behind Keenan Allen and Mike Williams.
It also helps that Philip Rivers has leaned on his tight ends as much as any quarterback over the last ten years, generating a ton of fantasy points for the Chargers' representatives at the position.
A breadcrumb trail of clues points toward Henry being a fantasy star, but we've yet to see him produce as a weekly option, which makes his sixth-round price tag a gamble.
Risk Factor: ⚠️⚠️⚠️
ADP: 6th round (TE6)
More from this series