Ranking the NHL's 5 best lines
Jonathan Kozub / National Hockey League / Getty
A really good line can start clicking for a number of reasons.
Sometimes, it's simply due to the individual talent of the three forwards in question, but it isn't always that easy. Putting the best three players together doesn't always pay dividends. Often, it's more effective to combine ones whose strengths complement each other perfectly.
The top two units in hockey clearly play in Denver and Boston. However, the rest of the list isn't as cut-and-dried.
Some lines - like those featuring both Connor McDavid and Leon Draisaitl - were more than effective but weren't deployed consistently enough to qualify, while others (like those consisting of McDavid and various other teammates or the ones featuring Hart Trophy winner Nikita Kucherov) were certainly productive, but didn't rank highly enough in many of the relevant analytic categories.
Here's who we consider the NHL's five most consistent all-around three-man units based on advanced stats from the 2018-19 regular season, their collective two-way talent, and the success of their respective teams.
All stats are at five-on-five. Games played denotes number of contests played together as a line. League ranking is in parentheses. Time-on-ice ranking is based on a minimum 400 minutes at five-on-five.
5. Marchessault-Karlsson-Smith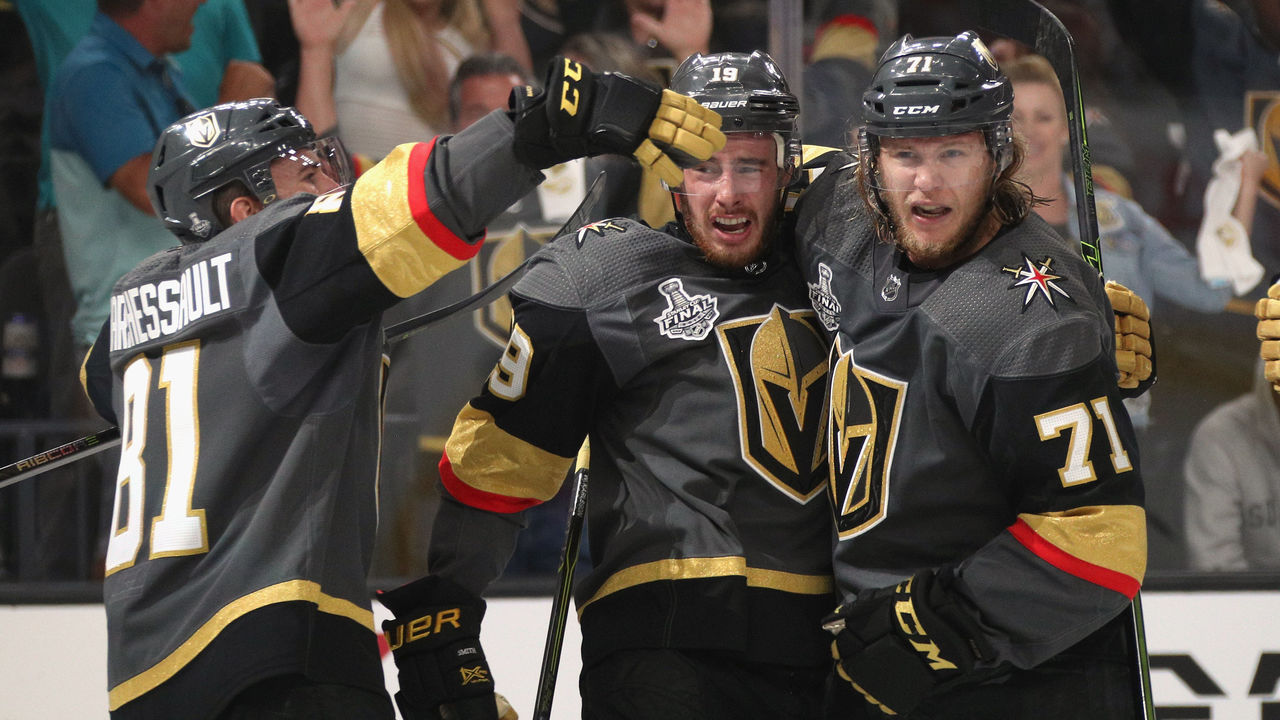 | Games Played | Time On Ice | Corsi For % | Goals For % | Expected Goals For % |
| --- | --- | --- | --- | --- |
| 73 (4th) | 819:37 (2nd) | 54.12 (9th) | 50.65 (18th) | 56.03 (7th) |
The Vegas Golden Knights' unit of Jonathan Marchessault, William Karlsson, and Reilly Smith wasn't the powerhouse this past season that it was two years ago. However, it remained one of the NHL's most dependable lines.
While other productive groups like the Dallas Stars' top line of Jamie Benn, Tyler Seguin, and Alexander Radulov produced a better share of Goals For in 2018-19, the enduring Golden Knights line played more together than all but one three-man forward unit in the NHL, driving possession at a favorable rate in the process.
They skated about 340 more minutes together in total than their Stars counterparts, who were shuffled around at times.
That heavy deployment was a testament to the chemistry that this Golden Knights line has demonstrated for the better part of two seasons, and if their Expected Goals For percentage is any indication, it's likely to stay that way.
4. Gaudreau-Monahan-Lindholm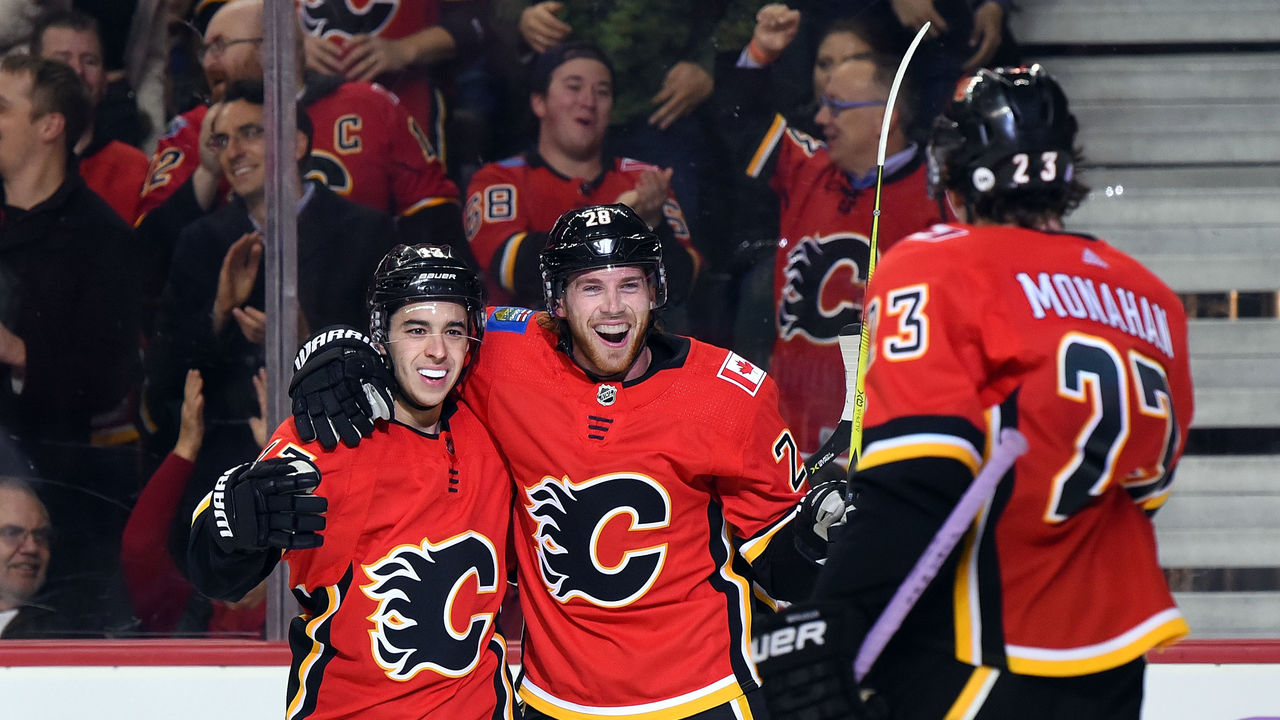 | GP | TOI | CF% | GF% | xGF% |
| --- | --- | --- | --- | --- |
| 76 (T-1st) | 8:11:37 (4th) | 54.66 (7th) | 60.47 (8th) | 55.39 (11th) |
This was an impressive trio in 2018-19, and it was only slightly less effective than the third-best group on this list.
The Calgary Flames' triumvirate of Johnny Gaudreau, Sean Monahan, and Elias Lindholm consistently drove possession and ranked relatively high in many analytics categories while leading a team that boasted the NHL's third-best offense.
This unit also posted respectable Scoring Chances For (52.56), High-Danger Corsi For (52.65), and High-Danger Goals For (58.82) percentages.
What this line did in 2018-19 definitely deserves some recognition, particularly when you remember it was Lindholm's first season with the club.
3. Hyman-Tavares-Marner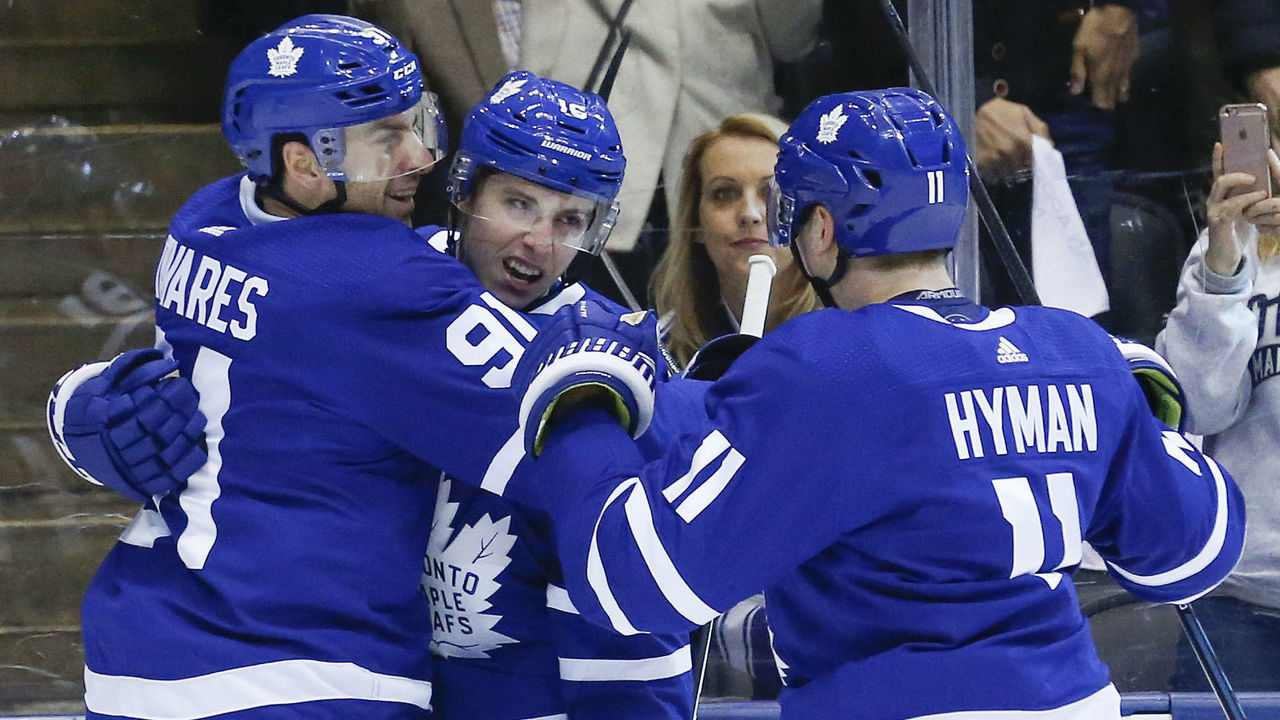 | GP | TOI | CF% | GF% | xGF% |
| --- | --- | --- | --- | --- |
| 70 (7th) | 812:56 (3rd) | 53.84 (10th) | 60.92 (7th) | 55.94 (9th) |
No line scored more goals at five-on-five in 2018-19 than the 53 buried by the Zach Hyman-John Tavares-Mitch Marner unit.
Only the No. 1 line on this list and the Golden Knights' top unit played more together during the campaign than this Toronto Maple Leafs trio, which posted a Scoring Chances For percentage of 56.51, exceeding the aforementioned Flames line in the process.
The Toronto threesome also produced excellent High-Danger Corsi For (56.82) and High-Danger Goals For (61.7) rates, proving more than capable of generating a favorable share of shot attempts, scoring opportunities, and goals across the board.
Yes, the Leafs, as a team, have to further prove themselves in the playoffs, but what this line accomplished across the majority of the campaign was impressive, especially considering that much like Lindholm and the Flames, it was Tavares' first campaign with his new squad.
Of course, Marner's contract situation could at least temporarily spell the end of this trio, but until he's absent from Leafs training camp or a member of another team, we're going to assume that these three players will line up together in 2019-20.
2. Marchand-Bergeron-Pastrnak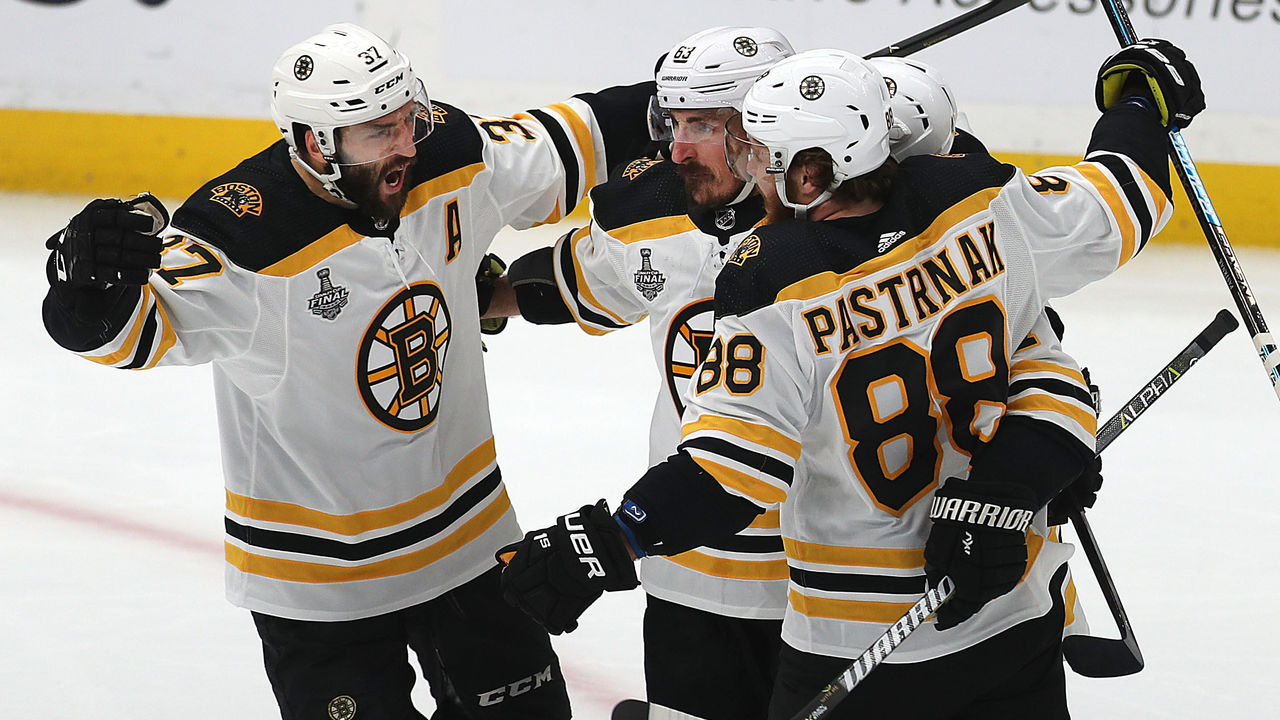 | GP | TOI | CF% | GF% | xGF% |
| --- | --- | --- | --- | --- |
| 46 (20th) | 461:45 (17th) | 55.97 (5th) | 52.94 (16th) | 56.3 (6th) |
The excellence displayed by Brad Marchand, Patrice Bergeron, and David Pastrnak is even more impressive when you remember that two members of the Boston Bruins' elite forward group missed a combined 33 games due to injury this past season.
Bergeron was limited to 65 games in the regular season, and Pastrnak played 66. That obviously had an effect on the trio's totals, but the fact that they still drove possession as consistently as they did speaks not only to their obvious talent but also to their undeniable chemistry.
Despite the lack of season-long continuity, this line still finished with a top-five Corsi For rating, and only five teams had a better Expected Goals For rate. Bergeron's status as a defensive demigod also cements this group as one of the league's best.
Plus, you can't argue with the team's results, as the top line's strong play helped the Bruins reach the Stanley Cup Final this past spring.
1. Landeskog-MacKinnon-Rantanen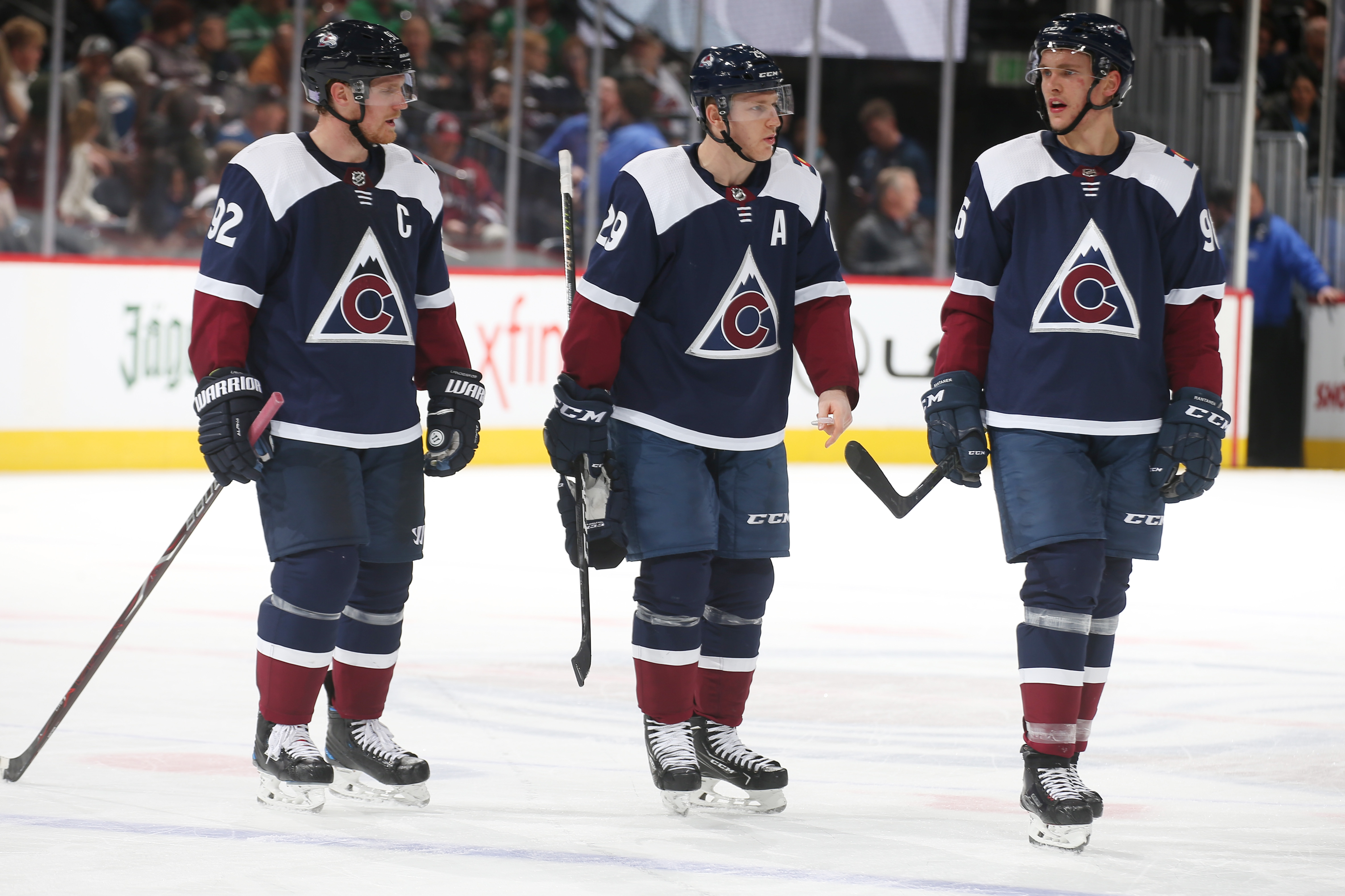 | GP | TOI | CF% | GF% | xGF% |
| --- | --- | --- | --- | --- |
| 66 (9th) | 824:40 (1st) | 54.43 (5th) | 61.11 (5th) | 47.85 (20th) |
There's a pretty good reason why the Colorado Avalanche's tandem of Gabriel Landeskog, Nathan MacKinnon, and Mikko Rantanen led the NHL in ice time at five-on-five despite playing fewer games together than eight other forward units.
That reason, of course, is that they're arguably the best line in hockey. It makes a ton of sense that Avalanche head coach Jared Bednar would rely so heavily on his tremendous trio, as these three players excelled both individually and collectively in 2018-19.
MacKinnon, who consistently plays at a Hart Trophy level, topped 40 goals and fell one point shy of 100 this past season. Rantanen has averaged 30 goals and 85 points over his last two campaigns (only his second and third in the NHL), and Landeskog had a career year himself with 34 goals and 75 points.
All three possess both goal-scoring prowess and elite playmaking ability. It's that combination of skills that makes them so difficult to defend against.
Much like Marner, Rantanen is currently a restricted free agent in need of a new contract. However, he's Colorado's only free agent and the team has more than $16 million in cap space, so don't expect this line to be broken up anytime soon.
(Analytics courtesy: Corsica and Natural Stat Trick)