Get ready for your season with theScore's 2019 Fantasy Football Draft Kit and subscribe to push notifications in the NFL Fantasy News section.
Waiting on quarterbacks has become the norm for fantasy owners looking to maximize value on draft day, but you still need to hit on the right players for the strategy to be most effective.
Let's see if we can identify this year's crop of late-round or undrafted quarterbacks who will outproduce expectations to emerge as low-end fantasy starters, or at least quality streaming options.
Who will exceed expectations?
Dak Prescott, Cowboys
The number of usable fantasy quarterbacks might have something to do with Prescott's ADP, which has him going off the board as the QB19 in re-draft and QB18 in best ball. That's a shocking value for a player who finished as the QB6 over his final nine games after Amari Cooper's arrival kick-started the passing attack.
Prior to the Cooper trade, Prescott completed 62.1 percent of his passes while averaging 202 yards per game. Those numbers rose to 71.3 percent and 274 yards per contest with Cooper in the mix. Prescott also improved his touchdown rate and reduced his interceptions during that time. The success led the Cowboys to throw more, and that trend should continue under new offensive coordinator Kellen Moore, who served as Prescott's quarterback coach in 2018.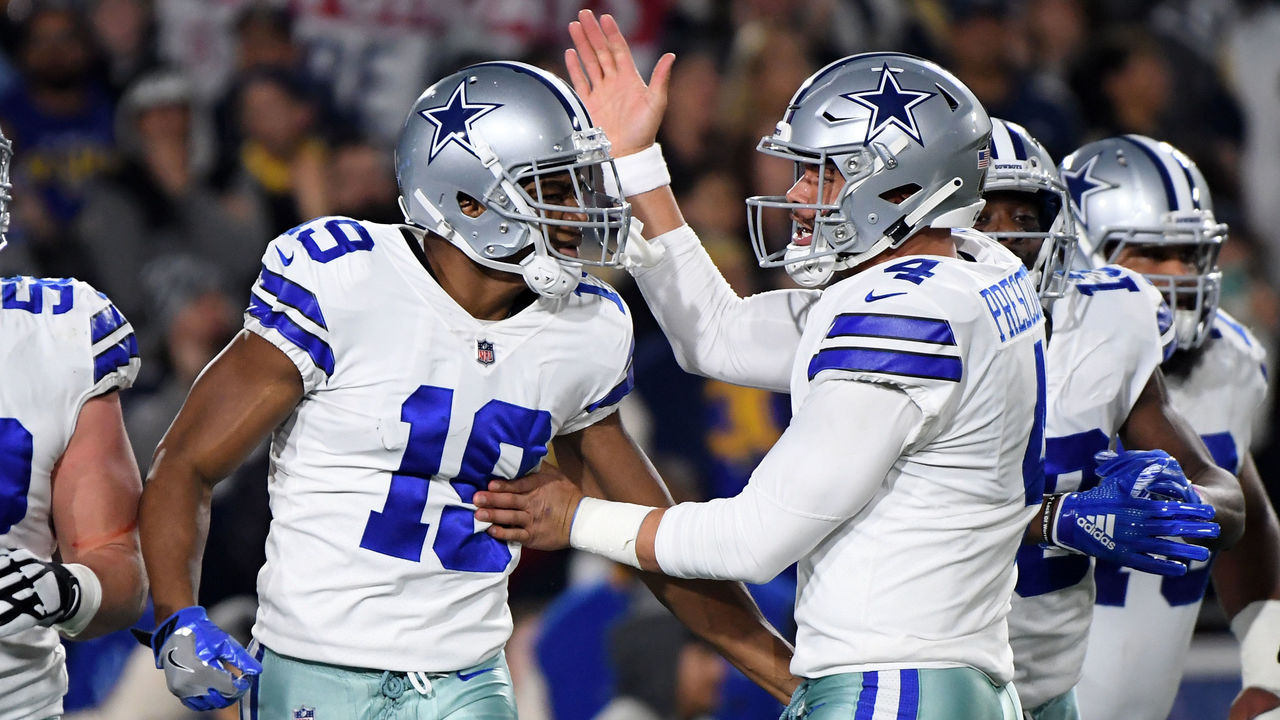 We can't discuss Prescott's fantasy outlook without mentioning his incredible consistency in the running game. Most dual-threat quarterbacks' rushing scores vary from year to year, but Prescott has exactly six touchdowns on the ground in each of his three NFL campaigns to go with yardage totals of 282, 357, and 305. That's a big reason why he's been a top-10 fantasy QB for three straight seasons.
Prescott is getting reinforcements for 2019 as well, with All-Pro center Travis Frederick and Cowboys legend Jason Witten providing a boost to the blocking. Veteran slot receiver Randall Cobb should offset the loss of Cole Beasley, ensuring Prescott has his best set of weapons since turning pro. Other late-round fantasy quarterbacks may offer a higher ceiling, but Prescott has the best odds of propelling himself into the top 10.
Josh Allen, Bills
The masses shook their heads when the Bills traded up to select Allen seventh overall in the 2018 NFL Draft, and I was right there with them. However, a year later, there are signs that the scoffing might have been premature. Rookie struggles and a shoulder injury led to a disappointing first half of the season, but Allen displayed his athleticism and cartoonish arm strength down the stretch as Buffalo went 3-3, including a pair of close losses to the Jets and Dolphins.
Over those final six weeks, Allen had more fantasy points than any other quarterback. Let's repeat that to make sure it sinks in: Allen was the No. 1 fantasy QB from Week 12 to Week 17, an accomplishment made possible thanks to 476 rushing yards and four touchdowns with his legs. The rookie rushed for eight scores on the season, a feat he'll have a hard time replicating, but fantasy owners should feel confident that the 23-year-old will remain a significant part of the Bills' ground attack.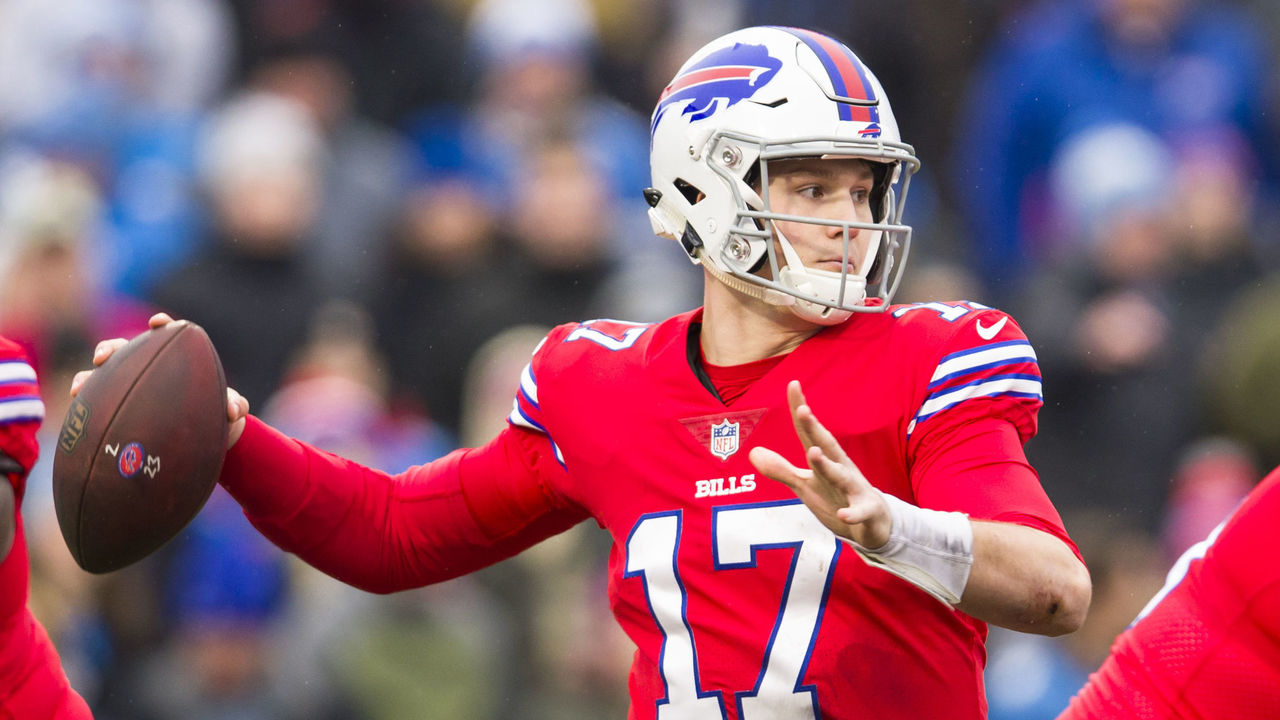 General manager Brandon Beane noted that Allen needs to make better decisions when throwing downfield and said his accuracy was less of an issue when he was given a clean pocket. Following the blueprint laid out by the Eagles (Carson Wentz), Rams (Jared Goff), and Bears (Mitch Trubisky), Beane brought in several upgrades to help his young passer make the leap as a sophomore.
John Brown and Cole Beasley bring experience and reliability to the receiving corps. Brown has been on the cusp of stardom for a while, but health issues held him back. He was able to suit up for all 16 games last season, however, and through seven weeks, he was on pace to finish with 1,275 yards and nine touchdowns before the Ravens' shift to a run-heavy offense derailed his production. Beasley is the safety net Allen lacked and should be a friendly target when his initial reads are covered downfield. Brown and Beasley join Robert Foster and Zay Jones, who've flashed in short bursts but have yet to establish themselves as consistent difference-makers.
Though skill-position signings get the headlines, Beane made more impactful moves on the offensive line. Buffalo could have as many as four new starters. Center Mitch Morse is the major signing, flanked by veteran Spencer Long, Quinton Spain, Ty Nsekhe, and LaAdrian Waddle. The Bills also invested an early second-round pick in Cody Ford, who will compete at tackle and guard on the right side. If the GM is right and Allen's accuracy improves behind solid blocking, he might challenge for QB1 status over an entire season.
Derek Carr, Raiders
Though Carr's fantasy stock took a hit in the last two seasons, his year-end results haven't been as bad as public perception suggests. Starting in 2018 and going backward to his rookie season, Carr has finished as the QB17, QB19, QB10, QB14, and QB20.
Carr set career highs in completion percentage and yards in his first year with Jon Gruden, and at one point went more than two months without throwing an interception. He managed all that with tight end Jared Cook as his most dangerous pass-catching threat once Amari Cooper was traded halfway through the season. Now Carr gets a massive infusion of talent with the elite and motivated Antonio Brown, former Chargers speedster Tyrell Williams, and first-round running back Josh Jacobs.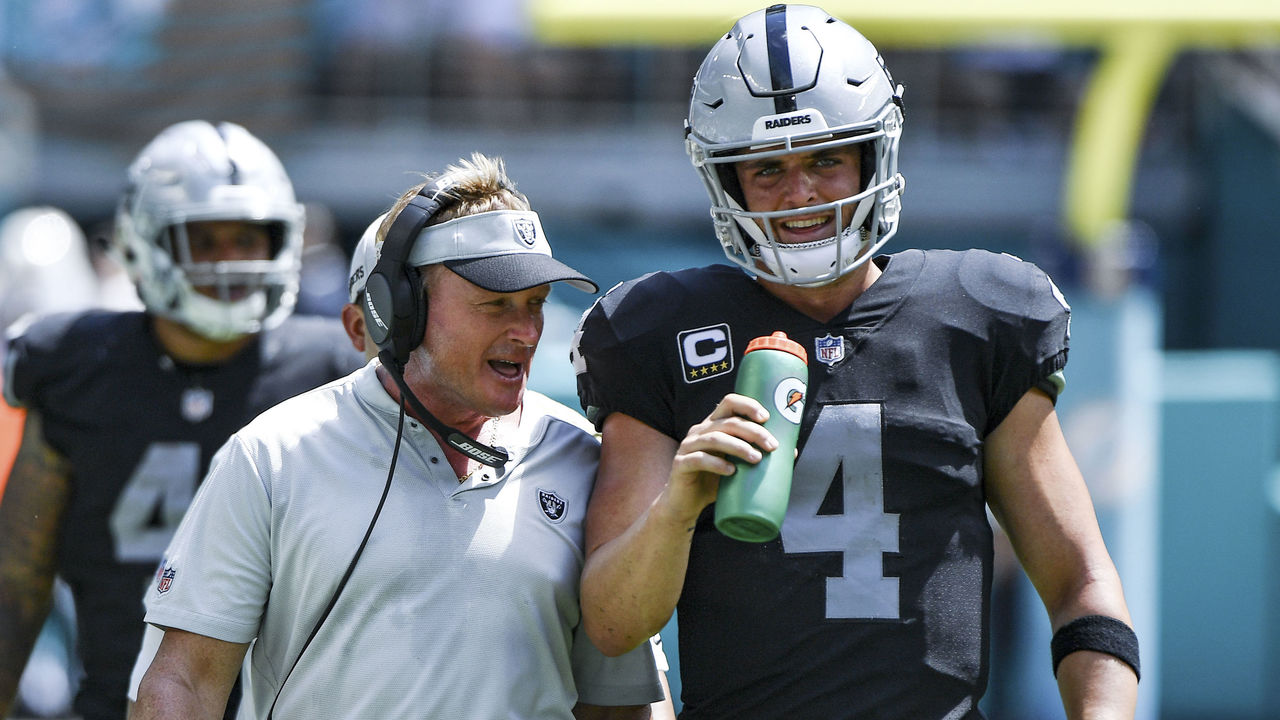 While things are looking up for Oakland's offense, the defense is still a work in progress, which explains the team's Vegas win total of six games. If that holds true, the Raiders will once again find themselves in shootouts or trailing, forcing Carr to take to the air more often in the second half of games.
We'll definitely learn more about Carr - and his relationship with his teammates after rumors that they don't respect him - when the Raiders are featured on "Hard Knocks." For now, Carr is a QB2 in fantasy with an outside shot at flirting with QB1 numbers if he can get on the same page as Brown early in the season.
Deep Shots
Andy Dalton, Bengals - It doesn't seem possible, but Dalton finished as a top-14 fantasy QB in five of his last eight campaigns. Prior to last season, when the Bengals' offense was crushed by injuries, Dalton was inside the top 20 every year. With a new, offensive-minded coaching staff, a healthier group at the skill positions, and improvements on the line, Dalton should outproduce his current ADP (QB26) to be a solid streamer.
Dwayne Haskins, Redskins - Rookie quarterbacks are an unknown commodity in fantasy with a wide range of potential outcomes. Given that Case Keenum and Colt McCoy are his only competition, Haskins has a chance to be under center in Week 1. Though his supporting cast isn't overly exciting, Washington ranked among the top 12 for passing yards in each of Jay Gruden's first four seasons as head coach, with 2018 the lone exception due to Alex Smith's career-threatening injury. If Haskins can continue the development he showed near the end of his time at Ohio State, he could be a surprise fantasy option who will go undrafted in most leagues.
Daniel Jones, Giants - Despite all the negativity that surrounded the sixth overall pick, the winds are shifting in New York as the team can no longer justify starting a fading Eli Manning. It's a matter of time before Jones usurps his veteran mentor in 2019, and there's a growing possibility that the switch will occur before the opener. Jones has a long way to go before we can trust him on our fantasy rosters, but his underrated rushing ability should make him intriguing as a bye-week fill-in when his number is called.
Who will exceed expectations?