As Zion Williamson embarks on the first official steps of his NBA journey this week, he has but one roadmap to follow.
When the New Orleans Pelicans call Williamson's name at Thursday night's NBA draft, he'll step on a path few people have taken. Back in 2003, it was a skinny kid from Akron, Ohio, who launched his NBA dream as the No. 1 pick.
In the 16 years since LeBron James was drafted by the Cleveland Cavaliers, the other top picks have been a mixed bag at the professional level.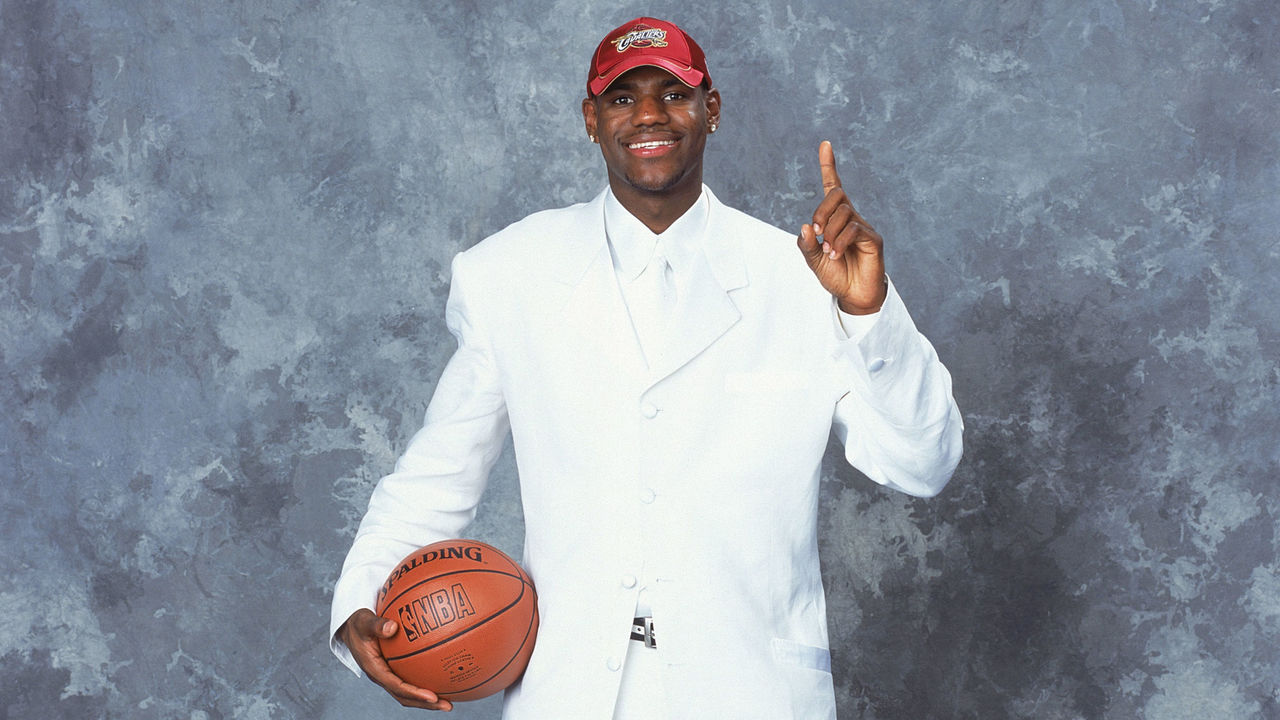 The selections run the gamut from the obvious (Kyrie Irving, Dwight Howard, John Wall) to the absurd (Andrea Bargnani, Anthony Bennett, Andrew Bogut). But not even the most famous of the 15 entered the league with as much hype and exposure as Williamson, the first genuine prodigy of the social media age. LeBron 2.0.
If James was Elvis - the first high school player whose every step was scrutinized, the first traveling circus - then Williamson is the Beatles.
For those who helped shape both James and Williamson at a foundational level, the hype machine was something to behold. The three high school head coaches closest to the two players - Keith Dambrot and Dru Joyce II, James' coaches for two years each at St. Vincent-St. Mary High School in Akron, and Lee Sartor, Williamson's coach for all four years at Spartanburg Day School - all use the term "rock star."
"Girls were sending him panties in the mail!" said Joyce, James' AAU coach in Akron and his varsity coach at SVSM for his junior and senior seasons. "He was a rock star. After the games, the line for autographs were endless. What would be crazy, guys from the team we just beat would be in line, too."
Joyce saw the hype build from the earliest stages, but for Dambrot, who had collegiate coaching experience at Central Michigan before his brief SVSM tenure, this was all new. Even having coached three future NBA players couldn't prepare him.
"I felt like I was traveling with Elton John at times," Dambrot said.
Elvis or Elton, it doesn't matter: James in high school was a rock star in the truest sense, packing arenas across the country and drawing hordes of media, a phenomenon never seen before - and not seen again for more than a decade.
"In the 15 years since, Zion is easily the one who you can compare. I don't think it's close," said Ryan Jones, former editor-in-chief of Slam magazine and author of "King James: Believe the Hype - The LeBron James Story," which was released in October 2003.
Jones points to social media as the catalyst, something that wasn't part of the equation when James burst onto the national scene in 2001. No one was consuming their basketball highlights on Friendster.
"I have a 14-year-old son, and he watches most of his sports on the phone. I don't think he's ever watched 'SportsCenter,'" Jones said. "He watches his highlights on Instagram or these YouTube wrap-ups. In the process of eating breakfast, he can see everything that matters from the night before.
"Every Zion dunk was in 20 different angles, and you can watch it on a loop forever."
It was a mixtape of Williamson's highlight-reel dunks, in fact, that kicked off the hysteria.
Sartor remembers when the first reel dropped and their world shifted.
"Literally, it seemed like overnight," Sartor said. "I know it wasn't, but it really felt like one day we were playing in front of family and friends, and the next day we were playing in front of packed houses."
Williamson's star turn began as a freshman, when he helped lead Spartanburg Day to the state championship game. The Griffins lost. After the defeat, he stood up in the locker room and, through tears, told his teammates they'd never lose state again. They didn't.
By the summer before his junior season, the stands were packed for team scrimmages. In November 2016 at the Tournament of Champions in Washington, Ill., all of Spartanburg Day's games sold out. When the team played in the Chick-fil-A Classic in nearby Columbia, S.C., an overflow crowd showed up. The fire marshal let people in one by one, only when someone else left.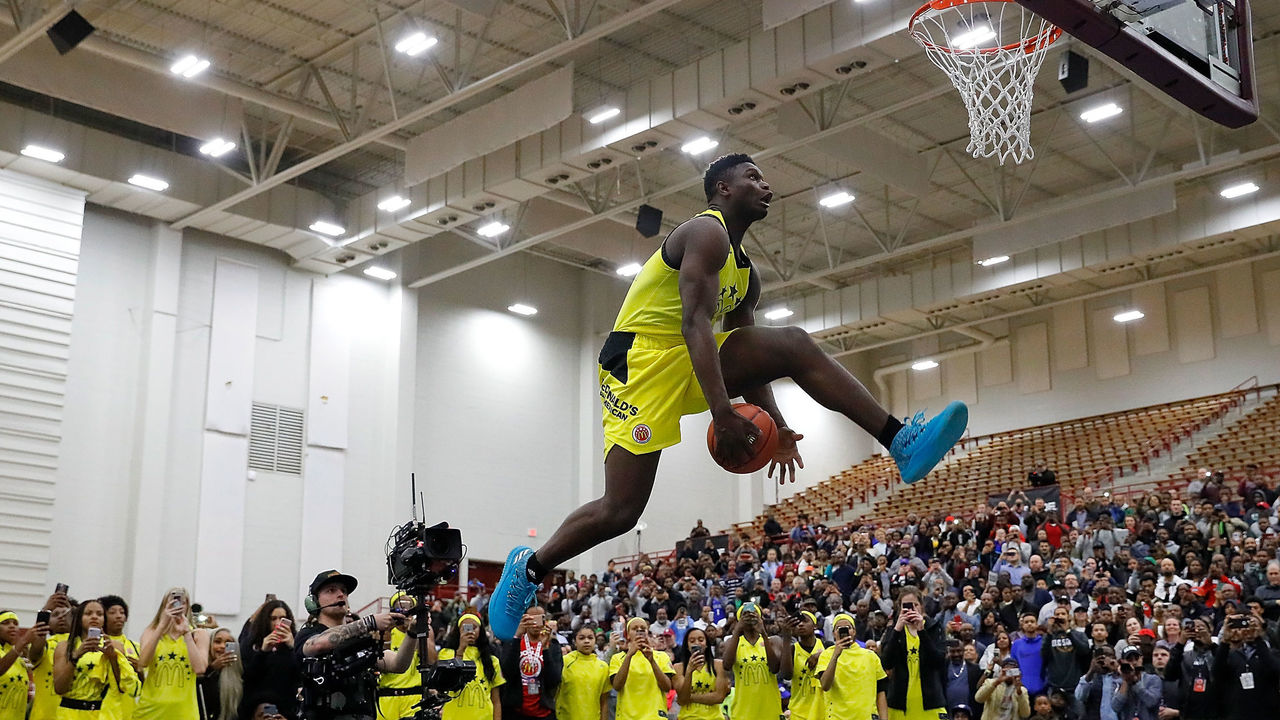 It was reminiscent of James' meteoric rise in 2001. He was pitted head-to-head against Lenny Cooke - the consensus top player in the country - at the Adidas ABCD camp on the Fairleigh Dickinson campus in Teaneck, N.J. James was already an underground sensation among hoop-heads; he'd led the Fighting Irish to an undefeated season and a state title as a freshman, and he got an invite to Howard Garfinkel's prestigious Five-Star Basketball Camp, becoming the youngest player ever to attend. His high school games were moved to Akron University to accommodate the swelling crowds.
But that July, on the Fairleigh Dickinson campus, LeBron's legend was established. He outdueled the elder Cooke, firmly establishing himself as the top basketball prospect of his generation. It earned him a write-up in The New York Times. Slam magazine, by then, was already on him.
"We're down in Trenton and I think it's when they were playing Carmelo (Anthony)," Jones said. "Maverick Carter ... he was kind of LeBron's mentor. We'd gotten friendly with Mav. ... In Trenton, he was by himself, up in the bleachers, and he goes, 'LeBron is going to be on the cover of (Sports Illustrated) this week.' I said, 'Really? Come on man, this is SI.'
"This is when an SI cover meant everything. We'd had him in Slam eight months before, but we hadn't put him on the cover. In retrospect, I wish we had. If we put some random high school sophomore from Ohio on the cover, no one was going to buy the issue. ... That was a turning point in a big way. Kids didn't read SI as much, but their dads did. If you were putting a high school kid on the cover, that sent a message."
In August 2017, Sports Illustrated gave Williamson similar space in a long-form feature comparing Williamson's burgeoning fame to James'. It did not give him the cover, though the value of that placement pales in comparison to Instagram views these days.
Besides, by August 2017, Zion Williamson was already a household name.
Tale of the tape
Comparing Williamson to James physically, however, is a fool's errand. Separated by just one inch, Williamson has 35 pounds on James now and 45 pounds on the rookie version of James. If James entered the league as a Humvee relative to his competition, Williamson enters as a Mack truck.
More accurate analogues for Williamson include Charles Barkley, Shawn Kemp, Larry Johnson, and Amar'e Stoudemire.
While both have extraordinary athletic ability, tremendous offensive skill, and out-of-this-world hops, James was the superior passer as a prospect, showing elite recognition so early that former Nike and Adidas exec Sonny Vaccaro said he could have entered the league as a high school sophomore.
"I knew he was a pro two games into his sophomore year," said Dambrot, now the head coach at Duquesne. "His instincts were so far advanced. It was kind of like Mozart. I don't know much about music, but he was a freak. The great ones are just so much more advanced than anyone else, it's hard to understand."
Like James, Williamson's talent was evident before high school.
"I've known Zion a while. First met him when he was in the fifth grade," said Sartor, now the head coach at Erskine College in South Carolina. "I had a chance to actually watch him grow up. He started to be different in terms of his athleticism, skill level, ability to impact a game … as a ninth-grader. That's when I started to realize he had a chance to be a very good basketball player. I remember telling him, and his parents, that he had a chance to be perhaps the best player in the country. Of course, he continued to work hard to make sure that it happened."
By that time, Williamson already had his heart set on attending Duke, and on working in the NBA.
"That's what he called it then - he called it work," Sartor said. "He knew exactly how many jobs were available."
If Williamson brings that lunch-pail attitude with him to the Pelicans, suddenly flush with young talent and picks after the Anthony Davis trade, his future should be secure.
Williamson has one more quality that reminds people of James.
"None of us are perfect - not me, not LeBron, not you - but if you analyze LeBron's performance as a person? With everyone telling him how great he is, with the money he has - I don't know if anyone could do better than what he's done," Dambrot said. "But Zion, the way he carried himself on the court, you can see a lot of those same attributes. Everyone says the same things about him - that he's a great teammate, that the joy he has on the floor carries over to others."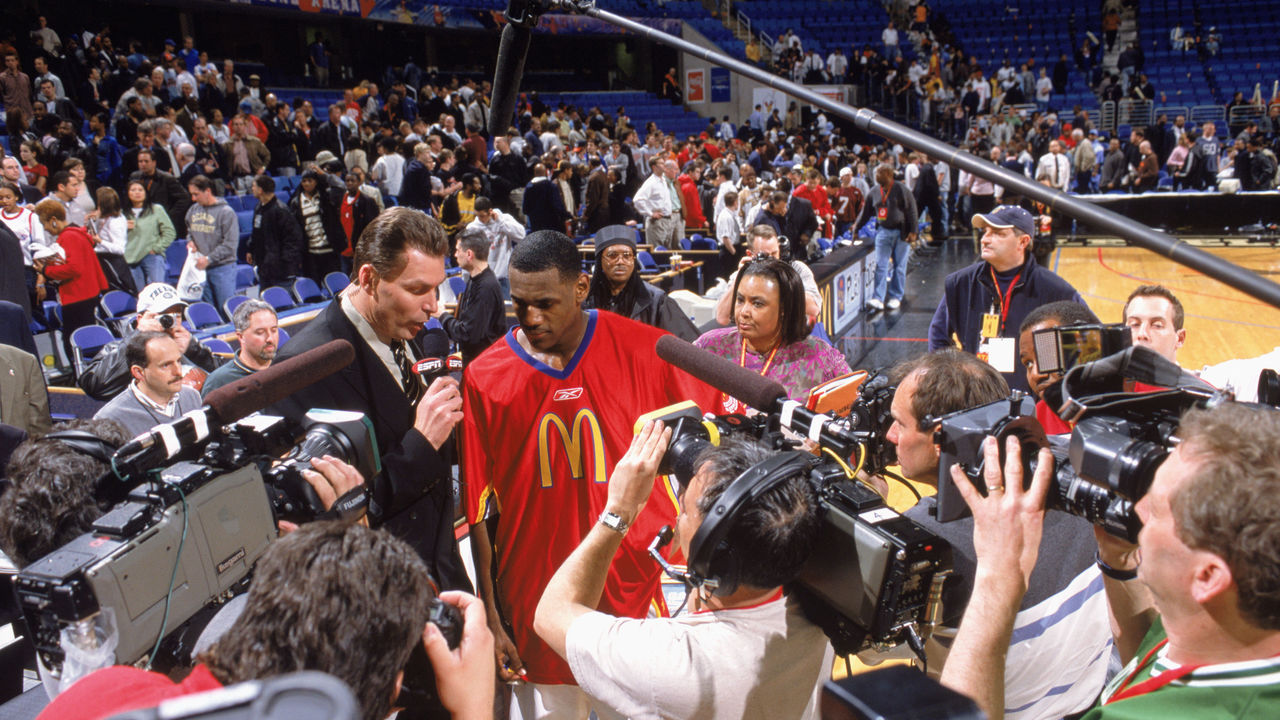 Sixteen years after his star pupil was selected with the first pick in the draft, Joyce and Dambrot both remain close with James and speak with him often. Arguably the biggest name in the sporting galaxy, James remains loyal to his roots.
"The great thing about him, and our relationship and this group of guys - they'd been playing together since the sixth or seventh grade, they grew up together - when those guys get together now, they still act like kids," Joyce said. "That's what special. They've got wives and children, but when they get together, the laughing and the joking - it's still the same, even now. ...
"I saw LeBron the first time he saw the ocean, during his first plane ride. Those are times that will always stand out for me. When you see a kid's eyes open up when he's looking at the ocean for the first time. We were thankful we could provide those life experiences for him. I do know this - we were involved and we did all those things and he is who he is. I know that was very special for me."
Sartor helped usher Williamson through a pivotal time in his life, too.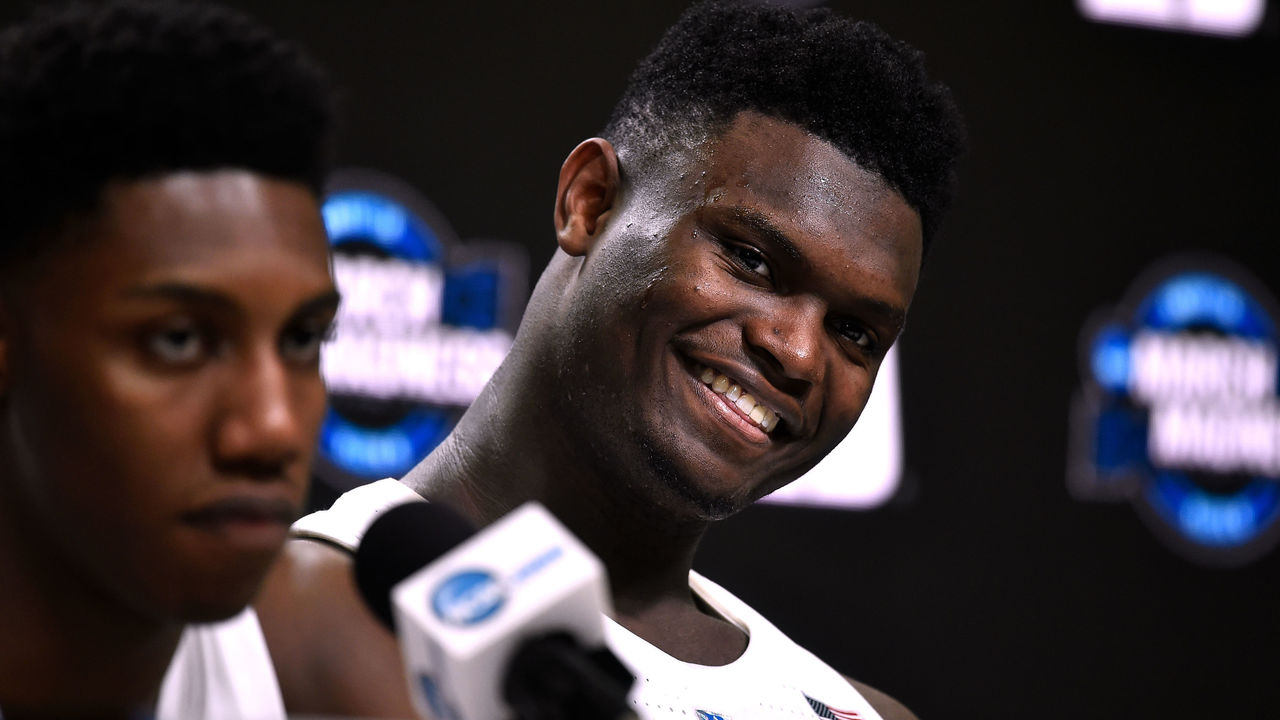 He witnessed as many firsts as Williamson did. He witnessed a high school student blossom into a star, and then into a celebrity. He did not witness Williamson change, even a little.
"Zion was the type of person who always wanted to make sure he got to everyone," Sartor said. "We had to be careful. He was still a high school student, and a lot of times, games were in the middle of the week. People would get upset at him if he couldn't sign autographs or take pics. We had to explain - he's still a kid! He has school the next day. Zion was blessed tremendously, and one of his attributes is being humble. Throughout all of this, he remained respectful, remained just a good, solid person. I think that helped the team.
"We were playing with a rock star, but he didn't act like a rock star."