The Virginia Cavaliers needed overtime to win the 2019 national championship - a fitting final hurdle after years of early March exits - but Tony Bennett's program had already proven to be one of the most consistent teams in college basketball.
Virginia has earned either a 1- or 2-seed in five of the last six NCAA Tournaments. All five of those top-two teams ranked top six in Ken Pomeroy's trusted statistical ratings, with the only outlier, the 2016-17 squad, placing a mere 12th.
One of the keys to Virginia's sustained success has been cohesion. And with the team's three most important players - De'Andre Hunter, Kyle Guy, and Ty Jerome - heading off to play professionally, it's a factor that will test Bennett and Virginia as they look to sustain success in 2019-20.
Victories led by continuity
One of the statistics that KenPom calculates is minutes continuity, which is defined as the percentage of a team's court time that is used by the same players from one season to the next. It's a deeper way to measure experience and cohesion versus simply calculating the number of upperclassmen or returning starters a team is bringing back.
The Cavaliers have consistently ranked above the Division-I average using this method. This past season, 60.2 percent of their minutes were claimed by the same players who used them in 2017-18, and that number has not dipped below 55 percent in the aforementioned six years.
Virginia has gone 178-36 in that span.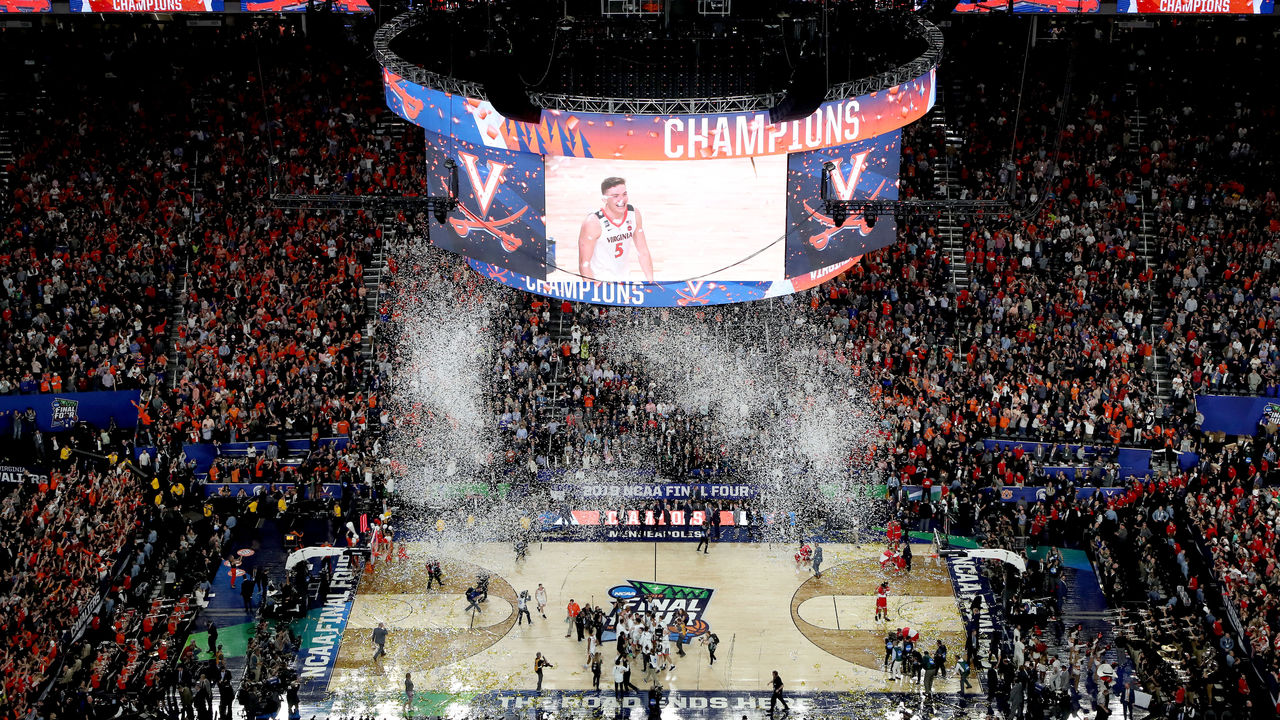 Of course, it hasn't been just anyone, as the Cavaliers have been able to rely on the same go-to players from year to year. After becoming the first No. 1 seed to lose in the first round of the NCAA Tournament, Virginia brought back the entire Hunter-Guy-Jerome trio for 2018-19, with much better results.
That core ultimately combined to score 67 of Virginia's 85 points in the championship win over Texas Tech, and all three are hoping to be selected in Thursday's NBA draft.
Changing of the guard
It's certainly impressive to possess multiple players who are good enough to be among the NBA's 60 draft picks.
For Virginia, this draft could be historic. The Cavaliers have never produced two first-round selections in the same year, but Hunter - a surefire lottery pick - and Jerome could accomplish that feat on Thursday.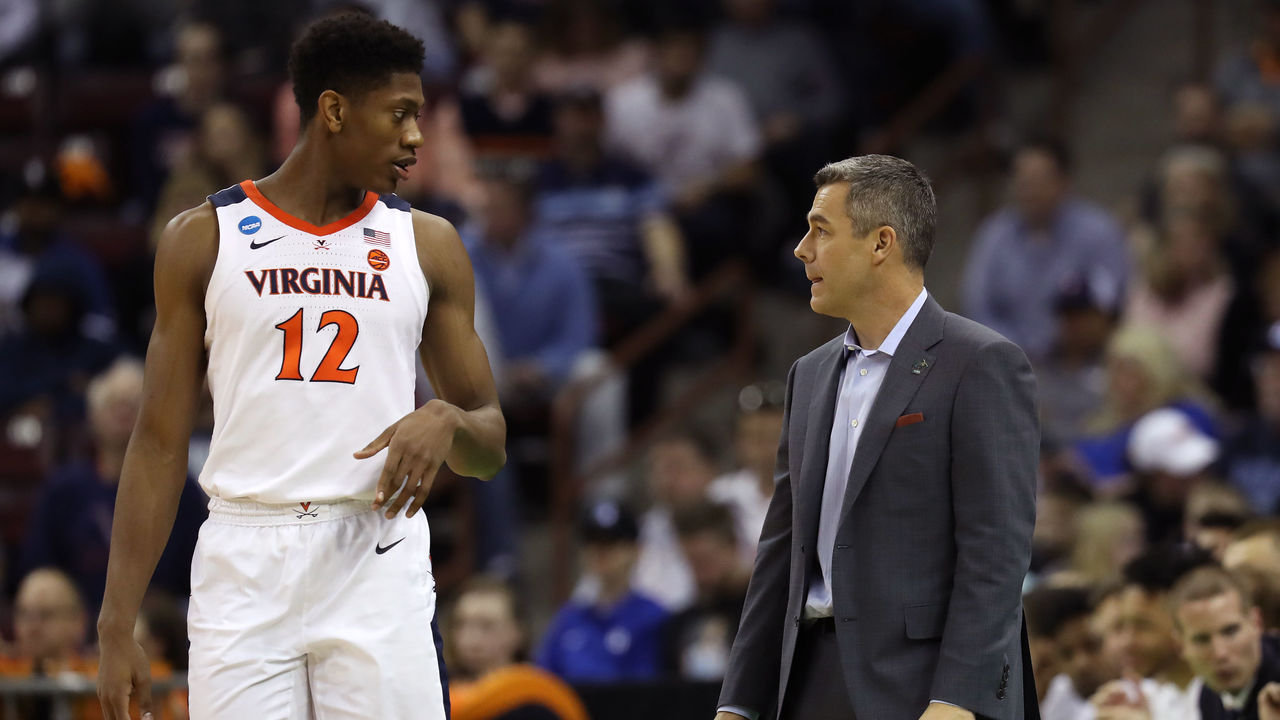 When you add in the graduation of senior Jack Salt, the transfer of Marco Anthony, and Guy's declaration for the NBA draft, Virginia is losing 59.5 percent of its minutes played last season.
Within those minutes, the Cavaliers are losing 67.4 percent of their points, 50.7 percent of their rebounds, and 70.2 percent of their assists.
A number of new players will need to step up to fill those gaps. Fortunately, the new faces of the program will include two of the Cavaliers' March heroes who combined to save their season.
The returnees
The biggest moment in Virginia's title run took place prior to the Final Four.
Down two to Purdue in the final seconds of the Elite Eight, the Cavaliers were on the verge of coming up short yet again. Then, this happened:
That's freshman guard Kihei Clark, from beyond half court, feeding junior Mamadi Diakite for an awkward, leaning buzzer-beater that sent the game into overtime.
Clark and Diakite are the only two starters who will be back to defend Virginia's title next season.
Diakite, who briefly tested the NBA draft waters, is a 6-foot-9 senior. He had a superb NCAA Tournament - averaging 10.5 points, 8.2 rebounds and 2.7 blocks per game - and he's the leading scorer among Cavaliers returnees after posting 7.4 per contest last season.
At just 5-foot-9, 155 pounds, Clark was underestimated by everyone when he came out of high school. In the end, he went from the No. 397-ranked player in his freshman class (according to 247Sports) to starting 20 games for Virginia, including all six in the NCAA Tournament. Along the way, he posted 24 assists and just nine turnovers in the postseason.
Braxton Key and Jay Huff are the only other returning players who suited up in the Final Four.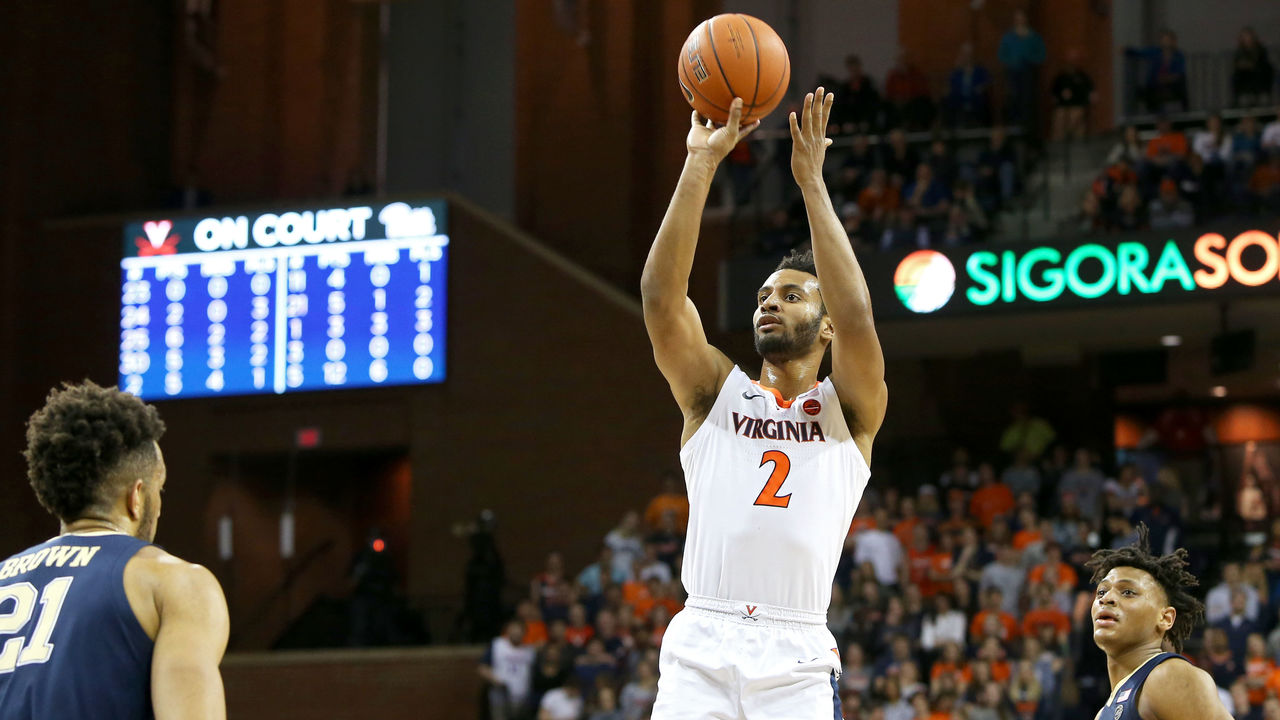 Key, a 6-foot-8 transfer from Alabama, will almost certainly be expected to take on a more important role. He started 30 games for the Crimson Tide as a freshman in 2016-17, leading the team in scoring, and then paced Virginia in rebounds (5.3 per game) despite averaging only 19.8 minutes.
Huff is a 7-foot-1 forward whose playing time fluctuated last season, but he did have his moments. He scored 12 points (on 6-of-8 shooting) in a February win over Louisville, and shot 60.4 percent from the field overall.
Meanwhile, Virginia will combine its returning players with the No. 29 recruiting class in the country, its highest-ranked group since 2016 when the school brought in players by the names of Guy, Jerome, and Hunter.
The latest class includes two top-100 recruits in 6-foot-2 guard Casey Morsell (No. 53, per 247) and 6-foot-11 center Kadin Shedrick (No. 64). Virginia also added veteran transfer Sam Hauser from Marquette, but he won't be eligible to play until 2020-21.
Early outlook
As the early rankings come out, the Cavaliers are mostly being pegged near the back of the top ten, and as far down as No. 15.
Duke and Louisville appear to be the favorites in the ACC, with North Carolina up there once again.
Still, Bennett has a recent history of outperforming preseason expectations.
In 2017-18, when the Cavaliers went 31-2 in the regular season, they began the year unranked in The Associated Press Top 25. This past season, they rose from No. 5 in the preseason to the pinnacle in college basketball.
Even minus a trio of stars this time around, the defending champs shouldn't be written off.