Philip Broberg was no child prodigy. Now he's a top talent in the 2019 draft
Growing up, Philip Broberg didn't turn many heads.
While his talent stood out in the Swedish system, by no means was Broberg labeled exceptional like some of his 2019 NHL Draft peers spread across the world.
But fast forward roughly five years, and Broberg's game has matured - a ton. There was slow growth throughout his early teens as he converted from forward to defense, and then rapid improvement over the past three seasons as his skill set developed and his confidence took off.
"As time has gone on, the dots have started to connect for him," said Randy Edmonds, who's played, scouted, coached, and managed in Sweden for 30 years and now represents Broberg for DHG Sports Agency.
"It wasn't obvious at 13 that this kid was going to be a first-round pick in the NHL," he continued. "We knew - and Philip knew - he was a good player. But you see a lot of those players at that age and you don't know which direction they'll go. With him, he's continued to rise."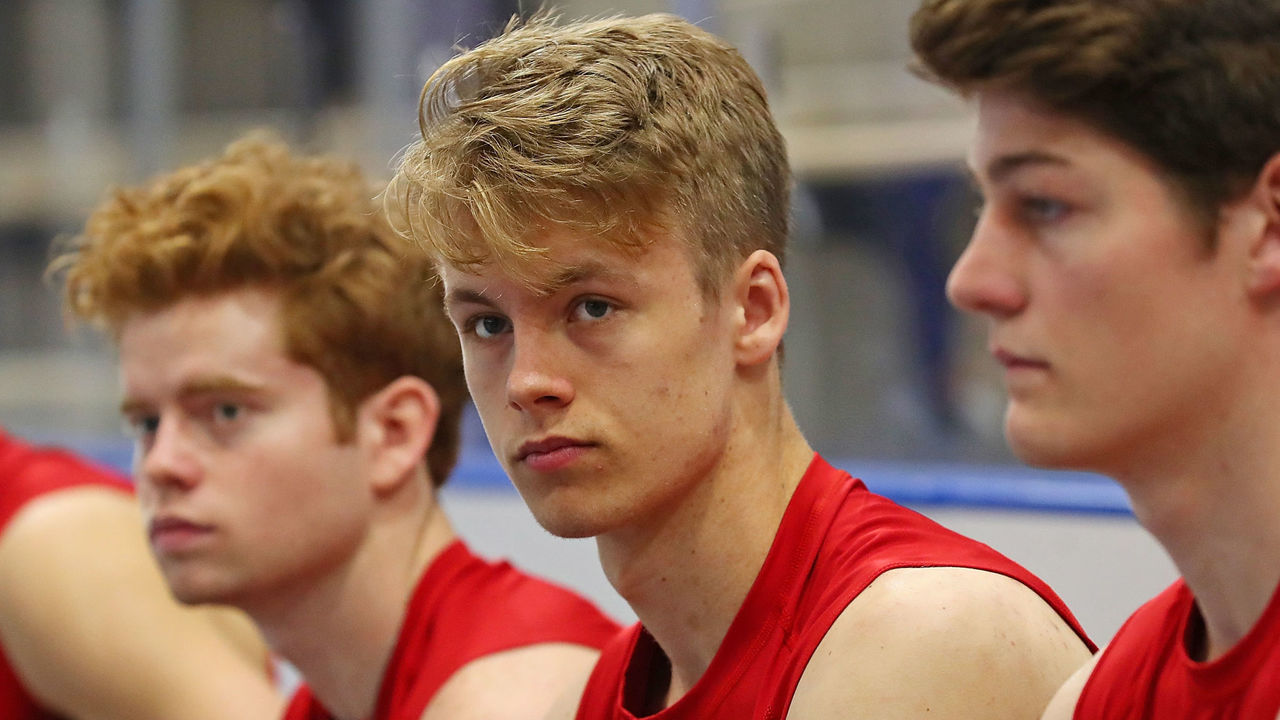 These days, Broberg, who doesn't turn 18 until June 25, moves around the ice effortlessly. And while that skating ability is his calling card, talent evaluators have really warmed to his other tools, including hockey sense and defensive coverage. Bulking up and sharpening his decision-making are high on the to-do list.
It's conceivable now that an NHL team will use a top-10 selection on him later this month in Vancouver. Offensive juggernaut Bowen Byram is considered the top blue-liner in the 2019 class, while Broberg is among a handful of others - including German Moritz Seider and compatriot Victor Soderstrom - making up the second tier. It's anybody's guess which order they'll be selected, with the draft's first round expected to be all over the place.
"He's one of those players where I think a team will step up for him in the draft," NHL Central Scouting director Dan Marr said of Broberg. "I think that's going to be a smart move. He's not the loudest, flashiest player, so he doesn't draw attention. But, when you go to a game, you don't have to look for him. He makes the kinds of plays where you say, 'Smart player. Smart player.'"
"Prototypical size-skating combo," added an NHL scout who requested anonymity. "He's got a shot, good hands. Can probably man the second-unit power play one day. He's a really fun player to watch."
Broberg shrugs when asked how he's managed to become an elite skater. Instead of bragging about a change in mechanics or productive sessions with a renowned skating coach, he references hard work and a belief in himself and his abilities.
"I don't think a lot of guys realize how fast he is until it's too late," said Niagara IceDogs forward Philip Tomasino, another projected first-rounder and Broberg's training partner during the Swede's annual visit to Toronto. "He's got a really long stride, with his body stretching out."
As the clip below demonstrated, Broberg possesses high-end acceleration. He crosses over often to gain speed, blazing past helpless opponents with conviction reserved only for the quickest skaters in the world.
In many instances, it looks like he's been shot out of cannon in the same way Connor McDavid and Rasmus Dahlin often enter or exit a zone:
Broberg's improvement was also aided by Swedish hockey culture, which is known for its focus on individual skill development. At the lower levels, winning is a secondary pursuit. Instead, the general encouragement of creativity and the blanket philosophy of learning from mistakes take precedent. It's no coincidence that Broberg's homeland has produced a boatload of dynamic defensemen, including his hero, Norris Trophy winner Victor Hedman.
"One of the beauties of playing hockey in Europe - especially junior hockey - is that there's no money in it," Edmonds said.
"There's no extra playoff round, extra gate for the owner, no corporate boxes to sell. So, as (Broberg's) development has progressed, he's been allowed to make mistakes along the way. When you do that in the Ontario league or the Western league, you're costing your team a playoff round. These European defensemen - Erik Karlsson is a good example - make all sorts of mistakes and turnovers, but it doesn't cost anybody money so they're allowed to keep doing it so they can figure it out."
However, Broberg's young career hit a fork in the road during the 2017-18 season. Frustrated with his hometown team's unwillingness to promote him to J20 SuperElit, Sweden's top junior hockey loop, he decided to pack his bags - leaving behind his parents and brother in Orebro - for a move to Stockholm, where he'd suit up for AIK and live alone in the nation's capital.
"My coach in Orebro didn't think I was ready to play, not mature enough, not strong enough, not fast enough. So they put me with the J18 team," Broberg said. "But I thought I was good enough to play in the J20, and AIK gave me the chance."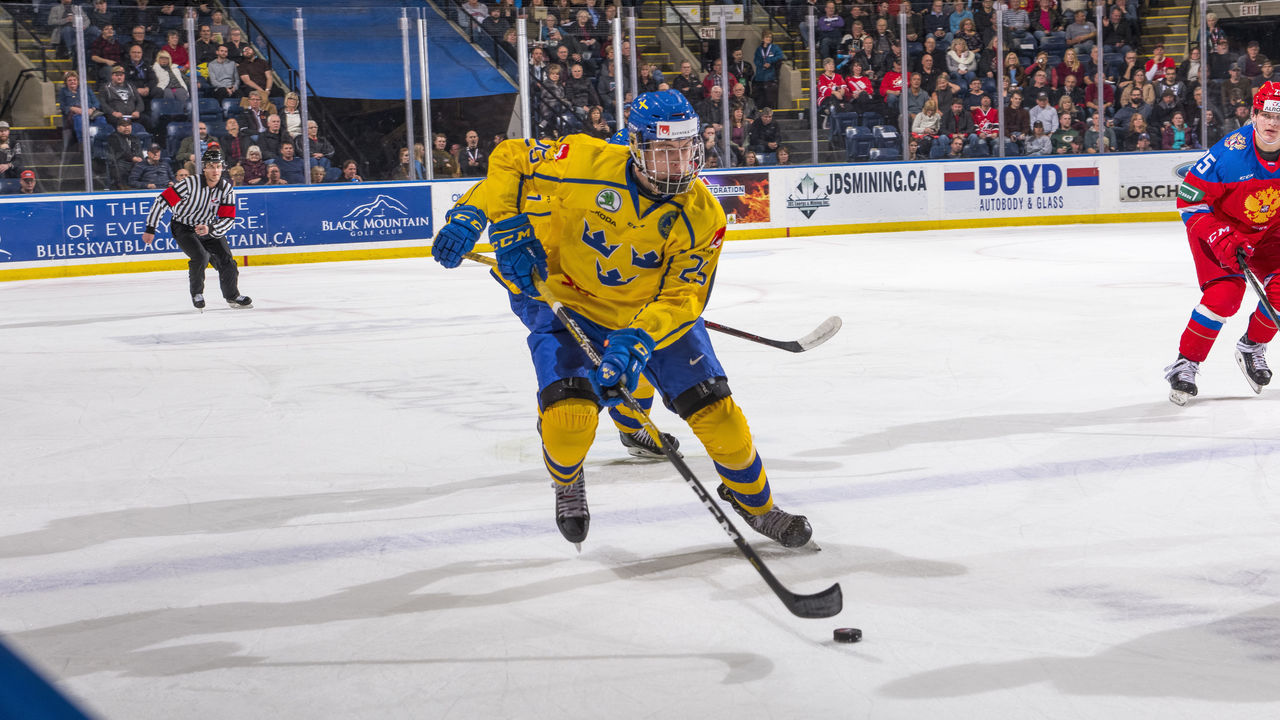 It turned out to be a shrewd decision.
As a 16-year-old in the higher level, Broberg dazzled, registering 13 points in 23 games for AIK while establishing himself as an NHL prospect worthy of close scrutiny. Then in August, he blew the doors off the heavily scouted Hlinka-Gretzky Cup, scoring three goals and adding an assist in five games as Sweden claimed the silver medal. And he's continued to impress on the international stage ever since.
"He took a huge step this year, I must say," said Magnus Havelid, Sweden's Under-18 team head coach.
Indeed, the Hlinka was just the first of three tournaments for Broberg leading up to the 2019 draft. He also made Sweden's world junior squad, though an illness derailed his performance. April's Under-18 World Championship proved more productive, with the Swedes capturing gold while Broberg was named the best defenseman and earned a spot on the tournament's All-Star team.
"He seems to play well when the pressure is at its highest point," Edmonds said.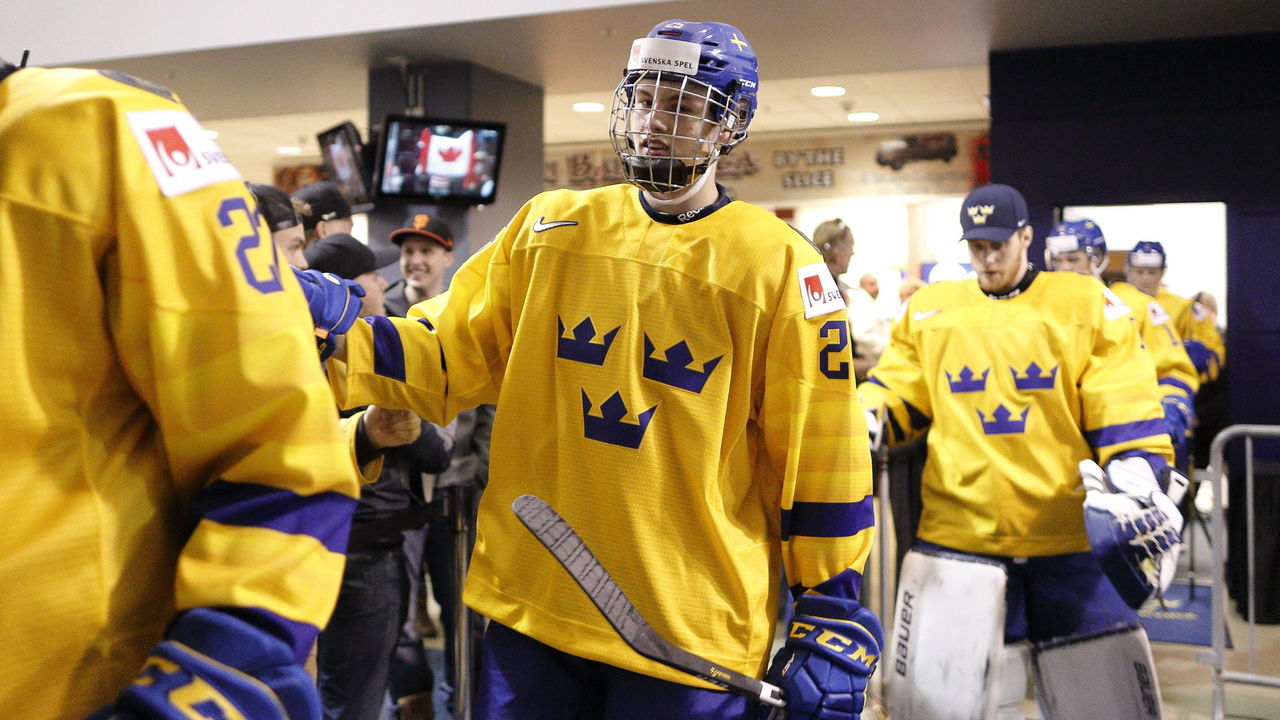 Broberg also dressed for 41 games in the Allsvenskan, the country's second-tier pro league, and eight at the J20 level during the 2018-19 season. But the transition from junior to pro included an adjustment period. The 6-foot-3, 199-pounder saw his ice time cut in half and the shift-to-shift physicality ramped up. Perhaps most significant for a guy who loves to create, Broberg was forced to make safe choices with the puck and clamp down defensively without it.
"Of course I want to contribute offense all the time, but I still want to be a guy who you can trust on defense," he said.
Next, Broberg will make the jump this fall to the Swedish Hockey League, the sport's domestic peak. He signed a one-year contract with Skelleftea in May and, barring a push from his future NHL team to jump ship and join the OHL's Hamilton Bulldogs, who own his North American junior rights, he'll face another challenge. The SHL is considered the third-best league in the world.
"I think that he will do fine, considering how well he played last year in Allsvenskan," Skelleftea general manager Erik Forssell said. "If you take into regard his age, we think that he will develop further and play well in the SHL."
If all goes according to plan, Broberg will spend one year - two max - in the SHL before leaving Sweden to chase his NHL dreams in a to-be-determined locale.
"I think the only thing that he needs is what a lot of 17-going-on-18-year-olds need: A little bit more maturity and experience to his game, where it all comes together. I don't know if there's any liabilities," Marr said.
"He's a pretty complete package for a team to draft and watch develop over the next year or two."
For a player who was never considered a prodigy growing up, that's certainly quite the leap.
John Matisz is theScore's national hockey writer.
Comments
✕
Philip Broberg was no child prodigy. Now he's a top talent in the 2019 draft
  Got something to say? Leave a comment below!