Chris Sale had Alen Hanson in a hole.
The worst hitter in the Toronto Blue Jays' punchless lineup was down in the count, 0-2, in the top of the third inning Tuesday at Fenway Park. Last year, batters mustered a .098/.130/.148 line against Sale after falling behind 0-2, and nearly two-thirds of those plate appearances ended with a strikeout. Seemingly, Hanson - a 26-year-old journeyman with a .647 OPS over parts of four seasons in the majors - had no chance.
Sale, however, didn't execute his put-away pitch, elevating a slider - a second straight one - over the middle of the plate, and Hanson poked it through the left side of the infield for a one-out single. The next two batters followed with singles of their own. Teoscar Hernandez lifted a sacrifice fly to deep center field. By the time Brandon Drury grounded out to end the inning, Sale had squandered a two-run lead. In the top of the fourth, Sale served up another three runs. He didn't come out of the dugout for the fifth inning.
Ultimately, a sweetheart matchup against one of baseball's worst offenses yielded only more frustration (and ignominy) for Sale, whose performance further validated the concerns that first surfaced during his shaky Opening Day start in Seattle.
"You guys are watching," Sale told reporters, including MLB.com's Ian Browne, after his Boston Red Sox dropped their home opener 7-5 to the Blue Jays. "I'm struggling. I don't know if I've ever pitched like this in my life."
He hasn't. Throughout his decade-long big-league career, Sale has been more or less impervious to struggle. Since becoming a starter in 2012, Sale has never finished lower than sixth in American League Cy Young voting, and by virtually every meaningful metric, the lanky left-hander is one of the most dominant pitchers in history; the only pitchers with at least 1,000 innings who have a better park-adjusted career FIP are Mariano Rivera and Clayton Kershaw. Last year, Sale was so unhittable that he finished fourth in Cy Young voting despite failing to pitch enough innings to qualify for the ERA title.
It's disconcerting, then, that Sale looks not only mortal, but legitimately bad: He owns a 9.00 ERA with a 1.54 WHIP through three starts in 2019, with a lower strikeout rate (13.1 percent) than Athletics journeyman Brett Anderson and a worse home-run rate (2.77 per nine innings) than all but three qualified starters. And amid a significant dropoff in velocity, it's fair to start worrying, in earnest, if there isn't something physically wrong with the seven-time All-Star.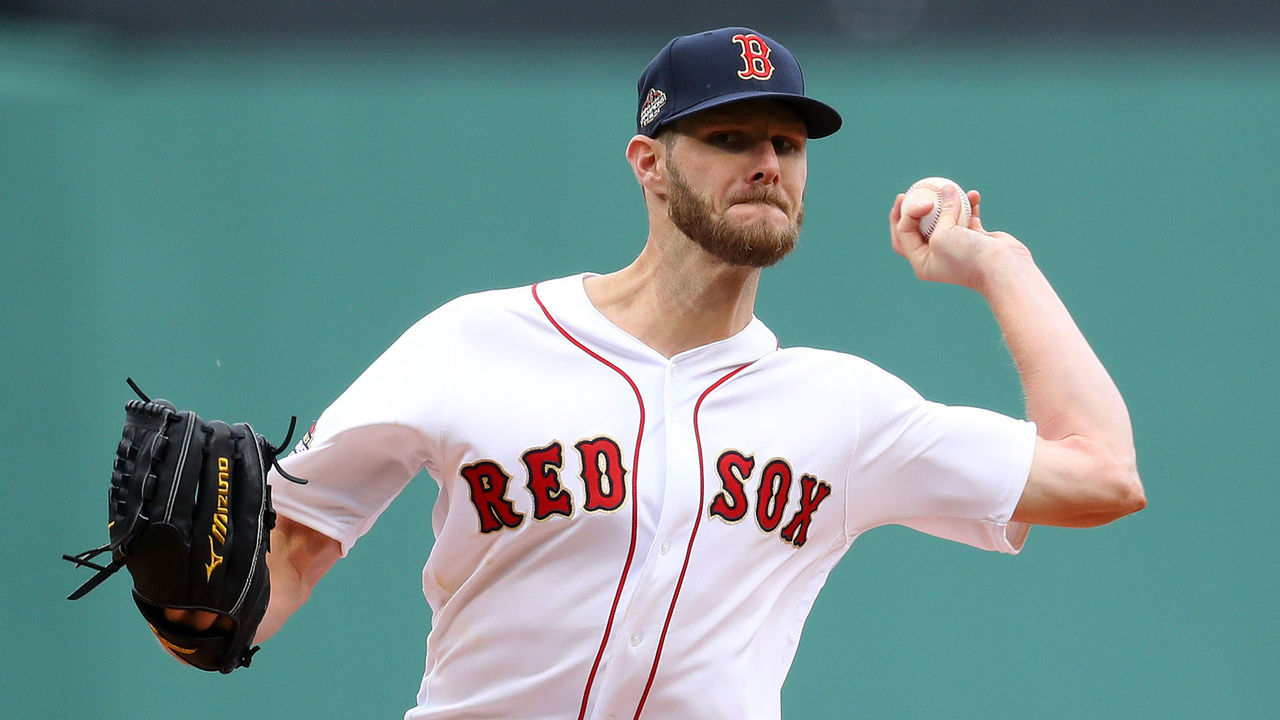 After serving up seven runs and three homers in an Opening Day loss to the Mariners, Sale got the benefit of the doubt. After all, he put in an extra month of work in 2018 - in which a shoulder problem sidelined for much of the second half of the season - and was brought along slowly this spring. It afforded a plausible explanation for his diminished velocity: His four-seam fastball, which hovered around 96 miles per hour last year (according to Brooks Baseball), was three ticks lower than that on Opening Day.
His velocity didn't return his next time out, though. Quite the opposite. Last Tuesday in Oakland, his four-seamer averaged 89.86 mph, a single-game career low - and a potential byproduct, according to Red Sox manager Alex Cora, of a mysterious stomach ailment that had plagued Sale in the days leading up his start. (Sale beguiled his way through six solid innings nevertheless.)
But Cora had no explanation for Sale's relatively lifeless fastball Tuesday. Working on six days of rest in front of a pumped-up crowd that saw the Sox receive their 2018 World Series rings, Sale's four-seam velocity was lower than it was Opening Day, averaging 91.96 mph and generating just one swinging strike. As it happens, it was the lone whiff that Sale's heater has generated this season.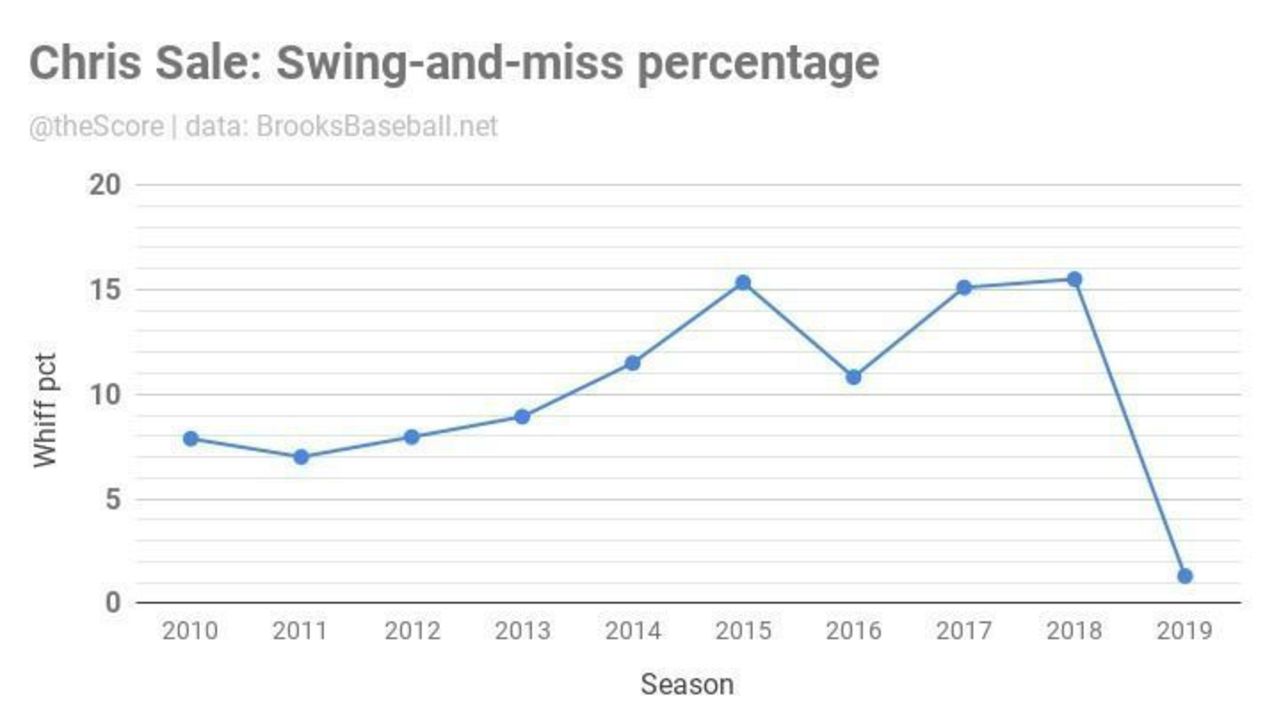 And though Sale's velocity is often down in April, never before has it been this low, averaging 91.5 mph through three starts.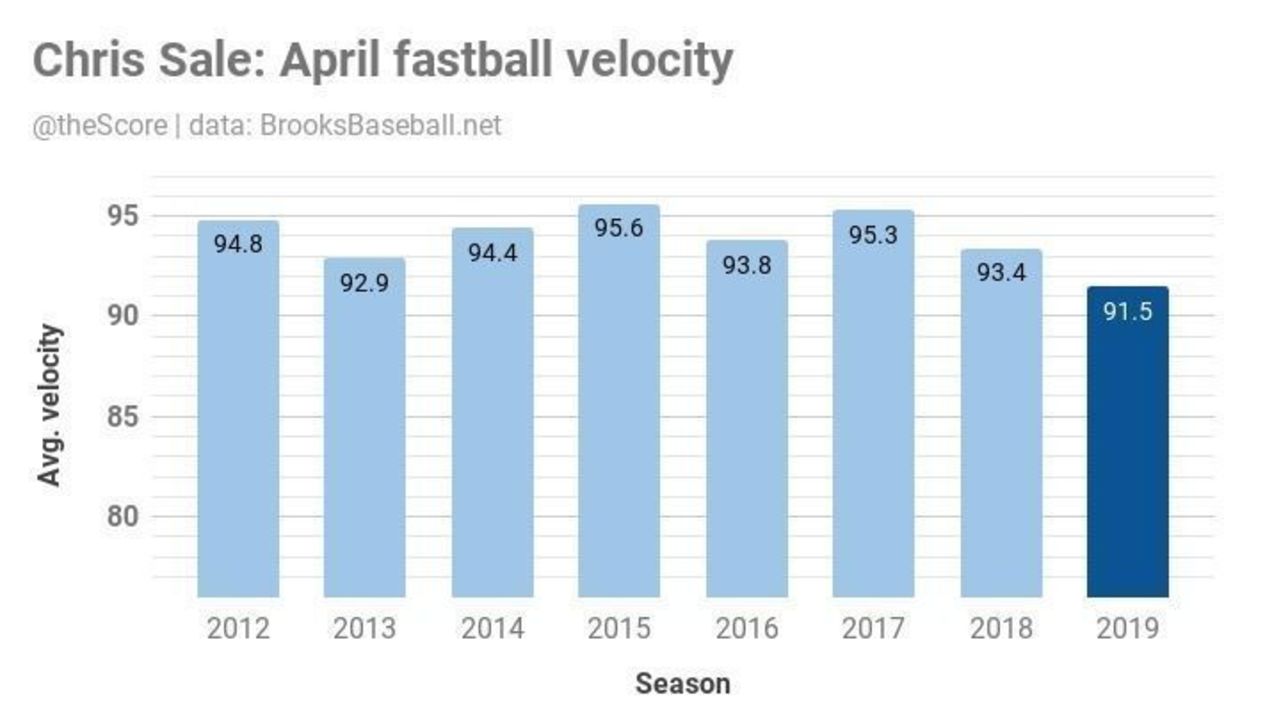 Sale knows his fastball isn't working, too. Four-seamers account for just 32 percent of his pitches thrown - a career-low usage rate and a year-over-year dropoff of almost 7 percent - and he's all but scrapped his two-seamer, throwing it just a dozen times over three starts.
When he does throw his fastball, it gets hit hard. So far, opponents have hit .462 and slugged 1.308 against his four-seamer, while producing an expected weighted on-base average of .539. (Last year, for reference, Mike Trout led the majors with a .449 weighted on-base average.) Perhaps that's why Sale didn't bother throwing one to Hanson, who bungled a bunt attempt on a first-pitch changeup, then swung through a slider before poking the next one into left for his hit.
Without an effective fastball, getting even the worst major-league hitters out is exceedingly difficult. And Sale's numbers very much bear that out: Sample-size caveats apply, but he currently owns career worsts in expected batting average (.270) and expected slugging percentage (.518). The rate of batted balls classified as a barrel (the league's term for the hardest-hit balls based on exit velocity and launch angle) was about 7 percent across MLB in 2018. Sale sits at a career-worst 8.5 percent this season. When they swing, hitters are making contact with 77.7 percent of Sale's pitches.
It's possible, of course, that Sale's velocity magically shows up his next time out. There's recent precedent for that, in fact: A season ago, Sale's fastball shot up 5 miles an hour between two mid-April starts. But diminished velocity isn't a recent development for Sale, who hasn't had the same juice on his heater since rejoining the Red Sox last September following his second stint on the disabled list for that shoulder issue. It seems increasingly probable that either something is still off with Sale, or that whatever happened to his shoulder simply won't allow him to be the indomitable ace he was as recently as last July.
"I'm trying to find something," Sale added after Tuesday's start. "I'm working. That only goes so far. This isn't the hard-work league. This is the do-good league."
Until he starts doing some good - or at least starts throwing hard again - the Red Sox should be worried.
Jonah Birenbaum is theScore's senior MLB writer. He steams a good ham. You can find him on Twitter @birenball.