Jimmy Butler took matters into his own hands and threw a fit.
Butler lashed out at everyone from his teammates to the front office after he finally joined the Minnesota Timberwolves in training camp. The Timberwolves haven't found a suitable deal since Butler submitted his trade demand three weeks ago, and his frustrations boiled over during an epic meltdown.
Here's why everyone looks worse after this ordeal.
Butler's reputation takes a dive
It's not uncommon for star players to unload in practice when they don't get their way. Kobe Bryant cussed out his entire team for being "Charmin soft" before storming out of practice, and Michael Jordan punched Steve Kerr. That's the downside of having an alpha personality on a team.
But Butler isn't good enough to justify this type of behavior. Kobe and Jordan had 11 combined rings on their resumes, and Butler hasn't even advanced past the second round. He beat the Timberwolves' starters during Wednesday's practice with just the third stringers, sources told ESPN's Adrian Wojnarowski. But what exactly does that prove? Does that give him cause to mock the entire franchise?
It's one thing to be competitive to a fault, and it's another to throw a temper tantrum because you didn't get your way. Butler incited a civil war in Chicago's locker room because he didn't see eye-to-eye with the players and the head coach, and now he's scorching the earth in Minnesota.
What would it take for Butler to be happy? He doesn't have the patience to play with younger players, he won't answer to a coach unless they're a taskmaster like Tom Thibodeau (whose reputation he ruined), and he might not coexist with other elite players because Butler is so ball dominant. How many situations around the league can accommodate that personality?
Butler wants a $190 million maximum contract from any team that trades for him. But would any owner overlook his history and hand him the keys to their organization?
Let's be real here: That five-year max wasn't guaranteed to happen even if Butler had stayed on his best behavior. He'll be 30 years old when his next contract kicks in, and he's played fewer than 70 games in four of the last five seasons. Butler will be worth the money in the first few years of a new contract, but could anyone stomach paying him $40-plus million when he's 35?
Butler overplayed his hand. He spent all summer touring Europe before submitting his trade demand a week before training camp, then blew his fuse after a month of inactivity. The Timberwolves' front office is stubbornly holding out for full value, but you can't blame them for doing what's best for the franchise. Butler should have acted sooner if he wanted out so badly.
- William Lou
Thibs, KAT, Wiggins look weak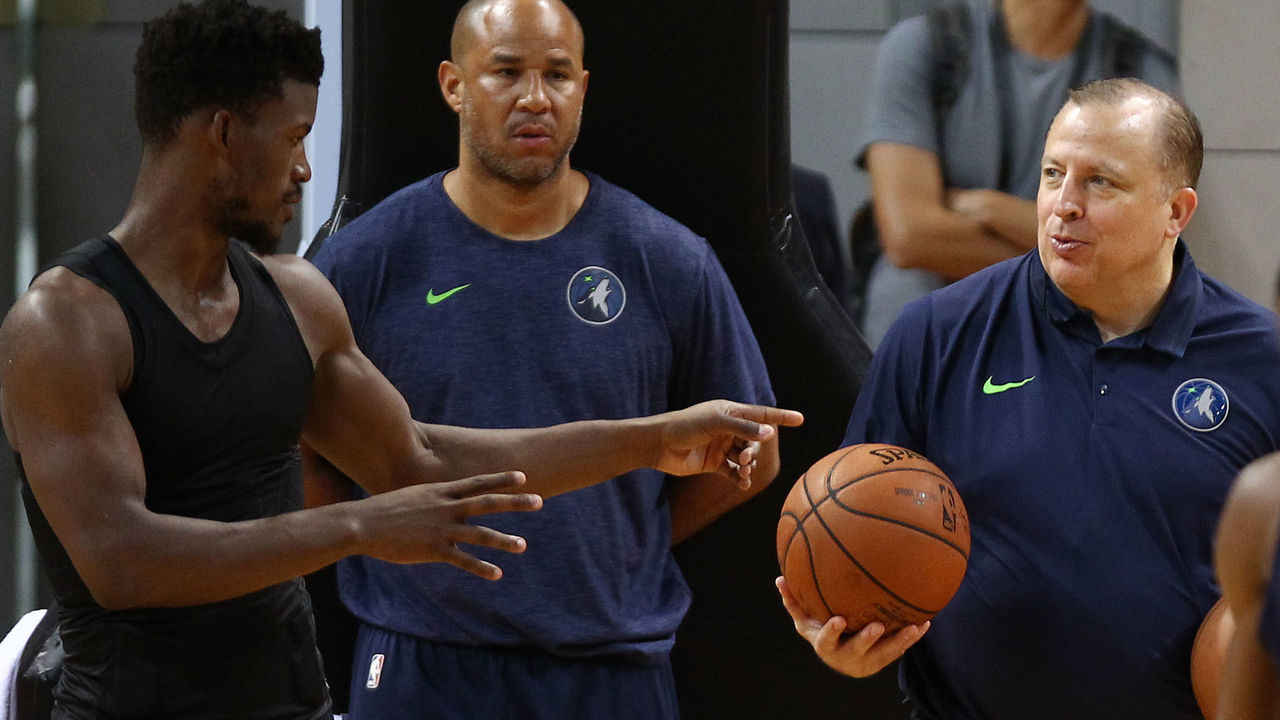 Whether you believe Butler was merely calling Thibodeau's bluff (about starting the season together) in the most dramatic, grandiose way imaginable, or believe the two-way star is an unhinged basketball maniac, what can't be argued is that he left a smoldering pile of rubble behind him when he walked out of Wednesday's now-infamous practice.
Thibodeau's once pristine reputation as a defensive genius who squeezes every last ounce of talent out of his teams has been usurped by the laughingstock he's built in Minnesota, where Butler, a collection of Bulls has-beens, and a pair of young - now astronomically paid - stars failed to find their footing.
Karl-Anthony Towns is the rare offensive force whose defensive deficiencies are nearly rendered moot, but it's still been stunning to see how little growth, if any, the All-Star big man has experienced on the end of the court where Thibodeau specializes. Andrew Wiggins, despite his social media beefs, is mostly still the same high-volume, low-efficiency scorer and underachieving defender he was three years ago. He's also shooting 36-29-54 with one assist and ten turnovers through four preseason games, just as his nearly $148-million extension is set to kick in.
That neither player apparently felt inclined or able to put a stop to Wednesday's shenanigans also raises a host of questions.
Earlier this year, as Butler was leading the Timberwolves to what would eventually result in Minnesota's first playoff appearance since 2004, Towns, Wiggins, and the rest of the Wolves described to theScore how Butler (and Taj Gibson) helped Thibodeau set the tone and lay the foundation for perennial success. Eight months later, one could argue both might soon be leaving the franchise in worse shape than when they inherited it.
- Joseph Casciaro