Challenged once again, Chayka's Coyotes want to 'hit the gas'
Bruce Bennett / Getty Images Sport / Getty
Oh, to get inside the head of an Arizona Coyotes player right now.
After losing 105 of 164 games over the last two seasons, the club has failed to score a goal through two contests this year despite peppering the opposition with 133 shot attempts.
"We've got to chill out here," head coach Rick Tocchet told reporters over the weekend following a 1-0 loss to the Anaheim Ducks. "We played two pretty good games and we can't score right now. It is what it is."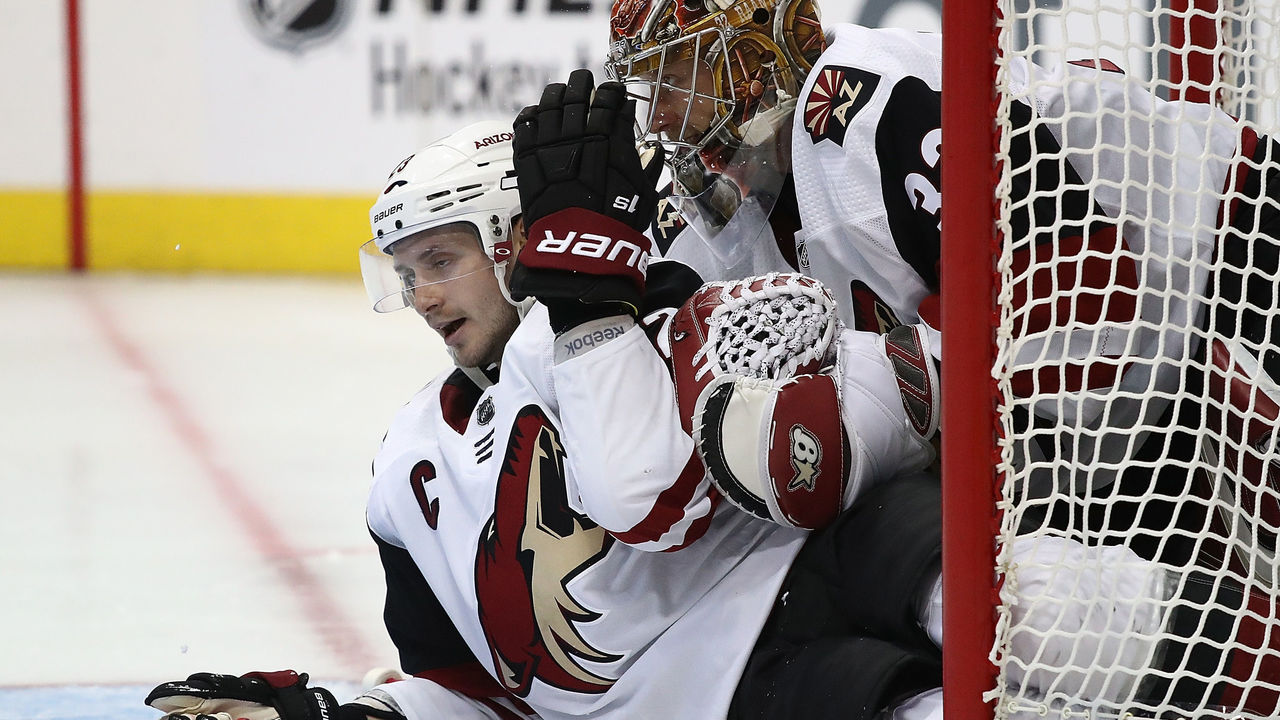 Tocchet, who is days into his second year behind Arizona's bench, has a point. There are 80 games remaining in the 2018-19 season. Truthfully, as he notes, it is what it is. Early October is a no-panic zone (especially when you're rocking the NHL's finest alternates).
That being said, we're all human, and there's little chance this Coyotes squad isn't at least a bit scarred from what transpired last season. They lost their first 11 games and didn't earn a regulation win until Nov. 16. Ravaged by injury, inexperienced, and skating for an unfamiliar coach, their playoff hopes dissipated within the opening two months.
And now, with the team not only failing to execute but also dealing with injuries to key players and potentially feeling the crush of deja vu, a deep breath is needed. What is really going on in the desert? Are the Coyotes capable of ending their six-year postseason drought? Is this team perpetually doomed or is it actually set up for long-term success?
"I think we're on the right path," president of hockey operations and general manager John Chayka said in a recent interview with theScore. "I like our current team, I like our future team. I like our staff in terms of our scouts, our development team, our medical team, our coaching staff at the AHL and NHL level. Our management group's done a nice job. We have a really robust organization in place and I think we've got a lot of people who bring a lot of innovative, new ideas to the team."
That's the thing about the "growing pains" (Chayka's phrase) the Coyotes have endured of late - the team is taking its lumps amid a substantial rebuild, a time when expectations are tempered and its business-minded boss' top-to-bottom construction job is ongoing.
"We must continue to evolve, continue to go through this process, and day to day get better," said Chayka, who turned 29 in June. "The playoffs is the end result that everyone's after, and that's certainly the goal, but we've got to continue to focus on being better every day. If we can, we're excited about where this group is headed."
The franchise has been gutted and reassembled since Chayka was hired as assistant GM prior to the 2015-16 season. On top of bringing in fresh front-office faces, such as assistant GM and director of scouting Lindsay Hofford and director of hockey ops Jake Goldberg, Chayka has gained a reputation as the NHL's most active GM.
This past offseason alone, he acquired 14 players - including Alex Galchenyuk, Michael Grabner, and Vinnie Hinostroza - while saying goodbye to 12 members of the 2017-18 roster. Chayka, who is peerless in terms of making minor transactions and is also unafraid of the big move, says he's satisfied with the Coyotes' organizational depth.
If you count Chayka's season under ex-GM Don Maloney, the NHL roster looks completely different. As pointed out by Richard Morin of the Arizona Republic, captain Oliver Ekman-Larsson is the lone leftover from the previous regime.
"We're just trying to maximize asset value," Chayka said of his trading habits. "And look, there's a lot of instances where, for whatever reason, it's not working out (for a player) in a certain situation and maybe we have an asset that's not working out in our situation. That's the crux of making a trade."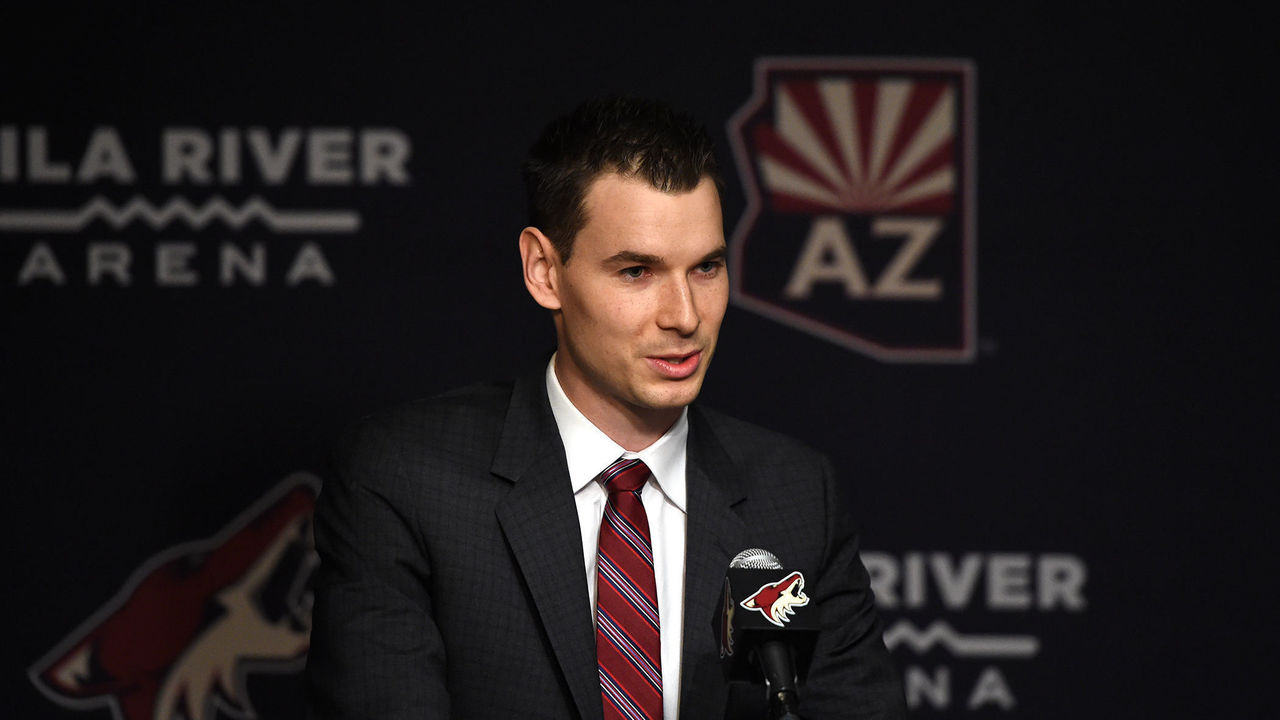 Chayka, who has an honors degree in business administration from Western University and is the co-founder of Stathletes, a hockey analytics firm, can often sound more like a CEO than a hockey manager. He is a card-carrying member of a new wave of NHL execs driven by curiosity, collaboration, data, and a detail-rich decision-making process.
A prime example of his growth mindset: To widen his knowledge base, Chayka will regularly interact with other heavy hitters from the Phoenix pro sports scene, periodically sitting down with executives from the NBA's Suns, the NFL's Cardinals, and MLB's Diamondbacks.
"A lot of the things we talk about are (based around) logic. If you can understand how it applies to a certain sport, then you can apply that logic to other sports," Chayka explained. "It's nice because we're in different leagues, we're not too worried about (overlapping) competitive advantages."
"You've got to be able to work with those guys and talk with them and bounce ideas off them," he added. "There's different situations - whether it's free agency or dealing with trades or building relationships with players - and we talk a lot about a lot of different things. You try to take those best practices and apply them to your organization."
Sports science is an area in which Chayka, a health nut himself, seems particularly invested. Just last week, the Coyotes announced Mayo Clinic, the powerhouse health care company, has become the team's "official orthopedic provider."
Rest, aging, injury prevention - these are the types of things Mayo has been hired to monitor on a daily basis. Much like his incremental gains approach to swapping player after player, Chayka is searching for any way to maximize player output.
"No matter what we do, every decision is in the mind frame of, 'How do we find a competitive advantage and how do we best utilize our resources to get there?'" Chayka said. "Mayo is a world-class name, best in class in terms of what they do. To be able to partner with them and leverage their resources and the type of people that they have - again, we're trying to find those advantages as best we can. We think they add up to wins."
The timing of the announcement is ironic, with Galchenyuk, the former 30-goal scorer penciled into a top-six center spot; promising blueliner Jakob Chychrun; and Christian Dvorak, who signed a six-year deal in August, all starting the season on injured reserve.
Galchenyuk, Chychrun, and Dvorak - 24, 20, and 22 years old, respectively - join 2018 fifth overall pick Barrett Hayton; low-floor, high-ceiling center Dylan Strome; and super sophomore Clayton Keller to help form the team's impressive young core that is supported by a burgeoning farm system. The 25-and-older group includes defensemen Ekman-Larsson, Nik Hjalmarsson, and Jason Demers, as well as No. 1 goalie Antti Raanta.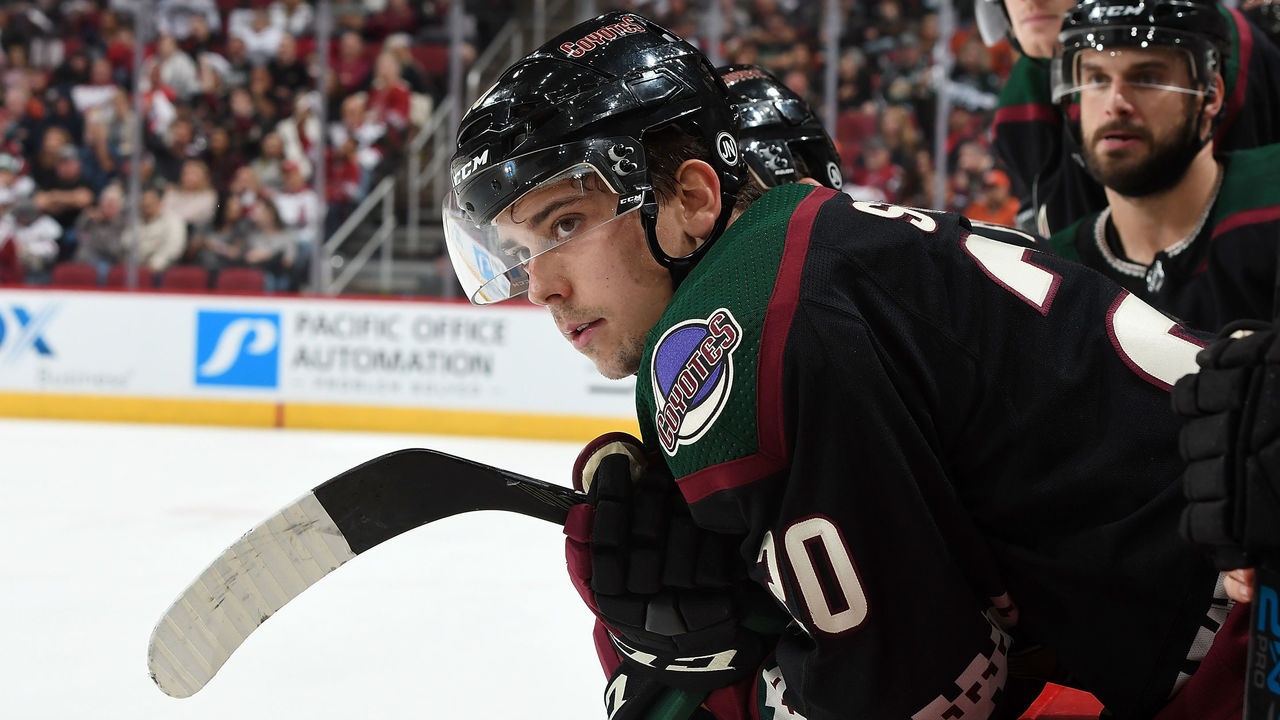 On paper, Arizona's mix-and-match roster is hitting the right notes and, if all goes according to plan over the next 80 games, this collection of talent has an outside chance at contending for a playoff spot. Then again, for all the promise, one can't forget last year's Coyotes finished 30th in goals, 21st in goals against, and had the 26th-ranked power play and 19th-ranked penalty kill despite a strong late-season push. And anything can happen in the wildly unpredictable Pacific Division.
In the short term, the next six games will be a test. Opponents range from decent (Blackhawks, Sabres), to good (Ducks, Wild), to very good (Blue Jackets), to great (Jets). And five of those games are on the road.
That stretch of the schedule won't put anybody's mind at ease, especially given the scoreless start. However, Chayka's optimism and emphasis on the process - on the long-term health of the organization - just might.
"We've got to keep moving down this path," Chayka said. "We've got the ship straightened out and we've got to hit the gas. Hopefully this year we can do it."
John Matisz is theScore's national hockey writer. You can find him on Twitter @matiszjohn.
Comments
✕
Challenged once again, Chayka's Coyotes want to 'hit the gas'
  Got something to say? Leave a comment below!