Recharged O'Reilly, healthy Fabbri central to Blues' offensive refresh
Bruce Bennett / Getty Images Sport / Getty
TORONTO - The salary cap-era St. Louis Blues have been just kinda there.
They've found plenty of success, of course, accumulating more than 80 points in 10 of 12 non-lockout seasons. They made the playoffs every year from 2012 to 2017, and, in Ken Hitchcock's final full campaign behind the bench, were two wins away from competing for the 2016 Stanley Cup.
Through it all, though, they've rarely generated widespread excitement. Rarely rocked the boat. Rarely struck fear into opponents across the NHL.
Then, the 2018 offseason came and went, and the perception changed.
General manager Doug Armstrong remodeled up front this summer by acquiring Ryan O'Reilly, David Perron, Patrick Maroon, and Tyler Bozak, and trading away Patrik Berglund, Vladimir Sobotka, and Tage Thompson.
The forward group won't be required to carry the Blues moving forward - captain Alex Pietrangelo and the defense corps, as well as goalies Jake Allen and Chad Johnson, have jobs to do too - but it will be the straw that stirs the drink in St. Louis.
On an individual level, O'Reilly and winger Robby Fabbri, who hasn't appeared in an NHL game since February 2017, are both viewing the 2018-19 season as a fresh start. And, quite possibly, the start of something special for the Blues.
O'Reilly's recharge
Back in April, as he addressed Buffalo media on locker room cleanout day, O'Reilly opened up about having "lost the love of the game multiple times" over the course of the '17-18 season.
His remarks, linked strongly to the painstakingly slow Sabres rebuild, stopped media and fans in their tracks. It was the type of honesty we rarely see from public figures. (It turns out pro athletes can be vulnerable too. Huh.)
A much cheerier O'Reilly revisited the topic Tuesday at the annual BioSteel Camp.
"It was tough," he said, referring to the last of his three seasons in Western New York. "You still love what you do, and there's no better feeling than playing a hockey game - it's the best job in the world - but, at times during the season, it was draining. You don't want to think about the game because it's just not going well. And it took a toll at different times of the year. There were times that year that we started to get things going and you love it. Winning's fun. Losing is not fun at all."
Not surprisingly, O'Reilly welcomed the move to Missouri and is enjoying coming to the rink every day again. "They missed the playoffs by one game. They're close, they're on the verge of something great," he said. "Getting to add to that was pure excitement."
The 27-year-old is penciled in as the Blues' No. 1 center next to super sniper Vladimir Tarasenko. Not a bad landing spot for a guy whose contract (another four years at $7.5 million per season) isn't easy to move.
"He's one of the best scorers in the game," O'Reilly said of Tarasenko, the eagerness evident in his voice. "If it works out, I think it'll be awesome. I use my stick a lot to create turnovers and he's that guy that is always in the right area, in the scoring areas."
Tarasenko has scored 37, 40, 39, and 33 goals the past four seasons. Alongside a cerebral, faceoff-winning machine like O'Reilly, the Russian could conceivably bag somewhere in the neighborhood of 45 in '18-19. That trademark shot does a lot of the work.
"You see how he gets behind it, how he puts everything into it," O'Reilly said. "You see the release of it, the quickness and just the heaviness of it. Not many goalies stand a chance, and (he has) pinpoint accuracy. It is one of the best shots in the league."
Head coach Mike Yeo will have training camp to experiment beyond the logical O'Reilly-Tarasenko and Schwartz-Schenn duos. Here's an educated guess of the Blues' top three lines to start the year:
| LEFT WING | CENTER | RIGHT WING |
| --- | --- | --- |
| Patrick Maroon | Ryan O'Reilly | Vladimir Tarasenko |
| Jaden Schwartz | Brayden Schenn | David Perron |
| Alex Steen | Tyler Bozak | Robby Fabbri |
That's a balanced and potent unit that will drive opponents nuts for 50 minutes a night. (It's still August - forget about the fourth line.)
There's also the chance Robert Thomas, a high-end prospect from the OHL's Hamilton Bulldogs, makes the big club out of camp. He's regarded as a future first- or second-line NHL center but could easily slot in on the wing somewhere in the top nine.
Any way you slice it (there's a case to be made for prospect Jordan Kyrou, 20, stealing a spot too), what was largely a one-line attack last year is now thorough.
That's a necessary step for the Blues, because the Central Division is a house of horrors. They needed this infusion to compete with the Jets, Predators, Stars, and the like.
Fabbri's effect
Of the 15 forwards the Blues have signed for this coming season, eight are in a contract year. Fabbri, a true wild card, is in that show-me group.
The 2014 first-rounder is returning from a pair of surgeries on his left knee. He tore his ACL during the 123rd game of his career and has been sidelined since, suffering the same injury last fall. The fearless speedster missed the entire season, moving back home to Toronto last December for rehab.
"I've done a good job keeping a positive mindset through this whole thing," Fabbri said Tuesday. "Not too many people get 10 months to train and prepare for a season, so that's the way I looked at it. Not only rehabbing my knee, (but also) fixing the imbalances and fixing the little things on and off the ice. It has helped. I never really got down about it. The situation's kinda tough, but stuff happens and you can't fix that."
"I feel 100 percent," he added. "You can't really mimic the stresses of a season - back-to-back games and things like that - but if you ask me right now, yeah, I feel if not 100, 99 (percent)."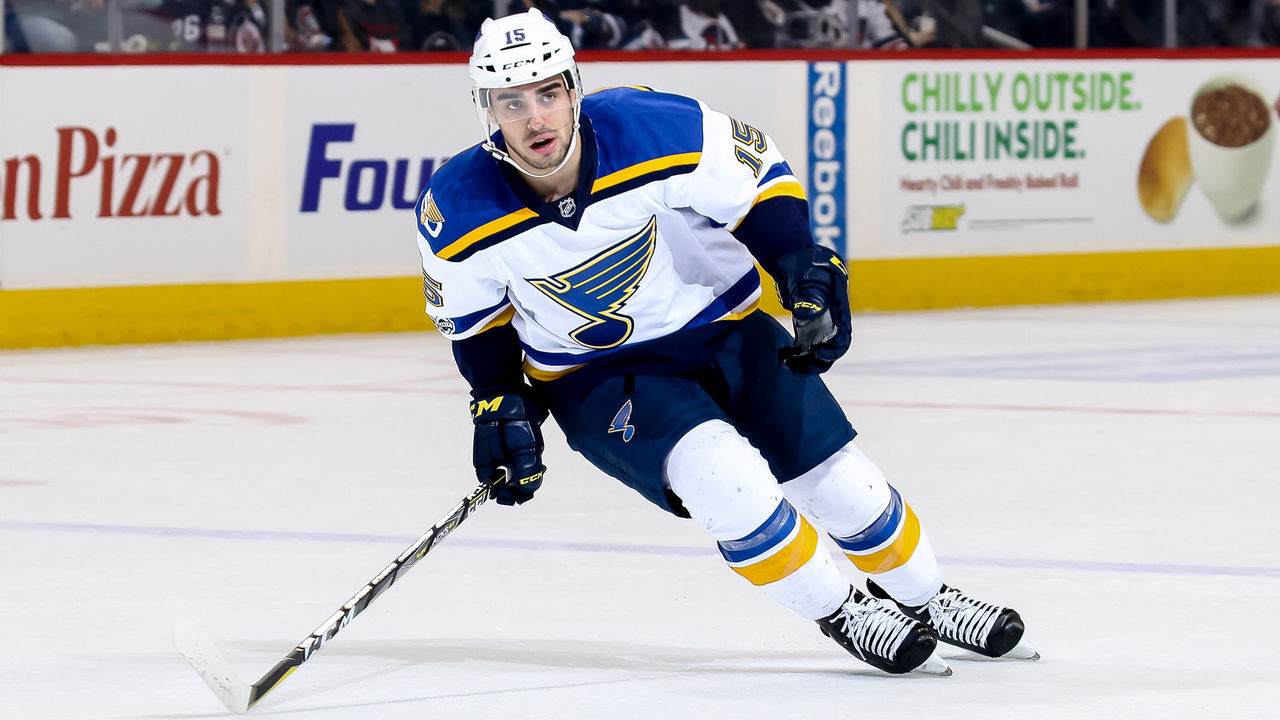 (Photo courtesy: Getty Images)
The cynical take: Fabbri may have durability issues.
Fabbri, who has also suffered a concussion and a high ankle sprain in recent years, said the club told him to "come in and prove myself again," promising nothing in the wake of such a long layoff and the signing of a one-year, $925,000 contract. In general, will that knee hold up?
The optimistic take: Fabbri may be on the verge of breaking out.
There's no denying the 22-year-old's immense potential when healthy. He hasn't truly found his footing in the NHL, but, based on his pre-draft stock and flashes of brilliance, could blossom into a top-six mainstay who contributes 50-60 points a season. The club's 30th-ranked power play certainly needs a boost.
You could play the same game with St. Louis.
The cynical take: Same old Blues.
The optimistic take: Brand new Blues.
John Matisz is theScore's national hockey writer. You can find him on Twitter @matiszjohn.
Comments
✕
Recharged O'Reilly, healthy Fabbri central to Blues' offensive refresh
  Got something to say? Leave a comment below!