Seguin's disappointment with lack of contract talks casts shadow over Stars
Joe Sargent / National Hockey League / Getty
TORONTO - Tyler Seguin wants you to know he is disappointed.
Specifically, he is disappointed in the Dallas Stars for not offering a contract of his liking this summer and is unhappy because negotiations have been nonexistent of late.
It was easy to draw these conclusions Tuesday, as Seguin uttered the words "disappointing" and "disappointed" a total of four times in a six-minute media scrum focused mainly on the potential 2019 free agent's future with the Stars.
"Nothing's really going on," he said when asked for an update on extension talks between his camp and the club. "Pretty much haven't been talking much this summer. It's been a little disappointing. I thought I'd have some exciting news to talk about at BioSteel camp, especially this late in the summer, but ..."
Seguin, who has been eligible to re-sign in Dallas since July 1 and will almost certainly make north of $10 million per year on his next deal, trailed off for a moment but quickly reverted back to his main point.
"It's been disappointing," the 40-goal scorer added, "but at the end of the day I've always had one year left here, so I'm focused on that, I'm focused on BioSteel camp right now, and I'm excited to get back to Dallas and I look forward to a good year."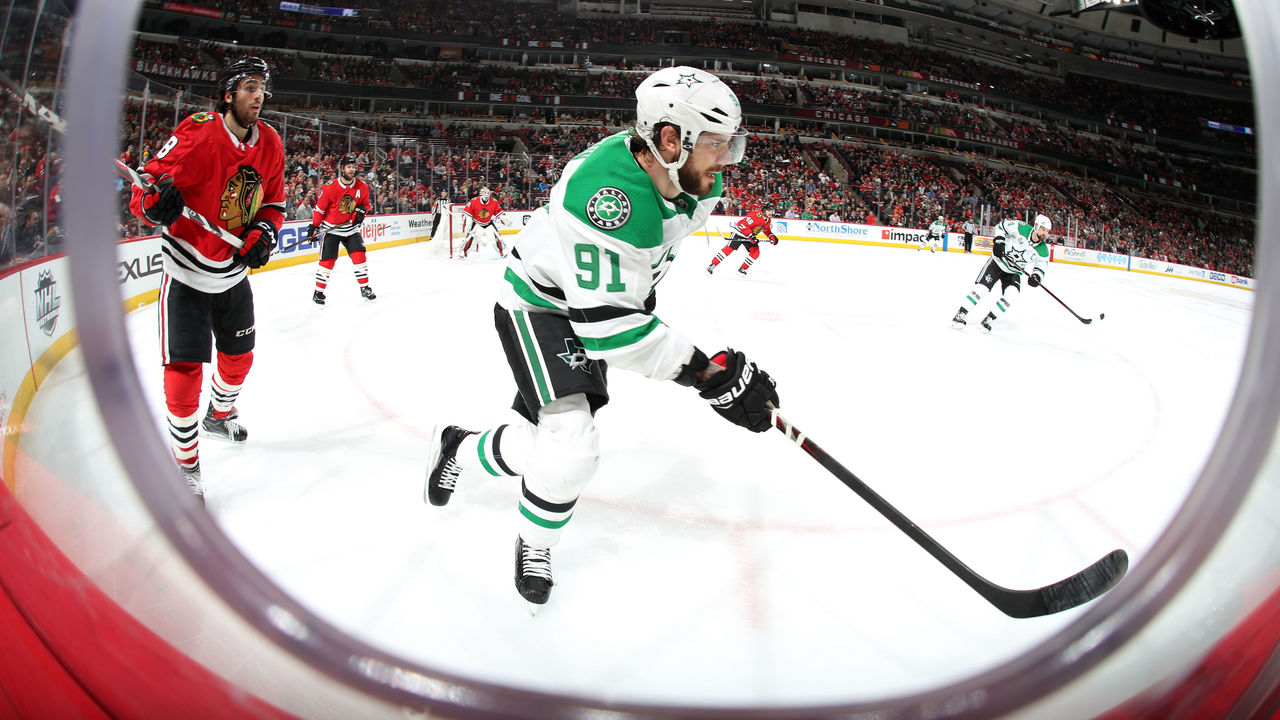 (Photo courtesy: Getty Images)
The elite center also revealed Tuesday that, although talks haven't materialized to any great extent since late June, he isn't exactly counting down the days to July 1, 2019.
Asked if he is curious at all about the free-agency process, Seguin replied, "I guess I'm not really there yet." In other words, unless the player-team relationship goes really south, the Stars should remain a favorite for his signature.
"Dallas has been home. I've been comfortable in Dallas since I got down there," the former Boston Bruin said. "At the end of the day, I want to win, I want to be successful, I want to get back into the playoffs."
The Stars, for what it's worth, are remaining mum. (Citing a team policy of not speaking publicly about negotiations, a spokesperson on Tuesday afternoon politely declined a request to interview general manager Jim Nill.) Regardless, it's safe to assume the Central Division squad is intent on retaining a 26-year-old who enters play this fall tied with Sidney Crosby for the second-most NHL goals since 2013-14, Seguin's first season in Dallas.
| PLAYER | GP | GOALS | GOALS/GAME |
| --- | --- | --- | --- |
| Alex Ovechkin | 402 | 236 | 0.59 |
| Sidney Crosby | 394 | 173 | 0.44 |
| Tyler Seguin | 387 | 173 | 0.45 |
| Jamie Benn | 404 | 172 | 0.43 |
| Vladimir Tarasenko | 383 | 170 | 0.44 |
Seguin's comments - which appear genuine and from a good place but could easily be a form of posturing to nudge the Stars into a deal - are mighty interesting. While the 2010 second overall pick seems confident that the two sides will come to an agreement at some point, he is making it seem like the Stars blindsided him by stalling as the offseason progressed.
Is Seguin comfortable negotiating during the season? "Honestly, it hasn't really been much of a thought," he said. "I wasn't really expecting this, so I've been taking it (as it comes). Normal training, normal summer. Same as last year and the year before."
Stars training camp, which opens Sept. 14 in Boise, Idaho, will be packed with intrigue. There's this Seguin drama, the introduction of rookie NHL coach Jim Montgomery and his systems, the return of Russian winger Valeri Nichushkin, and the highly anticipated North American debut of Miro Heiskanen.
A longtime empty threat in the Central, Dallas has not advanced past the second round of the playoffs in 10 seasons, missing the postseason entirely in 2016-17 and '17-18. Still, its roster features a legitimate top-five NHL center in Seguin, one of the sport's top power forwards in captain Jamie Benn, and a dynamite young blue-liner in John Klingberg.
Oh, and two other things: Nill grabbed the attention of John Tavares during the prized 2018 free agent's courting period, and the Stars have been linked to trade rumors involving all-world defenseman Erik Karlsson.
"At the end of the day, I think it's great for our organization and our city and team that players do want to go (to Dallas)," Seguin said. "Even if we didn't have long negotiations with Tavares, at least he called and said that he was interested. So, it says something (about) our team and our organization and it's all positive."
Seguin's expression of disappointment Tuesday shows he is frustrated, maybe even annoyed. It probably doesn't help that the club has won one playoff series since Nill acquired Seguin six summers ago. Above all, he's hungry for a Stanley Cup and would prefer to challenge for a title in Stars green.
"I envision giving my all this year and getting back into the playoffs," he said. "It's been a long few summers of no deep runs. The goal since I touched down in Dallas is to get deep in the playoffs and hopefully win."
John Matisz is theScore's national hockey writer. You can find him on Twitter @matiszjohn.
Comments
✕
Seguin's disappointment with lack of contract talks casts shadow over Stars
  Got something to say? Leave a comment below!