TORONTO - Marc Crawford is at the point in his career where he's game planning to beat teams built by his former players.
The 57-year-old Senators associate coach won a Stanley Cup with Avalanche GM Joe Sakic as his captain. He was the final head coach during Canadiens GM Marc Bergevin's playing career. Crawford also walked the bench behind Kings GM Rob Blake as well as two assistant GMs in Tom Fitzgerald (Devils) and Craig Conroy (Flames).
Which means Crawford - whose NHL coaching resume spans 16 seasons, five teams, and countless outbursts - has been forced to evolve.
"I've lost a lot of jobs because of how I have been and how I have been perceived," Crawford said this past weekend during a presentation about interacting with millennials at the TeamSnap Hockey Coaches Conference.
"This generation," Crawford added, "really thrives (on) and wants communication. They want interaction, they want a little bit of control over things, and when you meet with people and you talk with people, those sorts of things happen."
Crawford chatted with theScore on Saturday about millennials, working with Auston Matthews overseas, and his mindset ahead of Senators training camp.
Note: This transcript has been lightly edited for clarity and length.
theScore: It feels like millennials and Generation Z'ers get a bad rap. You're a champion for them. Why?
Crawford: "You have to be. It's your job as a coach to try to be understood, to try and get your message across, and to try and help people get to the next level. I think this generation has a lot of wonderful qualities, and I think it's important that we look at the positive aspects of their personalities or the things that they have been through. They've been through a lot.
"I didn't have to worry about having a cell phone when I was a kid. It was a big thing to sit in the back room of my parents' house and talk on the phone to my girlfriend and say, 'Hey, what are you doing? Hey, how 'ya doing?' That sort of thing. Now they're texting that to one another (and are hooked on social media). The generations haven't changed a lot, it's just different platforms that they're using.
"These guys have so many new skills. Their ability to multi-task, their ability to accept information is pretty important. I think, for us (coaches), if you can help them with retaining it, if you can help them with coping mechanisms for the sport - how to combat anxiety, how to combat some of the things that maybe we did a little bit more naturally, because we played a lot more in younger generations, whether it be road hockey or whether it be in the backyard, that sort of thing - this group is really good. They're the best-coached generation that I've seen. The skill that they come into the league with now is amazing. And that's a product of them working with skills coaches and a lot of them having a lot of individual attention in their upbringing. Again, I think it's positive. They're more ready for what we're ready to give them than maybe previous generations."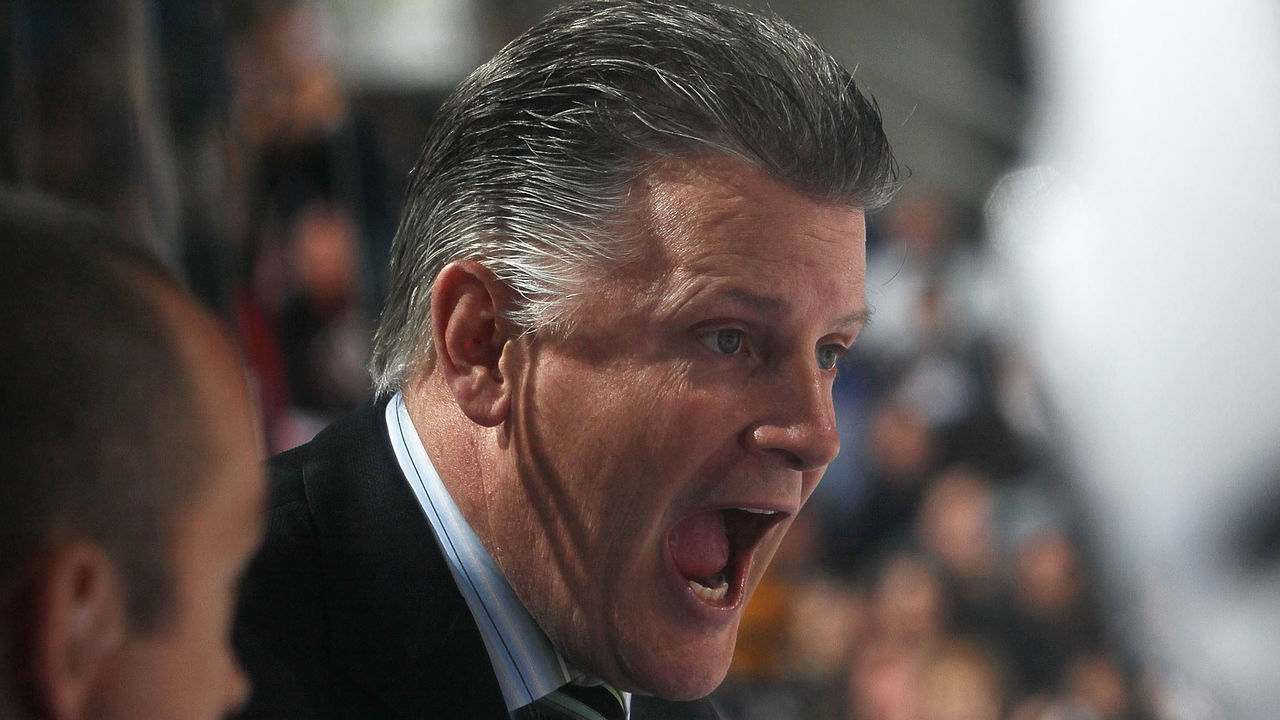 (Photo courtesy: Getty Images)
theScore: You have lived two NHL coaching lives ...
Crawford: "Maybe three or four." (laughs)
theScore: Fair. You had a long run, then you spent five years in Europe, four of them coaching in the top Swiss league. What was the biggest change when you returned to the NHL in 2016?
Crawford: "One of the things that changed a lot for me was that when I went to Switzerland I had a smaller staff, just one assistant coach, so I had to do a lot more. That was great for my own personal development - it got me back a little bit more to my roots. But the other thing that was important when I went to Europe was my social group … I didn't have one. I had the players, I had their families, so I started to socialize a lot more with players and their wives. My wife and I did some babysitting for players, that sort of thing. I got to know the hockey people in our organization, too, and that became my social network.
"In the past, when I was coaching in the NHL, I really didn't want to become that close with players, because I was a guy that had to be hard, I was a guy that had to be demanding. I think what I found - and it was a big change for me - is that I really liked the interaction of being around the players. It changed me, because I didn't want to lose that connection that I had with them, I didn't want to lose their trust. So, maybe I started to frame my messages a little bit better - and, really, that's personal growth. I felt the personal growth coming out of Europe was very important, and it's shaped me for dealing with this new culture of players. …
"It is simple common-sense communication that is at the forefront of everything. If you can talk to a person face to face, if you can listen to them as much as you're speaking with them, if you can talk with them and not at them - I think you're getting a platform where players feel comfortable about giving input and I think that's what they want."
theScore: A big part of that Switzerland experience was taking in an 18-year-old Auston Matthews. Now that you've seen him develop over the past two years in the NHL, which areas of his game would you say have improved the most?
Crawford: "The NHL forces your team game to become a lot better. Watching him protect the puck - he's taken it from a level where he was very good to a level where you just can't get the puck off him. His ability to understand what to do when he doesn't have the puck is at a higher level. He's always had a great capacity to work, he's always been a guy that is first on the ice and is a tireless worker. He's taken ownership and control of his career from a very early age. He's got great parents. He's very respectful. I love Auston. I feel so fortunate for having been around him for a year and I love seeing the success that he has (earned).
"The night he scored four goals against us in Ottawa, I was secretly cheering for him (laughs). I was so glad when we ended up winning the game in overtime because we got the best of both worlds. Now, his team game and his team understanding has gone to a different level, and his puck-protection skills have gone to a new level from when I had him in Zurich."
theScore: Matthews has a crafty takeaway move where he lifts the opponent's stick to steal the puck and transitions into attack mode instantly, avoiding a penalty. Did he have that mentality in Europe?
Crawford: "From a very early age, he's the guy who's had the puck the most. If you watch videos of him as a kid, that was the case. I've seen him play at the U18 level, and at the U20 level. It gets a little harder as you go up, but he was still the best player in Zurich and he was still the guy who had the puck the most.
"In the NHL, it gets that much harder and you see that element taken to a different level. (Mike Babcock's) coaching (promotes) being a real aggressive puck-pursuit guy when you don't have it, and Auston was so ready to hear that information, so ready to employ it. The Leafs have done a great job of taking his game to the next level and there's way more to come."
theScore: Training camp is coming up in a month and a half. With the current state of the Senators - Erik Karlsson trade rumors, Craig Anderson trade rumors, Randy Lee's legal situation, etc. - what kind of messages can you, head coach Guy Boucher, and the rest of the staff deliver to an unsettled team?
Crawford: "The biggest thing is that we have to improve upon our performance last year. Hockey, it's a great sport because it does have an outcome for every game. Every game you come out and you say, 'Hey, did we do well or did we not do well?' And that's easy, because a lot of businesses don't have that type of scorecard, if you will, or that type of evaluation. The one thing that we're going to try to do is, we want to have the same response whether we win or whether we lose. We want to be a team that is about improving every day.
"As I said in my session today, communication is really at a high level and a high premium. We place a high priority on having good communication with our players and creating the right type of environment where we can have success and focus as a team. Again, we're going to concentrate this year on being great teammates. If we're great teammates then we've got a chance to be a great team. If we're a great team then we're going to have a chance to have results on the scoreboard and everything takes care of itself.
"That's really our message this year: Let's take care of the things that we can (control), let's make sure we're always being positive and putting our best foot forward and we're trying to do the things that will help us to improve every day."
(Photo courtesy: The Coaches Site/F10 Sports Photography)