'I'm not washed up': Vick the main draw of American Flag Football League
Evan Habeeb / Getty Images Sport / Getty
Michael Vick is, once again, his sport's most dangerous weapon. He's a ramblin', scramblin', swashbuckler who's ready to cause nightmares for defenses.
So what if he's 38 years old and almost three years removed from playing in his last NFL game?
Vick, who made four Pro Bowls during his 13-year NFL career, is the star and captain of the Roadrunners of the American Flag Football League, a new summer league competing for the attention of fans who can't wait until September for their football fix.
Vick and several other former NFL stars, along with other well-known athletes, are competing in a nationally televised tournament this summer that pits a team of former professional athletes against amateurs for the chance to win $1 million. It's called the U.S. Open of Football Tournament.
"It's not going to be easy by any stretch," Vick told theScore. "At the same time, I'll tell everybody this: I made four Pro Bowls. I'm still a professional. I'm not washed up. I'm not a bum - not yet."
Vick's Roadrunners will battle Ocho, a team captained by former NFL receiver Chad "Ochocinco" Johnson, Saturday night in Atlanta in the semifinals of the professional bracket.
Other professional sports standouts involved with the AFFL are four-time Olympic gold-medal sprinter Michael Johnson, 14-year NBA veteran and three-time Slam Dunk champion Nate Robinson, two-time NBA All-Star forward Carlos Boozer, and Pro Bowl running back Justin Forsett.
There are four teams composed of former professional athletes. The team that emerges as the professional champion will compete against the amateur champs July 19 in Houston, an event dubbed the Ultimate Final. Eleven games will air on NFL Network, including the final.
It's the NFL's version of "Pros v. Joes," except the AFFL offers a different twist from the television show, and from virtually any sporting event featuring amateurs competing against All-Stars. This time, the professionals are actually underdogs.
"Some different facets you're not used to as a football player," said former NFL wide receiver Steve Smith, who made the Pro Bowl and won a Super Bowl title in his four seasons with the New York Giants.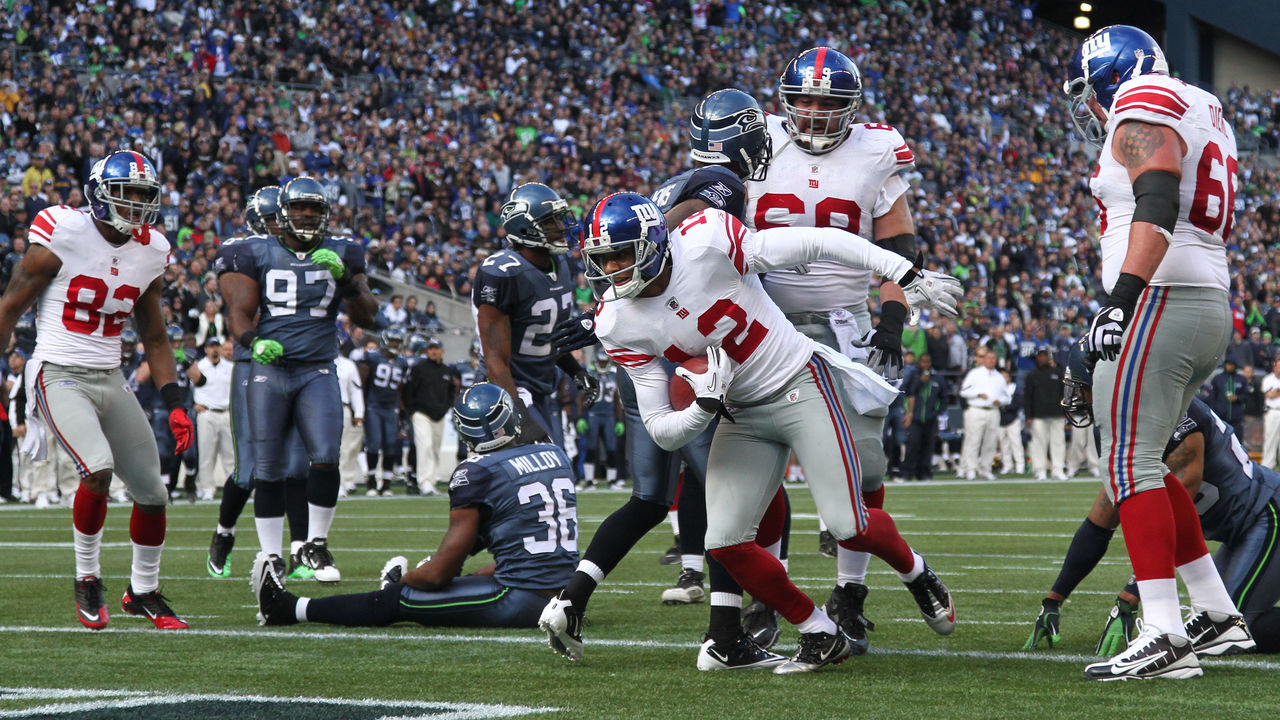 "When I played in my first game, in Irvine (California), my team lost. We had a sick team. This (amateur) team from Arizona beat us, and they had no business beating us, but that's just the game you're playing."
Because of the game's speed, safety, relaxed format, pace, and creativity, league officials and players believe the potential for the sport's growth and popularity is limitless.
Flag football has already seen increased levels of participation among the nation's youth. The Associated Press, citing research from the Physical Activity Council and Sports Marketing Surveys USA, reported that flag football participation saw the largest rise from 2014 to 2015 among kids between the ages of six and 14.
Without fear of head trauma, without helmets to conceal faces and personalities, and with the NFL's own television network broadcasting games, there's an avenue for both athletes and fans to gravitate quickly toward the sport.
"It's fun, man. You talk about playing flag football, that's what you grew up doing," said Ocho star Brandon Boykin, a former NFL cornerback whose six interceptions in 2013 tied for the league lead.
"You can play the game in its truest form and have fun and compete with people all over the world, not have a helmet on and just enjoy the game. That's what players want. That's what's so enticing about it. You can still make money playing a game that's truly a game."
Flag football's simple rules are conducive to a fast-paced, action-packed game that caters to the instant-gratification crowd. The game is played 7-on-7 over 60 minutes and split into 30-minute halves on a 100-yard field divided into four 25-yard zones, with fresh downs awarded by reaching a new zone. The clock doesn't stop until the final two minutes of each half. Blitzing is regulated and more points are awarded for lengthier touchdowns.
The former NFL players seem particularly enthused about the rules permitting laterals and the freedom to play more than one position.
"First game, I didn't even play wide receiver. I played mostly corner," Smith said. "I did so many years of playing receiver, it's just not that fun to me anymore. Now, I'm living my corner dream."
Vick, the No. 1 overall pick in 2001, holds the NFL's records for most career rushing yards by a quarterback and most single-season rushing yards by a passer. But don't be shocked to see the former Madden cover star playing somewhere other than his natural position.
"I'm gonna play multiple positions," said Vick. "Man, it's going to be so fun. It's like playing in the backyard again."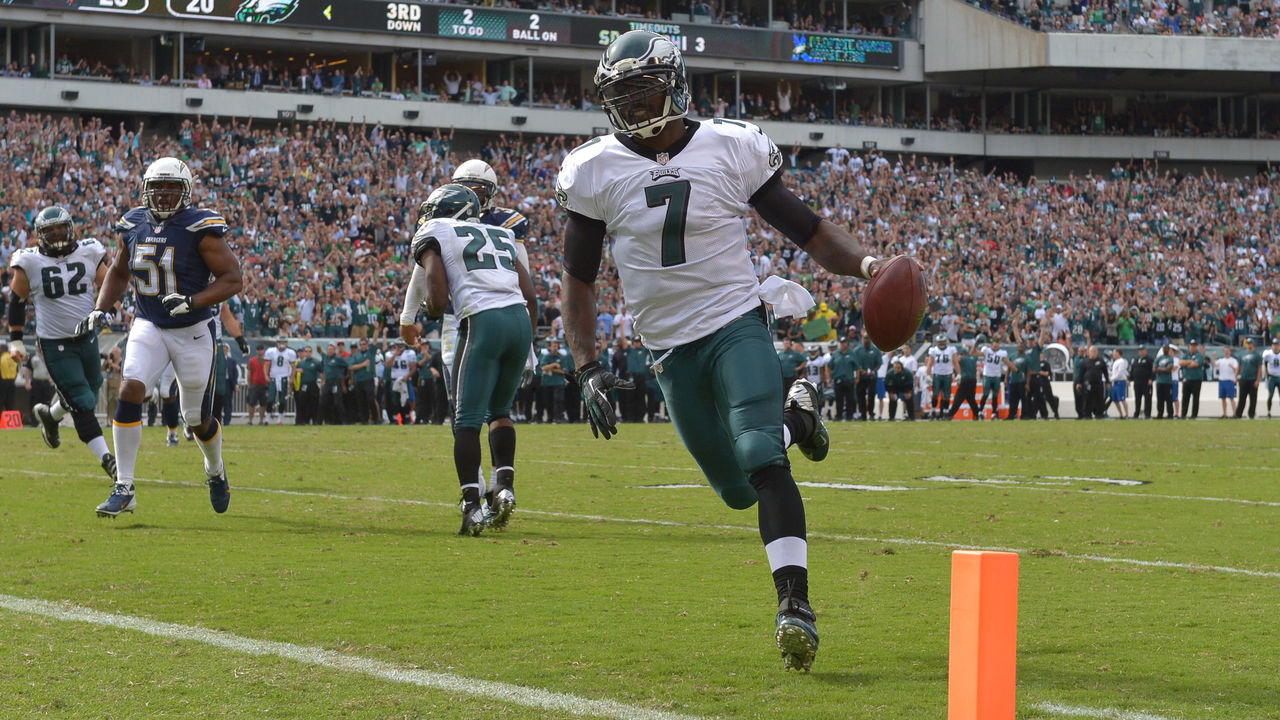 Fun, yes. A walk in the park? Not exactly.
The most difficult adjustment for former NFL players, they said, is the transition from tackling to pulling out the flag from the ball carrier's hip belt.
Amateurs who have been training for years hold an advantage over the professionals, who are just learning how to position their bodies to either grab flags or prevent defenders from yanking out theirs.
Smith recalled a rude awakening when his team lost to an amateur squad.
"My team had former NFL players. Their team had guys from [the University of] Arizona, USC," he said. "Besides that, it was some scientists and librarians, I don't know. They were working us. Crazy kick plays, just a bunch of creative plays that really pissed us off."
The U.S. Open of Football concept began in 2017 with a launch game in June featuring Vick. Jimmy Clausen, a former NFL quarterback and first-round pick, and Terrell Owens, who will be inducted into Hall of Fame this summer, also participated in the inaugural game.
This year, with a tournament spanning June and July, the AFFL is the latest alternative sports league trying to capitalize on the downtime between the end of the NBA postseason and the start of the NFL season, when Major League Baseball is the only major American sport holding its regular season.
The AFFL is competing with another alternative sports league - the BIG3, a 3-on-3 basketball league made up of former NBA stars - for attention and exposure during the slow days of summer. Both those leagues will likely compete in the future with the American Football Alliance and the XFL, two more football leagues expected to get off the ground in the next year or two.
"Flag football is going to become relevant as time continues to go on," Vick said. "There are some families and parents and guardians who don't want their kid to play contact football. I think this is a platform where you see it grow and you see more people get involved, whether it's retired players or guys who just enjoy playing the game of football.
"They can be pioneers and trailblazers for flag football for years to come."
Geoff Mosher is an award-winning sports reporter, radio host, and TV personality with more than 20 years of experience covering all major sports and leagues. He also hosts regularly on 97.5 The Fanatic in Philadelphia and co-hosts "The Sports Shop" on Facebook. You can find him on Twitter @GeoffMosherNFL.
(Photos courtesy: Getty Images)
Comments
✕
'I'm not washed up': Vick the main draw of American Flag Football League
  Got something to say? Leave a comment below!