'Now people are chasing us': New era underway for Freeman, revamped Braves
Admittedly, the losing got to him. So, too, did the clubhouse casualties, those teammates and friends traded away for the sake of The Future, distant and abstract as it seemed at the time.
But Freddie Freeman endured. He thrived, actually, blossoming into one of baseball's preeminent hitters amid the roster carnage and the deliberate, seemingly infinite losing. And the day-in, day-out frustration he stomached over the last three years has only made the Atlanta Braves' abrupt resurgence that much sweeter for Freeman, the linchpin of a rebuild that's finally starting to bear fruit.
"I'm not going to lie, it was definitely tough," Freeman, a two-time All-Star, recently told theScore. "Knowing that you don't have the greatest chance when you come to the field to win that game that night is definitely hard to keep going. But I knew, in the end, that the end game was definitely going to be a special game, and we're here a lot sooner than a lot of people thought. So it's amazing to be here, and now people are chasing us.
"Obviously, you never want to go through a rebuild in your career," Freeman continued. "You want to go to the playoffs every single year. But sometimes you got to go through that to get back and have a long, consistent run at the playoffs. And being not that great for three years definitely is not the best, but to be here now in the thick of things and in first place is definitely all worth it."
That modesty may be a function of Freeman's north-of-the-border provenance. The Braves aren't in the thick of things so much as they're killing it, eviscerating the credibility of every breathing baseball pundit along the way.
Entering play Friday, the Braves - still a non-factor in the National League East, per spring consensus - have, at 43-30, sole possession of the division lead, with a three-game cushion on the second-place Washington Nationals. Among National League clubs, only the Milwaukee Brewers have more wins, while Atlanta's run differential (+73) is second to just the Chicago Cubs. Their playoff odds, according to FanGraphs, sit at 46.2 percent. That may seem low, but consider that A) the Nationals still have essentially the same roster that won 97 games in 2017, and B) at this time last year, the Braves were 34-38 and had a 0.3 percent chance of playing in October.
Prognostications notwithstanding, Atlanta's coterie of young stars, largely acquired over the last three years in exchange for marginal wins, continues to open eyes around the league, and the veterans preemptively brought in to augment that shiny, new nucleus have more than delivered.
From the looks of it, the future Freeman was promised has arrived.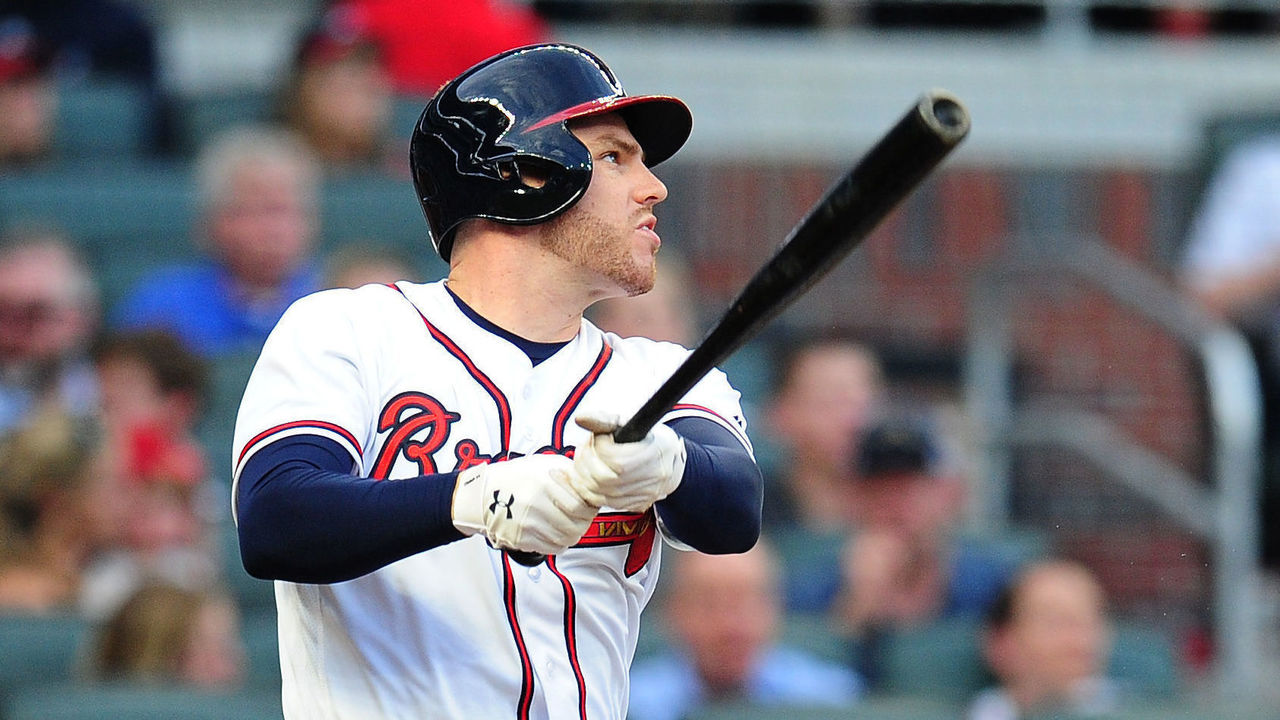 For the Braves, a team that boasts more postseason berths since the Berlin Wall came down than every big-league franchise except the New York Yankees, the decision to start from scratch was made surprisingly fast.
During the final week of a disappointing 2014 campaign (after earning a division title the season prior, the Braves finished 79-83, nine games back of a wild-card berth), Atlanta fired longtime general manager Frank Wren - whose miscalculations included Melvin Upton Jr.'s hilariously misbegotten five-year, $75.25-million contract - and entrusted the club's baseball operations to John Hart and John Coppolella. The Braves' assets were swiftly liquidated following the conclusion of the World Series.
First, in their efforts to revitalize a moribund farm system, the new front-office architects shipped Jason Heyward, an impending free agent, and reliever Jordan Walden to St. Louis. A month later, the Braves traded away Justin Upton, another soon-to-be free agent. Shortly after New Year's Day, the Braves unloaded Evan Gattis on the Houston Astros. Then, on the eve of Opening Day, Hart and Coppolella finished the first leg of their overhaul by trading Craig Kimbrel and Melvin Upton Jr. to the San Diego Padres. Expectedly, a miserable season - their worst since 1990 - ensued for the Braves.
The following winter, the Braves continued to purge their roster of veteran talent in pursuit of prospect capital, parting ways with both Andrelton Simmons and Shelby Miller, who, incidentally, was acquired the offseason prior in the Heyward deal. Another miserable season followed. (Their wealth of minor-league talent, however, quickly became the envy of the league. As the 2016 season loomed, the Braves had the consensus top farm system.)
Naturally, the Braves faded from relevance, but Freeman - virtually guaranteed to survive the purge, having signed an eight-year, $135-million contract extension just before that franchise-alerting 2014 campaign - seemed resolved to expedite the rebuild with his bat. From 2015 through 2017, as the Braves stumbled through three straight 90-plus-loss summers, Freeman hit .296/.392/.546 (150 OPS+) while averaging 27 home runs and 35 doubles per year and accruing the 16th-most fWAR (14.0) in the majors - a figure that likely would've been higher had he not missed 44 games in 2015 and another 45 last year.
Even as the losses mounted and the frustration grew, Freeman's focus never wavered.
"Going through that (rebuild) four years ago, they could've gotten rid of me, too," said Freeman. "But they chose me, they gave me every opportunity - they drafted me when I was 17, got me to the big leagues when I was 20, and gave me that contract - so I owe everything to the Atlanta Braves, and it's been my number one goal to get us back to the playoffs."
Finally, Freeman's goal seems realistic.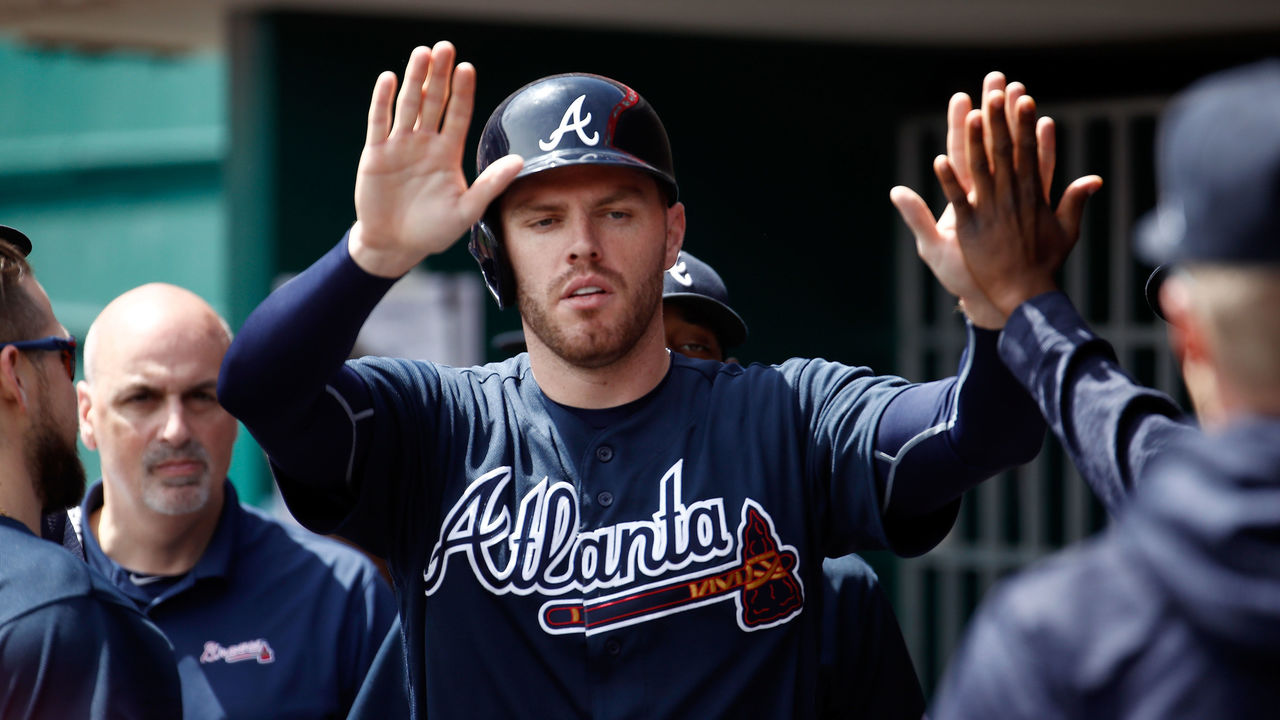 Throughout his six-year run as general manager of the Toronto Blue Jays, Alex Anthopoulos earned a reputation for being a creative, intrepid deal maker. His first offseason with the Braves, who put him in charge of baseball operations in November after Coppolella and Hart resigned in disgrace for amateur signing infractions, was decidedly uncharacteristic.
Following a slightly improved 2017 campaign in which Atlanta graduated several key youngsters, namely Ozzie Albies, Sean Newcomb, and Johan Camargo, to the big leagues, some expected the Braves to be active in free agency this winter. After all, as the Cubs approached the end of their rebuild, Theo Epstein signed veteran left-hander Jon Lester to a six-year deal worth $155 million to help move things along (the Cubs proceeded to earn a wild-card berth that year). The Houston Astros also spent a little dough to help pull themselves out of the basement, signing infielder Jed Lowrie, relievers Luke Gregerson and Pat Neshek, and outfielder Colby Rasmus for a combined $62 million ahead of the 2015 campaign (they also went on to win a wild-card spot).
Ultimately, however, the Braves made no significant additions during free agency this offseason. Their biggest signing was the one-year, $1-million contract given to reliever Peter Moylan. And to some, Anthopoulos' staid first winter at the helm was an indication that the Braves' competitive window, in the estimation of the front office, has yet to open in earnest.
If anything, though, the Braves' quiet offseason will only make October baseball that much more gratifying for Freeman, whose last postseason at-bat came in 2013.
"I've always said the last couple years that the coming back up is going to be the best feeling ever," Freeman said. "Like I said before, I wish I was Derek Jeter and got to play in the playoffs ever single year and never had a losing season. We did - we had a losing season for four straight years - but getting this team and this organization back to the playoffs is going to be the ultimate gratification."
Of course, he may have to wait another season to get there. Maybe two. Maybe more.
At the very least, though, the Braves are going to be in the playoff conversation for the foreseeable future, and certainly for the remainder of Freeman's contract, which expires after the 2021 campaign. And for Freeman, who had grown accustomed to playing for pride after the All-Star break and spending autumn nights indoors, that means a new era has dawned.
"I think you're going to be seeing us in October a lot," he said.
(Photos courtesy: Getty Images)
Comments
✕
'Now people are chasing us': New era underway for Freeman, revamped Braves
  Got something to say? Leave a comment below!