Regardless of their current roster makeup, cap sheet, or franchise timeline, all 30 NBA teams will enter this summer with the same free agent at the top of the big board: LeBron James.
Not every team has a realistic chance of landing the King, but each is likely at least preparing its elevator pitch, just in case. We'll make our best guesses at what those 30 pitches might sound like, dividing the teams into three categories: the long shots (featured Wednesday), the dark horses, and the true contenders. Up next: the dark horses.
Golden State Warriors
What they need to do first: Work out an opt-in-and-trade involving Draymond Green and Andre Iguodala - or trade everyone on the team besides Stephen Curry and Kevin Durant.
Who's in the meeting: Owner Joe Lacob, coach Steve Kerr, GM Bob Myers, whoever on the team is left
The Pitch: Getting old, isn't it? Some players lose once in The Finals and can never get over it - you've done it six times now, three to us alone. Of course, you got us the one time, and good on you for it - but now, you've proven all you need to prove to the outside world. You've got your championship in Cleveland. You've gotten to The Finals almost entirely on your own. You can probably get there from anywhere in the East. But as long as we're around, your season will end the same way: In the losing locker room, hearing the faint echoes of the Larry O'Brien Trophy being awarded to us.
It doesn't have to be this hard. In fact, it can be easy. Ask Kevin Durant: Do you think he misses Oklahoma City? The stilted offense? The perpetually-one-piece-short rosters? The season after season of going home frustrated? He gets criticism here, but he also gets to play basketball at the highest level, with teammates he actually likes, and without any summers of asking "What If?" Does it solve all of his basketball-related problems? No. But it's better than the alternative.
You're 33 years old. How much longer do you want basketball to be this hard? Come join us, and enjoy a basketball life that's easy for once. It's the NBA. There's no morality. There's no narrative. There's only the team that wins the last game, and the team that loses. Which one do you wanna be on next year?
Indiana Pacers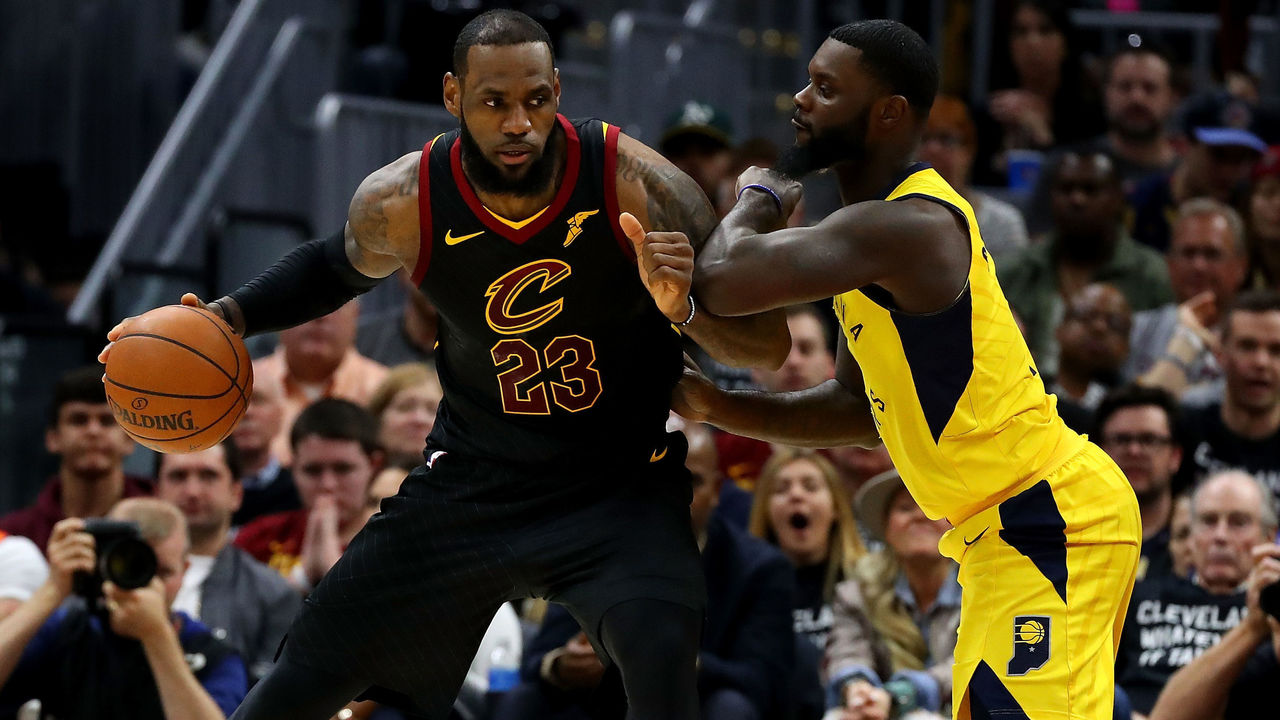 What they need to do first: Turn down Lance Stephenson and Joe Young's team options, hope Thaddeus Young opts out of his final year, and find a taker for Al Jefferson and/or Cory Joseph on their final seasons.
Who's in the meeting: Coach Nate McMillan, president Kevin Pritchard, franchise player Victor Oladipo, Indiana basketball legend Larry Bird
The Pitch: Have you ever played in a town with a true basketball tradition? The Cavaliers were a distant third to the Browns and Indians in Cleveland before you got there, and ball will never be more than a small part of the culture in a city like Miami. But in Indiana, hoops is baked into the DNA. Everyone loves basketball, from high school to the pros - you've seen "Hoosiers," right? - and once you're in with the fans, they'll love, support, and defend you to the death. Just ask Reggie Miller, who's treated like a god here despite never winning a championship or even really being a top-10 player. Or ask Larry, who played in Boston for all his professional career, but still gets worshipped as a local boy made good here. There's nothing like it.
And by the way, our team is pretty great - but you know that, since they took your Cavs to Game 7 in the Eastern Conference quarterfinals, very nearly stealing the series. Oladipo is a combination of Dwyane Wade's physical indomitability and Kyrie Irving's offensive finesse, and he's gonna be one of the league's best guards for a long time to come. Myles Turner has the potential to be the next Chris Bosh. Bojan Bogdanovic can be your new Kyle Korver. Get you in there, and it's already a classic LeBron team, except younger and cheaper. We got the fifth seed last year before we were really even trying to be good. Come here, and we can compete for No. 1 for a long time.
Los Angeles Clippers
What they need to do first: Hope Cleveland accepts a deal where LeBron, DeAndre Jordan, and Austin Rivers all opt into the final years of their contracts, then are swapped for one another. If not, hope those players turn their options down then rid themselves of a couple of their mid-level deals.
Who's in the meeting: Owner Steve Ballmer, board executive Jerry West, coach Doc Rivers
The Pitch: Look, we all know you want to come to Los Angeles, and have for a long time. But do you really want to go to the Lakers? They have tradition, but they also have expectations, and right now all they really have is a bunch of kids. Do you want to go to a team where you have to win immediately with a squad of 25-and-unders? Is that really the kind of pressure you want to have to deal with this late in your career? And besides - do you really want to spend a second of your NBA life breathing the same air as LaVar Ball?
On the Clippers, you can afford to be patient, and you can build your own legacy without being compared to 60 years of NBA ghosts. Forget championships, just get us to the conference finals and you'll automatically be the greatest player in franchise history. Besides, we're already closer than people realize. Lou Williams is basically an All-Star, Tobias Harris is still getting better on the wing, and we can be really dangerous with Montrezl Harrell at center. We just had two lottery picks in the draft. And next year, practically the entire team comes off the books, meaning you can practically have your choice of free-agent running mates.
Jerry West has helped build California basketball dynasties as an exec twice before. With you here, the third time is all but guaranteed.
Miami Heat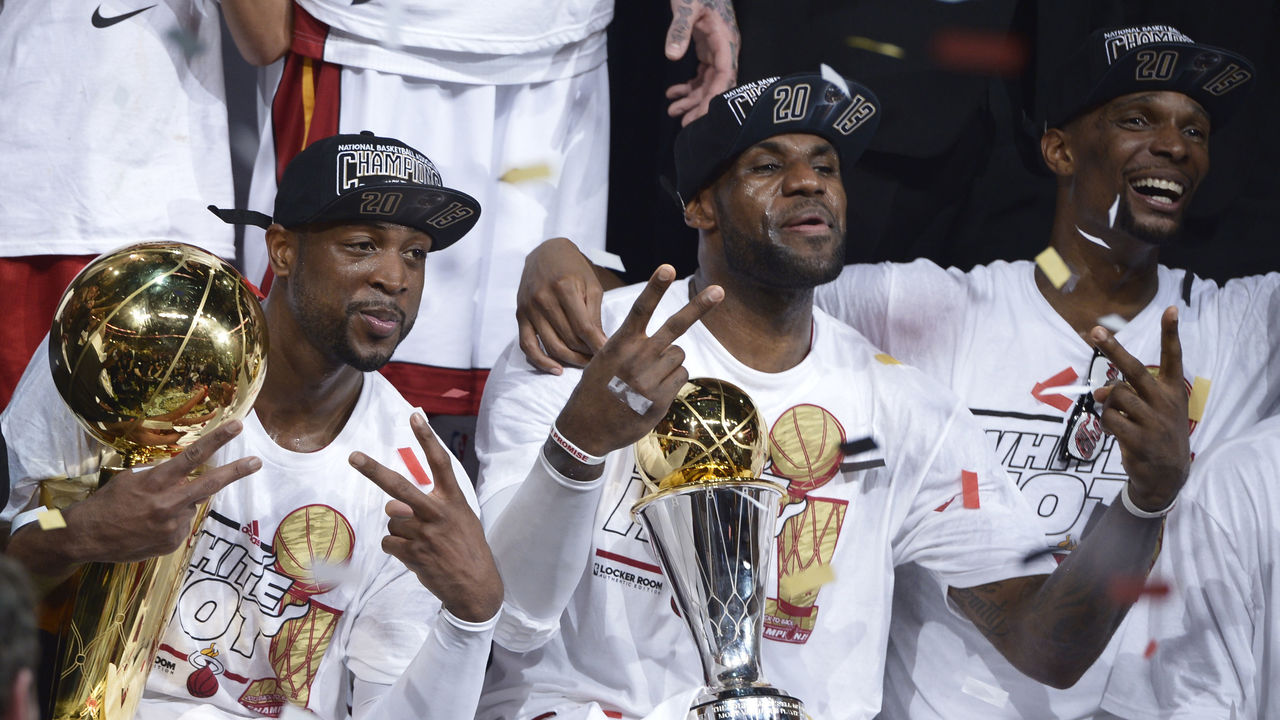 What they need to do first: More cap-clearing that can probably be reasonably managed without working out an opt-in-and-trade with Cleveland.
Who's in the meeting: Owner Micky Arison, president Pat Riley, coach Erik Spoelstra, franchise icon (and James' best friend) Dwyane Wade
The Pitch: Admit it: You've been impressed by how well we've survived. You left, CB's career came to a premature end, Dwyane eventually left too - and we still made the playoffs twice, and were just a couple games away from home-court advantage last season. It's not like we got stars to replace you guys, either - we basically built our team on the fly, from draft cast-offs, journeyman free agents, second-rounders, and dudes who just couldn't put it together until they got here. Because that's what we do in Miami: We work harder than anyone, and get the absolute best out of every situation.
But I don't need to tell you that: you saw it firsthand for four years. You know what a brilliant coach Erik is, what a towering front-office figure Pat is. You may have had some doubts about Micky's willingness to spend at times, but we've paid out a pretty penny for this team, and they're not really even a championship contender - they're just a damn good team made of true ballers, and he knows that's worth keeping together, no matter the cost. But add you back in the mix, and the team has no ceiling. Add your supreme talent to their supreme effort, and there's not a team in the NBA that'll want to see us in the playoffs.
Plus, c'mon, you miss South Beach, don't you? I'm sure those winters in Northern Ohio were a blast, but the cold doesn't exactly get friendlier as you get older. Come back to the part of the world where you can ride with the windows down 12 months a year.
Milwaukee Bucks
What they need to do first: Trade pretty much everyone except for Giannis Antetokounmpo, Eric Bledsoe, and Khris Middleton.
Who's in the meeting: Owner Wes Edens, GM Jon Horst, coach Mike Budenholzer, Antetokounmpo, local football hero Aaron Rodgers
The Pitch: We're coming, trust us. You shouldn't need to look further than the guys in this room to know that. You've seen Giannis, seen how far he's come and how much further he can go. You know that he's got next after you and Durant. And you've seen what coach Bud can do, too. You saw how he took that Hawks team to 60 wins two years ago without a single player with half the star power of you or Giannis. And you saw what Middleton did in the playoffs last year, and you're tight with Bledsoe. You know that even without you, we're as set for the rest of the decade as anyone - and with you, we'll be virtually unstoppable.
Yeah, we've underperformed in the playoffs, and it's been a pretty long time since we've even won a series. But Giannis is still just 23 (23!) and he's never had a proven coach like Mike. And you know what it's like in the midwest when you bring a long-suffering team back to glory: You, Giannis, and Aaron here can basically own the entire state. He's been a star here on a competitive team for a decade - ask him if he'd think about leaving anytime soon. Come build the basketball version of that with us.
New Orleans Pelicans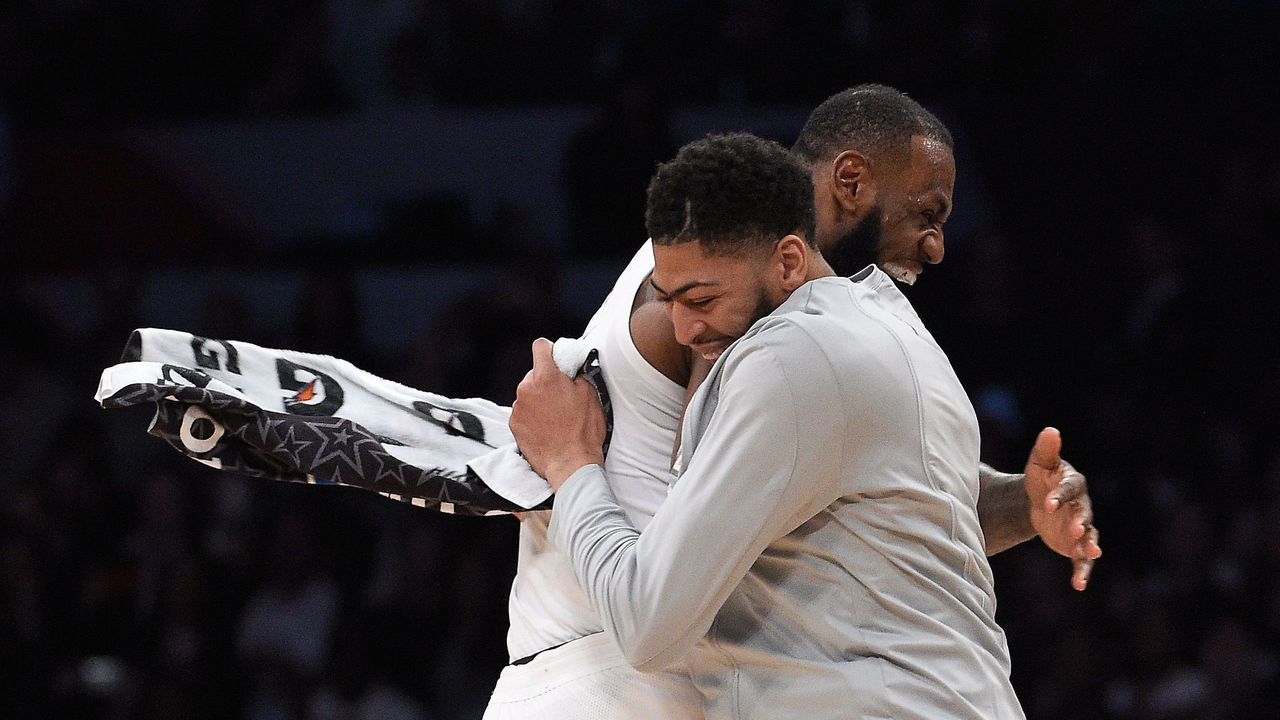 What they need to do first: Renounce DeMarcus Cousins and all other free agents, trade everyone remaining besides Anthony Davis, Jrue Holiday, and Nikola Mirotic.
Who's in the Meeting: GM Dell Demps, coach Alvin Gentry, stars Davis and Holiday, local football hero Drew Brees
The Pitch: I'm sure this time last year, you wouldn't have even considered taking a meeting with us. We'd only made it to the playoffs once in the previous half-decade, and we got bounced in four games. But finally, we caught a little health luck with AD and Jrue, and that was enough for us to not only get to the playoffs, but sweep the higher-seeded Blazers in the first round, and then put at least a legitimate one-game scare into the Warriors - and all while still getting unlucky with DeMarcus' torn Achilles. It took a while, but we finally figured out who we are - and we're friggin' scary.
But of course, even with Jrue and AD both playing at an All-NBA level, we're still pretty thin in the lineup between them. But that's where you'll come in - as the final piece of the league's most terrifying two-way big three. You can run our offense - and Alvin's is a fun offense, by the way; the evolutionary progression of those Seven Seconds or Less teams - with AD anchoring the defense, and Jrue providing balance on both sides. We'll have to do some filling in around the margins, but as long as we have you three, we'll be as formidable as anyone in the West - and we'll take a whole lot more than one game off the Warriors next season.
Oh, and being a hero in this city has its advantages, too - particularly at certain times of the year. We'll let Drew fill you in on the details there.
New York Knicks
What they need to do: Pray like hell Enes Kanter declines his team option, then get rid of either Joakim Noah or the Courtney Lee/Lance Thomas combo platter - whichever is easier to unload
Who's in the meeting: Owner James Dolan, team president Steve Mills, coach David Fizdale, star player Kristaps Porzingis, franchise great Patrick Ewing, local film director and Knicks spokesfan Spike Lee.
The Pitch: Look, you can go wherever you want this season. We won't lie to you: There are teams with better player personnel, better track records, and better assets moving forward than we currently have. But none of them have New York. None of them have Madison Square Garden. There's only one, and it's right here. You know what it's like, you've played playoff games here, you've lit this building up before yourself - there's nothing else like it in sports. They call it the Mecca for a reason. And the building is an extension of the city, the greatest in the world. Do you want to go your entire career without knowing what it's like to call New York your hometown? To deliver winning basketball to the fans who need it most, who deserve it most, who'd appreciate it most? You think you're an icon now, wait till you deliver hoops salvation to the Big Apple.
And, for the record, we're doing fine at the moment. Kristaps' ceiling is as high as any player under 25 - he started off last season looking like a damn MVP candidate - and wait till you see what he and our other two top-10 picks do under coach Fizdale. You know him from your Miami days, of course - you know what a gifted communicator and player developer he is. We're well on our way to being competitive, and we're a couple trades away from having cap space to add whatever max free agent you want to come join you here. You saw how easy it was to get Carmelo here once we already had Amar'e - you sign in New York, and half the league's All-Stars will call their agents to figure out how to get here to play with you.
But really, we don't need to sell you New York: More than any other NBA landing spot, this city and this building sells itself. Play here once, and you'll never want to call anywhere else your home city again.
Oklahoma City Thunder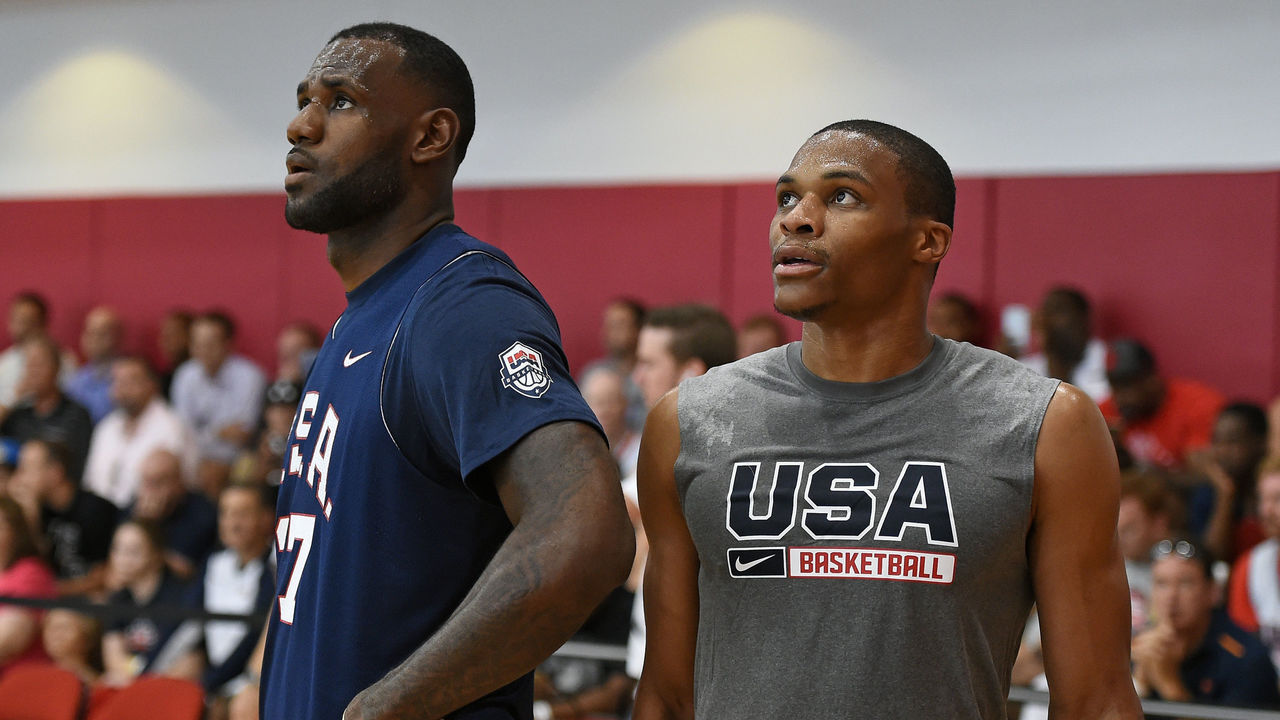 What they need to do: Hope they can work in an opt-in-and-trade for LeBron and that they can somehow talk Carmelo Anthony into exercising his contract's early termination option.
Who's in the meeting: GM Sam Presti, coach Billy Donovan, franchise star Russell Westbrook
The Pitch: Doing it all this year has to have taken its toll on you, to the point where you'd probably have given half your salary for someone who could take the pressure off you for at least a couple possessions a quarter. Well, do we have a running mate for you. Not only was there no one on Cleveland like Russ last year, you've never had a teammate like him before - one this athletic, this gifted, this high-usage. If you want to hand the ball off to him for a quarter and watch him rack up a triple-double while you catch and shoot on the open jumpers he finds you for, that's fine. If you want to play a game as a defensive stopper - remember how good you used to be on defense? - that's cool, too. This is the one guy in the league as indefatigable as you are.
There's a myth that Russ' teammates can't thrive around him, but it's not true. Steven Adams shot 64 percent last year, mostly on dump-offs and offensive rebounds from his point guard. Paul George was a Defensive Player of the Year candidate for most of the season. You might not win a scoring title playing next to Russ these days, but you don't want to be a volume shooter at this point in your career, anyway. You want to focus on playing a well-rounded game, and then get the ball at full strength down the stretch. You'll get all that here - and other teams won't have any kind of clue what to do playing against a team where LeBron James sometimes serves as the second option.
San Antonio Spurs
What they need to do first: Trade Pau Gasol and Patty Mills, hope one of Danny Green or Rudy Gay opts out of their contract.
Who's in the Meeting: GM R.C. Buford, coach Gregg Popovich, franchise stars Kawhi Leonard and LaMarcus Aldridge, Spurs icon Tim Duncan
The Pitch: Look, we don't do big pitches here. We know the respect you have for the Spurs after facing us so much over the years, and the feeling is mutual. It's been an unusual couple of years for this franchise, with the unusual amount of behind-the-scenes drama we've had. But as you saw from his career-best play last season, we worked things out with LaMarcus, and as you see from his presence at this meeting, we're working things out with Kawhi. We always work it out. That's the culture we have in San Antonio - that and winning, which we've done consistently for the last 20 years, as literally every other NBA team has risen and fallen around us.
You're the best player in professional sports. It's time you joined up with the best organization.
Toronto Raptors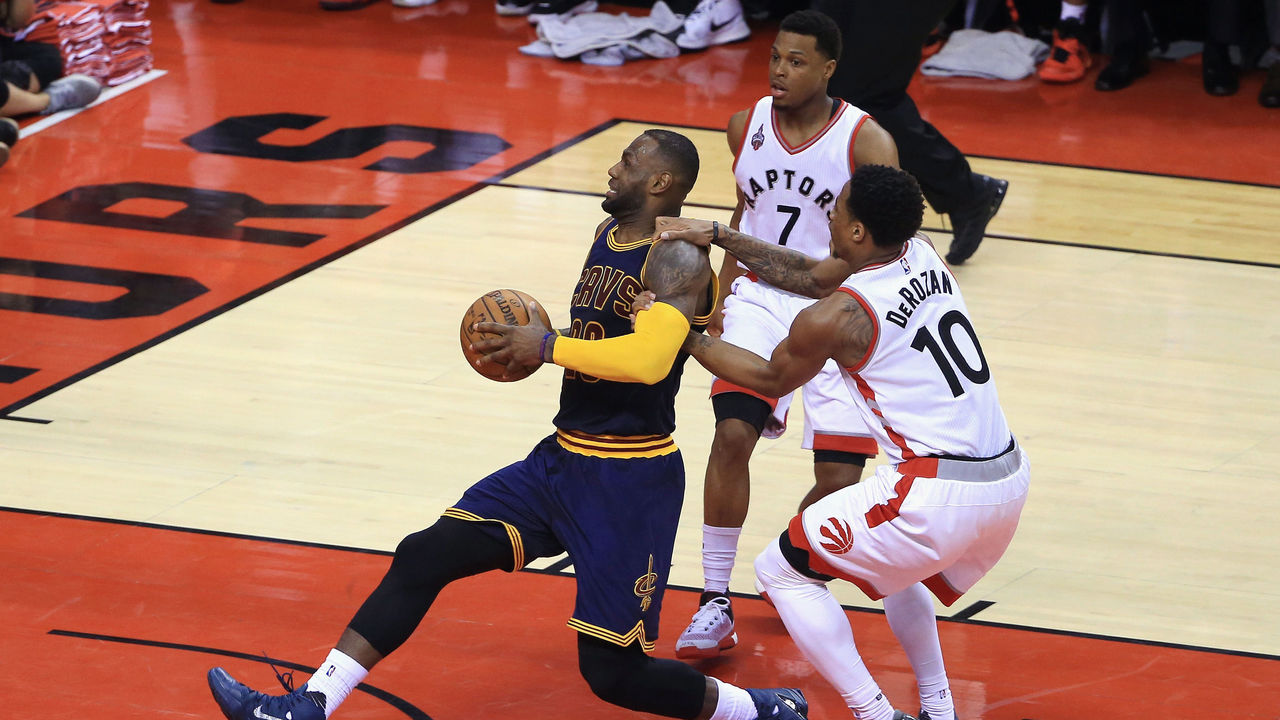 What they need to do first: Pray they can work out an opt-in-and-trade with Cleveland, or hope there's another team so starved for frontcourt help they'll take Jonas Valanciunas, Serge Ibaka, and Norman Powell for free.
Who's in the meeting: GM Masai Ujiri, coach Nick Nurse, franchise stars Kyle Lowry and DeMar DeRozan
The Pitch: Well, you've got us. For the third straight year, we entered the postseason with maybe the best squad in franchise history, and for the third straight year, you sent us packing with a couple flicks of your wrist. You've won your last 10 postseason games against us. We give. We don't want to compete with you anymore. We want to compete alongside you. We want you to get us over the hump in the Eastern Conference, by removing the hump that is your opposing presence in the East. Hell, you don't even have to play for us if you don't want to: Just don't play against us and we'll be fine.
And what can we offer you to do this with us? Well, how about an entire country? You already own Toronto, as far as the entire internet is concerned - come here for real, and the rest of Canada will undoubtedly soon be yours as well. You've seen what an icon we made out of Vince Carter, at least before he turned his back on us. He never even made The Finals, but he'll be remembered forever for what he did in putting basketball north of the border on the map. If you come here and deliver the first championship in Canadian basketball history, you'll be up there with Gretzky.
Win in America, you'll still always be compared with MJ. Win in Canada, and you'll define the entire sport.
(Photos courtesy: Getty Images)