Rookie sensation Barzal is already one of the league's best forwards
Bruce Bennett / Getty Images Sport / Getty
EAST MEADOW, N.Y. – For a while this season, the race for the Calder Trophy was somewhere beyond a toss-up, even bordering on a free-for-all.
Before even considering top rookie defensemen like Charlie McAvoy and Mikhail Sergachev, the scoring leaderboard among NHL newcomers shifted on just about a daily basis. In October, Clayton Keller's 15 points led four rookies in double figures. The next month, Mathew Barzal posted 17 points, leading six scorers with 10 points or more. In December, there were seven rookies with double-digit points, led by Danton Heinen (14).
In January, though, Barzal set himself apart - not only with his second five-point game of the season, but by collecting another 10 points, nearly doubling the total of any other rookie in the month. New York Islanders teammate Ryan Pulock and Tampa Bay Lightning winger Yanni Gourde had eight points apiece, barely preventing Barzal from lapping the field.
"He's a terrific player," said Nashville Predators center Ryan Johansen after facing Barzal on Monday night. "He's fun to play against. He's not like any other - there's probably only a couple of other players in the league that have his skating ability and are that dynamic. For me, it was a big challenge playing against him. You want to get down in the defensive zone, and play in the offensive zone, for us, as much as you can, and try to exploit some of his young mistakes. But as a guy with the puck, he's really dangerous. He's going to be a great player in this league once he really sharpens up his two-way game. They've got a special one here."
Drafted by the Islanders with the 2015 first-round pick they got from the Edmonton Oilers in the Griffin Reinhart trade, Barzal has thus far avoided the kind of struggles that are so common for players in their first NHL season.
"I think he's in excellent shape," Islanders coach Doug Weight said. "I think we have a lot of things here that allow you to take care of yourself and eat right, and I think he focuses on that stuff. I don't think he's out carousing or eating the wrong foods too often. He definitely takes advantage of his time off to get some rest. I think that helps, and I think it's also a level of confidence, a level of play. He's a demanding kid on himself, and I think he's found a way to keep that groove."
The woes that often befall rookies have a lot to do with playing more hockey than they have ever played in their lives, at a higher level than they've ever previously seen. The dips can be physical, mental, or a combination of the two.
There is another element, though, that is out of a rookie's control, and that is what happens as opponents try to figure out how to stop someone from making his presence felt. There is a moment when a rookie is no longer seen as just some kid, but a force to be reckoned with, and as the league adjusts, it presents a new challenge.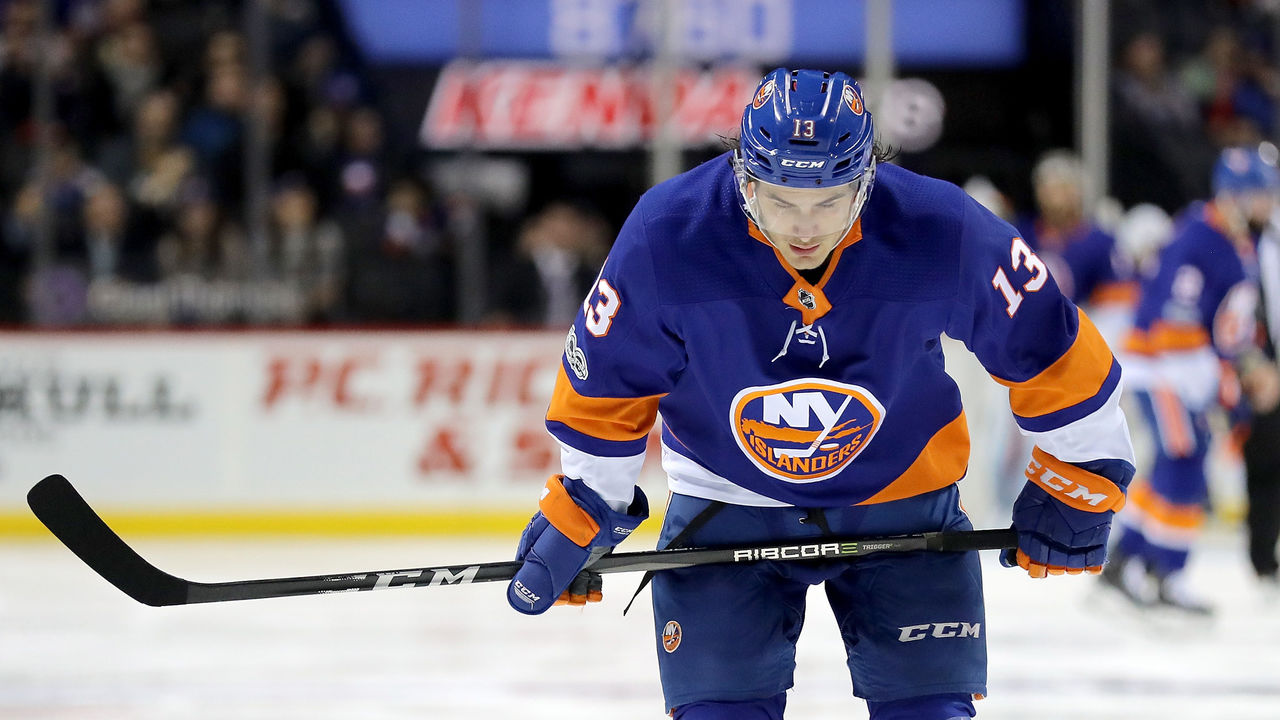 (Photo courtesy: Getty Images)
"We've seen more and more teams lately start to take runs at him, especially on zone entries, double teaming him a bit," Islanders winger Andrew Ladd said of Barzal. The veteran has spent most of the season on the 20-year-old center's line, along with Jordan Eberle.
"But if that's the case, his next progression is, when he has two guys on him, finding the open guy. That just helps his linemates out more, which he's figured out, too. The dynamics of his game, how well he skates, how well he sees the ice, and his passing ability, it's tough to contain someone like that. If you do contain him, it takes more than one guy to do it, and he's gonna open someone else up."
Finding that open man can be difficult in traffic, an issue that familiarity between linemates can alleviate. Practice helps, and when he watches video, Barzal keeps a close eye on his wingers so he can better understand what they like to do.
That work has only become more important as Barzal faces greater scrutiny from opponents thanks to his success over the first half of his rookie campaign.
"The last 20-30 games, guys are a little more in my face, and that kind of stuff, but I love it," Barzal said. "I'm a competitor and I'm playing out there. So, I've noticed it, but it's all right. It's actually great, because in the (WHL), I used to get doubled or shadowed ... so it's helped me make the transition to playing in tighter games, playing with guys draped on me. I'm always playing with two great players in this league - doesn't matter what line I'm on, everyone is good - so, I'm just trying to find open guys."
He has done that plenty. Barzal is 12th in the league in assists, and is on his way from being one of the NHL's top rookies to one of the game's top players.
Comments
✕
Rookie sensation Barzal is already one of the league's best forwards
  Got something to say? Leave a comment below!