How the Ducks are staying afloat despite being NHL's most injured club
Kelvin Kuo / USA TODAY Sports
A true sign of any quality hockey team is its ability to play through injuries. For the Anaheim Ducks, playing through injuries has become a nightly occurrence.
Despite having the most man games lost due to injury of any NHL squad at 95, the Ducks currently find themselves only five points adrift of the ever-tough Pacific Division lead.
But, with so many man games lost due to injury, how are they doing it?
Here's how the Ducks continue to stay competitive in the face of being the league's most injured club.
Gibson's held down the fort
Before diving into Ducks netminder John Gibson, take a quick look at Anaheim's current list of injuries, to get a better feeling for the team currently playing in front of him:
| Player (Position) | Injury |
| --- | --- |
| Ryan Getzlaf (F) | Facial fracture |
| Ryan Kesler (F) | Hip |
| Patrick Eaves (F) | Guillain-Barre Syndrome |
| Ondrej Kase (F) | Upper-body |
| Jared Boll (F) | Lower-body |
| Cam Fowler (D) | Knee |
| Hampus Lindholm (D) | Undisclosed  |
| Ryan Miller (G) | Lower-body |
That is a fairly solid lineup of top-tier players, including two of the Ducks' best defensemen and their captain, so Gibson's 2.84 goals-against average and .920 save percentage look even better under that lens.
A record of 6-6-1 isn't really all that much to be excited about, but given the list of players currently watching from the press box, Gibson's performance has been nothing short of crucial.
Remember, Anaheim had Korbinian Holzer playing the wing last night. Korbinian Holzer is a defenseman.
Just saying.
Getting 'O' from their 'D'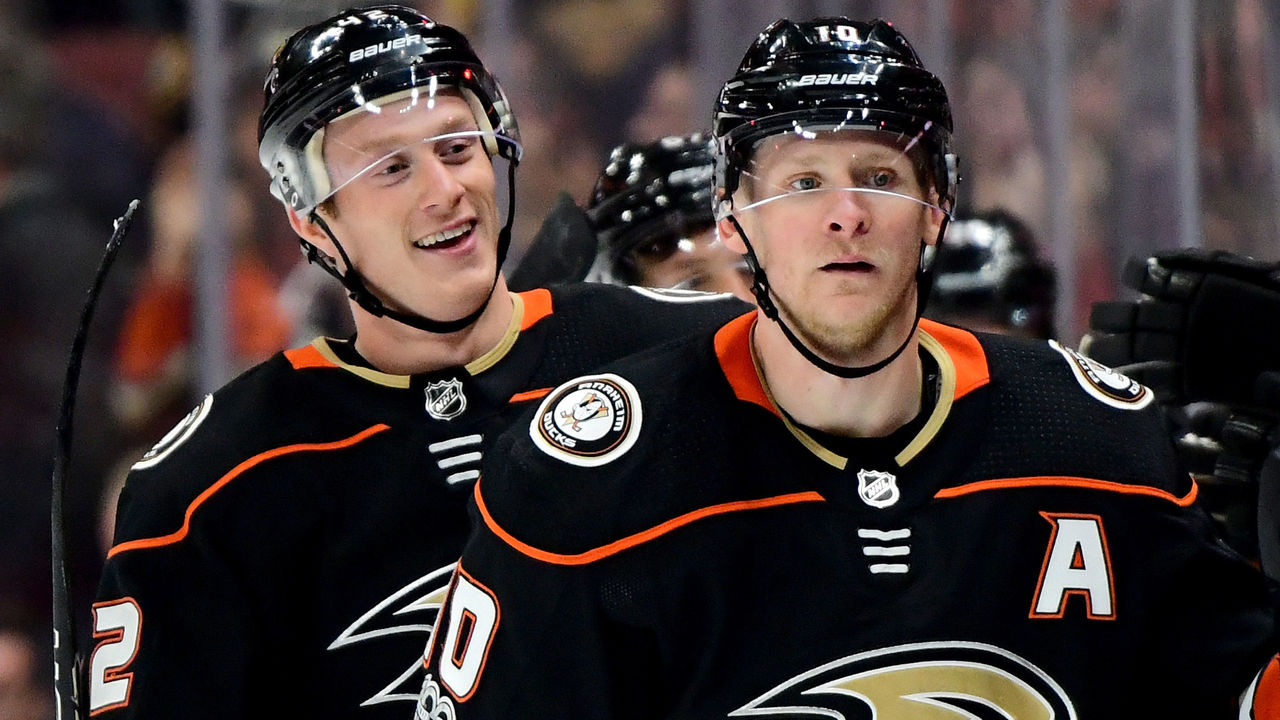 (Photo courtesy: Getty Images)
The Ducks are getting solid offensive support from their blue-liners, and that's without their top-scoring rearguard in Cam Fowler.
Three of Anahiem's top-seven point-getters are defensemen, with Brandon Montour and Josh Manson each having nine to their credit already. Furthermore, Ducks rearguards account for almost 22 percent of Anahiem's total goal output.
If head coach Randy Carlyle can continue to get some 'O' from his 'D,' expect the Ducks to continue to be in the Western Conference playoff mix.
Balanced attack
With Kesler, Eaves, and Getzlaf all out for prolonged periods of time, Anaheim's supporting cast has stepped up in a big way, with guys like Derek Grant and Andrew Cogliano upping their offensive games with 10 and 11 points, respectively.
In addition, the Ducks continue to get the job done as a group, as Anaheim boasts 21 different goal scorers through the first 18 games.
Solid goaltending, offensive support from the blue line, and a penchant for getting the job done by committee have the Ducks treading water despite being the league's most injured group.
Comments
✕
How the Ducks are staying afloat despite being NHL's most injured club
  Got something to say? Leave a comment below!