He probably won't be fired this week, but make no mistake, Saturday's debacle against Georgia has basically sealed Jim McElwain's fate with Florida.
While there's certainly no shame in losing to the No. 3 team in the country, the fact the Gators got blown off the field by a score of 42-7 is the latest piece of evidence in a mounting case against keeping the third-year head coach.
While the Florida faithful have been vocal in their displeasure with the supposed offensive guru's struggles to fix the dreadful Gators unit, McElwain could always hang his hat on back-to-back SEC East titles and two wins over Georgia.
After the beatdown at the hands of the Bulldogs, neither of those things will be happening this season.
Earlier this week, McElwain referenced death threats being made toward Gators players' families, but declined to elaborate. The university administration then asked the coach if he'd received death threats to his family, but he again declined to offer any specifics.
During Wednesday's SEC teleconference, McElwain said he'd reveal more information if the situation became unmanageable. But if Florida players or the coaching staff are indeed receiving death threats, they should be handled swiftly. The way he's handling things isn't doing much to suggest the threats are serious, or even real.
A report surfaced during Saturday's game that Florida administrators were examining whether they could fire McElwain with cause for the situation surrounding the death threats.
Then, there's the on-field issues.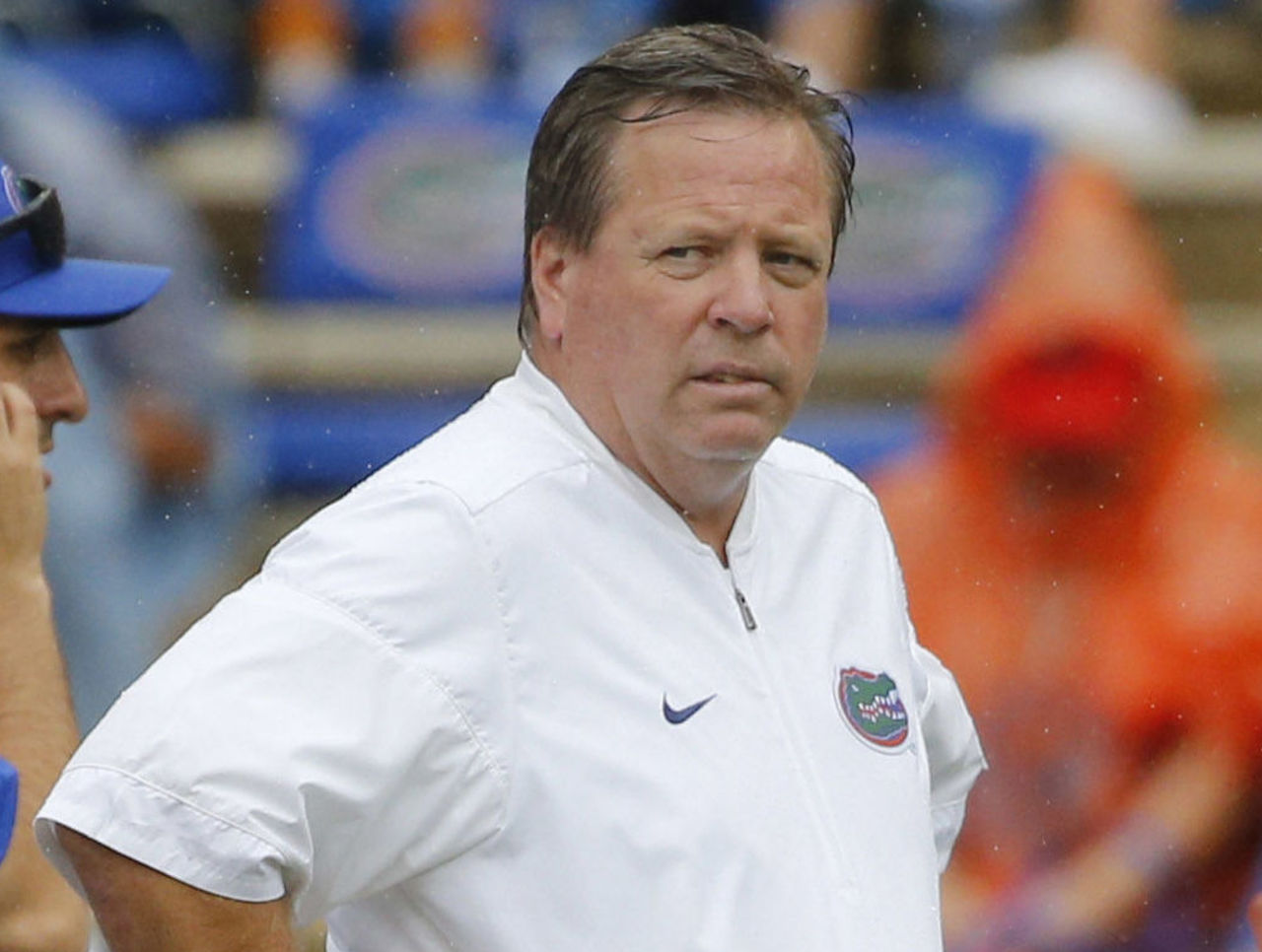 (Photo courtesy: Action Images)
Anemic offense
One of the major reasons McElwain was hired was for his offensive prowess and success with quarterbacks. He was expected to clean up the offensive mess the Gators had become under Will Muschamp, but has failed miserably at that task. Through his three years with the program, Florida has never ranked better than 95th in the country in scoring offense.
| Year | Points per game | National rank |
| --- | --- | --- |
| 2015 | 23.2 | 99th |
| 2016 | 23.9 | 107th |
| 2017 | 23.7 | 95th |
His inability to develop a quarterback is a carry-over from the previous era, but there's been no growth at the position under McElwain. Feleipe Franks was a highly touted recruit who was set to thrive in the Gators' system, but he's been largely disappointing in his first year as starter. Saturday was an absolute embarrassment for Florida's passing attack, as Franks somehow finished the contest with only 30 yards.
Ranked struggles
With the loss to Georgia, Florida is 2-9 in its last 11 games against ranked teams. For a program of the Gators' stature, that's simply unacceptable against the nation's elite. While that record is bad enough, it's the manner in which the majority of those games were lost that's the issue. The combined scoreline of those 11 contests is 360-175.
While McElwain's 22-12 overall record isn't terrible, Florida isn't a school that simply hopes to compete for conference titles; it expects to win national championships. That losing record against ranked opponents shows the Gators are nowhere close to competing with the top programs.
The annual series with Florida State has also become a massive problem, as the Gators are 0-2 against their local rival under McElwain with an ugly combined score of 58-15. While losing in-state bragging rights is bad, it's the impact on recruiting that can seriously cripple a program. Continued losing to the Seminoles certainly isn't going to bring top Florida talent to Gainesville.
It may seem odd to cut ties with a man that has won back-to-back SEC East titles, but the case against keeping McElwain continues to grow each week. With the horrific showing Saturday and the report that the administration is already looking at cutting him loose, it seems the Florida job will be open sooner rather than later.