Brett McMurphy's bowl projections: Clemson, Alabama in a league of their own
Michael Shroyer / Getty Images Sport / Getty
Brett McMurphy has been a college football reporter for nearly 30 years. He is a longtime voter in the Associated Press poll as well as a Heisman Trophy voter. Find him on Twitter @brett_mcmurphy.
Eye-gouging, crotch-grabbing, flipping off the crowd, and a near brawl in the stands. Was it the latest episode of "WWE Raw?" Nope, just another wonderful, wacky week of college football.
In San Diego, replays showed Northern Illinois' Antonio Jones-Davis, at the bottom of a pile, gouging the eyes of San Diego State's star running back Rashaad Penny. Jones-Davis was suspended by NIU coach Rod Carey for the Huskies' next game.
In Baton Rouge, La., in the final moments of Troy's upset at LSU, Troy wide receiver Alvin Bryant stood on the bench, facing the crowd, grabbing his crotch, and extending both middle fingers in the air. Troy coach Neil Brown said Bryant later faced unspecified team discipline for his actions.
In Knoxville, Tennessee fans, including one man wearing checkerboard orange and white overalls, started throwing punches in a near brawl in the stands during the Vols' shutout loss to Georgia. I'm not aware of any discipline levied against the individuals involved, but honestly, haven't they suffered enough already this season?
So much for last week's lowlights. Here are this week's highlights: my updated bowl projections.
College Football Playoff
| BOWL (CITY) | DATE | MATCHUP |
| --- | --- | --- |
| Championship Bowl (Atlanta) | Jan. 8 | CFP semifinal winners |
Projection: Clemson vs. Alabama
When exactly did Clemson and Alabama turn into the Harlem Globetrotters and every one else the Washington Generals? Clemson and Alabama have been so dominating that it's almost a foregone conclusion they will meet for the national title for a third consecutive season.
The only suspense is who will be the No. 1 seed and get to play the closer semifinal game in New Orleans, while sending the No. 2 team to Pasadena.
Semifinals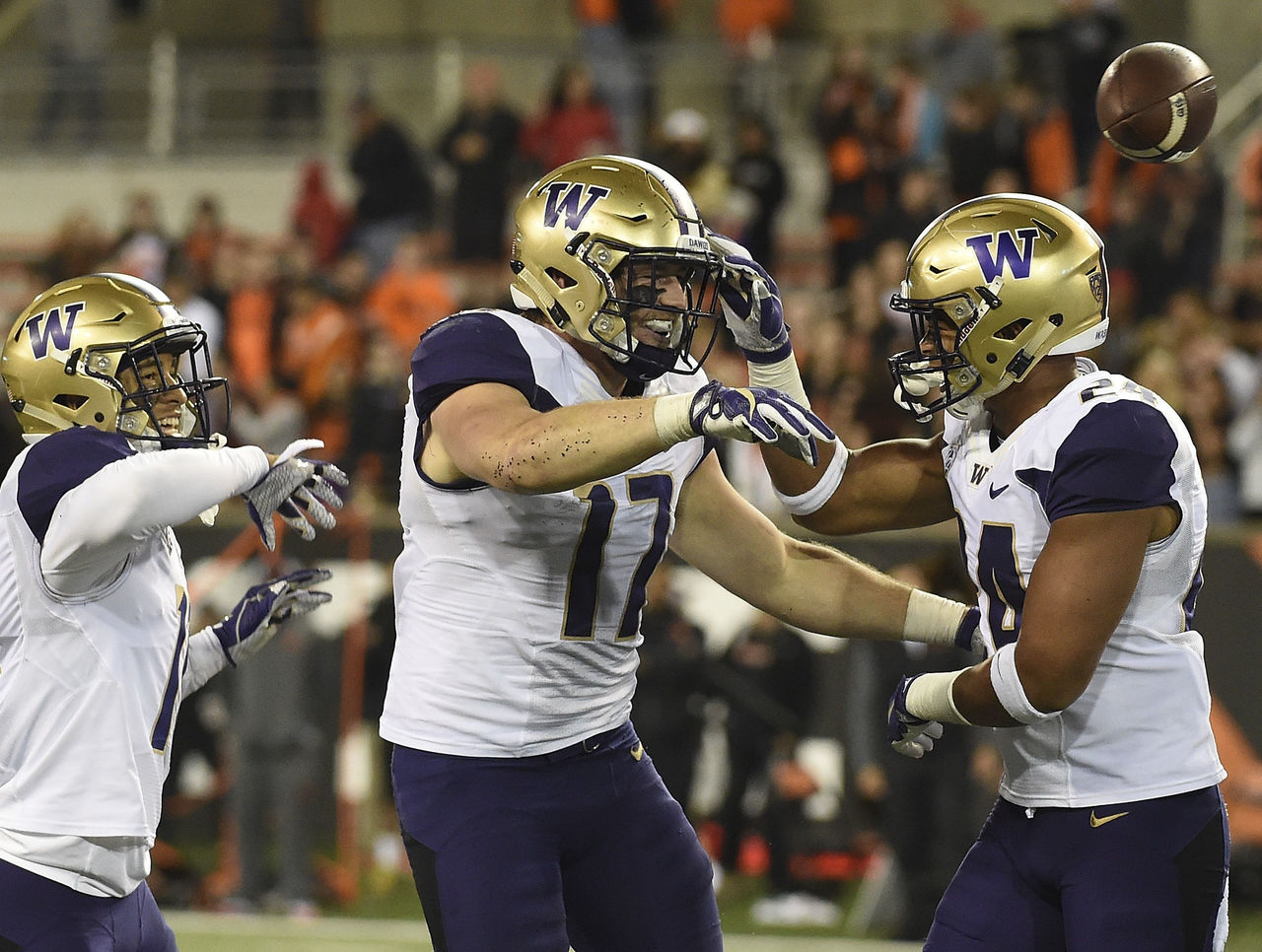 | BOWL (CITY) | DATE | MATCHUP |
| --- | --- | --- |
| Rose Bowl (Pasadena) | Jan. 1 | CFP semifinal |
Projection: Alabama (CFP No. 2) vs. Oklahoma (CFP No. 3)
Alabama has put together the most dominating two-game stretch under Nick Saban, winning its first two SEC games against Vanderbilt and Ole Miss by a 125-3 margin. To put that in perspective, Alabama has scored more points in two games than 57 FBS schools have this season.
Next up is a road trip to Texas A&M, where the Tide have scored 41 and 49 points in their last two visits to College Station.
Oklahoma's biggest challenge this week against Iowa State will be to keep from looking ahead to next week against Texas in Dallas. OU has won 18 consecutive games versus ISU and hasn't lost to the Cyclones since 1990.
| BOWL (CITY) | DATE | MATCHUP |
| --- | --- | --- |
| Sugar Bowl (New Orleans) | Jan. 1 | CFP semifinal |
Projection: Clemson (CFP No. 1) vs. Washington (CFP No. 4)
Clemson's win at Virginia Tech last week was the Tigers' third against a top-15 team before October. That had never been accomplished in college football.
The victory also was the Tigers' eighth consecutive win against a top-25 opponent, the nation's longest streak. Clemson's run won't be in danger until at least November since the next four weeks consist of Wake Forest, Syracuse, an open date, and Georgia Tech. Washington also won't be facing any ranked opponents anytime soon – or maybe until the final week of the season against Washington State.
The Huskies and QB Jake Browning continue to roll against inferior competition - their four FBS wins are against teams that are a combined 7-12. As long as Washington runs the table, it should make the College Football Playoff (as I predicted before the season). However, with its weak schedule, one loss along the way may be one too many.
New Year's Six bowls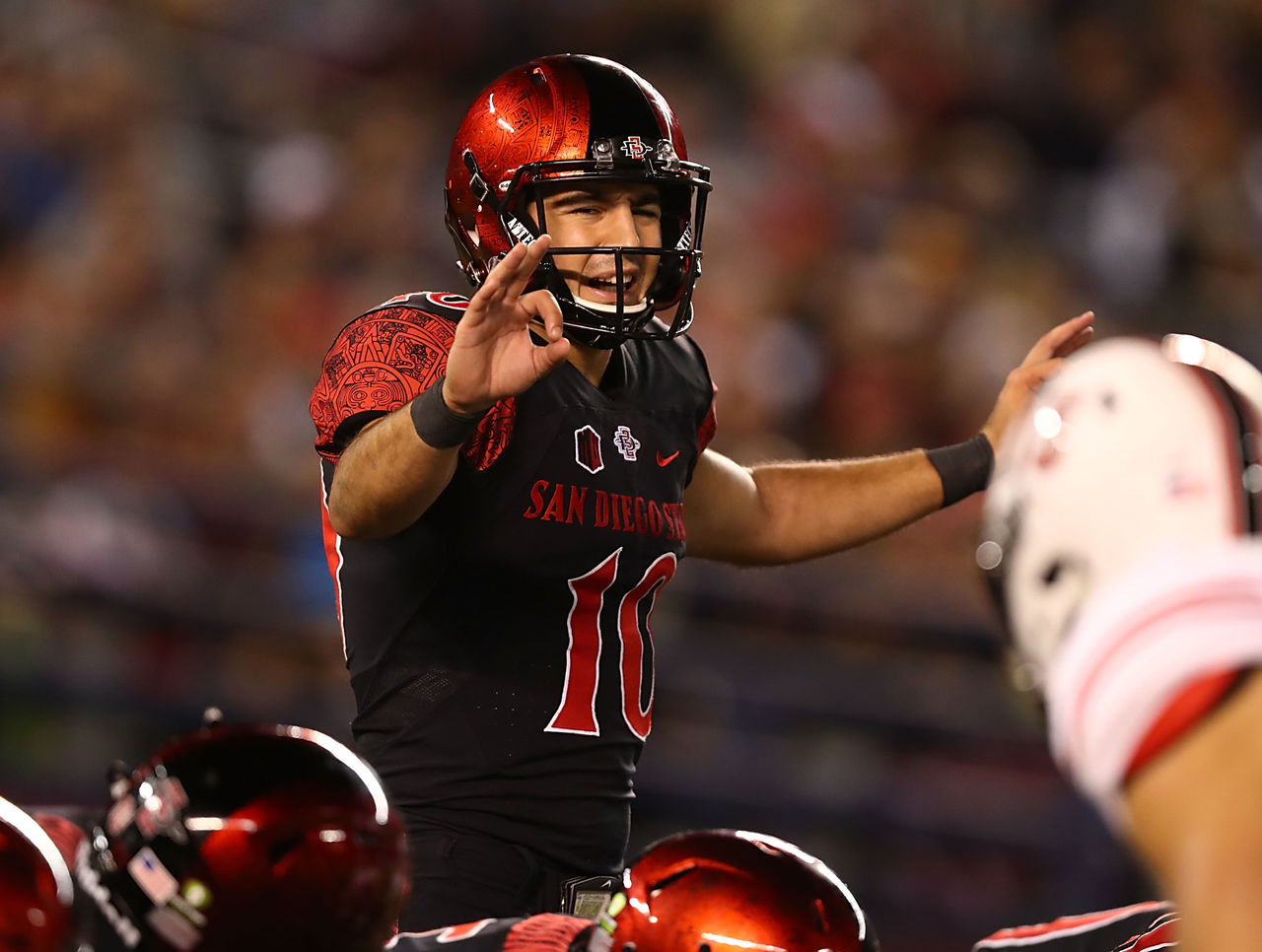 | BOWL (CITY) | DATE | MATCHUP |
| --- | --- | --- |
| Peach Bowl (Atlanta) | Jan. 1 | at-large vs. at-large* |
Projection: Wisconsin vs. San Diego State
Wisconsin is another College Football Playoff contender that may only face one ranked opponent in the regular season. UW hosts Michigan on Nov. 18.
The Badgers visit Nebraska on Saturday in a game that could seal Mike Riley's future with the Cornhuskers - and not in a good way. Wisconsin coach Paul Chryst has no such worries. Chryst, who was only 19-19 at Pitt, is now 25-6 at UW. San Diego State, which won its last two games by only 10 points, is still my pick to earn the Group of 5's New Year's 6 bowl bid.
The Aztecs (5-0) are off to their best start since 1975 with a couple of potential pitfalls ahead during the next two weeks (at UNLV, home vs. Boise State).
| BOWL (CITY) | DATE | MATCHUP |
| --- | --- | --- |
| Fiesta Bowl (Glendale) | Dec. 30 | at-large vs. at-large |
Projection: Michigan vs. TCU
During Michigan's off week, coach Jim Harbaugh dropped by the school's swimming pool and jumped off the high dive – while wearing his khakis, of course. Michigan fans were stunned. Not because Harbaugh jumped in the water fully clothed, but because he had to swim to the ladder and was unable to walk on top of the surface.
Houston transfer John O'Korn gets the start at QB this week for UM versus rival Michigan State. O'Korn replaces Wilton Speight, who is out several weeks with an undisclosed injury.
| BOWL (CITY) | DATE | MATCHUP |
| --- | --- | --- |
| Orange Bowl (Miami Gardens) | Dec. 30 | ACC vs. Big Ten/SEC/ND |
Projection: Miami vs. Penn State
Miami visits nemesis Florida State on Saturday, trying to halt a seven-game losing streak to the Seminoles. Miami looked good in handling Duke on the road. But that was Duke. This is FSU. At this point, everyone in the ACC is playing for second best behind Clemson.
The UM-FSU winner could stake its claim, which would translate to an Orange Bowl appearance if/when Clemson makes the College Football Playoff.
| BOWL (CITY) | DATE | MATCHUP |
| --- | --- | --- |
| Cotton Bowl (Arlington) | Dec. 29 | at-large vs. at-large |
Projection: Ohio State vs. Georgia
The most dominating defense in the SEC? Sorry Alabama, it's Georgia. You remember Kirby Smart, your former defensive coordinator? Smart, in his second year at Georgia, has molded the Bulldogs into a suffocating defense.
In the last two weeks, the Bulldogs held Mississippi State to a field goal and shut out Tennessee. Georgia has not allowed a touchdown in the last 133 minutes, 49 seconds - the nation's longest current streak. Yes, even longer than Alabama's current run of 121:46.
Other bowls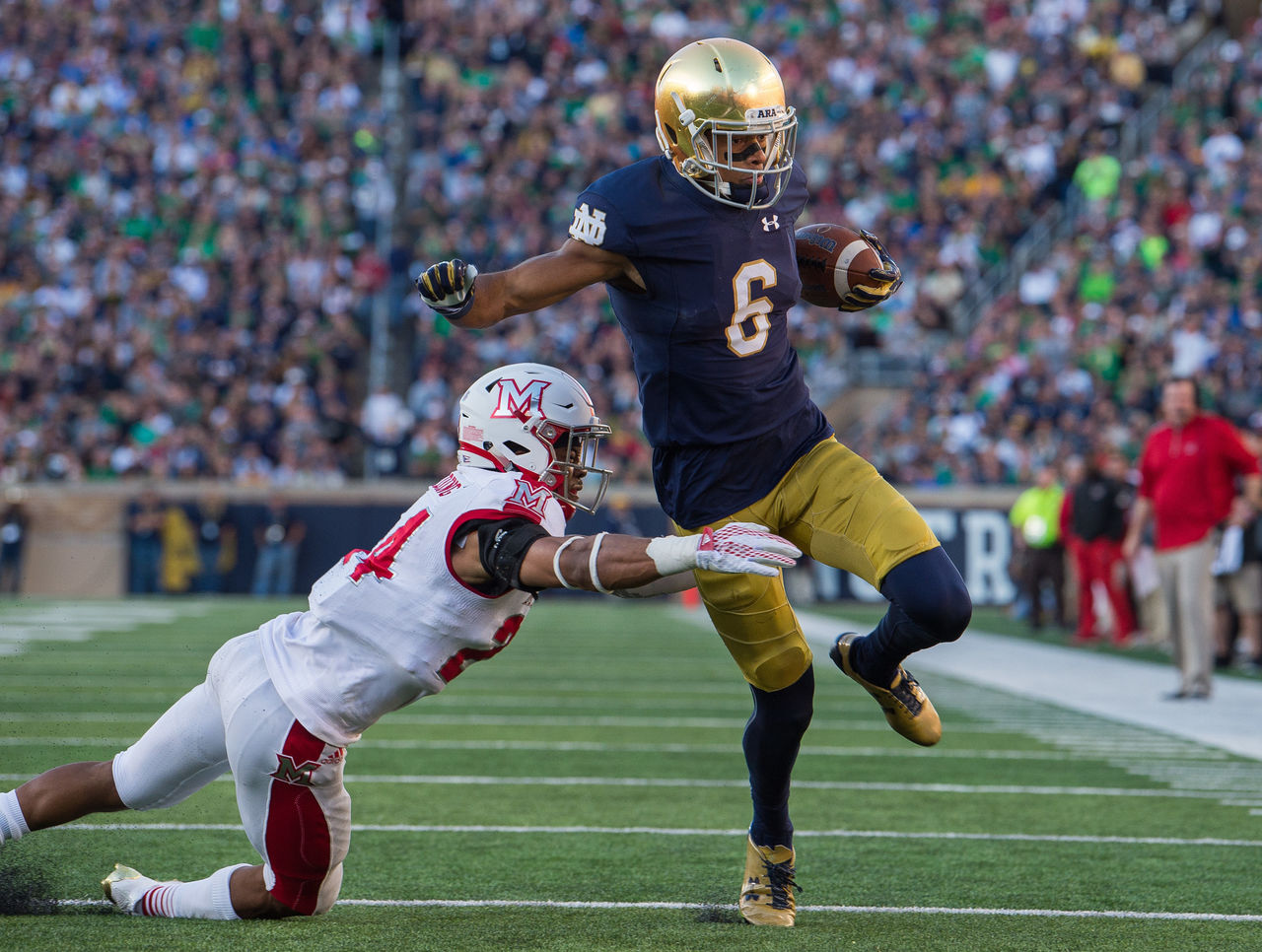 | BOWL (CITY) | DATE | MATCHUP |
| --- | --- | --- |
| Citrus Bowl (Orlando) | Jan. 1 | ACC/Big Ten vs. SEC |
Projection: Notre Dame vs. Auburn
Notre Dame is quietly off to a 4-1 start, already matching last year's dismal win total. The Irish have utilized a running attack featuring RB Josh Adams and QB Brandon Wimbush.
Auburn has discovered a balanced attack in SEC play, topping 200 yards rushing and passing in easy wins vs. Missouri and Mississippi State. QB Jarrett Stidham also is having more success, which is key for the Tigers, who have three consecutive road games after Saturday's home tilt with Ole Miss.
| BOWL (CITY) | DATE | MATCHUP |
| --- | --- | --- |
| Outback Bowl (Tampa) | Jan. 1 | Big Ten vs. SEC |
Projection: Michigan State vs. Texas A&M
During last week's Texas A&M home game against South Carolina, a water-pump malfunction at Kyle Field caused the restrooms to be shut down for about 25 minutes. That was not welcoming news for the 96,430 fans, who had to leave the stadium to find a bathroom in a nearby building. Did we mention that Kyle Field just underwent a $484-million dollar renovation?
Speaking of stuff hitting the fan for Texas A&M, No. 1 Alabama rolls into town Saturday.
| BOWL (CITY) | DATE | MATCHUP |
| --- | --- | --- |
| Liberty Bowl (Memphis) | Dec. 30 | Big 12 vs. SEC |
Projection: Texas vs. Tennessee
The bad news is Tennessee's offense won't score this week, either. The good news is the Vols are off this week. The "open date" is a 4-point favorite over the Vols. Just kidding, it's only a 3-point favorite. Tennessee's early season exploits have been no laughing matter for Vols fans.
Tennessee's 41-0 loss to Georgia was the their 27th consecutive defeat vs. a top-10 team. That is the third-longest drought among Power 5 teams behind only Wake Forest (56) and Indiana (35). "It was," Jones said, "as bad an offensive performance as I've ever been a part of. It's inexcusable."
| BOWL (CITY) | DATE | MATCHUP |
| --- | --- | --- |
| TaxSlayer Bowl (Jacksonville) | Dec. 30 | ACC/Big Ten vs. SEC |
Projection: Maryland vs. Florida
Despite Maryland being down to its third starting QB – Max Bortenschlager, if you're scoring at home – the Terps upended Minnesota last week. Florida has its own quarterback issues. The Gators have used three QBs this season as well and lost backup-turned-starter Luke Del Rio to a season-ending shoulder injury against Vanderbilt.
This allowed starter-turned-backup Feleipe Franks to lead the Gators in the second half. Franks will start Saturday against LSU.
| BOWL (CITY) | DATE | MATCHUP |
| --- | --- | --- |
| Arizona Bowl (Tucson) | Dec. 29 | MWC vs. Sun Belt |
Projection: Utah State vs. New Mexico State
Utah State features one of the nation's least experienced teams with 18 first-time starters, but the Aggies still lead the nation with four defensive TDs and 16 forced turnovers. The question is how will Utah State's first-time starters respond this week vs. Colorado State, a week after the Aggies' emotional Wagon Wheel-winning upset of rival BYU?
New Mexico State rewarded coach Doug Martin with a three-year contract extension before these Aggies started a stretch of three consecutive road games at Arkansas, Appalachian State, and Georgia Southern.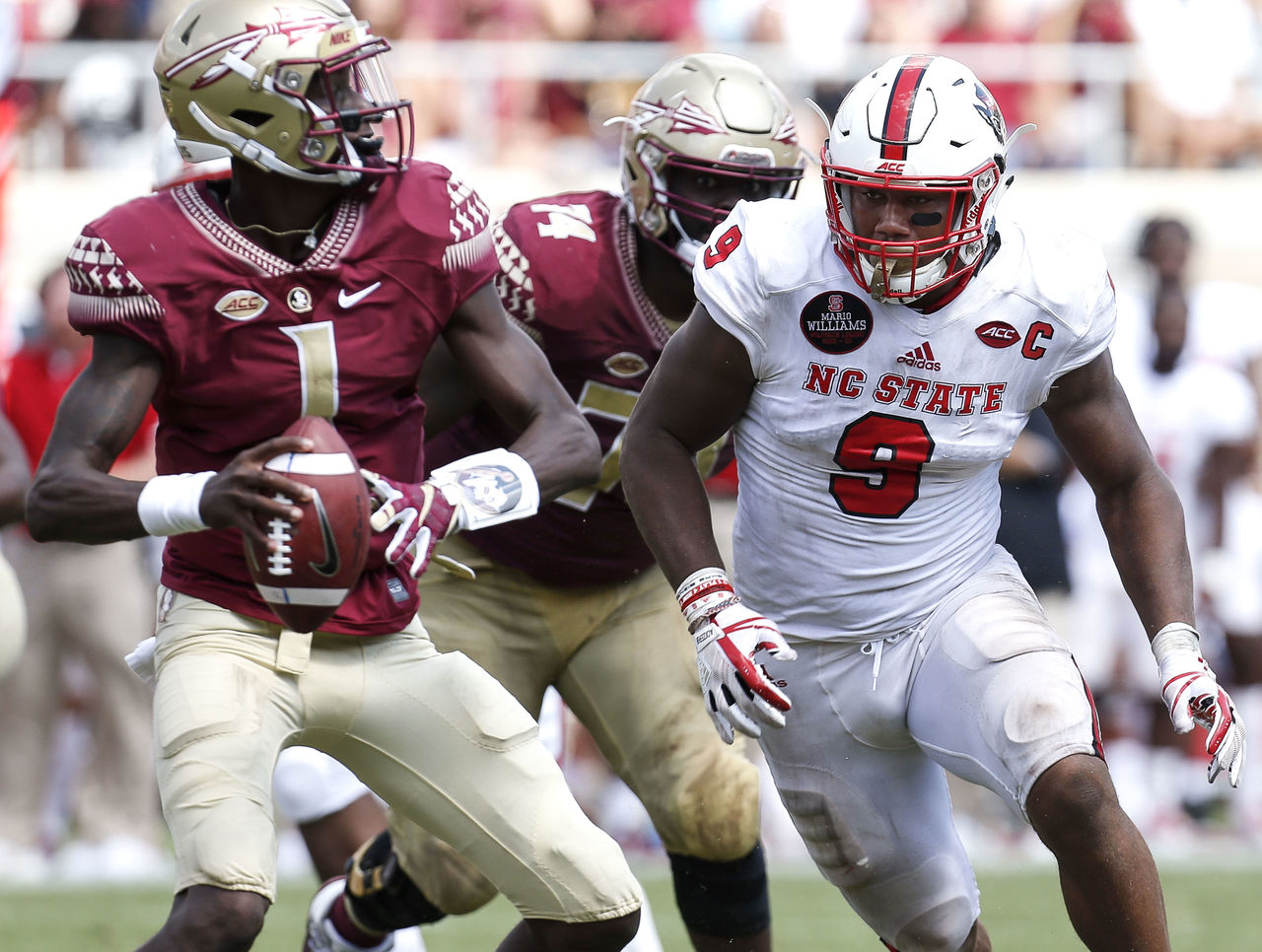 | BOWL (CITY) | DATE | MATCHUP |
| --- | --- | --- |
| Belk Bowl (Charlotte) | Dec. 29 | ACC vs. SEC |
Projection: Florida State vs. Kentucky
The last time Florida State started 0-2 in 1989, the Seminoles went on to win the Fiesta Bowl and finish 10-3. Last week they managed to slip past Wake Forest, but to reach the Fiesta or another New Year's Six bowl, they must take care of rival Miami on Saturday.
FSU coach Jimbo Fisher has owned the Hurricanes, winning all seven meetings against UM. It certainly hasn't been easy, however, with four of the seven victories by five points or less.
| BOWL (CITY) | DATE | MATCHUP |
| --- | --- | --- |
| Music City Bowl (Nashville) | Dec. 29 | ACC/Big Ten vs. SEC |
Projection: Georgia Tech vs. Mississippi State
Georgia Tech coach Paul Johnson added some levity to the recent college basketball scandal involving several schools, coaches, and both Adidas and Nike, telling the "David Glenn Show," "When the FBI, college basketball stuff broke, for once in my life I said 'I'm glad we're with Russell Athletic.'"
The Yellow Jackets are off this week before visiting Miami in a key ACC Coastal game on Oct. 14.
| BOWL (CITY) | DATE | MATCHUP |
| --- | --- | --- |
| Sun Bowl (El Paso) | Dec. 29 | ACC vs. Pac-12 |
Projection: Virginia Tech vs. Oregon
First-year coach Willie Taggart has done a tremendous job reviving Oregon's program. But the Ducks suffered a significant blow last week when starting QB Justin Herbert broke his left collarbone (non-throwing shoulder). The injury is not season ending, but Herbert is expected to miss a minimum of four weeks, including this week against No. 11 Washington State.
Virginia Tech also suffered a loss last week – its first defeat of the season, to No. 2 Clemson. The Hokies should have no trouble with Boston College on Saturday, and then North Carolina two weeks after that following an open date.
| BOWL (CITY) | DATE | MATCHUP |
| --- | --- | --- |
| Alamo Bowl (San Antonio) | Dec. 28 | Big 12 vs. Pac-12 |
Projection: Oklahoma State vs. Washington State
This would easily be the most entertaining bowl of the postseason, featuring Mike Gundy's mullet (the Arkansas waterfall) and Mike Leach's quotes (after beating USC last week, he said the atmosphere was "like Woodstock except everyone has their clothes on.").
On the field, it would be just as wild, with quarterbacks Mason Rudolph and Luke Falk directing two of the nation's top offenses.
| BOWL (CITY) | DATE | MATCHUP |
| --- | --- | --- |
| Camping World Bowl (Orlando) | Dec. 28 | ACC vs. Big 12 |
Projection: N.C. State vs. West Virginia
Both teams face huge conference tests this week. NC State hosts Louisville Thursday and West Virginia visits TCU Saturday. If either the Wolfpack or Mountaineers can pull off a win, they could make a real run at their respective conference title.
If the Wolfpack and Mountaineers don't face each other in this bowl – which would mean my projections are wrong, which we know is impossible – the schools have a home-and-home series scheduled for 2018 and 2019.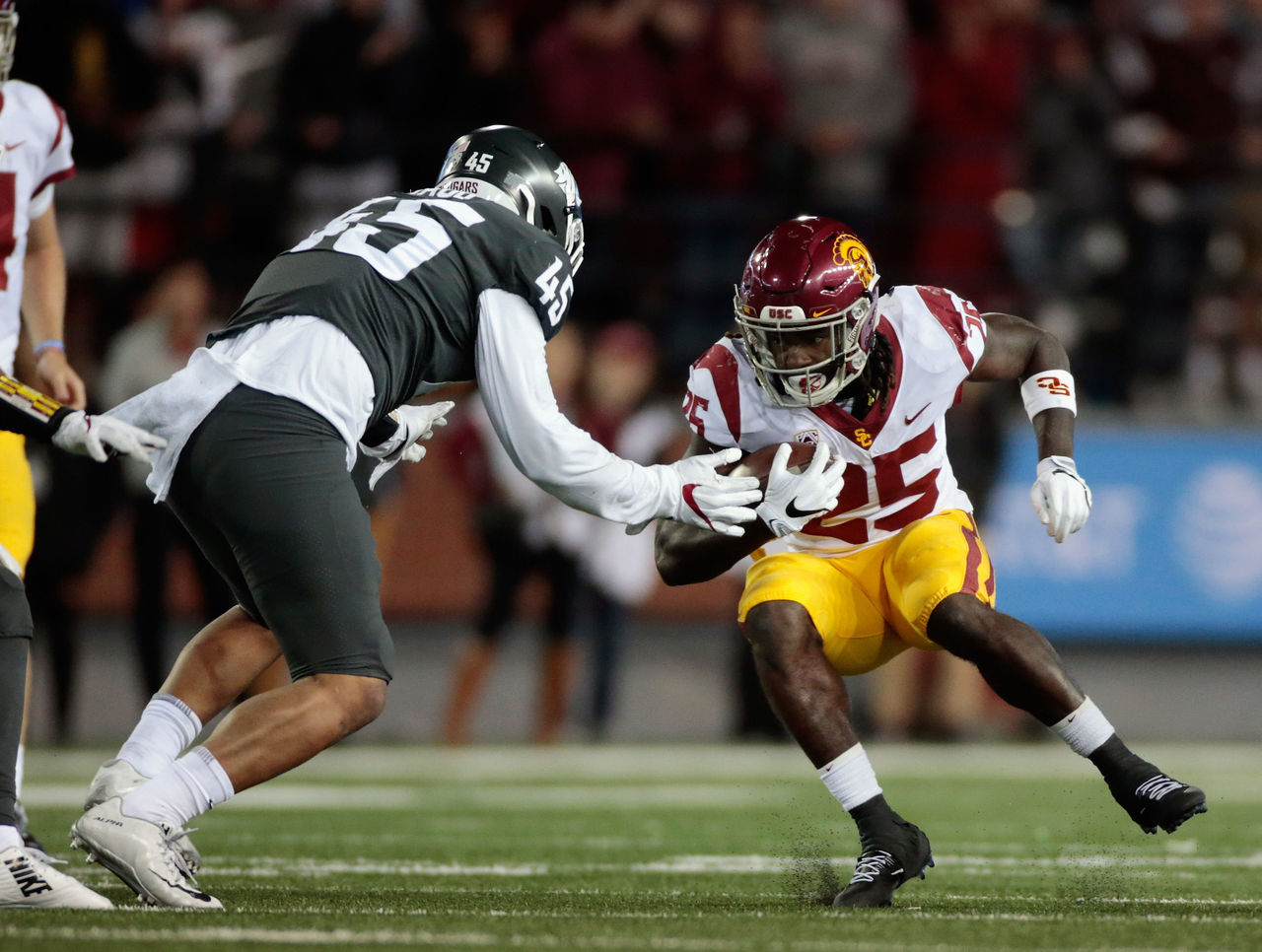 | BOWL (CITY) | DATE | MATCHUP |
| --- | --- | --- |
| Holiday Bowl (San Diego) | Dec. 28 | Big Ten vs. Pac-12 |
Projection: Iowa vs. USC
USC didn't even get through the season's first month before being hampered by numerous injuries. And that's a big problem since the Trojans are the only Power 5 school that plays 12 consecutive weeks without an open date. Well, technically without an open date.
USC does host Oregon State this week. Maybe the friendly confines of the L.A. Coliseum can cure Sam Darnold's accuracy, as the preseason Heisman favorite has thrown eight interceptions, second only to Nebraska's Tanner Lee (nine).
| BOWL (CITY) | DATE | MATCHUP |
| --- | --- | --- |
| Military Bowl (Annapolis) | Dec. 28 | ACC vs. American |
Projection: Duke vs. USF
The only thing hotter than USF's offense is Coach Charlie Strong. The Bulls, who are idle this week, have scored at least 30 points in 22 consecutive games, one shy of the NCAA record held by Oregon.
For a second consecutive week, Strong is steaming about the Bulls' shoddy home attendance (two USF home games this year have had an actual crowd of less than 18,300). Strong has not so subtly made a point to mention the disappointing home turnouts to the media.
| BOWL (CITY) | DATE | MATCHUP |
| --- | --- | --- |
| Foster Farms Bowl (Santa Clara) | Dec. 27 | Big Ten vs. Pac-12 |
Projection: Purdue vs. Stanford
Before the season, Stanford RB Bryce Love was a 100-to-1 long shot to win the Heisman Trophy. After the Cardinal's first four games, Love's odds are down to 15-to-1 and he's now the sixth choice. Love already has 1,088 yards on only 98 carries; The Human First Down is averaging 11.1 yards per carry.
Love's 1,088 yards are the fourth most after four games in NCAA history. Only Northern Illinois' Garrett Wolfe (1,181 in 2006), USC's Marcus Allen (1,136 in 1981), and Texas Tech's Byron Hanspard (1,112 in 1996) had more. Of those three, Allen was the lone the Heisman winner.
| BOWL (CITY) | DATE | MATCHUP |
| --- | --- | --- |
| Independence Bowl (Shreveport) | Dec. 27 | ACC vs. SEC |
Projection: Wake Forest vs. South Carolina
Good luck to Wake Forest, which will be the next team to step in front of the Clemson locomotive. The Demon Deacons' best shot is that Clemson is still enjoying last week's big win at Virginia Tech and shows up late for the noon kickoff. Wake Forest has lost its past eight meetings to the Tigers by an average of 30 points.
South Carolina also will get a shot at Clemson in the regular-season finale on Nov. 25. By then, the Gamecocks will hope to locate an offense that hasn't topped 17 points over the past three weeks against Kentucky, Louisiana Tech, and Texas A&M.
| BOWL (CITY) | DATE | MATCHUP |
| --- | --- | --- |
| Pinstripe Bowl (Bronx) | Dec. 27 | ACC vs. Big Ten |
Projection: Louisville vs. Minnesota
Last week, Maryland knocked Minnesota from the ranks of the unbeaten. Meanwhile, the U.S. Attorney and the FBI knocked Louisville's basketball program senseless. Too obvious? It was either that or calling this the Rick/Richard Pitino Bowl.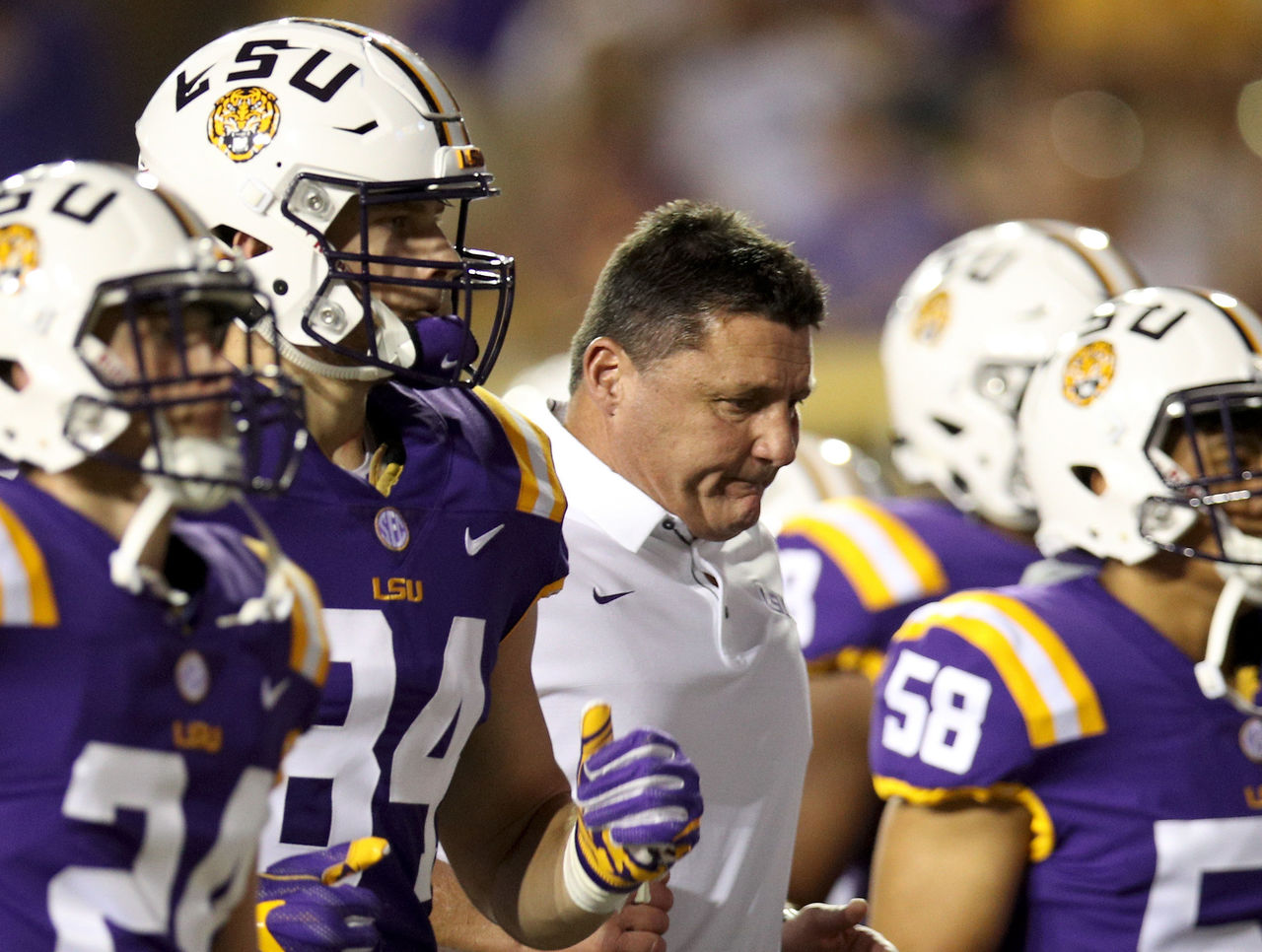 | BOWL (CITY) | DATE | MATCHUP |
| --- | --- | --- |
| Texas Bowl (Houston) | Dec. 27 | Big 12 vs. SEC |
Projection: Kansas State vs. LSU
To say the honeymoon is over for LSU coach Ed Orgeron would be to insinuate that he ever had one. The former loveble interim coach with the unique dialect is now the suddenly over-his-head, "how in the world did we hire this guy" head coach.
After last week's loss to Troy, the Associated Press' Joedy McCreary noted that every school that employed Orgeron in the last 22 years lost over the weekend: LSU, USC, Tennessee, Ole Miss, and Syracuse. Coach O was literally Coach O-fer.
| BOWL (CITY) | DATE | MATCHUP |
| --- | --- | --- |
| Cactus Bowl (Phoenix) | Dec. 26 | Big 12 vs. Pac-12 |
Projection: Texas Tech vs. Colorado
Texas Tech will try to rebound from its first loss of the season, and up next is the perfect antidote for the Red Raiders: a date with Kansas. Tech visits Kansas, where the Red Raiders are 9-0 all time. Texas Tech has also won 10 straight overall vs. KU, by an average margin of 19 points.
Colorado also is looking to bounce back, having dropped consecutive Pac-12 games vs. Washington and UCLA. The Buffaloes, featuring 5-foot-8 "The Tasmanian Devil" Phillip Lindsay, have winnable games over the next two weeks (Arizona and Oregon State) while looking to get back to .500 in conference play.
| BOWL (CITY) | DATE | MATCHUP |
| --- | --- | --- |
| Heart of Dallas Bowl (Dallas) | Dec. 26 | Big Ten vs. Big 12 |
Projection: Indiana vs. Cal**
Welcome to the Pac-12, Justin Wilcox. Cal's rookie head coach is finding out rather quickly how difficult the league can be. The Bears are halfway though a brutal four-game stretch of USC (lost 30-20), Oregon (lost 45-24), Washington (Saturday), and Washington State (Oct. 14).
Saturday's game at UW will be Wilcox's first trip back to Seattle since he was a Huskies assistant from 2012-13. He also previously worked on Huskies coach Chris Petersen's staff at Boise State from 2006-09.
| BOWL (CITY) | DATE | MATCHUP |
| --- | --- | --- |
| Quick Lane Bowl (Detroit) | Dec. 26 | ACC vs. Big Ten |
Projection: Virginia vs. Northwestern
Two weeks ago, we mentioned how Virginia coach Bronco Mendenhall "dropped a couple F-bombs" at halftime in a tight game at Boise State and the Cavs responded with a convincing victory. Well, Mendenhall's wife, Holly, was not happy about this news.
"She goes, 'Did you say that?'" said Mendenhall, a practicing member of the LDS church. "And I said 'yes.' She said, 'I'd prefer not to hear about it on social media.' I said, 'How did I know it was in the media because we don't read the media?'" I'm confident, however, that the Mendenhalls are loyal readers of our bowl projections.
| BOWL (CITY) | DATE | MATCHUP |
| --- | --- | --- |
| Hawaii Bowl (Honolulu) | Dec. 24 | American vs. MWC |
Projection: Houston vs. Wyoming
This would be an intriguing matchup for NFL scouts: Wyoming QB Josh Allen against Houston DT Ed Oliver. Allen finally broke through last week with his first three-touchdown passing game of the season against Texas State, while Oliver wasn't as fortunate. He was injured in the first half against Temple and sat out the second half with a sprained MCL. Fortunately, it's not considered serious. The Cougars will need Oliver at full strength Saturday to slow down SMU.
| BOWL (CITY) | DATE | MATCHUP |
| --- | --- | --- |
| Armed Forces Bowl (Fort Worth) | Dec. 23 | C-USA vs. Army |
Projection: Marshll vs. Army
Marshall has officially rebounded from last year's disastrous 3-9 season. The Thundering Herd (3-1) have already matched last season's win total behind strong-armed, 6-foot-6 quarterback Chase Litton. Meanwhile Army (3-2) is also halfway to achieving bowl eligibility, and to bidding for bowl trips in consecutive seasons for the first time since 1984-85.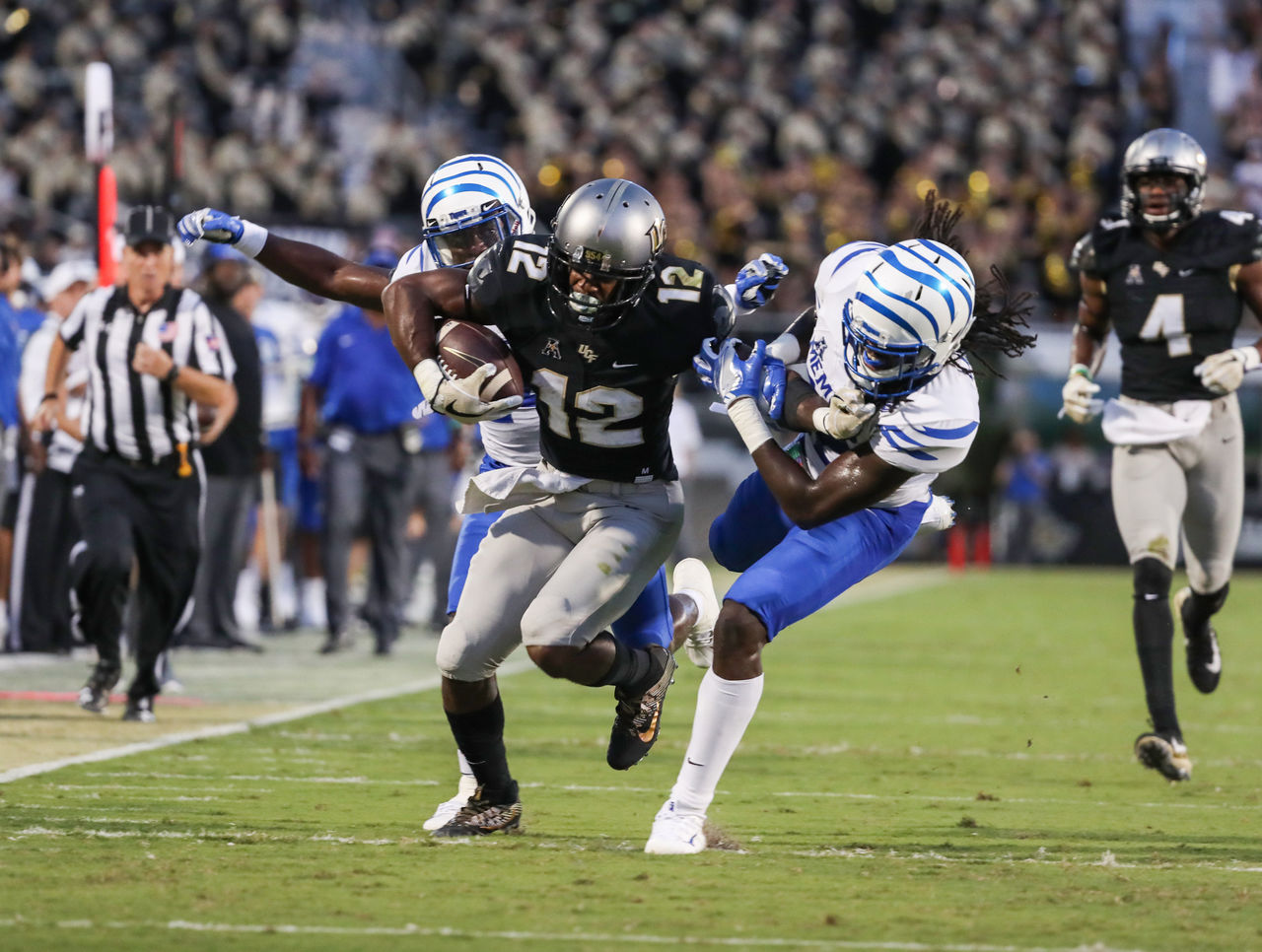 | BOWL (CITY) | DATE | MATCHUP |
| --- | --- | --- |
| Birmingham Bowl (Birmingham) | Dec. 23 | American vs. SEC |
Projection: UCF vs. Vanderbilt
With UCF's win against Maryland and its dismantling of a Memphis club that earlier beat UCLA, the Knights are making a bid for the Group of 5's New Year's Six bowl bid. But first they must win the league and also likely need San Diego State to lose a game somewhere. The only major tests remaining for UCF will be at Navy on Oct. 21, at SMU on Nov. 4 and home vs. USF on Nov. 24.
| BOWL (CITY) | DATE | MATCHUP |
| --- | --- | --- |
| Dollar General Bowl (Mobile) | Dec. 23 | MAC vs. Sun Belt |
Projection: Toledo vs. Appalachian State
Toledo was unable to pull off the upset of Miami two weeks ago, but the Rockets enter MAC play Saturday vs. Eastern Michigan as the league's top team. Toledo has scored at least 30 points in all four games this season, tied for the nation's 10th-longest streak.
Appalachian State, which has had two weeks to dwell on its near upset of Wake Forest, opens Sun Belt play at home against surprising New Mexico State.
| BOWL (CITY) | DATE | MATCHUP |
| --- | --- | --- |
| Bahamas Bowl (Nassau) | Dec. 22 | C-USA vs. MAC |
Projection: Florida International vs. Ohio
Ohio plays Central Michigan on Saturday and the coaches should share a pregame fist bump since the Bobcats and Chippewas each defeated Kansas earlier this year - Ohio defeated KU 42-30, while CMU beat KU 45-27. Frank Solich's Bobcats look locked in for their eighth bowl appearance in his last nine years at Ohio.
So far, Butch Davis' first year at FIU is going better than expected. The Panthers (3-1) are halfway to earning a bowl bid for the first time since 2011. A win Saturday at Middle Tennessee would match the Panthers' win total from last season.
| BOWL (CITY) | DATE | MATCHUP |
| --- | --- | --- |
| Idaho Potato Bowl (Boise) | Dec. 22 | MAC vs. MWC |
Projection: Western Michigan vs. Boise State
After opening the season with losses to USC and Michigan State, Western Michigan has reeled off three consecutive wins and is rowing the boat again. Wait, P.J. Fleck took that catchphrase to Minnesota with him. Still, the Broncos are on a pretty good run entering the heart of MAC play. Boise State visits BYU on Friday in a critical game for the Broncos, who still have challenging road contests at San Diego State, Utah State, and Colorado State.
| BOWL (CITY) | DATE | MATCHUP |
| --- | --- | --- |
| Gasparilla Bowl (St. Petersburg) | Dec. 21 | American vs. C-USA |
Projection: Navy vs. Louisiana Tech
Wondering who will win this year's Commander-In-Chief's Trophy between Navy, Air Force and Army? Easy. Just watch Saturday's game between Air Force and Navy. The winner of the Navy-Air Force game has won the Commander-In-Chief's Trophy every year since 1997. In that span, Navy has won 10 CIC trophies, Air Force 10, and Army none.
| BOWL (CITY) | DATE | MATCHUP |
| --- | --- | --- |
| Frisco Bowl (Frisco) | Dec. 20 | American vs. MAC/MWC |
Projection: SMU vs. Miami (OH)
SMU coach Chad Morris, the former Clemson offensive coordinator, is already being mentioned as a top candidate for a number of possible Power 5 openings in the coming months. So, Mustang fans better enjoy the offensive fireworks while they can. Morris has SMU (4-1) off to its best start since 2011.
The Mustangs are one of only five schools that have scored at least 30 points five times this season. In other SMU news, former SMU RB Eric Dickerson was asked this week by Colin Cowherd what he received from the school. "I didn't get anything," Dickerson said. "I got a good education. I wasn't part of that." Now, back to reality.
| BOWL (CITY) | DATE | MATCHUP |
| --- | --- | --- |
| Boca Raton Bowl (Boca Raton) | Dec. 19 | American vs. C-USA |
Projection: Memphis vs. UTSA
Orlando is billed as the "Happiest Place on Earth," or at least that place in Orlando with the mouse ears and $105.44 daily admission (including tax). Last week, though, Memphis was anything but happy in Orlando due to a crushing loss at UCF. The Tigers were dominated by the Knights in the 40-13 defeat. It was Memphis' first loss of the season.
UTSA, idle last week, will look to avoid its first loss Saturday and remain Conference USA's lone unbeaten team when the Roadrunners host Southern Miss.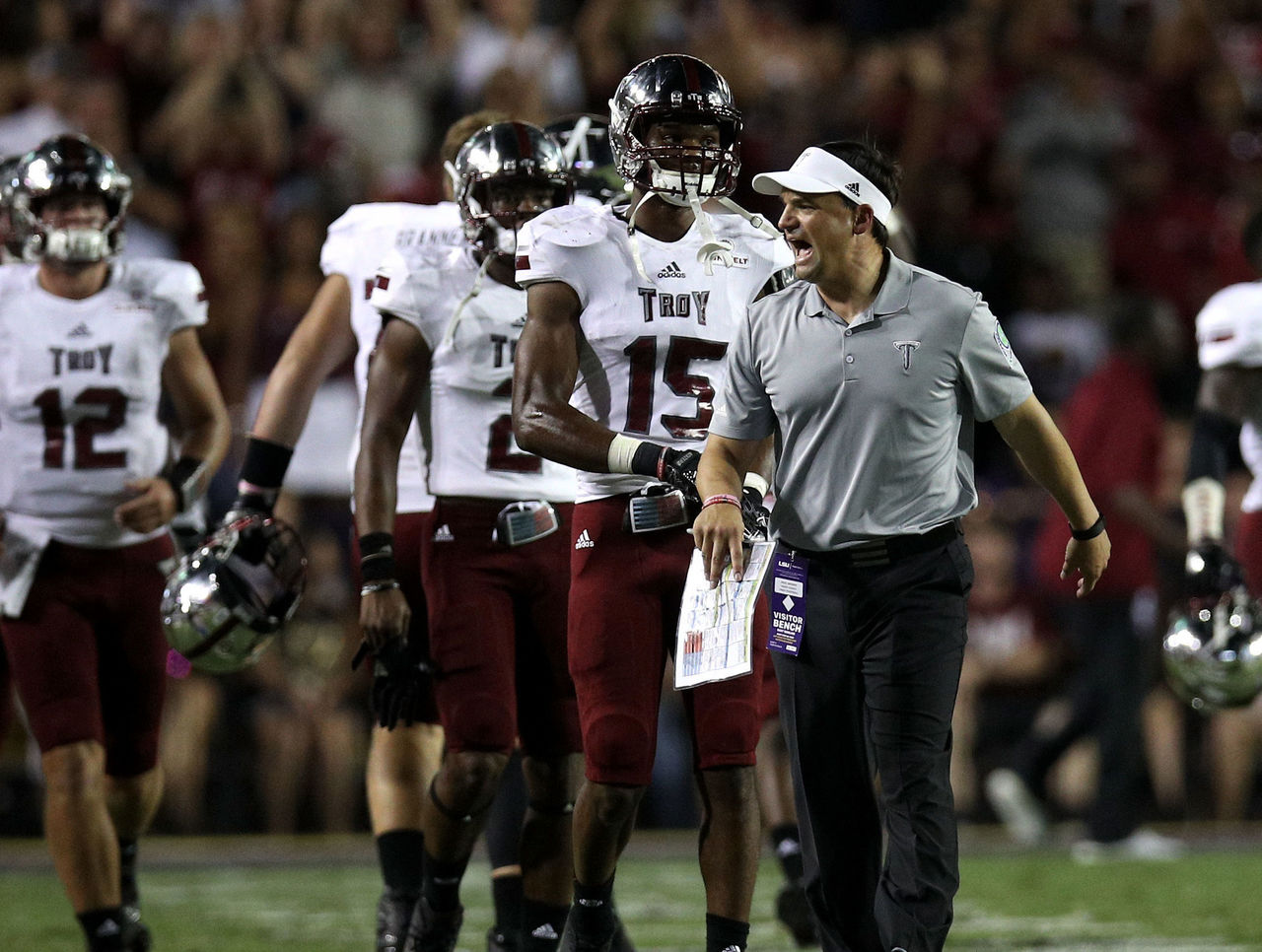 | BOWL (CITY) | DATE | MATCHUP |
| --- | --- | --- |
| Camellia Bowl (Montgomery) | Dec. 16 | MAC vs. Sun Belt |
Projection: Northern Illinois vs. Troy
#RTR! No, that's not Roll Tide Roll, but Roll Troy Roll after the Trojans shocked LSU last week. Troy not only became the second Sun Belt team to beat an SEC team on the road in three years, but it also won Twitter. After the game, the school's official site tweeted: "Hey @LSU, thanks for having us down for homecoming! We really enjoyed it!"
I was concerned that the SEC - which fines league teams for rushing the field after wins - could dock Troy after fans did so following the monumental upset (they can't). Finally, kudos to Coach Neil Brown for not letting the Trojans look past LSU to its upcoming game with South Alabama. Yes, I'll be back next week. Try the veal.
| BOWL (CITY) | DATE | MATCHUP |
| --- | --- | --- |
| Cure Bowl (Orlando) | Dec. 16 | American vs. Sun Belt |
Projection: Tulane vs. UL Monroe
UL Monroe has topped 50 points in consecutive games for the first time since 1992. ULM should have no problem surpassing that mark again this week against Texas State, which has allowed 44 and 45 over the last two weeks to UTSA and Wyoming, respectively. The Warhawks own the Sun Belt's top rushing offense, averaging 214 yards per game, but that pales next to Tulane's ground attack.
The Green Wave averages 244 yards rushing a game. Tulane is making great strides in Willie Fritz's second season at the helm, but must improve in AAC play after going 1-7 last year.
| BOWL (CITY) | DATE | MATCHUP |
| --- | --- | --- |
| Las Vegas Bowl (Las Vegas) | Dec. 16 | MWC vs. Pac-12 |
Projection: Colorado State vs. Utah
This projected pairing would be a rematch of the 2014 Las Vegas Bowl, a 45-10 Utah win. This week, Utah will try to accomplish what no team has this season: slowing down Stanford RB Bryce Love. Utah has the nation's No. 10 rushing defense and has allowed only 348 yards this season – or 47 fewer than Love had last week against Arizona State. Also, Utah's starting QB, Tyler Huntley, is questionable with an arm injury.
Colorado State's 23 points against Alabama look better and better each week, since the Crimson Tide have allowed only 20 combined in their other four wins.
| BOWL (CITY) | DATE | MATCHUP |
| --- | --- | --- |
| New Mexico Bowl (Albuquerque) | Dec. 16 | C-USA vs. MWC |
Projection: North Texas vs. New Mexico
It hasn't taken North Texas coach Seth Littrell long to make an impact in Denton. After earning a bowl berth in his first season, he has the Mean Green off to a 3-2 start this year, their best since 1994. They also sit atop Conference USA's West Division at 2-0 and will remain there for at least another week since they're off until hosting undefeated UTSA on Oct. 14.
| BOWL (CITY) | DATE | MATCHUP |
| --- | --- | --- |
| New Orleans Bowl (New Orleans) | Dec. 16 | C-USA vs. Sun Belt |
Projection: Western Kentucky vs. Arkansas State
Western Kentucky visits winless UTEP on Saturday in what's turned into a much more interesting matchup over the past couple days. On Sunday, UTEP coach Sean Kugler resigned after five seasons. Then on Monday, former UTEP coach Mike Price – yes, that Mike Price – was named interim coach.
Price, now 71, was previously the head coach at Washington State (1989-2002), Alabama (for a few months before the 2003 season), and UTEP (2004-12). You could say it's Destiny that he's returned to El Paso. Don't get the reference? Google "Destiny and Mike Price."
*The highest-rated champion from the Group of 5 conferences (American, Conference USA, Mid-American, Mountain West, and Sun Belt) will be selected to play in either the Cotton, Fiesta, or Peach Bowl. If Army is bowl-eligible, it must play in the Armed Forces Bowl.
**Replaces team from league that can't fill bowl.
Want more Brett McMurphy? Of course you do. Find him on Facebook.
(Photos courtesy: Getty Images)
Comments
✕
Brett McMurphy's bowl projections: Clemson, Alabama in a league of their own
  Got something to say? Leave a comment below!