Brett McMurphy's bowl projections: Doing the Oklahoma shuffle
Brett McMurphy has been a college football reporter for nearly 30 years. He is a longtime voter in the Associated Press poll as well as a Heisman Trophy voter. Find him on Twitter @brett_mcmurphy.
Not sure if you caught the late-night highlights over the weekend, but we finally had the first monumental upset of the college football season.
After my bowl projections debuted here last week, theScore has allowed me to provide them again this week. Shocking, I know. So before they change their minds ...
College Football Playoff
| BOWL (CITY) | DATE | MATCHUP |
| --- | --- | --- |
| Championship Bowl (Atlanta) | Jan. 8 | CFP semifinal winners |
Projection: Clemson vs. Alabama
Just when it appeared Alabama might actually be challenged in SEC play, the Crimson Tide bludgeoned Vanderbilt. The final carnage: Alabama 59 points, Vandy 78 yards. Vandy also had exactly three more first downs than I did.
Clemson woke up against Boston College to score 28 fourth-quarter points and pull away for its ninth consecutive victory. Start the countdown: less than 15 weeks until Round 3 of the Alabama-Clemson College Football Playoff.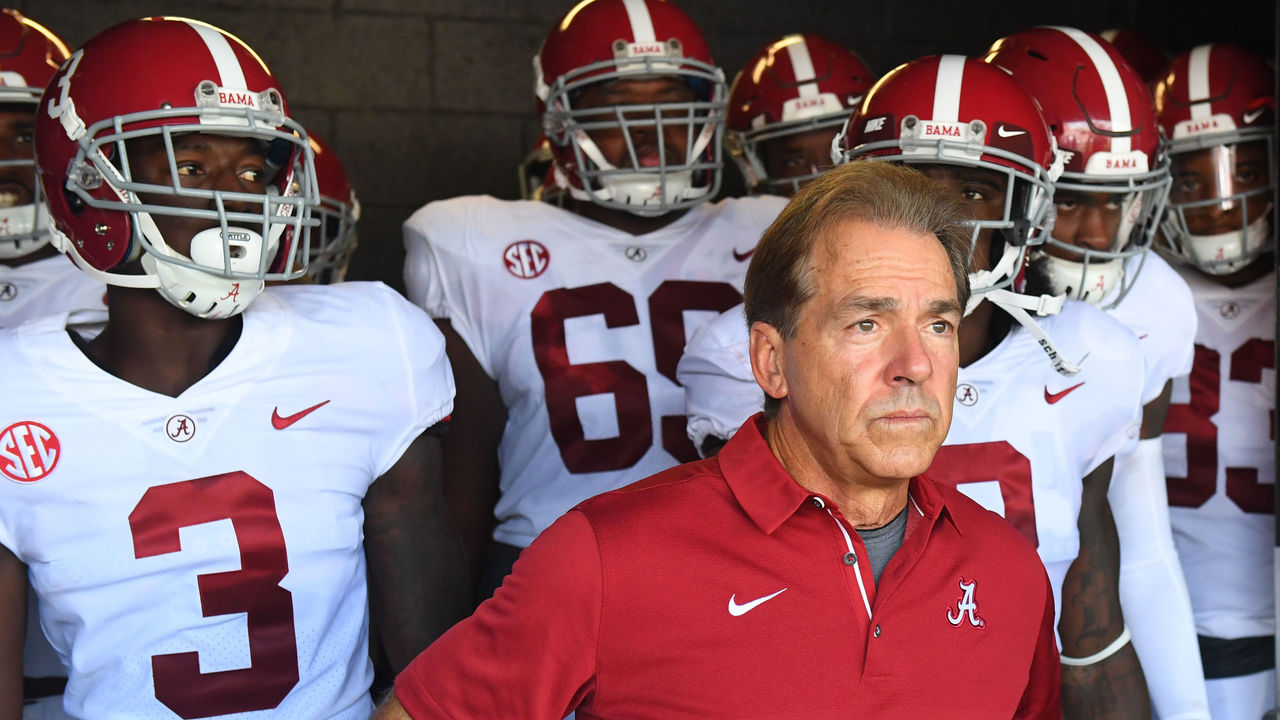 Semifinals
| BOWL (CITY) | DATE | MATCHUP |
| --- | --- | --- |
| Rose Bowl (Pasadena) | Jan. 1 | CFP semifinal |
Projection: Alabama (CFP No. 2) vs. Oklahoma (CFP No. 3)
This would be a rematch of the 2014 Sugar Bowl, a 45-31 Oklahoma victory. Months after the loss, Nick Saban compared the challenge of getting his team to play OU as trying "to play in a consolation game."
Then-Oklahoma coach Bob Stoops responded by telling me: "I've been in plenty of those (non-national title games). We've played in a bunch of national championship games, right? That's a good one. So that means I've got a built-in excuse the next time we don't play for a national championship?"
Please, somehow, let these teams square off here in what technically would be a non-national title game.
| BOWL (CITY) | DATE | MATCHUP |
| --- | --- | --- |
| Sugar Bowl (New Orleans) | Jan. 1 | CFP semifinal |
Projection: Clemson (CFP No. 1) vs. Washington (CFP No. 4)
And then there was one. Washington is my only remaining preseason playoff pick that didn't lose in the season's first four weeks. Hopefully, the Huskies can survive the jinx Saturday at woeful Oregon State.
Clemson should have a tougher time. The Tigers visit No. 12 Virginia Tech in what should be Clemson's biggest threat to an undefeated regular season. The Tigers, though, have been outstanding in these situations. In the past three years, Clemson is 9-1 in top-15 matchups and 12-1 in its last 13 games against Top 25 teams.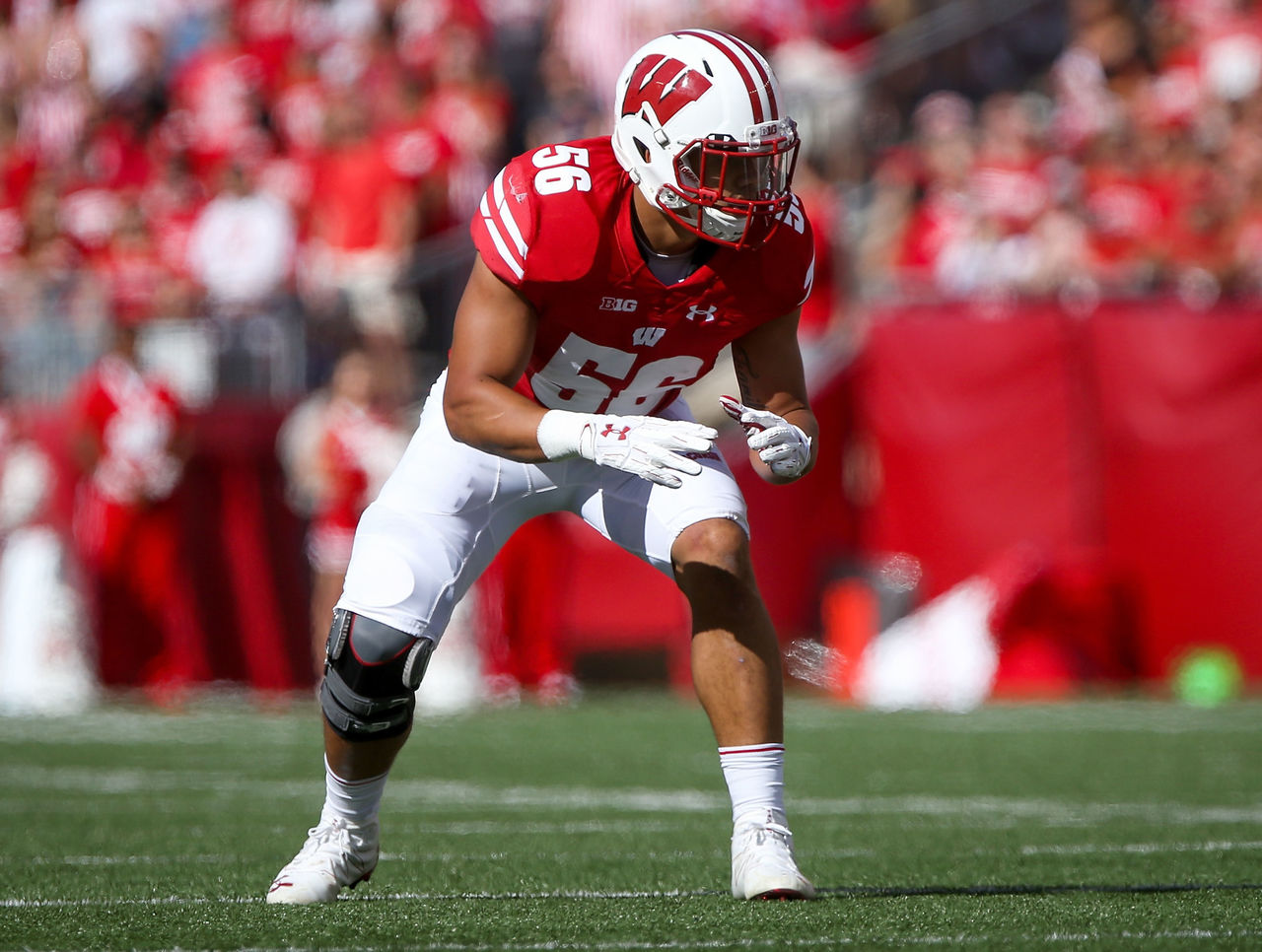 New Year's Six bowls
| BOWL (CITY) | DATE | MATCHUP |
| --- | --- | --- |
| Peach Bowl (Atlanta) | Jan. 1 | at-large vs. at-large* |
Projection: Wisconsin vs. San Diego State
Wisconsin was off last week. So, in other words, it was probably more challenging than its previous three weeks of non-conference routs of Utah State, Florida Atlantic, and BYU.
The Big Ten schedule starts this week vs. Northwestern, but UW won't face a ranked opponent until Nov. 18 vs. Michigan. San Diego State, meanwhile, is ranked No. 19 in the AP Poll after surviving a scare at Air Force. It's the Aztecs' highest ranking since 1978.
| BOWL (CITY) | DATE | MATCHUP |
| --- | --- | --- |
| Fiesta Bowl (Glendale) | Dec. 30 | at-large vs. at-large |
Projection: Michigan vs. USC
On Monday, Michigan coach Jim Harbaugh criticized Purdue's visiting locker room facilities, complaining about no air conditioning among other things. Harbaugh said it was obviously a philosophy of gamesmanship and poor sportsmanship. Purdue said it was "surprised" by Michigan's "after-the-fact concerns" since "a member of Michigan's staff conducted a walk-through" of the facilities on July 18.
While Harbaugh's chief complaint was how cramped and hot it was in the visiting locker room, USC would love quarterback Sam Darnold to finally heat up. (That's Segue 101, folks). The preseason Heisman favorite already has seven interceptions in four games after throwing nine all of last season. He could get back in the Heisman race with a big night Friday at Washington State.
| BOWL (CITY) | DATE | MATCHUP |
| --- | --- | --- |
| Orange Bowl (Miami Gardens) | Dec. 30 | ACC vs. Big Ten/SEC/ND |
Projection: Miami vs. Penn State
If this dream matchup occurs it would be played three days shy of the 31-year anniversary of the legendary Penn State-Miami Fiesta Bowl, won by the Nittany Lions 14-10. In that Jan. 2, 1987 game, Heisman Trophy-winner Vinny Testaverde famously threw five interceptions.
The 2017 version would feature two of the nation's top running backs: Penn State's Saquon Barkley - the new Heisman Trophy favorite after his monster game at Iowa - and Miami's Mark Walton, who's averaging a ridiculous 13 yards per carry after two games.
| BOWL (CITY) | DATE | MATCHUP |
| --- | --- | --- |
| Cotton Bowl (Arlington) | Dec. 29 | at-large vs. at-large |
Projection: Ohio State vs. TCU
When TCU's Gary Patterson and the Horned Frogs knocked off Oklahoma State, one of my College Football Playoff preseason picks, he joined an elite group of coaches. Patterson became only the fifth active coach with a victory on the road at every school in his conference. The others: Michigan State's Mark Dantonio, Alabama's Nick Saban, Kansas State's Bill Snyder, and Oklahoma State's Mike Gundy.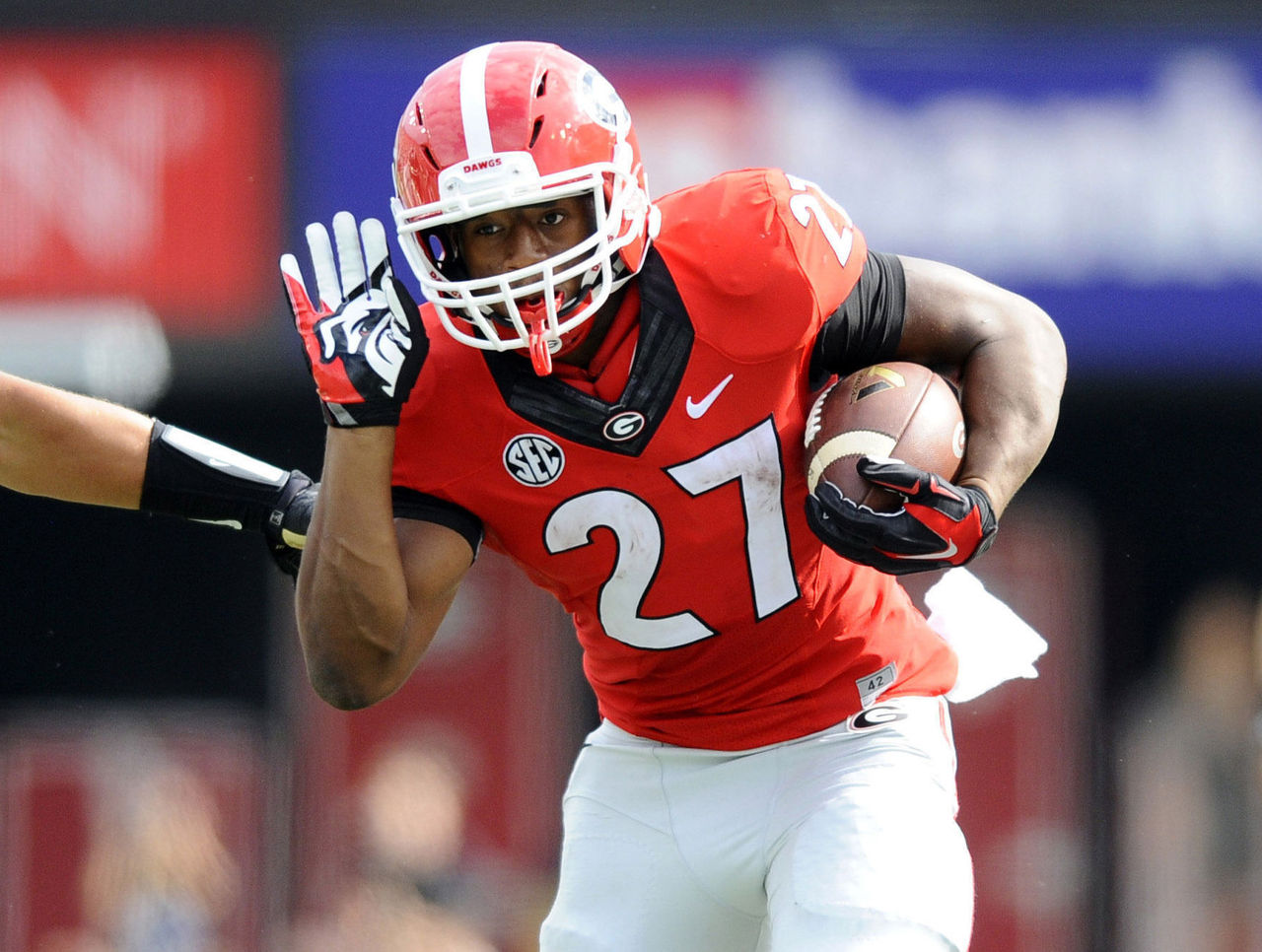 Other bowls
| BOWL (CITY) | DATE | MATCHUP |
| --- | --- | --- |
| Citrus Bowl (Orlando) | Jan. 1 | ACC/Big Ten vs. SEC |
Projection: Virginia Tech vs. Georgia
I have Virginia Tech projected as the third selection from the ACC's bowl lineup, behind Clemson and Miami. That will change dramatically if the Hokies can pull off the upset of Clemson on Saturday. Georgia is the SEC's second-best team behind Alabama. I'm not ready to elevate the Bulldogs into a New Year's Six bowl just yet, but that could change soon. Especially with the way their defense is performing.
| BOWL (CITY) | DATE | MATCHUP |
| --- | --- | --- |
| Outback Bowl (Tampa) | Jan. 1 | Big Ten vs. SEC |
Projection: Minnesota vs. Auburn
After combining for 30 points against Clemson and Mercer, Auburn's offense lit up Missouri for 51 points. Did Auburn suddenly improve or is Missouri that bad? Missouri is definitely that bad, but Auburn's offense should get some credit. The Tigers have shuffled their offensive line and appear to have solved those early-season issues that stifled their offensive production.
| BOWL (CITY) | DATE | MATCHUP |
| --- | --- | --- |
| Liberty Bowl (Memphis) | Dec. 30 | Big 12 vs. SEC |
Projection: Texas vs. Tennessee
Tennessee (3-1) is one play away from being 4-0 - or 2-2. However, last week's lackluster 17-13 win vs. UMass has Tennessee on the verge of becoming UMess. The Vols' home crowd bailed in the second half.
On Monday, coach Butch Jones ended his press conference with a two-minute diatribe against the media for an inaccurate injury report, calling it "fake news." OK, let's keep this real: Tennessee's next four games - Georgia, South Carolina, at Alabama, and at Kentucky - will determine if the Vols and Jones are real or fake SEC East contenders.
| BOWL (CITY) | DATE | MATCHUP |
| --- | --- | --- |
| TaxSlayer Bowl (Jacksonville) | Dec. 30 | ACC/Big Ten vs. SEC |
Projection: Northwestern vs. Mississippi State
Mississippi State came crashing back down to earth Saturday. The Bulldogs had thumped LSU but were overmatched at Georgia. Now they are rewarded with a visit to Auburn. Such is the life of an SEC West team. After a non-conference schedule featuring Nevada (win), Duke (loss), and Bowling Green (win), Northwestern quickly finds out where it stands in the Big Ten's pecking order with back-to-back games against Wisconsin and Penn State.
| BOWL (CITY) | DATE | MATCHUP |
| --- | --- | --- |
| Arizona Bowl (Tucson) | Dec. 29 | MWC vs. Sun Belt |
Projection: Wyoming vs. New Mexico State
New Mexico State ended an eight-year losing streak to UTEP in their annual I-10 rivalry and now visits a struggling Arkansas club. Can coach Doug Martin, who has guided the Aggies to wins over New Mexico and UTEP in the same season for the first time since 2002, work more magic by knocking off an SEC team on the road?
| BOWL (CITY) | DATE | MATCHUP |
| --- | --- | --- |
| Belk Bowl (Charlotte) | Dec. 29 | ACC vs. SEC |
Projection: Notre Dame vs. Florida
Last week, Florida's last-second comeback extended its winning streak against Kentucky to a remarkable 31 straight games. As @BobbyBigWheel tweeted: "The Atlantic Ocean will defeat Florida before Kentucky does."
The reason for Florida's dominance is simple. Tim Tebow, of course. UK's last win vs. UF was Nov. 15, 1986. Tebow was born Aug. 14, 1987. The Gators have never lost to UK in Tebow's lifetime. Coincidence?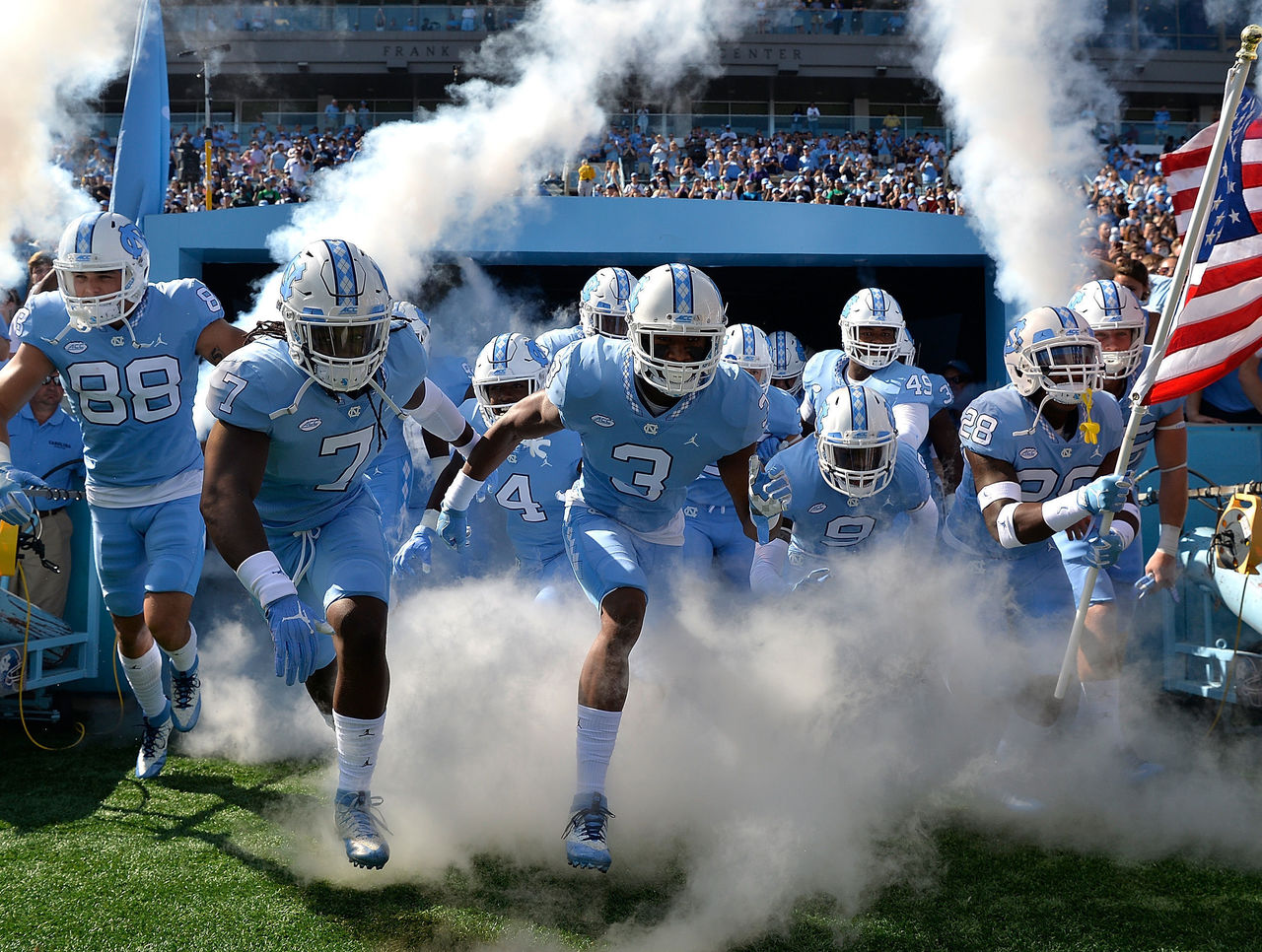 | BOWL (CITY) | DATE | MATCHUP |
| --- | --- | --- |
| Music City Bowl (Nashville) | Dec. 29 | ACC/Big Ten vs. SEC |
Projection: Duke vs. Kentucky
After four weeks, Duke, along with Utah, is among 24 remaining unbeaten teams. It's hardly an exclusive club at this point of the season, but the Blue Devils and Utes have been extra special so far: they're the nation's only teams that are 4-0 on the field and in Vegas.
| BOWL (CITY) | DATE | MATCHUP |
| --- | --- | --- |
| Sun Bowl (El Paso) | Dec. 29 | ACC vs. Pac-12 |
Projection: N.C. State vs. Utah
NC State defensive end Bradley Chubb joined Oklahoma quarterback Baker Mayfield as the latest player to celebrate a victory on an opponent's field and then later apologize. Saturday, Chubb spit on Florida State's Seminole logo before saying he was sorry.
What the Wolfpack should apologize for - and correct - is their annual collapse after Week 4. Since 2013, NC State is 17-3 in its first four games of the year, but only 9-23 in its final eight regular-season games.
| BOWL (CITY) | DATE | MATCHUP |
| --- | --- | --- |
| Alamo Bowl (San Antonio) | Dec. 28 | Big 12 vs. Pac-12 |
Projection: Oklahoma State vs. Washington State
On Friday, Washington State hosts USC in a matchup of unbeatens and what will be arguably the biggest home game in Cougars history. Besides the Pac-12 race - and possible College Football Playoff implications - the game could have a huge impact on Washington State's future recruiting efforts.
The Cougars have 34 Californians on their roster, including 25 from southern California. By comparison, USC's roster includes players from 16 states - but none from Washington.
| BOWL (CITY) | DATE | MATCHUP |
| --- | --- | --- |
| Camping World Bowl (Orlando) | Dec. 28 | ACC vs. Big 12 |
Projection: Florida State vs. West Virginia
This matchup would be almost heaven for West Virginia and Jimbo Fisher, Florida State's coach. Fisher is a native of West Virginia, born in Clarksburg and grew up in Glen Falls, and still has strong ties to the state.
Last year, Fisher spearheaded a fundraising effort, asking high school programs in Florida to donate football uniforms for use by flood-stricken West Virginia high schools. If FSU and WVU don't meet in the postseason, the schools will open the 2020 season in Atlanta.
| BOWL (CITY) | DATE | MATCHUP |
| --- | --- | --- |
| Holiday Bowl (San Diego) | Dec. 28 | Big Ten vs. Pac-12 |
Projection: Iowa vs. Oregon
Both Iowa and Oregon suffered heartbreaking two-point losses last week. Penn State edged the Hawkeyes on the final play of the game and the Ducks failed to convert on a pair of fourth downs in the final three minutes at Arizona State.
Iowa has time to regroup with four consecutive games against unranked opponents. Oregon doesn't have that luxury. Three of the Ducks' next six games (Cal, Washington State, Stanford, UCLA, Utah, and Washington) are against ranked opponents. The combined records for those six schools is 19-5.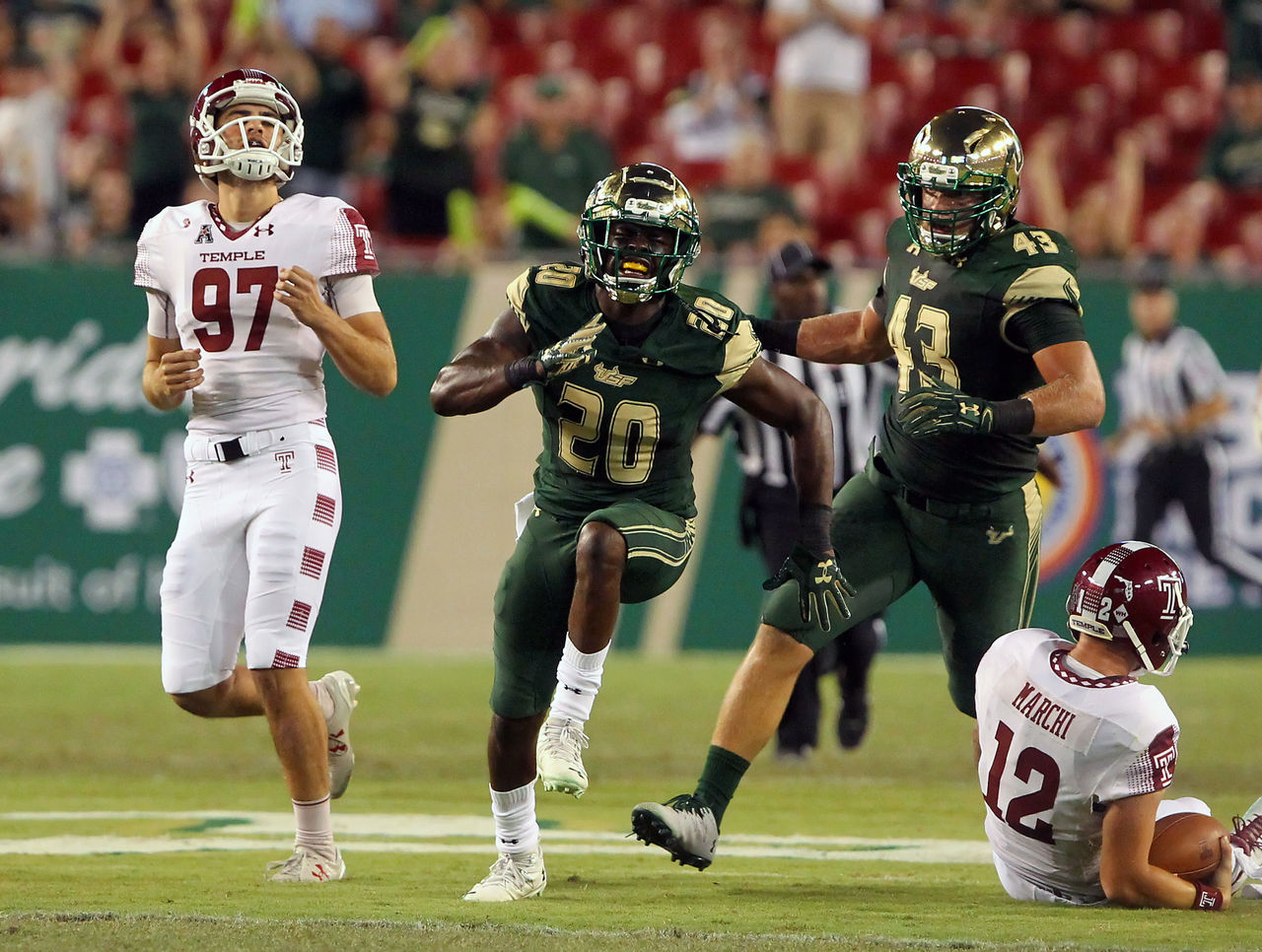 | BOWL (CITY) | DATE | MATCHUP |
| --- | --- | --- |
| Military Bowl (Annapolis) | Dec. 28 | ACC vs. American |
Projection: Georgia Tech vs. USF
Georgia Tech has scored at least 28 points in seven consecutive games, only the seventh time since 1904 it's done so. Scoring points hasn't been an issue for USF, which has scored at least 30 points in 21 consecutive games, the nation's longest current streak.
USF has managed its record scoring streak despite some poor starts. USF has been outscored in the first quarter, 25-19, but has heated up in the final three quarters, outscoring the opposition 144-44.
| BOWL (CITY) | DATE | MATCHUP |
| --- | --- | --- |
| Foster Farms Bowl (Santa Clara) | Dec. 27 | Big Ten vs. Pac-12 |
Projection: Purdue vs. Stanford
Goodbye, Christian McCaffrey. Hello, Bryce Love. With McCaffrey gone to the NFL, Stanford has plugged in another stellar running back. Love - or I as prefer to call him "the Human First Down" - leads the nation with 787 yards rushing. But the most impressive stat is he's averaging 10.8 yards on 73 carries.
| BOWL (CITY) | DATE | MATCHUP |
| --- | --- | --- |
| Independence Bowl (Shreveport) | Dec. 27 | ACC vs. SEC |
Projection: Wake Forest vs. South Carolina
The good news for Wake Forest is the Demon Deacons are off to a 4-0 start for the second consecutive season. The bad news? Their next two opponents are, gulp, Florida State and Clemson. Well, it was nice while it lasted. Still, Wake Forest has made tremendous progress under coach Dave Clawson.
The four wins have exceeded Wake's three victories in Clawson's first two seasons in 2014 and 2015. Wake Forest also should earn a bowl bid in consecutive seasons for the first time since 2006-08.
| BOWL (CITY) | DATE | MATCHUP |
| --- | --- | --- |
| Pinstripe Bowl (Bronx) | Dec. 27 | ACC vs. Big Ten |
Projection: Louisville vs. Michigan State
Remarkably, Michigan State's loss to Notre Dame last week marked the Spartans' first regular-season contest in five seasons in which it never had a lead. Even more remarkable is that Michigan State has yet to leave town. Saturday's game against Iowa is the Spartans' fourth consecutive home game to open the season and only four of Michigan State's 12 regular-season games this season will be played outside the state of Michigan.
| BOWL (CITY) | DATE | MATCHUP |
| --- | --- | --- |
| Texas Bowl (Houston) | Dec. 27 | Big 12 vs. SEC |
Projection: Kansas State vs. LSU
Kansas State opens Big 12 play Saturday against Baylor, the first of three consecutive games against Texas schools. After Baylor, K-State plays Texas and TCU. Last season, the Wildcats went 5-0 against Texas schools, beating their Big 12 rivals Baylor, Texas, TCU, and Texas Tech and defeating Texas A&M in, what else, the Texas Bowl.
KSU's success prompted the Wildcats to make "2016 Texas State Champions" T-shirts. I doubt they bothered to print any T-shirts in 2015. If so, they would have said "2015 Texas State Chumps" after going 1-4 against Texas schools.
| BOWL (CITY) | DATE | MATCHUP |
| --- | --- | --- |
| Cactus Bowl (Phoenix) | Dec. 26 | Big 12 vs. Pac-12 |
Projection: Texas Tech vs. Colorado
Texas Tech is encouraging fans to wear black and has signified Saturday's game with Oklahoma State as "Blackout the Cowboys." A better description would be "Defense optional." The over/under for total points scored is 81, easily the highest total of the weekend.
The total points scored between the teams in their last five meetings resembles a pre-teen's bowling scores: 89 (2016), 123 (2015), 80 (2014), 86 (2013), and 80 (2012). Just a hunch here, but I would lean to the over.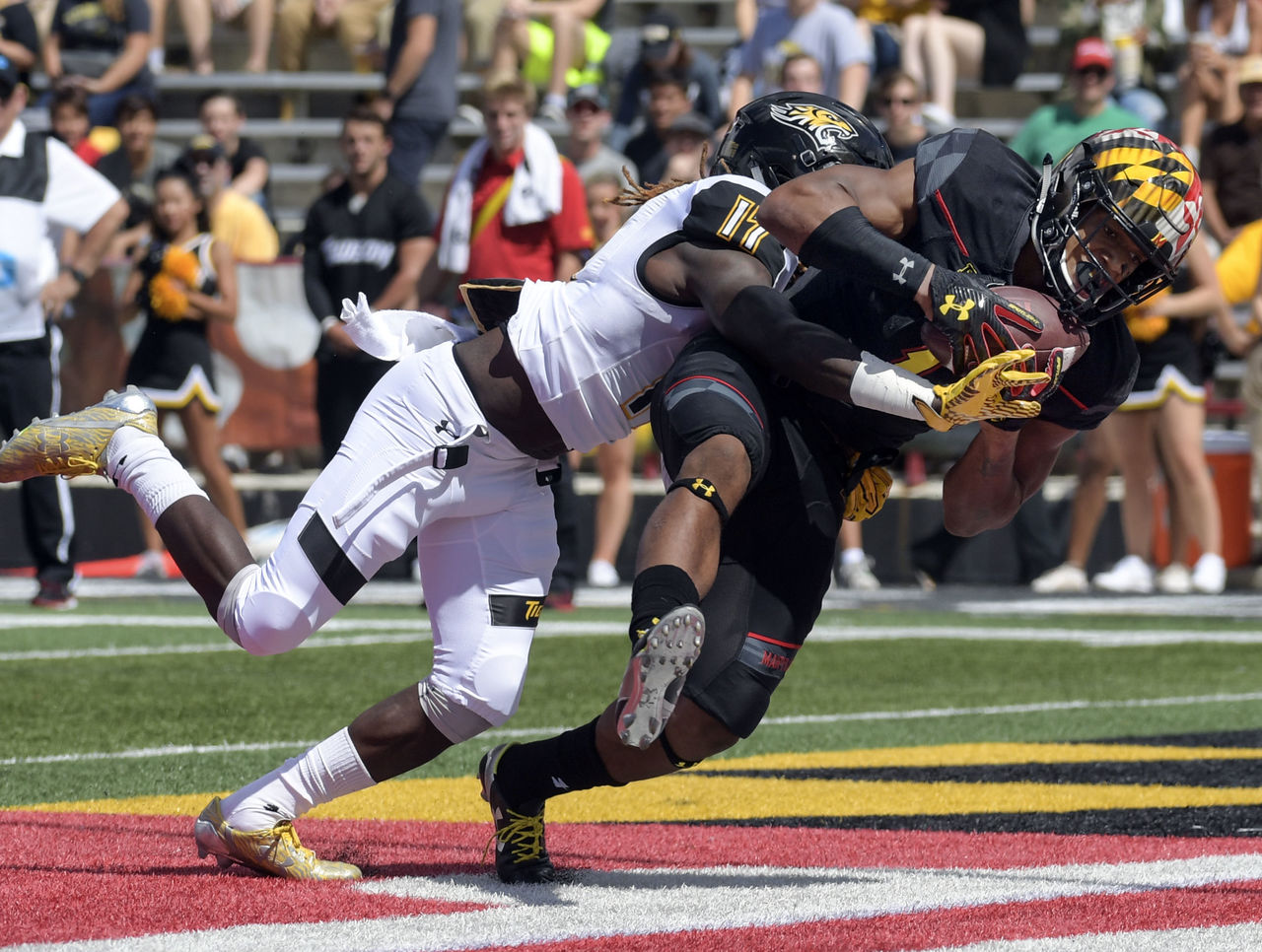 | BOWL (CITY) | DATE | MATCHUP |
| --- | --- | --- |
| Heart of Dallas Bowl (Dallas) | Dec. 26 | Big Ten vs. Big 12 |
Projection: Maryland vs. Vanderbilt**
The curse of the injured quarterback is back at College Park. Maryland lost starter Tyrrell Pigrome to a season-ending injury in the opener vs. Texas and last week Kasim Hill suffered a season-ending knee injury in the first quarter of the Terps' loss to UCF. With Pigrome and Hill out, sophomore Max Bortenschlager will start this week at Minnesota. It's the third consecutive year, and fourth in the past six seasons, Maryland has had three or more quarterbacks start a game. In 2012, they were forced to use four starting quarterbacks, including one who was a former linebacker.
| BOWL (CITY) | DATE | MATCHUP |
| --- | --- | --- |
| Quick Lane Bowl (Detroit) | Dec. 26 | ACC vs. Big Ten |
Projection: Virginia vs. Indiana
When Virginia allowed a touchdown at Boise State last week in the final minute of the first half, Cavs coach Bronco Mendenhall erupted at halftime. He "dropped a couple F-bombs," Virginia linebacker Micah Kiser said. "It was awesome, honestly. We had heard stories of him using the F-word one time."
After Mendenhall's rare outburst, Virginia turned a 21-14 lead into a 42-23 victory. "They hadn't seen that side of me, much," Mendenhall said. "It was good for everybody." Mendenhall's been great for Virginia. The Cavs (3-1) already have exceeded their win totals from 2016 and 2013 and their first bowl trip since 2011 also is a realistic possibility.
| BOWL (CITY) | DATE | MATCHUP |
| --- | --- | --- |
| Hawaii Bowl (Honolulu) | Dec. 24 | American vs. MWC |
Projection: SMU vs. Hawaii
If this projected matchup happens, maybe they can get June Jones to participate in the pregame coin flip. Jones was the long-time coach at Hawaii from 1997-2007 before leaving to take over SMU from 2008-14. He's currently the head coach of the CFL's Hamilton Tiger-Cats.
| BOWL (CITY) | DATE | MATCHUP |
| --- | --- | --- |
| Armed Forces Bowl (Fort Worth) | Dec. 23 | C-USA vs. Army |
Projection: UTSA vs. Army
UTSA remained unbeaten after handling Texas State last week, while Army suffered a last-minute loss at Tulane. A win against the Green Wave would have been huge in the Cadets' quest to reach six wins and bowl eligibility. Army should have no problem rebounding this week at home against a UTEP club that has allowed 191 points in its 0-4 start.
| BOWL (CITY) | DATE | MATCHUP |
| --- | --- | --- |
| Birmingham Bowl (Birmingham) | Dec. 23 | American vs. SEC |
Projection: Memphis vs. Texas A&M
For a fifth consecutive season Texas A&M knocked off Arkansas. Don't look now, but all of a sudden the Aggies have rebounded from their disastrous season-opening collapse with three consecutive victories. South Carolina is up next so the Aggies should be 4-1 before back-to-back games with Alabama and Florida. If A&M can emerge after seven games with at least a 5-2 record, the heat on Kevin Sumlin should subside a great deal.
| BOWL (CITY) | DATE | MATCHUP |
| --- | --- | --- |
| Dollar General Bowl (Mobile) | Dec. 23 | MAC vs. Sun Belt |
Projection: Toledo vs. Appalachian State
Both Toledo and Appalachian State are off this week after failing to pull off upsets last week against Power 5 opponents. Toledo hung with Miami for a while before the Hurricanes ran away in the second half. Appalachian State lost to Wake Forest 20-19 when the Demon Deacons' blocked ASU's field goal with five seconds remaining.
The Mountaineers easily could have won after outgaining Wake Forest 494-344, having an extra point blocked, and missing a short first-half field goal.
| BOWL (CITY) | DATE | MATCHUP |
| --- | --- | --- |
| Bahamas Bowl (Nassau) | Dec. 22 | C-USA vs. MAC |
Projection: Southern Miss vs. Northern Illinois
Northern Illinois visits San Diego State on Saturday and the Huskies hope for a better showing than their last trip to San Diego. It certainly can't be any worse. In the 2015 Poinsettia Bowl against Boise State, the Huskies were routed 55-7. NIU was idle last week following the Huskies' win at Nebraska.
That victory against the Cornhuskers improved NIU to 5-3 against current Big Ten West Division teams since 2010. By comparison, in that span, Illinois is 8-25 and Indiana 8-18 against the Big Ten West.
| BOWL (CITY) | DATE | MATCHUP |
| --- | --- | --- |
| Idaho Potato Bowl (Boise) | Dec. 22 | MAC vs. MWC |
Projection: Western Michigan vs. Boise State
The turf isn't the only thing blue in Boise. Bronco fans are down after Virginia routed Boise State, its worst home loss in 16 seasons. Friday, the Broncos (2-2) visit BYU and another loss drops Boise State to 2-3. If so, it will be the Broncos' first losing record in October since another 2-3 start in 2001.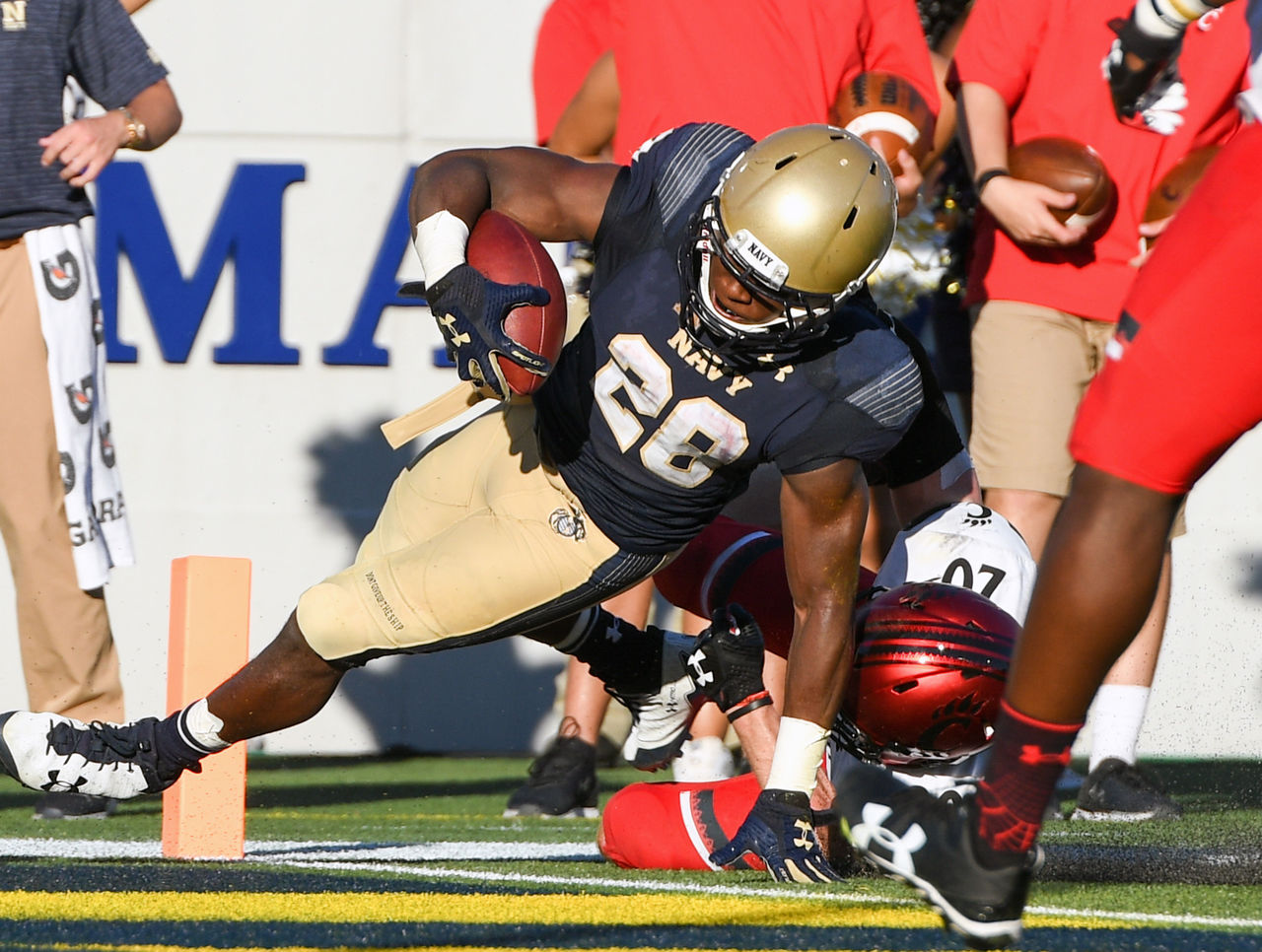 | BOWL (CITY) | DATE | MATCHUP |
| --- | --- | --- |
| Gasparilla Bowl (St. Petersburg) | Dec. 21 | American vs. C-USA |
Projection: Navy vs. Louisiana Tech
Louisiana Tech appears Conference USA's top team, especially after last week's near upset at South Carolina. The Bulldogs were in position to win, but allowed a last-second field goal in the 17-16 loss.
If Louisiana Tech does end up in St. Petersburg, Fla., for the Gasparilla Bowl, the obvious storyline would be coach Skip Holtz's return to the Tampa Bay area. Holtz coached at USF for three seasons, compiling a 16-21 record, before he was fired in 2012.
| BOWL (CITY) | DATE | MATCHUP |
| --- | --- | --- |
| Frisco Bowl (Frisco) | Dec. 20 | American vs. MAC/MWC |
Projection: Houston vs. Ohio
Houston's 16-game home winning streak, the nation's longest active streak, was snapped last week against Texas Tech. Now the Cougars set their sights on trying to win the American title and keeping mega-booster Tilman Fertitta happy - not in that order.
After Major Applewhite was hired to replace Tom Herman, Fertitta told the Houston Chronicle, "(Applewhite) better win nine, 10, 11 games a year" because the school got rid of former coach Tony Levine after he never won more than eight games in his final two years. Nothing like realistic expectations.
| BOWL (CITY) | DATE | MATCHUP |
| --- | --- | --- |
| Boca Raton Bowl (Boca Raton) | Dec. 19 | American vs. C-USA |
Projection: UCF vs. Middle Tennessee
Last week was a roller-coaster for UCF fans. Nebraska fired athletic director Shawn Eichorst, all but guaranteeing Huskers coach Mike Riley won't be back next season. Did I mention UCF coach Scott Frost is a former Nebraska great and should be NU's No. 1 target?
The Knights then followed up the Eichorst news with a huge win at Maryland, but UCF fans had to be somewhat subdued by the reality that the victory makes Frost even more attractive to his alma mater, if that's at all possible.
| BOWL (CITY) | DATE | MATCHUP |
| --- | --- | --- |
| Camellia Bowl (Montgomery) | Dec. 16 | MAC vs. Sun Belt |
Projection: Miami (OH) vs. Troy
Miami, Ohio, made history last season, becoming the first school to start 0-6 and win its final six games to earn a bowl berth. This year, the RedHawks were determined to get off to a better start. They have, splitting their first four games. Saturday's contest at Notre Dame will have special meaning for Miami coach Chuck Martin, a former Irish assistant. Martin was at Notre Dame from 2011-13, the final two seasons as Brian Kelly's offensive coordinator.
| BOWL (CITY) | DATE | MATCHUP |
| --- | --- | --- |
| Cure Bowl (Orlando) | Dec. 16 | American vs. Sun Belt |
Projection: Cincinnati vs. UL Monroe
Cincinnati returns from a three-game road swing to host Marshall in its final non-conference game of the season. Marshall enters off a bye, which unfortunately is not unusual for the Bearcats. Four of Cincinnati's opponents have a bye week before playing the Bearcats.
Besides Marshall, Navy, USF, and SMU also enjoy an extra week of preparation. Navy made good use of its off week before Cincinnati, rumbling for 569 yards rushing, the most ever allowed by UC.
| BOWL (CITY) | DATE | MATCHUP |
| --- | --- | --- |
| Las Vegas Bowl (Las Vegas) | Dec. 16 | MWC vs. Pac-12 |
Projection: Colorado State vs. Cal
Since I'm projecting San Diego State to win the Mountain West and earn the Group of 5's New Year's Six bowl berth, Colorado State will take the Aztecs' place as the next best MWC team. After all, Colorado State managed 23 points in a loss at No. 1 Alabama. By comparison, Florida State, Fresno State, and Vanderbilt combined for only 17 points against the Crimson Tide.
| BOWL (CITY) | DATE | MATCHUP |
| --- | --- | --- |
| New Mexico Bowl (Albuquerque) | Dec. 16 | C-USA vs. MWC |
Projection: Florida International vs. New Mexico
Former Miami coach Butch Davis has made an instant impact at FIU, guiding the Panthers to a 2-1 start and contention for their first bowl berth since 2011. The Panthers opened Conference USA play with a 13-7 win at Rice, keyed by a late goal-line stand securing the victory. If the Panthers and New Mexico did meet in a bowl game, it would match former ESPN analysts Davis and New Mexico's Bob Davie asgainst each other as coaches.
| BOWL (CITY) | DATE | MATCHUP |
| --- | --- | --- |
| New Orleans Bowl (New Orleans) | Dec. 16 | C-USA vs. Sun Belt |
Projection: Western Kentucky vs. Arkansas State
Western Kentucky needed a late rally to slip past Ball State last week to get back to .500 at 2-2. Arkansas State fell to 1-2, losing at SMU. The Red Wolves are off this week and must wait until next week for their chance to get to .500. The Hilltoppers also are idle this week.
*The highest-rated champion from the Group of 5 conferences (American, Conference USA, Mid-American, Mountain West, and Sun Belt) will be selected to play in either the Cotton, Fiesta, or Peach Bowl. If Army is bowl-eligible, it must play in the Armed Forces Bowl.
**Replaces team from league that can't fill bowl.
(Photos courtesy: Getty Images)
Comments
✕
Brett McMurphy's bowl projections: Doing the Oklahoma shuffle
  Got something to say? Leave a comment below!