Panthers take unnecessary risk by choosing Vrbata over Jagr
Charles LeClaire / USA TODAY Sports
The Florida Panthers, the NHL's ninth-oldest team during the 2016-17 season, according to NHL Numbers, took a most unconventional route to get younger for 2017-18.
The Panthers elected to let go of 45-year-old Jaromir Jagr and instead chose to sign Radim Vrbata, who may be nine years Jagr's junior but still comes in at an overly ripe 36 years of age and ties captain Derek MacKenzie as the team's oldest player.
Vrbata is coming off a superior offensive season when compared to Jagr's campaign, but only by a very slim margin:
| Player | GP | G | A | P |
| --- | --- | --- | --- | --- |
| Vrbata | 81 | 20 | 35 | 55 |
| Jagr | 82 | 16 | 30 | 46 |
The potential reward of milking a few more points out of a slightly younger Vrbata isn't worth the risk of losing one of the league's top attendance draws for a team which ranked just 26th in the league, with an average home crowd of 14,620.
Regardless of where the Panthers play, fans of No. 68 come out in droves to support their long-haired hero and the man who ranks second to Wayne Gretzky on the league's all-time points list.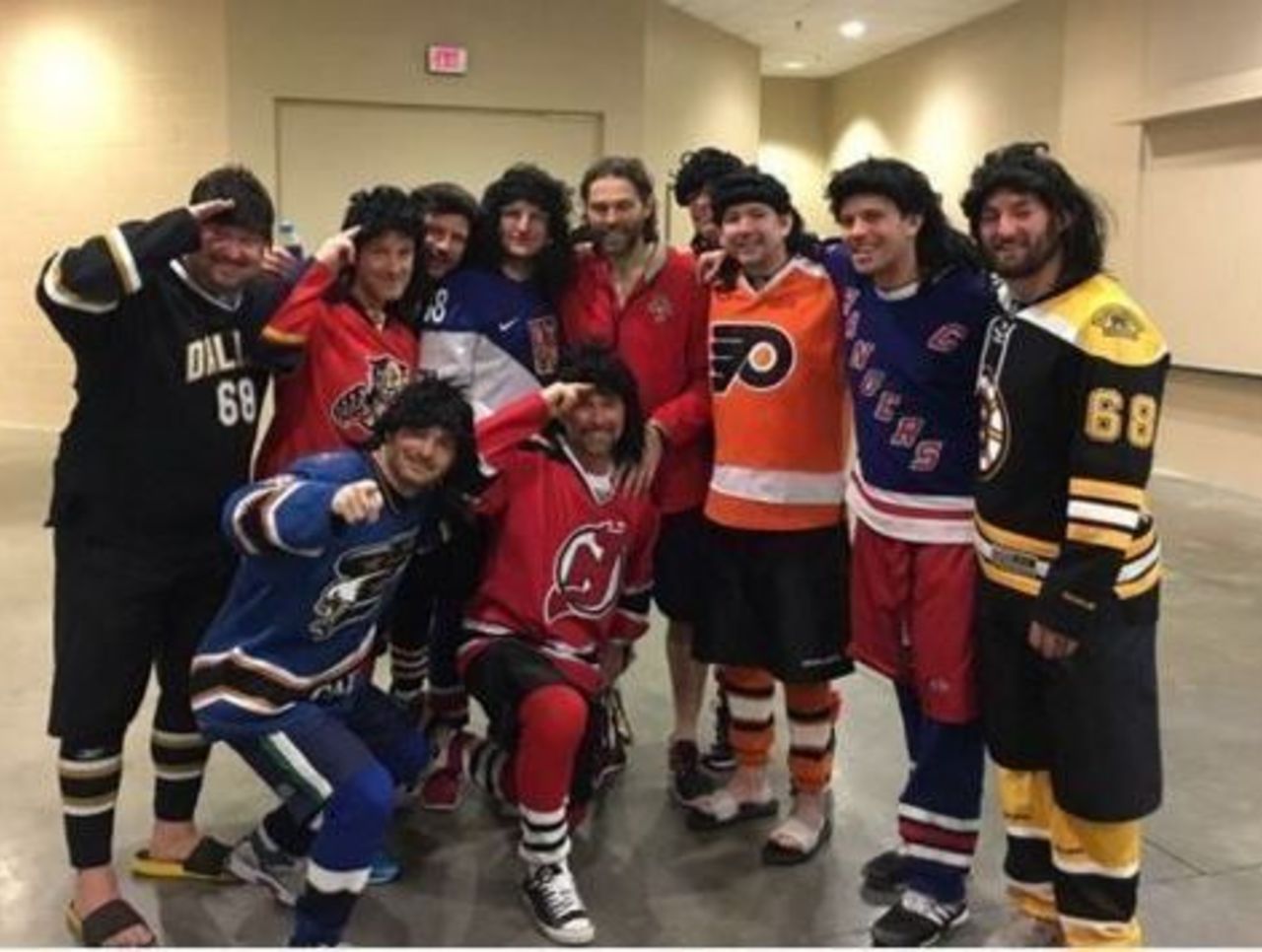 (Photo courtesy: @68isgr8/Twitter)
The risk
The decision to walk away from Jagr was not an easy one for Panthers general manager Dale Tallon. "I was torn. It's been a tough couple of months and I can't thank him enough for what he did for our kids, myself, and the organization; you can't measure it," said Tallon, according to Harvey Fialkov of the Sun Sentinel.
The pivot from Jagr to Vrbata unnecessarily jeopardizes the progression and puts at risk the relationship between the team's two brightest stars and the aforementioned "kids." Mostly playing with Jagr, Jonathan Huberdeau and Aleksander Barkov ranked 40th and 27th among all qualified NHL skaters, respectively, in points per game over the past two years. Jagr ranked 73rd, and Vrbata ranked 161st while playing with inferior linemates for the lowly Arizona Coyotes.
Tallon tried to convey his rationale, adding: "It's time our core young guys take over this team and that was our thought process as well."
While Huberdeau and Barkov may well be ready to lead the Panthers on their own, they've reached that point due in part to Jagr's leadership and tutelage. They may improve with a (slightly) better player in Vrbata alongside them, but the move puts at risk the elite level of play at which they were already capable of when playing with Jagr.
The reward?
"Juice" in the above tweet refers to forward Jussi Jokinen, who was placed on waivers and subsequently bought out by the Panthers on Friday, June 30. However, at 36 years old, Vrbata doesn't seem to mesh with the desired emphasis on team speed, either.
While Tallon claimed money was not an issue, Jagr earned a base salary of $4 million which ballooned to $5.5 million with performance bonuses last season. Vrbata was brought in on a one-year contract worth a maximum of $3.75 million and a cap hit of $2.5 million.
Furthermore, the numbers over the last six seasons - which is the span since Jagr's return to the NHL - favor the man who is now a free agent:
| Player | GP | G | A | P |
| --- | --- | --- | --- | --- |
| Vrbata | 414 | 131 | 155 | 286 |
| Jagr | 438 | 119 | 196 | 315 |
Vrbata is the better goal-scorer of the two nowadays, but Jagr's durability and playmaking have allowed him to remain in the league's upper class of offensive players. He ranks 52nd among all players in points over the past two seasons. Vrbata ranks 153rd.
However, it's Jagr's largely unnoticed defensive play which the Panthers may end up missing the most: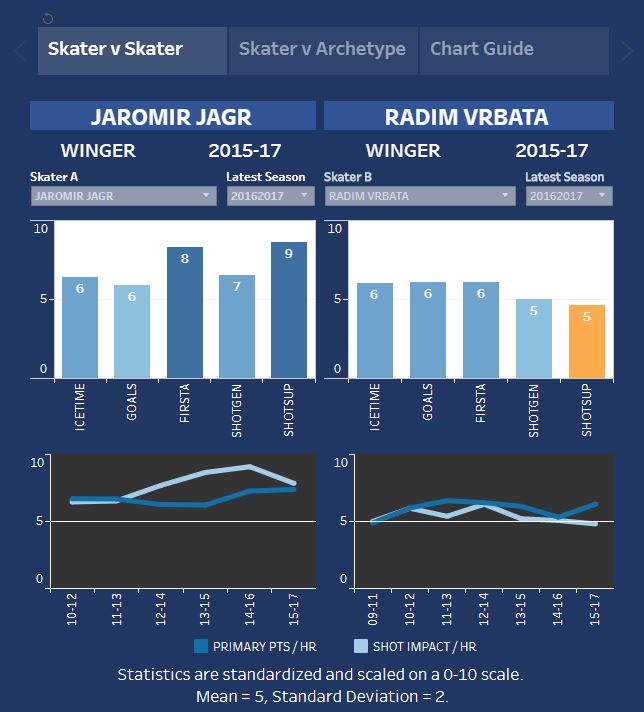 (Courtesy: Ownthepuck.blogspot.ca)
The defensive discrepancy is nothing new, as Vrbata owns a career Corsi For percentage of 50.6 and Jagr has operated at a possession rate of 55.2. The differences were more exaggerated last season, with Vrbata having a CF% of 46.8 and Jagr's being 55.4. Jagr also averaged much more ice time than Vrbata both over the past six seasons and in 2016-17.
Many will point to Jagr having played for better teams than Vrbata, who has toiled away with the Phoenix/Arizona Coyotes, and the 2014-15 and 2015-16 Vancouver Canucks, but the argument was dealt a blow last season when Jagr was left to carry a depleted Panthers roster.
While Florida had a better roster and a better team season than the Coyotes in 2016-17 (81 points vs. 70), they lost 15 more man games to injury than the 'Yotes, largely due to the 51 and 21 games lost by Huberdeau and Barkov, respectively.
Jagr is taking the snub from the Panthers in stride, but it's almost a certainty the league-wide fan favorite will be courted by many NHL general managers over the summer.
Having played for eight teams over his legendary NHL career, the two-time Stanley Cup champion may be a little more accepting of his freedom than most players would be in this situation.
Comments
✕
Panthers take unnecessary risk by choosing Vrbata over Jagr
  Got something to say? Leave a comment below!