'You learn every game': Ho-Sang grounded, motivated ahead of first full season
Andy Marlin / National Hockey League / Getty
EAST MEADOW, N.Y. - As training camp opened for the New York Islanders last September, Josh Ho-Sang tweeted a picture of 22 alarm clocks with a simple message. "I made it," the winger's post read - a self-aware callback to the year before, when Ho-Sang was late for the first day of camp and immediately sent back to the Ontario Hockey League.
When dealing with off-ice issues, there are two ways to go: a player can either play the "that's not who I am" card, or he can own mistakes and move forward in a positive way. Ho-Sang, the No. 28 pick in the 2014 draft, has taken the path of positivity, and after making it to the NHL in March and notching 10 points in 21 games, he's carrying the lessons of his early experience into what could and should be a long and fruitful pro career.
"You learn every game," Ho-Sang said Wednesday at the Islanders' development camp. "I think I only played two teams twice, so I'm playing all these NHL teams for the first time, and all these players on some star-studded teams. For me, it's about getting used to that - looking across the ice and seeing Patrick Kane, Tyler Seguin, Sidney Crosby. I enjoy playing against those guys. I thrive on that, being able to compare yourself against the best players in the world. ... If you're not the best player, you always need to do something differently. If you're not Connor McDavid, putting up 100 points, leading his team to the playoffs for the first time in a long time, you need to improve. And even he's trying to get better. I don't think you can stop."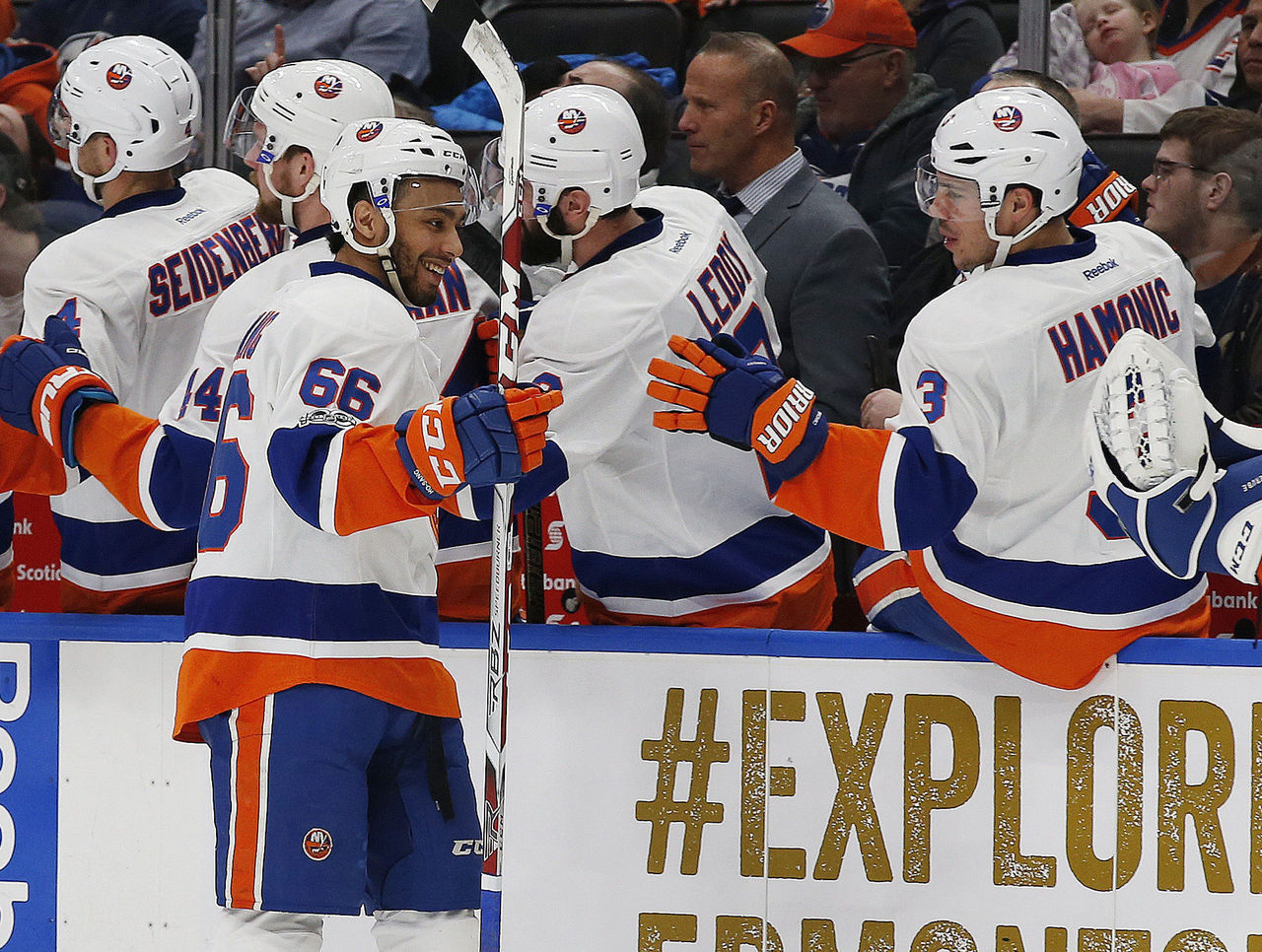 Ho-Sang turned 21 in January, a week after McDavid's 20th birthday. At the moment, McDavid has a 148-10 advantage in career points at the NHL level, not to mention the Hart Trophy. To compare the two would appear ludicrous, but for Ho-Sang, it makes sense. He was willing to take the kind of heat that comes with wearing 66, a number all but out of circulation in the NHL since Mario Lemieux retired. Of course he's going to see getting to McDavid's level as an achievable goal.
The difference between cockiness and confidence is the acknowledgment of the hard work needed to climb to such a plateau. The former is a weakness, and one that led Ho-Sang to develop a reputation as, to be completely fair about it, a kid. The latter is not only an asset, but a requisite for turning dreams into reality.
"I believe in myself," Ho-Sang said. "I don't think I need to say much more than that. If I ever get there, and people ask, 'Did you think you could get there?' I would say yes. But he's a ways away, an elite talent. But it's always fun to have someone to chase. For him, he only has to chase himself right now."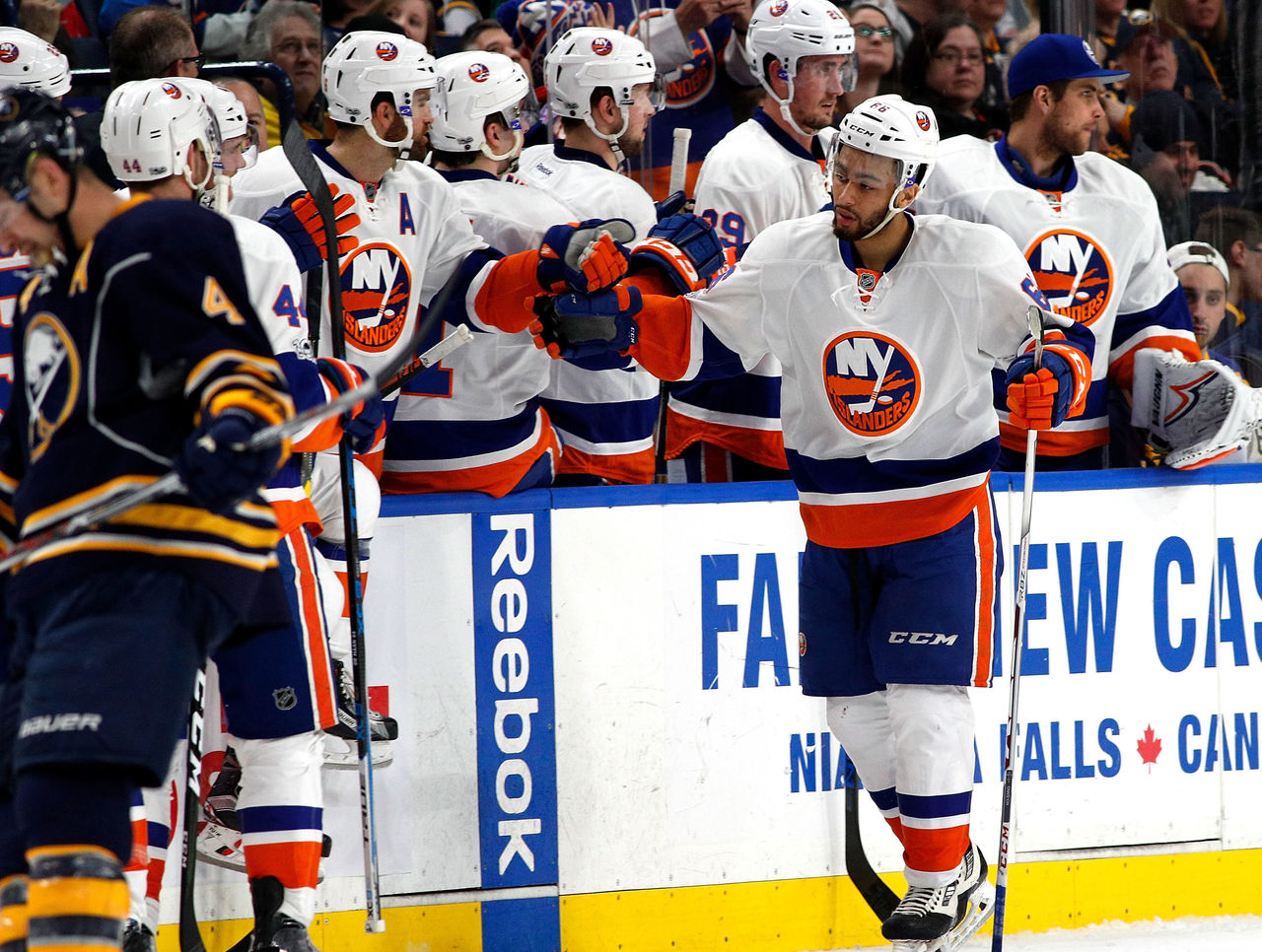 The first step on Ho-Sang's chase is getting through a full NHL season. Having already been through the drama of that first training camp, of his jersey number, of clashes with Hockey Canada earlier on, of simply being a hockey player willing to speak his mind, that may well be small potatoes. The McDavids of the world are the only ones who don't suffer through growing pains. Ho-Sang has had his.
"Oh, God, yeah, it helps," said Islanders coach Doug Weight. "I think it's important to go through and learn from it. Just the example of having a couple of bad games, and some bad things happening, and then refocusing, practicing hard, and coming out ready to play well is a sign of that maturing road that he's going down."
That maturing can be seen publicly on Ho-Sang's Twitter account. After the self-deprecating clock picture, Ho-Sang had only two tweets: a repost of a Photoshop of Michael Dal Colle on Conor McGregor's head after Dal Colle's first fight, and a video clip of a Matt Finn goal. In June, his Twitter feed has become a source of, every few days, motivation and positivity (plus a couple of shoutouts to his mom and a clip of himself in a video game trailer).
On June 10, Ho-Sang tweeted, "Everything you want to ask of life cannot be given by anyone but yourself, so don't ask period, go get it," then two days later, "Our weaknesses are what make us human, our will to transcend those obstacles is what makes us truly strong #beyourownsuperhero."
If that doesn't explain where he is, and what his outlook is, as he approaches that first full NHL season, he's more than happy to expound on it.
"I just think it's something you have to carry with you, especially in a sport where people are watching you and constantly trying to judge you for what you do in a game or in a minute or based on a day," Ho-Sang said. "I think it's important to remind yourself of who you are, and I think it's important to stay grounded in terms of understanding there is more going on outside yourself. You may have personal problems, and you may have things going on, on a regular basis, but as long as you can put your head down and keep fighting through those, try to find the bright side, more often than not, I find that will help you maintain your happiness."
(Photos courtesy: Action Images)
Comments
✕
'You learn every game': Ho-Sang grounded, motivated ahead of first full season
  Got something to say? Leave a comment below!