NEW YORK – At this time two years ago, Andrew Benintendi was on his way to the College World Series with the University of Arkansas. Thursday marked the anniversary of the Boston Red Sox making the Cincinnati product their first-round pick, seventh overall, in the Rule 4 Draft.
Seeing Benintendi in person, it's easy to believe that he is 22 years old and a rookie yet to reach the 100-game mark in his big league career. Somehow, at the same time, it seems like Benintendi has been around for much longer. Benintendi is Boston's starting left fielder, handling the Green Monster with aplomb while hitting .267/.338/.419 with eight home runs and eight steals.
"He's very mature," says Dustin Pedroia, the longest-tenured member of the Red Sox. "He knows what he's doing. He's a winning player and he fit right in from the get-go."
Pedroia helped make sure his young teammate would mesh well with the Red Sox. When Benintendi was called up to the majors last August, he stayed in a hotel and says he "bounced around a bit" until Pedroia invited Boston's prized prospect to stay at his house.
There's obvious value in teammates having as stable a living situation as possible in order to be able to focus at the ballpark. Even better is the long-term effect of a young player getting on a good path professionally with the guidance of a team leader. Pedroia says, "When you go home, we're normal people, so you just go and be normal," but for Benintendi, it was much more than that.
"I learned a lot on how to deal with things - maintaining your strength and stuff like that, more so than learning new things about baseball," Benintendi says. "He's got a good mind, and I'd just try to pick it on everything."
Benintendi absorbed as much veteran knowledge of life on the highest level of the game as he could, and got a taste of the playoffs to boot. The Red Sox were swept by Cleveland in the division series, but in three games, Benintendi went 3-for-9 with a home run.
"To experience that, after being called up, it's pretty special," Benintendi says. "I think that, more than anything else, it was getting that experience. It was a lot of guys' here first time, so we got that under our belts, and knowing what that feeling was like, that energy, it's something to work toward."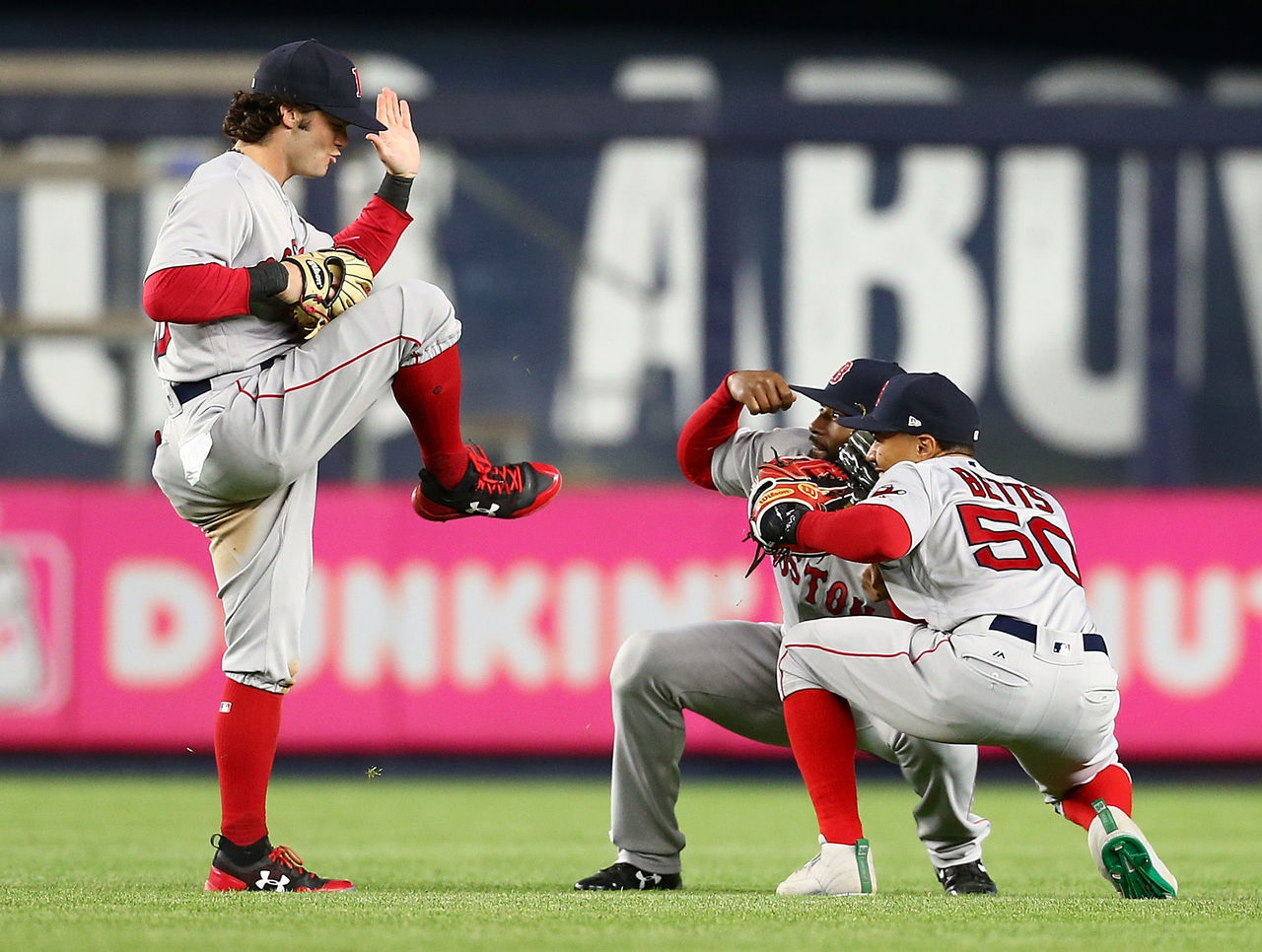 (Photo courtesy: Getty Images)
A third of the way through the season, the Red Sox are progressing well in that work, holding one of the wild-card spots in the American League while trailing the New York Yankees by only three games in the East. Benintendi is a big part of that, as Boston's greatest strength is its "Killer B" outfield, with the rookie joining Mookie Betts and Jackie Bradley Jr. to form a prolific trio.
"It's a long season, and you get into a routine and the time flies by," Benintendi says. "It's hard to believe it's already June. I can remember the first day of spring training like it was yesterday. The time goes by, you follow your routine and just try to get better every day."
So far, so good on that. Benintendi weathered the first significant slump of his career in May and came out fine on the other side, going 6-for-13 with three homers in a recent four-game stretch. Comfortable in his spot, even after a short time, Benintendi has ascended very quickly from draft pick to major piece of the puzzle in Boston.