Mike Trout's awesomeness through the eyes of his newest teammates
Anthony Gruppuso / USA TODAY Sports
NEW YORK - Mike Trout is good at baseball.
This, of course, is not news on its own. Trout has won two of the last three American League MVP awards, and has been second in the MVP vote in each of his other three full seasons, including 2012, when he was Rookie of the Year. When it comes to wins above replacement, Trout ranks ninth among active position players - and he's 25 years old.
Entering Tuesday, Trout was hitting .343/.464/.741, the latter two figures leading the American League, with 14 home runs and nine steals - on his way to his best season yet. The numbers and a quick perusal of highlights tell you there isn't anything he doesn't do well. He hits for average and power, runs the bases well, and plays center field in a way that belies the fact that he's built like a linebacker at 6-foot-2 and 235 pounds.
Anybody who has paid attention to baseball this decade knows that Trout is incredible, but because he has been to the playoffs only once - and then went 1-for-12 as the Angels were swept by the Royals in the 2014 division series - his excellence has largely been confined to the highlights. Ubiquitous as those clips may be, they don't provide the total picture.
So, what are we missing? That question was posed to a group of Angels teammates who are recent arrivals in Anaheim, meaning that they've known of Trout's excellence for years, but have only lately gotten the chance to appreciate it fully while playing alongside him.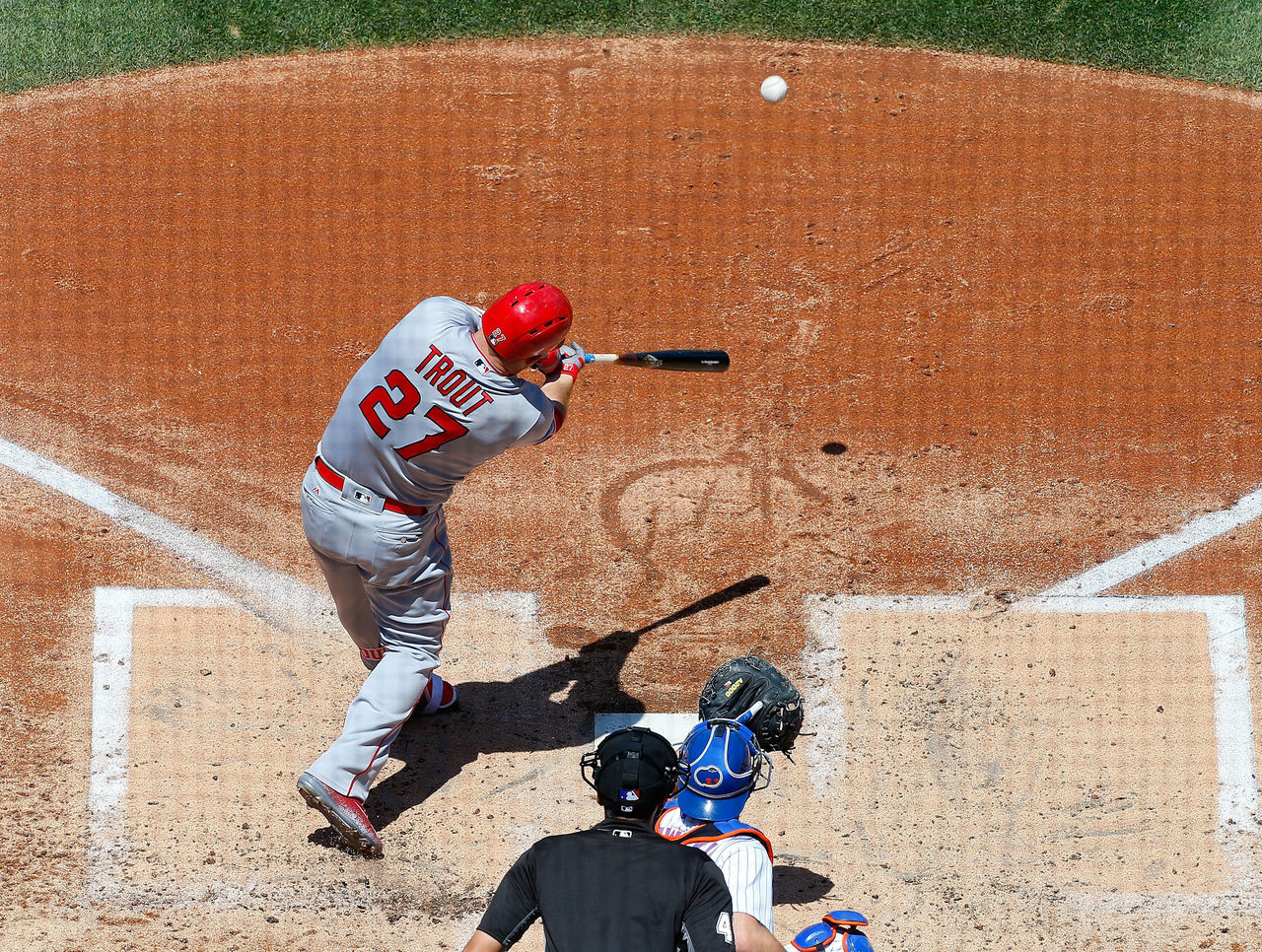 (Photo courtesy: Getty Images)
"His work ethic, how much he cares about getting better, he just goes out there and plays hard every day," said reliever David Hernandez, acquired from the Braves in April. "Being able to watch him every day is pretty special. I don't think I've played with a guy of that caliber, and it's a lot of fun. I've played against him, and it's not a fun at-bat.
"When you see him, you've got to pinpoint your pitches and still hope that he doesn't get a good swing on you. He can hit any pitch, any time, and he's not afraid to take his walks, either, which, for a 25-year-old to be that advanced (on plate discipline), it's really scary."
That was on display in the sixth inning Friday night, when the Angels had a runner on first and two out with Trout at the plate. After Jacob deGrom's wild pitch allowed Kole Calhoun to move up to second base, the Mets decided to give Trout an intentional walk on a full count rather than have their best pitcher throw a 3-2 pitch to Trout to try to end the inning.
"He's scary," said outfielder Ben Revere, a free-agent signee this winter. "With deGrom pitching a good game, he left a breaking ball up, and Mikey just barely fouled it off. It was just like, 'Man, you can't do that with this guy. That could've been a home run.' So when they get to 3-2, you just walk him. He's the face of baseball, and he's one of a kind, but he's just a humble kid, such a humble kid, and a good person to be around."
Trout's demeanor reminds one of his newer teammates of another future Hall of Famer.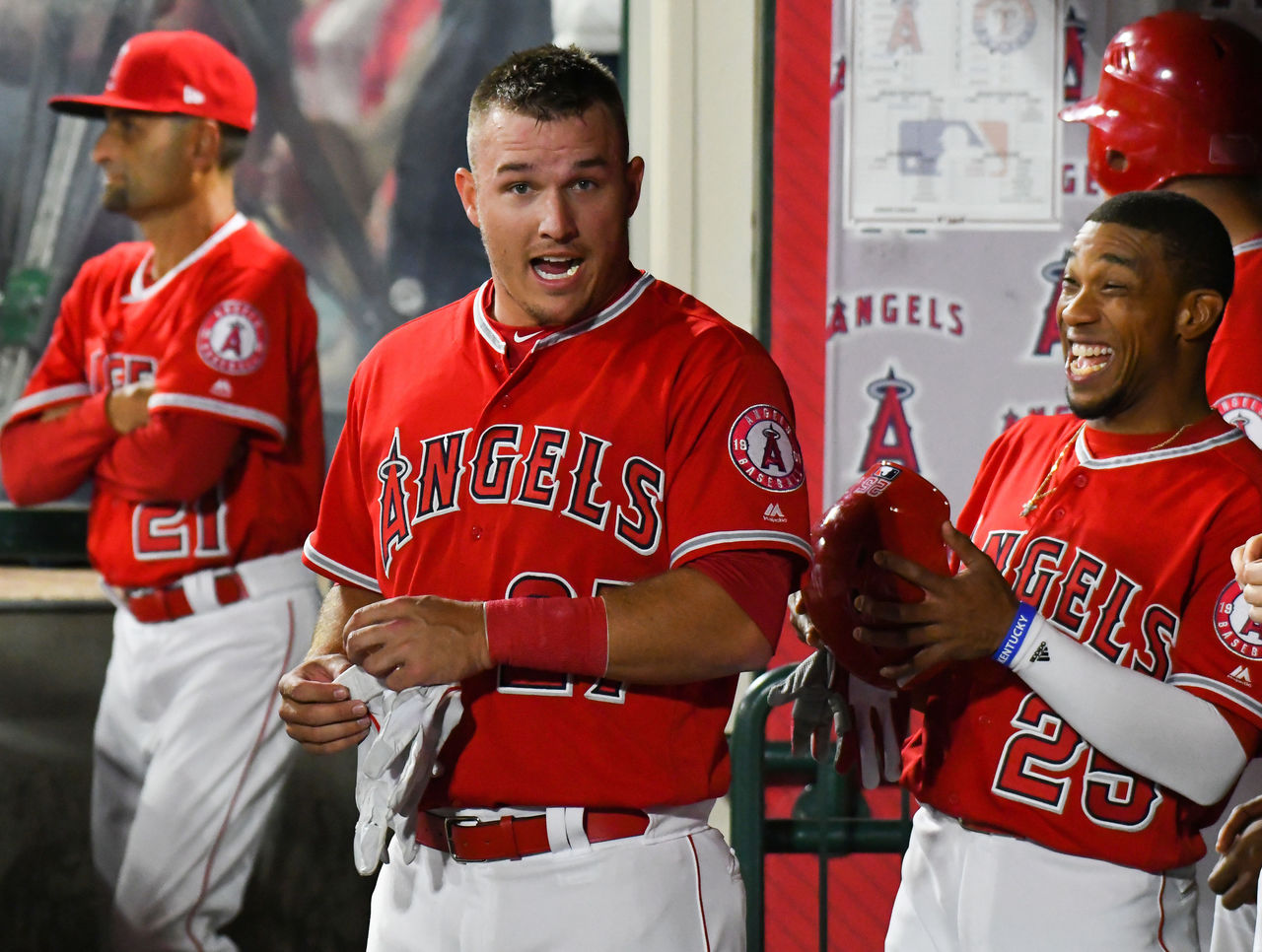 (Photo courtesy: Getty Images)
"He's like a kid, kind of like Miguel Cabrera," said starter Ricky Nolasco, who was traded to the Angels last August and started his career alongside a young Cabrera with the Marlins. "He's just always positive, having a good time, keeping people loose. It's fun to see and actually really funny and entertaining. … Just having fun playing a little kid's game as a grown man. To be around that affects everybody else in a positive way."
That description runs counter to Trout's image as someone with a boring personality, but it's entirely possible that he's different in private with teammates than he is when he's out in public as the face of baseball, as Revere aptly put it.
That level of stardom carries expectations with it, and being a flamboyant superstar is not for everyone. Derek Jeter comes to mind as the businesslike king of the diamond, but even that persona developed after he lived in the tabloids in the early part of his career. With Trout, that has never been the case.
"Everything that you see on the highlights is everything you see in person," said outfielder Cameron Maybin, who was traded to the Angels from the Tigers in November. "I mean, if anything, I guess, his humility. How great he is, and how humble he carries himself, would probably be something you don't get to see on the tapes.
"But even then, watching from afar, he seems very involved and cheering his guys on, rooting for his teammates. To see it up close and personal, a guy like that, who is arguably the best player in the game, he's never moody, never in a bad mood - just the same guy every day. That's just very refreshing to be around, especially for such a young guy."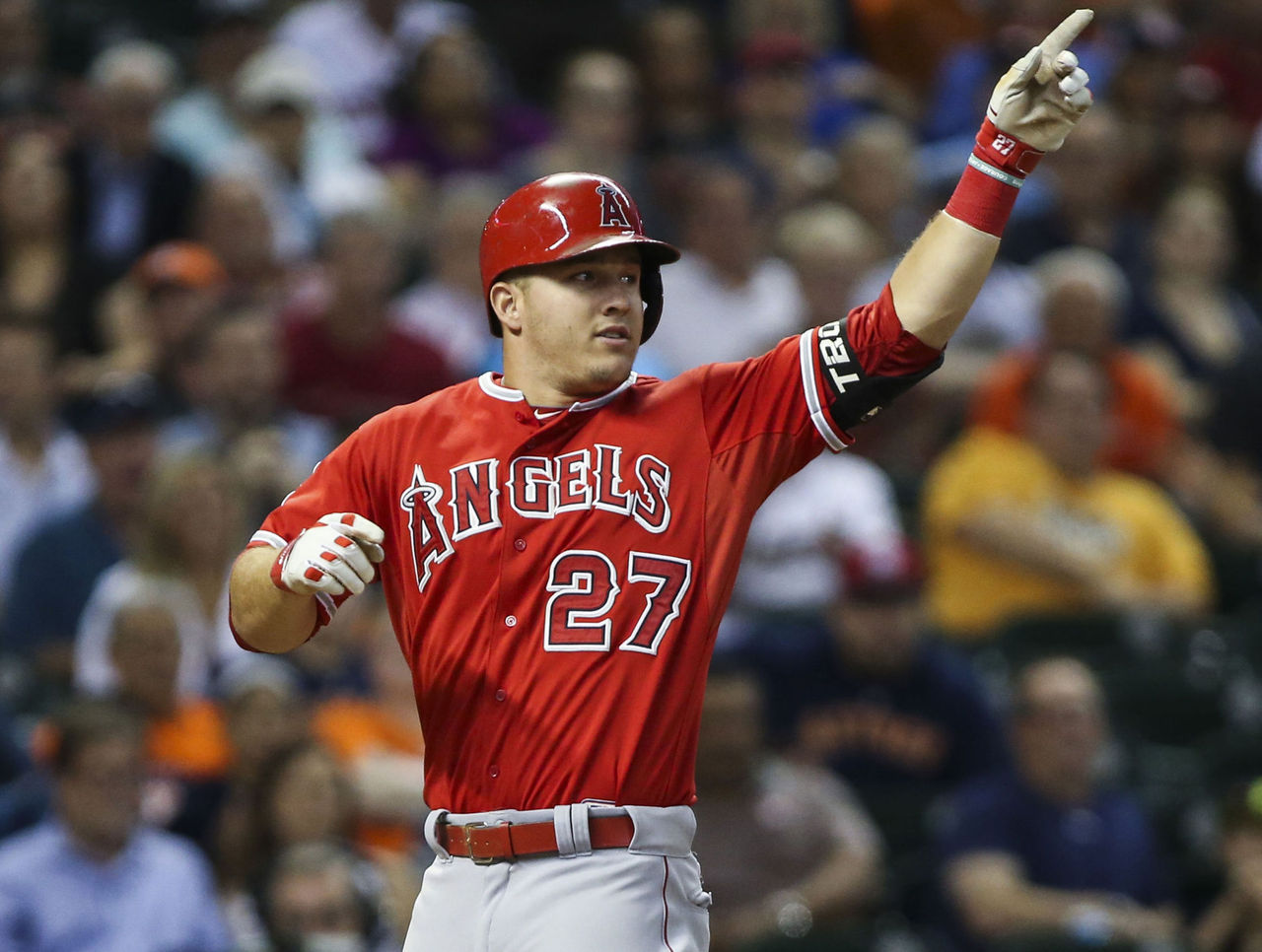 (Photo courtesy: Action Images)
Trout's age is the thing that comes up continually as his teammates discuss him; he won't be 26 until August, meaning he's still yet to reach the usual peak period for a baseball player. Cabrera was a superstar pretty much from the jump, too, and didn't win his first MVP until he was 29, following it up with the Triple Crown when he was 30. It's incredible to think that someone who's already the best in the business can get better.
"He makes this game look really easy," Revere said. "A lot of guys in high school or college, the game's easy. That's what he makes it seem like in professional baseball."
Comments
✕
Mike Trout's awesomeness through the eyes of his newest teammates
  Got something to say? Leave a comment below!