Now would be a good time to offer sheet Draisaitl
Perry Nelson-USA TODAY Sports / USA TODAY Sports
Presented by
They might not be everyone's cup of tea - cough, cough Brian Burke - but offer sheets, though rare, are always intriguing.
Whether it's because the potential price is too high, the crop of players isn't great, or the timing is just not right, offer sheets have become an unusual sight. However, this offseason might allow for something special.
Edmonton Oilers general manager Peter Chiarelli is about to become a very busy man - he's probably already in the midst of some heavy lifting.
Connor McDavid will be eligible to sign a contract extension July 1, and Chiarelli has already indicated he hopes to get that hammered out quickly. Then there's Leon Draisaitl, who could be an even bigger priority because he becomes a restricted free agent July 1 - and sending an offer sheet his way might not be a terrible idea.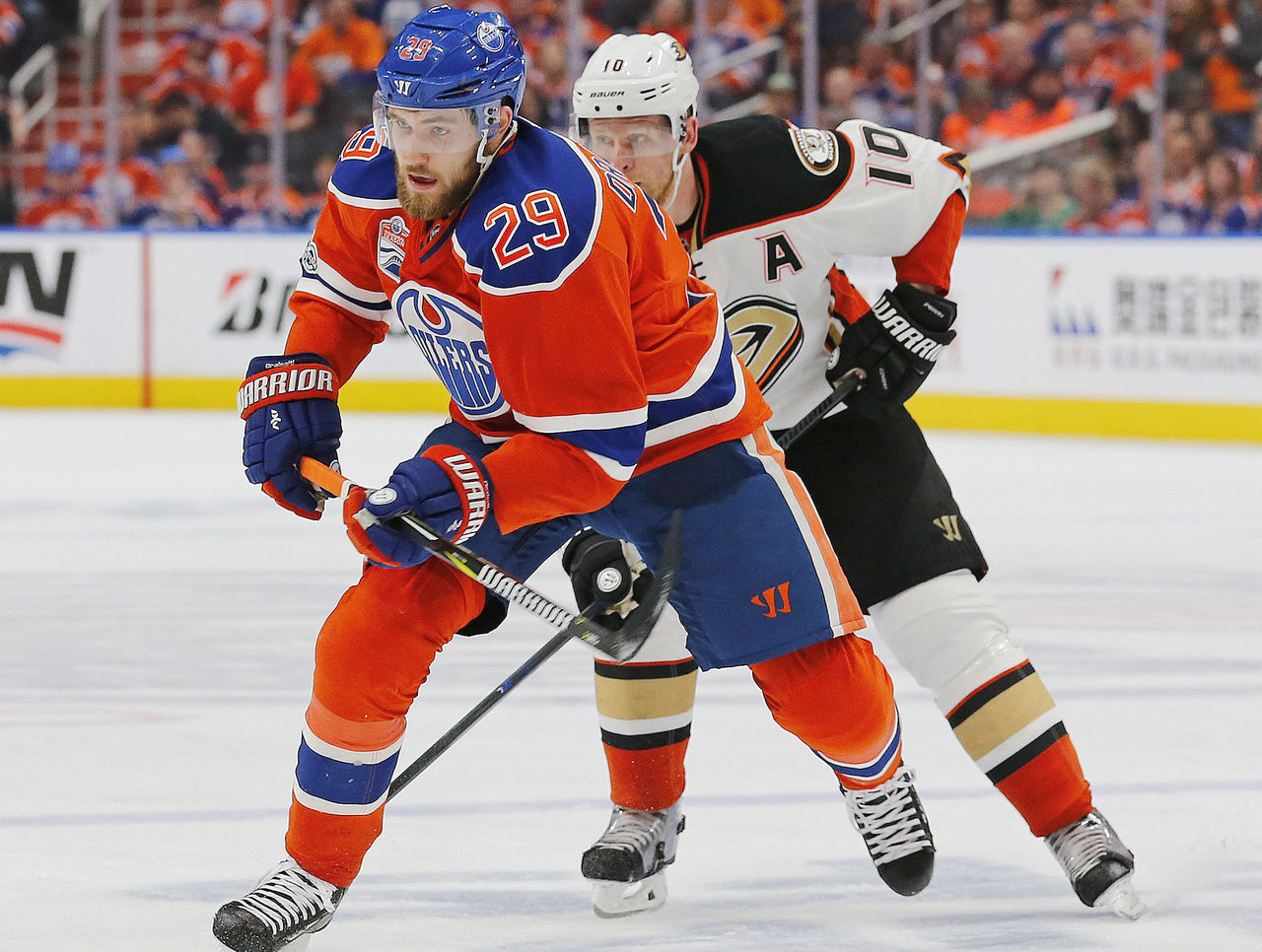 What should Draisaitl cost you?
Before getting into why that move makes sense, it's important to hammer out just what kind of contract offer Draisaitl should get.
Based on the current offer-sheet compensation model - which can be viewed in Sportsnet's Elliotte Friedman's latest 30 Thoughts column - a deal with an average annual value in the $7,851,948 million-$9,814,935 million tier could work nicely. To be more precise, an offer with an annual average of $9 million makes sense.
That means the compensation would be two first-round picks, a second, and a third.
Related: Projecting Leon Draisaitl's next contract
Right away it sounds like a lot for a player that has fewer than 200 regular season games under his belt, but that's not a bad trade-off for getting Draisaitl, who appears well on his way to becoming an elite center. He amassed 29 goals and 77 points in just his second full season in the league, and led the Oilers in scoring in the playoffs with 16 points in 13 games.
An offer sheet could really hurt the Oilers
Heading into next season, the Oilers currently have just over $19 million in cap space. That's without Draisaitl signed. Zack Kassian, Jujhar Khaira, and Griffin Reinhart will all be restricted free agents, and David Desharnais, Matt Hendricks, Tyler Pitlick, Eric Gryba, and Kris Russell are set to become unrestricted free agents.
As far as the UFAs go, it seems likely that at least Desharnais, Hendricks, and Gryba won't return. Factoring in the RFAs and any other signings the Oilers may need to make to fill out their roster, Edmonton doesn't have a ton of wiggle room.
A projected offer sheet of $9 million would eat up nearly half of the Oilers' money - money they need to at least sign one more forward and one more defenseman.
Looking past next season, things get even worse as more of the team's contracts come off the books and more RFAs and UFAs enter the equation.
Most important is McDavid, who could certainly command upward of $10 million per season. Patrick Maroon will become a UFA, while Anton Slepyshev, Drake Caggiula, and Darnell Nurse will all become RFAs.
In fact, here are the only Oilers currently signed through the 2018-19 season:
| Player | Position | '18-19 Cap Hit |
| --- | --- | --- |
| Jordan Eberle | F | $6M |
| Milan Lucic | F | $6M |
| Ryan Nugent-Hopkins | F | $6M |
| Benoit Pouliot | F | $4M |
| Andrej Sekera | D | $5.5M |
| Oscar Klefbom | D | $4.167M |
| Adam Larsson | D | $4.167M |
| Cam Talbot | G | $4.167M |
These eight players will make a total of $40 million, leaving roughly $33 million in cap space. Factoring in McDavid's $10 million and Draisaitl at $9 million, that would leave $14 million to fill out six more forward positions, three more defense spots, and find a backup goalie. That's without any replacements. It appears near impossible.
Off the hop, the Carolina Hurricanes and even the Montreal Canadiens stand out as clubs who could have some interest in an offer sheet. Both lack a true No. 1 center, and each team has among the most cap room available of all 31 franchises.
Offer sheets may be rare, but sometimes, the right player does come around at the right time. This year, that player is Draisaitl.
(Photos courtesy: Action Images)
Comments
✕
Now would be a good time to offer sheet Draisaitl
  Got something to say? Leave a comment below!