The best MMA fights of 2016
As the year in cage fighting comes to a close, theScore's MMA staff takes a look back at what will be remembered as a time of change, controversy, and lots of people getting punched in the face.
Best of MMA 2016
The best MMA fights of 2016
2016 yielded no shortage of fights worthy of a cushy place in the annals of MMA history. Here are a handful of those that proved a cut above the rest:
T-5. Polo Reyes vs. "Maestro" Dong Hyun Kim (UFC 199, June 4)
Casual fight fans beware: Don't ever sleep on the undercard.
Through two rounds and change, the sound of fist meeting skull resounded through the Los Angeles Forum as Marco Polo Reyes and "Maestro" Dong Hyun Kim scrambled each other's brain matter in the opening bout of UFC 199.
"El Toro" impressed with crisp boxing and an iron chin, but Kim valiantly returned leather of his own to wobble his fellow scrapper on more than one occasion. The Korean's tolerance for pain - however astounding - would not withstand Reyes' unrelenting combinations for long, though.
After surviving and responding to the Mexican's onslaught for 10 action-packed minutes, an exhausted Kim finally succumbed to a right hook in Round 3, but not before he and Reyes had set the bar for an event that yielded no shortage of fireworks. - Alexis
T-5. Angela Lee vs. Mei Yamaguchi (ONE Championship 42, May 6)
It's safe to say that the average person isn't winning major MMA titles at 19 years old. That's exactly what Angela Lee did when she defeated 26-fight veteran Mei Yamaguchi in an instant classic this past May at ONE Championship 42 in Singapore.
For 25 minutes, Lee and Yamaguchi went back and forth on the mat, searching for submissions and throwing strikes regardless of which of them was on top or bottom position. There were so many twists and turns, one could get dizzy trying to keep up with the action. In the end, it was Lee who claimed a unanimous decision to earn the ONE atomweight belt and establish herself as one of the sport's brightest prospects. - Lee
4. Conor McGregor vs. Nate Diaz 2 (UFC 202, Aug. 20)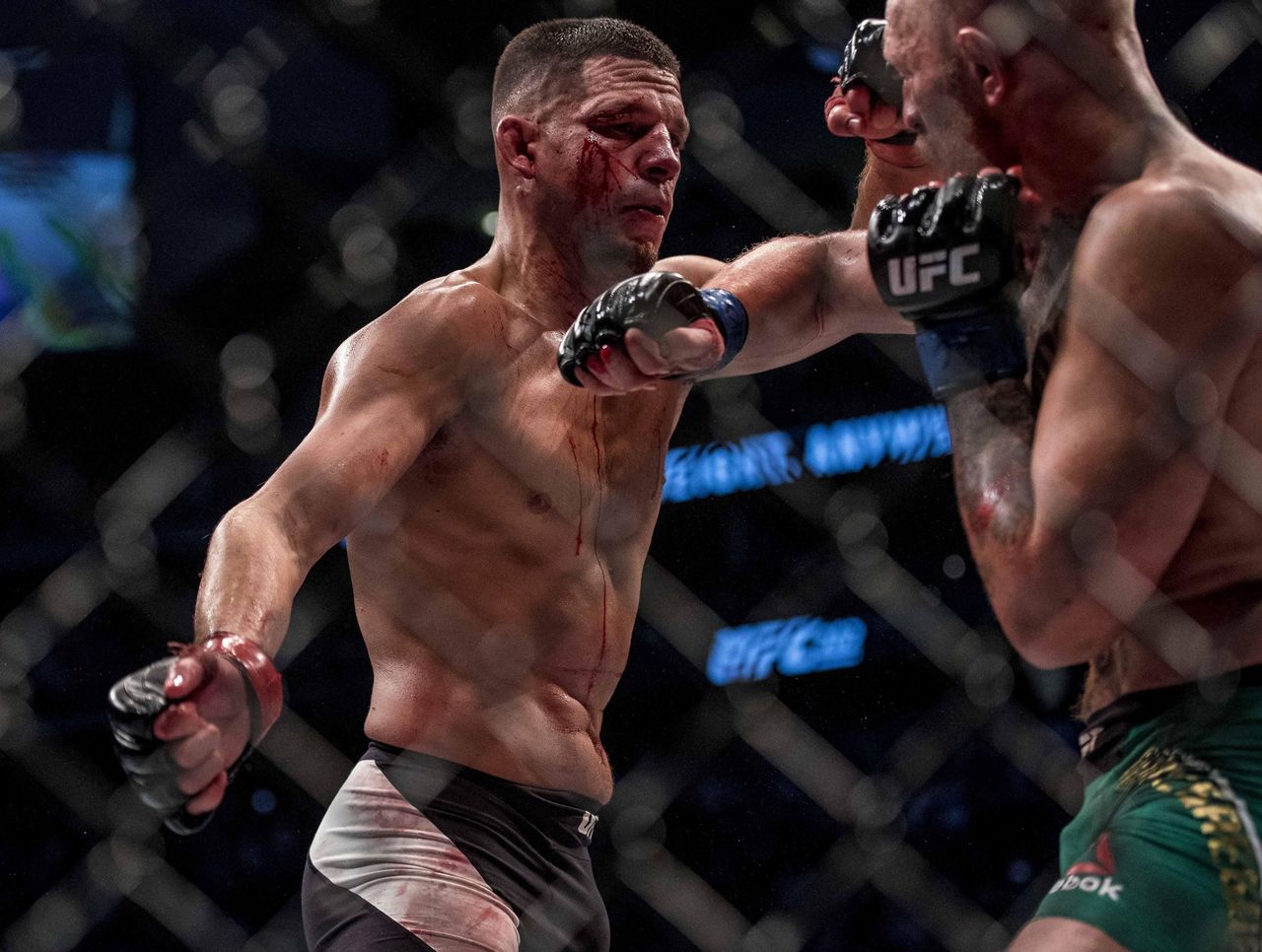 It may not quite have gone as expected, but the year's most anticipated rematch still handily lived up to its billing.
Through five enthralling rounds, Conor McGregor and Nate Diaz took their mutual disdain out on each other, with "The Notorious" riding his sneaky boxing to put the Stockton scrapper on his hind parts three times in the thriller's early goings. To the surprise of no one, the Irishman's rival would not go quietly, as Diaz turned the tables in the middle round, backing McGregor against the cage before teeing off on him with his vaunted mitts.
The fighters' respective barrages had taken their toll going into the fourth, but the battle of attrition raged still, with both McGregor and Diaz fighting through fatigue in pursuit of a finish. Despite their efforts, the instant classic made it to the scorecards, and while one judge scored the bout a draw, the other two deemed McGregor's trio of knockdowns and superior striking accuracy enough to give him the nod.
The majority decision evened the score in the budding rivalry - as Diaz had drawn first blood with a second-round submission in their first meeting at UFC 196 - and fight fans and pundits alike have been clamoring for a rubber match ever since. - Alexis
3. Steve Bosse vs. Sean O'Connell (UFC Fight Night 89, June 18)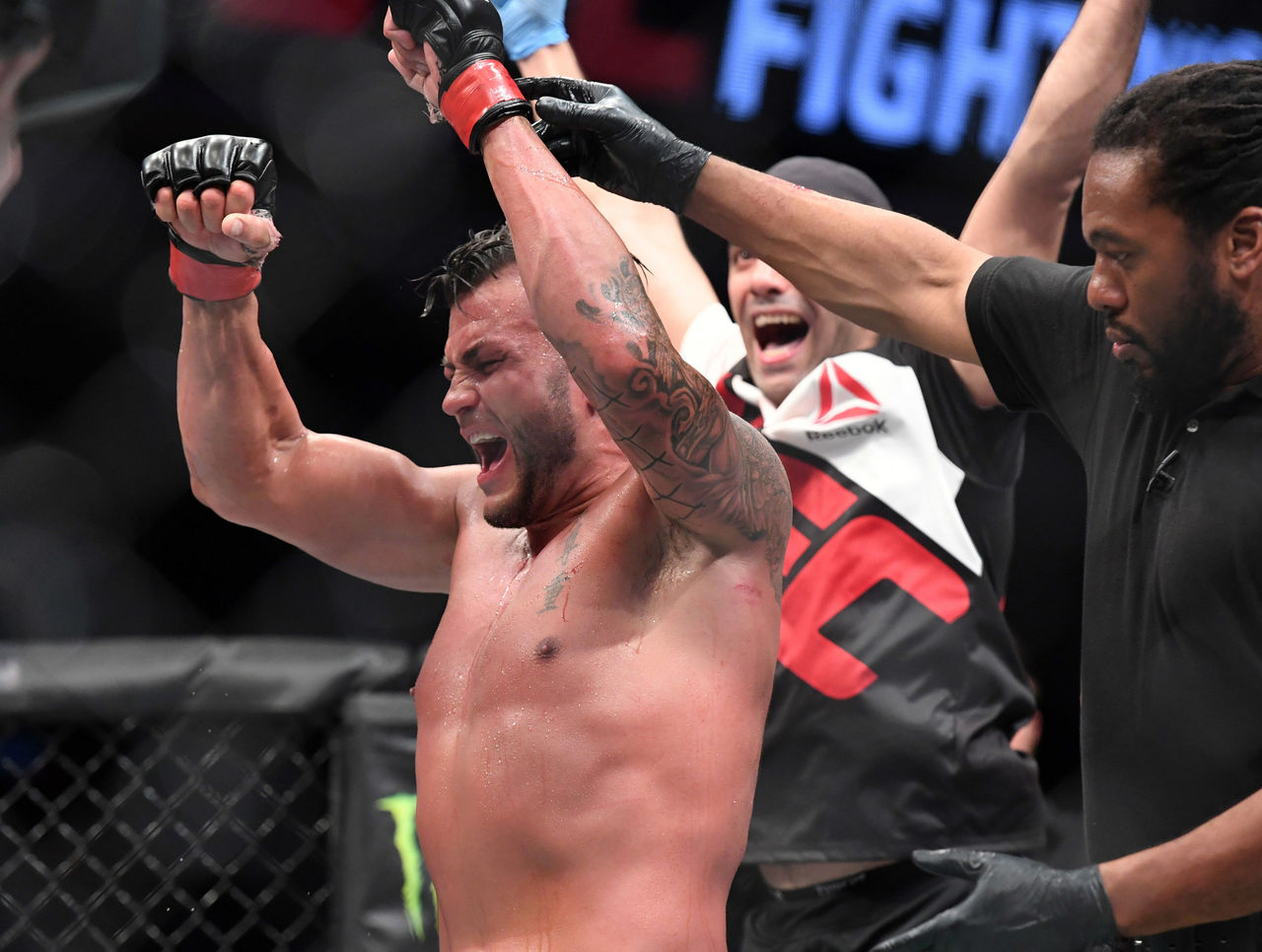 Fans can thank the canvas for providing a key assist in one of the year's most wild fights.
Steve Bosse and Sean O'Connell came out swinging like maniacs to kick off their light heavyweight bout, and it was "The Real OC" that would strike first with a series of left hands that rocked Bosse. He went completely stiff and it looked like a stoppage was imminent, but Bosse regained his senses when his head thudded off the mat.
From there, the former minor league hockey enforcer would battle back and badly bloody up O'Connell's face. The two appeared to be attached by a tether that refused to allow them to create space, forcing them to trade haymakers inside the pocket.
The fight became so violent in the closing moments that referee Herb Dean accidentally stopped the fight a few seconds early, seemingly in fear that one more punch would lead to a fatality. Bosse would go on to win a unanimous decision and his first Fight of the Night award. - Lee
2. Cub Swanson vs. Doo Ho Choi (UFC 206, Dec. 10)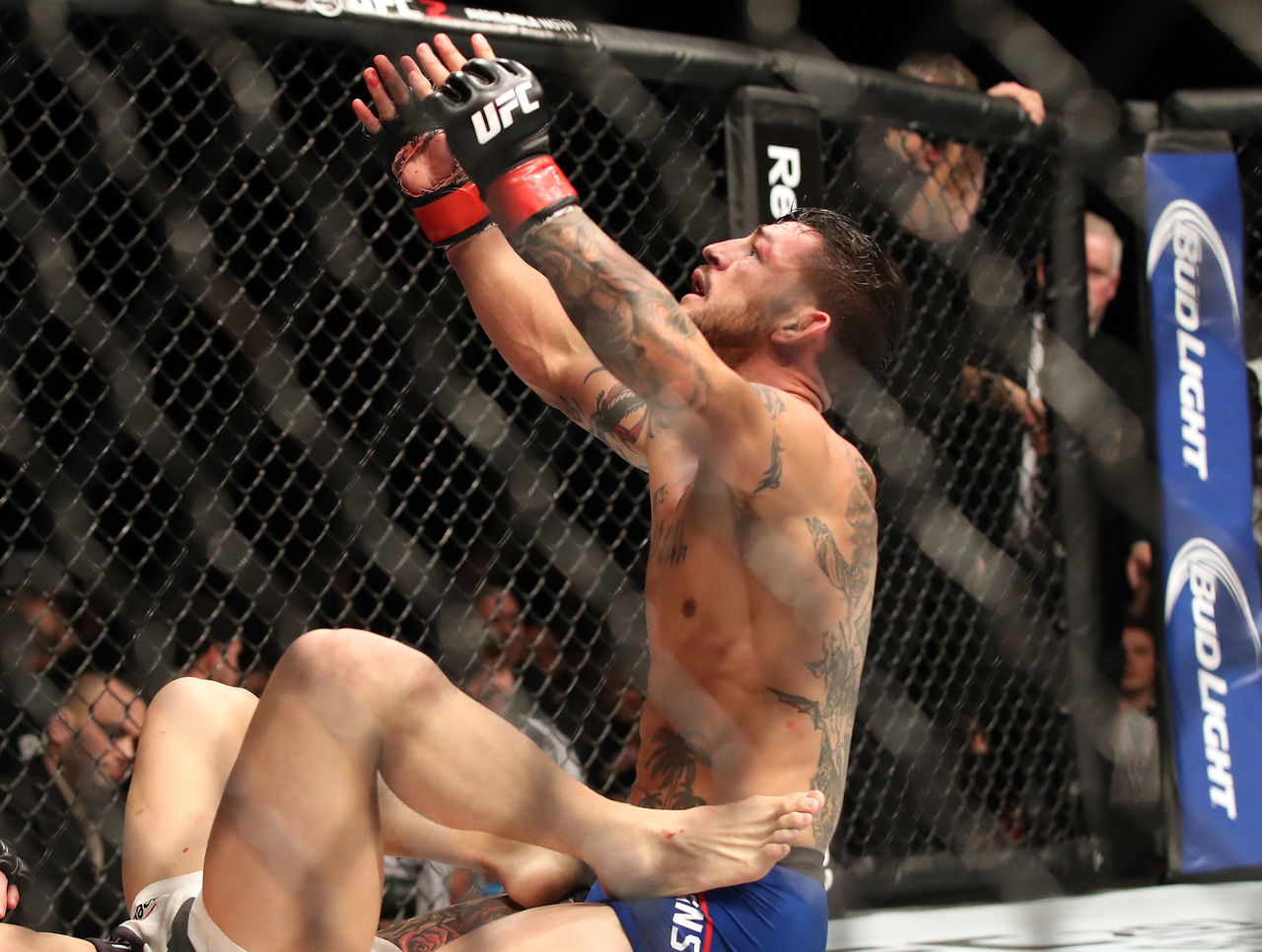 With Doo Ho Choi vying for a spot in the featherweight top 10 and Cub Swanson out to prove he was still a threat at age 33, many expected the pair to come out swinging until one had rendered the other unconscious.
Instead of a flash finish, the pair of sluggers regaled the Air Canada Centre with three rounds of hellfire - which they miraculously survived - to take Fight of the Night honors at UFC 206. The consummate gamesman, Swanson consistently pushed the pace while Choi gladly rode his deadly counter right hand to make it a slugfest. Every time the grizzled vet's flurries had him flirting with victory - which was often - "The Korean Superboy" dashed his hopes with enough return fire to send him reeling.
The war continued in the third, again with Swanson swinging for the fences and punishing the durable Choi with some last-ditch hammerfists in the fight's dying seconds. Swanson's undying initiative ultimately earned him a sweep of the scorecards, but Choi still exited the Octagon with a raised stock and a bevy of new admirers. - Alexis
1. Robbie Lawler vs. Carlos Condit (UFC 195, Jan. 2)
The preceding clip tells you everything you need to know about the five-round war between Robbie Lawler and Carlos Condit.
In a dream matchup between two of the best strikers in the business, Lawler and Condit used all 25 minutes of their welterweight title bout to build to a violent crescendo. The first two rounds saw both men score knockdowns, with Condit claiming first blood and Lawler responding in kind in Round 2.
Those senses-shattering blows were the appetizer for a brutally close final three rounds. Condit had the advantage in sheer volume, effortlessly transitioning between techniques to attack Lawler from all angles with punches, kicks, knees, and elbows. But the resilient champion always seemed to have another bullet in the chamber with which to fire back. The raw data said Condit was way ahead; the raw visuals told another story.
Even beaten and bloodied, Condit never stopped throwing. Neither did Lawler. That dogged determination led to an unforgettable closing sequence in which both men swung at each other with everything they had until the bell rang and referee John McCarthy literally had to guide them over to the cage to make sure they didn't collapse.
The fight ended in heartbreaking fashion for Condit, who came out on the wrong end of a split decision. He'd have to settle for being part of one of the best fights in UFC history. - Lee
Comments
✕
The best MMA fights of 2016
  Got something to say? Leave a comment below!