NY paper tabs Sanchez as 'The Great Sanbino'
Joe Nicholson-USA TODAY Sports / Reuters
Gary Sanchez fever is sweeping the Bronx, and newsstands across New York.
The hot-hitting rookie continued his historic display of power Friday during another Yankees win, going 3-for-5 with four RBIs and smashing his fourth homer in four games to help New York keep pace in the playoff race with a 14-4 rout of the Orioles. Sanchez, who has now gone deep 10 times since being recalled Aug. 3, is the only player in major-league history to tally that many homers and at least 30 hits over the first 22 games of his career.
The unprecedented start has the New York media fawning over the Yankees' star Baby Bomber and supposed heir apparent to Babe Ruth.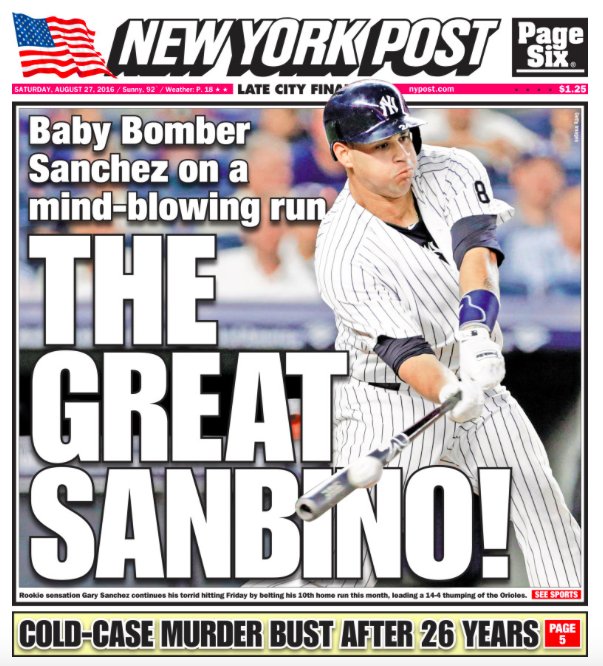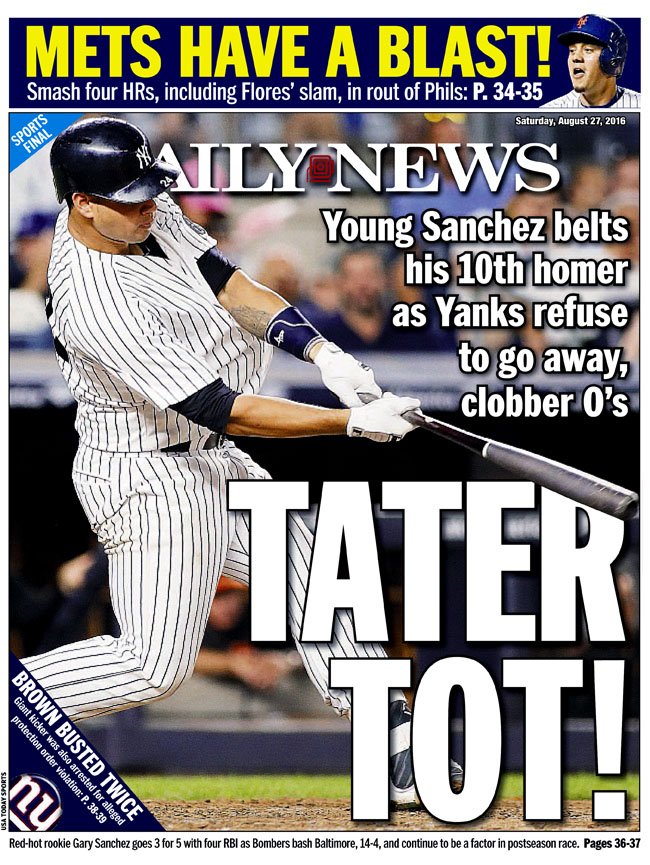 The rookie catcher's ridiculous run - he's hitting .425/.481/.932 since his August promotion - has catapulted the Yankees to within 3 1/2 games of a wild-card berth on the heels of a 14-9 month thus far. Manager Joe Girardi said Sanchez's career is off to as good a start as he's ever seen.
"I don't think you'd expect anyone to do what he's done, even if you're a major-league player that's had a lot of success," Girardi told ESPN's Wallace Matthews after Sanchez fell a triple shy of the cycle Friday. "The numbers that he's put up are just off the charts."
Sanchez's 10 homers in 78 career at-bats mark the quickest a major leaguer has reached that mark since another Yankees rookie, Shane Spencer, hit his 10th home run in his 66th at-bat in 1998, according to Elias Sports Bureau.