By the numbers: Looking back at Gordie Howe's incredible career
B Bennett / Bruce Bennett / Getty
Here's a look at some of the most incredible numbers associated with hockey legend Gordie Howe, who passed away Friday at age 88:
1,767: The number of regular-season NHL games Howe played, a total that still stands as the most all-time. And as a further testament to his incredible longevity, he played 80 games in his final pro season with the World Hockey Associations's Hartford Whalers - as a 51-year-old.
6: Howe's Hart Memorial Trophy haul as the NHL's most valuable player. He finished no lower than third in the Hart voting an incredible 12 times, while adding six Art Ross Trophies as the league scoring leader. He also led the NHL in goals on five separate occasions.
17: The number Howe wore in his rookie season with the Red Wings in 1946-47. He switched to his iconic No. 9 the following season after fellow Hockey Hall of Fame member Roy Conacher was traded to the New York Rangers.
1,850: Howe's career NHL point total, fourth only to Wayne Gretzky, Mark Messier, and Jaromir Jagr. Howe produced just three 100-point seasons in his career, but all came after age 40: He had 103 points in his second-last season in Detroit, and posted 100- and 102-point years in Houston.
49-46-95: Howe's goal, assist, and point totals during the 1952-53 campaign. It stands as the best overall season of his career, as Howe swept the major awards for the second straight year, and added seven points in the playoffs en route to his second Stanley Cup title.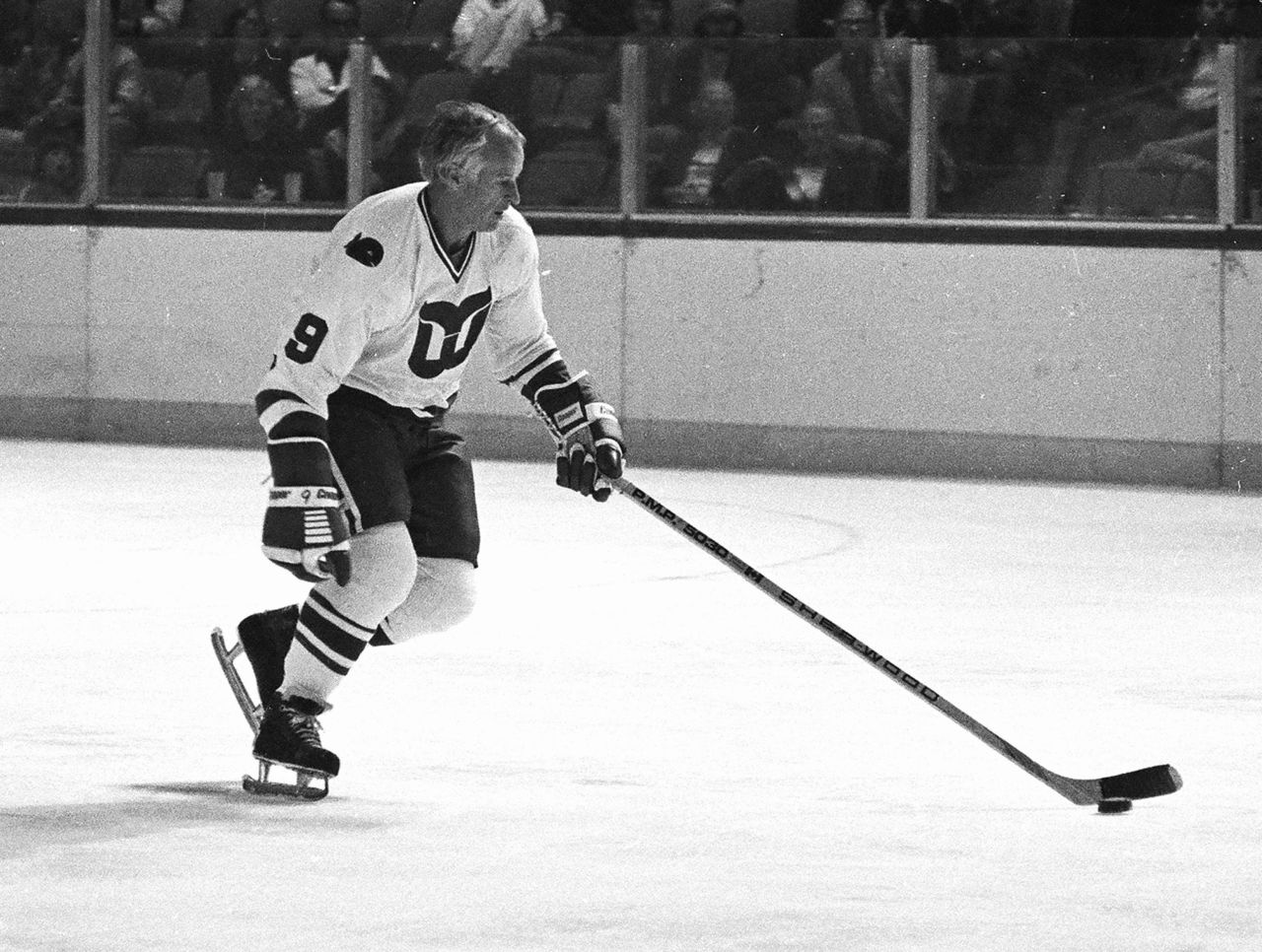 4: The number of 100-penalty-minute seasons produced by Howe, who wasn't afraid to mix it up when the occasion called for it. How finished his NHL career with 1,643 penalty minutes, and added another 399 in the WHA - despite not joining the now-defunct league until he was 45.
508: Speaking of the WHA, Howe's most impressive feat of all may have been racking up better than a point per game over 419 career regular-season games with the Aeros and Whalers franchises. Howe won WHA MVP honors in 1973-74, his first season in the league.
160: Howe's career point total in 157 NHL playoff contests. Howe finished as the playoff scoring leader six times, capped by an incredible stretch in which he racked up nine goals and 11 assists in just 11 games to lead the Red Wings to the 1954-55 Stanley Cup championship.
801: Howe's final regular-season goal tally, second only to Gretzky. Even more incredible: He reached that lofty mark without ever recording a 50-goal season. In comparison, the three players behind him - Jagr, Brett Hull, and Marcel Dionne - have combined for 14 50-goal seasons.
21: The number of times Howe landed on the NHL's first or second All-Star team; he finished as a first-team All-Star 12 times, while earning second-team honors an additional nine times. He only missed out on an All-Star berth four times in his NHL career.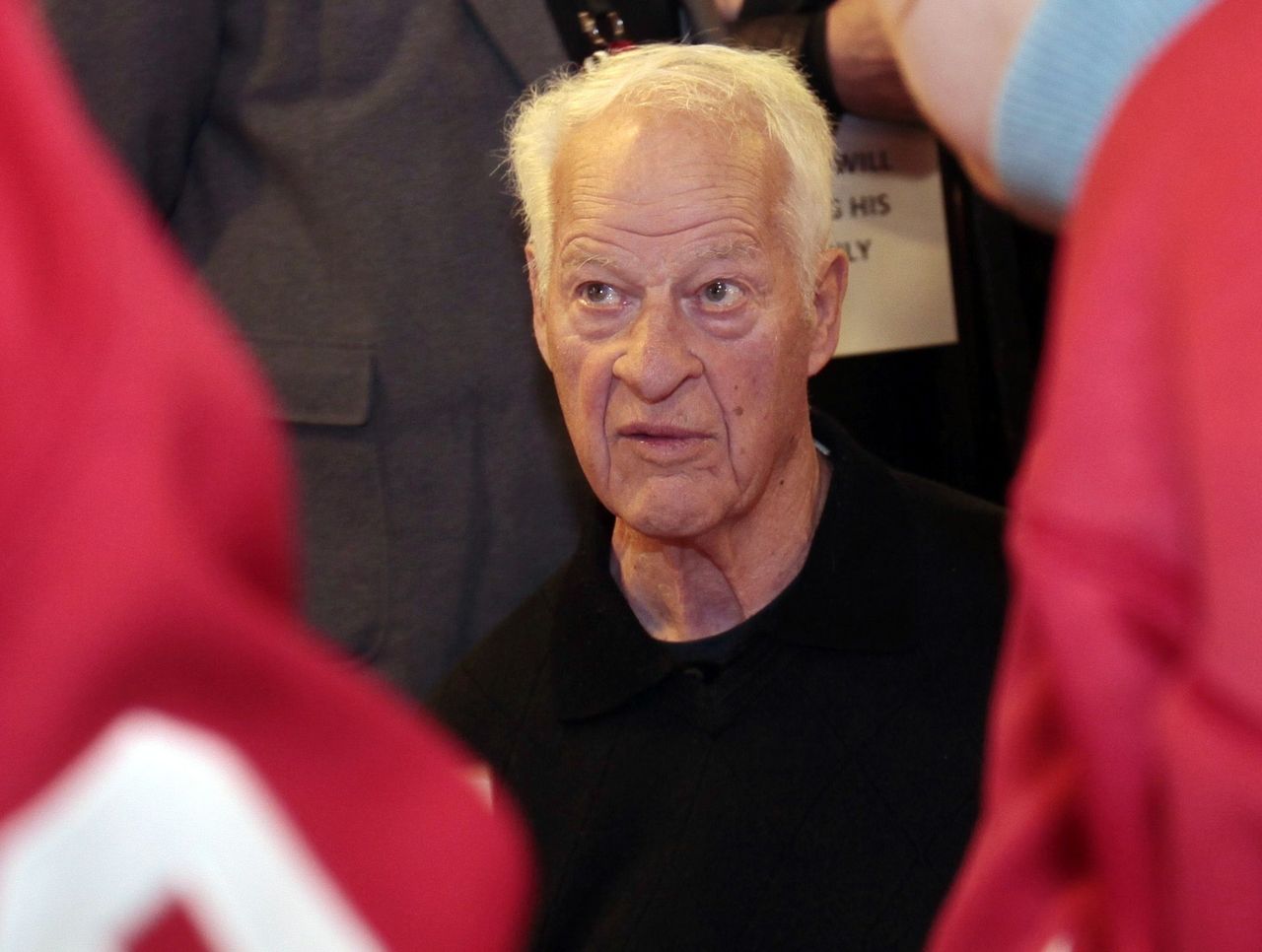 69: The age at which Howe became the oldest person in history to suit up for a professional hockey game. Howe played one shift in 1997 for the Detroit Vipers of the International Hockey League. He wasn't exactly spry out there, but it was still a historic occasion for the sport.
6: The number of championships Howe claimed in his brilliant career: four with the Red Wings and two more with the WHA's Aeros. Those titles in Houston were of particular importance to Howe, who won them alongside his sons, Mark and Marty.
30: The number of years Howe reigned as the NHL's all-time points leader. Howe passed Maurice Richard during the 1959-60 season and was top dog until Oct. 15, 1989, when Gretzky scored against the Oilers in Edmonton for his record-breaking 1,851st career point.
1972: The year Howe was named to both the Hockey Hall of Fame and the Order of Canada, the country's highest citizen award. Howe was part of a loaded Class of '72 that included Montreal Canadiens legends Jean Beliveau and Bernie "Boom Boom" Geoffrion.
20: The number of consecutive NHL seasons in which Howe finished as a top-five scorer - the longest such streak in league history. Howe was one of the most durable players over that stretch, missing just 20 games between the 1949-50 and 1968-69 seasons.
Comments
✕
By the numbers: Looking back at Gordie Howe's incredible career
  Got something to say? Leave a comment below!