Inside Dovar Tinling's journey to becoming college hockey's youngest player
Photo illustration by Nick Roy / Getty Images
A giant van marked with the University of Vermont's colors and logos sat outside the duty-free shop. Men's hockey assistant coach Jeff Hill had borrowed the bulky vehicle from the Catamounts' varsity ski team to transport Dovar, Azzaro, one other freshman, and the players' luggage - clothes, hockey gear, televisions, microwaves - in one run.
Hill had briefed border authorities on the handoff plan and promised to quickly return stateside with three Canadians bound for the UVM campus in Burlington, some 40 miles south.
"In a way, it felt like I was smuggling them over the border," Hill told theScore with a laugh.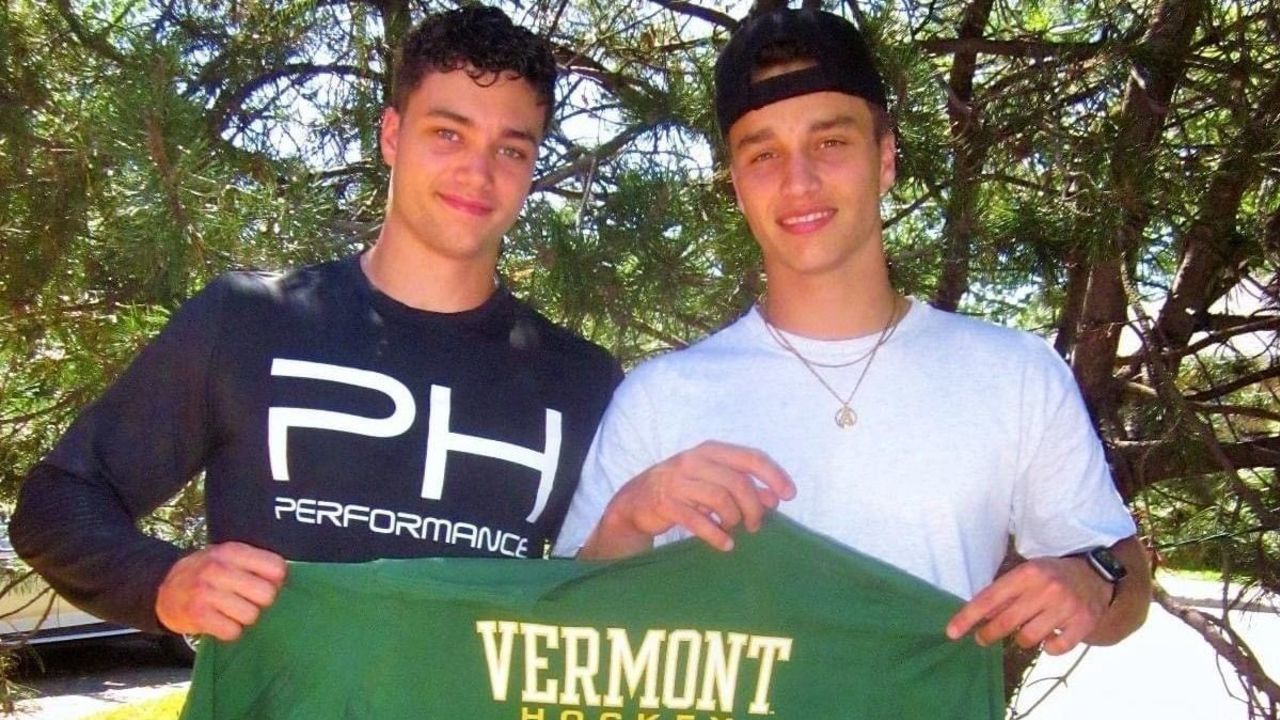 The Tinling family had driven the scenic two hours from Montreal to Burlington many times over the years. But this trip, like seemingly everything else in 2020, was strange - "surreal," as Azzaro put it. The two boys could cross the border, but Mom and Dad couldn't - not unless they wanted to endure a lengthy quarantine.
After a teary goodbye, the parents headed north and the van south. "It was weird, but it actually went pretty smoothly," said Dovar, the younger of the two brothers. "We pulled up to customs, did everything there, and we were off. It took about an hour, tops."
Strict protocols greeted them at UVM. Before exploring campus, the brothers were required to pass multiple COVID-19 tests while observing a 10-day quarantine. It wasn't the storybook going-off-to-college scene anyone had envisioned. But that's how it had to be to keep everyone safe and healthy.
Dovar, a top prospect for the 2021 NHL Draft, won't turn 18 until March. That makes him the youngest player in NCAA Division I hockey and the youngest Canadian NCAA player since Jonathan Toews and Simon Danis-Pepin dressed for North Dakota and Maine, respectively, in 2005-06.
This is the story of Dovar's rise through the ranks, why he chose UVM, and the part his older brother Azzaro, 20, has played in shaping him as a person and athlete.
The Tinling brothers, born three years and two months apart, grew up in Pointe-Claire, a low-density suburb of Montreal. The family home backs onto Lake Saint-Louis, which in the winter, with some light shoveling, can be converted into a frozen playground.
As kids, Dovar and Azzaro would come home from elementary school on their lunch break, lace up their skates, and spend 20-30 minutes on the lake. Their mom, Tracey, would fix sandwiches as the lifelong best buddies buzzed around. Most days it would be one-on-one; other times, someone was the goalie. They'd carve up the lake after school and on weekends, too.
"It was just fun to us," Azzaro said. "We didn't think anything of it at the time."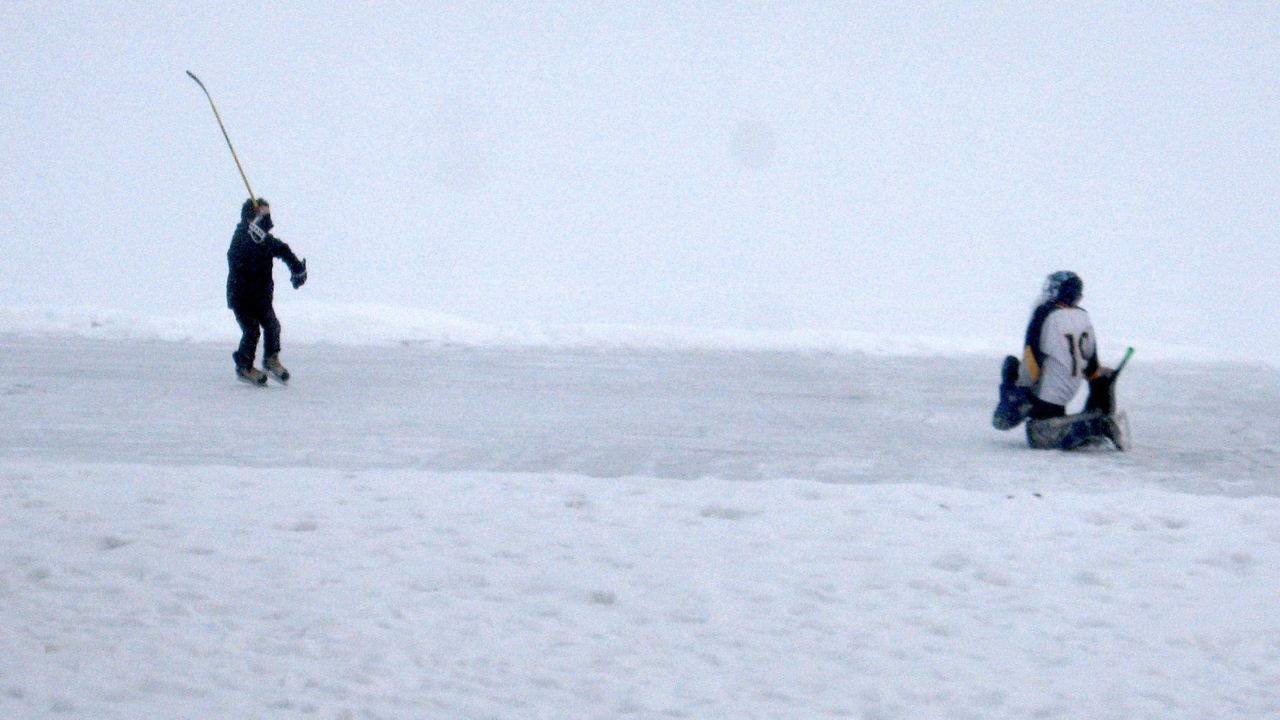 In organized hockey, the brothers were on independent timelines. Azzaro's birthday is in December, so he was four age groups ahead of Dovar. There was no scenario - not even in midget, where three cohorts play with and against each other in the Quebec system - in which their paths in minor hockey would cross.
The brothers insist Tracey and dad Adolphe never forced hockey upon them. Their love for the sport and drive to improve came naturally. Education, on the other hand, was a top priority in the Tinling household. Adolphe would often use his own story to deliver the message to the brothers and their sister Jordan, now 23.
From the mid-1960s to the mid-70s, Adolphe came of age in Hochelaga-Maisonneuve, then one of Montreal's roughest areas. He promised himself he'd graduate high school, a promise he says saved his life.
"Around one-third of the guys I grew up with are dead," he said. "Around one-third are so screwed up because of being exposed to drugs and whatnot. And around one-third are in prison. Take away about 5%, and those are the people who got out and did OK."
In a roundabout way, it was this emphasis on education that finally brought Dovar and Azzaro together on the same team last season. Both had aspirations of earning a degree while pursuing the pro hockey path, and the Hawkesbury Hawks of the junior A Central Canada Hockey League happily made room for both forwards as they looked to maintain their NCAA eligibility. Azzaro, an intimidating, heavy winger, recorded 16 goals and 23 assists in 51 games in 2019-20, his second year with the Hawks. Dovar, meanwhile, claimed CCHL Rookie of the Year honors after recording 21 goals and 30 assists in 50 contests.
"He's a kid who has always played up to the level of competition," said Hill, who started recruiting Dovar to UVM at the beginning of his lone season in midget AAA.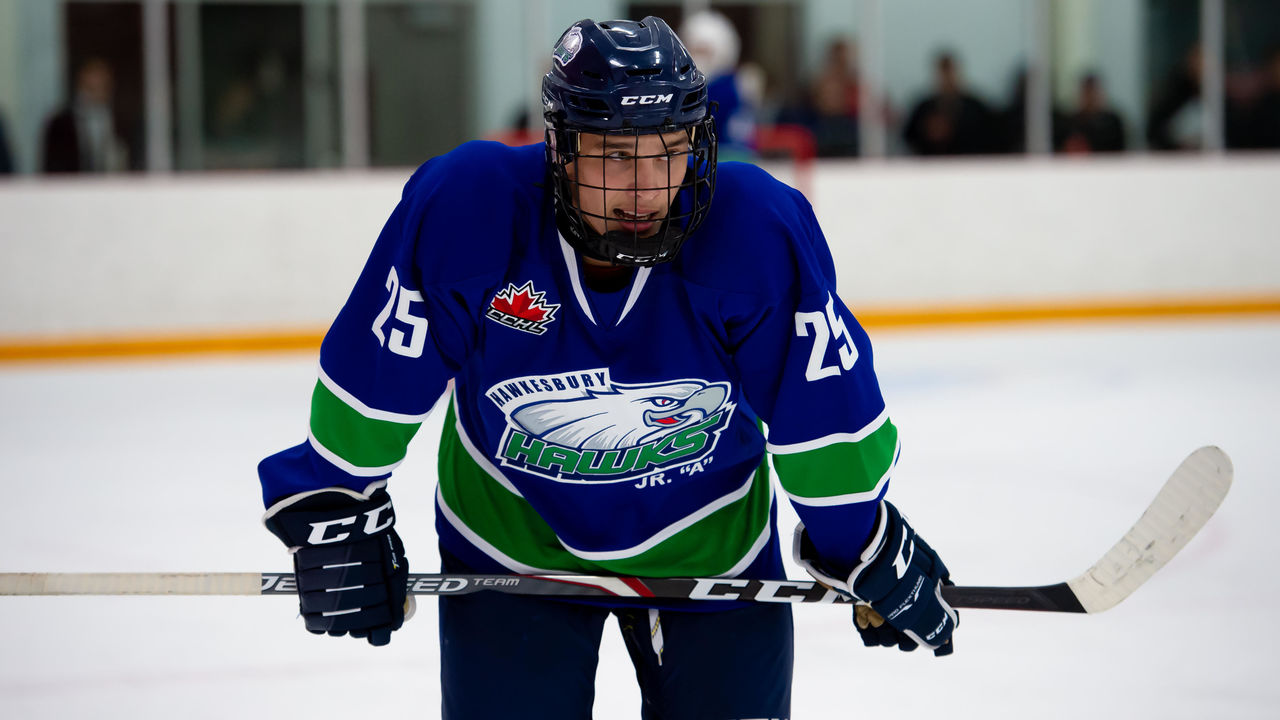 Hawks head coach Rick Dorval liked the brothers' chemistry, so he kept them on the same line for the majority of the season. It seemed a wise move in Azzaro's eyes.
"I knew where he was before I would have to look," Azzaro said of his on-ice synergy with Dovar. "I can't even describe it. It's something you can't really say. I just knew where he would be. I knew his tendencies."
Dovar's tenure with Hawkesbury, though short-lived, was formative. He asserted himself against more physically mature players as a wiry 16-year-old and juggled the demands of multiple Team Canada tournaments and endless school assignments. "Last year," he said, "was definitely an interesting experience."
Hawkesbury, a small Ontario town that runs along the Ottawa River, is a 50-minute drive from Pointe-Claire, so the brothers lived at home. Azzaro, the self-proclaimed "suburban mom," would pick up Dovar from school and drive him to and from practices and games. The rides, sometimes running deep into the night or in the middle of a storm, became something to look forward to. With Azzaro in the driver's seat, Dovar rode shotgun and served as DJ, blasting "Return of the Mac," among other classics.
On the ice, there was no question Dovar was a burgeoning talent.
"He matured a lot, and as he matured, he became a really elite player," Dorval said. "I wouldn't be afraid to say that - if we were able to put on the playoffs - Dovar could have easily been one of the top three players in the postseason, and he could have been a big reason for us having a legitimate chance at winning a championship."
Jon Goyens, Dovar's midget coach, was originally hesitant about his star pupil playing junior A at 16. The CCHL is a hodgepodge of promising prospects and kids at the end of their competitive hockey careers. How might he fit into the mix?
"Well, it fit because he made it fit," Goyens said, labeling Dovar a hyper-observant "sponge."
"He's just not a kid I bet against. He's committed, he's dialed in."
A couple of weeks ago, NHL Central Scouting released its preliminary players-to-watch list for the 2021 draft. Four NCAA players made the list: Owen Power, Kent Johnson, Matthew Beniers, and Dovar. Power, Johnson, and Beniers - all from the University of Michigan - received "A" ratings, indicating they're candidates to go in the first round. The 5-foot-11, 185-pound Dovar was rated a notch below as a "B" prospect.
"Dovar's that Kyle Connor-type player," UVM head coach Todd Woodcroft said. "He's got really good vision. He's got very good patience with the puck."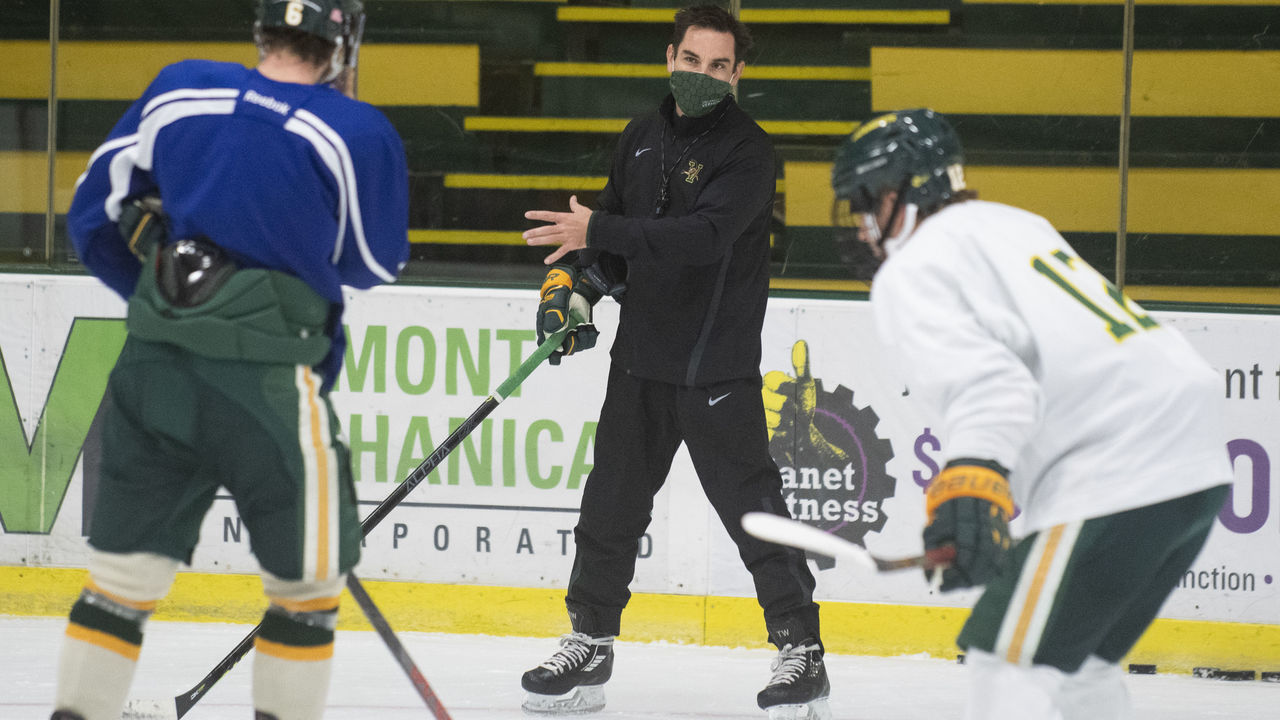 Woodcroft's resume includes two decades behind NHL benches, most recently with the Winnipeg Jets as an assistant to head coach Paul Maurice. He's extremely familiar with Connor, Dovar's favorite player, after working with him on a daily basis in Winnipeg. Both forwards have slight builds, explosive hand speed, and off-the-charts hockey sense. Connor is an elite goal-scorer - the Michigan product has notched 31, 34, and 38 goals for the Jets in his first three full NHL seasons - and Woodcroft and Goyens believe Dovar could have a similar trajectory. Dovar, for his part, understands what he has to work on to get there.
"I'm a pass-first kind of player, but I also think I can score," he said. "I think my biggest asset is my hockey IQ, especially with the puck. I think I'm a strong skater as well. I could work a lot on every aspect of the game, but my play without the puck - defensively and also in the offensive zone - needs work."
First, Dovar must prove himself in the college hockey scene. Recruited heavily by a number of powerhouse hockey schools including Michigan, Michigan State, and Penn State, he settled on UVM. Household names Martin St. Louis, Tim Thomas, John LeClair, and Patrick Sharp are Catamounts alumni. Now Dovar - alongside Azzaro, the protective older brother - hopes to join that list over the next few years.
Every family attacks decision-making from its own unique angle. For the Tinlings, lists are a crucial, necessary part of the process. Ever since Dovar, Azzaro, and Jordan were young kids, they've leaned on one particular kind of list: pros and cons.
"It takes the emotion out of a decision," Azzaro said.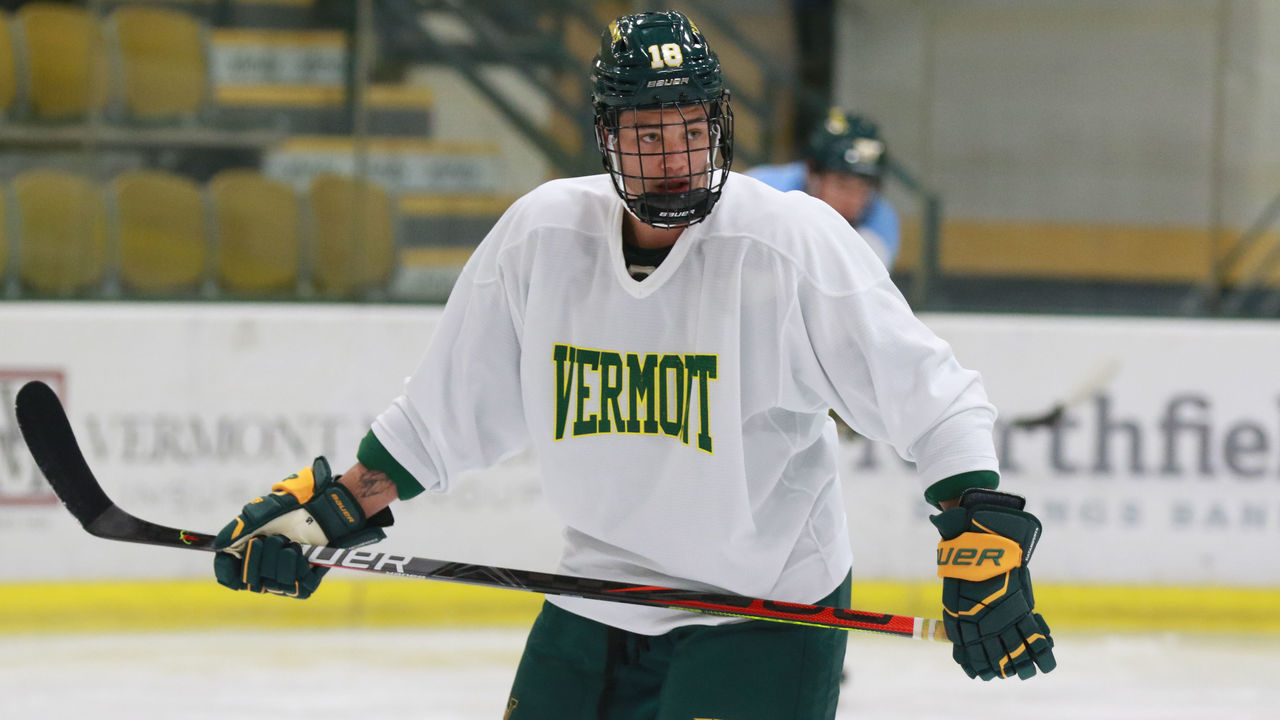 Dovar sat down on two separate occasions this past summer to craft lists relating to his hockey career. The first helped determine if UVM was the right school for him.
In the pros column, he scribbled four main points: He'd be on the same team and campus as his brother and best friend; he'd be joining a historic Hockey East program; he'd play a key role in revitalizing UVM hockey, which has fallen on hard times of late amid three straight losing seasons; and he'd be able to learn from Woodcroft, who was hired in April to replace longtime UVM bench boss Kevin Sneddon.
Under cons, he outlined similar points with different twists: He'd be following in his brother's footsteps instead of charting his own path; he'd be joining a rebuilding team, not a powerhouse; and, by living 100 miles from home, he'd remain in his comfort zone.
"The pros completely outweighed the cons," Dovar ultimately concluded, and in June he officially committed to UVM for the 2021-22 season. He'd be 18 by then, a "true freshman" by NCAA standards. In the interim, he'd move west to Des Moines, Iowa, to suit up for the USHL's Buccaneers while taking Grade 12 classes at a local high school (high school in Quebec ends after Grade 11) and preparing for the SATs.
But not long after Dovar's commitment, Woodcroft volleyed an idea back to the Tinlings. Based on game tape, conversations between player and coach, and the NCAA softening its eligibility rules because of the coronavirus (no SATs, for example), Woodcroft thought Dovar could start college this fall, a full year ahead of schedule.
Fast-tracking was an enticing but overwhelming idea. "I had to sit down with both of my parents and really go over it," Dovar said. "I had to do more pros and cons."
Hovering over the obvious challenges of changing course were two external variables: The 2020-21 season would be Dovar's NHL draft year, and most - if not all - of the campaign would be played amid a pandemic. Would college hockey be the best setting to maximize exposure to NHL scouts? How much ice time would he get as an underager? How many games would UVM even play?
"I'd love to go as high as I can," Dovar said of the draft. "So you definitely take into account which spot is better for you. That played into my choice, getting to know and trusting coach Woodcroft and what he'll be able to do with this program while I'm here. Plus, coming from the NHL, he knows what teams want and how to mold a player."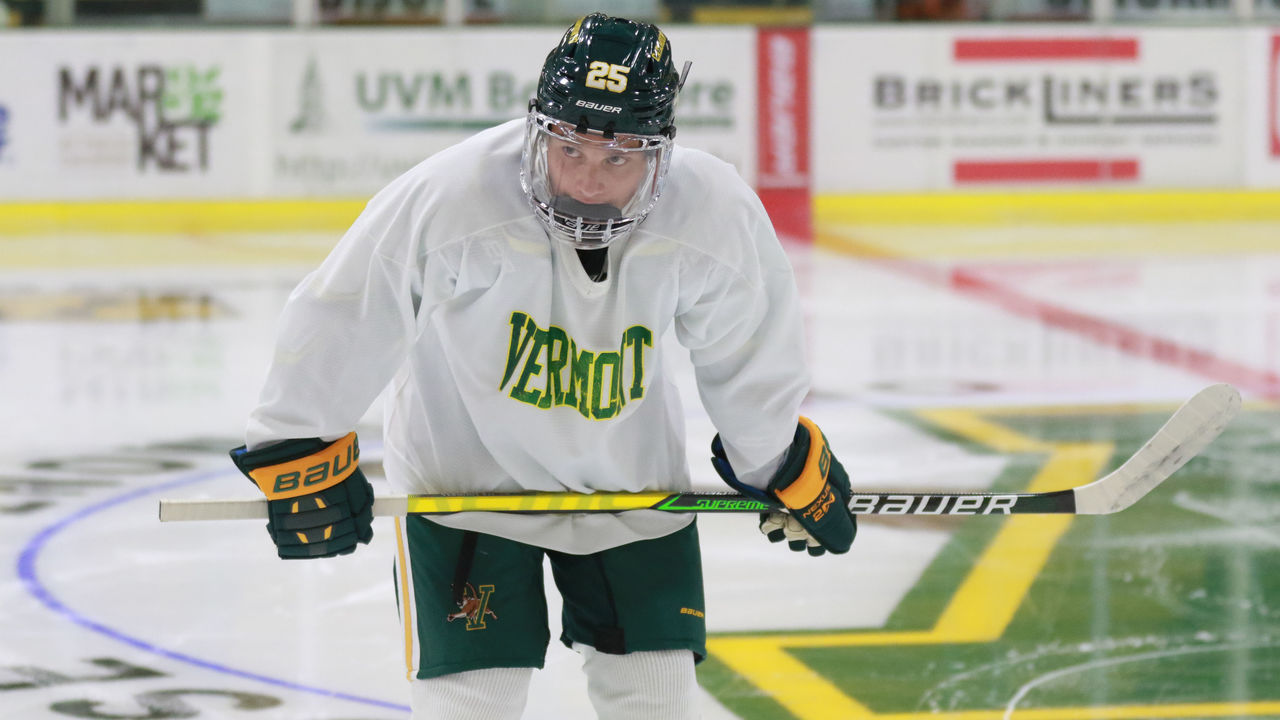 After deep reflection, the pros column had won again.
"While his peers are playing in the USHL and playing against guys who are 18, 19, maybe 20, this guy's playing against people who are going to have a mortgage next year," Woodcroft said, sprinkling in some hyperbole to make his point.
At even strength, Dovar is slated to line up alongside Latvian center Ray Vitolins, also a freshman, and right-winger Alex Esposito, a senior from Connecticut. He'll also get time on the power play during UVM's 20-game schedule. Both team and player are prepared for growing pains.
"He's going to make mistakes, he's going to turn the puck over, he's going to get scored on, and he's going to get right back out there. That's how he's going to develop," Woodcroft said of Dovar, whose maturity, quiet attention to detail, and general disposition remind the coach of a young Steve Yzerman or Joe Sakic.
"He's a 17-year-old, but to me, he's a 27-year-old," Woodcroft said. "He's a wise and mature and humble guy. He just gets it, you know?"
Dovar and Azzaro share a room on the seventh floor of an on-campus dormitory. There's one fridge, one microwave, one TV, two desks, and two beds. On the wall hangs a pair of posters: one of Michael Jordan and another of Kobe Bryant. There's also a flag depicting a cartoon gorilla lifting weights. It's not hard to guess which pieces of wall art belong to whom. "He's a beast in the gym," Dovar said of Azzaro.
The brothers, along with UVM's other first-year players, talked recently about the opportunity before them, to one day be known as the freshman class that kick-started a successful and proud period of Catamounts hockey. The Nov. 20-21 weekend signals the beginning of the Woodcroft era with two games against UConn.
You can bet Adolphe and Tracey will be tuning in. You can also bet Dovar will try to heed some brotherly advice as the youngest kid on the ice.
"The biggest thing Azzaro's taught me over the years - I think I was 14 at the time - is that at some point, you have to realize age isn't a factor," Dovar said.
"Ever since then, I've stopped comparing ages. If you're a hockey player, you're a hockey player."
John Matisz is theScore's national hockey writer.