Inside Arizona State's stunning rise to college hockey prominence
It didn't take long for coach Greg Powers to realize Arizona State was playing out of its depth.
The men's hockey team was getting outclassed on a mid-October night in 2015 by the home side from Quinnipiac University, a Division I powerhouse in Connecticut that ultimately reached the national championship final that season.
"It was 1-0 after the first period and it felt like it was 15-0," Powers told theScore. "We were nowhere close. We couldn't even get the puck out of our zone. We literally couldn't even ice it. It was like, 'Holy shit, hoo!' Like, it was bad."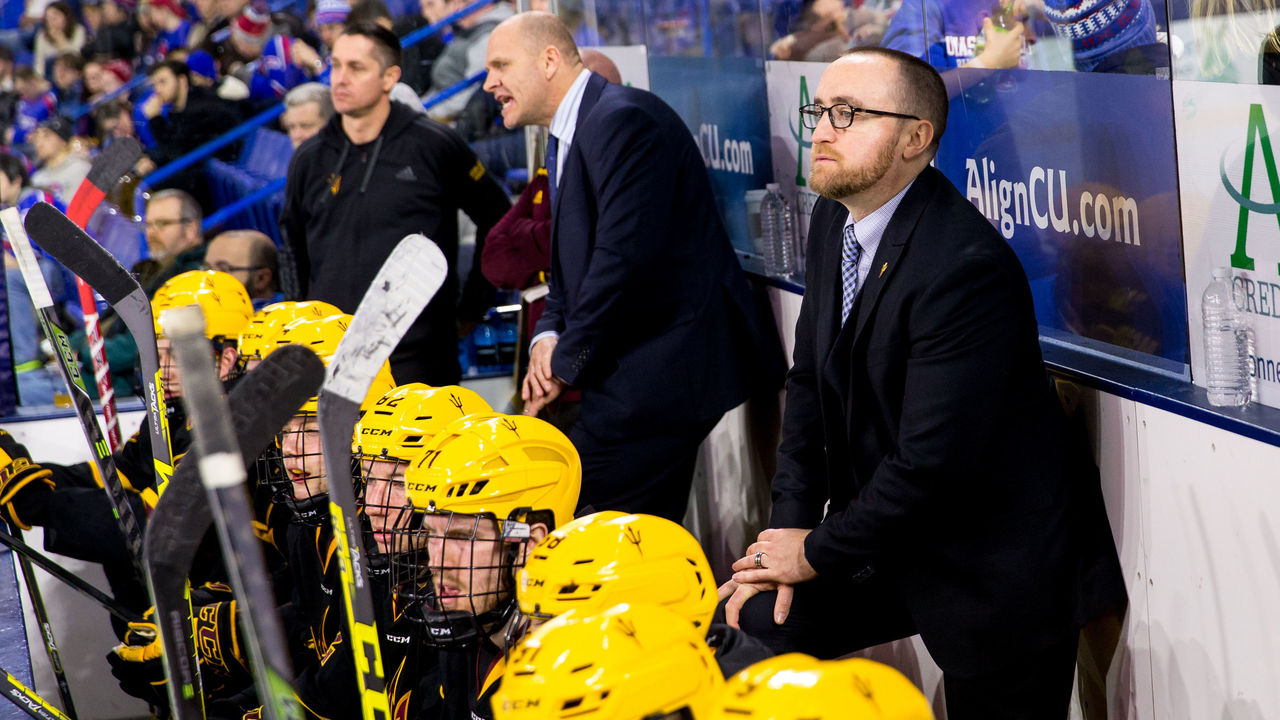 Back then, the Sun Devils - one of only two Sun Belt programs in DI hockey and bereft of conference affiliation, a la Notre Dame football - were just getting their feet wet against the country's best after a run of success in the lower tiers of college hockey.
Quinnipiac delivered a wake-up call. Powers heard it loud and clear.
"We just knew, 'OK, this is where we need to get to and it's going to take a while," said Powers, who's now in his ninth season as the team's bench boss. "It was definitely an enlightening experience."
Getting there took just three-and-a-half years, as ASU's become a formidable DI program that's quickly gaining respect from the college hockey community. With just two regular-season games remaining this season, the 21-10-1 Sun Devils rank 10th on USA Today/USA Hockey Magazine's most recent national poll.
Quinnipiac, as a barometer, is 22-6-2 and ranks sixth.
ASU is also a virtual lock to reach the 16-team spring playoff tournament featuring six conference champions and 10 at-large bids selected by a mathematical formula. The last independent to make the tournament was Alaska-Anchorage in 1992.
The Sun Devils' rapid rise to prominence has been remarkable, especially considering their non-traditional desert backdrop. What's more, the program now boasts a handful of pro prospects and is being credited by rival coaches as a trendsetter that's helping expand elite college hockey to the southwestern edges of the country.
Best of both worlds
The vast majority of college hockey's 60 DI programs are in locations prone to subfreezing temperatures and heaps of snow in the winter months. Only ASU and unranked Alabama-Huntsville reside in sunny climates.
"We wake up and work out at the football stadium, which is pretty cool. It's an incredible facility," said goalie Joey Daccord, an Ottawa Senators prospect. "Drive over for practice at the rink, which is a couple of minutes off campus. Usually done around noon. And then we walk to class in the afternoon in a T-shirt.
"In the wintertime, it's a little chillier, like 60 degrees, so I have to wear joggers and a light hoodie. It's a tough life."
When snowstorms strike the East Coast, Daccord will fire off a Snapchat of the balmy Arizona weather to his buddies back home in North Andover, Mass.
"They don't like that," he said.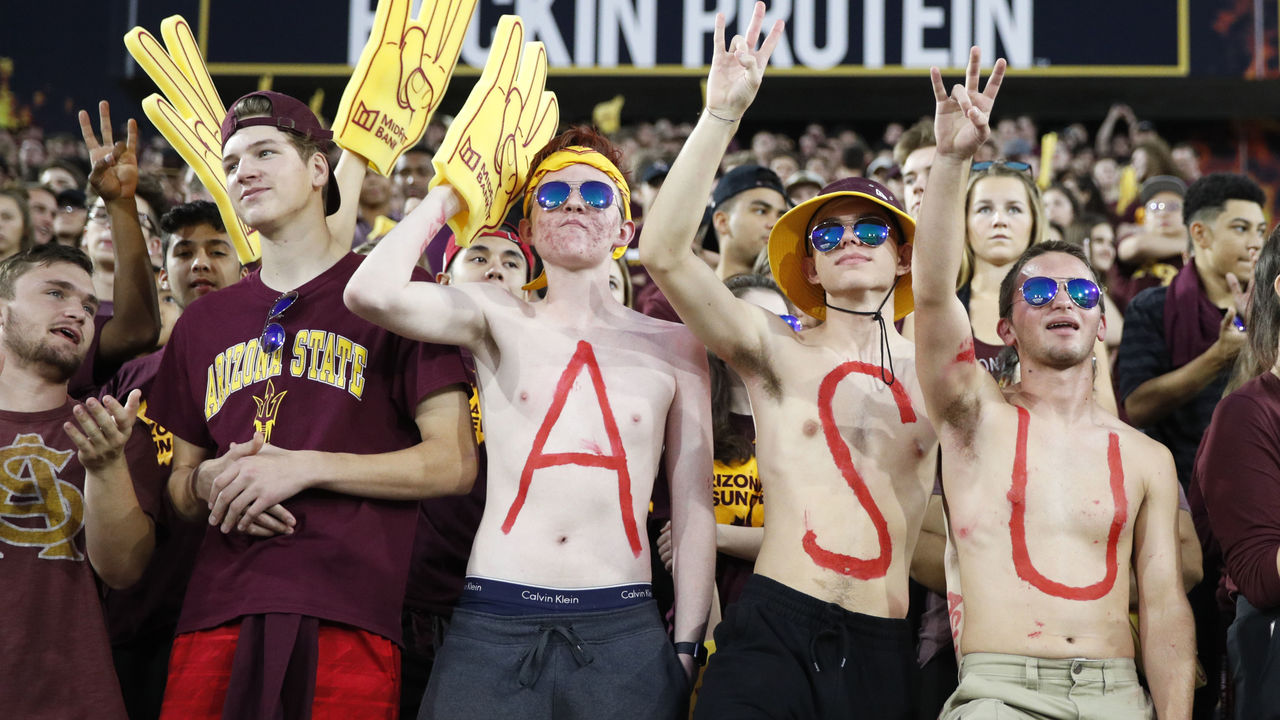 Defenseman Brinson Pasichnuk does homework poolside, while forward Tyler Busch might squeeze in a round of golf on a day off or take in the sights of his residential complex from a hot tub. And Jordan Sandhu, a freshman forward from Richmond, British Columbia, who "fell in love" with the area through online searches before committing to ASU, enjoys hitting the beach to work on his tan. The Canadian boys are far from home but don't sound like they miss winter.
How's that for a competitive advantage on the recruiting trail, where ASU jockeys for talent with programs based in frosty Durham, N.H., Potsdam, N.Y., and Sault Ste. Marie, Mich?
Still, ASU's players and coaches are quick to offer a sales pitch that stretches far beyond wins and losses, the weather, and a top-rate party scene.
"You get to be a pioneer, a trailblazer - whatever you want to call it - and that's the opportunity you have here that you do not have anywhere else," said Powers, 42, an ASU goaltender himself in the late '90s. "You couple that with a degree from the largest, most powerful institution in North America with the largest alumni base in the world, and it's a pretty good deal.
"The cherry on top is that you get to wear flip flops and shorts to the rink every day."
Said Daccord: "One of my biggest reservations with Arizona State was that I didn't want people to think all I wanted to do was party. It has that reputation. I think any school or any college is what you want to make it. If you want to go to ASU and party, you can do that. If you want to go to ASU and play hockey, you can do that, too."
There might be plenty of opportunities for distraction, but Powers clearly has his players focused on developing something bigger than themselves.
That winning swagger
Inside every ASU player's locker-room stall hangs a pyramid that explains the identity their coach has cultivated for the program.
"It's what we call the 'Sun Devil hockey process,'" said Powers, who drew inspiration for the concept from a book about legendary football coach Pete Carroll's success at USC.
The four layers of the pyramid are Belief System, Central Theme, Environment, and Performance.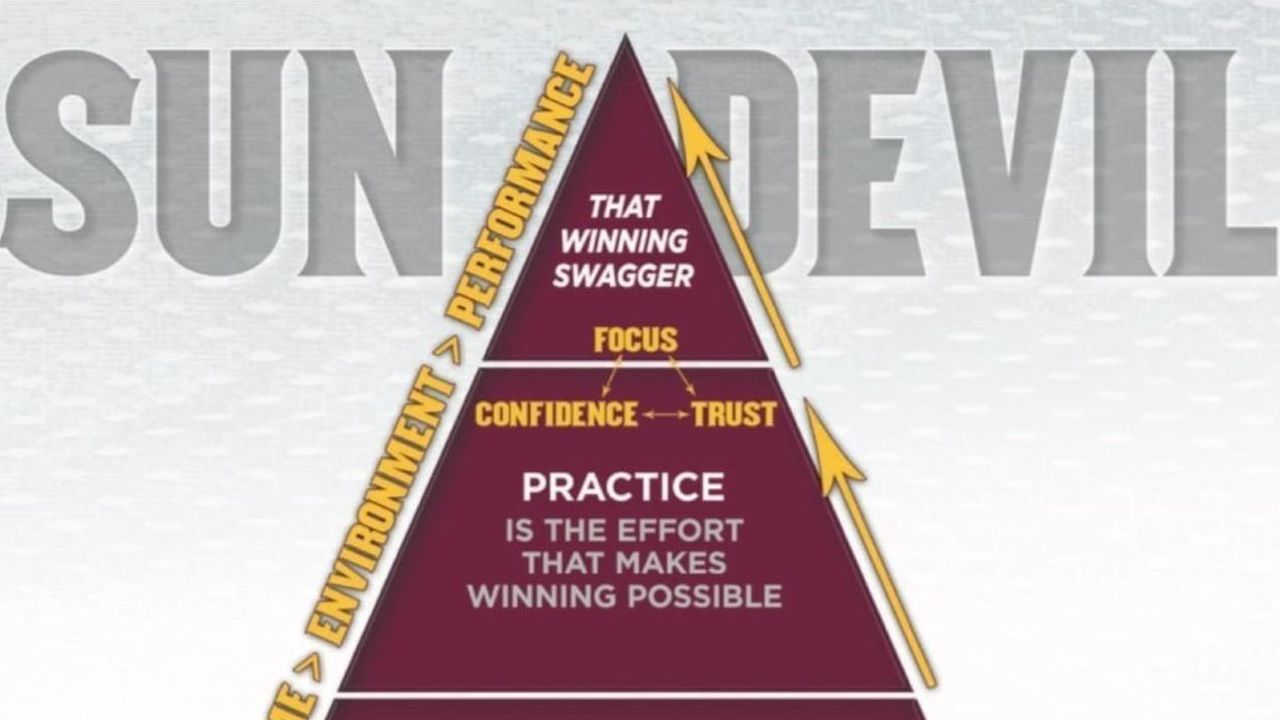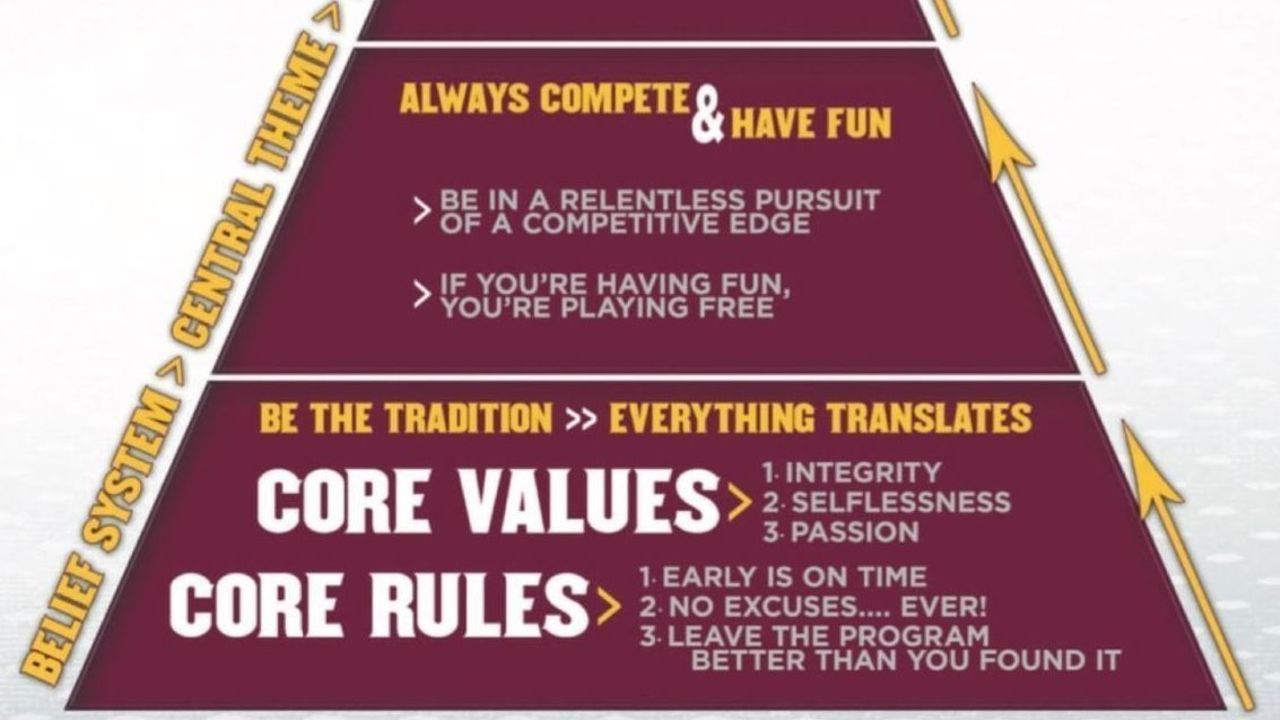 Two slogans - "Be The Tradition" and "Everything Translates" - line the bottom, while the ultimate goal, "That Winning Swagger," marks the top.
"You can't just snap your fingers and have a good culture," Powers said. "You have to put all the right people in place within an organization to truly share a vision and do anything to make that vision a reality."
"Everything Translates" refers to a mindset of acting and living the right way, every day. It's a process that, if all goes according to plan, breeds swagger.
"What I mean by that is, how do you act in the community?" Powers continued. "How do you treat people? How do you treat your classmates? What do you do when nobody's watching? That's what character is defined by - how you act and what you do when nobody is watching you."
"Be The Tradition," meanwhile, is a call to action. In essence, ASU players should embrace the newness of their program and leave a lasting impact on its rituals, day-to-day habits, and on-ice brand. Cases in point: a fiery pregame player introduction speech from sophomore forward Dom Garcia, the giant steel pitchfork reserved for the player of the game, and a rendition of the ASU fight song that's belted out by the entire team following victories.
Powers insists he isn't just spouting platitudes; he knows what a prudent process can do. ASU was nearly unstoppable by the end of its club-level years, posting a 164-27-9 record under Powers and winning the 2014 national title. Now, the challenge is replicating that sustained success at the top ranks.
"How do we create that winning culture again, where when you got off that bus you had that winning swagger?" Powers asked rhetorically. "You knew you were going to win (in the lower levels), and the team you were playing knew they were going to lose."
To facilitate ASU's transfer from the American Collegiate Hockey Association (ACHA) to Division I in late 2014 - a jump Powers equated with moving from the semi-pro Southern Professional Hockey League (SPHL) to the NHL - the team received $32 million in funding from the father of a former Sun Devils player and an anonymous donor.
In the aforementioned 2015-16 campaign, its first as a ratified NCAA Division I squad, ASU faced a mix of DI, DII, DIII, Canadian university, and club-level opponents. This season represents the team's third full year of playing against DI programs exclusively. The roster has been transformed, too, especially as players from the club-level days have aged out.
And the Sun Devils have the results to show for it, with more wins in 2018-19 than in their previous three seasons combined.
The old barn
ASU's not yet affiliated with an NCAA conference, but Powers said it will likely join one by the 2021-22 season. More pressing is the state of Oceanside Ice Arena, the team's 45-year-old rink that's ill-suited to develop the future pros Powers covets.
The self-proclaimed "CEO" of ASU hockey concedes the 747-capacity arena, with startlingly low ceilings and an amateurish feel, has scared away the odd recruit, but added that for now, "We don't care."
"At this point in time, if a kid doesn't want to come here because he's not playing in a 4,500-seat arena, then I don't want the kid. He's not the right kid for us," Powers said. "We give our guys every resource to be successful. We have NHL pedigree on our staff, we have a full-time strength and conditioning coach, we have a full-time academic support coordinator. We travel better than anybody, we charter on some trips, we eat like kings, we stay in nice hotels. We're working out in a multimillion-dollar facility off the ice.
"And, at the end of the day, we know our arena is coming. We want kids who want to be here for the right reason. And the right reason is to build a program."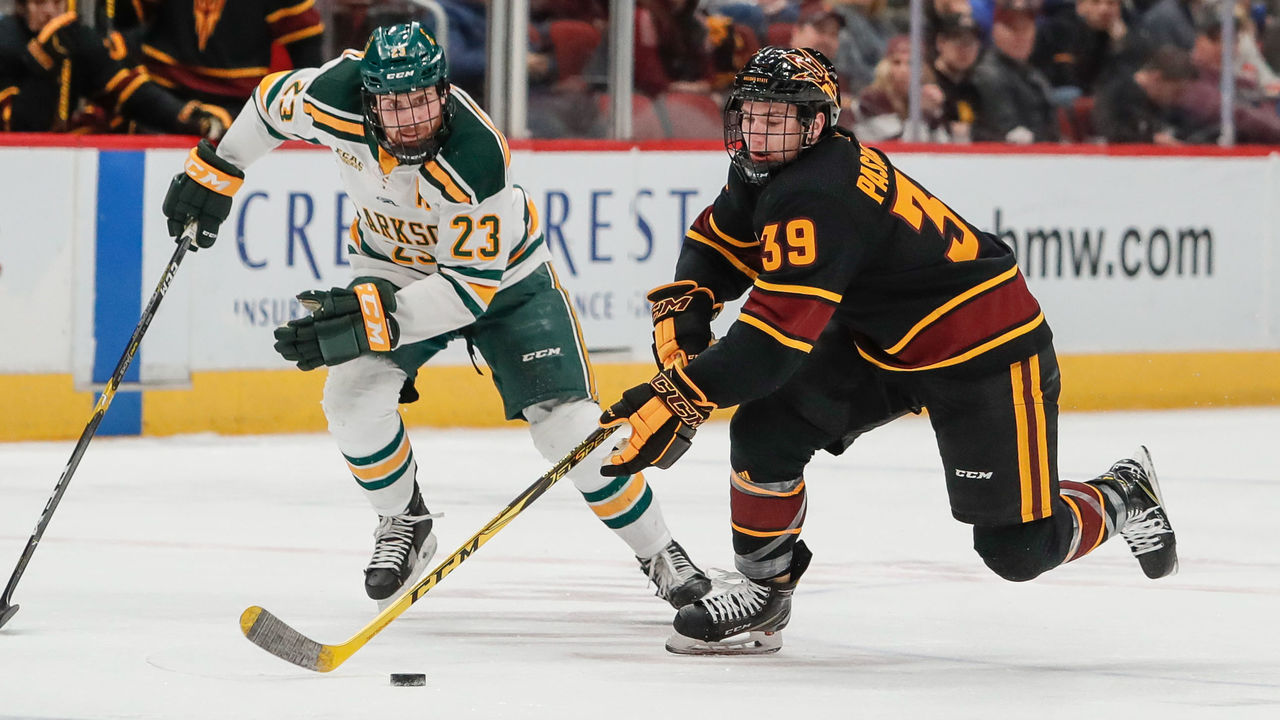 ASU head of athletics Ray Anderson said his personal goal is to break ground in late 2019 on a permanent, state-of-the-art venue for the program on campus. He hopes the proposed $80-million, 5,000-seat arena will open in 2020, but acknowledged sometime in 2021 is probably a safer timeline.
Until then, ASU players and staff will continue to take pride in Oceanside, an embodiment of the program's humble beginnings.
"Some kids want to go to North Dakota because Jonathan Toews went there. That's great. It's a great reason to want to go there," Sun Devils associate head coach Mike Field said. "But other kids want to go to ASU because they want to be Jonathan Toews. They want to be the guy who is on the wall - the guy who everyone 20 years from now comes to ASU because of."
'Important for college hockey'
Powers' pyramid may suggest a hands-on approach from each and every angle, but the Sun Devils' coaching staff generally stays out of the way once the puck is dropped.
"Good structure but not robotic. We let the kids play," said assistant coach Alex Hicks, a former NHLer, when asked to describe ASU's coaching philosophy. "If they make a mistake, we don't bench them. We live with the mistakes and we try to give them the freedom to make plays. Ultimately, it comes down to outworking the other teams and wanting it more."
Observed Quinnipiac coach Rand Pecknold: "Sometimes, in the game of hockey - whether it's college or AHL or NHL - I think we're all victims of overcoaching. Sometimes, it comes down to competing. Greg and their staff have that going for them."
Not only are the Sun Devils sporting an impressive plus-31 goal differential, but they also rank fifth in save percentage and seventh in penalty killing among all NCAA teams while featuring the country's leading goal-scorer in winger Johnny Walker. The Phoenix native, cut from the same cloth as Boston Bruins sniper-agitator Brad Marchand, has posted 23 goals and 153 shots in 31 games.
"He's been incredible this year," Daccord said of Walker, who wasn't selected in the NHL draft but is now turning heads as a 22-year-old sophomore. "Kid can't stop scoring. It's been really great for him, especially being in his hometown."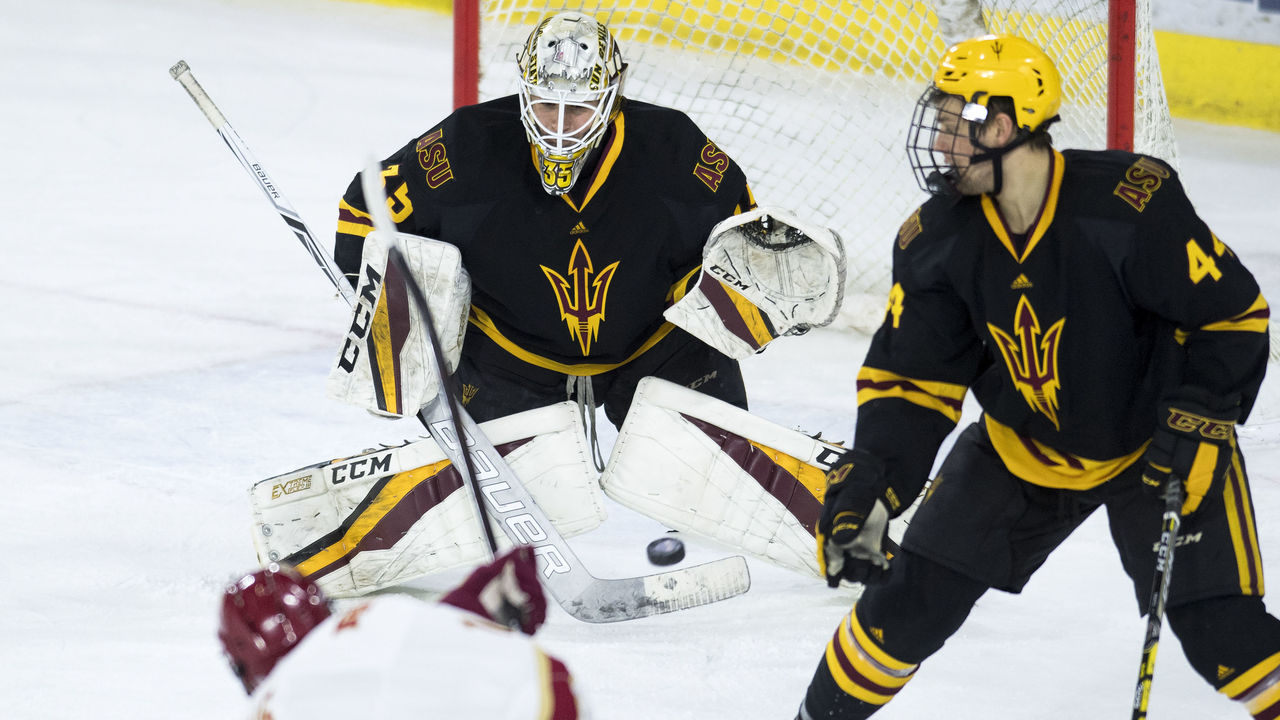 Daccord himself has shined this season with a sterling .930 save percentage and a DI-leading seven shutouts in 32 games. He's Senators property for now, but could become an unrestricted free agent this summer if Ottawa doesn't ink him to an entry-level deal. And then there's Pasichnuk, a 21-year-old blue-liner with a magnetic personality who ranks eighth at his position with 28 points in 32 games. Like Walker, he's a tantalizing free-agent prospect for NHL clubs.
Arizona State's mixture of star veterans and quality freshmen has already produced wins over a number of highly ranked and historic programs - including Michigan State, Harvard, Boston College, and Boston University - leading opposing coaches to heap praise on the team's quick acclimation to DI.
"This is really important for college hockey," Penn State bench boss Guy Gadowsky said of the Sun Devils' success. "The better Arizona State does, the better college hockey is off. I think there's a lot of us that have been in the game for a long time who would love to see the west open up."
On Feb. 15, ASU secured its first 20-win season in DI with a 4-1 victory over American International. The next day, it downed American again, 5-4 in overtime, on Senior Night.
"At the start of the year, nobody really thought we'd be in this position," Sandhu said. "After a couple of games, we realized we could do something special. On any team that you're on, a championship should be your goal - otherwise, you're selling yourself short. Right now, making the tournament would be a huge step."
Powers likes to joke that ASU hockey was once an "urban legend."
But now, it's "real and coming," he proudly notes of the upstart program barely resembling the in-over-its-head crew who endured that "enlightening experience" at the hands of Quinnipiac back in 2015.
"A lot of people underestimate us because we're Arizona, we're independent, we're the so-called party school - but we're proving everyone wrong," said Pasichnuk, a co-captain.
"Yeah, we're in Arizona, we have the sun year-round, get to go to the rink in shorts, but we also are working our butts off every single day to prove to the hockey world that we're legit. I think that it's starting to show."
John Matisz is theScore's National Hockey Writer. You can find him on Twitter @matiszjohn.