Final Four preview: FAU takes on San Diego State in all-time unlikely matchup
In one of the most surprising matchups in Final Four history, 5-seed San Diego State and No. 9 Florida Atlantic are squaring off for a spot in the national championship game.
Though the Owls may have dodged a bullet by avoiding top-seeded Purdue in the Round of 32 thanks to Fairleigh Dickinson's all-time upset victory, their last two victories against Tennessee and Kansas State proved this team is legit. After all, they lead the entire nation in wins with 35.
Meanwhile, San Diego State knocked off March Madness' No. 1 overall team - Alabama - in the Sweet 16 and carried that momentum into a nail-biting, last-second victory over Creighton. Though the Aztecs aren't blowing away opponents offensively, they possess one of the very best defensive groups in the country.
While neither school is a traditional power, both have been playing phenomenally, and that trend should continue in what's set to be a hyper-competitive Final Four opener Saturday.
San Diego State
How they got here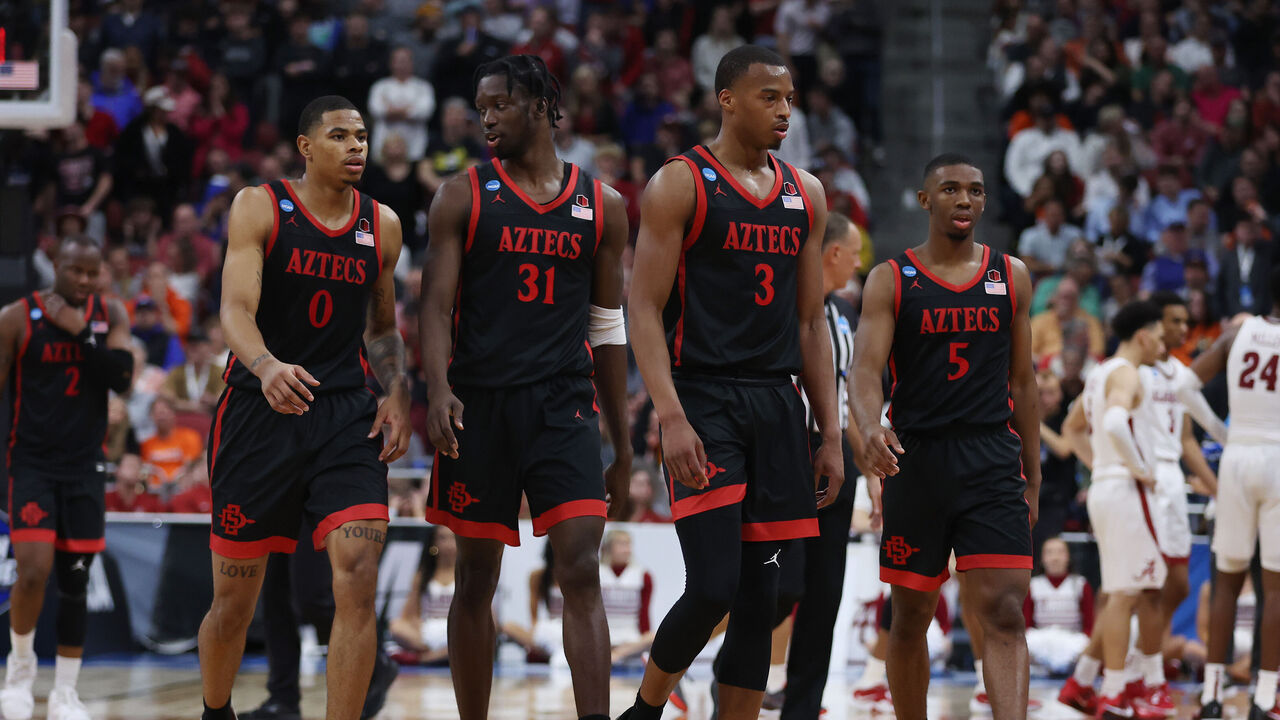 Record: 31-6 (15-3 in Mountain West)
Final AP Poll ranking: 18th
NCAA Tournament seed: No. 5 in South
First round: San Diego State 63, No. 12 Charleston 57
Second round: San Diego State 75, No. 13 Furman 52
Sweet 16: San Diego State 71, No. 1 Alabama 64
Elite Eight: San Diego State 57, No. 6 Creighton 56
Key stats
Points per game allowed: 62.9 (25th)
Adjusted defensive efficiency: 89.9 (4th)
3-point percentage defense: 27.9% (3rd)
Rebounding margin: 4.5 (38th)
Blocks per game: 4 (70th)
Star players
Matt Bradley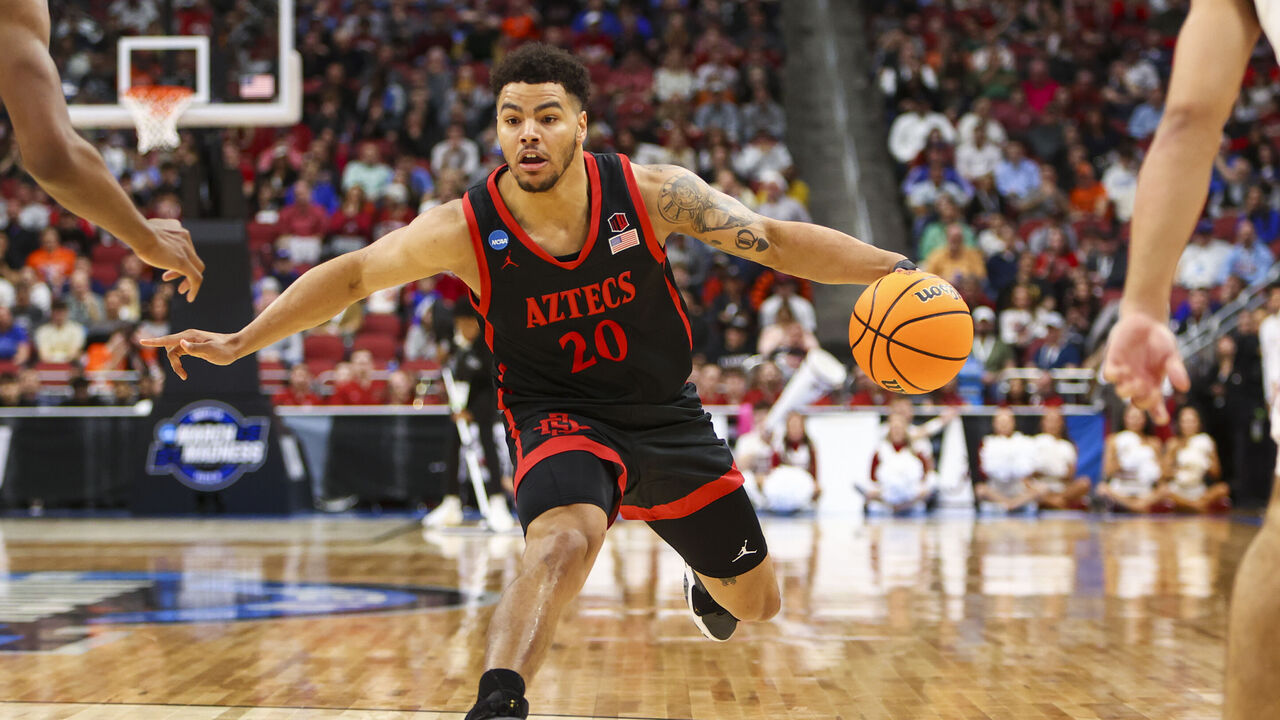 Bradley is the only player on San Diego State to average double figures in scoring. He failed to top eight points in just two of his last 14 games - both of which happened to come last weekend in Louisville. Despite their leading scorer totaling eight points on 3-of-17 shooting, the Aztecs somehow beat top-seeded Alabama and an uber-talented Creighton squad
Bradley is typically an assassin in the mid-range, but he still finished sixth in the Mountain West in conference play from deep at 43%. He's also a career 82% free-throw shooter who gets to the rim with ease. Under most circumstances, he's the player on the floor that the team looks to when it needs a bucket down the stretch. For San Diego State to overcome the Owls and then its national championship opponent, regular-season Bradley will need to show up in a big way.
Nathan Mensah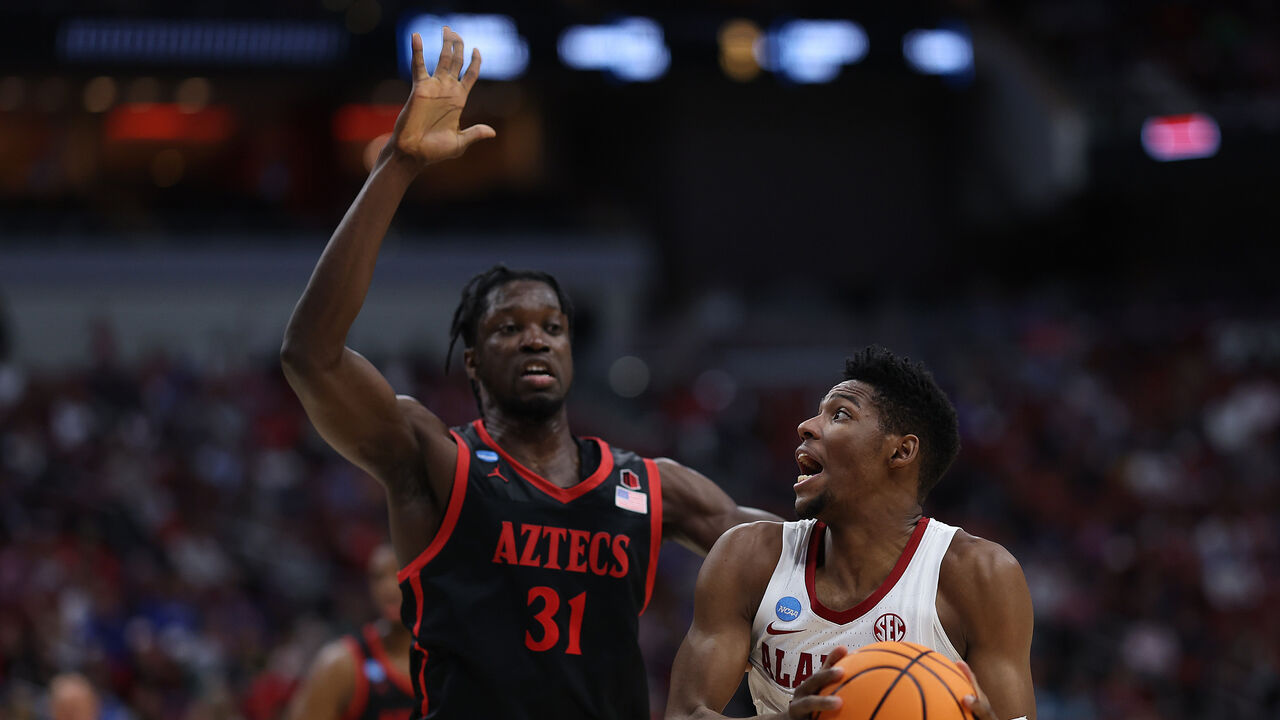 Unlike Bradley, Mensah isn't known as a scorer, ranking just seventh on the roster in points per game at 6.1. However, the two-time Mountain West Defensive Player of the Year makes as big of an impact as any Aztec. Though averaging just six points in the Sweet 16 and Elite Eight wins, his seven rebounds and four blocks per game were vital to San Diego State's rim protection and overall defensive prowess.
Ranking 13th nationally in block percentage, Mensah's presence at the basket and ability to reject any drivers allows the rest of the Aztecs' defenders to overplay on 3-pointers. This philosophy is a key reason why San Diego State allowed Alabama and Creighton to shoot a bonkers 5-of-44 (11.4%) from beyond the arc.
X-factor
Jaedon LeDee
San Diego State plays four big men at least 16 minutes per game, and LeDee leads that group in scoring despite making only one start all season. The TCU and Ohio State transfer is a skilled scorer around the rim and the team's best offensive rebounder. He also uses his physicality to lead the Aztecs with 113 free-throw attempts.
LeDee playing well directly translates to his team's success. When the 23-year-old scores more than eight points, the Aztects are 14-0. When he grabs at least three offensive rebounds, they're 14-1. LeDee is shooting below 50% from the field in the tournament, but he was San Diego State's second-leading scorer in the Alabama win. He switched out to the Crimson Tide's perimeter-based wings while crushing them in the paint. If he can do the same against an undersized FAU team, that'd be a massive step toward his team picking up a win.
Reason for concern
One has to assume the Aztecs' otherworldly 3-point defense will be punctured at some point, and FAU has as good a chance as any to get going from deep. The Owls will become the only team San Diego State has played all season to be ranked in the top 50 in both 3-point percentage and rate, and four of their starters shoot over 37% from beyond the arc. Though FAU has been going through a long-distance shooting slump of its own in the Big Dance, it could heat up in a big way.
During San Diego State's run to the Final Four, the team only scored over one point per possession once, but it'd surely need to top that number to defeat FAU if it can't defend the line at such an elite level. Then again, the Aztecs own the country's second-best 3-point defense all season at 27.8%. They may just be such a formidable unit on the perimeter that they can maintain such a torrid pace Saturday.
Florida Atlantic
How they got here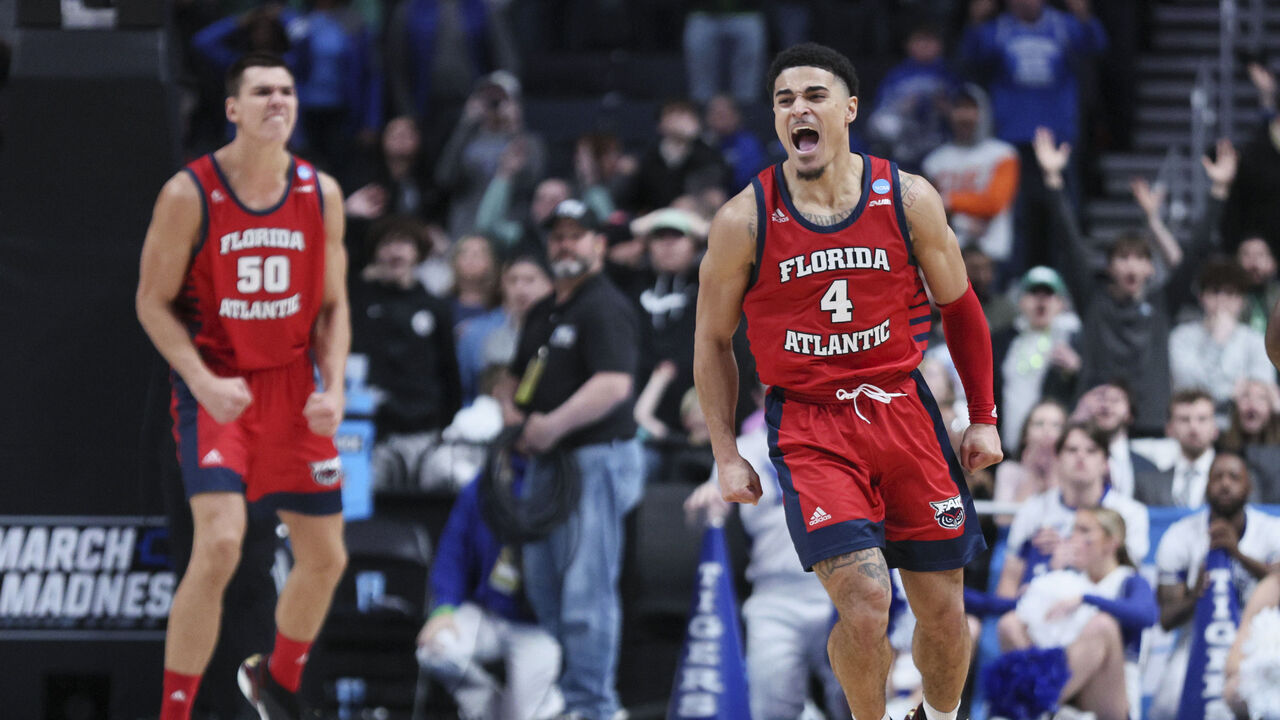 Record: 35-3 (18-2 in C-USA)
Final AP Poll ranking: 25th
NCAA Tournament seed: No. 9 in East
First round: Florida Atlantic 66, No. 8 Memphis 65
Second round: Florida Atlantic 78, No. 16 Fairleigh Dickinson 70
Sweet 16: Florida Atlantic 62, No. 4 Tennessee 55
Elite Eight: Florida Atlantic 79, No. 3 Kansas State 76
Key stats
Wins: 35 (1st)
Points per game: 78 (37th)
3-pointers made: 366 (5th)
2-point percentage defense: 44.7% (13th)
Rebounding margin: 6.2 (13th)
Star players
Johnell Davis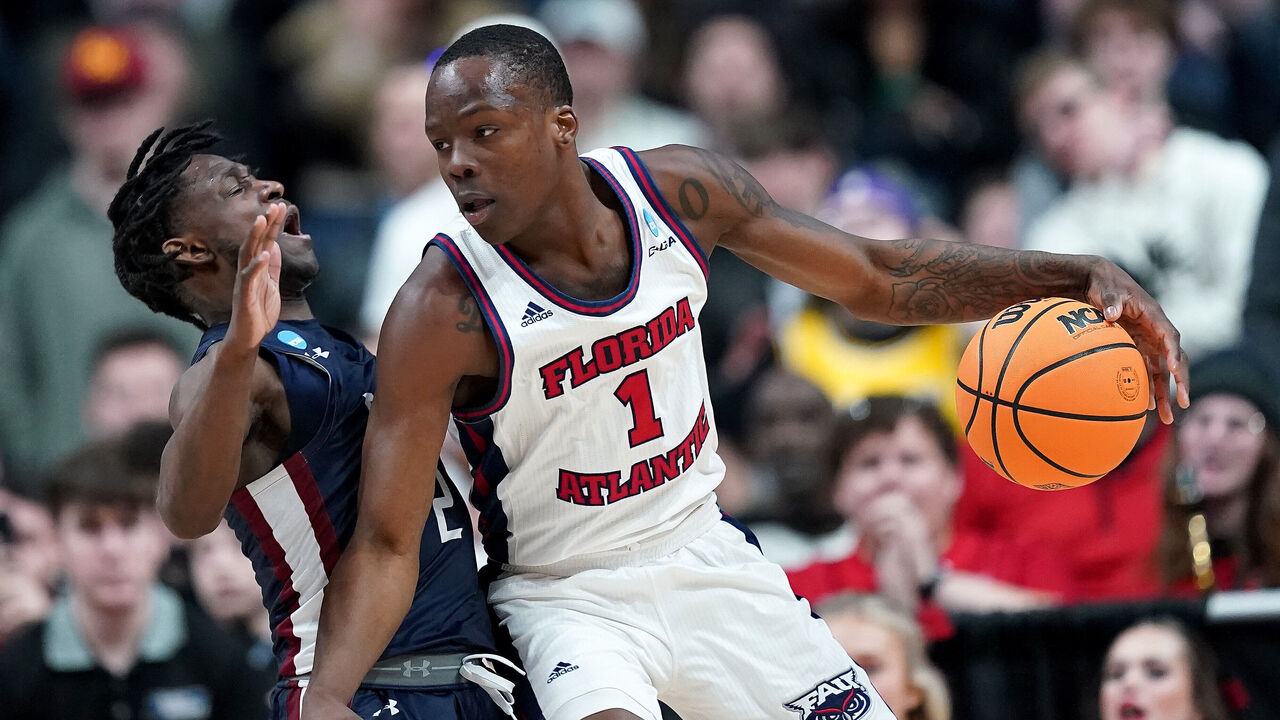 As weird as it seems, Florida Atlantic may not have beaten historic 16-seed Fairleigh Dickinson in the Round of 32 without the heroics of leading scorer Davis. The sophomore went nuclear for 23 of his team's 46 points in the second half, erasing an FDU lead as large as five down the stretch with clutch shotmaking. While his jump shot has been off in the last two games, his 9-of-10 mark from the free-throw line against Tennessee meant he paced his squad in points despite making just three field goals. He also dished out a team-best six assists to get past Kansas State.
All this to say: FAU plays its best when Davis is making a major contribution in some way or another. Going from oft-used reserve to key bench player to star in three seasons has prepared the Indiana native for any role. Now, the Owls will need him to match the dominance he displayed in the second half against Fairleigh Dickinson to have a shot at winning a national championship.
Alijah Martin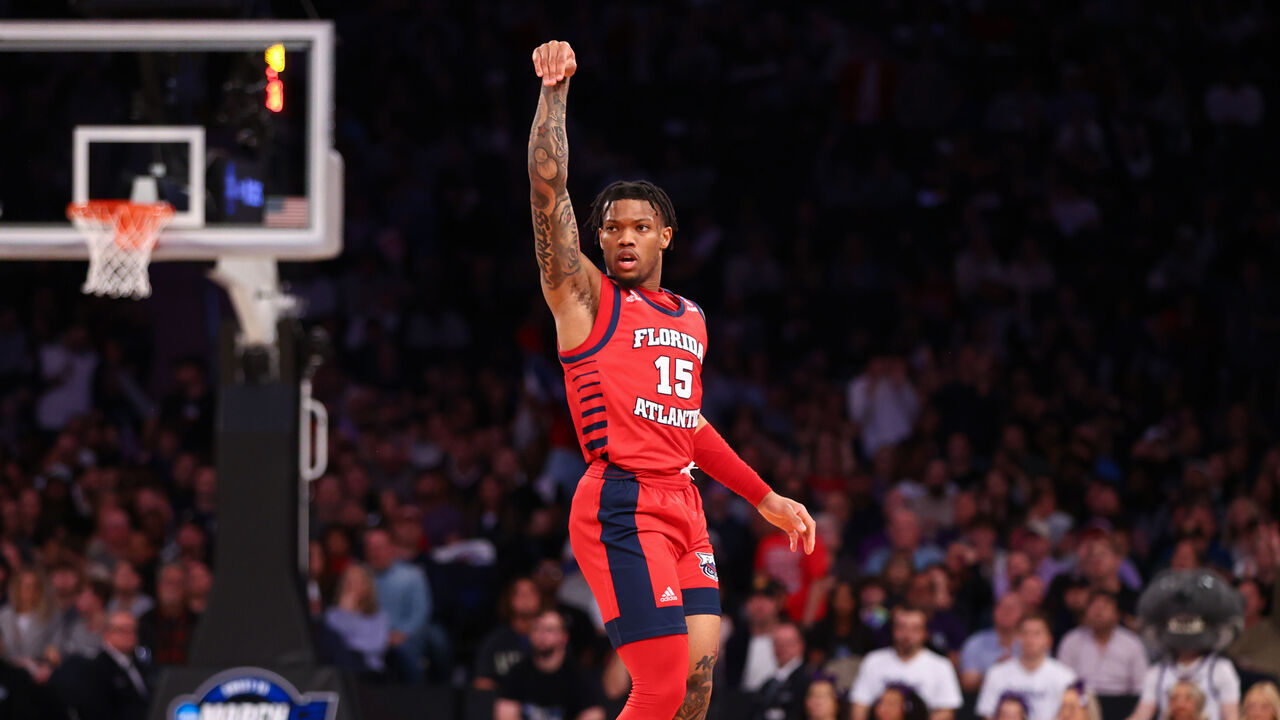 The team leader in threes made, Martin's long-distance shooting and unconventional build make him a perfect 1B option next to Davis. While FAU as a whole is shooting just 31.2% from long range in March Madness, Martin has made a solid 8-of-21 in the tourney. He also went off in the team's C-USA championship game, scoring a season-high 30 points with five made threes.
What makes Martin unique is his well-built 210-pound frame despite standing at only 6-foot-2. With the Owls exclusively trotting out a four-out, one-in offensive system, Martin is usually the team's second-biggest player weight-wise and is forced to guard significantly larger opponents. With the extreme physicality that San Diego State brings to the court, Martin's hybrid defensive role will be extremely key, as will his 3-point shooting.
X-factor
Vladislav Goldin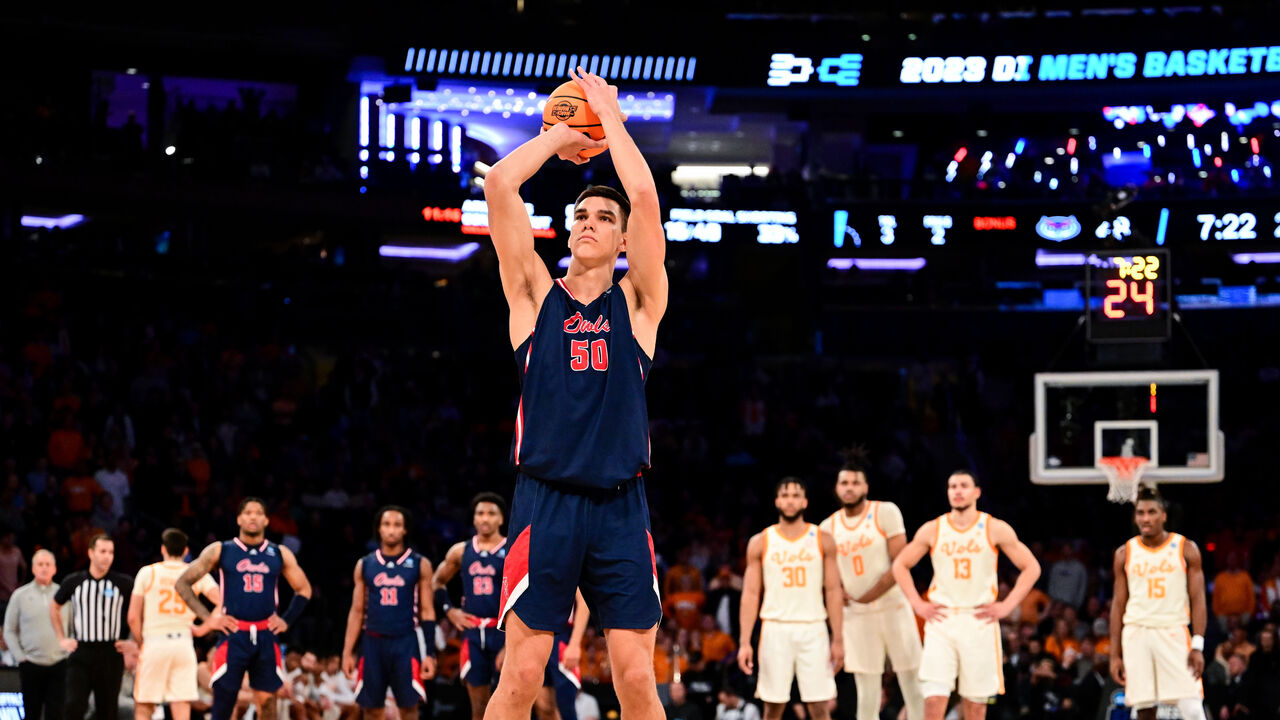 Though FAU as a whole lacks size, that doesn't apply to 7-foot-1 behemoth Goldin. The Russian big man has been a staple in Boca Raton since transferring from Texas Tech two seasons ago, and he took his game to another level this year. One of only 18 players to average 10 points, six rebounds, and one block per game while shooting at least 60% from the field, Goldin is dependable, skilled, and, most importantly, large.
The biggest and strongest player against Kansas State in the Elite Eight, Goldin's 14 points, 13 rebounds, and two blocks were arguably the biggest reason the Owls advanced to the Final Four in the first place. Now squaring off against the aforementioned prowess of Mensah and LeDee down low, FAU will be heavily dependent on Goldin to produce some offense and guard the rim on the other end.
Reason for concern
Outside of the previously discussed diminutive size on the wing, there aren't too many glaring concerns for the Owls in this matchup. However, a noticeable discrepancy between the two squads is the experience difference. While the Aztecs feature seven seniors in their rotation, FAU plays just one. In a game that should be close throughout, having the less experienced group could be a cause for concern for head coach Dusty May's group.
It could also be problematic if San Diego State gets Goldin and backup big man Giancarlo Rosado in foul trouble. The Owls don't have any depth in the frontcourt aside from those two, and the Aztecs' four bigs can take turns attempting to draw fouls.
Comments
✕
Final Four preview: FAU takes on San Diego State in all-time unlikely matchup
  Got something to say? Leave a comment below!