The first year the Naismith Memorial Basketball Hall of Fame named Eddie Sutton a finalist, Juan Dixon led Maryland to a national championship, Yao Ming became the No. 1 pick in the NBA draft, LeBron James completed his junior year of high school, and Sutton was still an active head coach at Oklahoma State.
That was 2002.
In 2003, when Sutton was named a finalist for the second time, Dick Vitale told the Tulsa World: "I've always tried to mention his name because I've had great respect for Eddie for all these years. He's got Hall of Fame credentials."
In 2004, the Oklahoma State side coached by Sutton reached the Final Four for the third time.
"We all say, 'Numbers don't lie,'" said John Lucas III, the star point guard on that 2004 team. "His numbers don't lie."
Sutton's Division I coaching record
| Team | Years | Record |
| --- | --- | --- |
| Creighton | 1969-74 | 82-50 |
| Arkansas | 1974-85 | 260-75 |
| Kentucky | 1985-89 | 90-40 |
| Oklahoma State | 1990-2006 | 368-151 |
| San Francisco | 2007-08 | 6-13 |
| Total | 1969-2008 | 806-329 |
Nearly two decades after he first became a finalist, though, Sutton's Hall of Fame candidacy is still frozen at the last step. He's a finalist once again this year after reaching the final stage in 2002, 2003, 2007, 2014, 2016, and 2019. The 2020 inductees will be announced Saturday, with the list of eight finalists headlined by Kobe Bryant, Kevin Garnett, and Tim Duncan.
The Basketball Hall of Fame selection process is covert; the names of the 24 committee members are not made public. All that's known is that a finalist needs to receive votes from 18 of the 24 members to be enshrined. In his first six opportunities, Sutton failed to reach that threshold.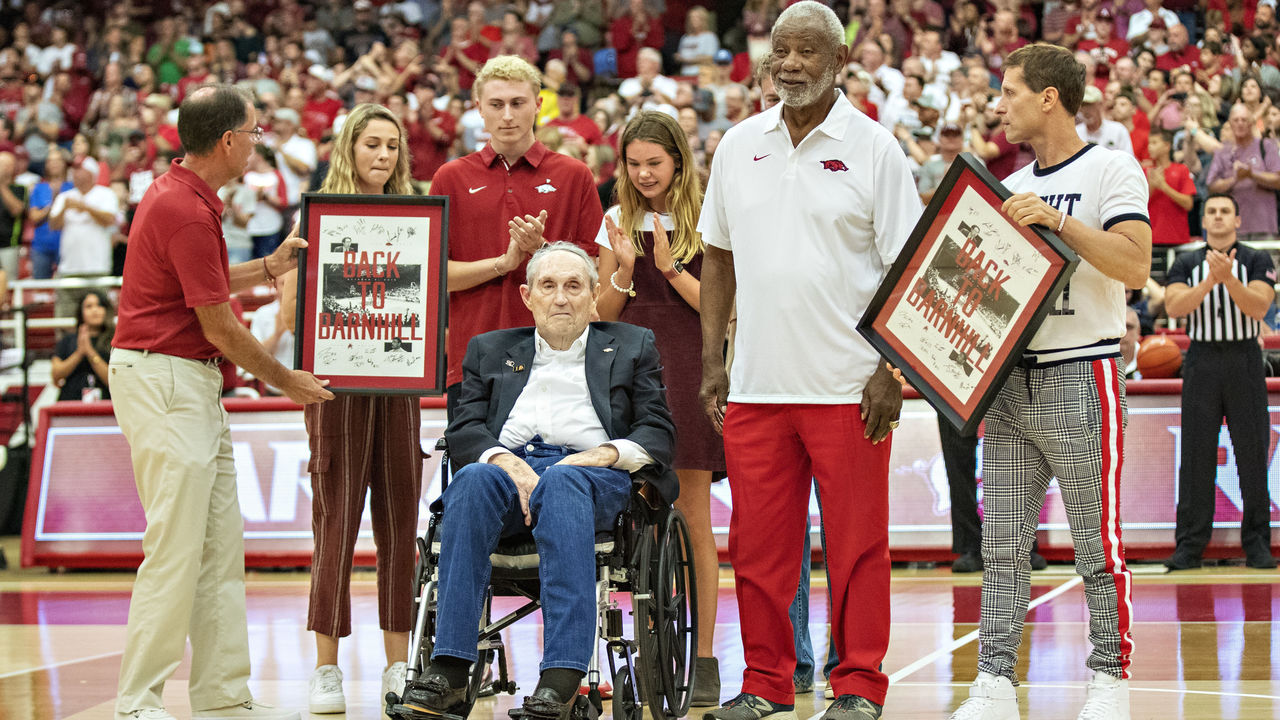 The Sutton family believed he would finally get in last time. After six previous failures, the process has become tiring. So if Sutton, now 84 years old, is elected this time, it will be the most pleasant of surprises.
"I think this year we're just kind of, you know, we're not getting our hopes up," said Scott Sutton, Eddie's son and an assistant coach at Oklahoma State. "If it happens, it's going to be obviously amazing, but if it doesn't, we're not going to set ourselves up for disappointment again. We know as a family that he's very, very deserving."
Over the years, many have speculated about why Sutton isn't in the Hall. For that purpose, let's unpack his resume.
Sutton, who began his college basketball career as a player under Hall of Fame bench boss Henry Iba at Oklahoma State, is one of nine men's basketball coaches with 800 wins at the Division I level. Seven of the other eight are in the Hall. The eighth, Bob Huggins, just reached 800 victories this past season at West Virginia.
| Coach | Wins |
| --- | --- |
| Mike Krzyzewski | 1157 |
| Jim Boeheim | 964* |
| Bob Knight | 899 |
| Roy Williams | 885 |
| Dean Smith | 879 |
| Jim Calhoun | 877 |
| Adolph Rupp | 876 |
| Bob Huggins | 809 |
| Eddie Sutton | 806 |
*Boeheim had 101 wins vacated in 2015.
Sutton was the first coach to take four different schools to the NCAA Tournament, doing so with Creighton, Arkansas, Kentucky, and Oklahoma State. He brought the Razorbacks to the Final Four in 1978 and Oklahoma State in both 1995 and 2004.
In 36 full seasons as a head coach, he produced only one losing season (13-19 at Kentucky in 1988-89).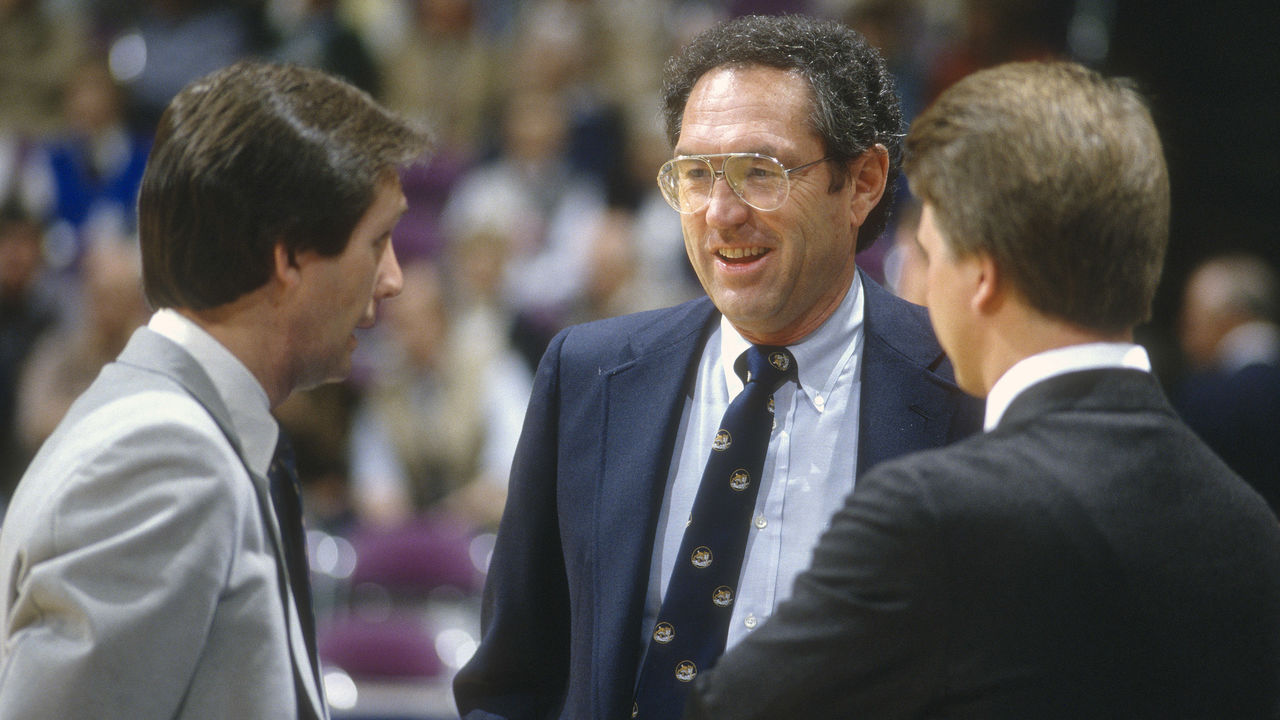 There are blemishes, too, which have fueled speculation as to why Sutton hasn't reached the 18-vote threshold.
His four-year tenure at Kentucky ended with an NCAA investigation into the Wildcats program and violations that resulted in a two-year ban from postseason play. Sutton resigned after the 1989 season and took over as head coach of his alma mater, where he remained for 16 years.
Sutton was also cited for driving under the influence in 2006 near the end of his Oklahoma State tenure.
But the Basketball Hall of Fame isn't full of perfect resumes. Jerry Tarkanian had run-ins with the NCAA but was inducted in 2013. Rick Pitino was inducted in 2013 and later had a national championship at Louisville vacated. Jim Boeheim, inducted in 2005, had 101 wins of his own vacated five years ago.
In recent years, public momentum for Sutton's induction has increased. Kansas head coach Bill Self, who worked under Sutton at Oklahoma State, mentioned it during his Hall of Fame induction speech in 2017. ESPN analyst Fran Fraschilla, who calls a number of Big 12 basketball games, has also been an outspoken advocate for Sutton.
So have Sutton's former players.
"He's a terrific coach," Lucas said in a phone interview. "He has turned young boys into men. You can tell by everybody that played for him, how highly we talk about him and the Sutton family, what he means to us and what he means to a lot of different universities that he has been affiliated with."
Lucas' relationship with Sutton is especially personal. He transferred to Oklahoma State in 2003 from Baylor, where one of his teammates, Carlton Dotson, had murdered another, Patrick Dennehy. That toxic situation had made it hard for Lucas to trust anyone outside his family, but Sutton helped him open up again.
"Without him, man, I don't know where I would be," Lucas said.
The 2003-04 Final Four team was full of players who'd been given second chances. Joey and Stephen Graham were both transfers from UCF. Daniel Bobik had transferred from BYU. Tony Allen spent two seasons at junior colleges before enrolling at Oklahoma State.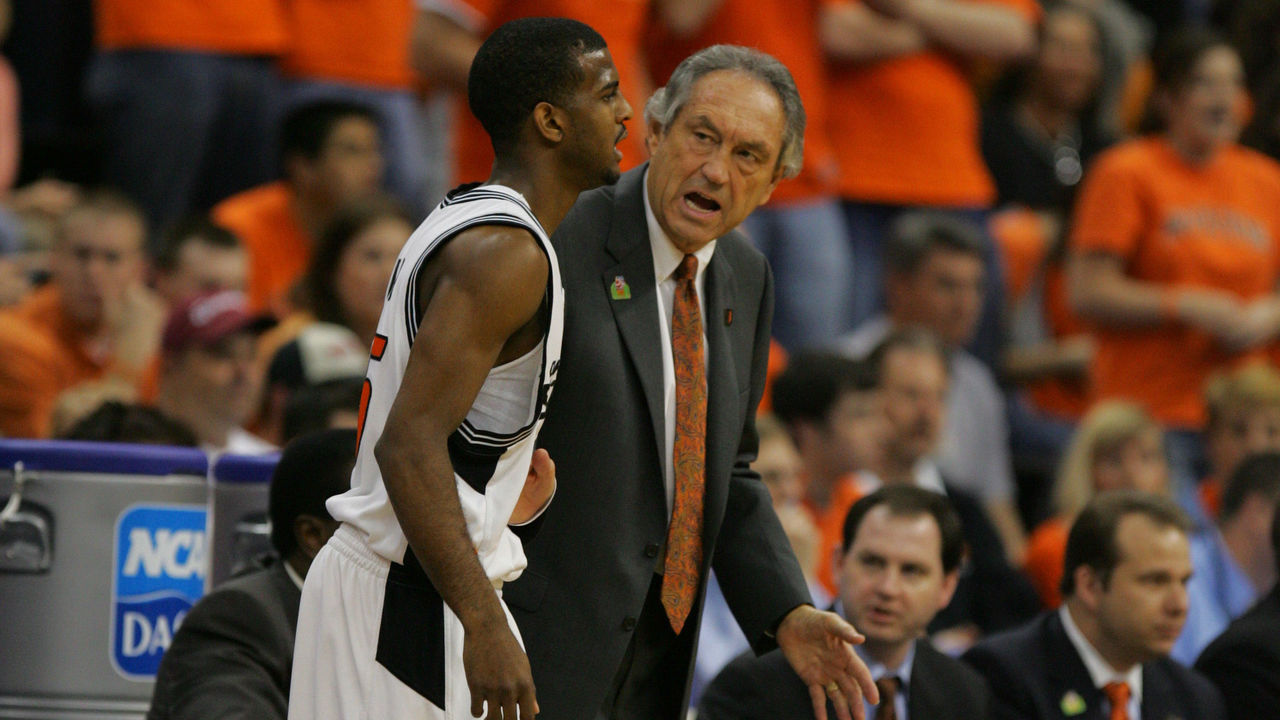 "He wasn't afraid to take on the second-chance guys who maybe it didn't work out at their last university or where they were at before," Lucas said. "He kind of saw something in each and every one of us, and he was able to pull the best out of us. That's what made it so special."
Last year, the groundswell of support led the Sutton family to believe it would be his moment. The timing was perfect, too, as Sutton's son Sean, a special assistant to the head coach at Texas Tech, had reached the Final Four with the Red Raiders. Though it would have been a difficult trip - the elder Sutton now receives around-the-clock help at home - the family was considering flying him on a private plane to Minneapolis for the Final Four and Hall of Fame announcement if they knew he'd get in.
"It just seemed there was a lot of positive momentum heading that way," Scott Sutton said. "More people speaking out than years past."
This time around, Scott Sutton hopes, is the one. But he said the family doesn't need the Hall of Fame's validation to fully appreciate his father's legacy.
"Validation that we all already knew," Sutton said. "He's a Hall of Fame coach, he's a wonderful man. Did so much besides winning basketball games. He meant so much to so many players and the people he came in contact with every day - whether that's fans or people he worked with or worked for."
Mark Cooper is theScore's NCAA writer.