"Inspire."
Scroll through the Instagram feed of Brandon Clarke - a feed almost exclusively filled with basketball-related photos - and one image stands out. It's a tattoo of that word written on Clarke's arm, sandwiched between two roses.
The two roses represent his mother, but there's also a story about hoop dreams in the artwork.
"I'm sure when people hear the story that I've had in my route to get here, I'm going to inspire some kids and lots of players to know that you don't need to have lots of offers coming out of high school to be here now," Clarke said from his current home base in Chicago, where he'd just returned from a pre-draft workout in Boston, his fifth of nine such sessions around the country.
"Even if your journey is different, you can still get here, and it's worth the grind."
For a projected lottery pick considered one of the most NBA-ready prospects in Thursday's draft, Clarke's path has certainly been unusual. The Vancouver-born, Phoenix-raised player is the definition of a late bloomer.
For starters, while Clarke attracted modest NCAA interest over his first three years at Desert Vista High School, few programs were willing to follow through with a scholarship offer. But San Jose State and coach Dave Wojcik did just that, so Clarke committed to the Mountain West school prior to his senior season.
"I guess I was kind of disappointed," Clarke said while reflecting on the lack of attention he garnered from the nation's powerhouse programs. "But I was more just happy to be able to have school that was free, and to be able to play college basketball in the first place."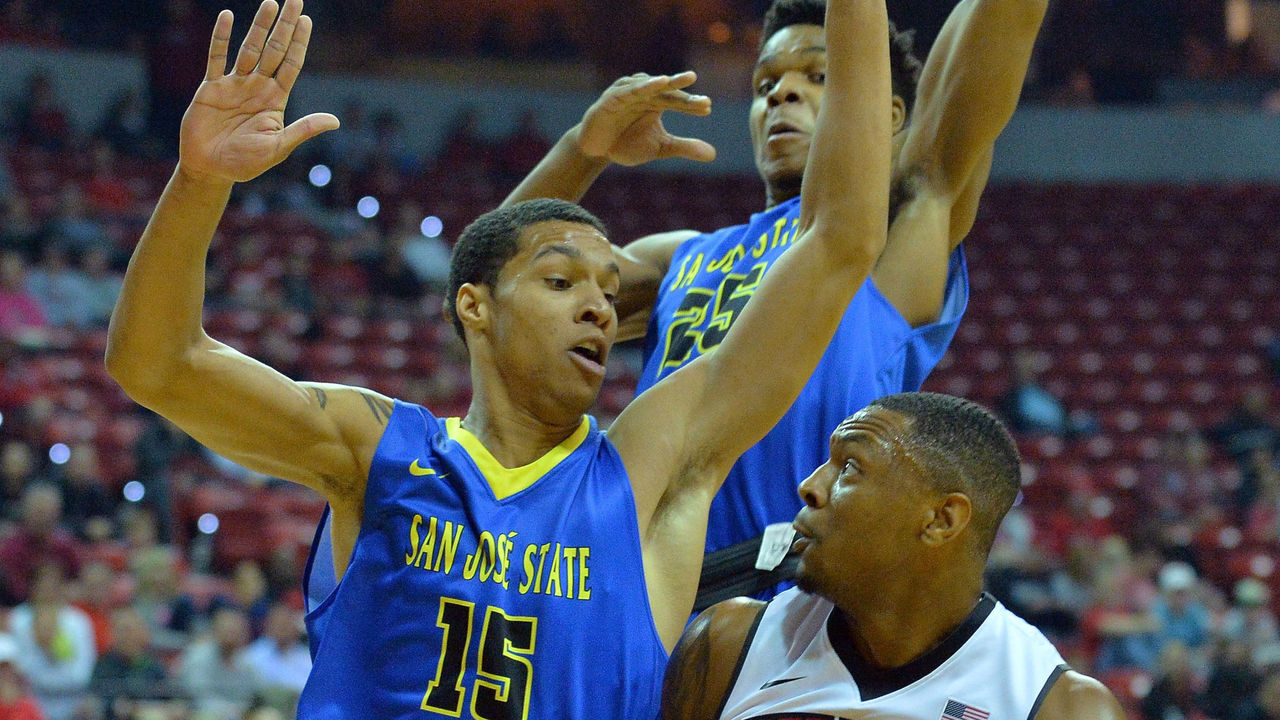 It's worth wondering what kind of attention Clarke might've commanded from bigger programs had he been uncommitted heading into his senior year. That season, a future in pro basketball began to take shape.
After averaging less than 10 points per game to that point, Clarke exploded, recording better than 17 points, eight rebounds, and four blocks as a senior. He led Desert Vista all the way to the state championship game before falling to Marvin Bagley's Corona del Sol squad.
Tony Darden, who coached Desert Vista that year, remembers being wowed by the big man he hadn't known much about.
"When I took the job, I didn't hear about any of the players specifically. I just knew it was a good group," Darden said.
"The first practice I had with (Clarke), I knew he was special. Initially, what stuck out was his natural athleticism. He was blocking shots all over the place. Then, I saw how unselfish he was, and how he could spot openings and open teammates. One of the challenges I had with Brandon initially was that he was too unselfish, but that's a great issue to have as a coach. Those traits stuck out to me from our first workout together.
"One of my goals was trying to make him confident enough in himself to be able to say, 'I'm the man, I can do this, and I can put this team on my back,' because he's a humble kid by nature."
Humble is also a word that comes up repeatedly in conversation with Clarke, even as he's on the precipice of a guaranteed NBA contract.
Asked what he thinks NBA fans will come to learn about him in the years ahead, he said: 'I don't like all the flashing lights, really. I'm not someone who wants to be famous, or have all this money and flash it. I'm not someone that's gonna brag, ever. I just really love playing basketball, but I'm someone who loves winning, and I'm also really competitive."
That competitive nature was tested during his two seasons at San Jose State. Despite Clarke being named Mountain West Sixth Man of the Year as a freshman and making the conference first team as a sophomore, the Spartans posted a combined record of 23-38.
Still, Clarke envisioned spending his entire collegiate career at San Jose State, and didn't consider transferring until Wojcik and the school parted ways after the 2016-17 campaign. But with the coach who'd recruited him gone, Clarke set his eyes on a more successful program, and found a perfect match at Gonzaga.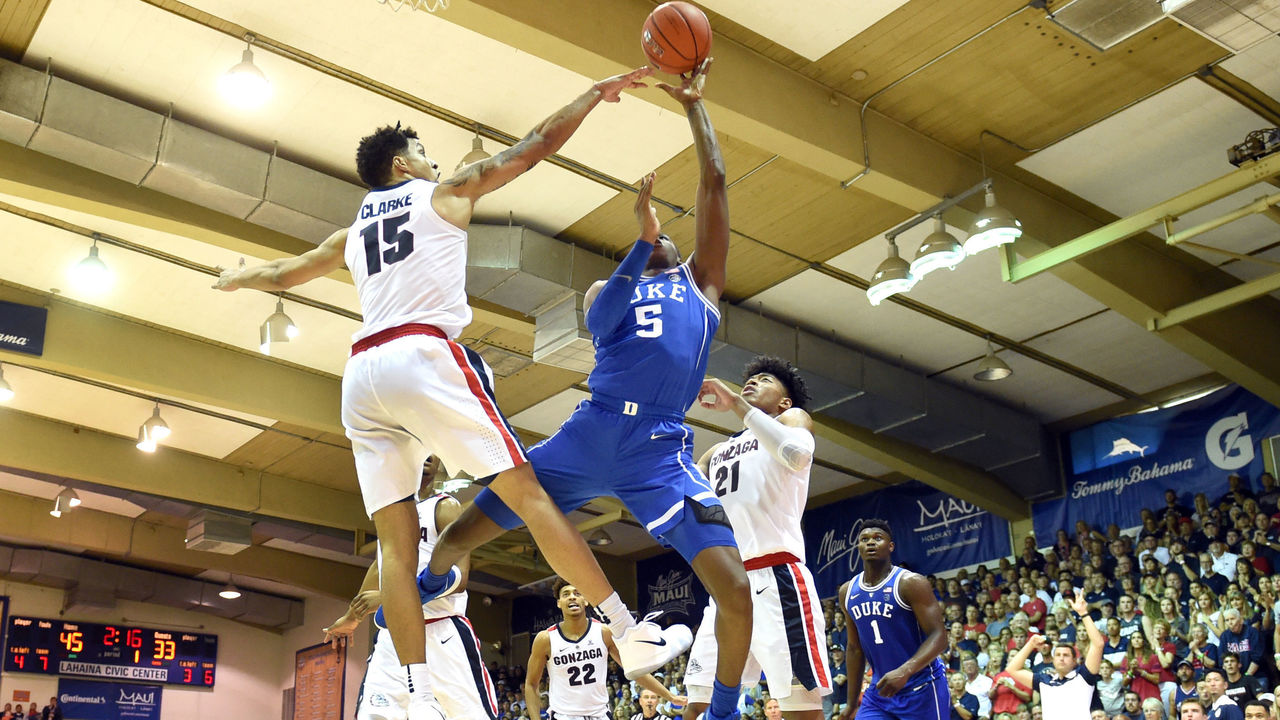 "They had just made the national championship, I wanted to be part of a winning team, and they had bigs who had gone through their redshirt program and went on to have good college careers," he said.
That redshirt season proved emotionally challenging for Clarke, but he credits the work he put in during a year away from game action for giving him the final push he needed to become a pro prospect.
"It's hard, because you're not playing basketball, and that's the thing that I love doing," Clarke said. "But I was getting in so much extra work after practices, I was doing lots of extra lifting on game days, I pretty much always had my hardest workouts on game days. I also couldn't travel (with the team), so I'd train extra hard when the team did. It was a really tiring year, and it just took lots of faith to know that it would all be worth it."
If there was a noticeable change in Clarke between his last game at San Jose State and his Gonzaga debut in 2018-19, it was a more fundamentally sound jumper, which Bulldogs coach Mark Few noted during the NCAA Tournament.
"To be honest, he has developed himself. He's done a great job from the time he decided to transfer," Few told reporters in March.
"The clips that I watched of him when he was at San Jose State, when my assistant Brian Michaelson brought him to me, he said, 'Coach, he's athletic, and he has a knack for making stuff happen around the rim, but his shot is broken, and it cannot be fixed.' By the time he got to Gonzaga, I was like, 'I don't know about that. I think it may be OK.' Now it's to the point where he can shoot the ball out at the (3-point line)."
Even now, it's unlikely that Clarke's shooting will ever be his calling card. He attempted only 15 triples this past season, knocking down four. But he's at least shown a willingness to expand his range, and his overall repertoire is strong enough to compensate.
"A pogo-stick athlete who finishes everything around the rim," ESPN's scouting profile says of Clarke, whom theScore predicts will be drafted 11th overall by the Minnesota Timberwolves on June 20.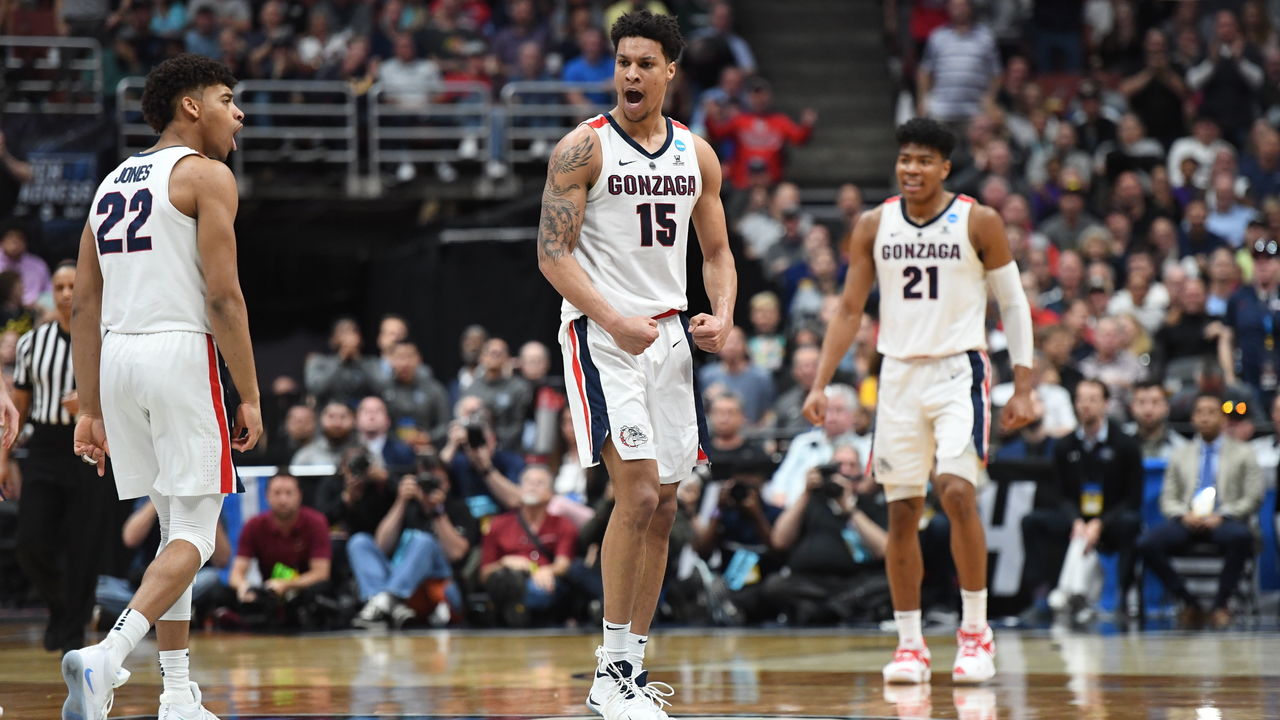 At 6-foot-7.25 with a 6-foot-8.25 wingspan, Clarke lacks the traditional length of an NBA big man, and he'll turn 23 before his rookie season tips off, which usually gives teams pause about a prospect's ceiling. But Clarke believes his experience makes him a "safer choice," and he's earned a reputation as a high-IQ baller on both ends of the court.
In terms of tangible takeaways, Clarke's offensive efficiency and explosive instincts on the defensive end should make him an immediate two-way contributor at the next level. In a crowded Gonzaga frontcourt that also featured fellow draft prospect Rui Hachimura, Clarke emerged as a stat-stuffing game-changer, and an absolute analytics darling.
Meanwhile, his timing and 40.5-inch vertical allow him to serve as a formidable rim-protector despite his height, and he's mobile enough to switch onto smaller players on the perimeter - a near necessity for any big playing heavy minutes in the modern game. He's also shown an ability to finish in a variety of ways in the paint, and is deadly in the pick-and-roll.
That combination of athletic gifts helped Clarke, who was nowhere to be found on draft boards entering the latest college season, enjoy one of the more stunning breakouts in recent NCAA memory. He averaged 16.9 points, 8.6 rebounds, 3.1 blocks, 1.9 assists, and 1.2 steals on 68.7 percent shooting, recording as many blocked shots - an NCAA-leading 117 - as missed field goals. And he began turning heads from the get-go.
"After (the Maui Invitational), that's when people kind of started to see that I could probably play in the NBA," Clarke said of the early-season tournament that ended with him recording a game-saving block on fellow Canadian RJ Barrett in the final.
"That Duke game was awesome," Clarke said. "After that, people really saw the player that I could be, and my coaches had more confidence in me."
If the six-block performance against Duke was his national coming-out party, Clarke's performance in the second round of the NCAA Tournament against Baylor was the capper on a remarkable season. In Gonzaga's win, Clarke poured in 36 points on a hilariously efficient 15-of-18 shooting to go along with eight rebounds, five blocks, three assists, and two steals, making him just the third player in tournament history to record a line of 35-plus points and five-plus blocks (joining David Robinson and Shaquille O'Neal).
"I got off to a pretty hot start, so my teammates kept feeding me the ball and I kept on scoring. I didn't really do anything different. I just came in ready to play," Clarke said nonchalantly.
"My name wasn't on any draft boards before this season, really, so being there now is pretty cool, but my teammates and my coaches made that possible for me by putting me in the right positions to look good," he added of his meteoric rise. "I was blessed to have really, really good basketball teammates at Gonzaga. They made playing so much easier. Everyone looks better when the team is good and the team is winning, and I was able to just focus on taking good shots. I didn't have to force up bad shots."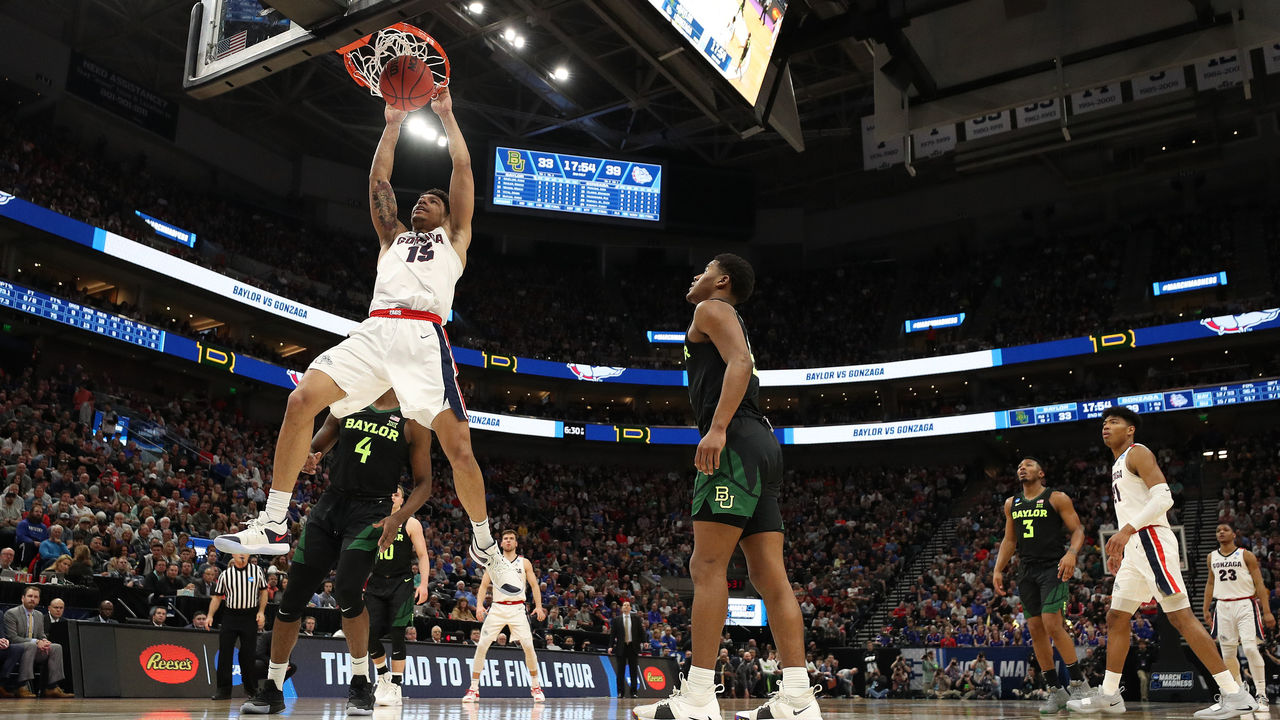 While the matchup with Baylor may have cemented his status as a lottery pick, Clarke doesn't count it as his proudest moment of the spring. Instead, he points to graduating on time with a degree in Business Administration.
"With the NBA hanging over my head, it was kind of hard to focus on school at times, especially with all the classes I missed due to traveling," Clarke said. "I wasn't sure if I was going to have to retake a class over the summer, or even next year or something. But I focused really, really hard ... I feel like (graduating) made my parents really happy, so I'm glad that I could do that.
"Plus, I'm not gonna be playing basketball forever, so I'm glad that I'll have something to fall back on. I'm sure it will come in handy some day."
Perhaps that perspective, his appreciation for the supporting cast around him at Gonzaga, and his general humility are the product of spending most of his basketball life outside the limelight. Clarke's come a long way from the largely unknown high schooler with a broken jump shot.
Next, he'll be among the 23 prospects sitting in the green room at the NBA draft on Thursday night.
Editor's note: Clarke was selected 21st overall by the Grizzlies, via Oklahoma City, since this feature was published