'She always finds a way': 4 March Madness moms tell their stories
HARTFORD, Conn. - Ten minutes before the Purdue Boilermakers tip off against Villanova in the Round of 32 at the XL Center, Tamala Reed is dancing.
She keeps poking at her friend, Shawndra Lewis, to join her, but Lewis is having no part of it. No matter. Reed is in her own world, having the time of her life.
This is what it was all about. All the toil. All the stress.
"There is nothing I love to do more than watch my son play basketball," Reed said.
She calls it "fascinating" to watch Boilermakers guard Nojel Eastern play in the NCAA Tournament. This is her son. Her blood.
Among the crowd here are four women, each single mothers, watching their sons live out their dreams on the biggest stage in college basketball.
The NCAA Tournament is a time to celebrate the players, but it's shared by the women who got them there. The ones who drive buses and run a tight ship. The ones who care for other people's children along with their own. The ones who made sacrifices - financial and otherwise - to keep a roof over their sons' heads and food in their bellies.
And, most importantly, a basketball in their hands.
Each of their stories is unique, but they share common threads: the care, the fear, the stress. The love, the pain, the joy.
"I always say when there is one successful person, there's a lot of people to thank," Purdue coach Matt Painter said. "There's a lot of gratitude there for those moms."
Here are four of their stories.
––––––––––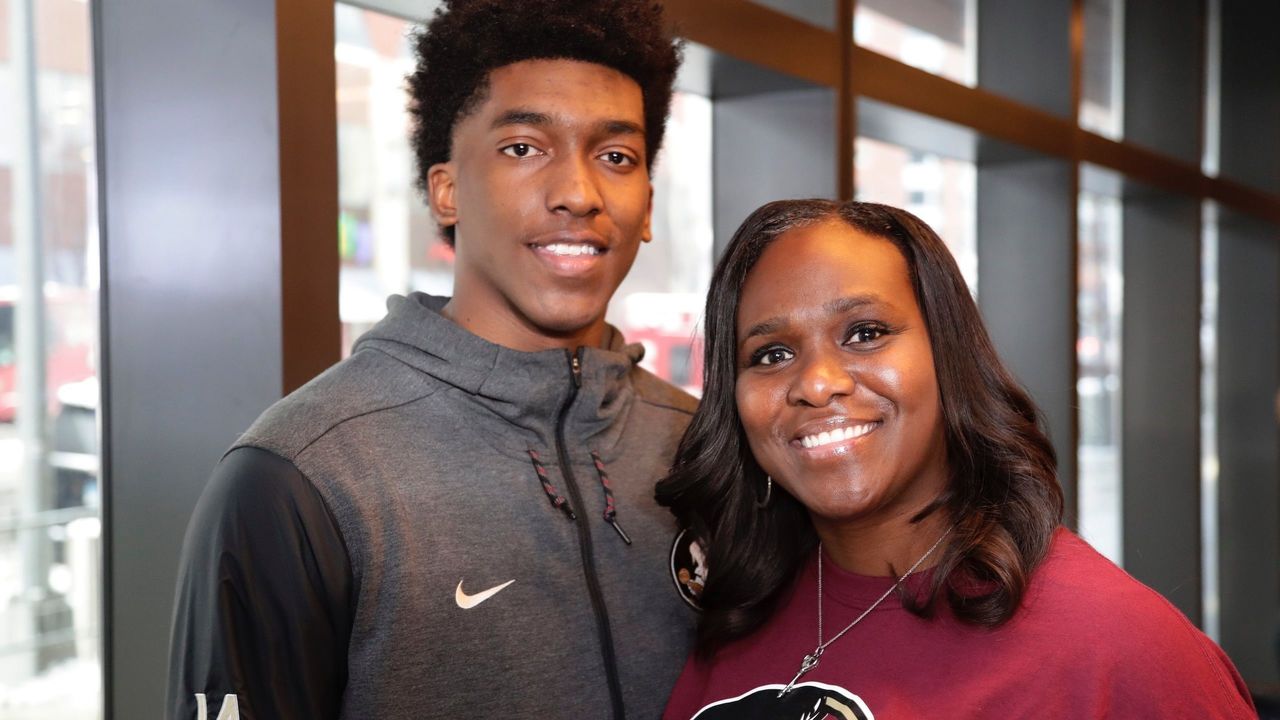 Though this was technically Daynia La-Force's area of expertise, she didn't know what to do.
Basketball was her sport - her living, even - but she wasn't sure if she could trust her own eyes. Her son, Terance Mann, was 12 and talented. But he wouldn't force a shot if you spotted him three feet and a clear look. She didn't see a killer instinct, that basketball bravado so prevalent in local young hoops prodigies his age. She saw the way Bruce Brown dominated the floor; the way a young Wayne Selden Jr. took over the game. Did her shy, unassuming son have the "it" factor?
At the time, La-Force was the head women's basketball coach at Northeastern University in Boston. She'd gone into the profession after playing four years at Georgetown. La-Force called Charlton Young, then an assistant at Georgia Tech whom she'd met years earlier at a black coaches convention. Tasked with recruiting some of the brightest stars in the game, he'd helped land Thaddeus Young, Derrick Favors, and Iman Shumpert. He knew talent when he saw it.
Charlton Young told her to have Terance give him a call, and for the next few years, they stayed close. On a recruiting trip, he detoured to watch Mann, now a high school freshman, play.
"He had like seven points. Confidence was low. Lanky, couldn't control his body," Young recalled. "But he had like 13 rebounds, nine assists, six steals. He was everywhere. His mom is yelling, 'He won't shoot! He won't shoot the ball!' and I told her, 'Shut up. I've got him. He's a pro.'
"She's like … 'Whaaaat?'"
Young saw in Mann a feel for the game well beyond his years - and more importantly, the right priorities. This was a kid who found more satisfaction in a good pass or a high-flying rebound than back-to-back buckets.
His mother credits that to his days crawling on the sidelines of her early coaching jobs at Long Island University and St. John's.
Mann was dunking on a hallway mini hoop at less than a year old. He was the most protective ballboy in history, she said - he made the players say please and thank you before releasing the ball to them. He learned his numbers by memorizing the jersey numbers of LIU players.
He also learned a different brand of the game, and it's paid off.
"In women's basketball, we preach intangibles," La-Force said. "We preach diving, we preach boxing out, making the extra pass, being great teammates. Terance grew up hearing me talk more about that than dunking and high flying. His approach to the game is fundamental."
Back when he was 12, though, she wasn't so sure.
"The game wasn't serious to him at that age," she said. "I knew his potential. I knew how far his game could take him. ... As a coach, I needed that focus, that discipline. I think I was more of a coach to him than a mom."
These days, their relationship has changed.
"When he was a freshman, and even his sophomore year at FSU, we talked more basketball," she said. "Before games, after games, I was always coaching him: make sure you box out, rebound, I saw that turnover, 4-for-7 from the free-throw line, what was that about? As time went on, I saw his growth and maturity, saw him play how I wanted to him play, and that's when we started to have more mother-son conversations - about relationships, is your dorm room clean, what'd you eat today?"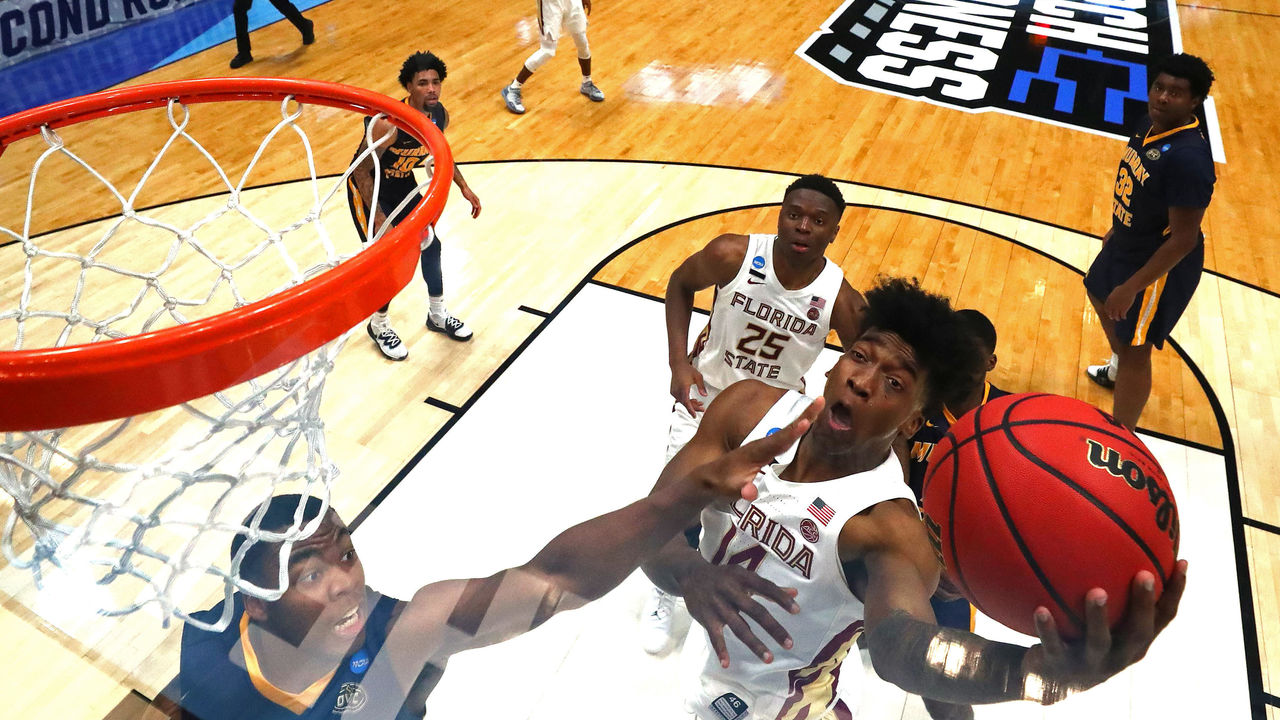 They still talk hoops, of course. As he says, "Can't escape coach."
Nine days before the Seminoles' first-round win over Vermont, La-Force was fired as women's basketball head coach at Rhode Island. The silver lining: She could see her son play.
"Her being able to come here and watch me - I know she feels like a part of her is doing it," Mann said. "She feels like she's coaching me through it. It means a lot to me to be able to do that for her."
La-Force is just happy to see her son live out his dreams, a decade after she made a phone call to the assistant coach Mann would one day play for.
"Before we walked on court for (the) ACC championship game, he said to me, 'Man, can you believe this? This is destiny,'" said Young, now a part of Leonard Hamilton's staff at Florida State. "I said, 'Kid, we've been doing this for a loooong time.'"
Added La-Force: "As a mom, you just want your children's dreams to come true. I know his dream is simply to win. Doesn't care how, who it's with. When he does win, I love to see the smile on his face, because I see his dreams coming true."
––––––––––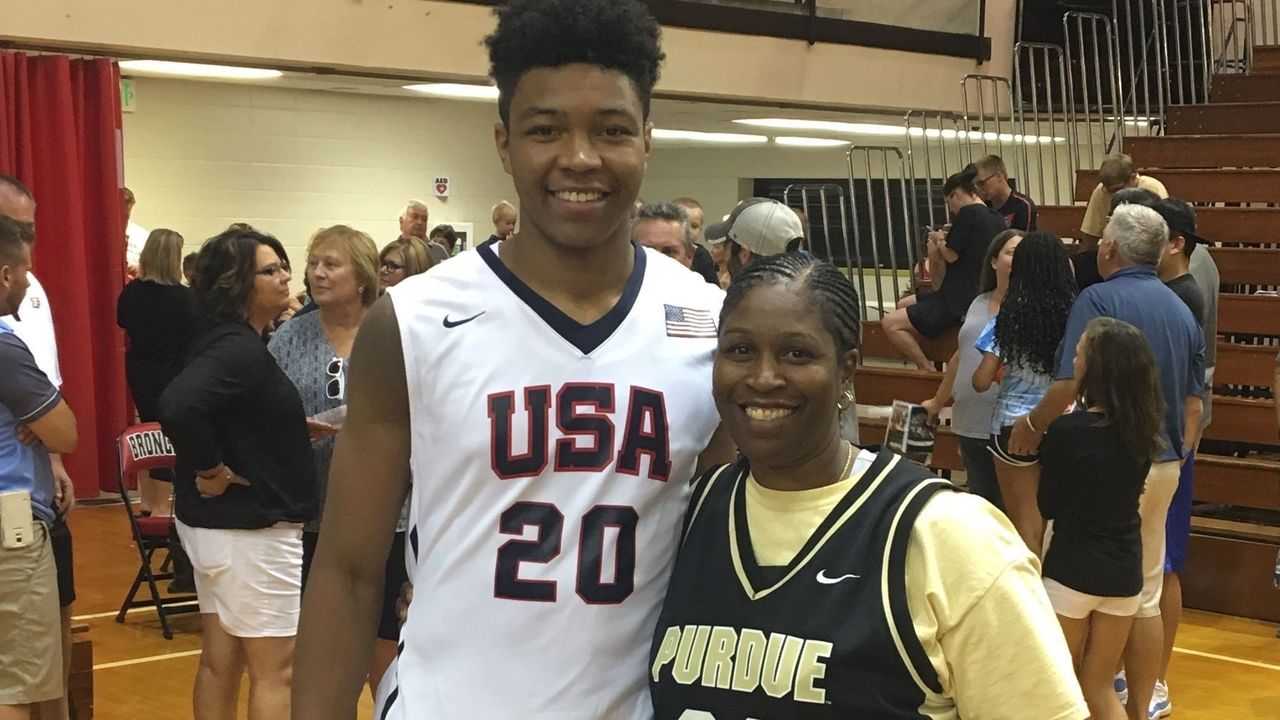 Perhaps the most important role of a college basketball mom during the recruiting process is finding a coach they can trust.
If anyone understands that level of trust, it's Tamala Reed.
Every morning, she shuttles a horde of middle schoolers as a school bus driver, and every afternoon, she ushers them back home. When it came to helping her boy, Nojel Eastern, sort out his college decision, Reed knew how important that trust in Painter would be.
"When those kids get on my bus, they're my kids," she said. "I'm going to care for them like they're my own. They are my responsibility, to make sure I get them to the place I pick them up, and to school, and back to the same place again. I take that seriously. When my son was traveling, you'd hope they treat him the same way."
There's another role she takes seriously: being Eastern's biggest fan.
Eastern was no older than 6 when his mother saw he had "a real nose for the game." Reed knew what she was looking for - she has played in rec leagues and open gyms for years and serves as a referee in both basketball and softball.
What Reed couldn't teach Eastern, she sought out for him.
"The first thing I did was make sure when he was really young - the single digits - that I found some older male role models for him," Reed said. "I knew I was going to be a single parent. I started making preparations. He always had somebody he could trust he could talk to. ... He got the greatest support. Doesn't matter the color - black, white - all kinds of people stepped up. A friend, a mentor, a father figure. He has had that."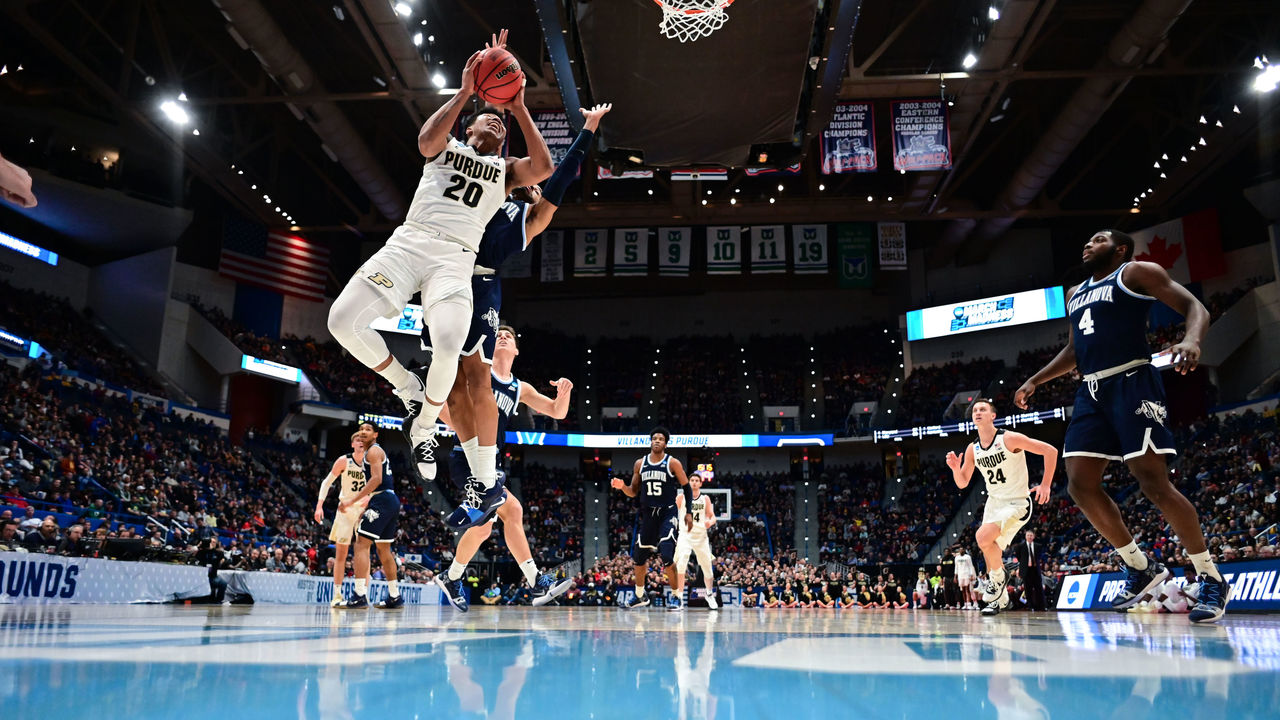 By the time Eastern was 8, he was generating local buzz. At 10, Reed said, "he just put on a clinic in a tournament - one game he scored 43 points - and that put him on a national map." He landed at Purdue last season. As a sophomore, he's raised his production across the board to 7.4 points, 5.6 rebounds and 2.4 assists in 28.1 minutes per game for the 25-9 Big Ten champions, who play 2-seed Tennessee in the Sweet 16 on Thursday.
Of course, Reed will be there in Louisville, Ky. She'd travel anywhere to watch him play. The farthest she's gone is the Bahamas and, she says, "I didn't see any of the Bahamas."
The best part of Eastern playing at Purdue is the 140-mile trip she takes from Evanston, Ill., to West Lafayette, Ind., for his games. She rarely misses one.
They talk on the phone almost every day. Most of the time, they talk hoops. Sometimes life. Often, the college sophomore does college sophomore things.
"I was actually going to call her today - I left my phone charger at Purdue," he said last weekend. "I have to call her now actually. I need her to bring a charger and headphones."
––––––––––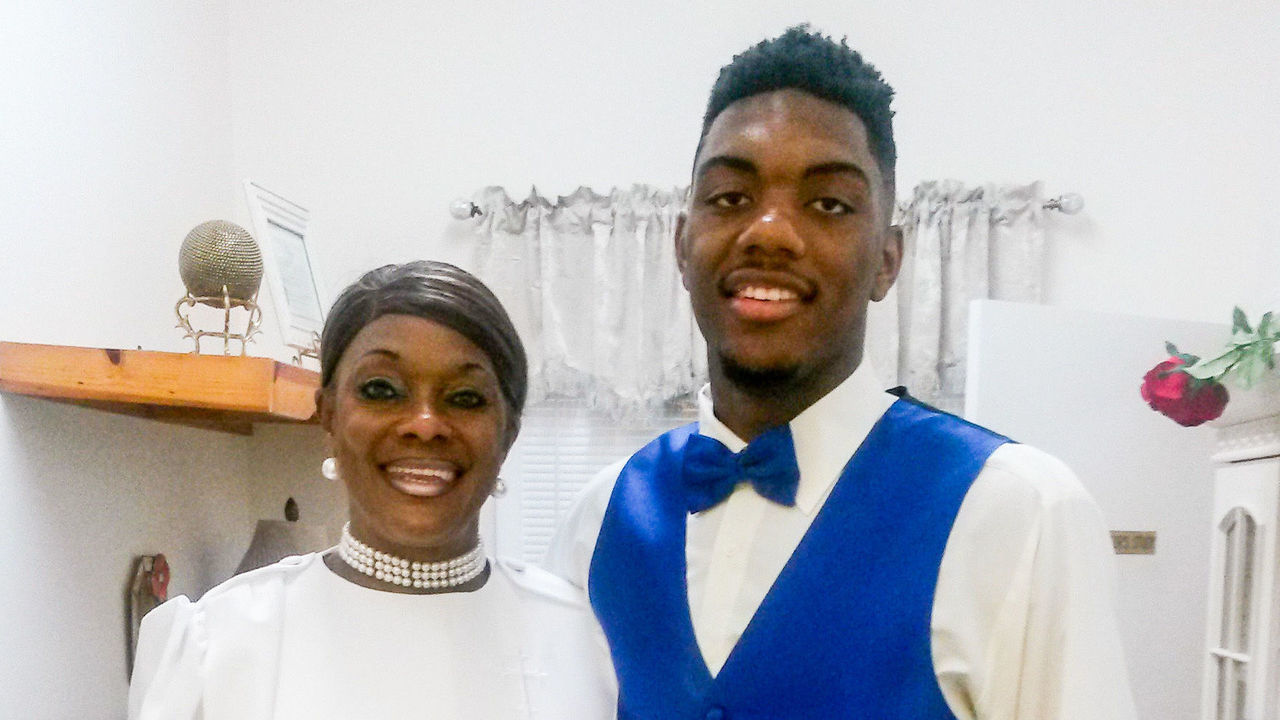 Barbara Lee is a woman with simple tastes, strong faith, and deep convictions. Give her her church and her family, and she's good to go.
For years, she lived in a double-wide mobile home with her sons, Trey and Trent Forrest, and a revolving cast of local kids - unofficial foster children, 11 in all. She was not about to risk their future (and her present) on an untenable mortgage.
So she stayed put and provided for her children, biological and otherwise.
But with Trent, a top-rated recruit, entering his senior year of high school a little over three years ago, Lee bought a home in Chipley, Fla.
"I wanted Trent to be comfortable when coaches came for home visits," she said.
"I would have loved for him to have something a little nicer. I knew the coaches didn't care. But I wanted to do that for Trent. Gonna buy a house. Hmm. Been in that double wide for 20-plus years."
When you see his unselfishness on the floor, you know where it comes from. The 6-foot-4 junior guard leads the Seminoles in assists this season and has 105 career games played under his belt already.
When he was 2, a 13-year-old girl from church showed up on Lee's doorstep. Lee was the youth leader for the church, so people in town knew they could count on her. Ten more children arrived over the years.
"With both my boys, they never acted as if they were deprived or showed any signs of jealousy," Lee said. "The kids refer to Trent and Trey as their brothers. Trent's senior year, they honored him, and the kids said thank you for sharing your mom, and Trent just broke. He sobbed. I think that was the first time I realized he may have had those thoughts. He never expressed it."
Lee would shuttle the whole lot of them to church every Sunday in her Toyota Tercel, the bigger kids on the bottom, four kids in their laps, and a couple on top of them; three more in the front seat, one on the center console, and Trent in Lee's lap. The local police knew her and her intentions, and they didn't interfere.
"They called me the old lady in the shoe!" she laughed.
Eventually, she was called to begin her own Bible studies on Wednesday nights. On Sundays, her flock would follow her to church. Soon church was her house.
They rented out a local building but grew out of it within months. All Things New Worship Center in Chipley now boasts a congregation of roughly 75-80 people and rising.
"It was gratifying to see that for me," Trent said. "Watching me succeed, she is there with me the whole time, so to see her work pay off just as much as mine? That was great."
In Hartford, Lee got yet another chance to watch her baby boy succeed. Forrest had eight points, five assists, and two steals in a 28-point win over Murray State, helping the Seminoles advance to the Sweet 16. Lee was there, cheering every step of the way.
"She doesn't like traveling, which shows me how important it was for her to be here," he said.
Last year, Lee read an article about her son in which Forrest said that he always scans the crowd for his mother. She loves her community and doesn't like leaving it, but for the first time, she realized how much having her at the games meant to him.
"He said: 'I look for her in the stands because she helps me keep my mind,'" Lee said. "I never really asked him what that meant, I just thought - I guess he feels better when I'm there. He feels safe. If mama's there, he knows everything is going to work out."
––––––––––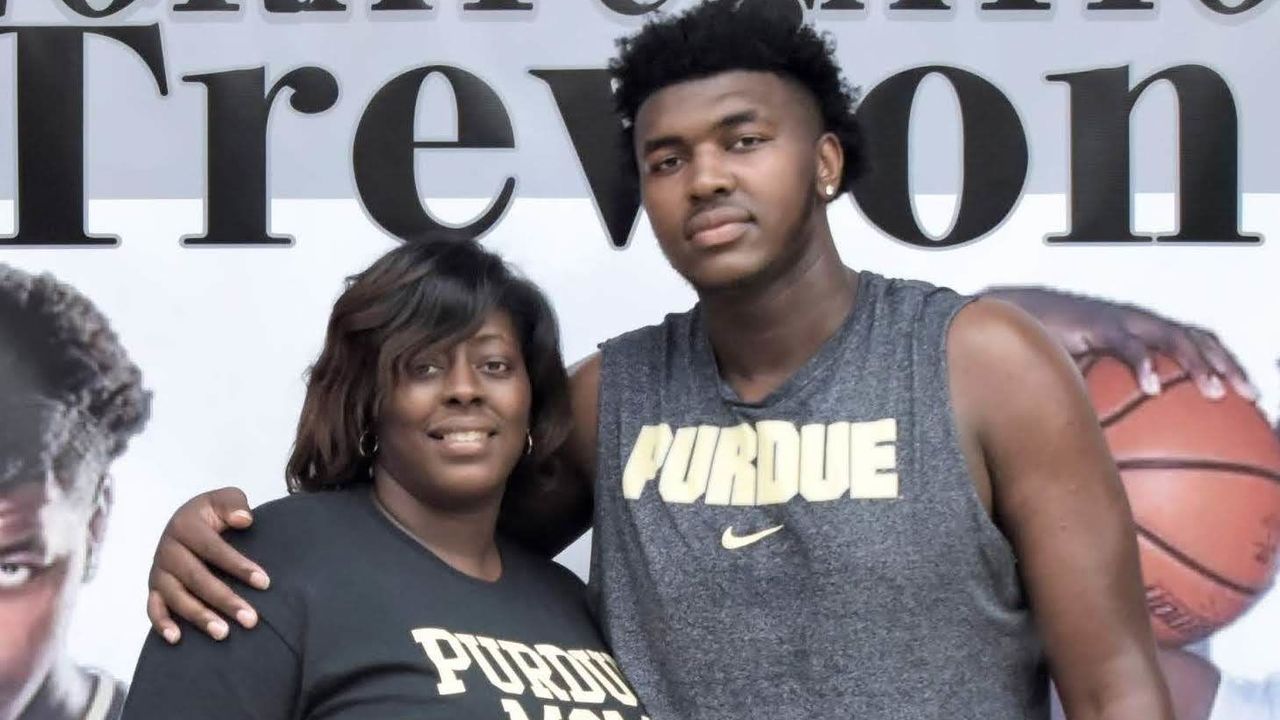 If the most important thing a March Madness mom can do for her son is find a coach she can trust, the second-most important thing is finding the courage to let her son go.
Shawndra Lewis has done it twice. The first time was so much harder than the second.
While Trevion Williams grew up in Chicago, his mother tried to protect him.
"As a little kid, not being able to go to parks, that was hard," Williams said. "My mom didn't trust the environment in Chicago, so you'd never find me playing outside anywhere - I either had to be in a gym or rec center."
When he was 15 years old, his world was shattered by a bullet that killed his uncle, Tyjuan Lewis. He had another uncle in suburban Detroit, and he begged his mother to let him go.
"He told me two weeks ago, it was the only choice at the time," Shawndra said. "It was hard for me, but I knew he was mature at that age. He was able to make the decision that was best for him. It was hard for me to accept it. To let him go."
Weekend after weekend, Lewis drove to Michigan to see her boy. She stacked her nursing shifts to carve days out at a time.
"It was bothering him, me traveling back and forth like that," she said. "Finally he said, 'Mom, you just need to stay here.' I made the decision maybe two weeks later. It was a Sunday and I had all my stuff in the car. He was pretty happy."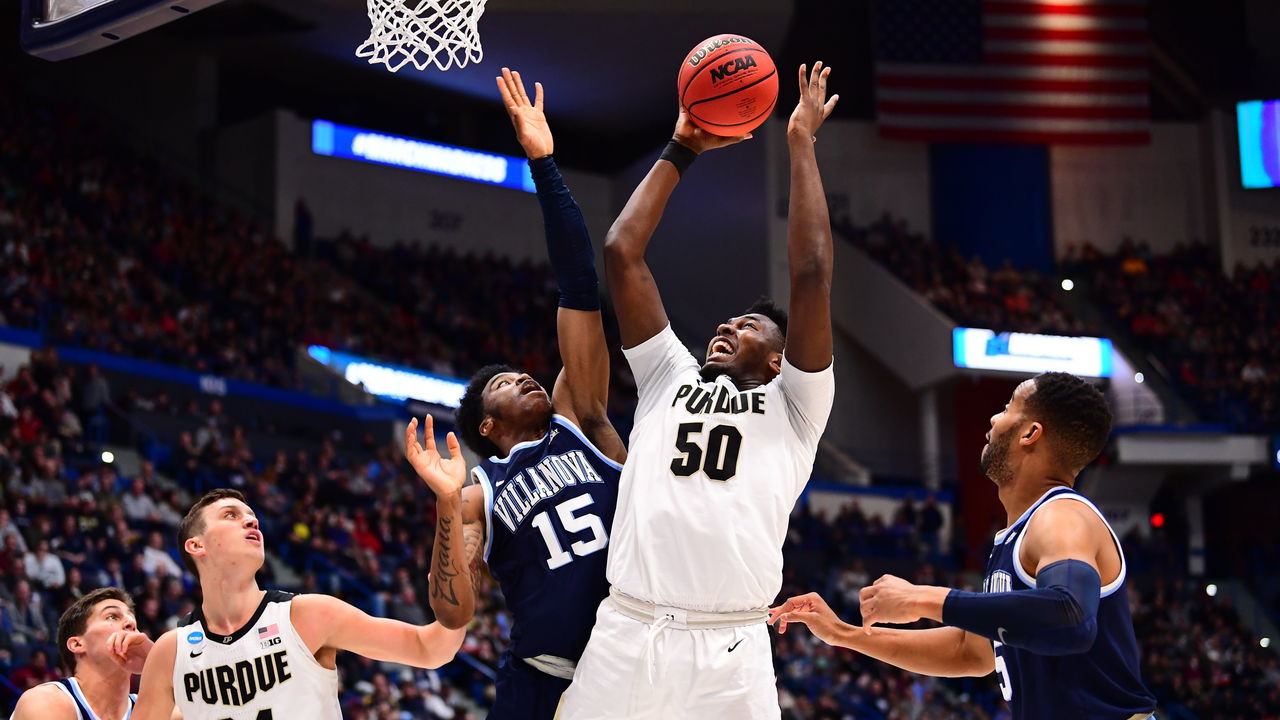 Lewis carved more time out of her schedule to be in Hartford. On Tuesday night, she packed up for her trip to Louisville for the Sweet 16.
"At times I'm sitting there, and I don't believe it," Lewis said. "I don't know why. It's a big moment for me. This is special."
She'll look down at him from the stands, and he'll look up toward her like he always does, even if he doesn't like what he sees.
"My mom is so into the game," Williams said. "She criticizes me all the time. She's more into it than I thought. I don't get a pass. If I'm out there messing up, I'll look up to her in the stands and she'll let me know."
He got a look like that in the team's second-round win over Villanova, but he hadn't even been sure that she'd make it to the game.
"It was so big for her to be here," Williams said. "She was going to miss it. She made the effort to get a flight, to get out here. She always finds a way."
––––––––––
During March Madness, players' mothers are often captured on television, enraptured by their sons. They dance and they cheer and they pump their pom-poms.
We rarely learn their stories. We don't learn how these basketball prodigies came to be.
But their sons know. The coaches, too.
"A lot of moms might not understand the processes of basketball, but they understand the love, the affection, and the support they give their children," said Hamilton, the FSU head coach. "It's a beautiful thing to watch."
And it's a beautiful thing to be a part of.
"I really love these other parents," Lewis said. "I make my work schedule harder just to be able to be there with them. To get to Purdue and to see these parents, they are so dedicated. It really touches me.
"It's like, I'm not the only one."
Comments
✕
'She always finds a way': 4 March Madness moms tell their stories
  Got something to say? Leave a comment below!