Heir Jordan: Introducing the top 25 players of the last 25 years
Julian Catalfo / theScore
"Who knows what will unfold over the next several months, but that may have been the last shot Michael Jordan will ever take in the NBA," Costas said near the end of the Game 6 Finals broadcast. "If that's the last image of Michael Jordan, how magnificent is it?"
Thanks to the outsized impact basketball's biggest stars can produce on the court, no league lends itself to cross-generation GOAT debates quite like the NBA. But those debates have grown stale, with many pundits and fans engaging in heated discussions about players and eras they were too young to witness. Meanwhile, Jordan's incomparable mystique makes it tough to have an honest basketball conversation that includes His Airness.
With that, we started thinking about a more practical discussion involving post-Jordan players we were able to watch, appreciate, and evaluate in real time. As we considered this idea, it struck us that there's now been a clean cut-off of 25 seasons since Jordan's last dance with the Bulls.
With all due respect to Jordan's underrated Wizards tenure, the NBA's unofficial post-Jordan era tipped off after his second retirement following his sixth and final championship in Chicago. The lockout-shortened 1998-99 season - which saw the debuts of future legends Dirk Nowitzki and Paul Pierce; the first of five championships for Tim Duncan's Spurs; and the continued rise of stars like Kobe Bryant, Allen Iverson, and Kevin Garnett - is the perfect starting point for this exercise, bookended by the modern 3-point and unicorn revolution.
To come up with the top 25 players of the last 25 years - or the top 25 players of the post-Jordan era - fellow NBA feature writer Joe Wolfond and I considered each player's body of work between the 1998-99 season and the 2022-23 campaign, disregarding anything accomplished beforehand or outside of the Association. If trying to decide between two or more players became a toss-up, a star's peak, team success, and cultural impact informed our decisions, though a simple question often prevailed: Who would you rather start a team with?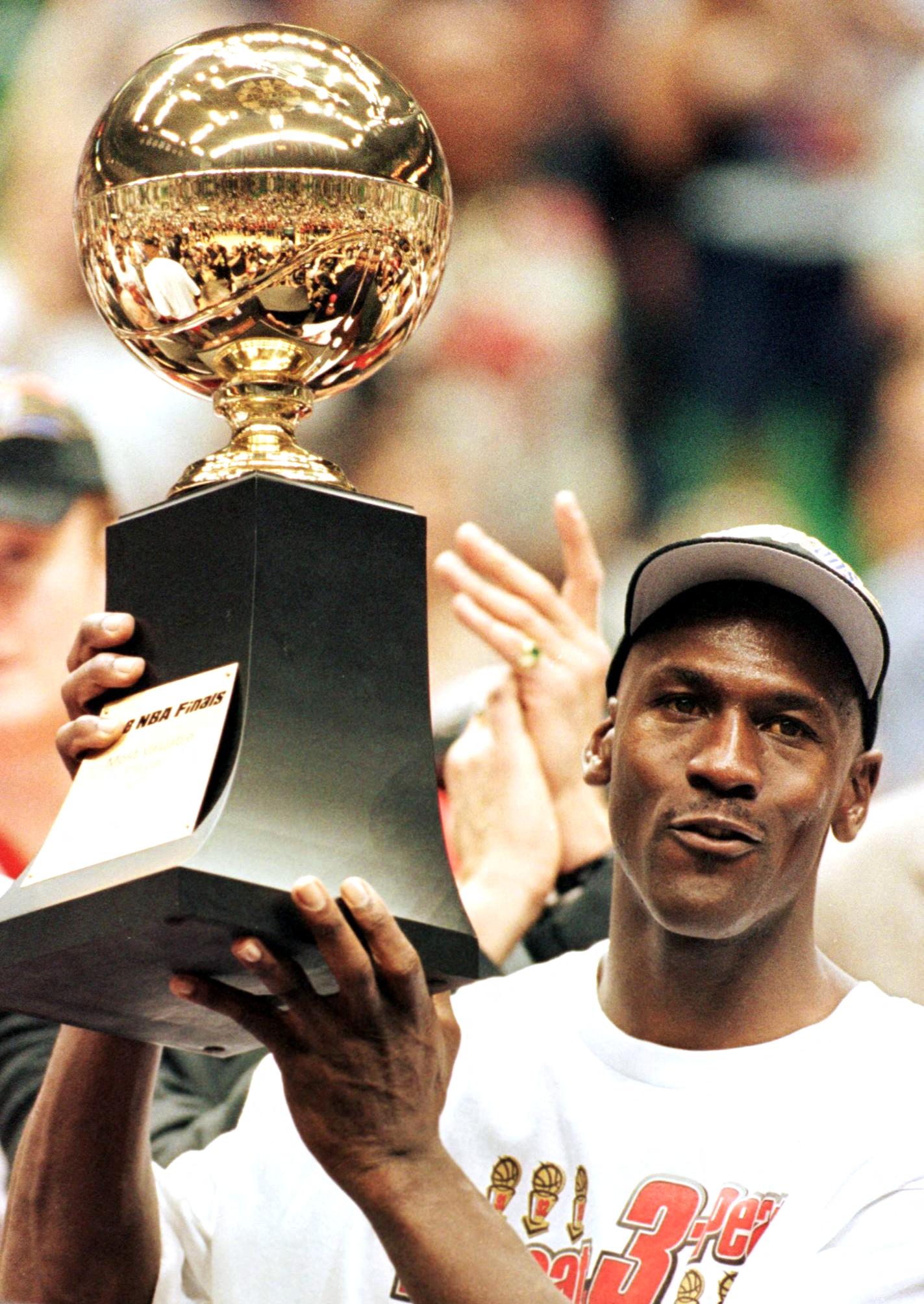 A 25-year window made it difficult for today's youngsters to compete against Hall of Famers who enjoyed more than a decade of success during this time. Still, undeniable phenoms like Giannis Antetokounmpo, Nikola Jokic, and even 24-year-old Luka Doncic found themselves in the mix (Doncic has more All-NBA first-team selections through his first five seasons than all but nine players accumulated over the entire 25-year period).
The only MVPs from this era to fall short of the top 25 were Derrick Rose and Karl Malone. The Mailman won his second and final MVP award in the first season of this window and added three more All-Star and All-NBA selections during the period in question, but the last six seasons of Malone's career weren't enough to overshine stars who saw their primes and entire careers play out during this time. For example: Malone's 415 games played were 71 fewer than Yao Ming, a revolutionary star whose injuries and lack of playing time kept him off this list.
As for Rose, his brief but electric peak had him in preliminary contention. He was at one time the youngest MVP in history and the best player on multiple (prorated) 60-win teams, but injuries kept him from putting together the kind of sustained run required to make such an exclusive list.
Andre Iguodala, Tony Parker, and Chauncey Billups are the only Finals MVPs from the last 25 champions you won't find here. Parker was a six-time All-Star and four-time champion, while Mr. Big Shot was the ultimate floor general. Both would've cracked a top-35 list. Iguodala didn't quite measure up. As fine a player and locker-room leader as Iguodala was for 19 years, his career simply didn't meet these lofty standards (and that 2015 Finals MVP award rightly belonged to LeBron James or Steph Curry).
Carmelo Anthony, with 28,289 points to his name, is by far the top scorer to miss the cut, and there will surely be a number of outraged Melo truthers reading this.
As someone who once dove into the disconnect between how Anthony's peers view him compared to more objective observers, I'm well aware of how polarizing Melo-related discussions can be. And, yes, Anthony was a great player and tremendous volume scorer for a long time; a jab-stepping throwback to a bygone era who could get his shot off whenever and wherever he wanted against whoever had the misfortune of guarding him. But if Anthony was as pure and effortless a scorer as his admirers suggest he was, then why did he never score as efficiently as the legends who made this list ahead of him?
Whether a knock on his abilities or his shot selection, Anthony produced a below-average true shooting percentage in 11 of his 19 seasons, according to Basketball Reference. This exercise is supposed to be about celebrating the greatest players of our generation, not tearing icons down, but to create such an exclusive shortlist from the golden age of star talent and team depth, hard truths must be confronted.
In the end, after a painstaking process and agonizing deliberations, a preliminary list containing more than 50 names was whittled down to 25. To give you an idea of how tough it was to crack the final rankings, consider that our most difficult omissions also included Ray Allen, Tracy McGrady, Pau Gasol, Vince Carter, and Paul George.
So, we've laid it all out. Below are our top 25 players of the last 25 years, unveiled in groups of five over the next five days. We welcome your feedback - both praise and disdain. All we ask is that if you advocate for your favorite player or most egregious snub, you must also tell us which of the 25 legends you'd remove to make room.
Nos. 25-21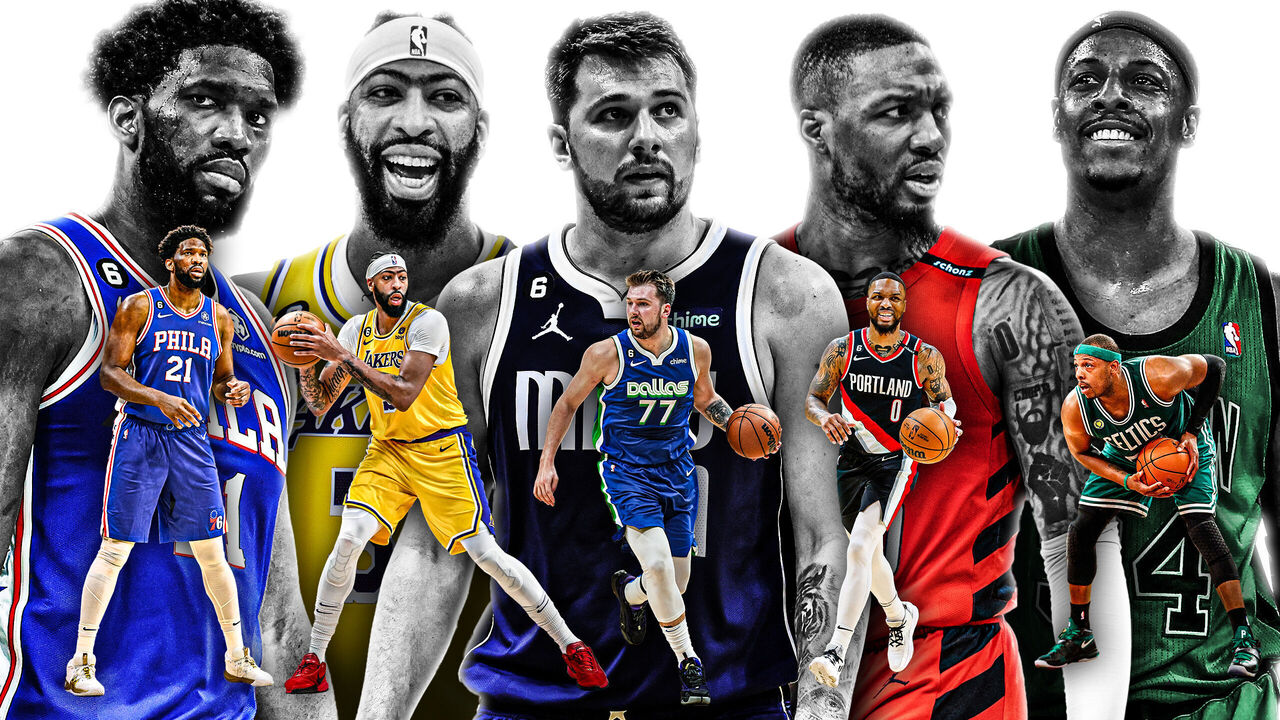 25. Luka Doncic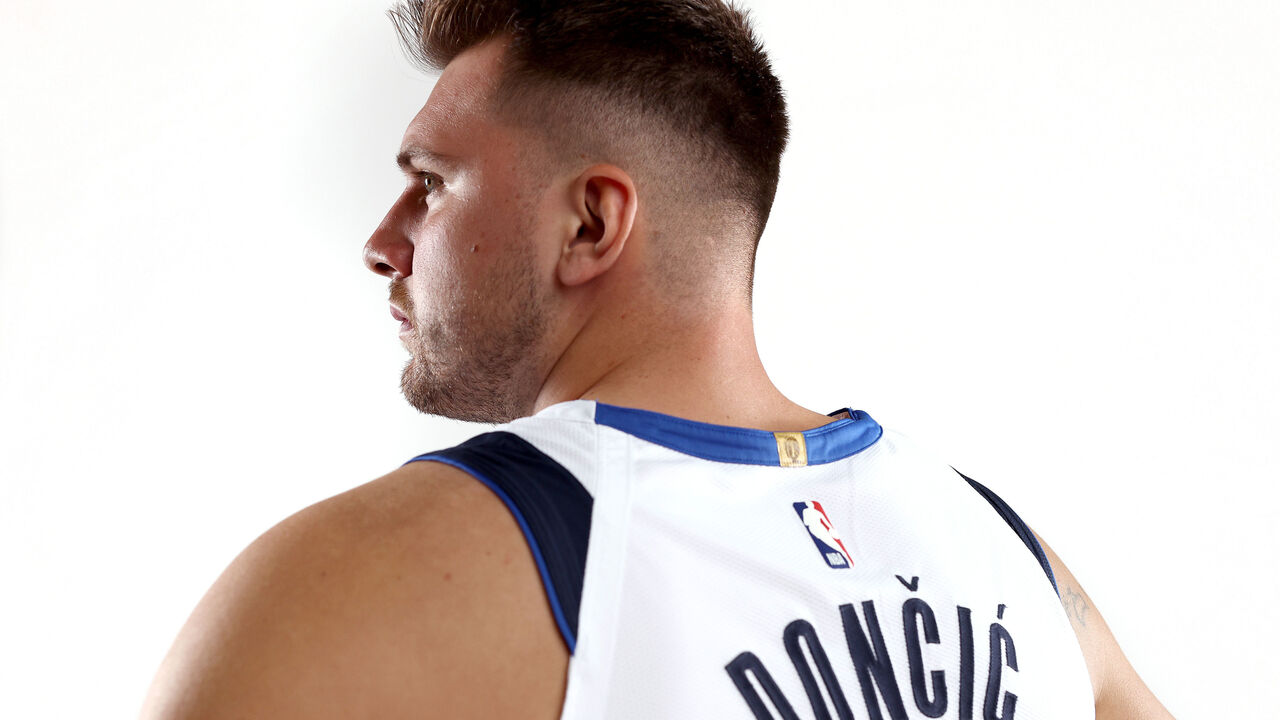 Signature performance: 2020 West first round, Game 4
Doncic owns a 60-point, 21-rebound, 10-assist performance that ranks eighth in Stathead's 46-year database of Game Scores, yet most would agree the Slovenian phenom's most memorable effort so far was a slightly less gaudy performance a few years earlier.
In his first career playoff series, facing a heavily favored Clippers team starring Kawhi Leonard and Paul George, and with Trey Burke serving as Dallas' second-leading scorer, Doncic carried the Mavericks to a Game 4 win that evened the first-round matchup. In a tireless performance that truly announced Doncic's arrival on the postseason stage, the 21-year-old poured in 43 points, 17 rebounds, and 13 assists, capping the night with an unforgettable game-winner.
Why he's here: Some may gripe over Doncic making this list despite only playing five years in the league, particularly given some of the Hall of Famers who didn't make the cut. But consider this: Only nine players over the last quarter-century have earned more All-NBA first team selections. Doncic has been a top-five-caliber player in four of his first five seasons after winning Rookie of the Year in 2018-19. That's an all-time run. His 27.6 points per game is tops among the 2,416 players who've set foot on an NBA court over the last quarter-century, while his eight assists per game rank 10th.
Though his defensive effort and penchant for whining to the officials rub some people the wrong way, Doncic's talent and impact are undeniable. From the day he arrived, he has dictated the terms of engagement to suit whatever pace he pleases. He's as gifted and dazzling a playmaker as any of his peers, a virtually unstoppable scorer who gets to his spots at will thanks to flawless footwork and freakish strength, and he's becoming impossible to keep off the free-throw line.
Doncic cracking the top 25 of the last 25 years may be a surprise right now, but if we do this exercise again in a couple years, he may be knocking on the door of the top 15. - Joseph Casciaro
24. Damian Lillard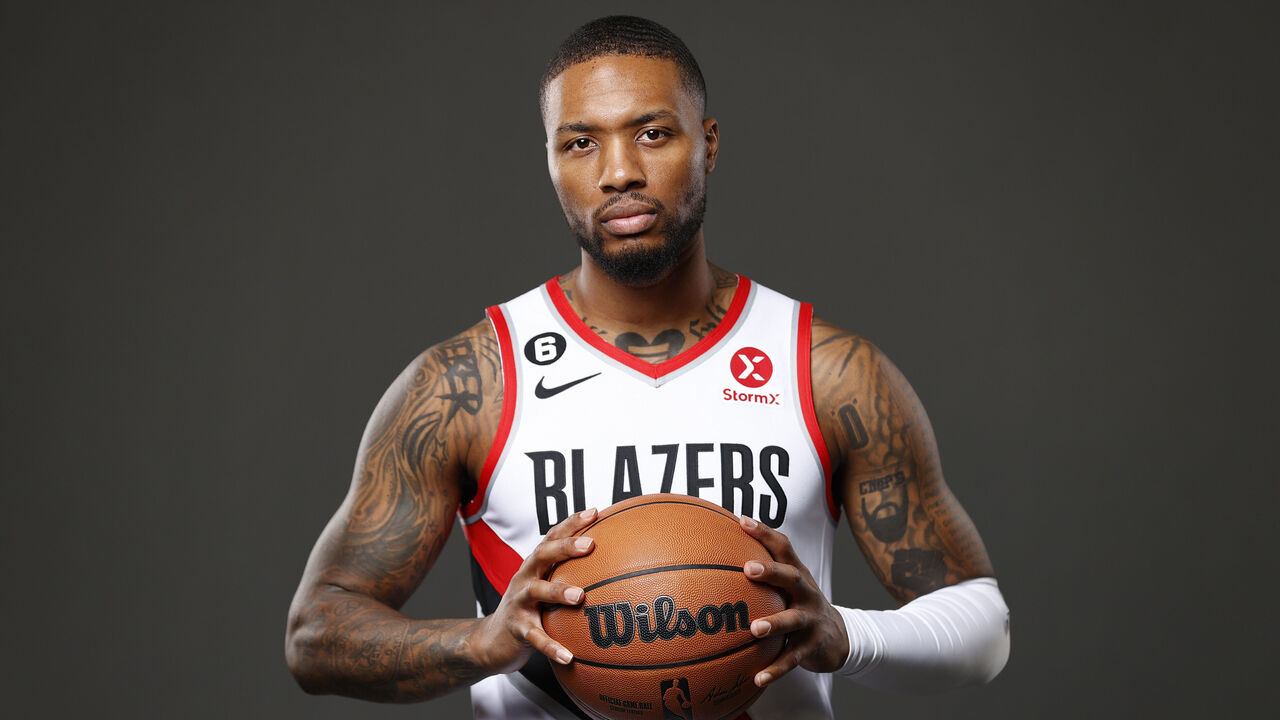 Signature performance: 2021 West semifinals, Game 5
Lillard's scored 71 points in an NBA game and is one of only two players in history - along with Jordan - to have multiple series-winning buzzer-beaters to his name, but a Game 5 loss to Denver in the 2021 Western Conference semifinals perfectly encapsulates the legend of Dame Time.
Though his Trail Blazers ultimately lost the double-overtime thriller (and the series), Lillard repeatedly willed Portland back into the game with an endless array of clutch buckets. By the time the final horn sounded, Lillard had 55 points on 17-of-24 shooting, 10 assists, six rebounds, three blocks, and a steal in nearly 52 minutes of action. Lillard's 55.9 playoff Game Score is the highest ever recorded in Stathead's 46-year database. Including regular-season games, Lillard is also the only player with multiple performances of 55-plus.
Why he's here: In order to crack this exclusive list while being widely accepted as a terrible defensive player, one has to be absolutely transcendent offensively. Lillard is that and then some.
Only 20 players in history have scored more through their first 11 seasons. Lillard is one of eight players ever to score 70 or more points in a game. He's one of only two players (Wilt Chamberlain is the other) to score 60 or more points three times in the same season. Among the 81 instances in which a player averaged 30-plus points in a season, Dame's 2022-23 campaign ranks fifth by true shooting percentage. Among qualified 3-point era shooters who've averaged 30-plus in a season, only Steph Curry's done it more efficiently.
There aren't enough ways to describe how explosive a scorer Lillard is, and that's before mentioning he ranks fifth in assists since his 2012 debut.
It also helps that Lillard authored two of the most memorable playoff moments of the last decade, one which birthed one of the great memes of the social media era.
Whether you're evaluating a player's peak, longevity, proclivity for rising to the occasion, or cultural impact, Lillard checks the boxes. - Casciaro
23. Anthony Davis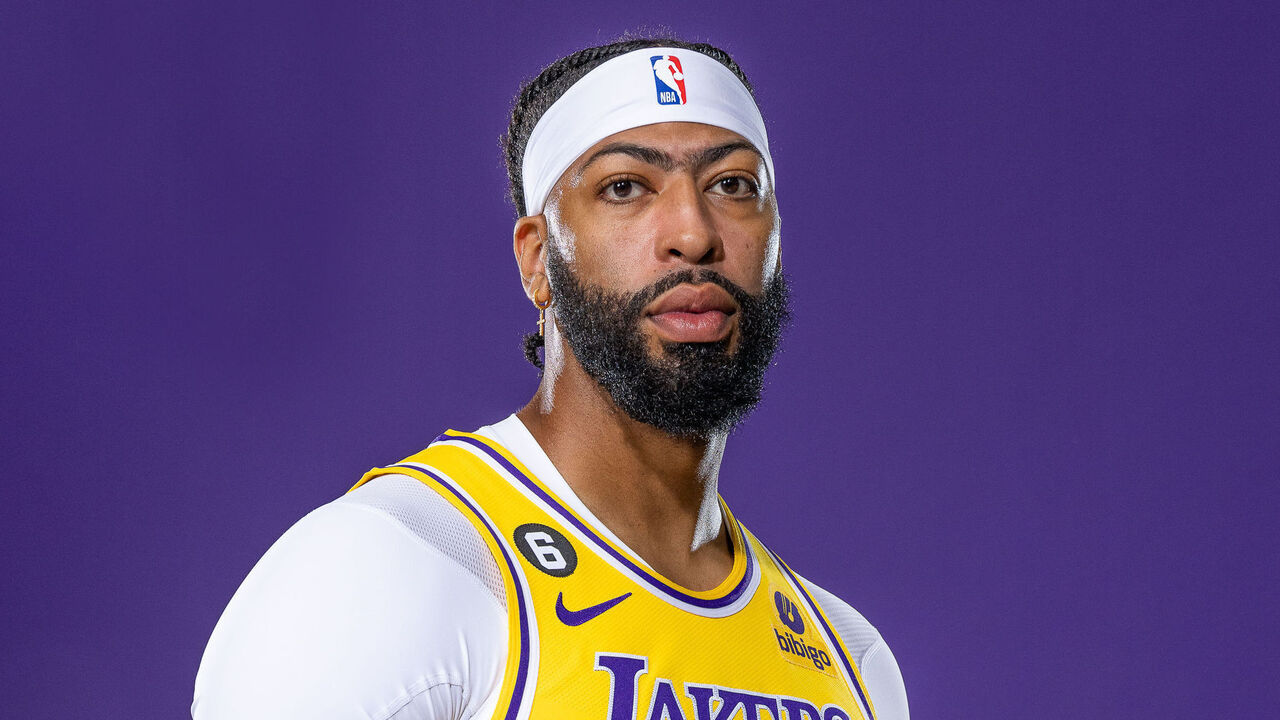 Signature performance: 2020 playoffs
In his first season with the Lakers, Davis came through with the postseason of a lifetime to help hang the franchise's 17th banner. Davis was, as ever, a defensive skeleton key that made L.A. virtually matchup-proof. The team's playoff run saw him neuter Lillard's pick-and-roll game, decimate the micro-ball Rockets, stymie Jokic and the high-powered Nuggets offense, and then spend a large chunk of the Finals working as Jimmy Butler's primary defender.
But what really set Davis' stint in the Disney bubble apart was the way he took his offensive game to another level. He hit 38% from deep, despite being a 30% career 3-point shooter. He shot 49% from long mid-range, up from his career 39% mark. Throw in his characteristically excellent work as a finisher around the basket and he averaged a team-high 27.7 points on 66.5% true shooting, all while performing like the best defensive player alive.
Why he's here: Davis' defensive accolades (four All-Defensive teams, but no DPOY awards) don't do justice to how good he's been at that end for the last decade. Chronic injuries have played a big part in that. The seven years he spent trying to carry thin Pelicans teams to modest respectability didn't help. But healthy AD is a near-perfect modern big-man defender: an ultra-long, ultra-quick, portable rim-protector who can anchor any scheme and hang with anyone on a switch.
He's no slouch at the offensive end, either. Though he's never developed into much of a playmaker nor shot the ball nearly as well as he did for those magical bubble months, he's a strong self-creator out of the triple threat, on top of being arguably the greatest pick-and-roll finisher of all time.
After putting up gaudy stats in New Orleans with minimal team success to show for it, Davis found his ideal role - playing Robin to LeBron's Batman in L.A. In terms of ability and fit, he's probably the best teammate James has ever had. Eleven years into his career, AD is still a top-10 player in the game as long as he can stay on the floor. - Joe Wolfond
22. Paul Pierce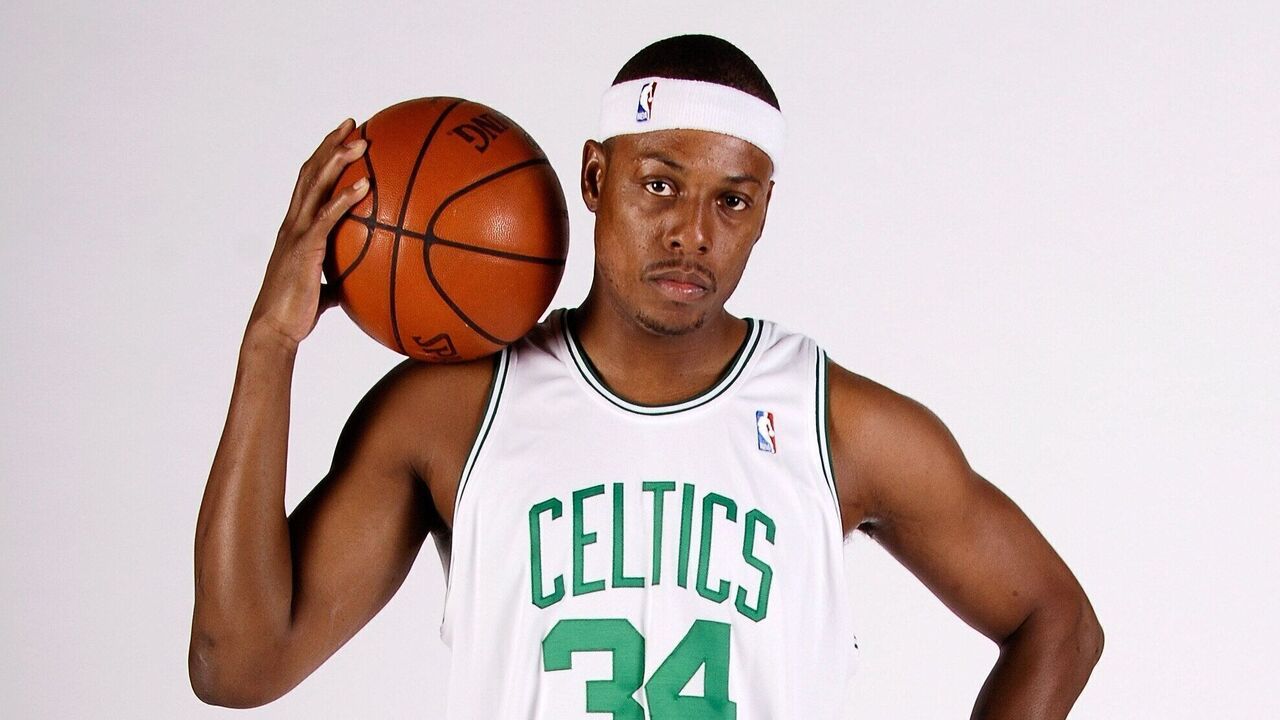 Signature performance: 2008 Finals
With all due respect to a 46-point epic to outduel Iverson and eliminate the defending East champion 76ers in the 2002 playoffs, the 2008 Finals elevated Pierce to another pantheon. That series included a 2-for-14 stinker, but Pierce's overall efforts in helping the Celtics secure the franchise's first championship in 22 years - against the hated Lakers, no less - secured his place in Boston and NBA lore. That the series began with the infamous Wheelchair Game and included a Game 5 performance that saw Pierce record 38 points and eight assists while playing all but two seconds of a nail-biting loss is icing on the cake.
Why he's here: Foe to both Kobe and LeBron, Pierce's combination of longevity, two-way play, and an underrated prime made him an easy selection.
Compare the clutch-time legend to McGrady, one of our toughest omissions. The Hall of Famers shared parallel seven-year peaks from about 2000 through 2007, during which time Pierce posted surprisingly comparable numbers on better efficiency while enjoying more team success. T-Mac was slightly better at his absolute best, but Pierce hung around the fringes of the league's top tier during his prime, and remained an All-Star-caliber player long enough to eventually reap the benefits of a star-studded supporting cast that helped him win a championship and a Finals MVP award.
The durable forward added five All-Star appearances to his resume in his 30s, a half-decade that included epic postseason duels against LeBron. He missed 19 games total over the first eight years of his career, and averaged only 6.2 missed games per season from Years 10-18. Pierce started all 82 games during the 2000-01 season (one of three times he suited up for every game in a season) despite being stabbed 11 times in a vicious attack six weeks before the season opener. Over a 14-year run between his age-22 and age-35 seasons, Pierce averaged 22 points, six rebounds, and four assists on 56.9% true shooting. In his age-36 and -37 seasons, he was still breaking much younger men's hearts.
ESPN's Doris Burke said of Pierce after one such playoff dagger against Toronto in 2015: "There have been some great finishers to play in the history of the NBA. Amongst his generation, he will go down as one of the best."
For more than a decade and a half, Pierce was every bit the nickname Shaquille O'Neal once bestowed upon him; he was simply The Truth. - Casciaro
21. Joel Embiid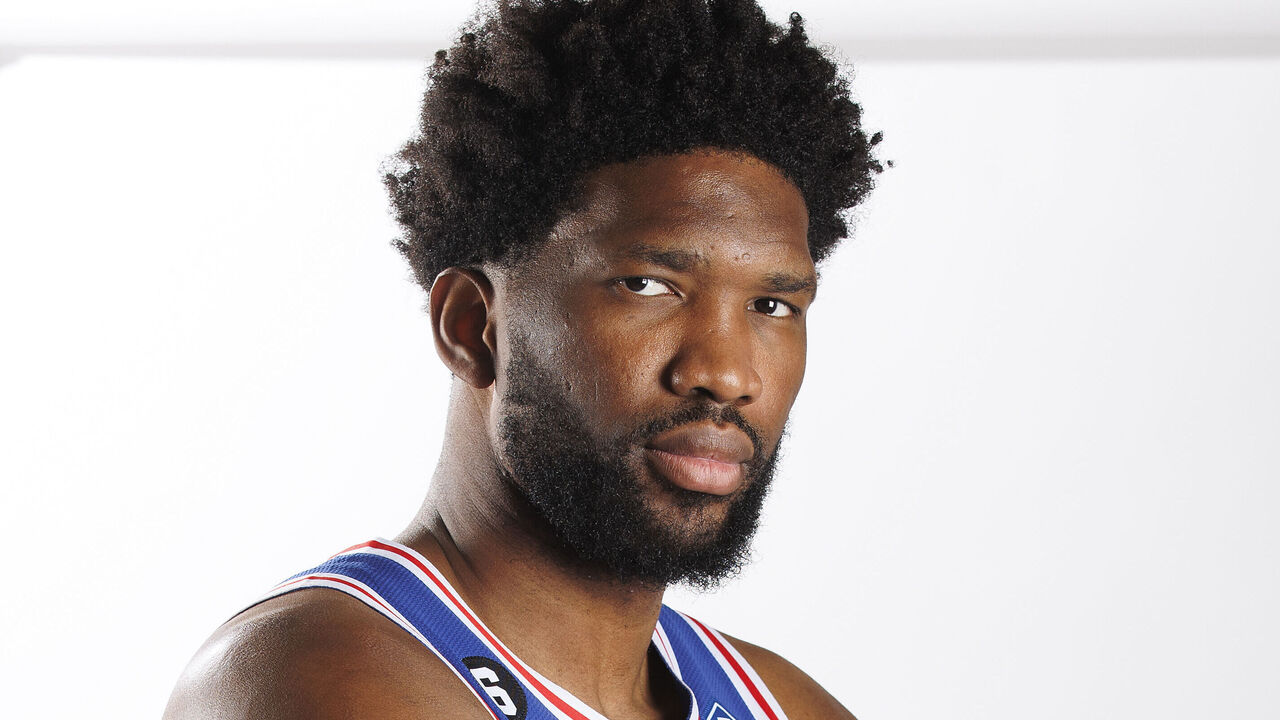 Signature performance: 2019 East semifinals vs. Raptors, Game 3
The eventual champion Raptors would later say that Embiid's 76ers provided their most daunting challenge en route to the title, and they never looked quite as overmatched as they did in Game 3 of the teams' second-round series. Embiid spent the whole series walling off the paint, corralling ball-handlers on the perimeter, and smothering Toronto's offense, but in Game 3, he dominated at the offensive end as well. He finished with 33 points, 10 rebounds, three assists, five blocks, and a plus-31 on-court rating in only 28 minutes, punctuating the performance with a driving windmill dunk and ebullient airplane celebration.
The series ended in heartbreak for Philly and in literal tears for Embiid, but don't put that on him. Across the seven games, the Sixers outscored the Raptors by 89 points in 237 minutes with Embiid on the floor and were outscored by 108 in 99 minutes with him on the bench.
Why he's here: It's been overshadowed by the fact his prime has overlapped with Jokic's, but Embiid's combination of size and skill is mindblowing in its own right. His passing may not stand out, but his coordination, touch, footwork, and agility combined with the raw power of his near-300-pound frame have made him one of the most imposing two-way players of the modern era.
In 2021-22, Embiid became the first big man since Shaq to win the scoring title, and he did it again the following year. But unlike Shaq, he hasn't been able to simply use his size and strength to dominate close to the basket because of rule changes that made post play more arduous. Instead, he's had to build out an offensive skill set that relies more on face-ups, jab steps, Euro-stepping finishes, and hang-dribble pull-up jumpers. He's been the NBA's most prolific post scorer since entering the league, but he's also turned himself into a high-volume 50% mid-range shooter.
He paired his second scoring title with MVP honors after a season in which he averaged 33.1 points on 65.5% true shooting, the second-most efficient 30-plus-point campaign in history behind only Curry's 2015-16. And he did that while almost single-handedly dragging a team full of minus defenders to a top-10 defensive rating.
Repeated injuries have so far prevented him from putting together a career-defining playoff run, which is a shame because he's an all-time great regular-season performer. - Wolfond
Follow the unveiling all week long. Tuesday: Nos. 20-16.