The WNBA's unstoppable journey: From hoop dreams to shattering glass ceilings
Julian Catalfo / theScore
It was 1985 when 27-year-old Nancy Lieberman, already a veteran basketball star and Olympic champion, was summoned to New York to meet with then-NBA commissioner David Stern. A former lawyer, Stern took over as leader of the upstart basketball league in 1984 and would become, in time, the longest-serving commissioner in league history.
Lieberman had already established a reputation for herself after becoming the youngest basketball player in Olympic history to medal, at 17. That was in 1976, at the Montreal Summer Games, in the inaugural women's Olympic basketball competition. In the years that followed, she took advantage of every opportunity to play professional basketball, even suiting up for the Los Angeles Lakers in their Summer Pro League at the behest of Dr. Jerry Buss - remaining undaunted when longtime Lakers trainer Jack Curran told her to change in the men's locker room and handed her a gym bag containing a jock strap.
Holding up the strap, she shouted, "Hey Jack, this thing's too small. You're going to have to find something bigger."
That fiery attitude translated to the court and soon she succeeded in winning over Lakers head coach Pat Riley, who admitted she had a certain unflappable quality about her. The way she tells it: "Nowadays Pat Riley says: '(The male athletes) were bigger, stronger, more athletic. And you acted like you were the best player there. You just took it and came at them,'" Lieberman said.
For Lieberman, there was no other option. "What was I supposed to do?" she asked.
Her competitive spirit and athletic excellence soon earned her the nickname "Lady Magic" and a circle of friends and mentors that included Muhammad Ali, who also won an Olympic medal as a teenager.
Given that context, it wasn't unusual that Stern sought out Lieberman for a meeting. But what he was about to tell her was definitely unheard of.
After the two walked into Stern's office, he quietly closed the door.
"Why are you closing the door?" Lieberman asked.
"If they hear me, they'll fire me," Stern said.
Lieberman's curiosity was piqued. "Really?" she asked.
Stern then dropped the bombshell he called her there to discuss: "Nancy, before I'm done with the NBA, there will be a 'W.'"
"A 'W'? What do you mean?" Lieberman asked.
"There will be a WNBA," Stern said, taking time to emphasize the first letter. "And my only hope is that you'll still be around to play in it," he added.
Young and healthy, Lieberman hadn't given a thought to retiring from basketball. But progress is slow, it takes an excruciatingly long time, and it wasn't until 11 years after Stern and Lieberman talked that the NBA board of governors approved the concept of a women's league, and another year until the WNBA tipped off on June 21, 1997. Lieberman, 39 years old by then, was selected by the Phoenix Mercury in the elite draft (held prior to the initial regular college draft as a way for teams to access top talent who'd already played professionally).
The morning of her first WNBA game, Lieberman received a call at home, where she was spending time with her then-husband and son before the historic contest. It was Stern. His voice was trembling.
"I can't tell you how happy I am," he said. "I didn't know that you would still be here."
The inaugural tipoff marked the culmination of years of hard work, yet it was only the beginning of a new journey. "What the WNBA did is it gave us something to want to fight for, to advocate for," Lieberman said.
Since its inception, that fight has included dual goals of enhancing the product for fans while also improving the athletes' experience. But it hasn't always been a steady 45-degree angle of improvement. It's been a journey marked by as many victories as challenges.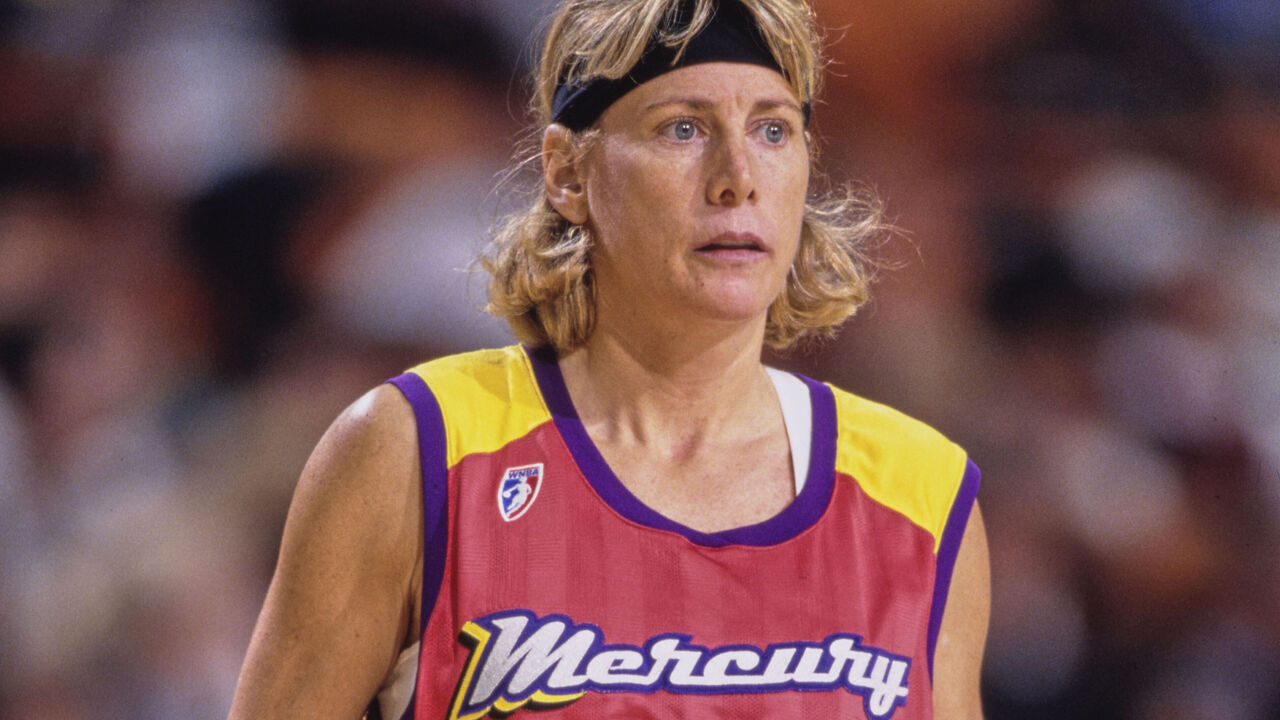 Lieberman played only one year in the WNBA before retiring to become the general manager and head coach of the league's Detroit Shock in 1998. In that role, she participated in the WNBA's first collective bargaining agreement.
"It was important to make sure the players had rights, and it was important to make sure that players knew what it took to run a league, so there could be some balance and understanding between the two."
That tension is something the league still grapples with today. But in 1998, Lieberman had a very succinct way of summarizing the balancing act. She remembers an athlete who continuously advocated for salary increases during Lieberman's stint as general manager.
Lieberman invited her for lunch, asking her to bring a legal pad and pen.
During lunch, Lieberman dictated while the athlete wrote.
"Erasers, staplers, staples, chairs, electricity, business cards, and tea," Lieberman said.
"What is all this?" the athlete asked.
"'These are things I spend money on to run a business,'" Lieberman recalls saying. "I wanted her to learn that this wasn't a girl's club. This was a real business."
Two-plus decades of growth
While the league walked the tightrope of sustainability and athlete needs, it began to do something else: develop fans. And after 26 years, the WNBA's standout rivalries, historic moments, and superstars have captured the attention of a growing number of supporters. The 2022 regular season was the league's most-watched in 14 years, and the league also saw historic levels of social media engagement, with 186 million video views and a 99% year-over-year increase in web traffic.
One of its modern-day superstars is two-time league MVP Candace Parker, who played a career-defining 13 seasons with the Los Angeles Sparks, leading them to two Finals appearances and one WNBA Championship during a heated rivalry with the Minnesota Lynx that delivered all the dramatic notes fans tune in for.
Parker fondly remembers teammate Nneka Ogwumike's fadeaway buzzer-beater that upset the defending-champion Lynx in Game 5 of the 2016 Finals, one of the most iconic WNBA highlights online today:
"We were up 10 with 1:15 left and we gave up 11 points," Parker said. "We went to the bench with (just over) a minute left and we were like, 'Alright, all we've got to do is get one more stop,' and then Maya (Moore, of the Lynx) hit a three."
Parker's takeaway: "You never have it until you have it. The moment you relax, all that can be for nothing."
Former Sparks teammate Chelsea Gray, who was on the floor during the sequence, said the moment still gives her chills. "The game is played to the smallest detail, and you win games by the inches. When you look at the pictures after that, it's like a chilling moment for the people that were involved in that locker room," she said.
The two - now firmly cemented in WNBA lore - both went on to win additional rings, Parker with the Chicago Sky and Gray with the Las Vegas Aces. They're now reunited on the Aces, but their years with the Sparks will live on well into the future.
"Those Sparks, Minnesota series that were going down to the wire, those were battles after battles every year. Just watching those battles and seeing the product on the floor ... seeing Parker and Nneka against Lindsay Whalen, Rebekkah Brunson, Maya Moore, I felt in that moment that we were never going to see anything like this again, that this is the highest peak of basketball," said Jordan Ligons Robinson, a journalist who recently launched a WNBA podcast, "Queens of the Court," with Sheryl Swoopes, the league's historic first signing.
Robinson has been a WNBA fan since her preteen years. "I grew up a Sacramento Monarchs superfan," she said. "When I was 9, I stood in line and got Ticha Penicheiro's autograph on a jersey, and I still have it, though the autograph has since faded," she said. "It's one of my prized possessions."
She even had hoops aspirations herself. "I started practicing my signature. I was like, 'I'm going to the WNBA, you can't tell me otherwise.'" Robinson didn't have the height to play in the bigs, but she transferred her girlhood fandom to her profession as a journalist.
"Every time I cover (the WNBA), I think of myself as a little girl … as a lover of basketball."
Despite being awed at the iconic Sparks-Lynx rivalry, Robinson said the league has proven her wrong - it's continued to develop, and continued to get better. "Even just in the last Finals, we've already topped (Sparks vs. Lynx). And we're going to keep going and going," she said. Her passion is proof the league is succeeding in drawing fans to the women's game.
And while that's a major piece of the puzzle, Parker's cohort of athletes are pushing to leave the league in better condition than when they found it - and that means continued reform. But to Parker, that reform doesn't mean copying what's worked for the NBA.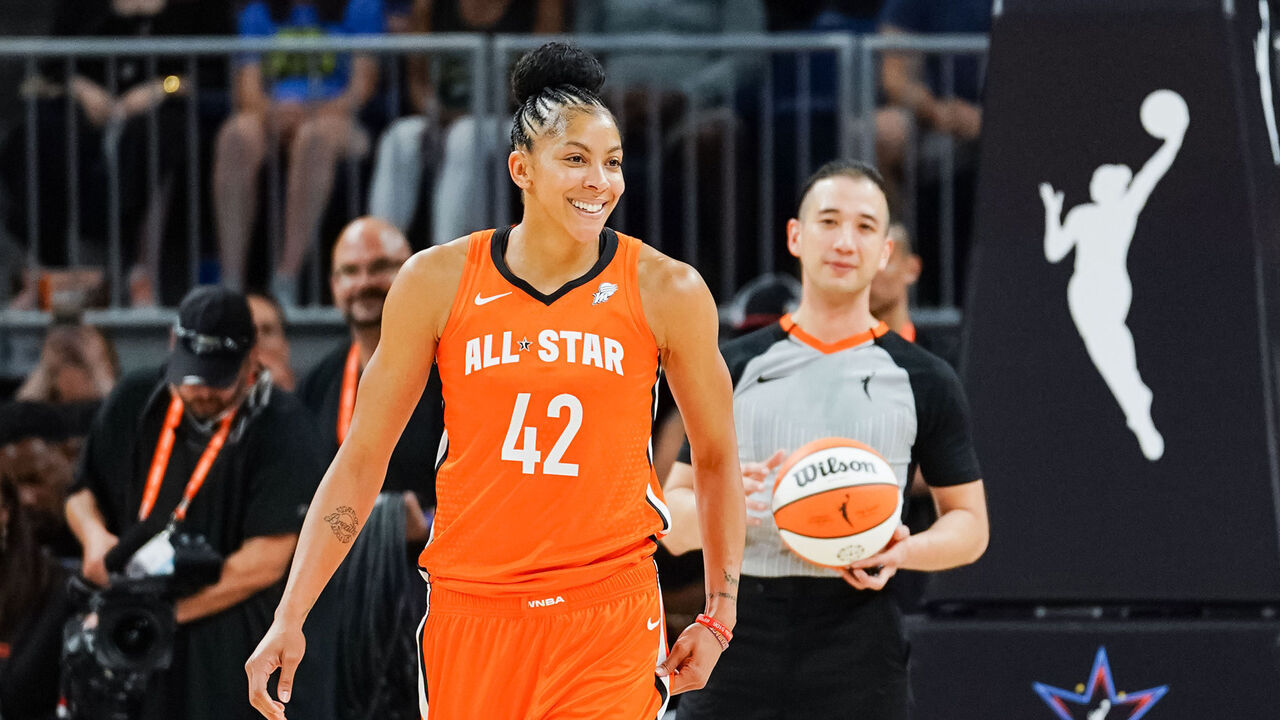 "I think sometimes in the WNBA, we try to be the NBA. And that's not the case. We're 26 years young. The NBA is 76 years old," she said. "In some way, shape, or form, we have to do it in a different way." One example Parker's spoken about in the past: the concept of increasing player earnings through revenue sharing, instead of demanding equal pay with NBA athletes.
Meanwhile, the Aces, Parker's new team, are taking it upon themselves to be ahead of the game. Prior to the start of the 2023 season, they unveiled their new dedicated training facility - a WNBA first. The 64,000-square-foot campus features state-of-the-art amenities that rival some of the NBA's facilities.
"The Aces have gone above and beyond. We didn't have a facility, so we were working out of high schools, we were going to UNLV practice gyms. We were moving all the time. You're kind of having to scrapbook your day. To be able to have everything in one place, with all the resources - I'm just grateful," Aces point guard Kelsey Plum said. "Now, the league has to rise to that level if they want to compete. From a resources standpoint, the league is responding."
Next on the wish list for many athletes: league expansion. "We only have a certain amount of teams … seeing (so) many great players getting drafted to get waived in two weeks is crazy. There's a lot of talent sitting at home (who) could be on rosters, but there just aren't enough spots," Aces guard Kierstan Bell said.
With the league playing its first game in Toronto - and first in Canada - to a sold-out crowd of over 20,000 on May 13, it appears passion from fans to grow the league also exists.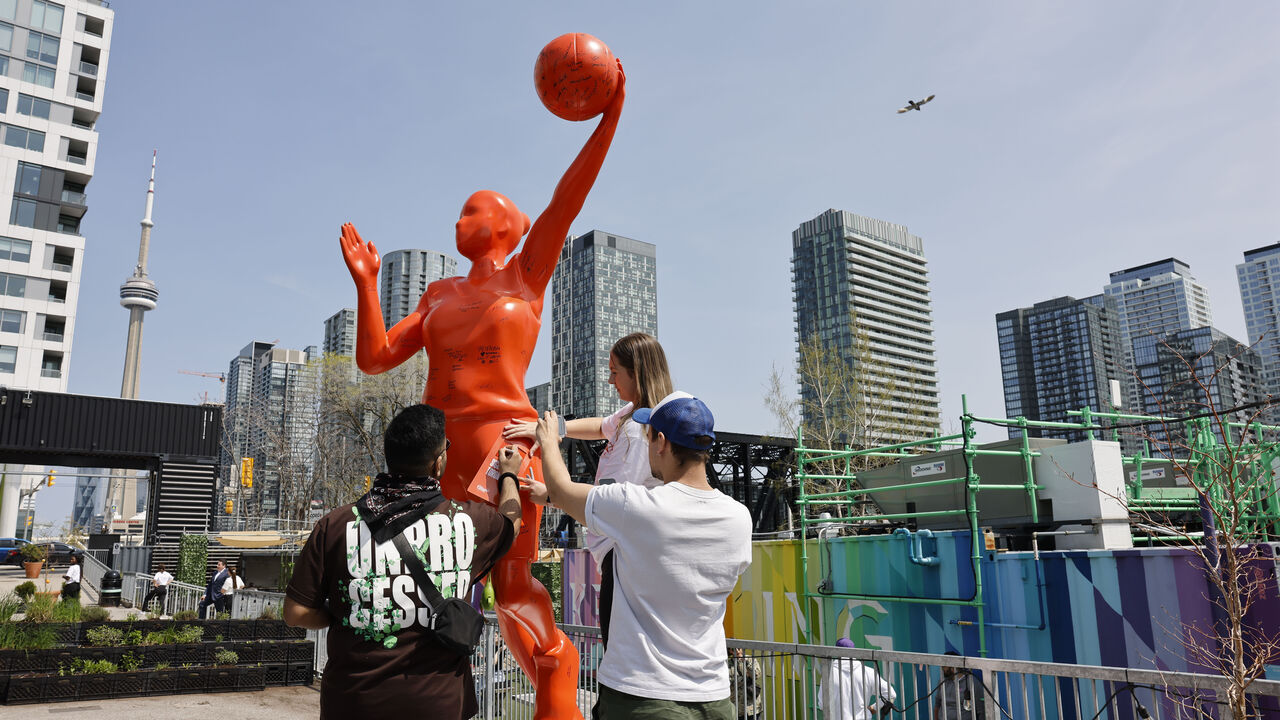 "(When I was growing up) we didn't get to watch the WNBA in Canada. It wasn't on TV," said two-time Canadian Olympian, 2019 WNBA All-Star, and Seattle Storm guard Kia Nurse. "I don't have any young memories of watching the game because it wasn't available for us.
"The expansion conversation has been around in our league for a while now and at some point that will come to fruition," she added. "Representation means a lot. It means a lot in women's sport especially. Imagine the repercussions of being able to go to a WNBA game in Toronto and how many young women would pick up a ball after going to that. I think it would make a lot of waves in our grassroots programs."
Nurse's hopes are characteristic of the approach taken by many WNBA athletes, who want to keep pushing the game forward together with its fans. Looking back to the league's inception 26 years ago, it's come a long way, but the journey continues.
And for Lieberman, it goes back to that summer with the Lakers, so many years ago.
"Don't exhale. We've got to keep fighting and do the right thing. We're in this. We're in it for the long haul. It's a beautiful thing. Today's players are amazing gatekeepers of the game of basketball," she marveled.
Comments
✕
The WNBA's unstoppable journey: From hoop dreams to shattering glass ceilings
  Got something to say? Leave a comment below!