Light the beam! The entertaining Kings are the NBA's best story
Julian Catalfo / theScore
In this era of "Ringz Culture" and daily debate shows, fun teams that provide nightly excitement - but not necessarily the thrill of championship contention - are taken for granted.
The best teams aren't always the best stories. With all due respect to the NBA's top five squads, or even the upstart Cleveland Cavaliers, the honor this season goes to the Sacramento Kings.
The Kings are on the precipice of clinching their first playoff berth since 2006, marking the longest playoff drought in NBA history, and one that's currently four years longer than any other postseason drought in all of North American pro sports.
In the state of California, the once lowly Golden State Warriors and Los Angeles Clippers have emerged as perennial contenders over the last decade or so, while the 17-time champion Lakers remain the league's most glamorous franchise. That left the Kings - who faced a relocation scare back in 2013 - to play the part of California basketball's ugly stepsister.
And that's a shame, because the Kings are the only big-league ticket in Sacramento, but own just nine winning seasons over their 38-year history in the state capital. As former Lakers head coach Phil Jackson once asked while delivering a backhanded compliment during the two teams' heated rivalry at the turn of the century, "What else do they play in Sacramento? Picking fruits and vegetables?"
Those tortured and ridiculed Kings fans haven't asked for much. Which other fanbase would so gleefully proclaim that their team could win … 40 games?
Before recording their 40th victory of the 2022-23 campaign earlier this month, the Kings hadn't cracked that mediocre benchmark in 17 years. They only topped 30 wins eight times in the last 16 seasons, and the team entered this year with a preseason over/under win total of 34.5. That figure had Sacramento pegged as the Western Conference's 11th-best team, meaning even just squeaking into the play-in tournament would've been an overachievement.
Can you blame the organization, then, for lighting Sacramento's sky purple after every win this season or blame cowbell-ringing Kings fans for being so giddy about lighting that beam every time their beloved team notches another stunning victory?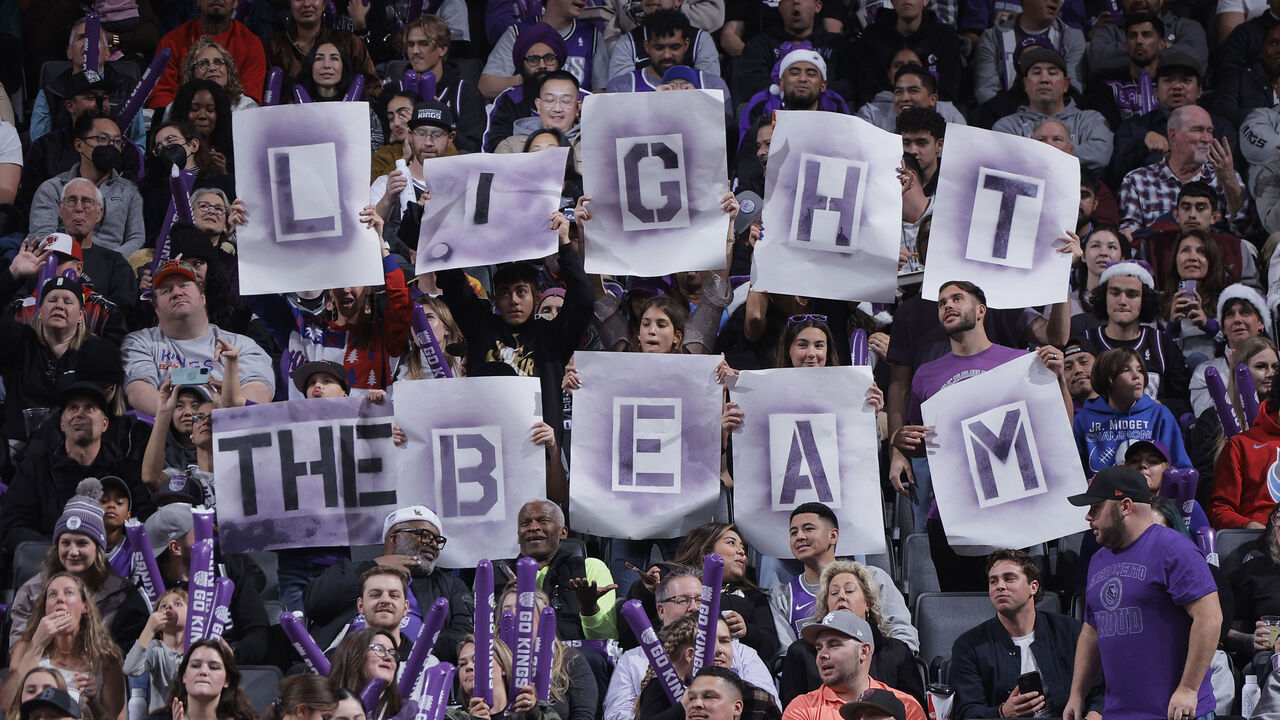 Then again, Kings victories should no longer be stunning. Through 75 games, the 45-30 Kings own the league's seventh-best record and the West's No. 3 seed. They're also closing in on the franchise's first Pacific Division title in 20 years. And they're doing it by playing the most entertaining brand of basketball imaginable.
Sacramento not only owns the league's best offense this season but the most efficient offense in NBA history (118.9 points per 100 possessions). Scoring and efficiency are at an all-time high across the NBA this year, but Sacramento's offensive rating relative to the league average (plus-4.9) is the second-highest mark in franchise history and its best offensive performance since 2004 (plus-7.4), when Peja Stojakovic and Mike Bibby headlined their firepower.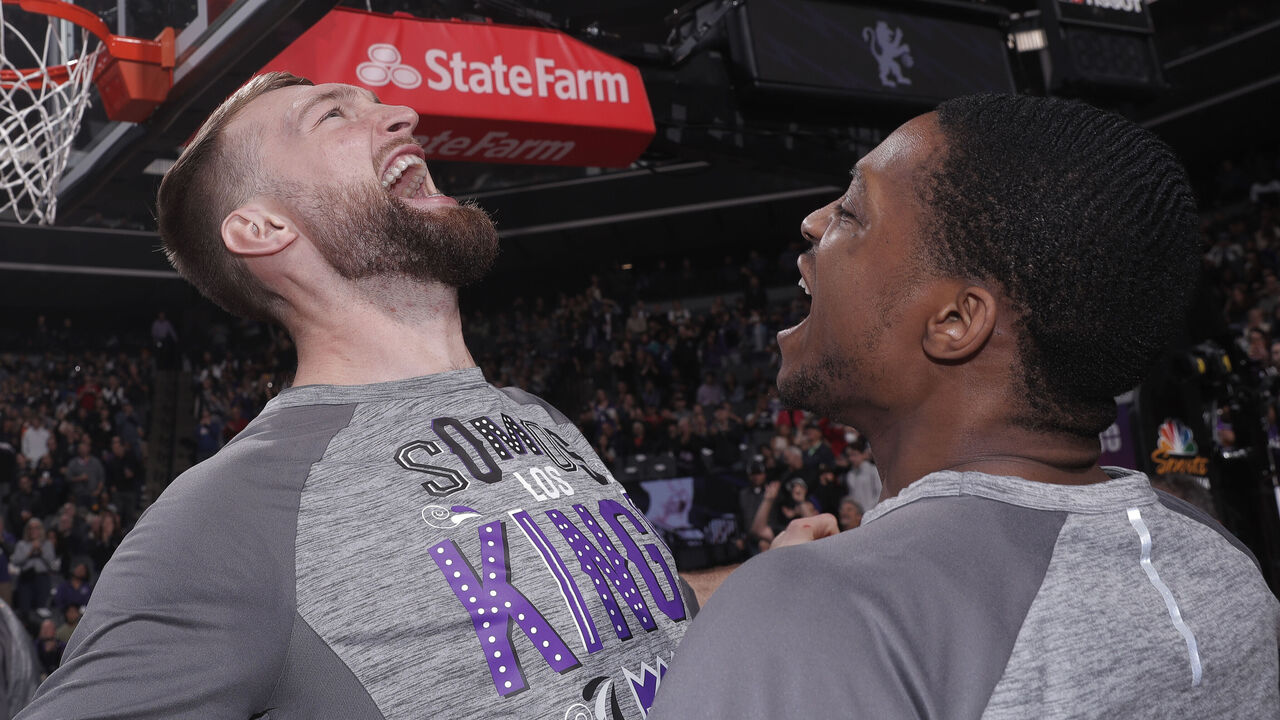 De'Aaron Fox and Domantas Sabonis are the pillars of that devastating attack.
Fox is a dizzying blur, and he's the main reason Sacramento spends more time in transition than any other team (20.3% of possessions), according to NBA.com. The first-time All-Star is averaging 25.3 points and 6.1 assists on 60.2% true shooting, converting above his career averages from every area of the court.
Fox's biggest strength remains getting to the basket. He ranks 11th in drives per game, and despite being listed at a mere 6-foot-3 and 185 pounds, Fox is shooting 78% at the rim. Among 341 players who've logged at least 600 minutes this season, he ranks 15th in at-rim efficiency (just behind Kevin Durant), per Cleaning The Glass. The only other guard in the top 37 is Lakers sophomore Austin Reaves.
Fox has also been the NBA's "Captain Clutch" this season. The Kings have played the sixth-most clutch minutes (time within the last five minutes of a game with a margin of five points or less), and Fox is the biggest reason they've won those 173 minutes by a whopping 54 points. His league-leading 185 clutch points make up nearly 39% of Sacramento's total clutch production. To put that number in perspective, this season's total points leader (Jayson Tatum) accounts for 23.5% of his team's scoring.
Sabonis' excellence has been more understated, but the All-Star big man is very much the hub around which the Kings' offense whizzes. Watch even a few minutes of Kings basketball, and you'll be mesmerized by the never-ending screen actions and dribble handoffs Sacramento runs around Sabonis, with his teammates darting around him like madmen. The man is an offensive savant.
Sabonis leads the Kings in touches, rewards Sacramento's cutters with easy buckets, and tops the league in screen assists, but his boxscore stats are pretty darn impressive, too. Sabonis is averaging 19.2 points per game to go along with a league-leading 12.5 rebounds and a team-leading 7.2 assists. The only other players in history who've averaged 19, 12, and seven in a season were Nikola Jokic, Wilt Chamberlain, and Oscar Robertson.
The Kings surrounded their star duo of Fox and Sabonis with the shooting of Kevin Huerter and rookie sensation Keegan Murray, the steady production of veteran starter Harrison Barnes, and impactful bench play from the likes of Malik Monk, Trey Lyles, and sophomore stopper Davion Mitchell.
That supporting cast was remade in short order by general manager Monte McNair, now in his fourth season on the job. The Kings brought in Lyles at the 2022 trade deadline. They acquired Huerter from the Atlanta Hawks last summer. Monk signed with the Kings in free agency. Murray and Mitchell were drafted in each of the last two years.
Barnes, who arrived in Sacramento from the Dallas Mavericks at the 2019 deadline, is the lone mainstay beside Fox, who was drafted fifth overall in 2017. Even Sabonis has only called Sacramento home for a little over a year, having arrived following a 2022 deadline-week deal that shipped Tyrese Haliburton, Buddy Hield, and Tristan Thompson to the Indiana Pacers.
Helming it all is head coach Mike Brown, whose Sactown resurgence is a great story in itself. After spending six seasons as an assistant on Steve Kerr's championship staff in Golden State, Brown earned his first head coaching gig in nine years when the Kings hired him last summer. Brown, who this month became just the second coach in Kings history to post a winning season (Rick Adelman did it eight years in a row from 1998-99 to 2005-06), is now poised to win his second career Coach of the Year award 14 years after the first.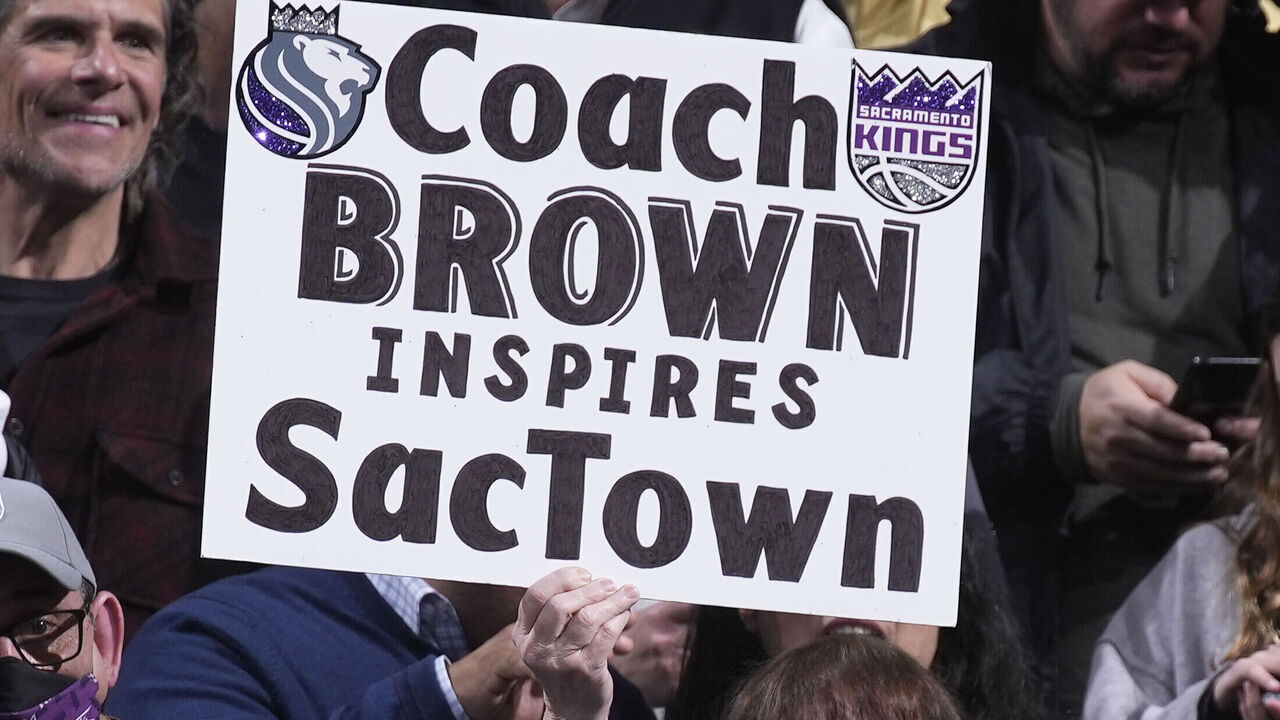 Not everything is sunshine and lollipops for the new-look Kings, however.
They don't seem capable or particularly interested in stopping anybody, but that Achilles' heel only adds to the team's entertainment value. How else are we going to get 176-175 barn burners like the double-overtime classic Sacramento and the Clippers gave us in late February? The Kings have lost twice this season when they scored 134 points in regulation. They've also won 11 games in which they've given up 120 points in regulation.
Under normal circumstances, we'd pick that 25th-ranked defense apart and admonish the West's No. 3 seed for being more of a pretender than a contender because of it. Normally, the Kings' wretched defensive metrics might have us questioning whether they can build a genuine title contender around Fox and Sabonis, and how soon they might come to regret trading Haliburton just to construct a good, but not great, team. Forget all that. The point here is that the Kings being this good means these are not normal circumstances.
Plus, McNair has earned some team-building faith for what he's done to resurrect a moribund franchise. Fox, Huerter, Murray, and Mitchell - all 25 and under - are under long-term team control. Sabonis and Monk will combine to earn less than $30 million next season. The Kings own all but one of their future first-round picks (although the rolling protections on that 2024 pick mean they currently can't trade a first-rounder until 2028). Brown has brought more sideline stability than any Kings coach in years. This magical ride of a season should be the start of something in northern California, not some random one-off.
Regardless, Sacramento has waited too long for a season like this, and Kings fans deserve to milk every last second of it. The time to talk about their future will come, just as we can wait before starting to dissect how and when their porous defense might sink them in the playoffs.
For now, the NBA's most entertaining team is writing the league's best story. Just enjoy the ride, and light that beam.
Joseph Casciaro is theScore's senior content producer.
Comments
✕
Light the beam! The entertaining Kings are the NBA's best story
  Got something to say? Leave a comment below!