Lauri Legend: Markkanen's shocking offensive explosion
Alex Goodlett / NBA / Getty Images
New NBA stars emerge every year, but the basketball gods usually pluck these fresh faces from a specific subset of players.
The candidate pool for the league's Most Improved Player award often consists of promising youngsters coming into their own, or veterans finding a new gear after several years in the league. But Utah Jazz forward Lauri Markkanen has done more than merely find another gear this year. Even for winners of the award, the gap between who they were before the season tipped off and who they become over the course of their breakout campaign is rarely this drastic.
Sure, the Bulls drafted Markkanen seventh overall in 2017 (via Minnesota), he averaged nearly 19 points per game as a sophomore in 2018-19, and he was a solid starter for a 44-win Cavaliers team last year. But entering his sixth pro season on his third different team - and after being included in the mammoth package of players and picks Cleveland sent to Utah for Donovan Mitchell - it felt like this is who Markkanen would always be: a sweet-shooting big man and mediocre rebounder who could give you about 15 points a night, and an improving - but still flawed - defender.
On the whole, Markkanen entered this season a solid starter, but more a spoke in the NBA's wheel; a complementary player in a league that revolves around a constellation of superstars.
He's now anything but that for a Jazz team that will orbit around him in the coming years.
Markkanen earned that trust. Through three-quarters of his first Jazz season, the 7-foot forward is averaging more than 25 points per game (25.3) while flirting with a 50-40-90 season; he's shooting 51.2% from the field (59.4% from 2-point range), 40.9% from deep, and 88% from the free-throw line.
His playmaking can still use work, as he's once again recorded more turnovers than assists, but his vision should improve as he continues getting used to having the ball in his hands. Plus, his individual turnover rate is sparkling for a high-usage star. Among 49 qualified scorers with usage rates above 25%, Markkanen owns the second-lowest turnover rate (8.9%).
His 8.6 rebounds per game may not sound like much for a player his size, but Markkanen ranks in the top five in defensive rebound rate among the 50 forwards who've logged the most minutes this season, according to Cleaning The Glass. Markkanen's overall defense has regressed after improving in Cleveland, but the effort's still there. Besides, it's tough to nitpick the rest of his game when he's become an absolute scoring machine.
Among 53 players currently averaging at least 20 points per game, only Nikola Jokic, Kevin Durant, and Steph Curry are scoring more per shot attempt.
Markkanen's been virtually unstoppable from every spot on the floor. Even from his worst shooting area - the long mid-range zone - his efficiency still ranks in the 72nd percentile among forwards, per Cleaning The Glass.
Markkanen's and Damian Lillard's exploits in 2022-23 have them on track to join Curry, Durant, Jokic, and Charles Barkley as the only qualified scorers and 3-point shooters to average 25-plus points on 65% true shooting or better in a season. That Hall of Fame company encapsulates how shocking and impressive Markkanen's mid-career glow-up has been.
Lillard entered the season a six-time All-Star and All-NBA selection, with an established reputation as one of the greatest scorers of his generation. Jokic achieved the feat in what was his second straight MVP campaign. Curry and Durant already had MVPs when they joined the 25-65 club.
Barkley, like Markkanen, was a 25-year-old first-time All-Star when he posted his first such season in 1987-88, but was also coming off a sophomore campaign that saw him average 20 points on 57% shooting. Barkley was supposed to be a rising superstar. Markkanen, on the other hand, is having an offensive season for the ages after averaging 15.4 points over his first five years in the league.
This kind of breakout - from average starter to bona fide offensive superstar in Year 6 - doesn't happen in the NBA.
Perhaps the best comparable for Markkanen's remarkable improvement is Victor Oladipo's star leap in 2017-18. A second overall selection in 2013, Oladipo entered his fifth season playing for his third different team. Like Markkanen in 2022, Oladipo was included in a team's (Oklahoma City) outgoing trade package for a bigger-name star (Paul George) in 2017. Oladipo blossomed as a Pacer, finally realizing his potential in Indiana.
Still, when Oladipo made his only All-NBA and All-Defensive teams in 2017-18, his scoring average of 23.1 that season improved by 7.2 points over the previous season's average and his career average after four seasons (15.9). Markkanen's scoring average of 25.3 has increased by 10.5 points over last season, and is 9.9 points above his career average through five seasons.
Another comparable is Isaiah Thomas, who broke out in his first full season in Boston in 2015-16 after uneven stints in Sacramento and Phoenix. But Thomas' scoring average increased by only 5.8 points year-over-year and by 6.6 points over his career average.
Tracy McGrady exploded in his fourth pro season upon moving to Orlando from Toronto in 2000, improving his scoring average by 11.4 points year-over-year. But as staggering as T-Mac's rise was, great things were expected of him when he went home to Florida. In moving from Cleveland to Utah, Markkanen wasn't even seen as Utah's most exciting or most promising former Cavalier, a title most observers bestowed upon Collin Sexton.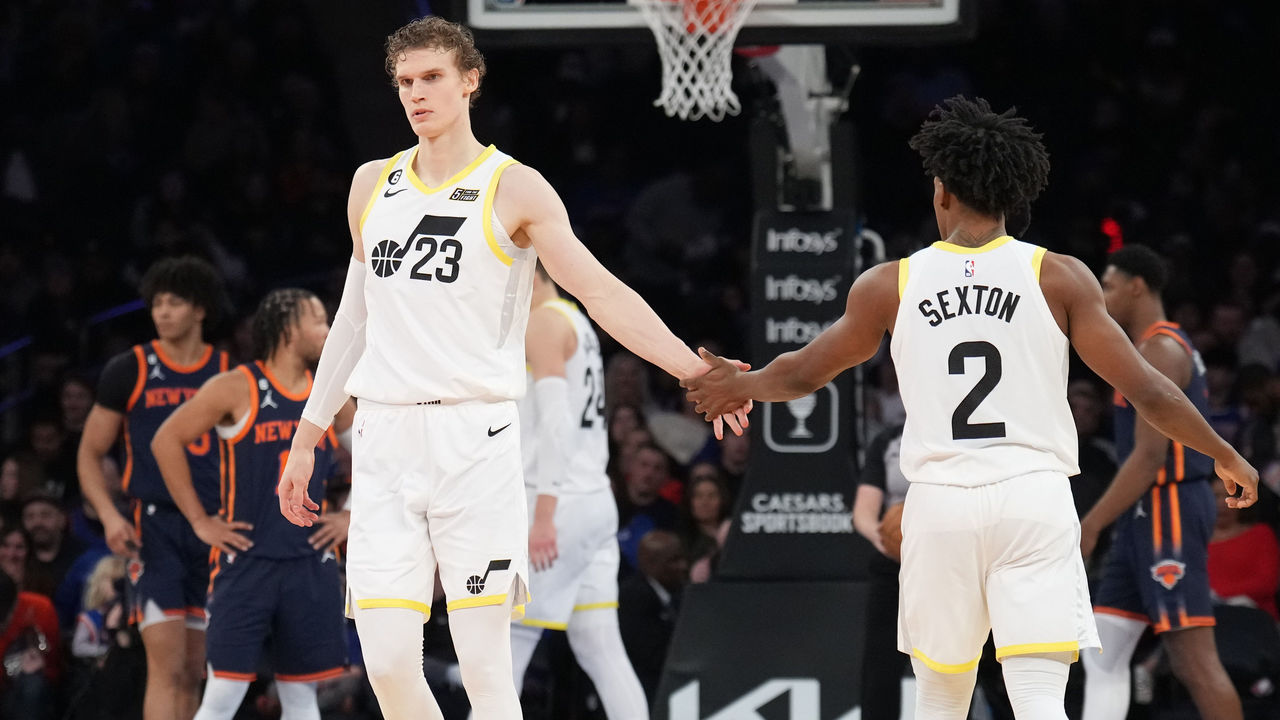 Markkanen's stunning rise is the main reason why Utah is playing meaningful basketball in March. After turning Mitchell and Rudy Gobert into a boatload of seemingly lesser players and picks, the Jazz were supposed to be one of this season's most shameless tankers. Instead, after a surprising start, the Jazz continue to hover around .500 and remain in the thick of the Western Conference playoff race.
Markkanen hasn't done it alone. Veterans Jordan Clarkson, Kelly Olynyk, and the recently traded trio of Mike Conley, Malik Beasley, and Jarred Vanderbilt helped a ton. In addition, rookie center Walker Kessler - acquired from Minnesota in the Gobert haul - has been a revelation in the middle. Rookie head coach Will Hardy is proving to be an innovative tactician.
But Markkanen's fingerprints are all over Utah's rapid rise: with their newfound star on the court, the Jazz perform like a top-three overall team. When Markkanen sits, Utah plays like a bottom-four team.
His presence is most obviously felt on the offensive end, as Utah's fifth-ranked attack - and opposing defensive schemes - hinge on Markkanen. This is especially true with Clarkson and Sexton sidelined, and Conley and Beasley gone. Down the stretch of a Feb. 28 loss to San Antonio, it wasn't uncommon to see the Spurs double-teaming Markkanen off the ball. He still finished with 28 points and 10 rebounds.
In addition to all the team's extra draft picks, the development of rookies Kessler and Ochai Agbaji, and the ingenuity of Hardy, Utah's foundation will be built upon Markkanen's shoulders. The Jazz have the 25-year-old All-Star under contract for slightly under $17.3 million next season and for $18 million in 2024-25; that's less than 13% of the projected salary cap.
Markkanen's ascension is also a reminder of how important role, fit, and opportunity are in determining an athlete's career trajectory. Health is also a big factor: Markkanen played 57 of Utah's first 63 games this season after missing more than a quarter of his teams' games through his first half-decade in the NBA.
But I'd also caution against trying to find the next Lauri Markkanen among the NBA's stock of solid yet unspectacular players. The man who now counts "Lauri Bird" and "The Finnisher" among his nicknames is one of one - a true outlier when it comes to star development.
There are plenty of floundering rotation players who could do more if given the chance. There aren't many players out there who can go from seemingly average to having one of the greatest scoring seasons in basketball history overnight.
Joseph Casciaro is theScore's senior content producer.
Comments
✕
Lauri Legend: Markkanen's shocking offensive explosion
  Got something to say? Leave a comment below!