Reasons to believe in - and doubt - the West's top 4 contenders
Dynasties often rule the NBA, but we're in an era of relative parity: We've seen four different champions and seven different finalists over the last four years. This coming season again features an uncommonly deep field of contenders. We're laying out reasons to believe in them and reasons to doubt them.
Over the past two days, we broke down the reasons to believe in, and the reasons to doubt, the Eastern Conference's primary and secondary contenders. Next up, the top tier of the West.
Golden State Warriors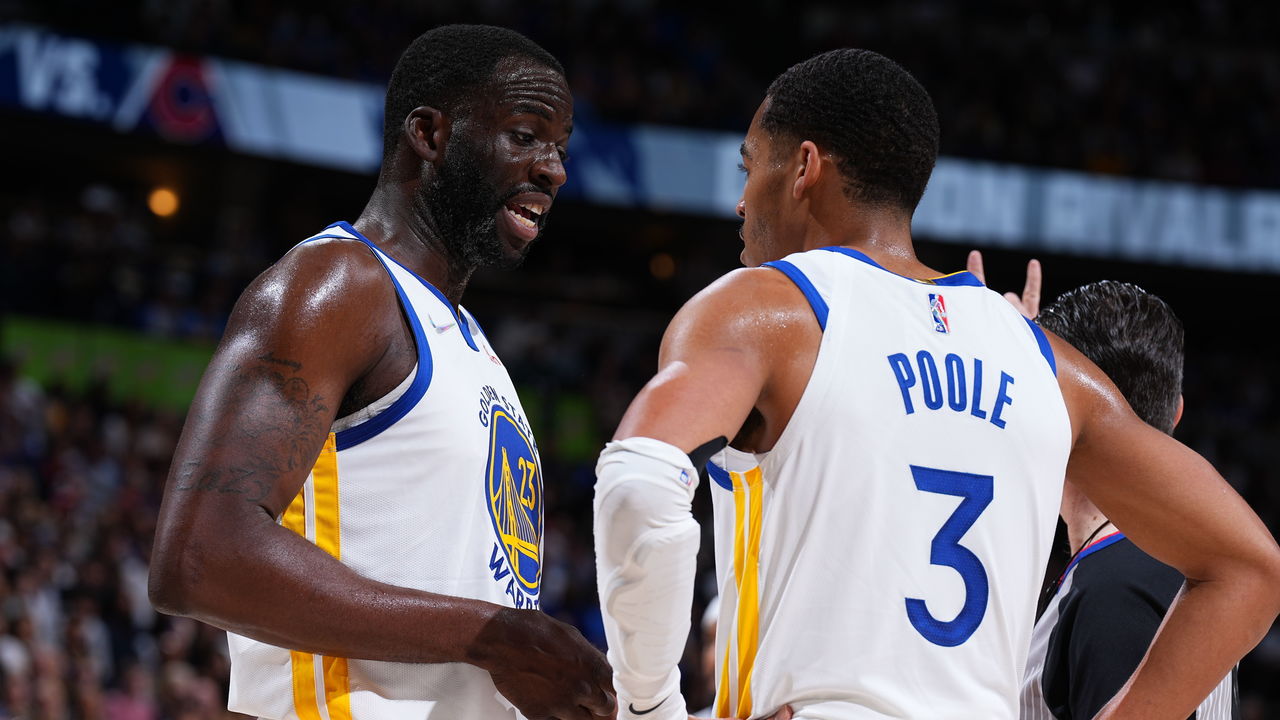 Reasons to believe: The obvious reason to believe in the Warriors is that virtually the same team won the championship four months ago, and history has shown that when Steph Curry, Klay Thompson, and Draymond Green are all healthy, Golden State gets to the Finals.
Losing Gary Payton II and Otto Porter Jr. could hurt their bench, but the expected contributions of youngsters Jonathan Kuminga and James Wiseman - the latter of whom missed all of last season with a knee injury - could offset those losses by making the defending champs a much more athletic team. Wiseman, in particular, will help the Warriors match up with the league's more mobile and athletic big men in ways the steady Kevon Looney can't.
In addition, Donte DiVincenzo might've been the most underrated acquisition of the offseason. He was one of the league's premier perimeter defenders before he tore a left ankle ligament in the 2021 playoffs, and his playmaking and shooting ability should shine in Steve Kerr's system.
Meanwhile, Jordan Poole figures to continue his ascent as a burgeoning offensive star, and 2022 All-Star Andrew Wiggins has settled into a perfect role as a tertiary scorer and impact defender.
The Warriors will look slightly different than they did when they lifted the Larry O'Brien Trophy in June, but this version of the team might actually have a higher ceiling.
Reasons to doubt: For one, the big three of Curry, Green, and Thompson are another year older, and the team is already being cautious with Klay in the preseason. This roster looks good on paper, but if one of the core trio is banged up and youngsters like Kuminga and Wiseman aren't ready to consistently produce, depth could certainly be an issue.
Off the court, the champs may be undone by money-related infighting. With Poole and Wiggins potentially due for big raises while Green comes to terms with the fact he won't get anything close to max money at this stage of his career, tensions may run high. The issue has already reared its ugly head, with Green punching Poole in a preseason practice.
Is it possible Green, Poole, and the rest of the Warriors get past this and roll to another title? Of course, but it's hard to believe a team will stick together and sing kumbaya for eight months when the first sign of trouble came a week into training camp.
Los Angeles Clippers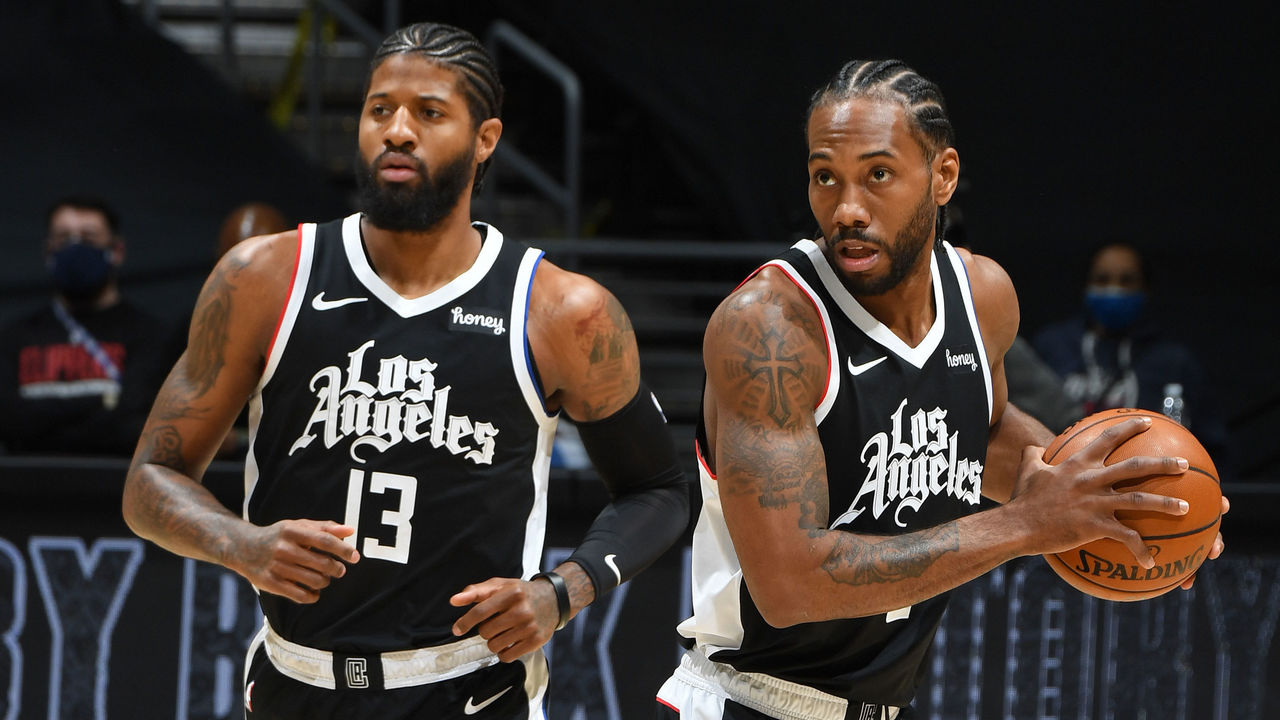 Reasons to believe: Kawhi Leonard is back, and there is perhaps no player in the league whose success feels as inevitable as his when he's at full strength. Leonard is as automatic as championship-level superstars get, and he's got arguably the NBA's best second option, Paul George, as his running mate.
Leonard and George are flanked by the deepest supporting cast in the league, all under the stewardship of one of the game's great tacticians in head coach Ty Lue. A healthy version of the Clippers is as much a no-brainer contender as exists today.
The addition of John Wall also provides the Clippers a low-risk, high-reward option to solve some of their secondary ball-handling and creation issues.
Reasons to doubt: Leonard's health can never be taken for granted. He's coming off a 16-month absence due to a torn ACL, he already had to be load-managed because of a quad issue that's troubled him for five years now, and he hasn't played more than 60 games in a season since 2016-17.
George and the depth around him can keep the Clippers afloat while the team manages Leonard's workload during the regular season, but Leonard missing another quarter of their games means the difference between a top seed and a lower seed, having or not having home-court advantage later in the playoffs, and avoiding or encountering a tougher early-round matchup that puts unnecessary strain on a contender.
Not to mention George himself hasn't played even 55 games in a season since the 2018-19 campaign. Los Angeles might be the best team in the league when its two stars are healthy, but it's become increasingly unlikely that those two stars can withstand the rigors of a full season, let alone the rigors of the nearly nine-month journey from training camp to the conclusion of the Finals.
Finally, as deep as the Clippers are, there are still questions about whether Reggie Jackson, Terance Mann, and Wall - who hasn't played a regular-season game in 18 months - can provide the type of playmaking and secondary creation that a title hopeful needs.
Denver Nuggets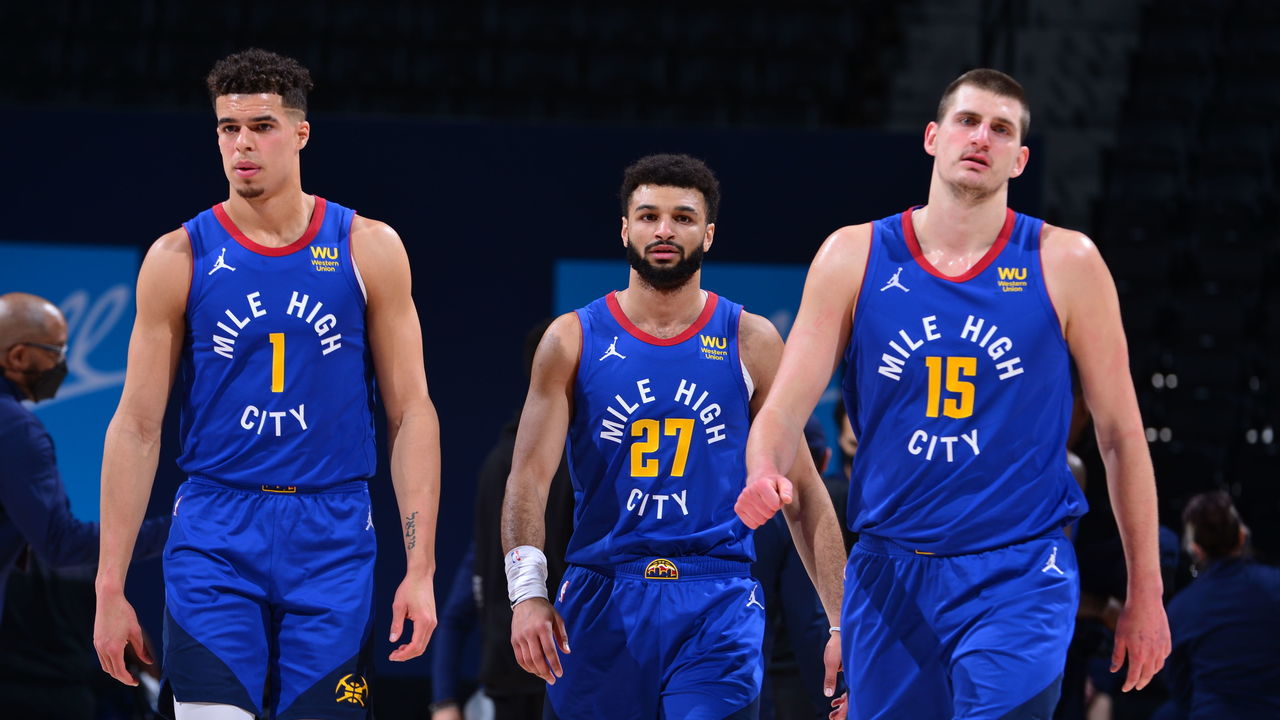 Reasons to believe: The Joker finally has some help again.
The fact that two-time reigning MVP Nikola Jokic carried the Nuggets to 48 wins and a top-six seed in the Western Conference without Jamal Murray and Michael Porter Jr. inspires confidence that the Nuggets will be able to ease Murray and Porter back in slowly without having to worry about falling into the play-in tournament.
That's key, because if the pair of returning Nuggets can be ramped up to full speed by the postseason, the sky's the limit in the Mile High City. The last time Jokic, Murray, and Porter went into the playoffs healthy together, Denver rallied back from down 3-1 to eliminate Leonard and George's Clippers, advancing all the way to the conference finals.
Murray's return provides the steady scoring, shooting, and self-creation the Nuggets lacked around Jokic last season, while the threat of Porter's shooting ability further opens the floor for Jokic and his playmaking brilliance. On that note, Bruce Brown's off-ball movement and brilliant cutting fit perfectly in an offense that orbits around Jokic's vision.
Brown and fellow newcomer Kentavious Caldwell-Pope - who's shot 39.5% from deep over the last three seasons - should provide steady defense as well. With Aaron Gordon settled into his role, the defensive infrastructure should be solid enough to withstand the returns of Porter and Murray.
The X-factor could be sophomore guard Bones Hyland, who has the type of offensive package that's capable of setting fire to opposing reserves and the length to become at least a passable defender.
Reasons to doubt: Health and defense.
At 25 years old, Murray's ability to regain his pre-knee-injury abilities should not be in doubt, but it might be asking too much for him to reclaim the full breadth of his powers in Year 1 of his return. Meanwhile, Porter's back issues and general durability remain causes for concern. It's quite possible the Nuggets head into the 2023 postseason with as many health-related questions as they had in 2022 and 2021.
If they are healthy, the Nuggets will have to find ways to improve defensively while relying on the returns of two spotty defenders. In the case of Porter, "spotty" is probably too kind.
Denver managed a middle-of-the-pack (15th-ranked) defense last season with Porter and Murray sidelined, but even if the offense is more explosive this season, that middling performance on the other end of the floor likely isn't enough to carry a team through May and June. In addition, Jokic's improved defense last season was correlated with the absences of Porter and Murray, who are too often easily beaten in front of the big fella.
Can Gordon, KCP, Brown, Jeff Green, and one of Zeke Nnaji or DeAndre Jordan help Jokic anchor a championship-level defense?
Phoenix Suns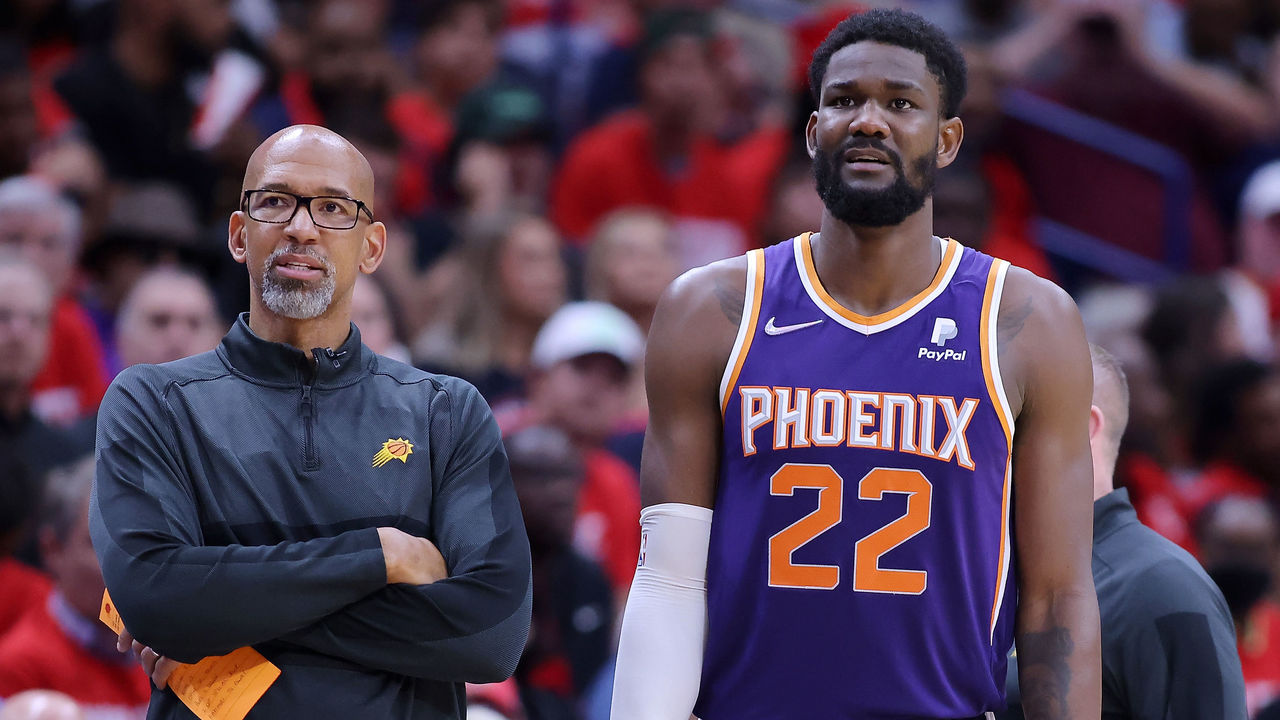 Reasons to believe: The team that went to the 2021 Finals and recorded a league-best 64 wins in 2022 is still largely intact, and the combination of Devin Booker and Chris Paul provides a level of shot-creation, shot-making, and playmaking every contender desperately requires. But let's be frank: The Suns remain in the top tier of this exercise strictly out of respect for what a largely identical roster accomplished over the last two seasons. Otherwise, there are plenty of reasons to believe Phoenix will fall back into the second tier of West contenders, if not further.
Reasons to doubt: There's a dark cloud hanging over this team, and I'm not just talking about the fact owner Robert Sarver is selling the franchise after an investigation into his workplace misconduct (which included racist language and misogynist behavior) led the league to suspend him for a year.
Deandre Ayton, who was benched during Phoenix's embarrassing Game 7 loss to Dallas in the second round of the playoffs and clashed with head coach Monty Williams because of it, had yet to speak with Williams as of the first day of training camp. Ayton also looked disinterested to start the preseason after sulking through media day as the big man begins playing on his new contract after a contentious summer with the Suns.
Veteran forward Jae Crowder - who, along with Mikal Bridges, gave Phoenix two players capable of guarding the league's biggest and best wings - is absent from the team while the Suns seek a partner to fulfill his trade request. (It would also be nice if Bridges developed the ability to create more of his own offense.)
For as impressive as the Suns have been over the last two years, remember that they also failed to get the job done after going up 2-0 in the 2021 Finals. Then, in 2022, they completely folded in a Game 7 like few home teams in history ever have.
Oh yeah, and they lost their preseason opener to an Australian team (that was later obliterated by Oklahoma City) despite all five Suns starters logging 20-plus minutes of action.
Check back tomorrow for the West's second tier of contenders.
Joseph Casciaro is a senior writer for theScore.
Comments
✕
Reasons to believe in - and doubt - the West's top 4 contenders
  Got something to say? Leave a comment below!