Embiid's new level of greatness changes equation for Simmons-less Sixers
Jesse D. Garrabrant / NBA / Getty Images
It's been seven months since the passed-up layup heard 'round the world, yet the Ben Simmons saga in Philadelphia still hasn't concluded.
As the NBA's Feb. 10 trade deadline nears, it remains tough to get a read on the situation, particularly when 76ers general manager Daryl Morey has a reputation for moving the goalposts in negotiations. It's hard enough to decipher what's credible and what's merely a smokescreen in an average NBA trade negotiation. It's damn near impossible when it comes to Simmons, Morey, and the Sixers.
Adding intrigue and urgency to the matter is the astounding level Joel Embiid is currently playing at, which Morey recently admitted changes the equation when it comes to what Philly might deem an adequate return for Simmons.
Embiid's career year
Tuesday's victory over the undermanned New Orleans Pelicans perfectly encapsulated what the 76ers' season has looked like.
Against an already Zion Williamson-less Pelicans team that also had its otherwise top four players (Brandon Ingram, Jonas Valanciunas, Devonte Graham, Josh Hart) missing, Philadelphia was an 11-point favorite at home. Embiid exploded for 42 points, 14 rebounds, four assists, and four blocks, but there was nothing easy for the Sixers, who found themselves in a one-point game entering the fourth quarter.
It was the fifth straight contest in which Embiid scored more than a point per minute - including a 50-point performance in only 27 minutes against the lowly Magic on Jan. 19. However, the Sixers are only 3-2 in those games.
Embiid was an MVP runner-up last campaign, but he's performed even better this season, averaging 29 points, 10.8 rebounds, 4.3 assists, 1.4 blocks, and a steal in just under 33 minutes per contest. The big man's playing the best basketball of his stellar career, which has allowed the Sixers to maintain a spot in the six-team clump fighting for the Eastern Conference's top seeds. Such is life without Simmons and without a Simmons trade that would bring back replacements to help Embiid elevate Philadelphia.
With the team's most prolific distributor holding out, Embiid's playmaking has been the most improved area of his game. His career-high assist percentage (the percentage of teammate field-goals assisted by a player while on the court) has seen a whopping 58% increase year-over-year.
Watch even a few minutes of Sixers basketball this season, and Embiid's improved vision - as well as Philly's reliance on the big man as a playmaking hub - pop off the screen. Only starting point guard Tyrese Maxey averages more assists per game (4.5 to 4.3) on the team.
The most impressive part of Embiid's increased playmaking duties is that he's solved some of his turnover issues while shouldering the heaviest burden of his career.
Embiid wasn't blameless when it came to his propensity to cough the ball up, but his supporting cast did him no favors.
For most of his time in Philadelphia, the Sixers have lacked the type of offensive initiator capable of even throwing a competent post-entry pass to Embiid. When the ball did find its way inside, Embiid would get swarmed by opponents who didn't fear his teammates.
It's almost as if the big man decided to remedy all of that by himself this season. He's getting his teammates better looks, dribbling his way into his own post-ups, and generally creating more for himself.
Prior to this campaign from Embiid, the only players who ever posted usage rates above 36% and assist rates of at least 24% while turning the ball over on less than 12% of their possessions were Kobe Bryant, Dwyane Wade, and Allen Iverson.
Embiid is carrying his team's ninth-ranked offense the way Hall of Fame guards do, except he's doing it more efficiently than they ever did while anchoring what is a top-11 defense.
His defensive impact has dipped somewhat, and opponents are faring better when he's guarding the rim than in past years. But Embiid's still a force on that end of the court, with a two-way burden that almost seems unfair, even for a superstar earning more than $31 million this season.
This is what the best player on a championship team looks like. This is not what a championship team looks like, though, with Maxey, Tobias Harris, Seth Curry, Danny Green, Matisse Thybulle, Furkan Korkmaz, Andre Drummond, Shake Milton, and Georges Niang rounding out Doc Rivers' Simmons-less rotation.
The case for trading Simmons now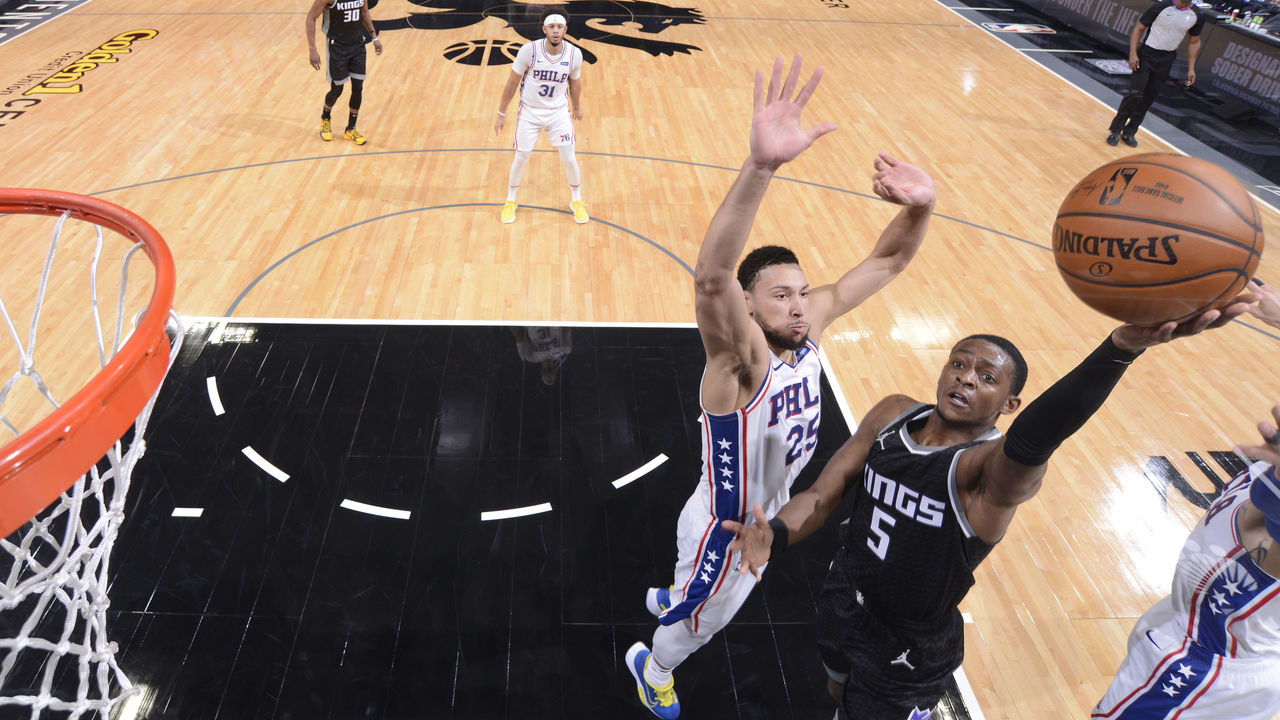 The easiest way to address that underwhelming supporting cast is for Morey and the Sixers to swallow their pride and commit to trading Simmons for whatever emerges as the best offer between now and the trade deadline.
Understandably, Philadelphia must consider how this franchise-altering trade will mesh with the remainder of Embiid's prime and the rest of his time under contract. The soon-to-be five-time All-Star is under team control through 2026, with a $54-million player option in 2026-27. But Morey must also consider how extraordinarily Embiid is playing in the present and how rare it is for an NBA team to have a player performing this well.
It's not just a question of durability, either.
Sure, Embiid being a 280-pound, 7-footer with a history of back, knee, and foot issues is concerning in its own right. The 27-year-old has only cracked the 2,000-minute mark once in his career. But even if he stays healthy for the remainder of his contract, he may never be better than he is right now because few big men in history have ever been better than this.
Delaying a Simmons trade and holding out hope for a better offer might result in a better player partnering with Embiid later. Still, it's also likely that player would be joining a weaker Sixers team because how could Embiid possibly be any better?
Assuming your franchise star will be as good, as available, or as content as he is now for the remainder of his contract is a dangerous game for teams to play. Embiid recently said he's fine with the way Morey's Sixers are handling the situation and with the current, Simmons-less roster. But plenty of stars have made similar statements in the past, only for the weight of their individual burden and their team's lack of true contention to slowly take its toll.
Morey admitted Embiid's performance means Philadelphia doesn't need to add a surefire superstar to join the small group of true title contenders. The team can bargain in good faith, trade Simmons for the best package available, and address the Sixers' current need for a lead initiator, improved defense, and rebounding.
They may not be the top-tier names Morey and Sixers fans were hoping for when Simmons first hit the trade market, but players like Sacramento's De'Aaron Fox, Minnesota's D'Angelo Russell, and Atlanta's John Collins would immediately raise Philadelphia's ceiling.
As improved and deep as the Eastern Conference is, it's very much a conference in flux. Brooklyn can't be sure one of its three stars will be consistently available by the time the playoffs arrive. Chicago is dealing with injuries that have sunk its surprising defense. First-place Miami and the defending champion Bucks are quality contenders, but neither is unbeatable, especially if Philadelphia rolled into the playoffs with Embiid and a borderline All-Star-quality running mate.
A question to consider is whether a blockbuster trade in February would leave the Sixers with enough time to gel before the postseason. For example, if Philly and Sacramento come to terms on a deal involving Simmons, Harris, and three Kings (think one of Fox or Tyrese Haliburton, plus Buddy Hield and Harrison Barnes), that's a ton of turnover for Rivers and the roster to adjust to while trying to gear up for a playoff run.
The case for standing pat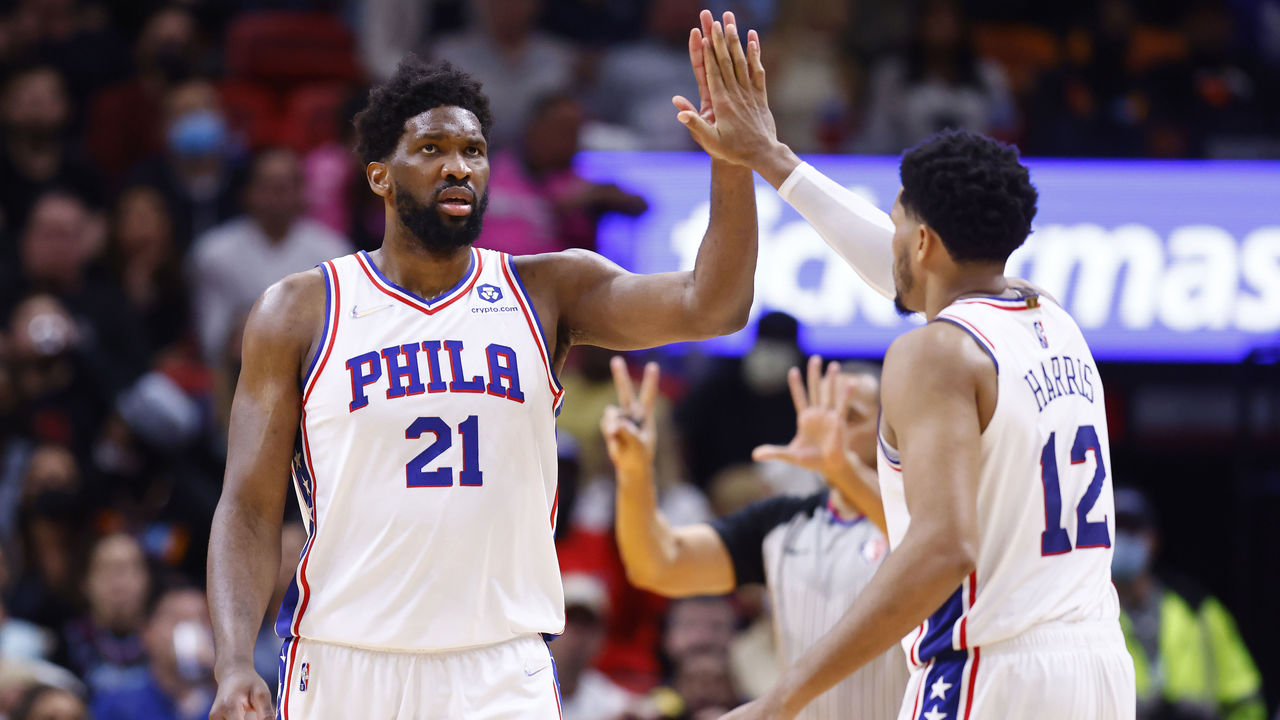 If Morey has a legitimate reason to be confident in landing James Harden from Brooklyn via a sign-and-trade this summer, and he knows Simmons would be the key to that deal, then standing pat makes sense.
Why should Philly waste bullets in order to marginally improve in the present that it could use in a future deal to make it a no-brainer contender? Landing a star such as Harden, Damian Lillard, or Bradley Beal, as examples, also means the Sixers could contend without needing Embiid to be as otherworldly as he's been this campaign.
Harris has recently played the best basketball of his disappointing season, and he raises the Sixers' ceiling when he's at his efficient, shot-creating best (though he's rarely been his best in the playoffs).
Morey famously subscribes to the 5% Theory: If an NBA team believes it has at least a 5% chance of winning the championship, it should go all-in on trying to win it. If he doesn't think this Sixers team can get there this year, even with Embiid playing at an all-time level, then there's no justification for Philadelphia to burn assets that it could use for something bigger later.
Again though, this route should only be an option if there's genuine internal confidence about landing a star this summer, or else the Sixers risk wasting Embiid's absolute prime season while saving bullets for a future that may never come.
The best of both worlds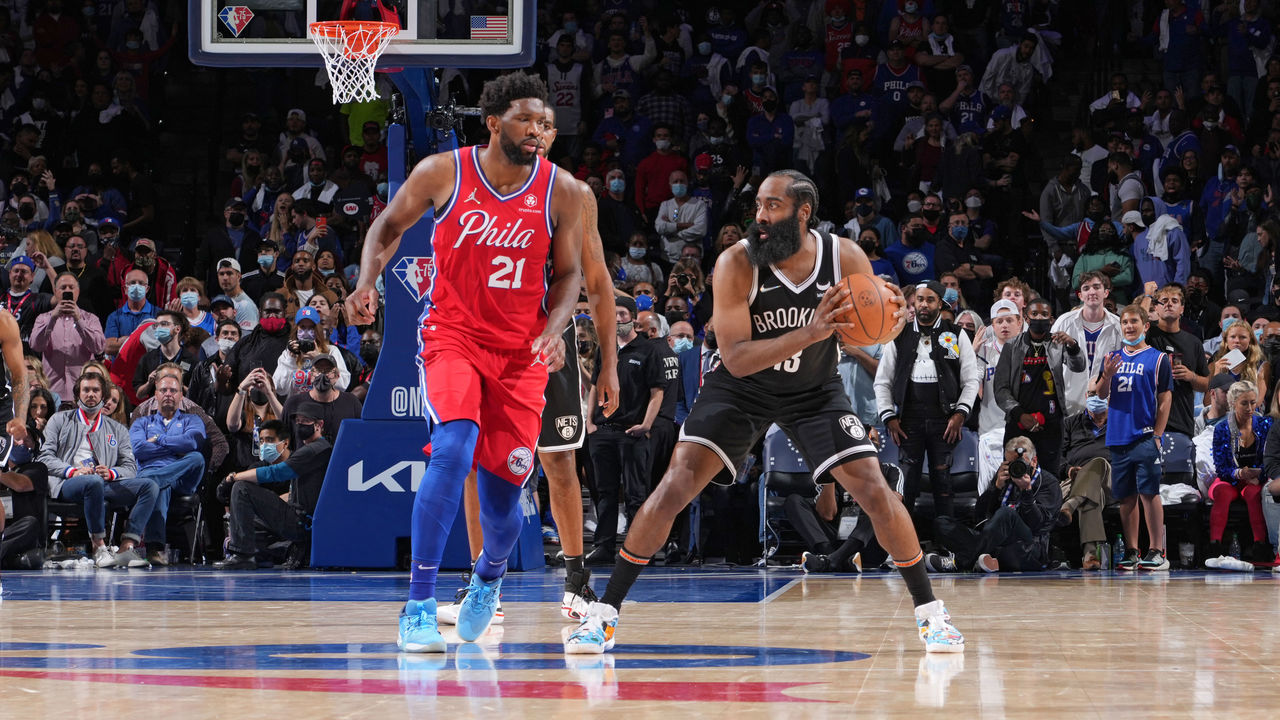 Perhaps the most fascinating question to consider is whether the Sixers could trade Simmons before the deadline to boost their 2022 odds and still make a splash this summer.
Imagine a scenario in which the aforementioned Kings trio, Russell, Collins, or another combination of B-list stars helps Embiid fuel a deep playoff run. Couldn't Morey get back in the mix for Harden, another A-lister, or even a Jaylen Brown-level star this summer using pieces acquired in an earlier Simmons trade, plus a youngster like Maxey and picks?
This route might be the most unrealistic of the bunch. But is it any more far-fetched than the idea that a 25-year-old star would sit out an entire season, and a contending team with an MVP-level superstar in his prime would let it happen?
Joseph Casciaro is theScore's senior basketball writer.
Comments
✕
Embiid's new level of greatness changes equation for Simmons-less Sixers
  Got something to say? Leave a comment below!