NBA Power Rankings: Reigning champion Bucks start where they left off
The NBA Power Rankings are selected by a panel of theScore's basketball editors.
On the eve of the 2021-22 campaign, it's time to take one last look at where everybody stands following a busy offseason.
1. Milwaukee Bucks
After leading the league in net rating for two straight years, the Bucks spent the 2020-21 regular season looking inward before coming away with the title. They pick up where they left off: No. 1.
2. Utah Jazz
The Jazz finished with a historically great net rating, outscoring opponents by nine points per 100 possessions. Everyone's back, plus a few new faces, including Rudy Gay, Hassan Whiteside, and March Madness hero Jared Butler.
3. Brooklyn Nets
Even without Kyrie Irving, Kevin Durant and James Harden are the league's best duo. With a myriad of veteran role players, the Nets are on the shortlist of championship contenders.
4. Phoenix Suns
Last year's finalists accomplished their most pressing offseason task: bringing back Chris Paul. However, reports of an impasse in negotiations with Deandre Ayton could shake the stability the Suns enjoyed last campaign.
5. Los Angeles Lakers
Granted, it's way too early to overreact, but the first impressions of Russell Westbrook with the Lakers suggest de facto coach LeBron James and his fellow ball-dominant teammate have some kinks to work out.
6. Miami Heat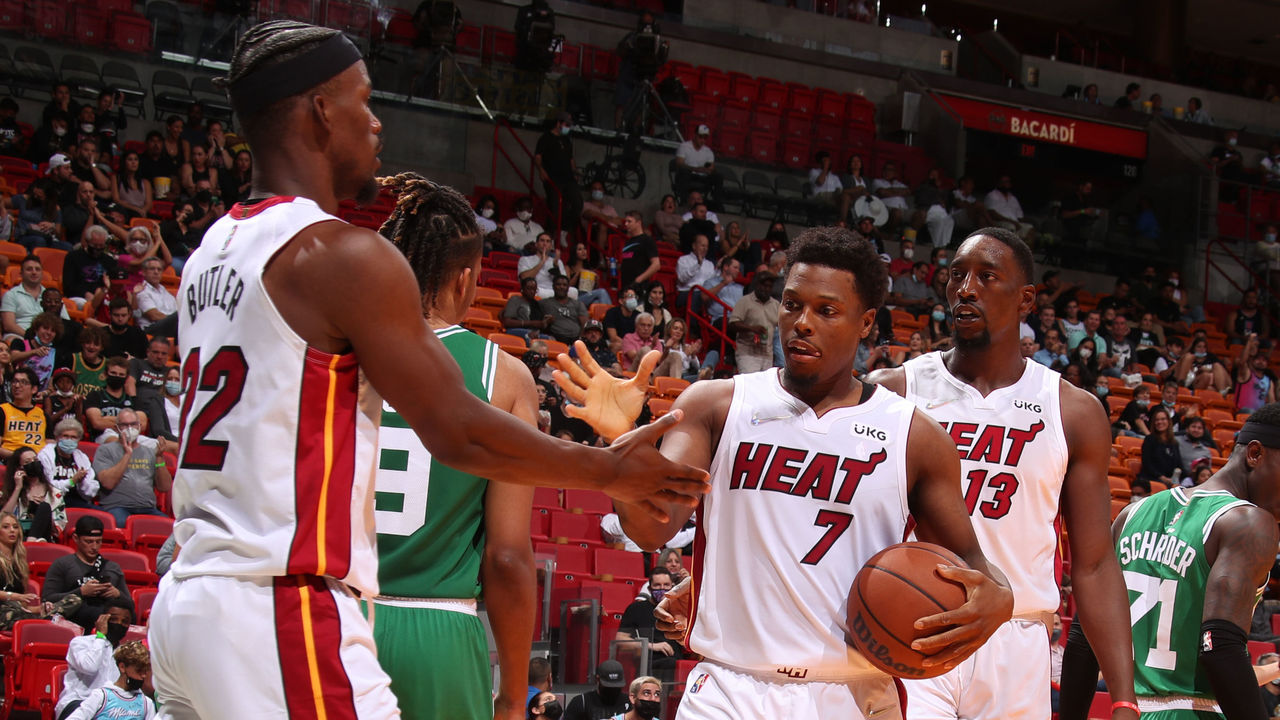 Kyle Lowry represents a significant upgrade over Goran Dragic, giving the Heat three bona fide All-Stars. However, as currently constructed, the second unit lacks the depth Miami boasted when it made the 2020 NBA Finals.
7. Denver Nuggets
Jamal Murray's absence puts more responsibility on the shoulders of Michael Porter and Aaron Gordon. Should the two rise to the occasion, expect the Nuggets to be a serious title contender.
8. Philadelphia 76ers
Without a proper resolution to the Ben Simmons saga, the 76ers may be in for a frustrating season. If they can get him fully committed again, Philadelphia could be on the doorstep of a title.
9. Atlanta Hawks
Fresh off a surprising trip to the Eastern Conference finals, Trae Young and the Hawks won't catch teams off guard. Atlanta's deep supporting cast could go a long way toward a repeat playoff run.
10. Los Angeles Clippers
Without Kawhi Leonard, the Clippers are a cut below the true title contenders this season. Maybe he'll come back in time to give the team a puncher's chance in the playoffs.
11. Dallas Mavericks
New Mavericks head coach Jason Kidd has one of the game's best players in Luka Doncic, but his use of Kristaps Porzingis may make or break the club's season.
12. Boston Celtics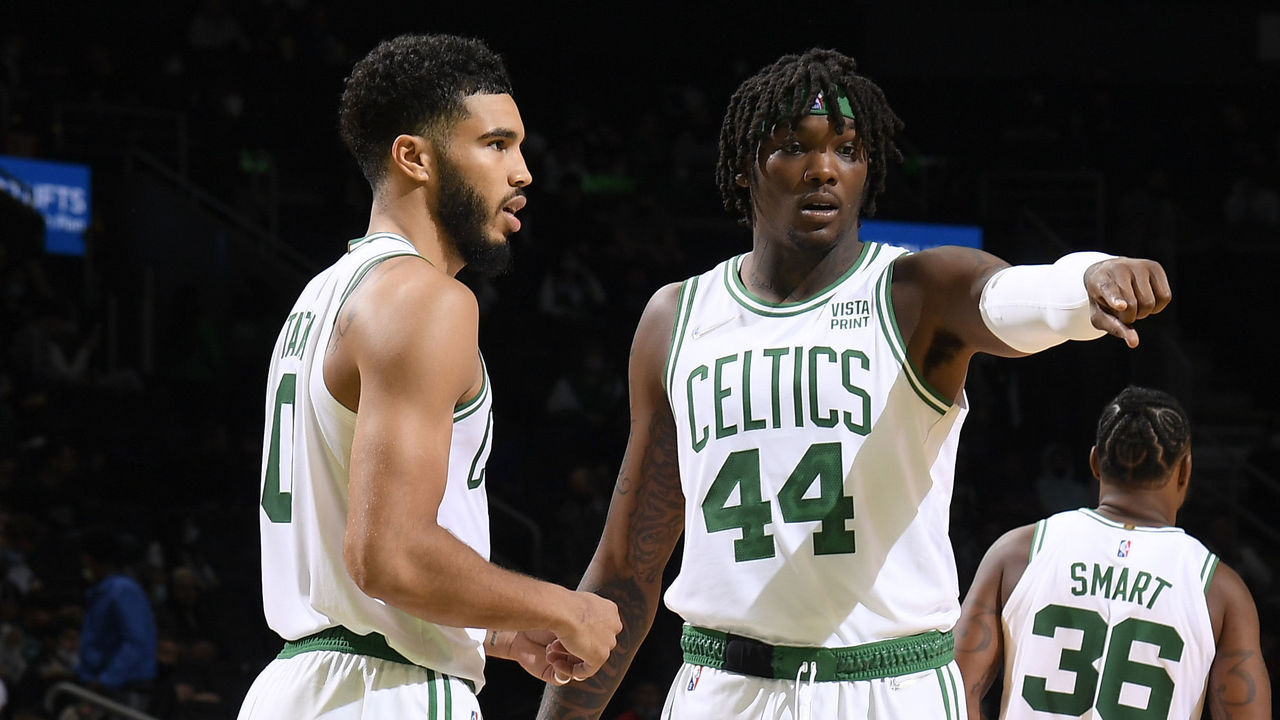 Dennis Schroder is a good bet for a bounce-back season, while Robert Williams is poised for a breakout campaign in his first season as the Celtics' full-time starting center.
13. Golden State Warriors
Is optimism finally on the horizon for the Warriors? Clips of Klay Thompson practicing again have looked encouraging. In the meantime, Stephen Curry will have a much stronger supporting cast this season.
14. Portland Trail Blazers
The Blazers had a decent offseason with the additions of Larry Nance Jr. and others despite a dire cap situation, but will it be enough to keep Damian Lillard happy? Time will tell.
15. Chicago Bulls
Bulls fans should be thrilled after an eventful offseason. Chicago brought in the likes of Lonzo Ball and DeMar DeRozan to complement a core already featuring Zach LaVine and Nikola Vucevic. Buckets aplenty to come.
16. Charlotte Hornets
Veteran center Mason Plumlee provides the Hornets with some much-needed scoring and rebounding at the five, while forward Kelly Oubre gives the club some insurance behind the oft-injured Gordon Hayward.
17. New York Knicks
After years of seeking stars to no avail, the Knicks signed a core group to team-friendly deals with an eye on future free agents. Expect a similar record to last season.
18. Memphis Grizzlies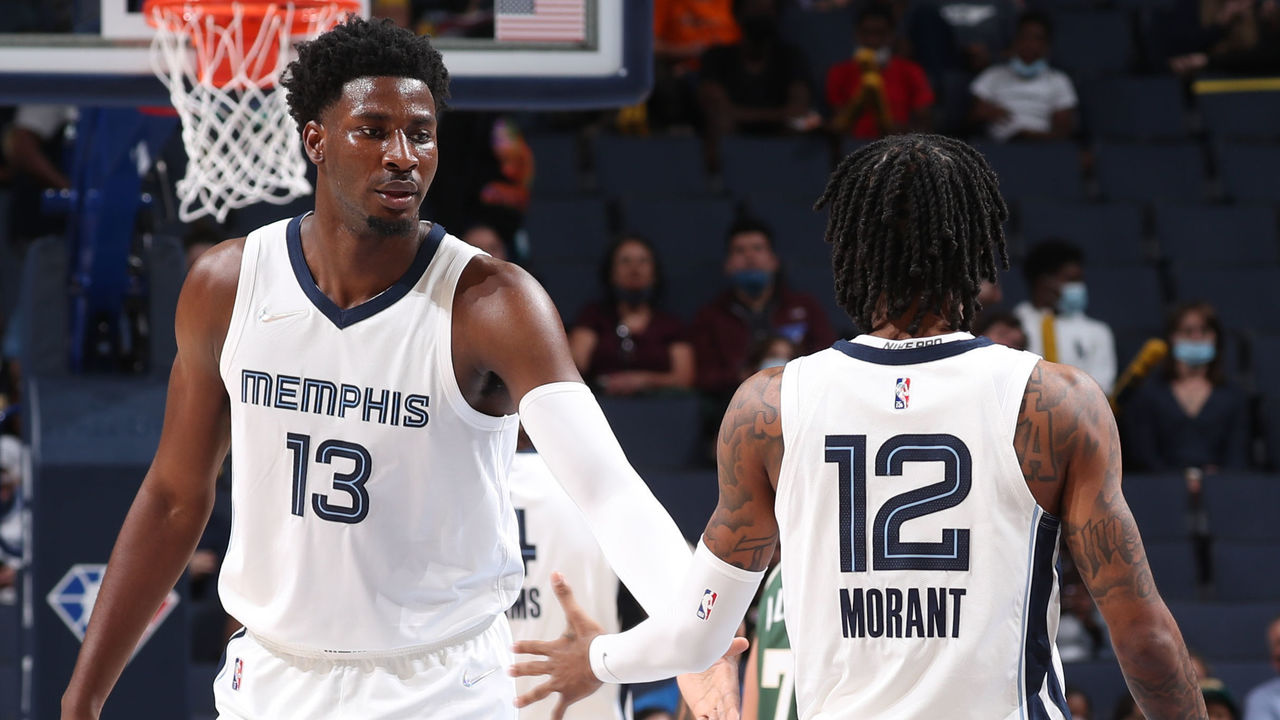 With Ja Morant and a now-healthy Jaren Jackson Jr. ready to hit the ground running, this could be the year the up-and-coming Grizzlies take the next step and become a Western Conference playoff team.
19. Toronto Raptors
The Raptors enter a new era following the departure of Kyle Lowry. Fifth-year forward OG Anunoby looked sharp in preseason play and may serve as Toronto's lead offensive option in Pascal Siakam's absence.
20. Indiana Pacers
Perhaps the NBA's most forgotten team, don't sleep on Indiana this season. A solid returning core led by former Dallas coach Rick Carlisle might surprise some fans if the Pacers can get healthy.
21. Minnesota Timberwolves
Karl-Anthony Towns, D'Angelo Russell, and Anthony Edwards played just 24 of 72 games together last season. The Timberwolves went 13-11 over that span, posting a plus-4.9 net rating.
22. New Orleans Pelicans
Zion Williamson's murky recovery timeline from offseason foot surgery doesn't portend much optimism for the Pelicans - especially not after murmurs of tension between the phenom and organization.
23. Washington Wizards
The Wizards will hope a slew of new faces can persuade Bradley Beal to stay put. Their shooting should be improved, though expect the defense to regress, especially on the second unit.
24. Sacramento Kings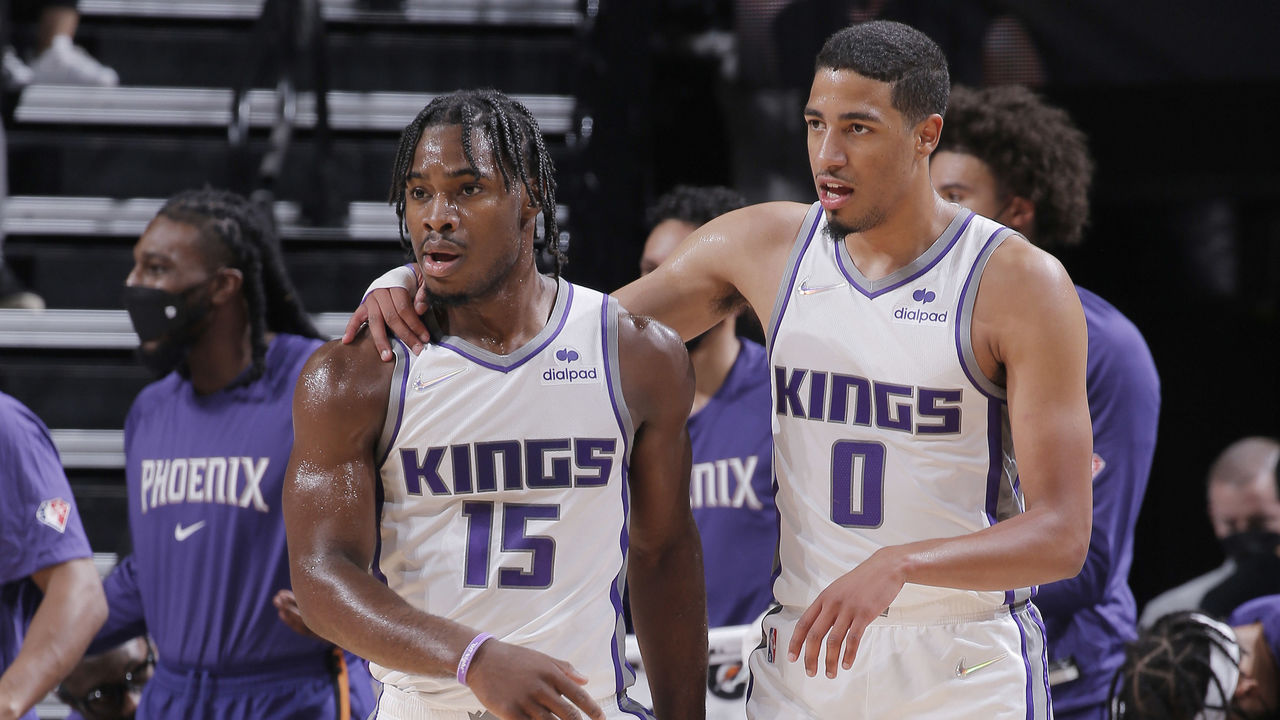 The Kings have playmakers aplenty this season with De'Aaron Fox, Tyrese Haliburton, and rookie Davion Mitchell in the mix. But will they keep them together, or trade one (or two) for a star?
25. San Antonio Spurs
The Spurs finally appear ready to hand the keys to their youngsters. Dejounte Murray, Keldon Johnson, Lonnie Walker, and Devin Vassell figure to be San Antonio's building blocks for the next few seasons.
26. Cleveland Cavaliers
The Cavaliers have plenty of young talent - emphasis on young. Whether former T-Wolves teammates Kevin Love and Ricky Rubio provide enough of a veteran backbone for the youth movement remains to be seen.
27. Detroit Pistons
The Pistons are far from a playoff team, but at least they now have a future franchise player after drafting Cade Cunningham first overall. Saddiq Bey, Isaiah Stewart, and Killian Hayes are also intriguing pieces to build around.
28. Oklahoma City Thunder
While the Thunder are still in the middle of a major rebuild, Shai Gilgeous-Alexander might be the best player within the NBA's bottom tier. Luguentz Dort and his stifling defense give Oklahoma City another building block.
29. Houston Rockets
The Rockets' young players, most notably Jalen Green, will have plenty of opportunities to learn on the fly during a rebuilding season. The No. 2 pick should be in the running for Rookie of the Year.
30. Orlando Magic
Jalen Suggs struggled throughout the preseason, but he's arguably the brightest prospect the Magic have had in recent years. The Gonzaga product should make an impact in Year 1 with his two-way skill set.
Comments
✕
NBA Power Rankings: Reigning champion Bucks start where they left off
  Got something to say? Leave a comment below!