Dream ignited: How Jonathan Kuminga made his case to be drafted top 5
Getty Images / Photo illustration by Nick Roy / theScore
Editor's note: This feature was published before the Warriors selected Kuminga with the No. 7 pick in the 2021 NBA Draft.
To his high school coach, Jonathan Kuminga resembles Adonis, ancient Greece's embodiment of strength. This past season, he reminded a 29-year-old swingman of his basketball mortality. Reggie Hearn is a veteran of three NBA games and eight G League campaigns, and his latest team, the G League Ignite, had him defend Kuminga in preseason scrimmages. At 6-foot-7, Kuminga is two inches taller than Hearn, and his explosiveness is unmatched in this year's NBA draft lottery. Hearn's assignment was strenuous.
"He's just so strong. Well-polished with his footwork. Long and disruptive defensively," Hearn said. "Seeing all those things from such a young age makes it very sobering. Man, these young kids are coming, and they can play."
Not yet 19 years old (his birthday's in October), Kuminga has leaned into his precociousness. In 2020, he departed high school a year early to headline the Ignite's first roster, betting that the concept - pay teenage stars to bypass the NCAA and match up with seasoned opponents raring to challenge them - would optimize his draft stock and NBA readiness.
The scouting consensus ranks four prospects above Kuminga in this draft class, each of them being nine to 16 months older: Cade Cunningham, Evan Mobley, Jalen Suggs, and Ignite running mate Jalen Green. If the Orlando Magic bypass Kuminga at fifth overall, the Oklahoma City Thunder (who pick sixth) or Golden State Warriors (seventh) could scoop him next Thursday at Barclays Center.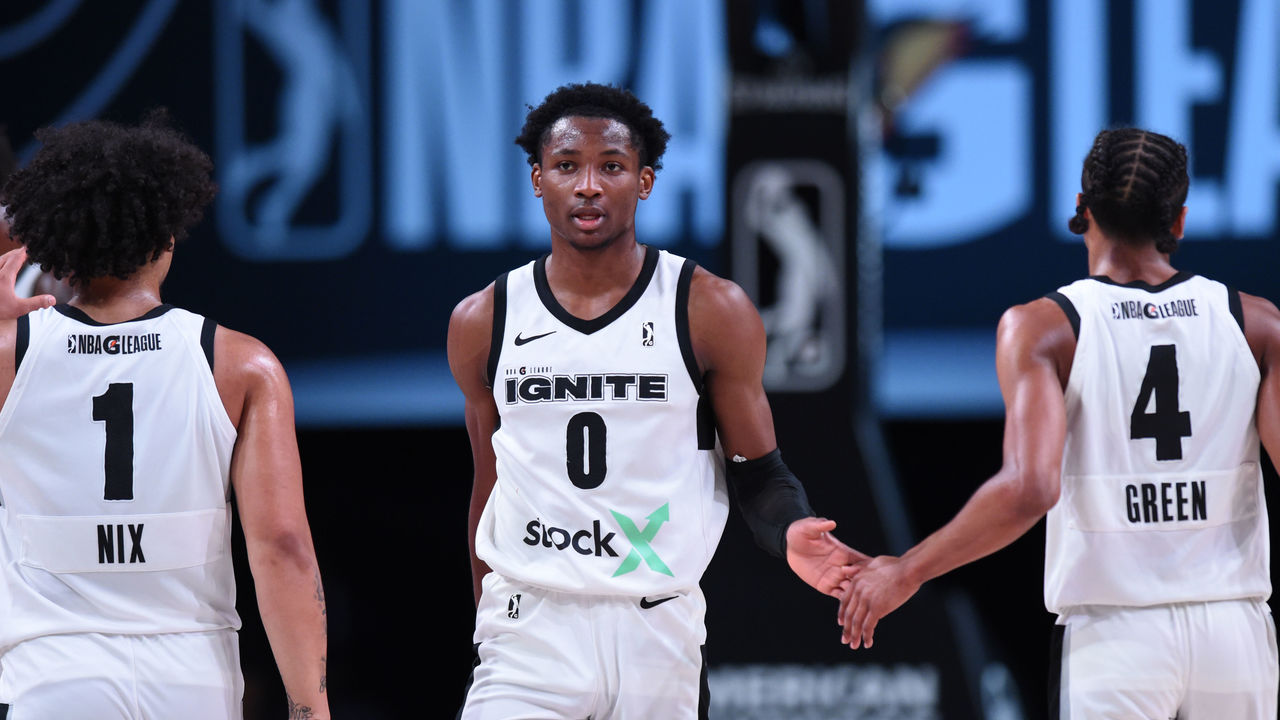 In the NBA, proponents of Kuminga's game envision him punishing mismatches, scoring from everywhere, and shackling point guards, wings, and power forwards alike. Five rookie pros pioneered the Ignite model in 2021 - the others being Green, Daishen Nix, Isaiah Todd, and Princepal Singh. None are physically as advanced as Kuminga.
"He was a man amongst boys even on our level," head coach Brian Shaw said.
His player profile invites lofty comparisons, resist this as Kuminga might: "One of a kind. Don't compare me to anyone else," he tweeted earlier this month. Hearn nevertheless equates his potential to Kawhi Leonard.
"What I observed from him (this season) is being able to get to certain spots and shoot over his opponents," Hearn said. "I saw the potential to be a lockdown defensive stopper on the perimeter, which a lot of NBA teams are looking for these days.
"I think that is his ceiling. I see that in JK. I believe in that for him."
When Kuminga debuts in the NBA next season, he'll become the sixth player in league history to hail from the Democratic Republic of the Congo, taking after Dikembe Mutumbo, Bismack Biyombo, and his cousin, Emmanuel Mudiay. Kuminga is from Goma, in the country's east. He grew up hoisting jumpers on dirt courts and streaming Kobe Bryant and LeBron James highlights at a neighborhood internet cafe - "one of my favorite places on earth, man," he wrote in a Players' Tribune essay.
In those YouTube clips, Kuminga wrote, sellout crowds watched superstars perform in spiffy uniforms and on immaculate hardwood, and alternately he'd feel like part of "this dreamworld" and impossibly far away. Playing on dirt cut up his knees and defaced his sneakers to the point the brand was unrecognizable. His older brother, Joel Ntambwe, moved to the United States to pursue an NCAA scholarship, and Kuminga followed him there when he was 13. He didn't see his parents for several years.
"We meet people who have these stories of coming to America and starting anew, or starting a different path," G League president Shareef Abdur-Rahim, who oversaw Kuminga's Ignite recruitment, said. "Rarely do you see anyone his age who has done that.
"In that, you can see his perseverance. You can see his maturity. His confidence probably built from (what the experience demanded): having to grow up fast, having to learn and figure things out."
As basketball went, Kuminga's transition to indoor competition was seamless. Suiting up for Our Savior New American School on Long Island, he averaged a tidy 25 points, five assists, and five rebounds in 2018-19 and was named MaxPreps national sophomore of the year. Green claimed this honor in 2018; RJ Barrett, Jayson Tatum, and Andrew Wiggins are also recent winners.
Facing elite juniors that summer on the AAU circuit, Kuminga pronounced himself a two-way force at the Peach Jam showcase tournament in South Carolina, earning a scholarship offer from Duke to go with the one from Kentucky. One vanquished opponent's coach declared him NBA-ready at 16, ZagsBlog's Adam Zagoria reported. When his New York Rens faced Cunningham's Texas Titans that season, Kuminga didn't leave the floor and dropped 43 points on 7-of-11 shooting from three.
"He was guarding their best player and also doing everything under the sun offensively," Rens coach Andy Borman recalled. "Getting to the rim. Getting to the free-throw line. With a player like Jonathan, when he's making outside shots - when you have to respect his ability to make shots from the perimeter - he's virtually unguardable."
That Kuminga played a mere 14 high school games in 2019-20 - having transferred to New Jersey's The Patrick School, he sprained his ankle against Bronny James' famed Sierra Canyon team - didn't diminish his shine. He talked frequently with Patrick alumnus Kyrie Irving, whose ongoing shoulder rehab freed him to volunteer at some practices. Patrick coach Chris Chavannes thought Kuminga benefited from a new vantage point, processing the game and its intricacies from the bench for an extended time. That July, he reclassified from 2021 to 2020 and said he'd skip college ball to push himself against pros.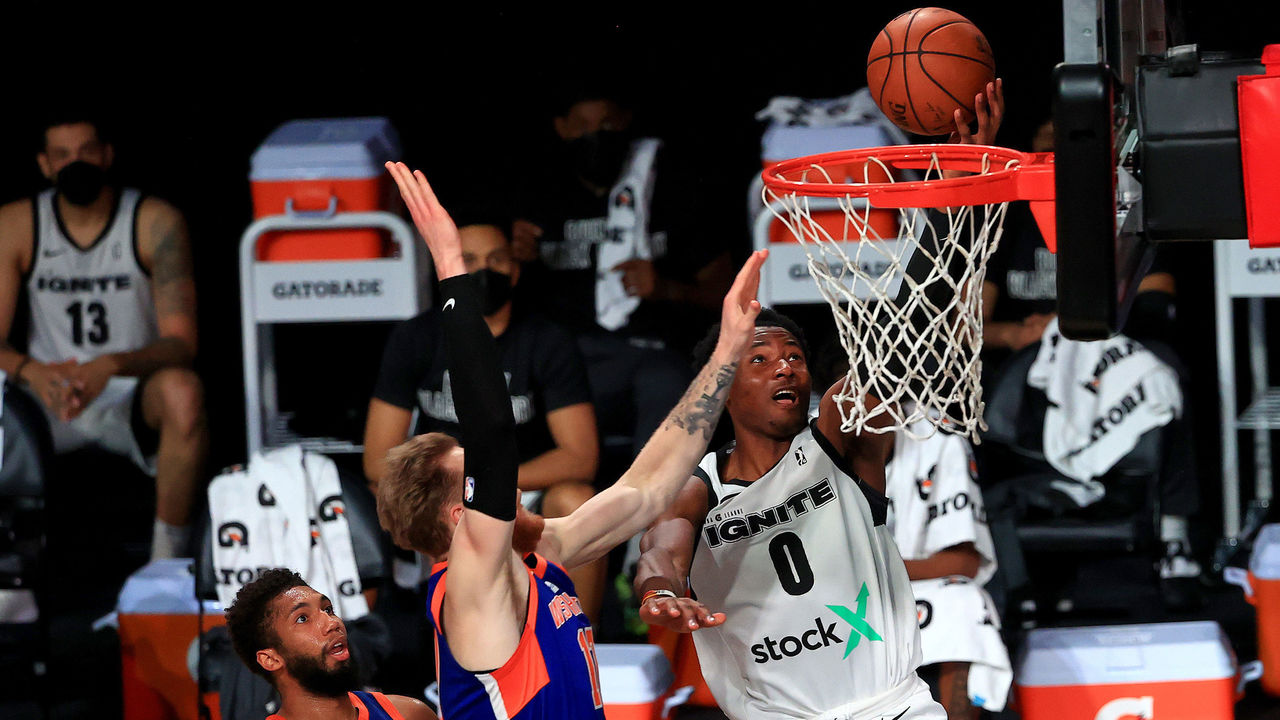 Joining the Ignite on a reported $500,000 salary, Kuminga trained with his teammates throughout the fall and winter at the program's base in Walnut Creek, California, awaiting the G League's abridged pandemic season. Once play tipped, he averaged 15.8 points and 7.2 rebounds in 13 games. On an Ignite roster that featured Jarrett Jack and Amir Johnson - NBA-tested insulation for the rookies - in addition to minor-league mainstays such as Hearn, Kuminga led the team in minutes (32.8 per game).
Over a month in the G League's Disney World bubble, Kuminga flashed brilliance against a range of NBA affiliates. The Oklahoma City Blue: Kuminga scored 24 points and hit seven fourth-quarter free throws in a comeback win. The Memphis Hustle: He blew up a passing lane to sprint for a windmill slam and, up a point late, nailed a deep wing three to pad the margin of victory. Raptors 905: He netted crunch-time layups in another win by breezing past and bulling through center Henry Ellenson. The Santa Cruz Warriors: Well, take in this transition feed to Green.
Downside accompanied his upside, though. All told, Kuminga shot poorly - 38.7% from the field, 24.6% from three (on five attempts per game), and 62.5% from the stripe - in the bubble. His turnovers amounted to 2.6 per game, in line with Green and Nix's giveaway figures. Felled by a knee injury, Kuminga missed the Ignite's last two regular-season contests and a blowout playoff loss to Raptors 905.
Not that anyone was too fussed about the playoff exit. The Ignite started the campaign 4-0 and finished 8-7, rebutting NBA executives who told ESPN's Jonathan Givony ahead of the season that they doubted the prospect squad would win a game. Eleven affiliate teams opted out of the bubble, concentrating the opposing talent on 17 rosters. What resulted, rival coaches and general managers told Shaw, was the highest level of competition the G League has featured.
"Our guys had a target on their back because of the attention that they got. Because of the salaries that they made," Shaw said about Kuminga and his fellow prospects. "They not only held their ground. They excelled."
Barclays Center, site of the draft and home of the Brooklyn Nets, is 20 miles from The Patrick School on the New York side of the Hudson River. Kuminga's year at Patrick coincided with Irving's first Nets season, which began with him raining 50 points on the Minnesota Timberwolves and ended early in February 2020 when he underwent shoulder surgery.
Chavannes was on Patrick's coaching staff when Irving starred there a decade earlier. With downtime to fill, Irving returned to observe evening practices from the sideline, jumping in when he had advice to share, like how to attack certain schemes and the factors and options NBA defenses weigh when they guard the pick-and-roll. Sometimes, Irving waved Kuminga over for a sidebar, relating a defensive look to the pressure he could expect to face as a pro.
"You have somebody who's physically experienced what he did and will be going through," Chavannes said. "That helped a great deal."
Chavannes is the coach who likens Kuminga's frame to Adonis, and he lauds his commitment to the grind, too. DeAndre' Bembry, Michael Kidd-Gilchrist, and Al Harrington all went to Patrick, and Kuminga is the only player Chavannes has seen run drills with a skills coach before and after practice.
Twice daily this offseason, he's taken the court in Miami with skills development trainer Anthony Wells. After working out there the morning of June 24, they flew to the draft combine in Chicago, checked into a downtown Marriott, and headed to the arena next door to shoot for an hour at Kuminga's behest.
"We had luggage on the sideline," said Wells, whose NBA clients include Victor Oladipo, Derrick Jones Jr., and Terry Rozier. "We got it in."
Scoring efficiently goes hand in hand with shot selection, and Kuminga forced too many difficult attempts in the G League, depressing his percentages. In high school, his strength, quickness, and creativity with the ball let him get to his preferred spots at will. Firing with discretion should lead to more consistency, Shaw said.
To Wells, Kuminga has reason to trust his form.
"His shot is tight. His elbow's in. He's holding his follow-through. With the NBA, it's just reps," Wells said.
Hearn describes Kuminga as a budding passer and playmaker, and he saw his approach evolve as the bubbled season progressed. The quicker dishes out of double teams. The restraint to avoid driving headlong into clogged lanes.
Ignite coaches directed Kuminga to watch Steph Curry film, less because the Warriors star's shot is pure than because he's always moving off the ball, opening space for teammates to operate. They emphasized that it's key to make timely cuts, to angle screens so they spring the ball-handler, to seek to distribute early in games so that defenses divert their attention.
"And then go to work and get yours," Shaw said.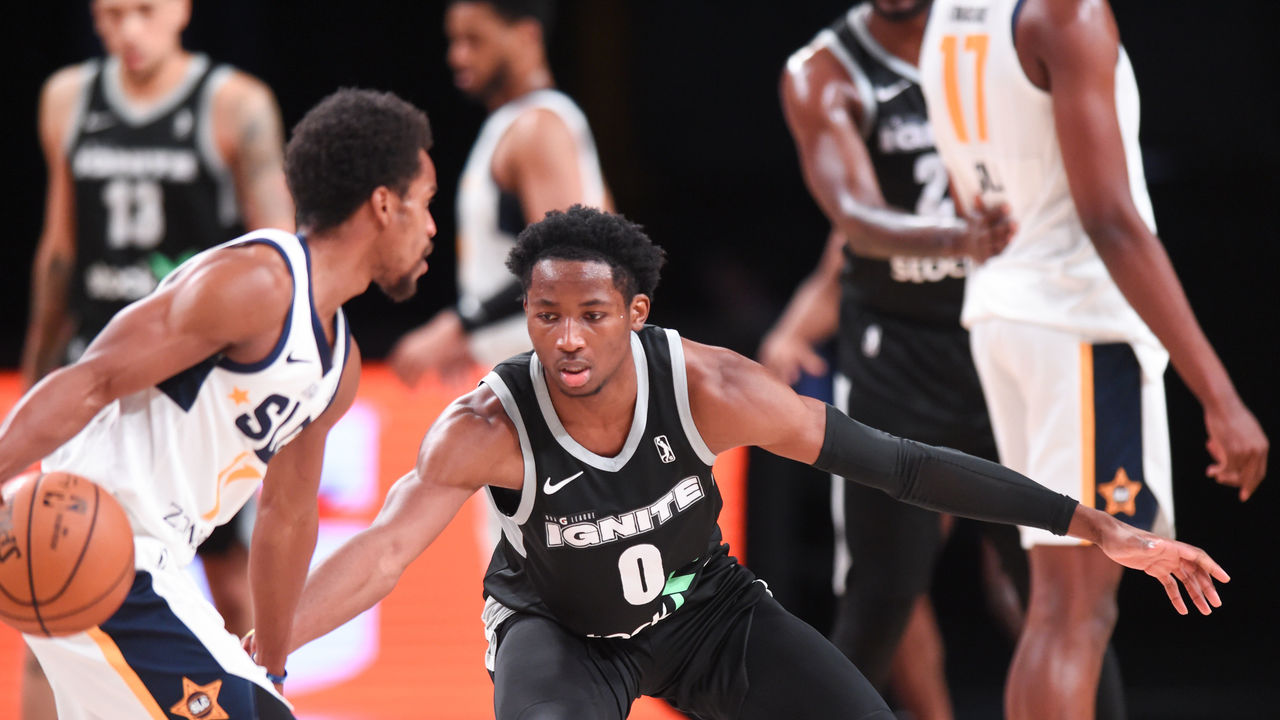 Shaw and Abdur-Rahim, the G League boss and retired NBA All-Star, think it's significant that Kuminga isn't 19 yet, that he embraces coaching, and that he defends across the positional spectrum. Lanes vanish when Kuminga crouches and unfurls his arms, Hearn said. That he's one of this draft's most promising two-way players - as Shaw believes - means his NBA coach may allot him meaningful minutes immediately, trusting he'll stay in front of his man and disrupt handoffs and passes to spark breaks.
Kuminga will be in NBA camp around the time the Ignite reconvene in Walnut Creek with an all-new prospect cohort gearing up for their own G League season. Five-star recruits Jaden Hardy and Michael Foster Jr. declined reams of Power Five offers to headline the program's class of 2022. Point guard Scoot Henderson, 17, graduated high school early to join the Ignite for two years, prolonging his audition for the 2023 draft lottery.
Along with Green, Kuminga is the blueprint now, a future cornerstone of the Ignite alumni games that Shaw's already visualizing. Whether he's selected in the top five on Thursday rests with the Magic. What he projected by reclassifying for this draft, Hearn said, was boldness - the belief he already belongs at the next level, shining in the sort of highlight package he'd cue up on screen in Goma.
"There's going to be a lot of kids looking at what JK did, and what the other Ignite prospects did, and believing that they can do the same thing themselves," Hearn said. "And that can propel them to their dreams in the NBA."
Nick Faris is a features writer at theScore.
Comments
✕
Dream ignited: How Jonathan Kuminga made his case to be drafted top 5
  Got something to say? Leave a comment below!