Make no mistake, the Suns deserve to be in the NBA Finals
Andrew D. Bernstein / NBA / Getty Images
The 2021 NBA playoffs, more than any postseason that's come before it, has been about survival, as an unprecedented number of stars and key rotation players have been sidelined by injuries. That leaves skeptics speaking of asterisks and excuses, but take nothing away from the Finals-bound Suns.
Yes, the defending champion Lakers team that Phoenix beat in the opening round lost Anthony Davis before briefly getting a hobbled version back. The Nuggets, who awaited the Suns in the second round, were without Jamal Murray. And the Clippers squad that Phoenix dispatched in a six-game Western Conference final was missing Kawhi Leonard, who had looked like the best player remaining in the playoffs.
But pointing to injuries as the sole reason the Suns are in their first Finals since 1993 is a great disservice to a team that was built to win now.
The combination of scoring, playmaking, shot creation, range, and pick-and-roll prowess shared between Devin Booker and Chris Paul make the pair an ideal backcourt for the modern game. In Mikal Bridges and Jae Crowder, the Suns possessed the type of big wing defenders to deal with the LeBron James, Leonards, and Paul Georges of the world in the playoffs; something rival West contenders like Utah, Denver, and Dallas lacked. An improved Deandre Ayton gave Phoenix a defensive upside that raised its overall ceiling. The Suns could shoot, boasted surprising depth, and could beat teams in a variety of ways.
They played the part of bona fide contender all season long before injuries weakened their opponents and cleared a path to the Finals.
The Suns overcame their own injury-related adversity in the playoffs, as a shoulder injury had Paul damn near playing with one arm against the Lakers before a COVID-19 spell sidelined him to begin the West finals. Following Wednesday's Game 6 clincher in Paul's old stomping ground at Staples Center, the star guard revealed an MRI confirmed he's also playing through torn ligaments in his shooting hand.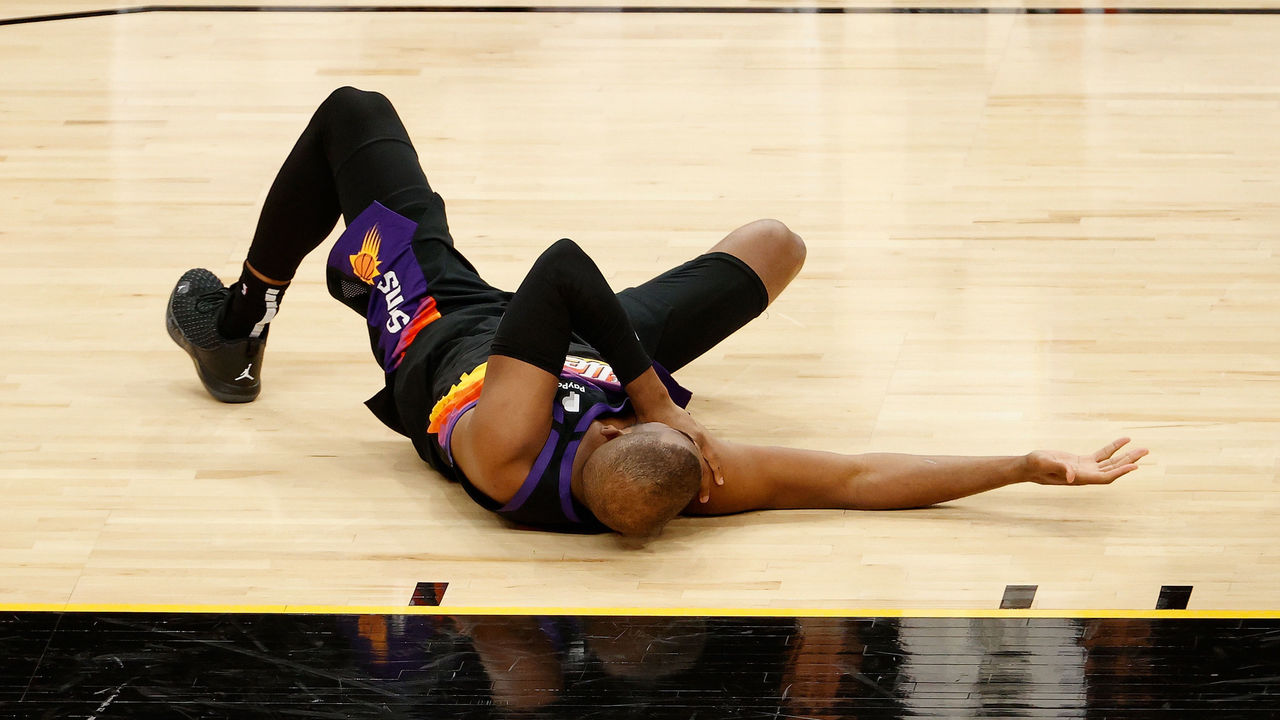 Paul and the Suns have too often been on the wrong side of untimely playoff injuries.
For Paul, there was a groin injury in 2012. Then there was a hamstring injury in 2015 that kept him out of the first two games of the Clippers' seven-game, second-round loss to Houston after he slayed the defending champion Spurs in Round 1. The following year, Paul broke his hand in the Clippers' postseason opener against Portland. Most cruel of all, he suffered a hamstring injury that derailed the 65-win Rockets' title hopes in 2018 with Houston up 3-2 on the mighty Warriors.
The 16-year veteran entered Game 6 against the Clippers having played the third-most playoff contests without a Finals appearance (123).
For the Suns, there was Joe Johnson's orbital fracture in 2005, Amar'e Stoudemire's knee injury in 2005-06, and the notorious suspensions of Stoudemire and Boris Diaw during a competitive second-round series against San Antonio in 2007.
No one wants to see injuries, and in an ideal world, every postseason would bring best-on-best matchups, but it's about time Paul and the Suns came out on the right side of these unfortunate bounces.
They also made their own breaks.
Despite the aforementioned hand injury that affected his shooting all series, Paul exploded for 41 points on 16-of-24 shooting in the closeout game back in L.A., adding eight assists and three steals without a single turnover in 35 flawless minutes. He also singlehandedly outscored the Clippers, 27-21, over the final 13:28 as part of the greatest scoring half of his Hall of Fame career.
After Booker absorbed years of lazy criticisms that claimed he was an empty-calorie scorer despite an evolving game and increasing efficiency, he stepped into the playoff spotlight for the first time as if shot out of a cannon. Few stars have been better this spring.
Ayton has listened to the basketball world cackle in disbelief that the Suns passed on Luka Doncic with the No. 1 pick in the 2018 draft, but he's thrived in his role as a defensively focused big man whose size and skill can still punish teams on the offensive end, especially when opponents go small. Passing on Doncic remains a ludicrous decision, but banners hang forever in a championship-exclusive league where only 12 franchises have won a title over the last four decades. If Ayton helps the Suns win their first championship in their 53-year existence, the Doncic discourse will be muted in Phoenix.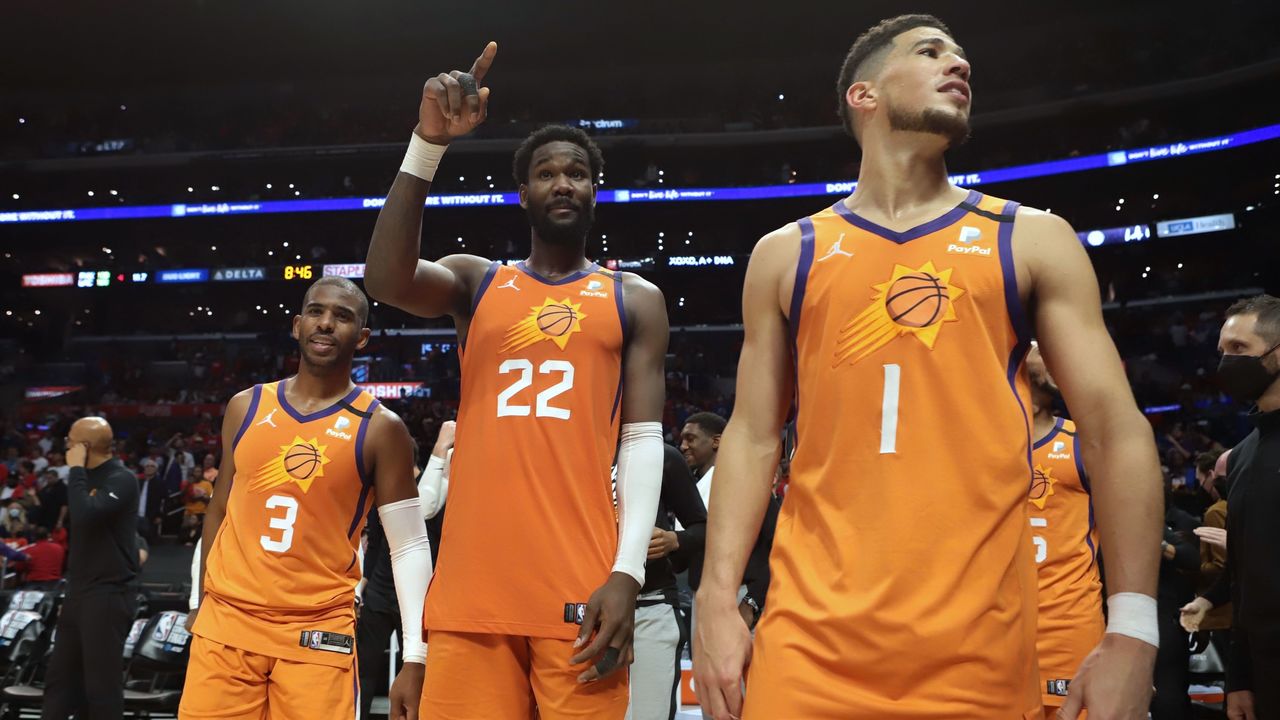 Crowder, like P.J. Tucker, has spent the majority of his career guarding this generation's finest forwards and wing scorers. It's often ended with the nine-year veteran falling short in the playoffs, but now he gets to play in his second straight Finals. And this time, LeBron isn't waiting for him.
Bridges has been one of the league's most improved players, while second-year forward Cam Johnson (who missed Game 6 due to illness) has emerged as an elite marksman, knocking down more than 45% of his postseason 3-point attempts. Not bad for a guy who was supposed to be an inexcusable reach with the No. 11 pick in 2019, back when only Suns GM James Jones and former college teammate Coby White believed in him.
Dario Saric was reinvented as a small-ball center who feasts on opposing second units, with Phoenix's reserves often holding the fort or outright outscoring opponents even with both All-Stars off the court.
Cam Payne has been one of the NBA's most inspiring stories over the last year, flaming out of the league within four years after being selected one pick after Booker, rebuilding his game and reputation in China and the G League, to now leading an impressive bench unit. the 26-year-old's change of pace off the bench has been key for the Suns, but it was during Phoenix's 8-0 bubble performance last summer that Payne began to make his mark.
In many ways, it was that bubble run that planted the seeds of belief in this team despite the franchise's decade of futility.
Head coach Monty Williams, who has overcome personal tragedy the likes of which most can't fathom, helped sow those seeds with a young team last season, then reunited with Paul (who he coached 10 years ago in New Orleans) to push that team to new heights. Williams pushed the right buttons all season and got the tactics right at almost every turn.
Jones, who joined the Suns' front office before he had even officially announced his retirement from playing four years ago, heads to his eighth Finals in 11 years, only this time as the NBA's Executive of the Year.
Like every Finals team before them, the 2021 Suns deserve to be here, no matter how much misfortune has befallen their rivals. This year's postseason has been historically taxing, for some teams clearly more than others. But that doesn't mean the Suns aren't worthy of limping past them all to the finish line.
Joseph Casciaro is a senior writer for the Score
Comments
✕
Make no mistake, the Suns deserve to be in the NBA Finals
  Got something to say? Leave a comment below!