Game 5 epic: 5 takeaways from Nuggets-Blazers
Matthew Stockman / NBA / Getty Images
Nikola Jokic's Denver Nuggets outlasted Damian Lillard's Portland Trail Blazers 147-140 in a double-overtime Game 5 all-time classic.
Here are five takeaways after Tuesday night's thriller in Denver, as the Northwest Division rivals now head to Portland with the Blazers facing elimination.
Dame Time magic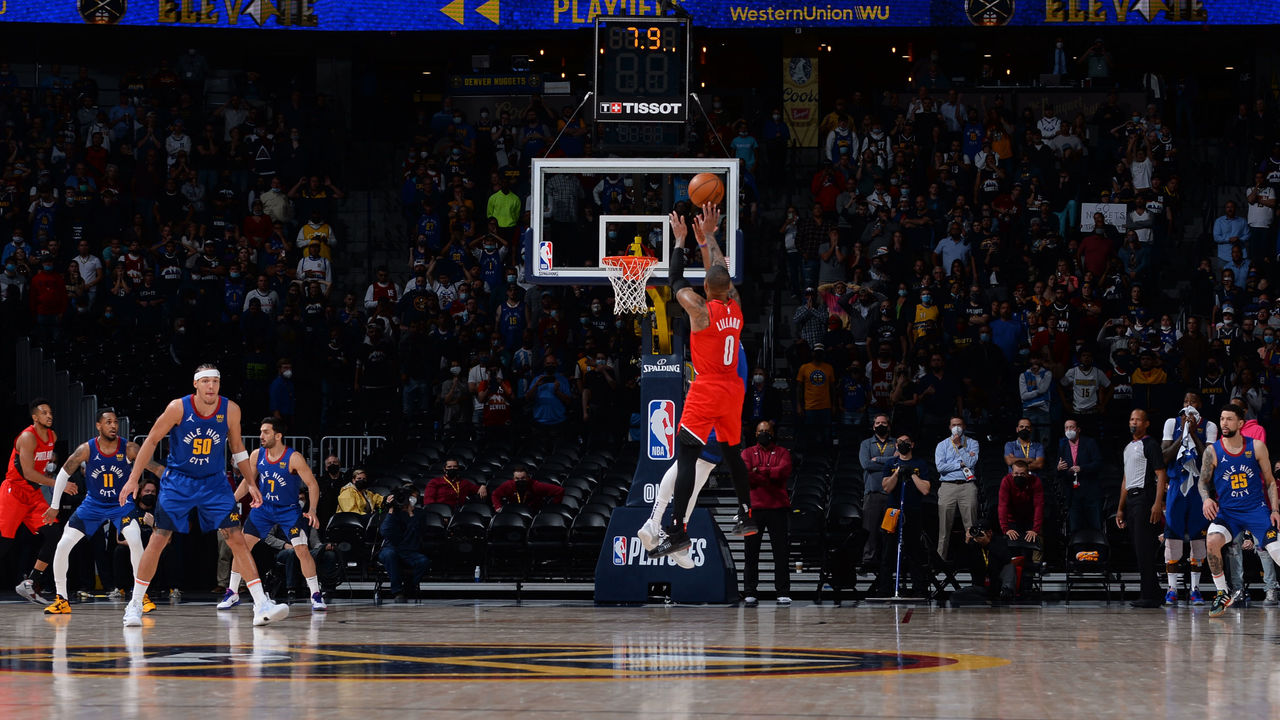 We've been searching for new adjectives to describe Lillard's clutch heroics for years now. The Blazers superstar just keeps delivering.
Lillard had already established himself as one the greatest big-shot makers in NBA history after hitting multiple series-ending walk-off daggers. Then he completed one of the best clutch-shooting seasons ever while carrying a banged-up Blazers team to the playoffs.
He continued to add to the legend of Dame Time in Game 5 against the Nuggets, notching 55 points, 10 assists, six rebounds, three blocks, a steal, and an NBA playoff record 12 3-pointers while leading Portland back from an early 22-point deficit and forcing the two overtime frames.
Lillard's point production came on 27 individual possessions. Between his scoring and assists, Dame created 79 of Portland's 140 points (56.4%), and he only turned the ball over once during 52 minutes of action.
As is often the case, Lillard finished strong while scoring or assisting on 14 of Portland's final 16 points during the last 5:25 of regulation, a stretch that included this game-tying bomb after demanding his teammates clear out.
Lillard then single-handedly outscored the Nuggets 12-3 over the final 2:11 of the first overtime period, extending the game an extra five minutes with this step-back turnaround triple.
The magic wore off in the second overtime stanza, but Lillard still scored the Blazers' only five points of the final period. Add it all up, and over the last 15:25 of Game 5, Lillard tallied 25 of Portland's final 33 points and created 31.
When he finally missed, the Nuggets just assumed it was thanks to some divine intervention.
The best part? Lillard did it all while wearing shoes that came with a discretionary warning for his opponents.
Blazers let Dame down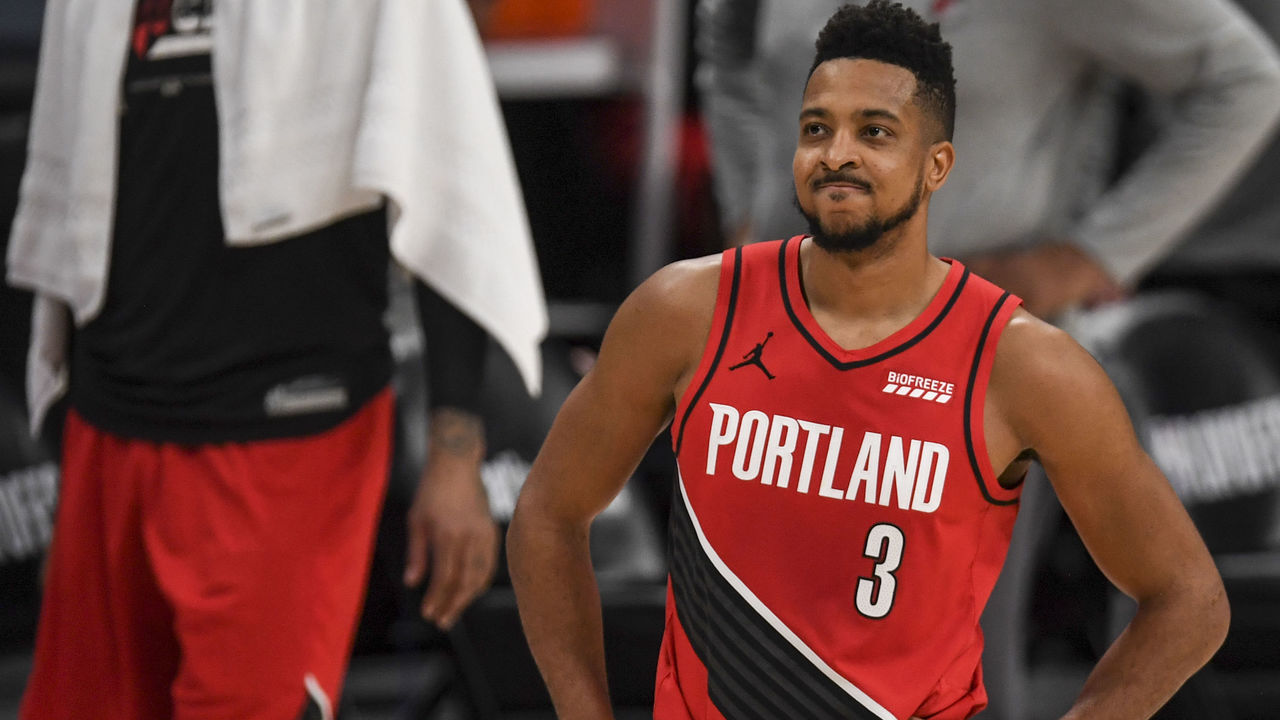 We'll get to Jokic's role in spoiling Lillard's party soon enough, but the Blazers deserve the social media trolling they endured for squandering an all-time star's all-time performance. And there's plenty of blame to go around.
CJ McCollum, Norman Powell, and Carmelo Anthony combined to shoot 15-of-47. Jusuf Nurkic fouled out, and he's Portland's most important defensive player. McCollum and Robert Covington also fouled out, and the latter was one of only a few players on the court interested in playing defense. Denver's reserves completely dominated Portland's bench, with Enes Kanter somehow managing to further sully his already deplorable defensive reputation.
Over a 31-second, two-possession span in the final minute of the second overtime with the Blazers down three, Covington bricked a dunk attempt that Lillard's penetration created, and McCollum stepped out of bounds after taking a pass from Dame.
While Lillard was scoring 17 points on 6-of-8 shooting during the 10 minutes of overtime, his teammates totaled just two points on 1-of-14 shooting
Lillard's spectacular play may seem superhuman, but he's still mortal and was going to slow down eventually given the immeasurable offensive burden the veteran was carrying.
When he finally did, his teammates were unable to pick him up. That's a shame after they spent the majority of the night on Dame's shoulders.
Mike Malone gets away with one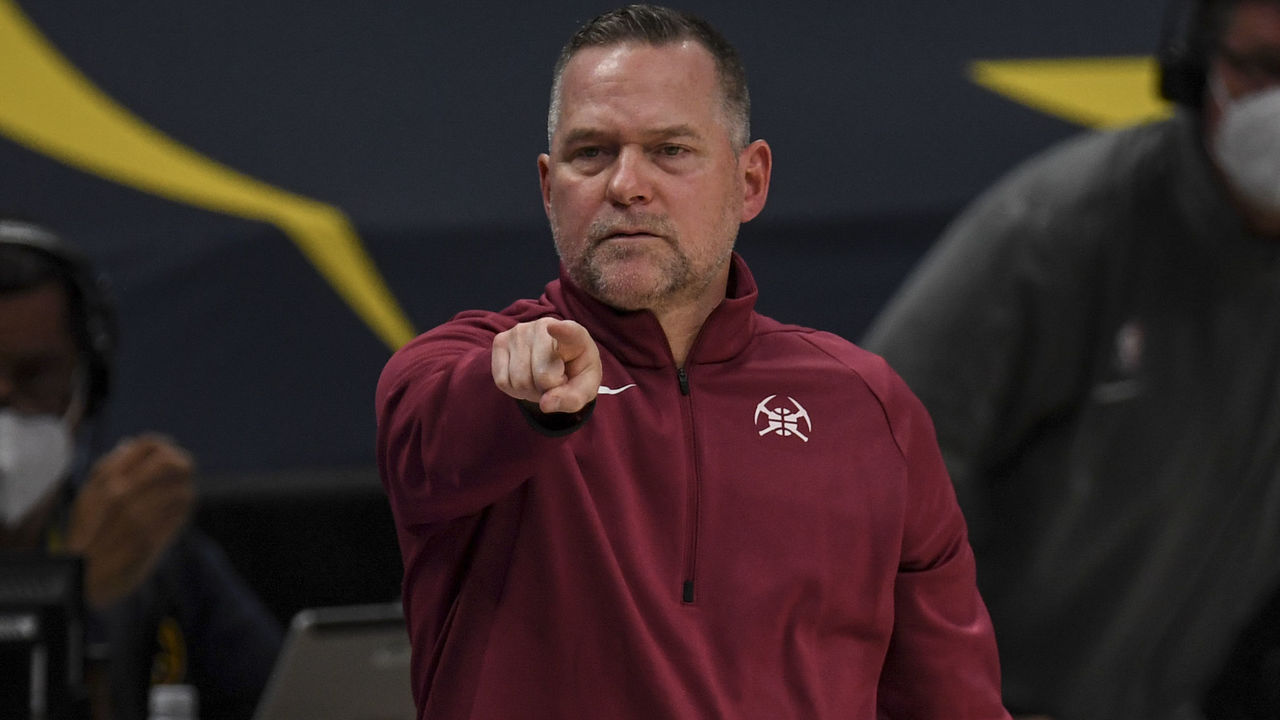 Malone is a good coach who's improved and grown right along with the Nuggets' core over the years, but he's lucky Denver escaped with this win. Otherwise, it would be him in the crosshairs today, and not Lillard's supporting cast.
Malone's Nuggets opted not to foul while up three points at the end of regulation, instead taking their chances on what every basketball-watching soul on earth knew was going to be a 3-point attempt from Lillard.
Malone still hadn't learned his lesson by the end of the first overtime period, once again electing not to foul while up three with the ball in Lillard's hands for one final Portland possession.
Despite that decision burning him in spectacular fashion twice, Malone's Nuggets once again seemed perfectly content to let the possession play out with a three-point lead and Lillard holding the ball at the end of the second overtime period. Luckily for Denver, an exhausted and well-tracked Lillard gave the ball up, and McCollum stepped out to turn it over.
The Nuggets had time to get the ball back in what would've been, at worst, a tie game in all three scenarios. But they were also sitting on a timeout in only one of those three scenarios, and there was plenty of time to foul Lillard during all three sequences without fear of surrendering a four-point play.
Leaving the game up to Lillard made for an exhilarating finish, but it was an inexcusable mistake for an NBA head coach to make three times in the span of 15 minutes, let alone in Game 5 of a tied playoff series.
Jokic is unguardable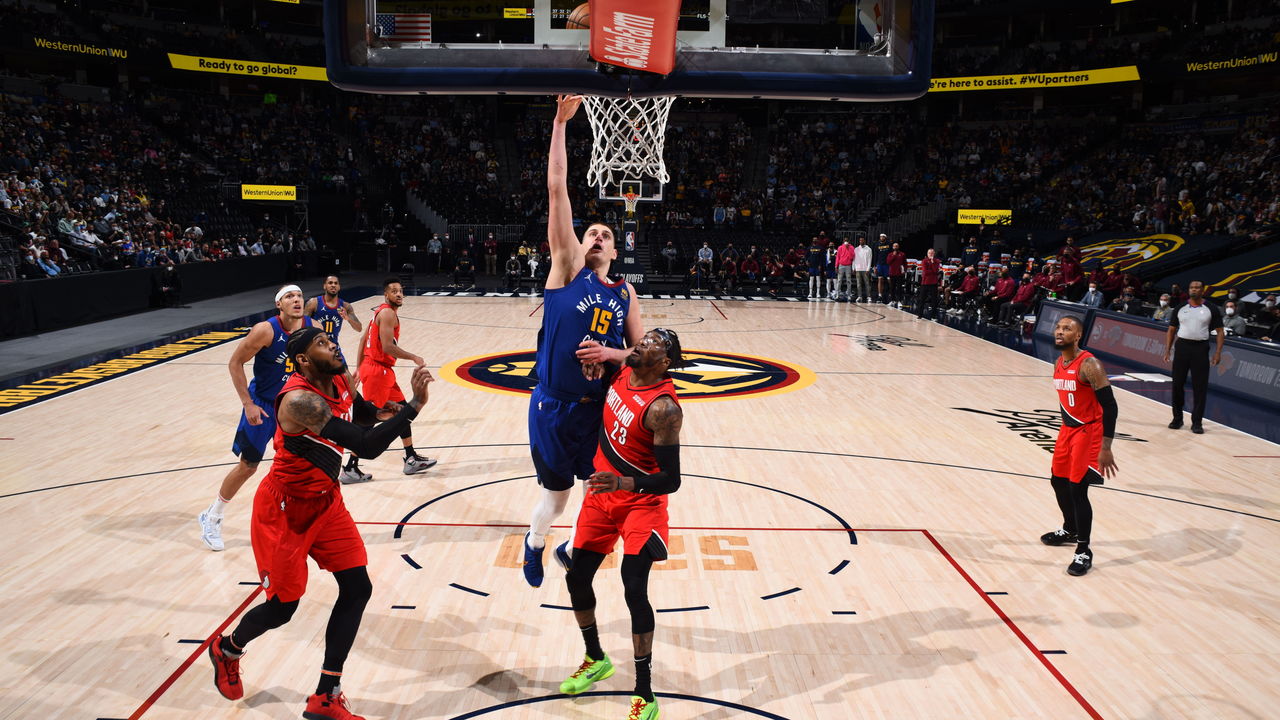 Jokic produced a wonderfully unique game while adding to his exquisite season, which should end with MVP honors. He showed again during Tuesday's victory that there's absolutely nothing opposing defenses can do about the big man.
Opponents used to be able to take a chance with single coverage because the selfless Jokic wasn't always the most willing scorer, and teams feared the 26-year-old's playmaking much more than his individual offense.
But that's not the case anymore. Jokic will gladly bully any mismatched defender inside. He'll spray threes above the break if you give him too much space on the perimeter. He'll tap dance around plodding bigs his size and cut them down with awkward-looking, methodical hook shots, push shots, floaters, and leaners. And the second a team overcommits, sends help, or a defender takes his eyes off his own man, he'll filet the defense with his passing.
A couple of overtime plays stood out.
First, look at the five-man defensive attention Jokic attracts after catching the ball on the block: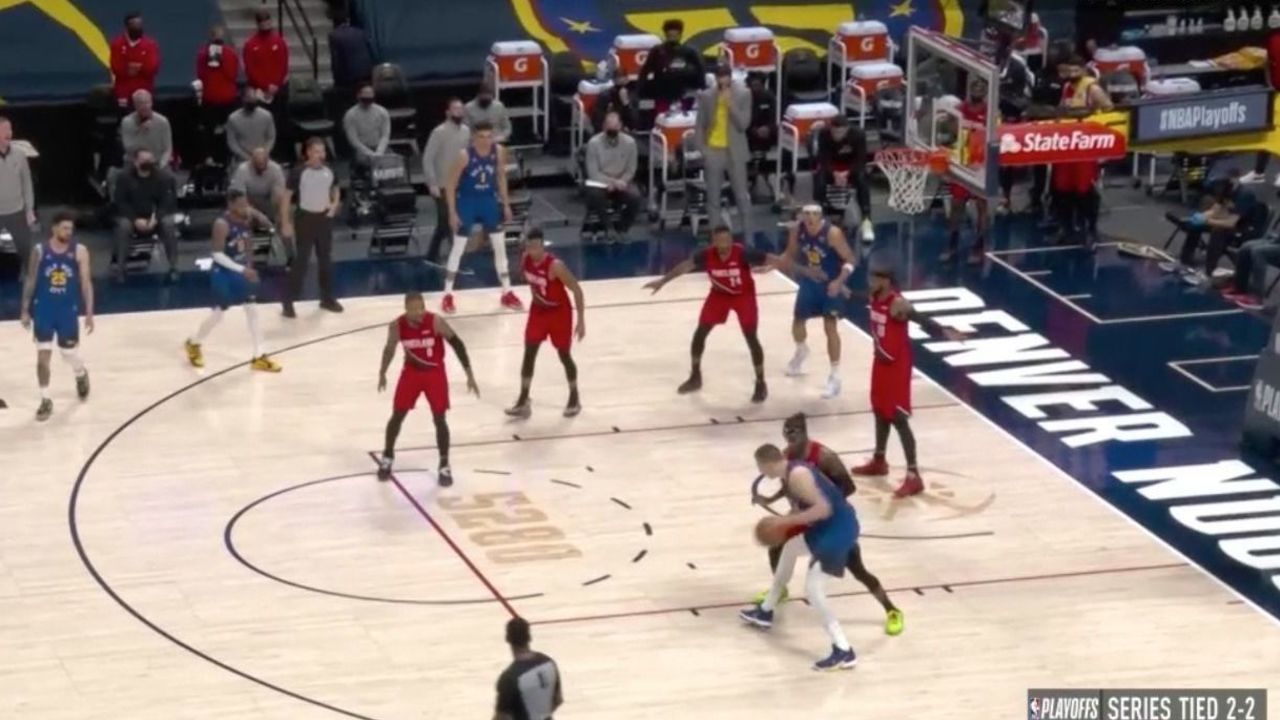 And look at the ridiculous shot he casually hits over Covington on that play without a full double-team to worry about:
The second overtime play that defined Jokic's generational brilliance was a rare ankle-breaking skip pass.
Look at the screenshot below, taken just before Jokic releases the ball for his ninth and final dime of the night. It looks like he's about to hit a cutting Aaron Gordon, which would be impressive enough given the two-man pressure Jokic is facing from Powell and Kanter.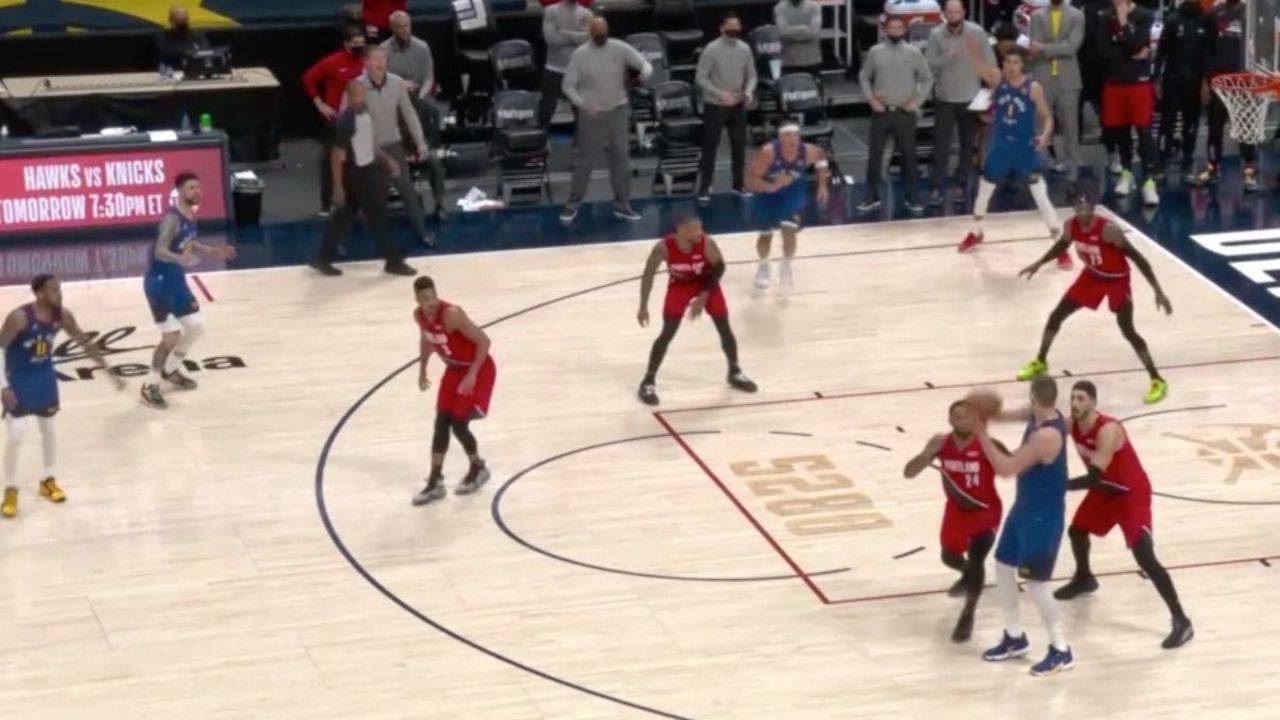 Instead, Jokic had mapped out this entire play before Powell even brought the double-team, and he's about to buckle Covington's knees. He'll hit Michael Porter Jr. in the corner with a skip pass that's somehow out of Covington's reach.
The final tally for The Joker on this night? 38 points, 11 rebounds, nine assists, four blocks, a steal, and the last laugh.
Nurkic needs to stay on the floor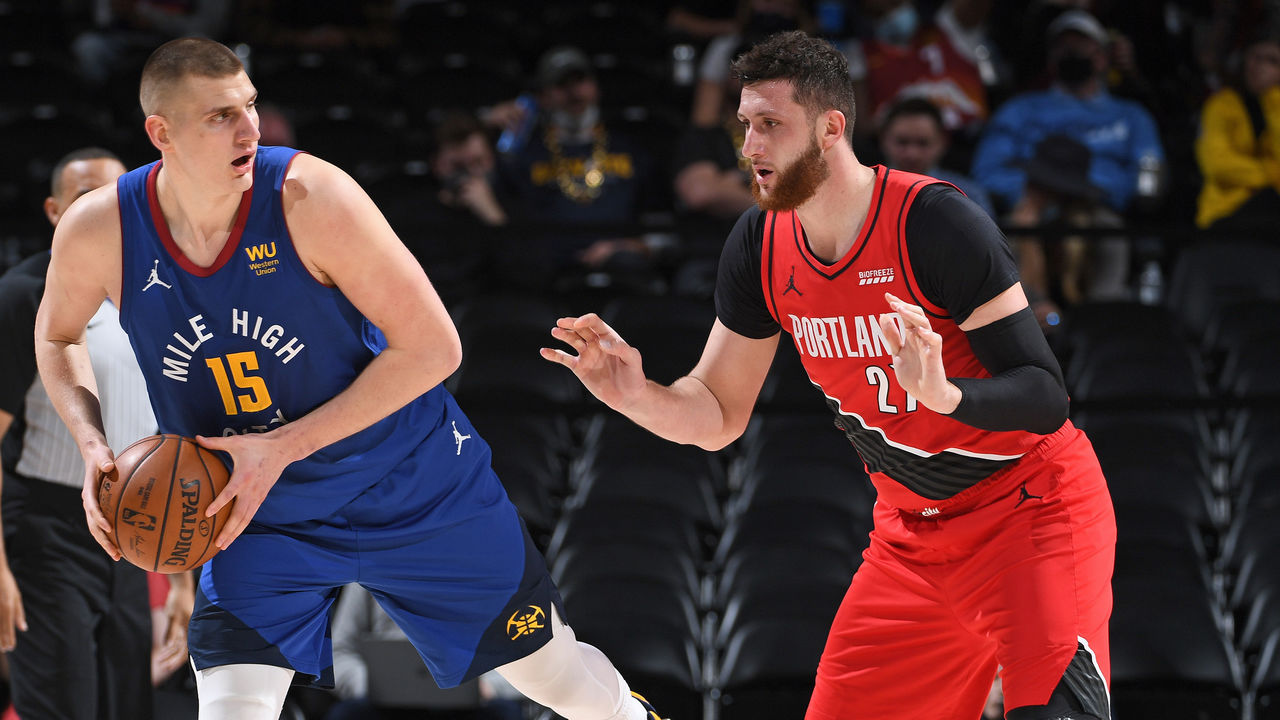 Lillard is obviously Portland's most valuable player, but whether Nurkic can stay on the floor in Game 6 (and potentially Game 7) will likely determine if the Blazers' season continues.
Nurkic has fouled out of three games already in this series, and it's no coincidence Portland lost those contests. The big man isn't quite the overall force he was before a devastating 2019 leg injury, but he's still the closest the Blazers have to a true defensive anchor, and his playmaking ability remains an important link on the offensive end.
There's a reason Portland has consistently performed better with Nurkic on the court since acquiring him from Denver four years ago (save for the Disney bubble). In this matchup, he's the only Blazer with a hope in hell of slowing Jokic in single coverage.
Unsurprisingly, this series has looked drastically different when Nurkic is on the court.
| Blazers vs. Nuggets | ORtg | DRtg | Net per 100 poss. |
| --- | --- | --- | --- |
| Nurkic on (140 mins.) | 126.8 | 107.1 | +19.7 |
| Nurkic off (110 mins.) | 114.4 | 135.5 | -21.1 |
There's no easy fix for Nurkic's foul trouble with the Blazers' perimeter players as defensively woeful a group as you'll find in the Association, and their incompetence leads to constant pressure on Portland's bigs. But the team's starting center also needs to be more disciplined with how he uses his six fouls, especially on the offensive end, where half his fouls came on Tuesday night.
That can't just be officiating and bad luck. Nurkic needs to improve and stay on the floor for the Blazers to sniff the second round.
Comments
✕
Game 5 epic: 5 takeaways from Nuggets-Blazers
  Got something to say? Leave a comment below!