The Heat have disappeared with Bam's mid-range game
Michael Reaves / NBA / Getty Images
Forty seconds into Thursday's Game 3 between Milwaukee and Miami, Heat center Bam Adebayo caught the ball with nobody guarding him 13 feet from the basket. Adebayo elevated, and promptly missed the short jumper. It was a fitting encapsulation of the two games that preceded Thursday's contest, and the Game 3 curb stomping that was to come.
The Bucks won 113-84 to take a commanding 3-0 series lead, with the last two Milwaukee victories coming by a combined 63 points. The disappearance of Adebayo's mid-range game has been a key component of Miami's disappearance as a team.
It's clear the Bucks banked on that mid-range vanishing act with the way Milwaukee has guarded Adebayo. That might seem strange, given that the Heat's All-Star big man was one of this season's most improved mid-range scorers. But here's the dirty secret the Bucks understand about the NBA: You shouldn't trust a player's improved jumper or extended shooting range until that player proves he, himself, trusts it in the playoffs.
Many players have improved their shooting over their careers, and plenty of them have carried that success over to the postseason. But until a player's willing to go to a new move or jumper consistently in the playoffs - when every single possession is valued and magnified - don't believe the hype.
The Bucks put that theory to the test in Saturday's series opener, daring Adebayo to unload from the mid-range by having center Brook Lopez play well off of Miami's big man. Adebayo played right into Milwaukee's hands, because despite his regular-season success with his newfound range, the 23-year-old clearly doesn't trust it yet.
He was hesitant and indecisive from the jump in Game 1. Adebayo was unsure whether to take the short jumpers the Bucks gave him and unable to pick Milwaukee apart with his impressive playmaking because he wasn't drawing any of the Bucks' defensive attention.
With no reason to fix something that isn't broken, Milwaukee's defensive strategy remained unchanged by the start of Game 3.
Below, Adebayo catches the ball just inside the 3-point line, but Lopez remains in the paint.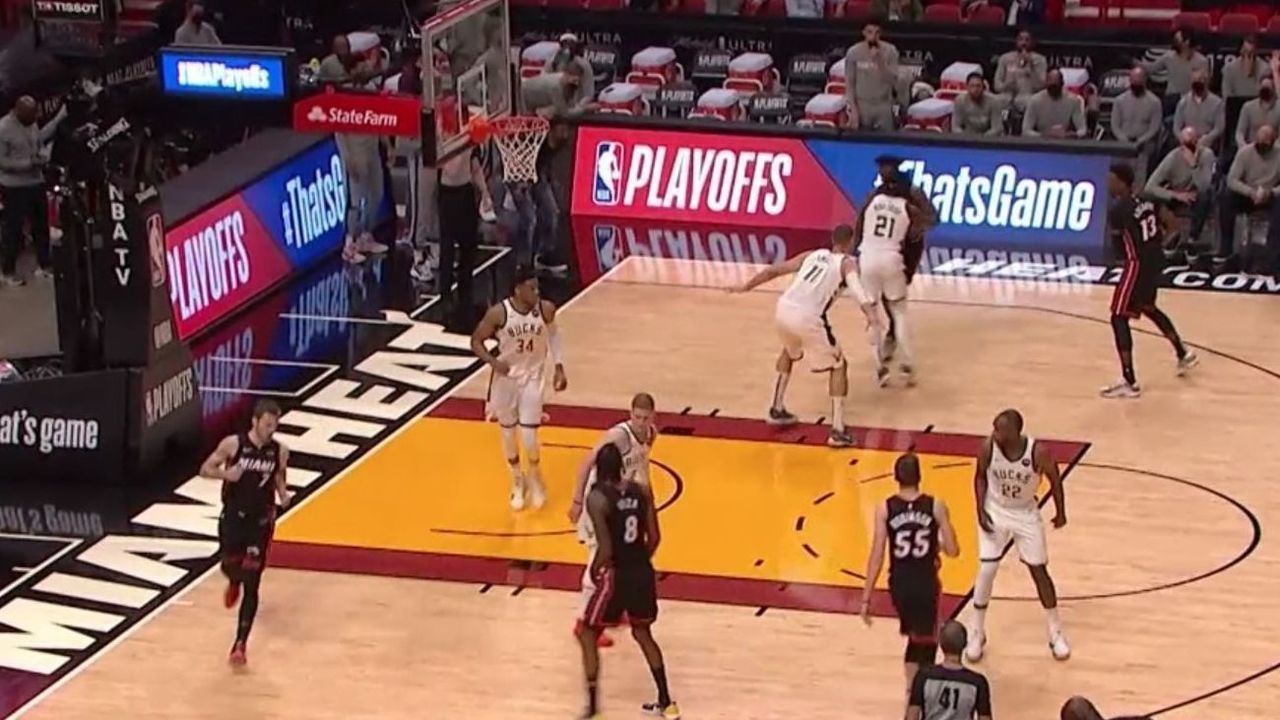 In the next screengrab, Adebayo sets a screen on the perimeter for Heat sharpshooter Duncan Robinson, but Lopez remains parked in the paint, literally chilling with his hands on his knees.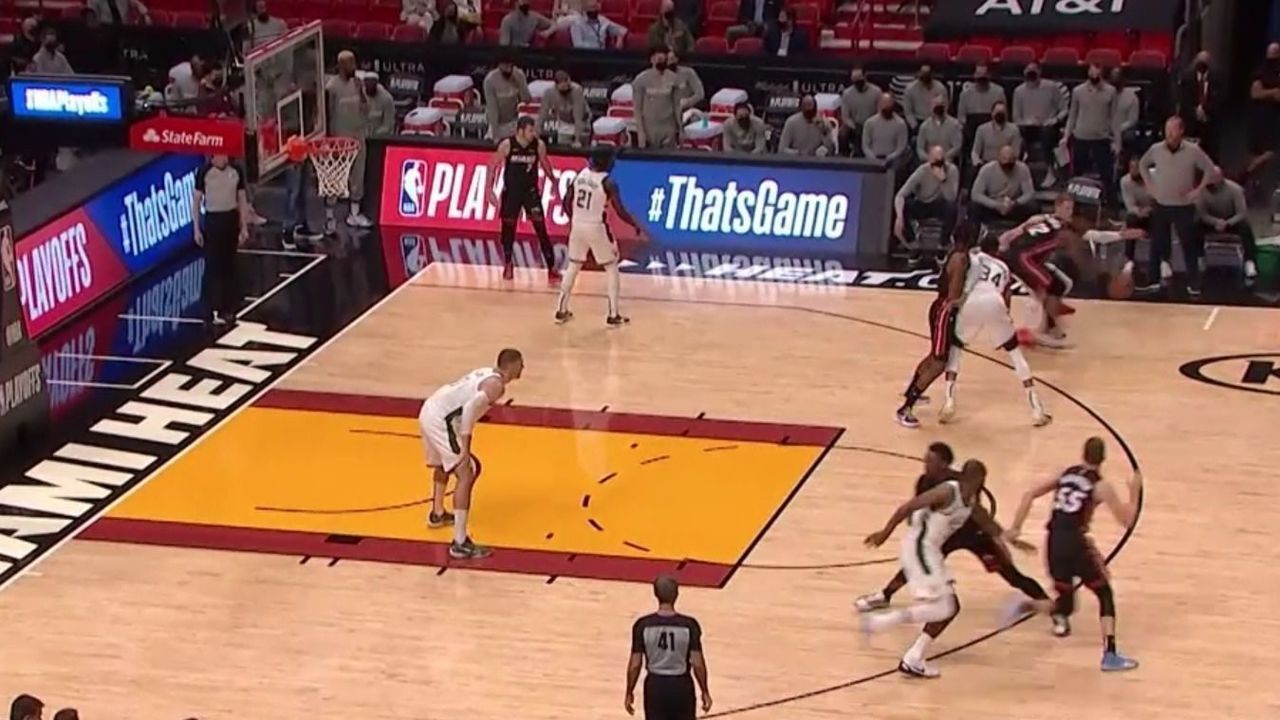 The Bucks are unconcerned by Adebayo, and trust Khris Middleton to stay attached to Robinson while fighting through Bam's screens. If Lopez comes up to the level of the screen, Adebayo will beat him in a race back to the paint, Robinson will find Bam, and the big man can pick Milwaukee apart in a four-on-three situation.
Bam's playmaking may scare the Bucks, but his scoring doesn't.
In the final two images below, Lopez first leaves Adebayo a comically sized runway, and then ignores Bam in the weakside corner, leaving the Heat to play four-on-five: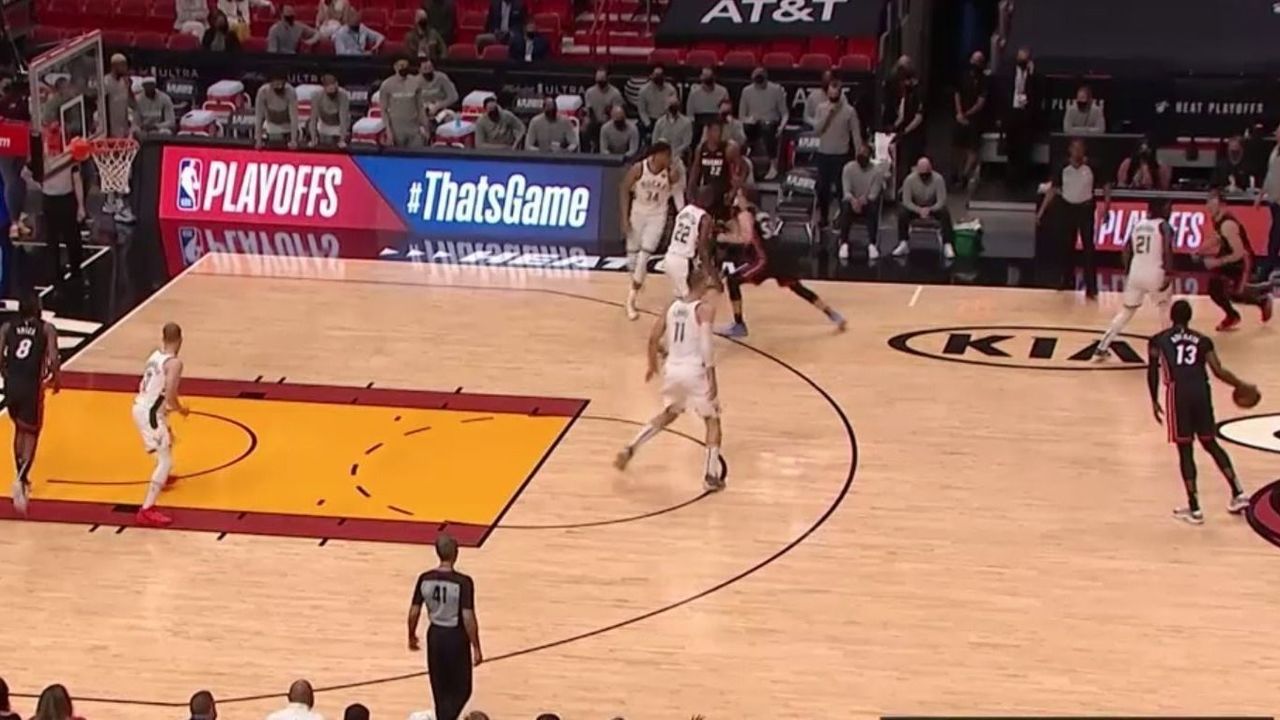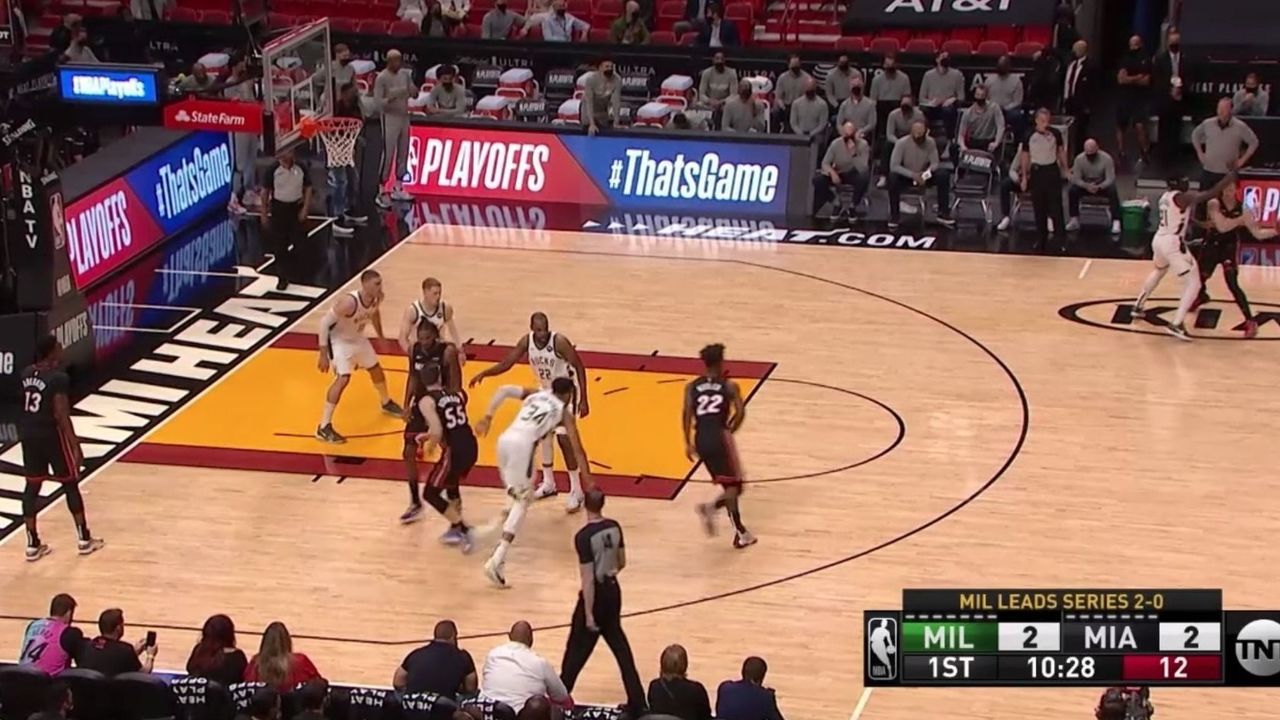 As the series has played out, and as evidenced by Bam's aforementioned opening-minute Game 3 jumper, Adebayo has been much more willing to let it fly. Only now it's not indecisiveness that's killing him and his team's offense. It's incompetence.
| Adebayo | 2020-21 FG% | 2021 Playoffs FG% |
| --- | --- | --- |
| 5-9 feet | 47.8% (2.5 FGA per game) | 37.5% (2.7 FGA per game) |
| 10-14 feet | 46.8% (2.4 FGA per game) | 40% (5.0 FGA per game) |
| 15-19 feet | 38.2% (1.6 FGA per game) | 0% (1.3 per game) |
Adebayo's a sensational talent. He's got future Defensive Player of the Year potential, and he might be the league's best "Greek Freak" neutralizer. Adebayo can quarterback an offense with his playmaking, and he's a terrific finisher inside. But he can't leverage the full power of that playmaking if teams aren't guarding him tightly, and he can't just live in the paint now that his playmaking has become so integral to Miami's offense (or if teams wait for him inside).
It's not like he hasn't continued to expand his game and his range. During his rookie season, more than 62% of Adebayo's field-goal attempts came within three feet of the rim. Three years later, just over 35% of his attempts come that close to the basket.
This series is already too far gone, but for Bam and the Heat to take the next step, he has to get to a point where that range means something between April-June, not just from October-April, especially given how streaky of a shooter Jimmy Butler is.
Between Adebayo's iffy in-between game and Butler's unreliable 3-point shooting, Miami faces a fascinating dilemma. The Heat's two stars cramp Miami's offense while simultaneously serving as its focal point.
That makes life tougher on shooters like Robinson - who the Heat need on the court to open up their offense - while also making Miami much more reliant on defensive liabilities like Robinson, who's been getting torched by Middleton and whoever else Milwaukee uses to pick on him.
This is the cruel beauty of the playoffs, where teams' weaknesses are illuminated far more than their strengths. The point is to crown one champion and expose 15 losers. It's how a team that made an inspiring NBA Finals run last year can be undone by those weaknesses in Round 1 this year.
Comments
✕
The Heat have disappeared with Bam's mid-range game
  Got something to say? Leave a comment below!