LeBron's Lakers are fading: What's next for L.A.?
MediaNews Group/Pasadena Star-News / NBA / Getty Images
LeBron James' Lakers being eliminated in the first round feels like a changing of the guard in the NBA.
It's not the first time a defending champion was eliminated in the postseason's opening round, and though James hadn't lost a non-Finals playoff series in 11 years, it's worth remembering L.A. missed the playoffs in 2019. But there was something about the way the Lakers' season unfolded, and the way the Suns brutally beat them in Games 5 and 6 that feels different for a LeBron-led team.
That's not to say you should ever doubt King James. Even down nearly 30 points in Game 6, and without Anthony Davis, you couldn't be sure the Lakers' run was over until time officially ran out. Plus, James is under contract for two more seasons, Davis is signed until potentially 2025 (player option), and with those two healthy and on the court, the Lakers remain the best team in the Western Conference and one of the best in the NBA.
Before Davis was sidelined for two months by a February calf strain - during which time James was shelved with a high ankle sprain - the Lakers raced out to a 21-6 record that would've had them on pace for 63 wins in an 82-game campaign. With both stars on the court this season, the Lakers outscored teams by 11.2 points per 100 possessions, far outpacing Utah's league-leading net rating of +9.0. With James and Davis sharing the court for 106 playoff minutes, L.A. outscored Phoenix by 14 points.
The combination of LeBron's and Davis' skills are so perfect on both ends of the court that the Lakers won a 2020 championship with Kentavious Caldwell-Pope serving as the team's third-best player in the playoffs, and without the shooting capabilities of modern contenders. But what this season exposed is that it's clear the Lakers can no longer simply count on LeBron and Davis being healthy for the playoffs, and that they'll steamroll through the competition as a result.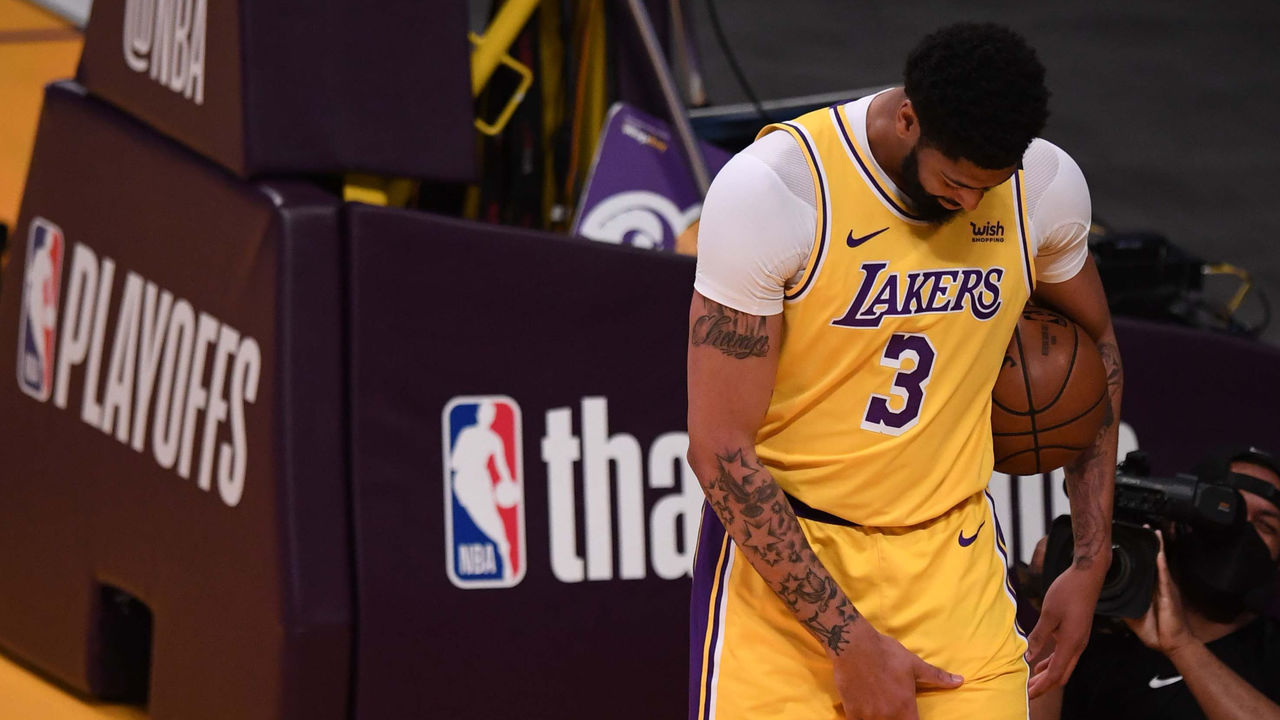 Between James' 2021 ankle injury and 2018-19 groin ailment, he's missed 27 games in a season twice in the last three years, after never missing more than 13 in a season over the first 15 years of his career. LeBron's durability is amazing - he missed an average of only 4.7 games per season in the first decade and a half of his career. Over the last three years, he's missed 19.3 per season.
Now 36 and having played more than 61,000 NBA minutes between the regular season and playoffs, James can't shake injuries the way he once could. That was evident in his lack of lift and bounce around the rim against the Suns, nearly three weeks removed from his return to the lineup.
Everyone expects one injury or moment to clearly mark the end of The LeBron Era, but perhaps this slow burn is what Father Time catching up to the legend looks like.
Davis has never been durable. He's cracked the 70-game mark twice in nine seasons and averages 64.5 appearances per 82 games. The star big man dealt with groin, calf, Achilles, and quad injuries this season alone.
James and Davis may very well stay healthy next season, but the Lakers can't afford to bank on that assumption, and can no longer count on a subpar supporting cast around their two superstars.
That supporting cast was seemingly improved following the team's 2020 championship, but the newcomers didn't do enough to prove it when it mattered.
Dennis Schroder had a fine two-way season, and appeared to be the answer to the Lakers' search for a secondary playmaker when James rested, but he was abysmal in the playoffs. Montrezl Harrell's defense remains a postseason liability, and he played just 39 minutes in the six-game loss to Phoenix. Marc Gasol's scoring limitations hamper his effectiveness, and now his defensive mobility has become a concern, too. The former Defensive Player of the Year bounced in and out of Frank Vogel's rotation before drawing a hapless start in Phoenix's clincher. Wes Matthews had the worst shooting season of his career and was unable to be the two-way, Danny Green replacement the team needed.
Unsurprisingly, Andre Drummond wasn't the answer to L.A.'s many issues.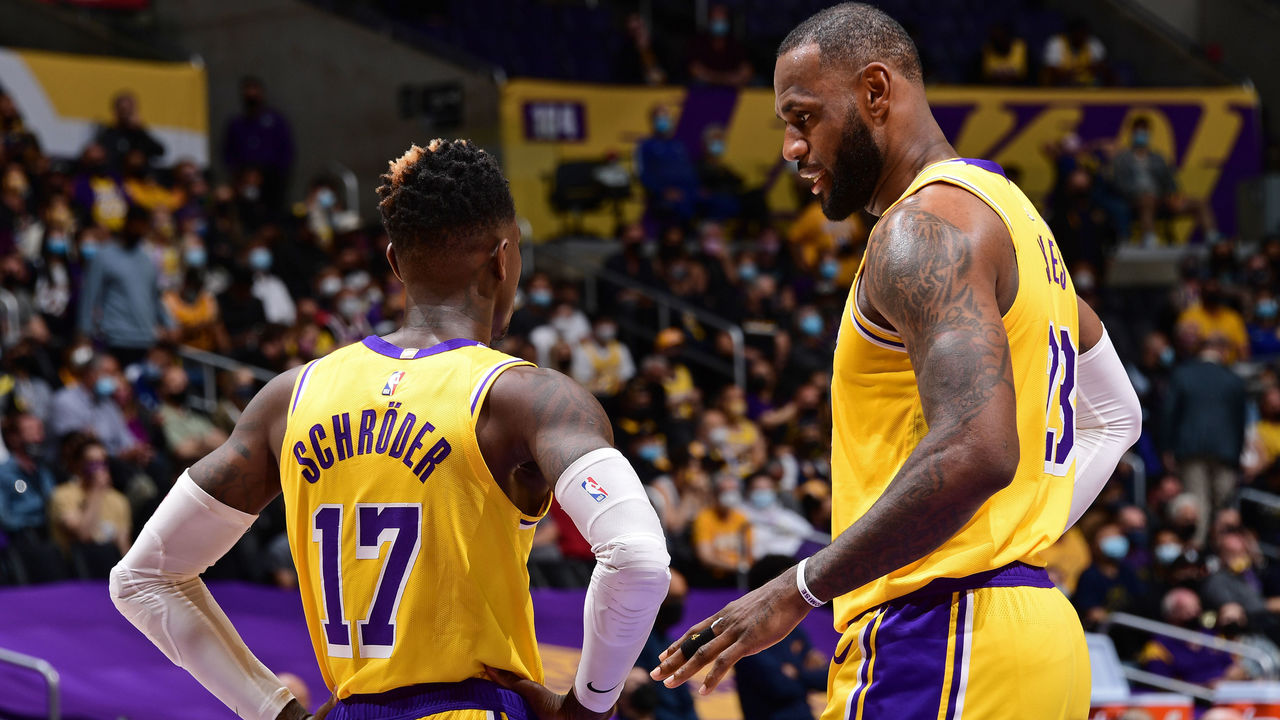 The Lakers need another shot-creator and facilitator to ease the burden on LeBron, especially with Schroder set to hit free agency after reportedly rejecting an $84-million extension earlier this season. They also need to add shooters.
Winning the 2020 title without shooting was a testament to the world-destroying powers of James and Davis. It was a blip in the midst of the NBA's 3-point revolution, nothing more. Eight of the past nine champions finished the regular season in the top nine in 3-point shooting. Eight of the nine teams still standing this year finished this season in the top 12 in 3-point shooting. The 2020 Lakers finished 21st in 3-point percentage and 23rd in 3-point frequency. This year's Lakers finished 21st and 22nd in those categories.
It sounds preposterous to say out loud, but the LeBron James- and Anthony Davis-led Lakers are in desperate need of a talent infusion on the offensive end. It's obvious. Less obvious is how they go about finding it.
There are always moves to be made to manufacture flexibility, and the Lakers don't really have any egregious contracts on their books, but they're also a veteran, capped-out team without the type of young talent or draft capital required to make a splash.
The Lakers own the 22nd pick in this year's draft, but don't control their own first-round pick after that until 2025, and can't currently trade a first-rounder until 2026, thanks to picks surrendered in 2019 to acquire Davis. Even the value of a youngster like Talen Horton-Tucker - who the Lakers reportedly refused to part with in trade talks for Kyle Lowry - has likely decreased after a disappointing playoffs.
The Lakers have LeBron, Davis, and a stout defense that persevered even with both stars sidelined. But as we zoom out and observe the big picture, it's clear this team is on the downturn. The Lakers are fading, with rising West contenders in Dallas, Denver, Phoenix, and Utah.
This is as murky a future a James-led team has faced without the possibility of his skipping town looming. But LeBron's durability and the certainty it once provided can no longer be taken for granted.
Joseph Casciaro is a senior writer for theScore
Comments
✕
LeBron's Lakers are fading: What's next for L.A.?
  Got something to say? Leave a comment below!