Breakouts on bad teams: Don't sleep on the development of these 5 players
It's tough for the average fan to keep up with all 30 NBA teams at any point in the season, especially in these final days when some teams are clearly out of the race and playing for nothing. But while you're ignoring some of those afterthought clubs, you might miss the start of a future star's emergence.
Talk to enough players around the league and you'll find a bunch who point to a turning point in an otherwise lost and ignored season as the moment they truly broke through. With that in mind, here are the youngsters (and one veteran) who've been busting out, and who you've probably been ignoring.
Kevin Porter Jr., Rockets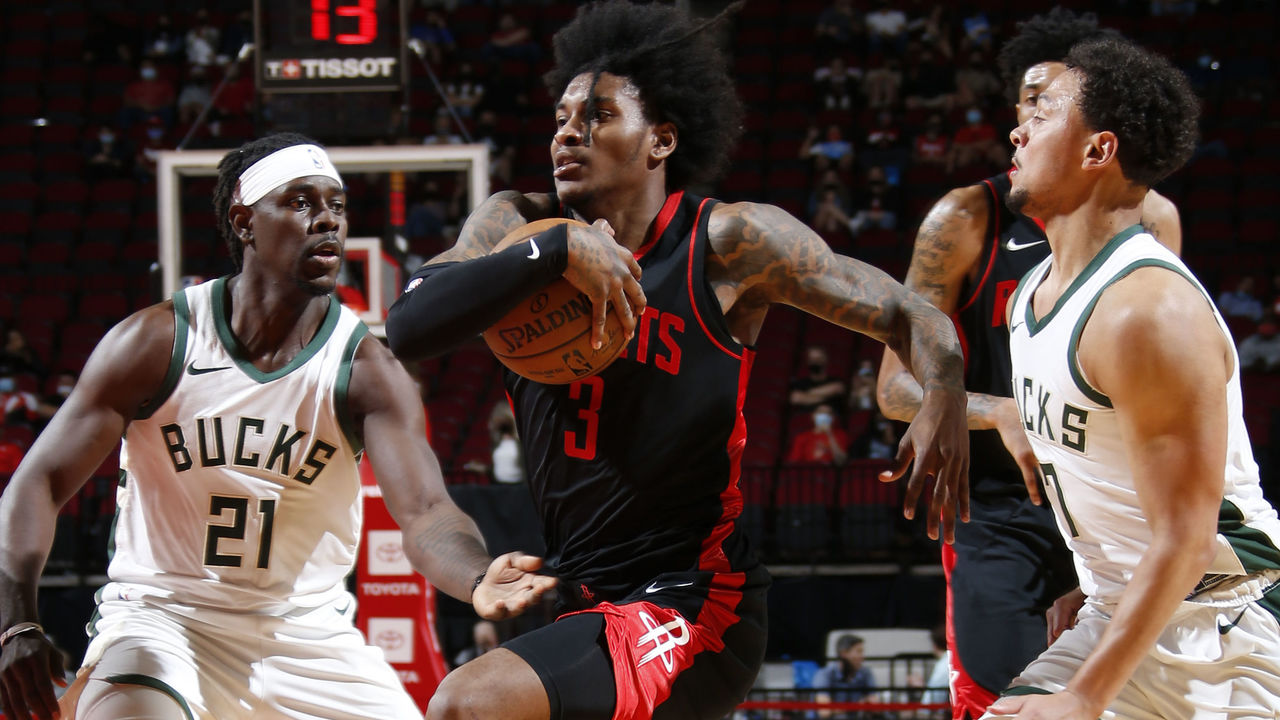 From a pure upside standpoint, KPJ's future is tantalizing, and his raw skills are ridiculous for a 21-year-old. Landing in Houston gave Porter the opportunity to display those talents, particularly when it comes to his playmaking.
While Porter obviously has more opportunities to score than he ever did before, the Rockets also turned him loose as more of a ball-handler and point guard (especially since John Wall was shut down for the season). Porter's logged an average of nine more minutes per game as a sophomore in Houston than he did as a rookie in Cleveland, and he's upped his usage rate by five percentage points, leading to averages of 16.6 points and 6.3 assists.
He hasn't been nearly as consistent as the other players on this list, but few young players in the NBA as a whole can match Porter's highs - case in point being his remarkable 50-point, 11-assist performance in an upset win over Milwaukee that also included five rebounds, a block, and nine made threes.
Porter's struggled with his shooting and overall efficiency, as most young scorers do, but there's a poise to his playmaking that's rarely found in young scorers.
Since joining the Rockets, Porter's assisted on 29.3% of his teammates' field goals; a better mark than guards like De'Aaron Fox and Donovan Mitchell.
Porter's off-court maturity hasn't caught up to his on-court potential, however, and that's why projecting his progress going forward is difficult. He was suspended for "conduct issues" while at USC, was suspended a few weeks into his NBA career for making contact with an official, and was arrested after flipping his vehicle on a highway last November (though weapons and marijuana charges were later dropped). He reportedly went on a food-throwing tantrum when he realized the Cavaliers had given his locker to Taurean Prince. Last month, Porter was fined $50,000 for violating the NBA's health and safety protocols by going to a club in Miami.
Are the Cavs nuts for selling low on a talent as special as KPJ? Sure. But the fact Porter fell to the bottom of the first round in the 2019 draft and Cleveland was willing to part with him for basically nothing only a year and a half later is also an indictment of the player himself.
OG Anunoby, Raptors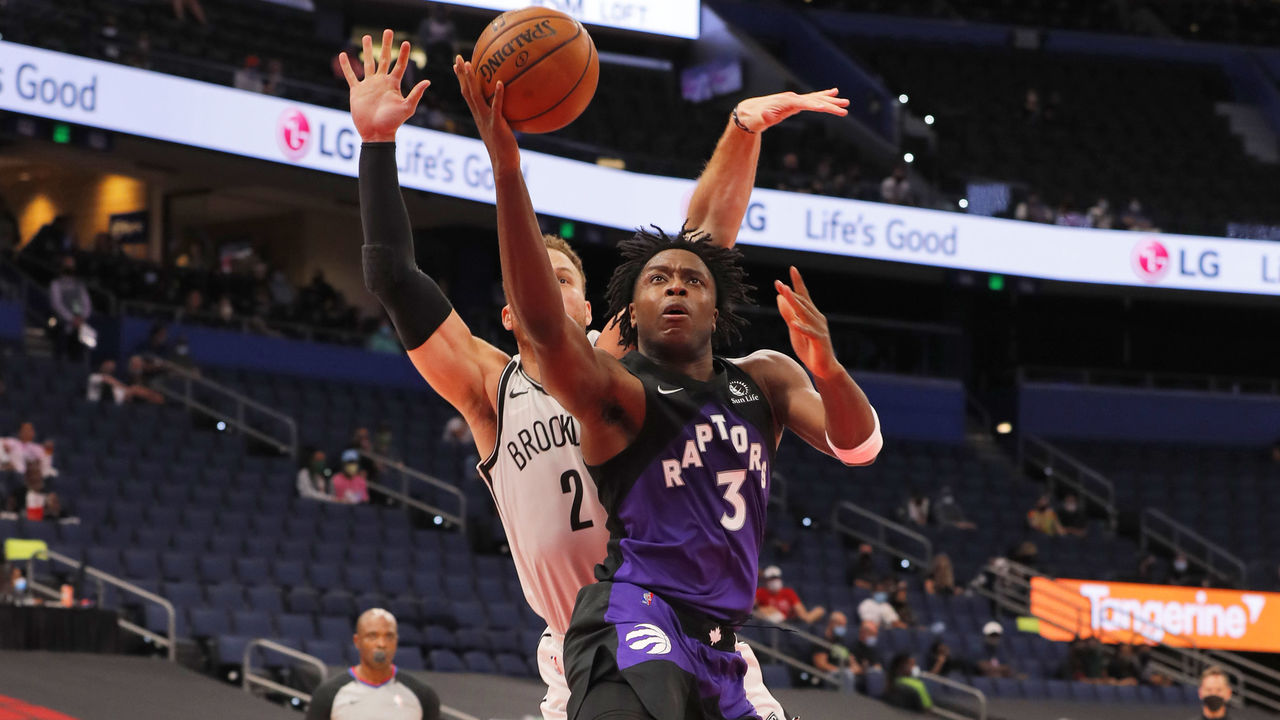 Anunoby has future Defensive Player of the Year upside, which alone says a lot, considering how hard it is for a wing player to beat out big men in DPOY voting. He's already arguably the best on-ball defender when it comes to wings and forwards, is freakishly strong enough to guard star centers like Nikola Jokic and Domantas Sabonis, and is still nimble enough to draw the primary assignment on a guard like James Harden.
But we already knew that Anunoby was a game-changing defensive player. The difference between being a great defensive player - or even a 3-and-D specialist - and hitting his All-Star ceiling was always going to be determined by what Anunoby and the Raptors could make of his raw offensive skills.
That's why Anunoby's last 20 games have Raptors fans buzzing. With a displaced season from hell slipping away and lineups disrupted by injuries and health issues, the Raptors were forced to turn to Anunoby more on the offensive end. Given how he's responded, it's no surprise coach Nick Nurse remained intent on continuing to force-feed OG even with Toronto's offensive stars back.
Since returning to the lineup on March 19 following a three-week spell in health and safety protocols - shortly after missing time due to a calf injury - Anunoby's averaged 18.3 points on 48-40-82 shooting (60.3% true shooting). Only Pascal Siakam has used more of Toronto's possessions over the last three weeks.
The Raptors are clearly trying to involve OG in the offense more, whether that means bringing the ball up the floor after a defensive rebound, more ball-handling in general, and even some reps as the ball-handler in pick-and-rolls.
Anunoby's far less dependent on his teammates creating his looks, as he's now capable of creating his own shot, creating the space for that shot, and even breaking down defenders off the dribble. He began to flash those abilities towards the end of last season, but they're much more than flashes now.
It doesn't always look conventional, but that off-the-dribble game has become an effective combination of finesse and force.
The best part is that Anunoby's taken on this greater offensive burden without a dip on the defensive end.
Given his defensive dominance, the development in Anunoby's offensive game could be paramount for Toronto, as he's still only 23 years old, and is under team control through 2025 on a contract that never sees his salary hit $20 million. It's worth asking: how much could OG have made if he opted to wait for restricted free agency this summer?
Kelly Olynyk, Rockets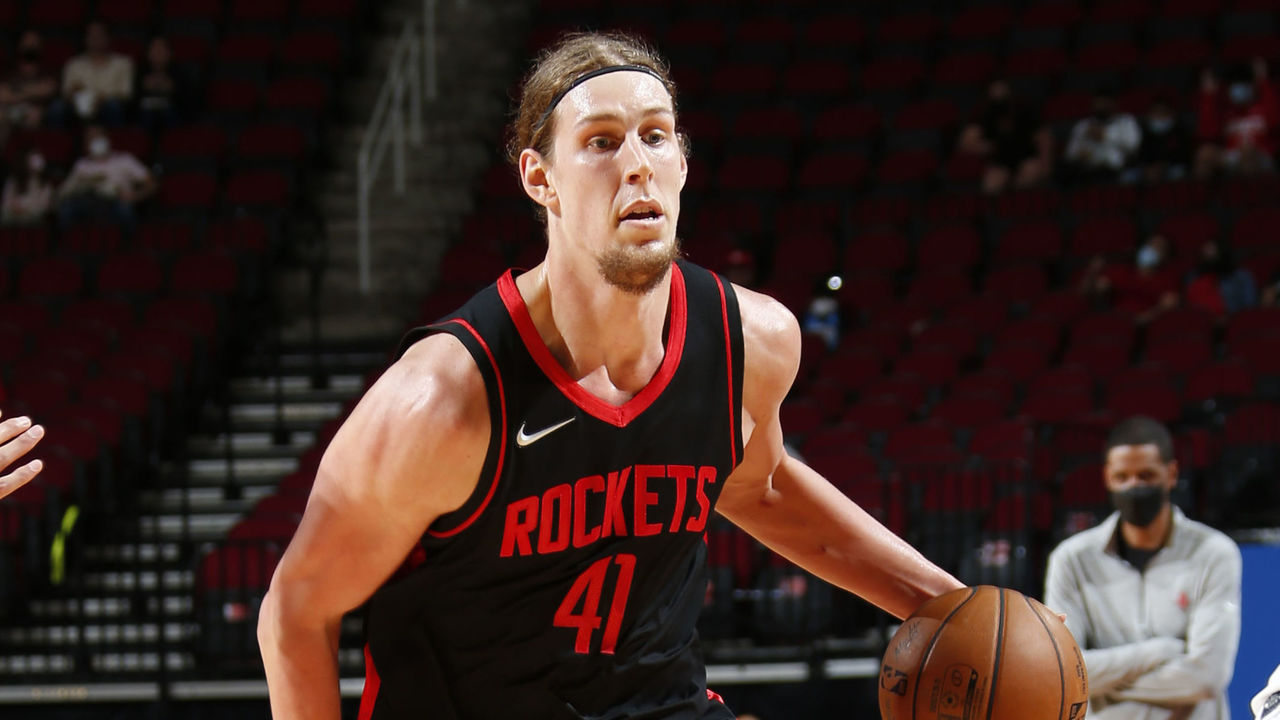 At 30 years old, Olynyk doesn't exactly fit the mold of other breakout players. His placement on this list is less about future upside and more about a veteran expanding his game, and potentially his market.
Olynyk's always fit the modern game quite well. He's a smart defensive big man with shooting range and playmaking chops - who doesn't want one of those? But Olynyk's also the quintessential role player, and has rarely been given the opportunity to consistently prove himself as an NBA scorer or self-creator.
After moving from Miami to Houston as part of the Victor Oladipo trade, Olynyk suddenly found himself on a hapless team that isn't concerned with winning right now. That's not an environment where a role player thrives, yet Olynyk has done just that … but not as a role player.
In 43 games with the Heat this season, 64.6% of Olynyk's shot attempts came from 3-point territory, while more than 87% of his 2-pointers were assisted by teammates. With less talent and structure around him in 22 games as a Rocket, Olynyk's started and finished more plays. He leads the team in touches. Only 40% of his attempts are coming from long range, less than 65% of his 2-pointers have been assisted by teammates, and he's averaging career highs in field-goal attempts and free-throw attempts.
While the Rockets as a team continue to lose and the minutes have generally been low leverage, Olynyk's individual success while carrying that increased load has been somewhat shocking; 18.6 points, 8.5 rebounds, 3.5 assists, and 1.3 steals on 57-39-85 shooting.
Where things get interesting: Olynyk is slated for unrestricted free agency in a few months. Obviously, no one's going to pay him to be the player he's been in Houston; he's still best suited to be a role player on a good team. But if what we've witnessed over the last couple months is real, then Olynyk has shown potential buyers that whoever ends up with his services is getting a big man who's at least capable of scoring in ways no one previously gave him credit for. That has to be worth a little something extra on the open market.
Darius Garland, Cavaliers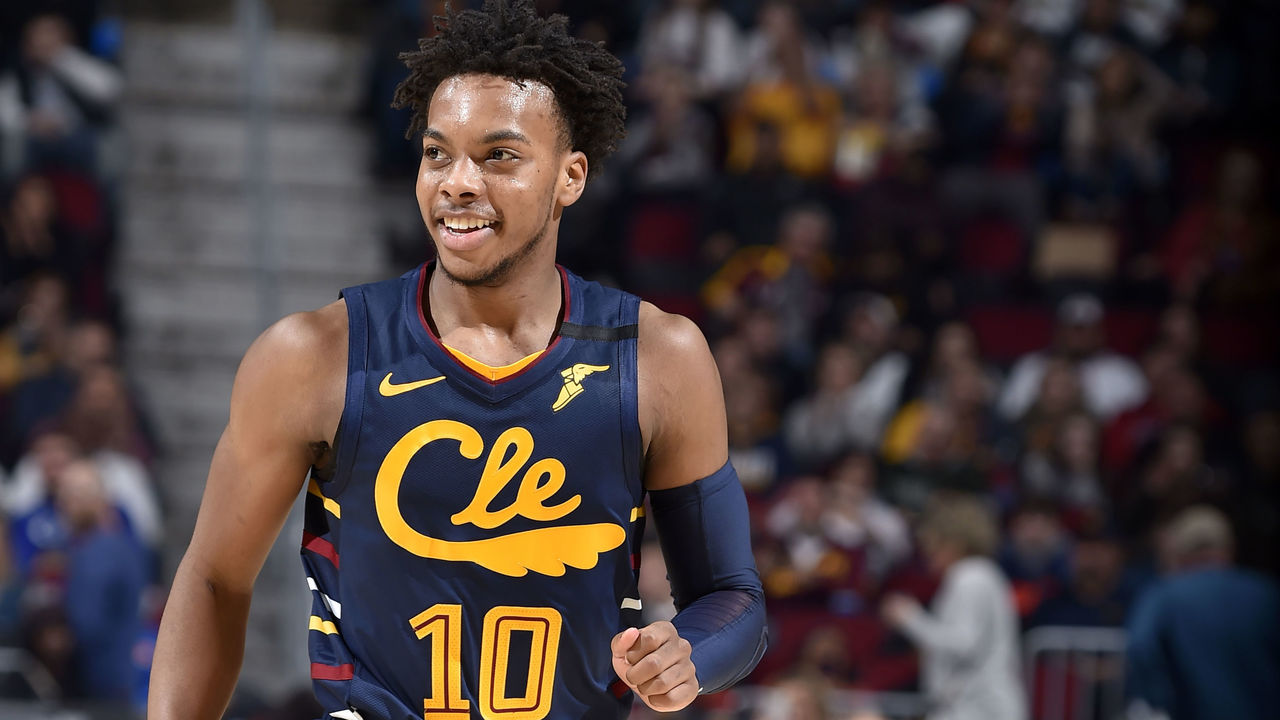 Basketball Reference lists one of Garland's nicknames as "DG The PG," and if this season is any indication, the PG label definitely fits.
Garland's looked much improved and more comfortable in his sophomore season, as Cleveland moved him full time to point guard following a shaky rookie season at shooting guard. Though he did cool off after a hot start this year, he's bounced back better than ever over the last month or so.
Since the start of April (14 games), Garland's averaging 21.5 points and 7.3 assists on 48-40-88 shooting, with the dreadful Cavs performing positively (plus-1.3 per 100 possessions) in Garland's minutes during that stretch, while getting absolutely torched (minus-14.9 per 100 possessions) without him.
He's improved his shot profile individually, while his playmaking for others continues to blossom. At only 21, Garland's manipulation of the pick-and-roll as a ball-handler is more advanced than some seasoned veterans, and he's developed great chemistry with Jarrett Allen.
Garland's combination of shooting, scoring, and passing is what made him such a highly touted prospect before Cleveland took him at No. 5 in the 2019 draft, and this latest stretch is the first time we've seen him put it all together for a consistent stretch at the pro level.
Garland's size (6-foot-1, 190 pounds) limits him defensively, but there's been improved effort and understanding on that end, too. And if his offense continues to develop at this rate, he won't need to be a great defender to be a star.
Anthony Edwards, Timberwolves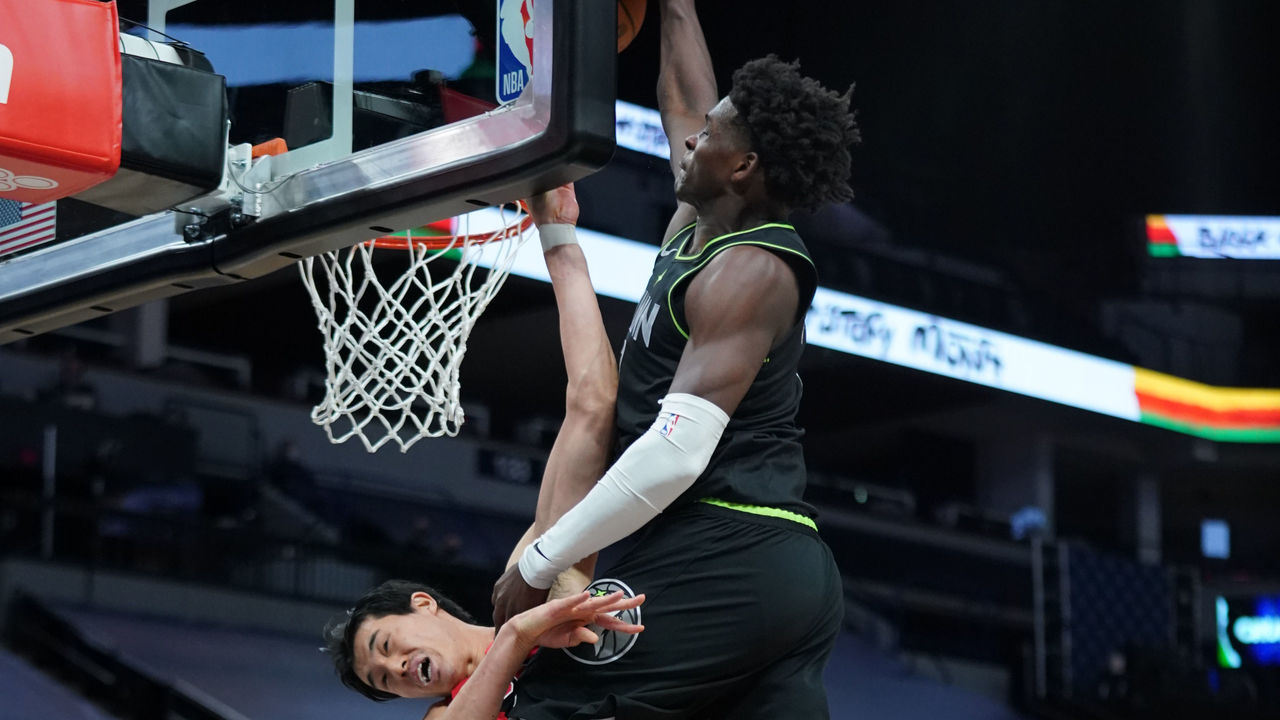 The Timberwolves staying healthy this season wouldn't have made me any more of a believer, as the roster's defensive ineptitude and youth seemed like a recipe for disaster, at least in the short term, but the following needs to be acknowledged: Minnesota's 10-8 in games Karl-Anthony Towns and D'Angelo Russell have played together, and the offensive potential for a team with Towns, Russell, and Edwards playing under coach Chris Finch is spectacular.
With all three on the court, the Timberwolves have managed an offensive rating of 120.7 points per 100 possessions, which ranks in the top 60 out of more than 1,000 three-man combos who've logged at least 200 minutes together this season.
With all due respect to Russell's solid play since returning to the lineup following a knee injury, and to the general offensive brilliance of Towns, the most exciting part of Minnesota's otherwise meaningless late-season schedule has been Edwards' improvement.
I can't remember the last time a rookie improved so dramatically over the course of a season. With little help around him earlier in the year, Edwards floundered, averaging 14.1 points on dismal shooting numbers (37.1% from the field, 31.6% from deep, 46.8% true shooting).
Not that it was unexpected from a 19-year-old rookie, but Edwards was inconsistent, woefully inefficient, and at times looked defeated. His finest highlight of the first half ended up becoming a referendum on whether we should tone down celebrations of such highlights when the player in question is playing poorly.
It was an all-around mess, which only makes Edwards' stunning midseason turnaround all the more inspiring.
Over his last 34 games, Edwards is averaging 23.4 points, 5.5 rebounds, and 3.1 assists on roughly league-average efficiency (54.4% true shooting). In March, he became the third-youngest player (behind only LeBron James and Kevin Durant) to score 40 points in an NBA game. This week, he did it a second time, torching the Grizzlies for 42 points, seven assists, six rebounds, a steal, and a block on 17-of-22 shooting.
Edwards' 38-plus minutes of action in that performance were part of a bigger pattern of durability, as he's suited up for all 66 games this season, while seemingly getting stronger as the year plays out, rather than hitting the rookie wall.
He's also developed a fun offensive chemistry with Towns - particularly in pick-and-roll scenarios - within Finch's movement-heavy offense:
There will surely be more slumps in Edwards' future and more losses in Minnesota, but the way the No. 1 overall pick elevated his game from the start of the season to now is reason enough to buy Edwards stock before next season tips off.
Joseph Casciaro is a senior writer for theScore
Comments
✕
Breakouts on bad teams: Don't sleep on the development of these 5 players
  Got something to say? Leave a comment below!