The Portland Trail Blazers were seen as offseason darlings when they acquired Robert Covington and Derrick Jones Jr., adding much-needed defensive length and versatility to a Damian Lillard and CJ McCollum-led lineup that traditionally skewed offensive.
With just over a month remaining in the regular season, however, the Blazers don't look like the more complete contender many expected them to be. For a number of reasons, Portland enters the home stretch of the campaign as perhaps the NBA's most fascinating, confusing, and unpredictable side.
Are the 2020-21 Blazers the worst good team, or the best bad team? Are they a pile of mediocrity being propped up by Lillard's unfathomable performance in the clutch, or a snakebitten team on the precipice of greatness once finally healthy?
The case against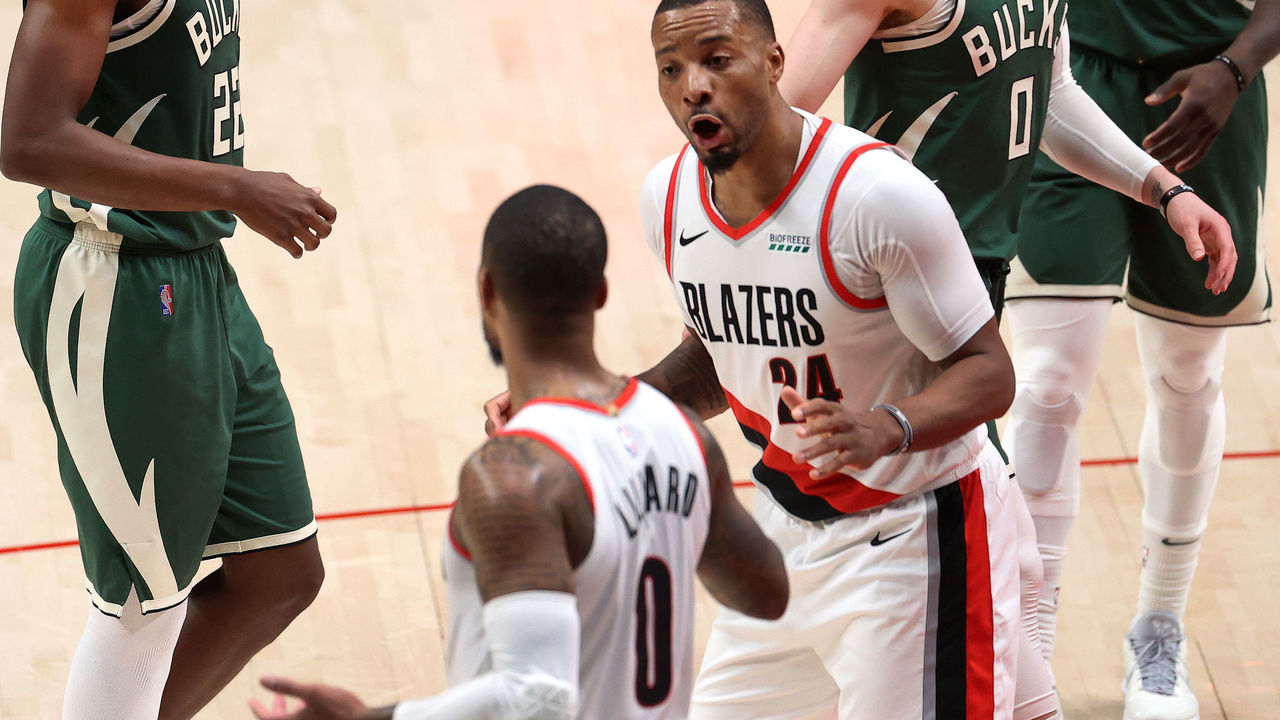 As is often the case in Rip City, any talk of the Trail Blazers as legitimate contenders is easily squashed by their glaring defensive issues.
Portland's sixth-ranked offense is offset by a 29th-ranked defense that bleeds points at almost historic levels. Only two teams have ever managed a worse defensive rating than the Blazers' mark of 116.2 points allowed per 100 possessions: the 2018-19 Cleveland Cavaliers (116.8) and this year's Sacramento Kings (117.8).
Everything about the Blazers' defense is a disaster. Opponents shoot better against Portland (55.4 eFG%) than they do against all but two teams (the Kings and New Orleans Pelicans). The Blazers are seventh-worst when it comes to putting opponents on the free-throw line, seventh-worst in defensive rebounding, and bottom 10 in forcing turnovers. They allow the second-highest field-goal percentage at the rim, are sixth from the bottom when it comes to how frequently opponents are in transition against them, and rank bottom nine in opponents' pick-and-roll efficiency. Only four teams allow a greater share of their opposition's shots to come at the rim.
Lillard and McCollum are poor defenders on their best days and black holes at their worst. Jusuf Nurkic - when he's even available - never regained the step he lost due to a gruesome leg injury two years ago. Enes Kanter can be toyed with and played off the court when put in pick-and-rolls and forced to defend in space.
Covington solves a ton of problems with his undersized rim-protection and one-on-one work, but he and Jones (who hasn't quite been himself defensively) can't turn water into wine.
A thin bench reliant on Carmelo Anthony, Anfernee Simons, and Nassir Little only raises more issues on defense, as did turning Gary Trent Jr. and Rodney Hood into the more offensively explosive Norman Powell at the trade deadline.
Powell's a more complete offensive player, but given Trent's defensive upside and youth, it's worth wondering whether the former is enough of an upgrade to justify turning a 22-year-old pending restricted free agent into a 27-year-old pending unrestricted free agent. If the Blazers were willing to put Trent on the table, could they not have found a return that addressed some of their defensive issues?
A quick look at the standings may render that moot, but there's a lot more than meets the eye.
It's true the Blazers are one of only nine teams to win at least 60% of their games this season. They're closer to the fifth-place Los Angeles Lakers (1 1/2 games) than they are to the seventh-place Dallas Mavericks (two games), and they trail the third-seeded Los Angeles Clippers by just three. But they haven't played like it.
Portland owns a 30-20 record, yet despite being 10 games above .500 and on pace for what would be a 49-win season in a traditional 82-game schedule, the Blazers outscored opponents by a grand total of three points over those 50 contests. The fact the team even owns a positive point differential at all can be traced back to a 48-point victory over the tanking Oklahoma City Thunder last weekend.
The Blazers entered Saturday's game against Oklahoma City on pace to finish the season with the best winning percentage ever recorded by a team with a negative point differential. Portland now enters Thursday night's matchup against the top-seeded Utah Jazz with the second-worst point differential ever recorded by a .600-plus team.
Dame Time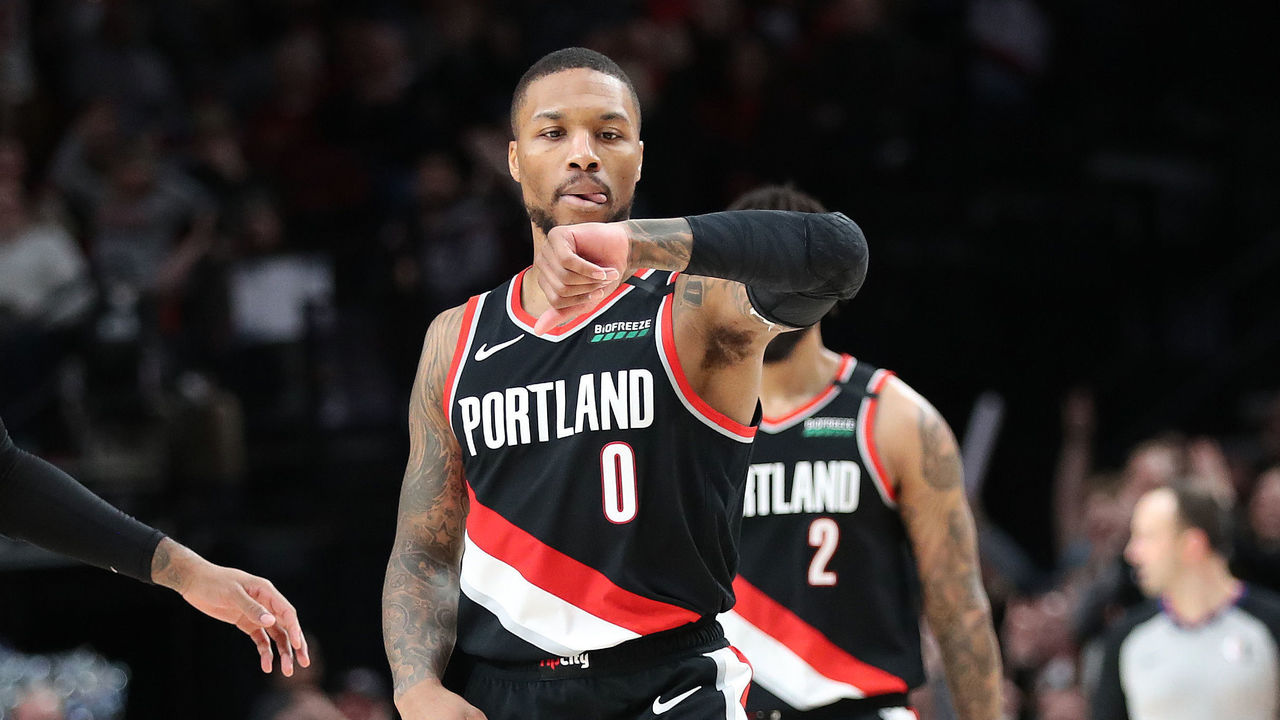 If you're wondering how a team can manage to be so mediocre yet win such an impressive percentage of its games, the answer lies in the No. 0. As in, Damian Lillard.
Portland's middling point differential speaks to the fact that 28 of the team's 50 games have ended up in NBA-defined clutch time (within five points in the final five minutes). The Blazers have won an astounding 21 of those supposed toss-ups, boasting a .750 clutch-time win percentage, which is bested only by the Philadelphia 76ers (.769) and Brooklyn Nets (.767).
Lillard has been the driving force behind that dominance.
It doesn't always end well when players bestow themselves with nicknames (see "Playoff P"), but in the case of Lillard deeming clutch minutes "Dame Time," the six-time All-Star is actually underselling just how much he owns the moment.
The guy has drained some of the coldest game-winners in modern NBA history - including two playoff-series-winning walk-offs at the buzzer - but what he's doing this season is mind-bending.
Lillard has scored a league-leading 135 points in 100 clutch minutes while shooting 55.9% from the field and 44.4% from deep. He's also a perfect 43-for-43 from the free-throw line and somehow managed to rack up an individual plus/minus of plus-82 in those 100 minutes of the tightest, down-to-the-wire contests.
The case for Portland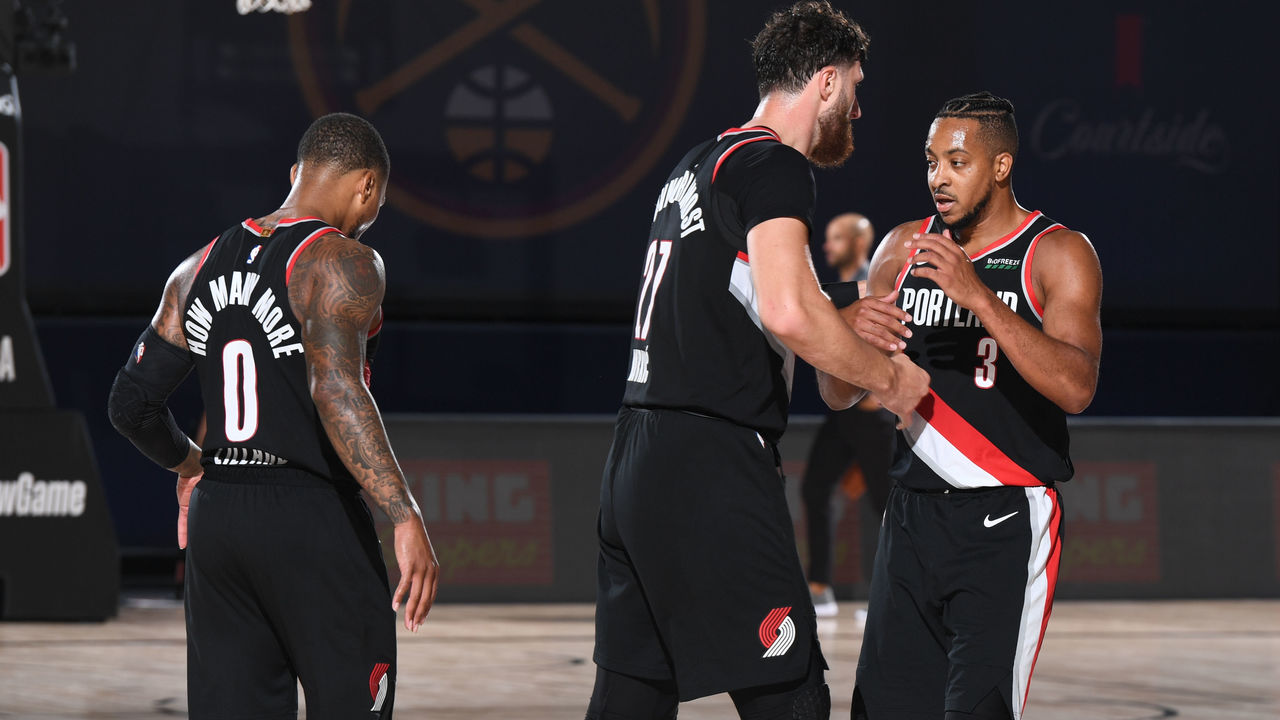 If there's an argument to be made that the Blazers' porous defense and uninspiring point differential are telltale signs of a pretender, then there's a counterpoint that Portland is a sleeping giant down the stretch.
The team has played the majority of the season without McCollum and Nurkic, who each missed significant time due to foot and wrist injuries, respectively. It's therefore reasonable to assume many of Portland's performance indicators thus far are irrelevant.
Through that lens, the first half of the Blazers' season wasn't the case of a mediocre team outperforming its point differential, but merely that of an MVP-caliber superstar keeping a battered contender afloat until reinforcements returned.
It's not exactly grasping at straws, either. The Blazers are 5-2 since the trade deadline, with a middle-of-the-pack defense despite Powell replacing Jones in a smaller starting lineup.
| Post-deadline | ORtg | DRtg | Net |
| --- | --- | --- | --- |
| Lillard-McCollum-Powell-Covington-Nurkic | 122.3 | 98.4 | +23.9 |
| Kanter in for Nurkic | 130.8 | 109.5 | +20.7 |
The team has also miraculously been better with Lillard on the bench since the deadline, which could be a testament to the boost Powell provides as yet another (efficient) offensive hub.
Yes, a more capable defender would have made more sense as a deadline acquisition as opposed to Powell, who has the length and athleticism but not the defensive wherewithal. But there's also something to be said for going all-in on your strengths and maximizing your advantages. And you can never have enough shooting or shot creation.
With the Blazers' ability to outscore any team on any given night, Lillard representing the type of superstar talent necessary for postseason success, and a finally healthy and settled rotation, Portland is much more capable of a deep playoff run than any 2021 numbers could ever prognosticate.
The harsh reality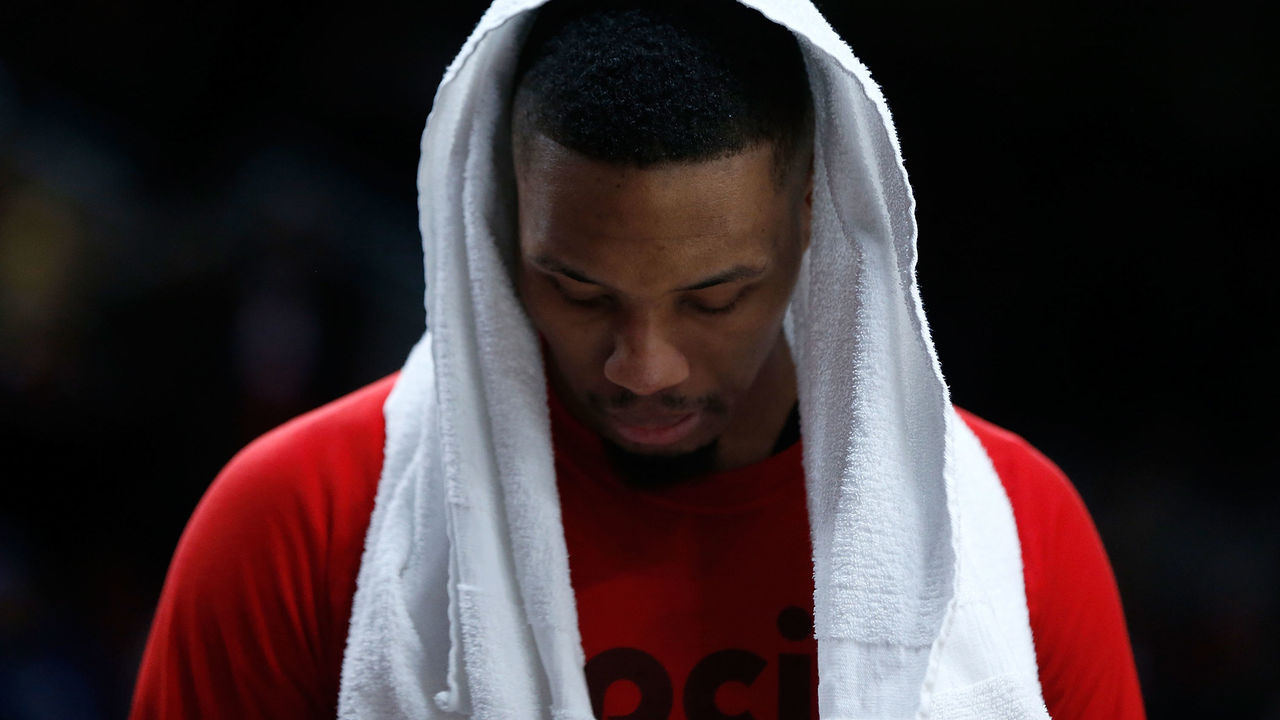 Still, there are questions. Given the topsy-turvy, unpredictable nature of the Blazers' season, how could there not be?
Fans point to the fact Portland is plus-8.5 per 100 possessions in the 504 minutes Lillard, McCollum, and Covington have shared the court this season; a net rating only the league-leading Jazz can top. But those minutes have come in just 24 games, 10 of which have been played against winning teams.
Just as Portland's overall numbers have been diminished by injuries, the team's recent run is buoyed at least in part by weak competition. Of the Blazers' seven games post-deadline, during which they've managed a 14th-ranked defense, four have come against offenses ranked between 24th and 30th, and only only two have come against winning teams or clubs boasting a top-12 offense.
They lost those two games (to the Bucks and Clippers) by a combined margin of 35 points, allowing Milwaukee and Los Angeles to score an average of 130. Meanwhile, the Blazers barely scraped by a Miami Heat team missing Jimmy Butler and Goran Dragic, an anemic Orlando Magic squad, and the sliding Toronto Raptors, then destroyed the deplorable Detroit Pistons and Thunder.
Fourteen of Portland's 22 remaining games come against winning teams, and 19 of 22 come against teams in the top-10 of their respective conferences. It's possible the healthy Blazers make a run up the Western Conference standings, but it's more likely they tumble out of the top six and end up in the play-in tournament.
The seventh-place Mavs are only a couple of games back in the loss column, and ninth-place San Antonio - which would have to win two play-in games to make the playoffs - is five back.
The reality of the West's bloodbath means at least one of the Lakers, Clippers, Nuggets, Jazz, or Suns are going out in Round 1. Assuming Portland even gets to the playoffs proper, does anything about the Blazers - aside from the ice water flowing through Lillard's veins - lead you to believe two of those five teams will be sent packing early?
This team may not be as unspectacular as its middling metrics suggest, but if it was anything close to a real contender, we'd probably know by now.
Joseph Casciaro is theScore's senior basketball writer